How to travel to Vietnam with kids? First-hand guide 2023
This website contains no sponsored content. The content is written entirely on my own and is based on my personal experience and extensive research. This post may contain affiliate links. If you make a purchase through one of these links, I may receive a small commission at no extra cost to you. As an Amazon Associate I earn from qualifying purchases. Please read the disclaimer for more information.
Considering traveling to Vietnam with kids?
Based on my travel experience, I can confirm that you can plan a family holiday in Vietnam. Vietnam has plenty of offerings for all types of tourists including those that plan to visit Vietnam with a baby or those that want to go on a family vacation to Vietnam with a toddler or with older kids.
On our trip to Halong Bay, the cruise manager went out of his way to ensure that our daughter was fine and well looked after. He told us that they have a phrase in Vietnamese which means 'baby first' i.e. a baby's needs come first and must be treated above everyone else.
We noticed the same level of kindness everywhere we went as local Vietnamese people treated our daughter to sweets, compliments, and little presents.
Having said that, a family trip to Vietnam with younger kids would require some preparation as the lifestyle, infrastructure, food, amenities, and way of commuting is vastly different than most Western countries.
Keep reading to learn all about how to plan a trip to Vietnam with kids, which places to visit, which places to avoid, the various Vietnam activities for kids, how to pack and prepare for the trip, food in Vietnam for a toddler, and more. This article is your one-stop guide to planning the perfect Vietnam trip with family.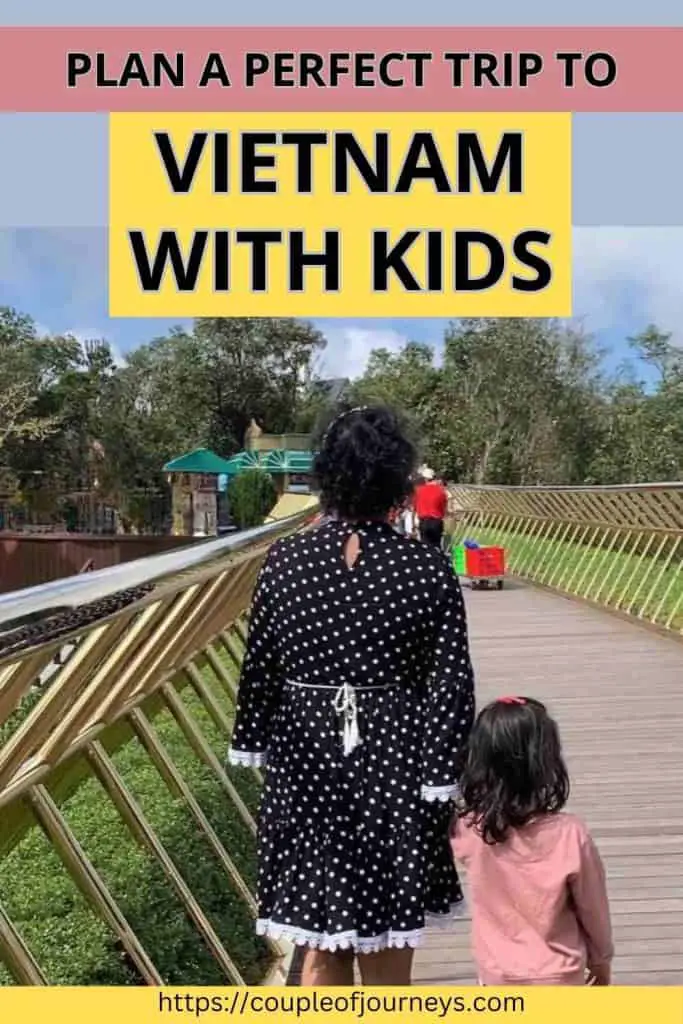 ---
Is Vietnam good to travel with kids?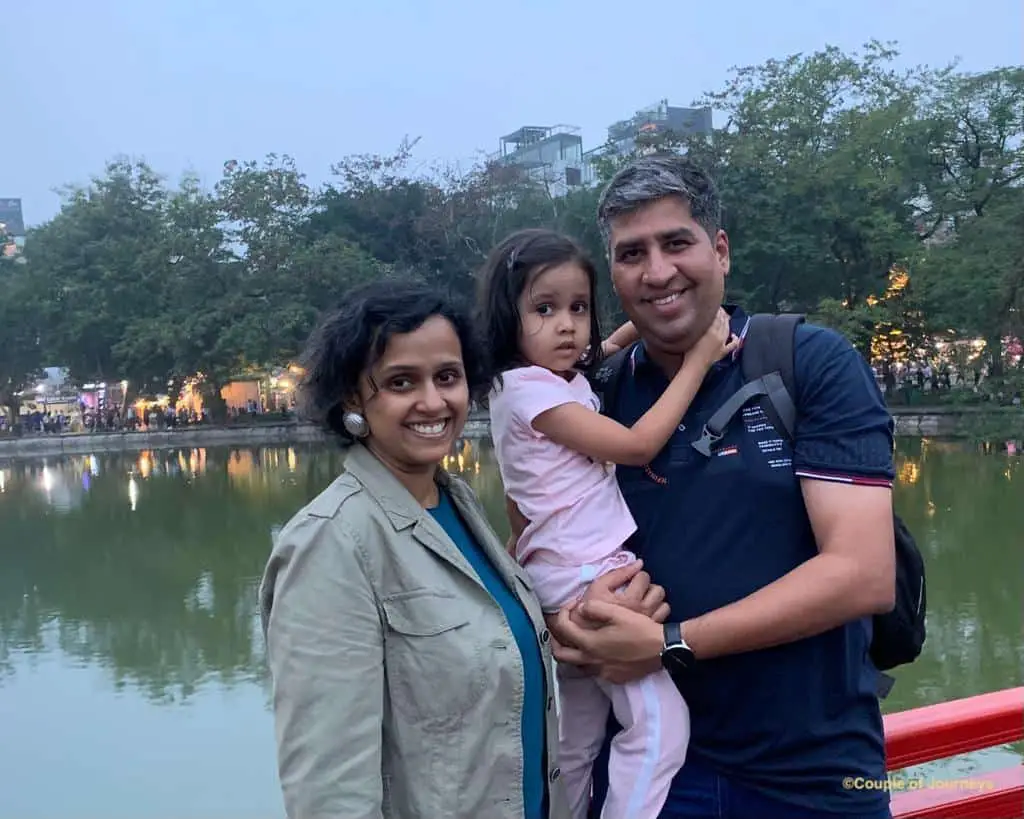 Vietnam is an excellent holiday destination for traveling with kids. It has plenty of things to do and see that offer family travelers to Vietnam a wide range of cultural and recreational experiences.
There are a variety of accommodation options to suit different budgets, from high-end hotels to affordable guesthouses, many of which are family-friendly.
Restaurants are plentiful, with kid-friendly options ranging from traditional Vietnamese cuisine to more familiar Western dishes.
Even commuting between places with a kid is fairly easy thanks to the affordable ride-hailing services.
How to plan a trip to Vietnam with kids?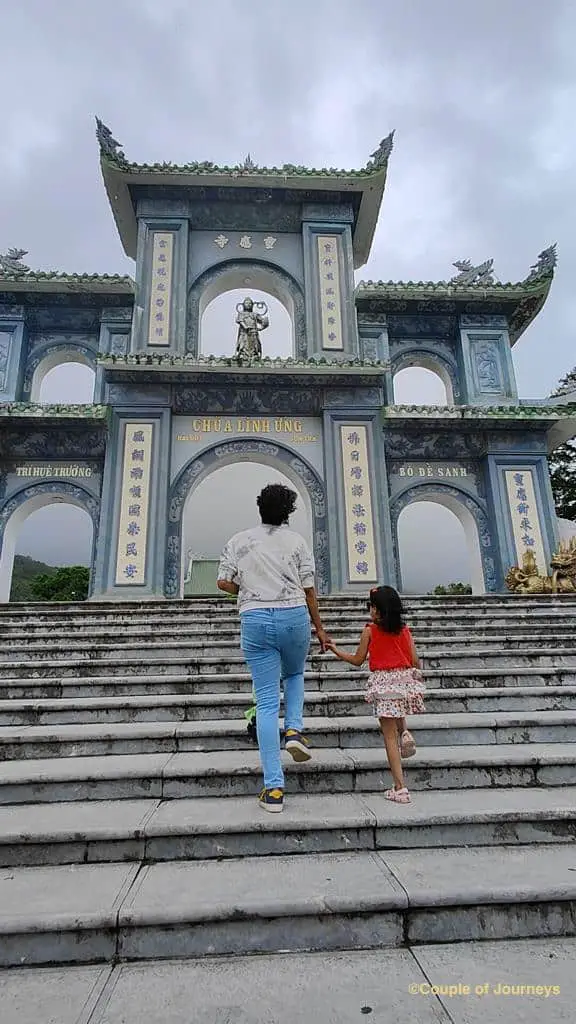 Planning a trip to Vietnam with a kid would vary slightly depending on the age of your kid. If you are traveling with a baby, you would obviously need more preparation. If you want to read a broader guide on how to travel with a baby, you can read it here.
In this post, I would share Vietnam-specific tips for traveling with kids.
Traveling to Vietnam with a baby
Immunization/Vaccination
Generally, immunization against
– hepatitis A
– Japanese Encephalitis
– Influenza and
– Typhoid is recommended.
But check with your doctor about immunizations based on the age of your baby.
Medicines/Hygiene
– Carry enough baby-safe mosquito repellants. Spray the repellant on all the baby products like slings, cots, strollers, and other products that your baby will come in regular contact with.
– Use sun protection generously. Sun is extremely harsh in Vietnam and traveling across the country exposes you to plenty of harsh sunrays.
– Keep an ample supply of hand sanitizer and baby wipes, as street markets, food stalls, sightseeing shuttles, and public areas in Vietnam may not uphold the best hygiene standards.
– Commonly used medicines are available all across Vietnam in medical shops but language may be an issue. To avoid confusion, carry basic medication for fever, common cold, cough, and stomach bugs with you.
Baby carriers/Slings/Baby strollers
The roads in Vietnam are not suitable for strollers. Plus, there is plenty of internal commutes involved when traveling to Vietnam in various modes of transport like flights, buses, trains, cars, taxis, and cruises. Packing and unpacking a stroller every time you move would prove to be a hassle.
Avoid a stroller as best as possible to make moving around faster.
But baby carriers or slings are a life-saver to walk around with your baby. A sling wrap is also effective at protecting your baby against harsh sun rays.
Highchairs/Baby Cots/Baby Monitors
Highchairs are not readily available in Vietnam except in high-end restaurants or cruises. This is because most of the seating in Vietnamese restaurants is low. Stools and ottomans and low-level pop-up style tables are used all across.
To keep your baby in place, either put your baby in the sling while eating.
Baby Cots would be made available in the family rooms of most accommodation options in Vietnam. You'll also be surprised by how many family-friendly room options you would see in major cities like Hanoi, Ho Chi Minh City etc.
You can also carry your own cot (Especially if it comes with insect protection covers and is lightweight). Most rooms, even your Halong Bay cruise rooms, would be spacious enough to accommodate a baby cot.
Carry a baby monitor with you at all times to keep an eye on your baby while you relax on the patio, balcony, or garden of family villas. Family-friendly rooms and villas are fairly spacious all across Vietnam except in Saigon where rooms are much smaller.
Baby food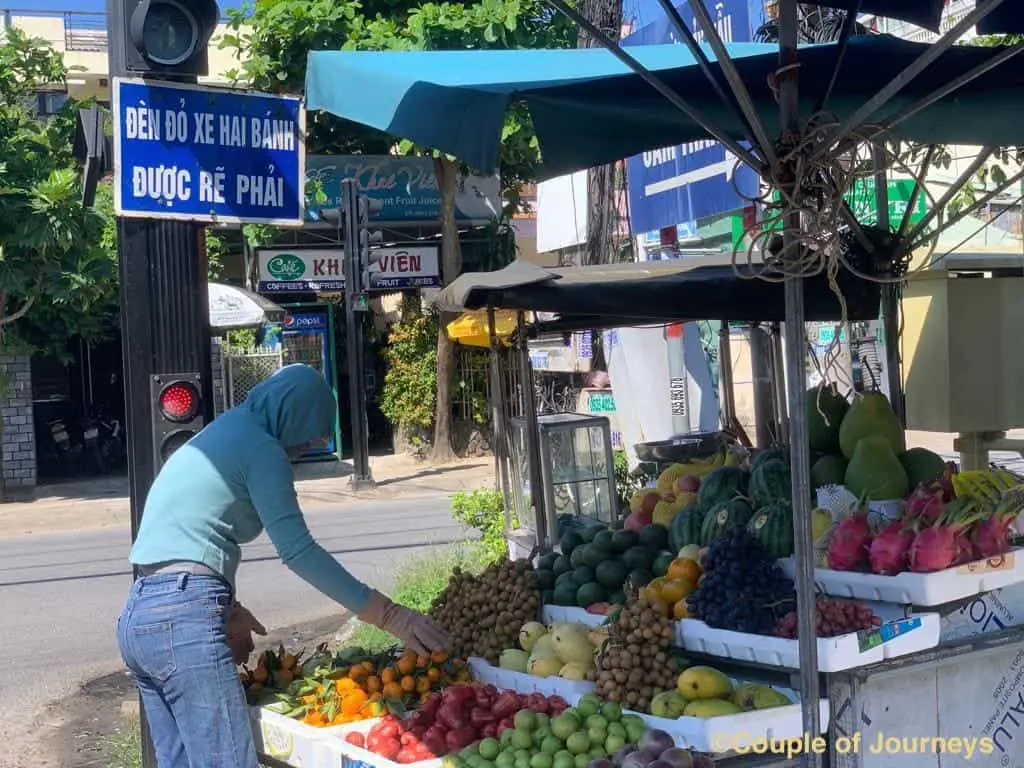 International baby food bottles are not easily available in Vietnam. Carry your own food bottles.
You'll get plenty of fresh fruits all across the country. So if your baby has started eating solids, you could rely on fresh fruits.
Restaurants or local food vendors would be happy to give rice porridge, boiled veggies, soups or freshly-made purées for your baby.
But language would be a barrier. Use Google Translate everywhere to avoid confusions. You will even be able to get freshly-prepared baby food delivered to your hotel through Grab. Keep Grab, Google translate and other must-have apps for your trip to Vietnam pre-downloaded on your phone.
Diapers and Diaper-changing
Nappies and diapers are available all across Vietnam. If you aren't too particular about the brand, you can get diapers in all parts of touristy Vietnam without much struggle.
So carry supplies only for the first few days of your trip and then stock up on additional diapers during your time in major cities.
Diaper-changing stations, however, are not available everywhere. You'll only find those at airports and major tourist attractions like Ba Na Hills. So be prepared to change your baby's nappies on table tops, parks and on-the-go.
In Saigon, you can head to baby cafés for meals or snacks. They let you enjoy meals while also allowing your baby to have a gala time. All baby cafés are equipped with diaper stations and baby rooms.
Breastfeeding
You can breastfeed on the go all across Vietnam. But make sure you do it discreetly. Carry a cover-up or use a baby wrap or a sling.
People in Vietnam are understanding and do not frown upon tourists breastfeeding their babies in cars, public areas, or tourist attractions (provided you're being discreet about it and covering yourself up well)
Commuting and Car seats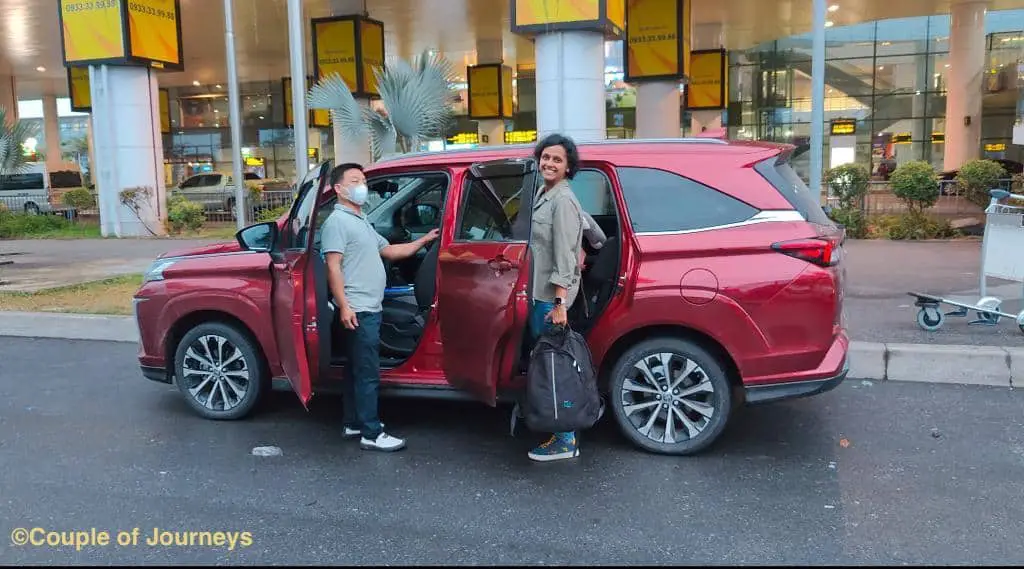 This is the aspect of traveling to Vietnam with a baby that could scare you the most.
Nobody in Vietnam uses a car seat. You'll also find plenty of people carrying their babies and kids on motorcycles.
Even if you carry your own car seat, it may not be compatible with the car. So it is best to carry your baby on the lap or in a sling or a wrap while being seated in a car.
Vietnam with a toddler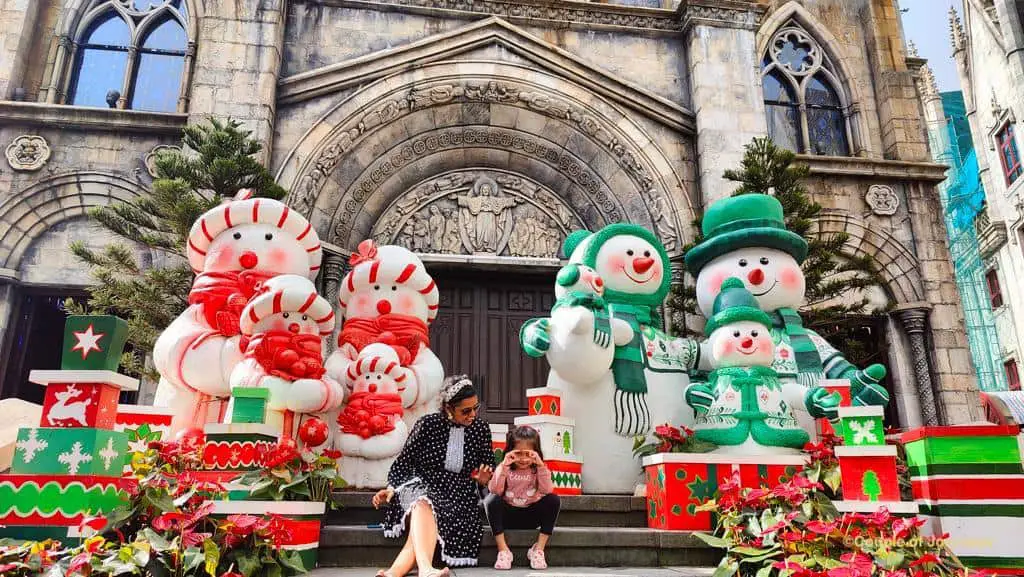 Traveling to Vietnam with a toddler would be similar to traveling with a baby as far as immunization, medication, and hygiene matters are concerned. So you can read the relevant sections above.
Stroller/Reins
Even with a toddler, I do not recommend carrying a stroller as roads in Hanoi, Ho Chi Minh, Hoi An or other tourist destinations are not too stroller-friendly. I found Da Nang to be the most stroller-friendly town in Vietnam. So unless you are spending a major part of your trip to Vietnam in Da Nang, I do not recommend packing a stroller with you.
I did see a few American tourists use toddler reins. So if reins appeal to you, you could consider using those.
Toilets
If your toddler is toilet trained, you will be happy to see that Vietnamese toilets are clean and have enough water supply. Use of toilets is free at tourist attractions, malls, restaurants, cafés, etc.
Public restrooms in Vietnam charge a nominal fee but are also well-maintained and clean.
But, like with other Asian destinations, toilet paper is usually not available at all toilets.
For hygiene purposes, I recommend carrying
– toilet paper rolls
– disposable toilet seat covers
– wipes, and hand sanitizers everywhere you travel
I also do not recommend train travel in Vietnam with a toddler as the toilets in trains are not clean.
Food
Food would be far less of an issue when traveling with a toddler who is used to eating solid foods.
You won't find international food and beverage options like pizza, pasta, or burger easily. But the local staples like Banh Mi, Pho, and Rice work well with kids. Restaurants are also happy to customize their food to make it less spicy for kids. Many local food vendors also make fresh french fries for kids.
Juices, milk, and cereals are available at breakfast at most hotels and cruises that provide free breakfast.
Plus, Vietnamese snacks are delicious. You will find plenty of varieties of chips, nuts, etc. at supermarkets and train stations.
Transport and Commute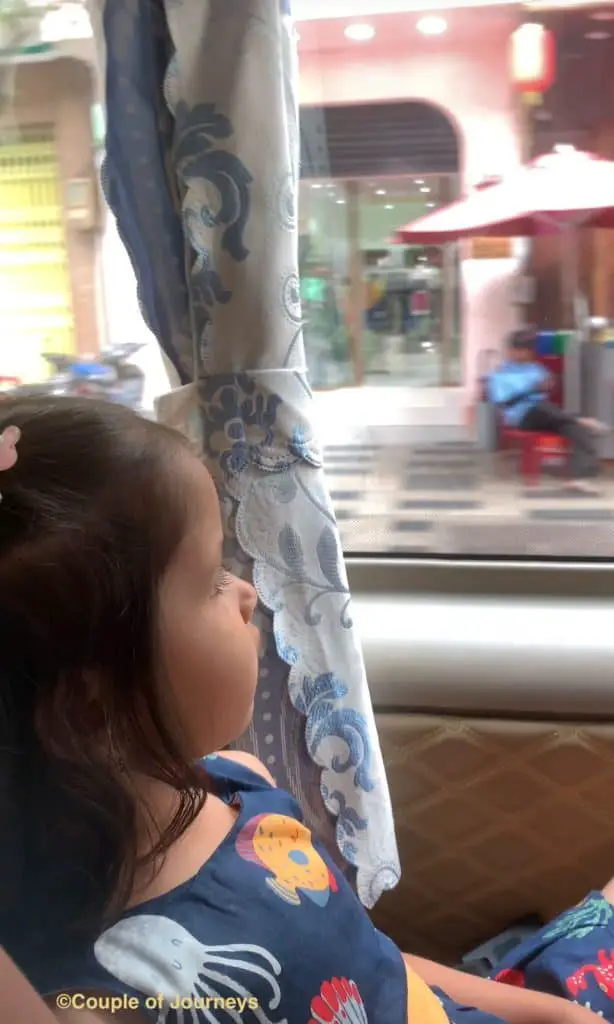 If you are traveling with a toddler, you could easily use all modes of transport in Vietnam. You won't get cars with a car seat, but you can secure your kid using seat belts.
You can even rent a scooter if you are comfortable riding one in Vietnam. Carry a helmet for your kid as you won't be provided one by the rental company.
Many sightseeing tours would take toddlers under 5 for free and may even provide a separate seat for the toddler. Make sure you inform the tour company in advance that you're traveling with a toddler.
Also as stated above, avoid taking internal trains in Vietnam with a toddler. The sleepers and seats are fairly comfortable. But the toilets are not clean and that could be a major inconvenience for you and your little one.
Vietnam with older kids
Unlike traveling to Vietnam with a baby which requires serious preparation, traveling to Vietnam with older kids is an easy affair. Carry applicable medicines, make your kids wear enough sun protection, and ensure they are properly immunized. That's all!
How to plan a trip to Vietnam with kids
You could have the best time with your kids in Vietnam or you could end up overwhelmed and stressed. Planning properly is key for a fantastic trip to Vietnam with kids.
Pick the right season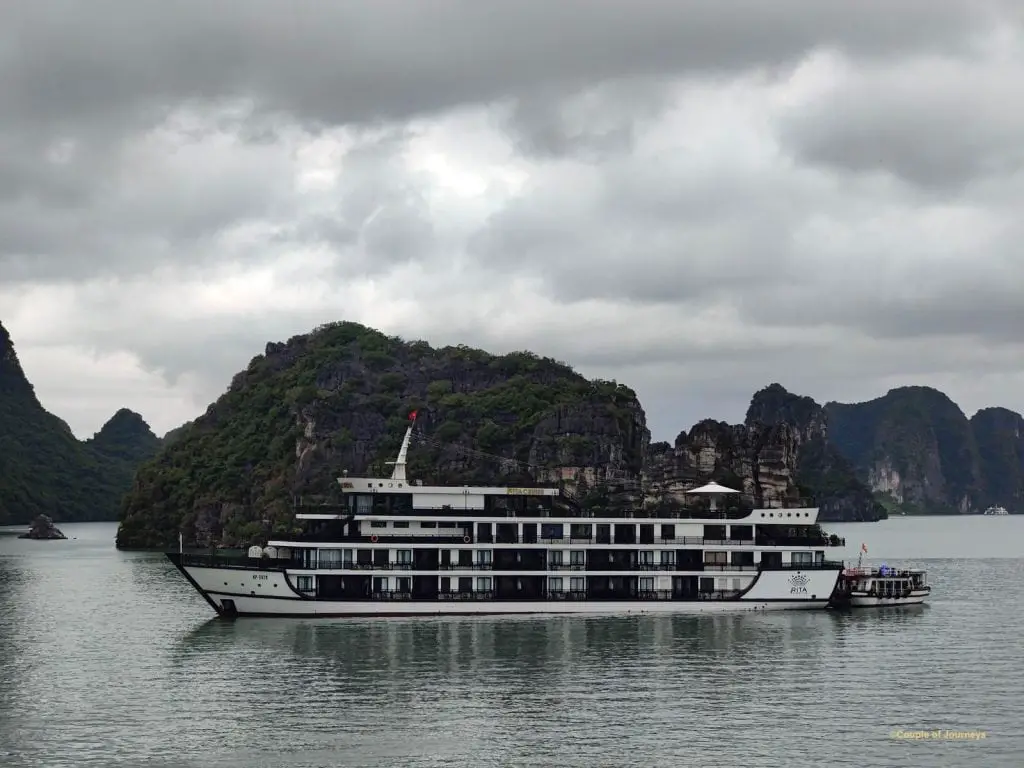 Travel to Vietnam during the dry season. Rainy weather in Vietnam could cause flight delays and tour cancellations. It will also add to your woes as you will struggle to keep your baby dry and clean.
You and your kids would also be at a lesser risk of catching a cold or fever and maintaining proper hygiene would not be a challenge.
The wet season in Vietnam is between June to September except in central Vietnam. Central Vietnam, i.e. Da Nang is hit with heavy rains, stormy weather, and flooding during October, November, and early December.
You may also experience light showers in the southern regions between January and February.
The best time to visit Vietnam with kids is March and April when the entire country enjoys dry weather. The heat is also less harsh than in May and the northern regions, less cold compared to the winter months of December and January.
Likewise, to avoid crowds avoid the period between June to August. That is when schools in Vietnam are shut and locals travel within the country with their families making touristy areas like Halong Bay, Ninh Binh, Sapa, Phu Quoc, and Ba Na Hills extremely crowded.
Do not pack your itinerary with too many cities
Vietnam is a long country with massive distances between two cities.
Hanoi to Halong Bay is 3.5 hours by car
Hanoi to Sa Pa is 4-5 hours by car
Hanoi to Da Nang requires an internal flight of 1.5 hours or a train journey of 15-17 hours
Da Nang to Ho Chi Minh City also requires an internal flight of 1.5 hours or a train journey of 16-20 hours.
Da Lat to Ho Chi Minh City also takes about 5-6 hours by car
When traveling to Vietnam with kids, it's important to avoid an itinerary that's too packed with multiple city visits. Long travel times, frequent hotel changes, and the pressure to see everything can quickly lead to travel fatigue for both you and your children.
Instead, focus on a few key destinations that offer a balance of cultural exposure, relaxation, and kid-friendly activities.
Allow for downtime between excursions.
This slower pace will help you and your children if they are older, truly absorb the local culture. You will also get time to properly enjoy the unique experiences each city offers, and keep the trip enjoyable rather than overwhelming.
Plan your Internal Commute In Advance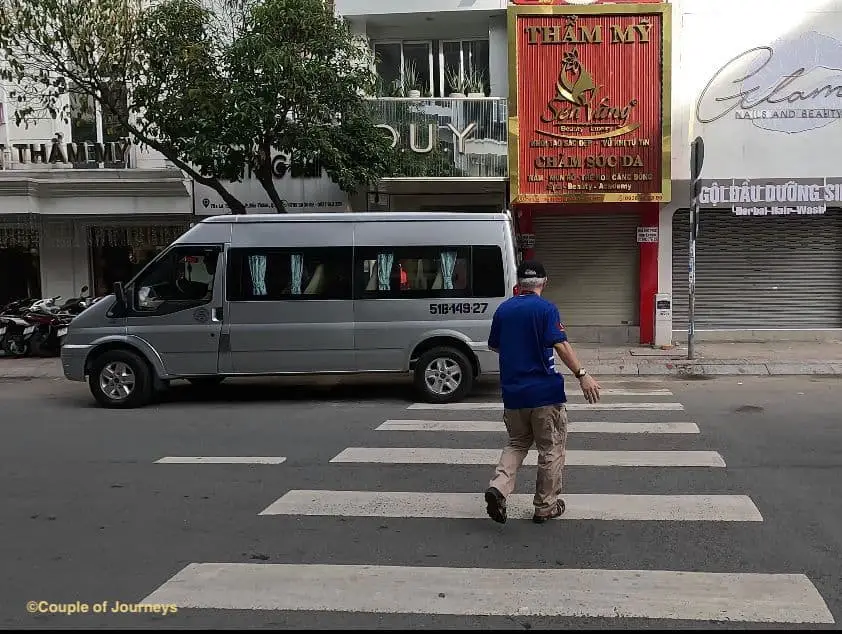 To avoid fatigue, opt for
✅ flights between cities that are too far away by train or road. Bamboo Airways is my preferred domestic carrier as its flights rarely get cancelled even in bad weather conditions. Vietjet and Vietnam Airlines flights frequently get canceled or delayed in such conditions.
✅ private cars with drivers for road trips that take up more than 3-4 hours. You could book these directly through agents or using apps like Grab.
But I prefer pre-booking pick-ups, drops, and cars for day trips in advance online. Many even offer the option to add car seats for babies and the drivers tend to know better English than local taxi drivers.
✅ sightseeing tours with smaller groups where commute is in comfortable buses and kids usually get their own seat
✅ Halong bay cruises with excellent reviews (Read my detailed post on my Halong Bay experience and whether it is worth it)
Avoid
❌ Long train journeys
❌ Speed boat trips with no proper safety equipment or life jackets
❌ Motorbikes or scooters without child helmets
A note on basket boats, bamboo boats etc: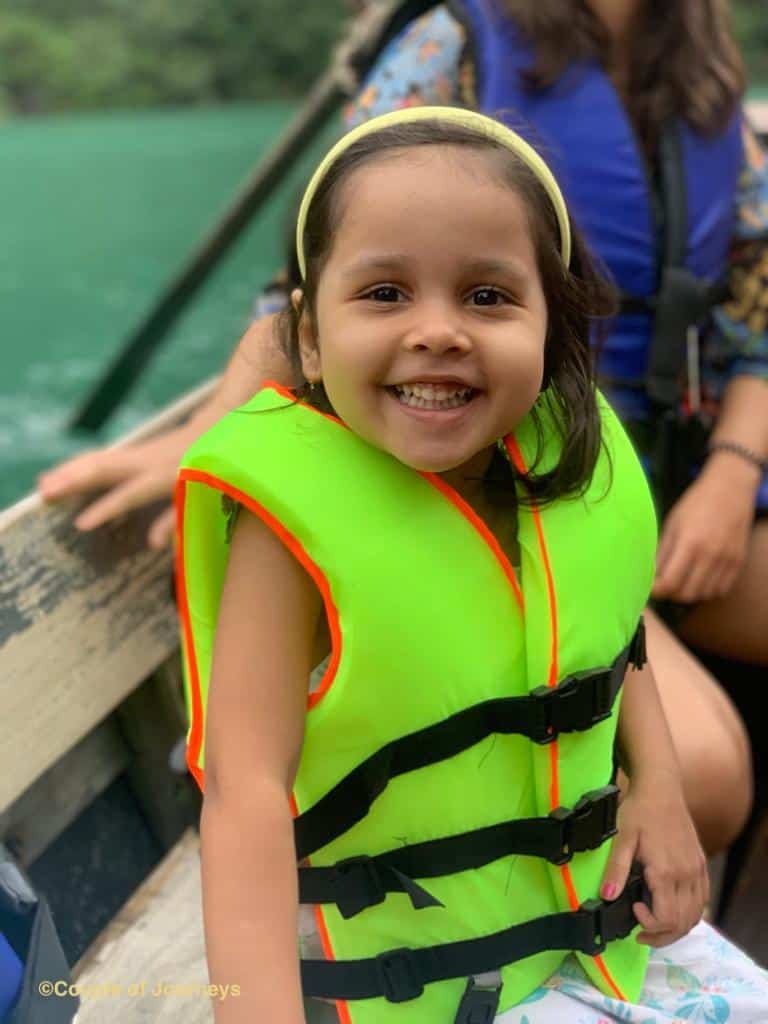 Traveling to Vietnam involves taking many types of boat journeys – be it at Halong Bay or other regions like Hoi An or Mekong Delta. Most places provide a life jacket for kids and taking your baby, toddler, or kid on these Vietnamese trips is a fun, enjoyable experience.
But strictly avoid going on these journeys with your little one if the service provider is not equipped with kid-friendly safety gear.
Prepare your kid (applicable to toddlers and older kids)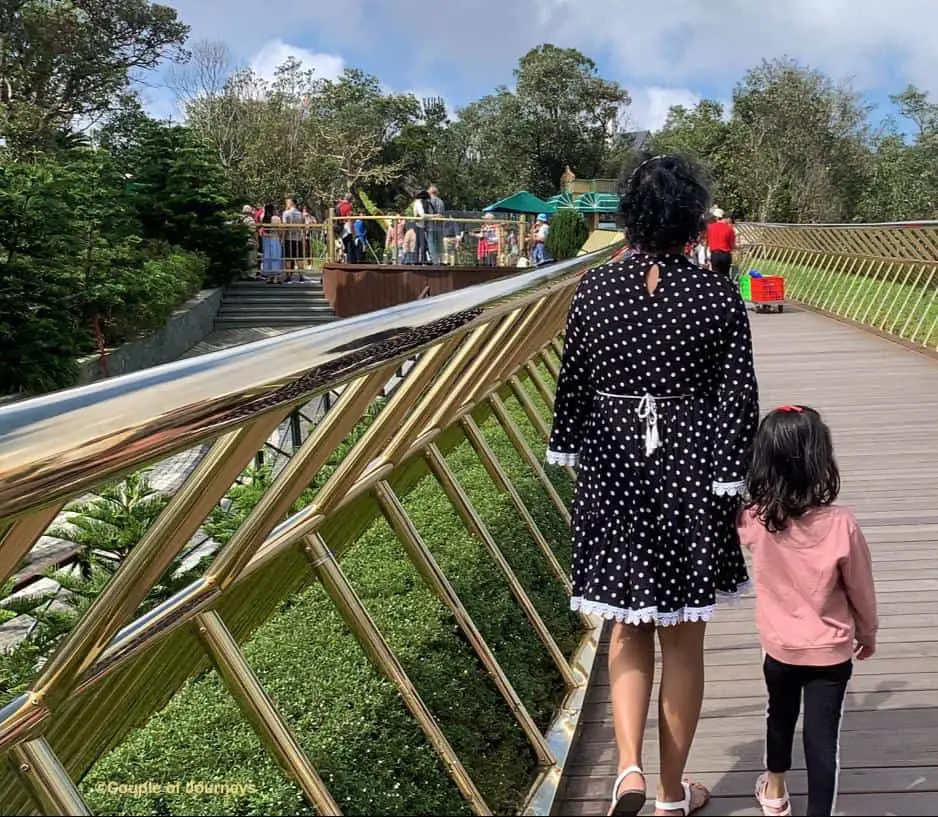 This is a quick section on ways in which you could prepare your little ones for a trip to Vietnam. Preparation can set the right expectations and help kids get the most out of their time at a new destination.
Prepare for walking long distances Hoi An is a pedestrian town that needs to be explored on foot. Even exploring Ba Na Hills requires a lot of walking. Prepare for it.
Prepare for historical attractions Vietnamese history has French, Chinese, Japanese, and American influences. If you have older kids, educate them about these chapters so that they get the most out of their time at museums, memorials, etc.
Prepare for different modes of transport Traveling in Vietnam involves taking buses, flights, speed boats, cruises, lantern boats, motorbikes, jeeps, etc. If your kids are new to these modes, help them understand what to expect and educate them on the safety norms of each mode of transport.
I showed my daughter plenty of travel videos to help her understand what a cruise is and what she should expect on the cruise so when we actually stepped on the cruise, she was super excited and knew exactly what to expect.
Packing for your Vietnam trip with a kid
I am obviously not going to provide a detailed packing list here. I am just going to mention items that I feel you must carry when traveling to Vietnam with a kid.
Must-have items for traveling to Vietnam with a kid
Baby carrier/Sling/Wrap (or all three)
Baby wipes, toilet paper, and tissues
Toilet seat covers (Disposable)
Simple cotton clothing
Medication
Top Things to Do in Vietnam with Kids
The options of what you could do and see during your time in Vietnam are almost endless. In this section, I will give you an overview of what types of attractions are feasible and which ones you should avoid altogether.
Things to do in Vietnam with a baby
Honestly, if you can put your baby in a baby wrap or a sling, travel slowly to accommodate your baby's nap times, feed your baby whenever your baby's hungry – your baby would be happy to go anywhere with you including on street food tours, local sightseeing tours, city walks etc.
Lakes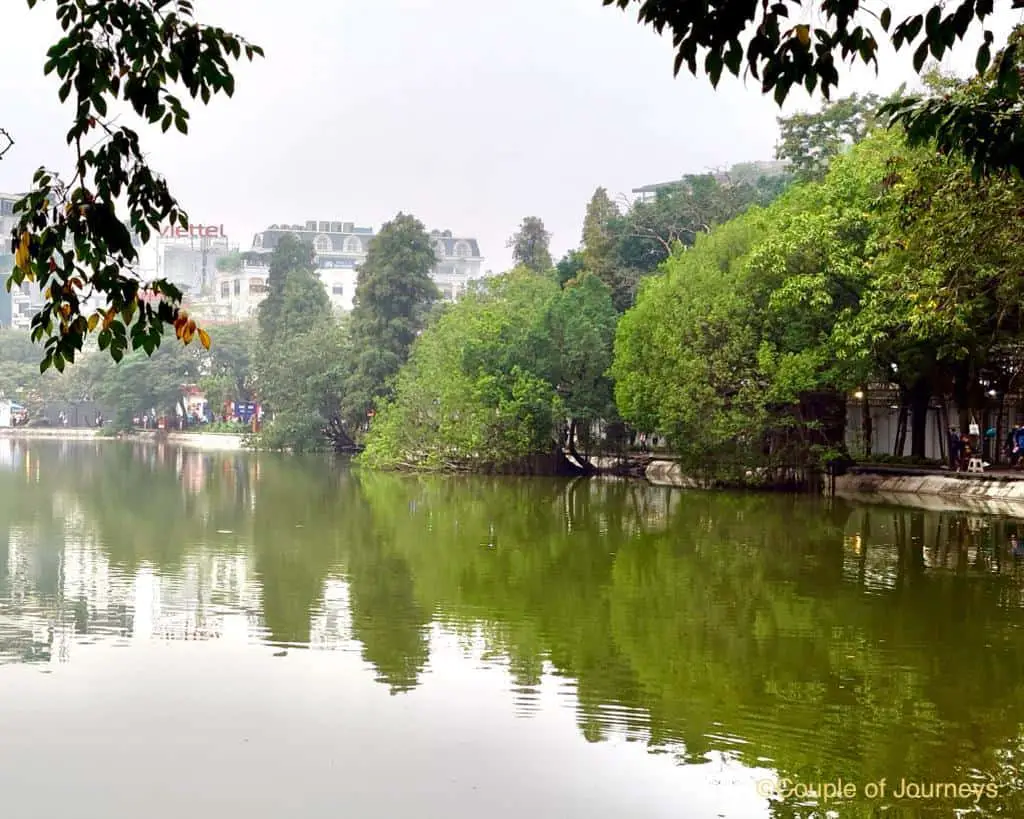 Take leisurely strolls with your baby at central lakes like the Hoan Kiem lake in Hanoi or Xuan Huong Lake in Da Lat. These city-center lakes provide a tranquil atmosphere, picturesque views, and shaded areas perfect for a picnic or a nap.
Beaches
Vietnam is renowned for its stunning and family-friendly beaches. Visit Nha Trang and Da Nang which offer sandy beaches with calm waters for your little one to enjoy
Halong Bay and other boat trips
There are many reputed Halong Bay cruises with excellent safety ratings and baby amenities onboard. You could not only take your baby with you on these cruises but also head out for sightseeing adventures included in the Halong Bay cruise itinerary.
On similar lines, you could also head out on boat trips that are safe and reputed all through Vietnam at Ninh Binh, Hoi An, Mekong Delta, Phu Quoc etc.
Museums
Vietnam has so many incredible museums like
Vietnam Museum of Ethnology, Hanoi
War Remnants Museum, Ho Chi Minh City
Vietnamese Women's Museum, Hanoi
Ho Chi Minh Museum, Hanoi
Museum of Cham Sculpture, Da Nang
Fine Arts Museum, Ho Chi Minh City
Imperial Citadel of Thang Long, Hanoi
Hue Royal Antiquities Museum, Hue
Hoa Lo Prison Museum, Hanoi
Vietnam National Museum of History, Hanoi
AO Show Saigon, Ho Chi Minh City
Museum of Vietnamese History, Ho Chi Minh City
If your baby can stay comfortably in a baby wrap or nap while being carried, you can easily visit all of these museums and learn about the rich history and culture of Vietnam.
Places to avoid when visiting Vietnam with a baby
Hikes, Caves, Temples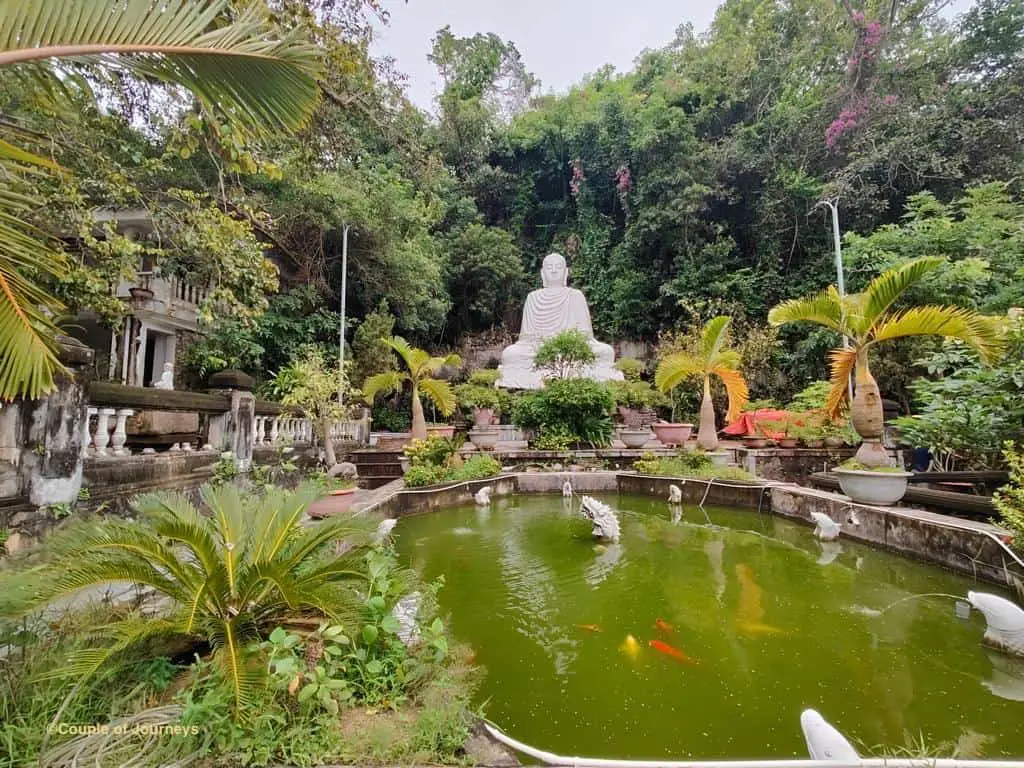 Steep, uneven surfaces and lengthy hikes may prove too challenging with a baby. Similarly, many caves and temples may have countless stairs and lack baby-friendly facilities, making them less than ideal for visitors with young infants.
Crowded Areas
Busy street markets and festivals can be overwhelming and inconvenient for breastfeeding mothers. Such crowded places might not offer the privacy or comfort needed for feeding or changing your baby.
Remote Areas
Remote regions might lack the necessary amenities for a baby's needs, including healthcare facilities, baby food, and diapers. Moreover, long travel times to reach these areas could upset your baby's routine.
Shows
Traditional performances like water puppet shows or cultural dance shows go on for about an hour. Babies unable to stay quiet for such a long period of time may disturb the artists and fellow audience members. Avoid taking your baby to such shows and performances.
Things to do in Vietnam with a toddler
Most tourist attractions in Vietnam are suitable for a visit with a toddler, with enough space for them to walk or run around. However, always remember to keep a close eye on your toddler, especially in crowded places.
But some places and experiences that I particularly recommend for your trip to Vietnam with a toddler are –
Streets around Hoan Kiem Lake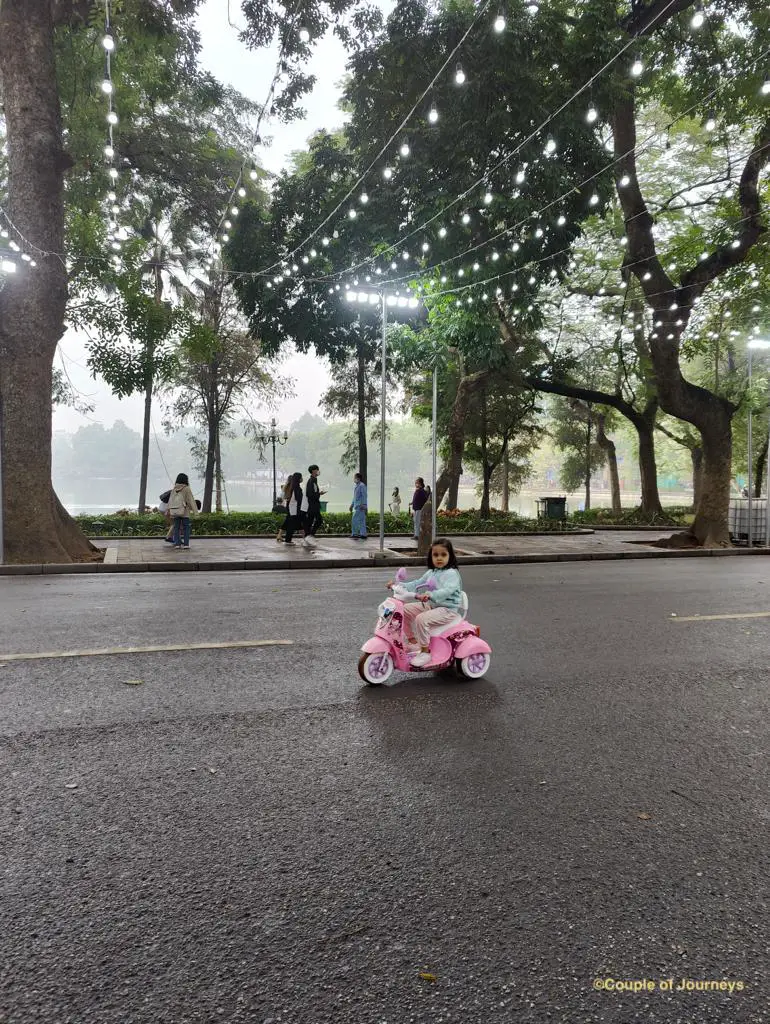 On weekends, all the streets around Hoan Kiem Lake are shut to vehicles. Instead, they turn into fun activity areas for kids.
You will find electronic scooters and cars for toddlers available here. My daughter had an incredible time riding a pink scooter on the empty Hanoian streets on a Saturday afternoon.
The area also plays fun music. You'll find many mascots interacting with kids and toddlers. Many candy stalls and toy shops are also set up and the whole place turns into a paradise for toddlers.
Book Street
Nguyen Van Binh Book Street in Ho Chi Minh City is a quiet and pedestrian-friendly street lined with bookshops and cafes. On weekends, this place has many activities lined up for kids. You'll also find many local ice cream vendors in this area.
Beaches
Vietnam's beaches like those in Nha Trang, Da Nang, and Phu Quoc offer safe swimming areas and soft sand perfect for building sandcastles, making them ideal for a fun day out with a toddler.
Many types of Boat Rides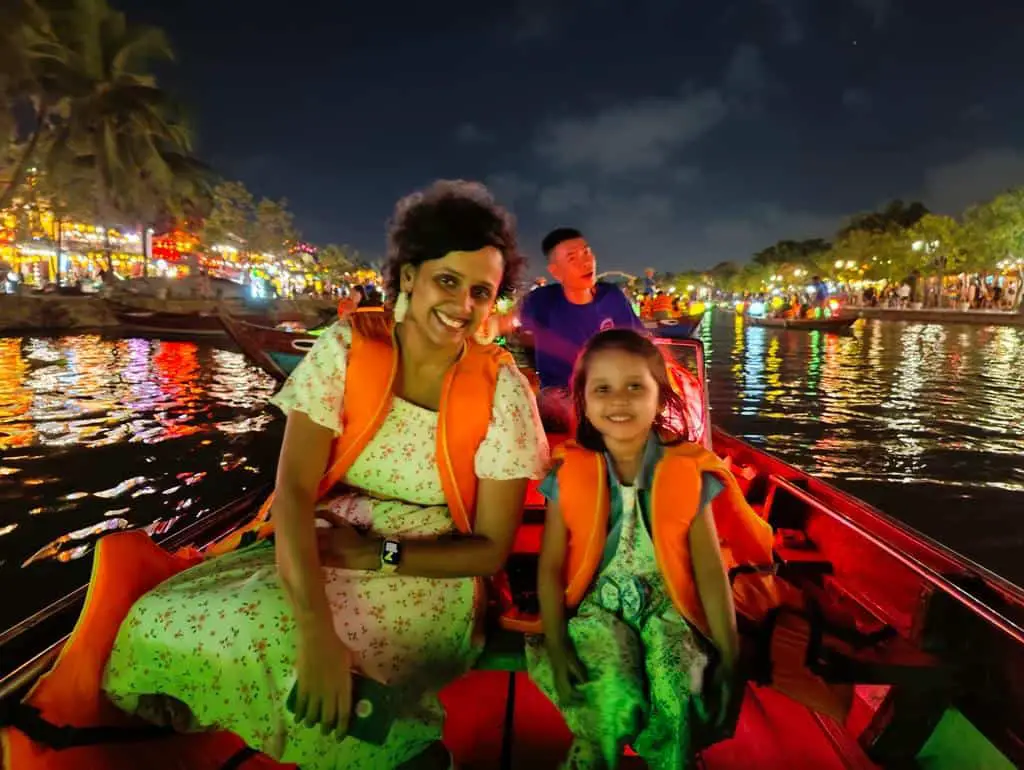 Boat rides can be exciting for toddlers and Vietnam has a wide variety of those. Whether it's a leisurely cruise along Halong Bay, a journey on the Mekong Delta, a bamboo boat ride in Lan Ha Bay, a lantern boat trip at Hoi An, or an exhilarating basket boat ride at the Coconut Village – make sure you let your toddler experience as many types of boat rides as possible.
Remember to have suitable life jackets and always supervise them near the water.
Shopping
Shopping can be an engaging experience for toddlers too. From traditional markets like Ben Thanh Market in Ho Chi Minh City to modern malls in Hanoi, your toddler might enjoy the vibrant colors, sounds, and even the toys and clothes sections designed for them.
You read my full guide on the best things to buy in Vietnam here.
Cu Chi Tunnels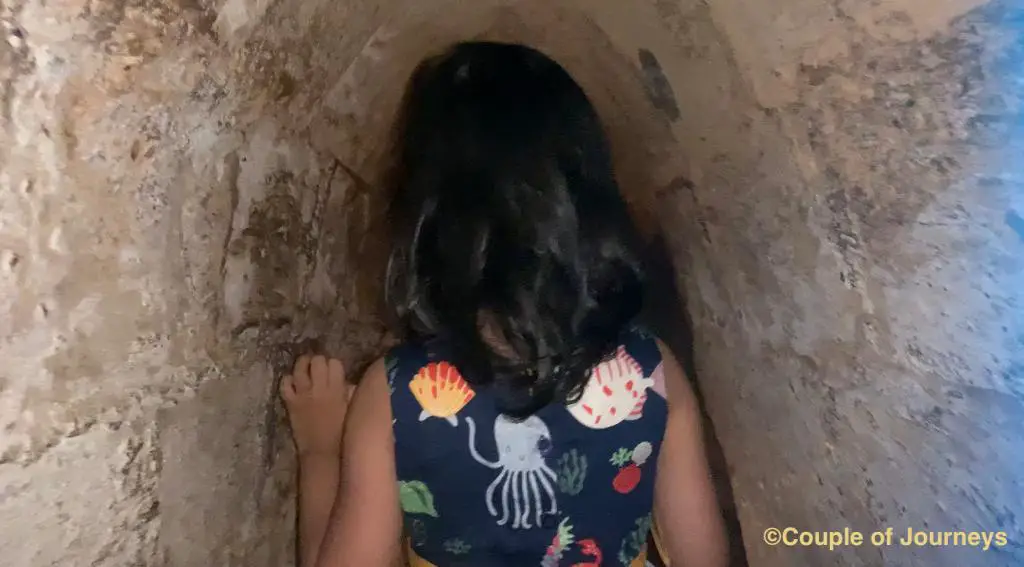 While toddlers may not understand the historical significance of the Cu Chi Tunnels, they may find the tunnel exploration adventure exciting. My daughter was fascinated by the tunnels and found it amusing that she could walk comfortably while I had to crawl slowly through the passages.
Again, ensure their safety at all times.
Places to avoid when visiting Vietnam with a toddler:
War Museums
While historically significant, war museums like the War Remnants Museum may contain graphic exhibits and imagery not suitable for a toddler's understanding. The serious atmosphere might also bore or unsettle them.
Shows
Shows, like the traditional Water Puppet Theatre or late-night cultural performances, might be challenging for toddlers due to the need for them to sit still for extended periods. The noise and large crowds could also be overwhelming for them. It's best to save these experiences for when they're a little older.
Things to do in Vietnam with older kids
Older kids will have more flexibility and tolerance for a variety of activities.
You can take them out hiking in Sapa or with you to explore the caves in Phong Nha. You could even go kayaking in Halong Bay or cycling in the countryside. You and your kids could also participate in local farming activities in places like Tra Que Vegetable Village in Hoi An.
But if you have older kids, some places and activities that I strongly recommend are
Visit to Museums
Vietnam's museums offer an excellent opportunity to learn about the country's rich history and culture.
The War Remnants Museum and the Museum of Vietnamese History in Ho Chi Minh City, the Vietnam Museum of Ethnology in Hanoi, or the Museum of Cham Sculpture in Da Nang can provide older kids with a deeper understanding and appreciation of Vietnam's past and its people.
Historical Places
Just like museums, historical sites like the Imperial Citadel of Thang Long in Hanoi, the ancient town of Hoi An, the Cu Chi Tunnels near Ho Chi Minh City, and the Hue Monuments Complex offer a chance for older kids to engage with Vietnam's historical narrative in a tangible way.
These places often have guided tours, which can help bring history to life for young visitors.
Street Food Tours
Vietnam is famous for its street food, and this can be an exciting culinary adventure for older kids.
I particularly enjoyed the guided street food tours in Hanoi. But street food tours are available in most cities, providing a safe and educational experience of local food culture. Trying dishes like pho, banh mi, and bun cha could be a highlight of their trip!
Places to avoid when visiting Vietnam with older kids
Night Life Streets
Areas known for their nightlife, such as Bui Vien Street in Ho Chi Minh City or Ta Hien Street in Hanoi, can become crowded and boisterous at night. They may not be suitable for children due to the loud music, alcohol consumption, and general late-night revelry.
It's best to keep kids' activities to the daytime and early evening when the atmosphere is more family-friendly.
Frequently Asked Questions – Traveling in Vietnam with kids
Is Vietnam stroller friendly?
Vietnam is not very stroller-friendly. Larger cities like Hanoi and Ho Chi Minh have crowded streets and uneven sidewalks. Strollers may be used at major tourist attractions like Ba Na Hills, beach resorts, modern cities like Da Nang, and at malls.
Does an infant need a visa for Vietnam?
Visa rules apply uniformly to adults and children including infants. Check the visa requirements applicable to your country when planning a trip to Vietnam with an infant.
Is tap water safe for drinking in Vietnam?
It is not safe to drink tap water in Vietnam as the same is contaminated with pathogens. You must boil the tap water before drinking or consume bottled drinking water.
---
Traveling to Vietnam? Read more helpful articles
---
Pin it for later!
---
TOP TRAVEL RESOURCES
Here is a list of our favorite travel resources- the ones that I absolutely swear by when planning almost every trip. Go through this list to plan a hassle-free trip and save a lot of money!
Flight Booking: Check the availability of tickets, the best time to fly, and the cheapest fares on Skyscanner. You may also find a cheap flight via CheapOair
Accommodation: I absolutely love booking through Agoda. In most countries and particularly in Asia, I often find the best fares on Agoda. But I also love the no prepayment and no cancellation fee policy of Booking.com. For cheap accommodations and hostels, nothing beats Hostelworld.
Car Rentals: You may find and rent an appropriate car via RentalCars. It's hassle-free and reliable.
Guided Tours: I absolutely love GetYourGuide for local sightseeing tours, walking tours, history tours, and food tours. The booking process is seamless, and the tours are super affordable. But in Asian countries, I prefer Viator or Klook for their affordably priced tours.
Lounge Access: Get Priority Pass – my personal favorite card that gives me unlimited access to premium airport lounges all over the world
Hey, if you found this post helpful, share it with more people or buy me a coffee!