Honest Vietjet Air Review: Is It Really Bad?
This website contains no sponsored content. The content is written entirely on my own and is based on my personal experience and extensive research. This post may contain affiliate links. If you make a purchase through one of these links, I may receive a small commission at no extra cost to you. As an Amazon Associate I earn from qualifying purchases. Please read the disclaimer for more information.
Is Vietjet a good airline? Or is it like other budget airlines?
Does it serve food? How is the leg space?
Are the seats comfortable?
If you've booked or are about to book a Vietjet Air ticket, all these questions must have popped up in your head.
In this honest Vietjey Air review, I will share my end-to-end experience of flying Vietjet Air. I will go over the booking process, purchase of add-ons, seat comfort and leg space, crew's hospitality, onboard facilities, etc. In the end, I will also talk about a horrific experience that we had at Ho Chi Minh City Airport.
I will also try and answer as many common questions about Vietjet Air as possible.
---
Vietjet Air Review – Is Vietjet Air good?
Here's my detailed Vietjet Air review. It is based on my flights from Mumbai to Hanoi and Ho Chi Minh City to Mumbai. I travelled with my husband and my 4-year-old daughter.
Booking, Website and App experience
To be honest, I booked Vietjet tickets using the Easemytrip platform as it is tied to HDFC's Smartbuy portal.
Since we were flying into Hanoi and leaving from Ho Chi Minh City, I would have liked to see a multi-destination booking facility. But Vietjet's official website does not offer that and so I had to book two separate tickets (Mumbai-Hanoi and then Ho Chi Minh City-Mumbai) which was a slight inconvenience for sure.
After I booked the tickets, I did not get any confirmation email from Vietjet Air. The only email I got was from EaseMyTrip.
That definitely had me scared as booking through third-party vendors is always slightly risky.
When I tried to check my booking status using the PNR allotted to me, it kept giving me an error that there is no booking to that effect. This really had me petrified and I frantically made an international call to their Vietnam Customer Care number as they do not have a local office in India.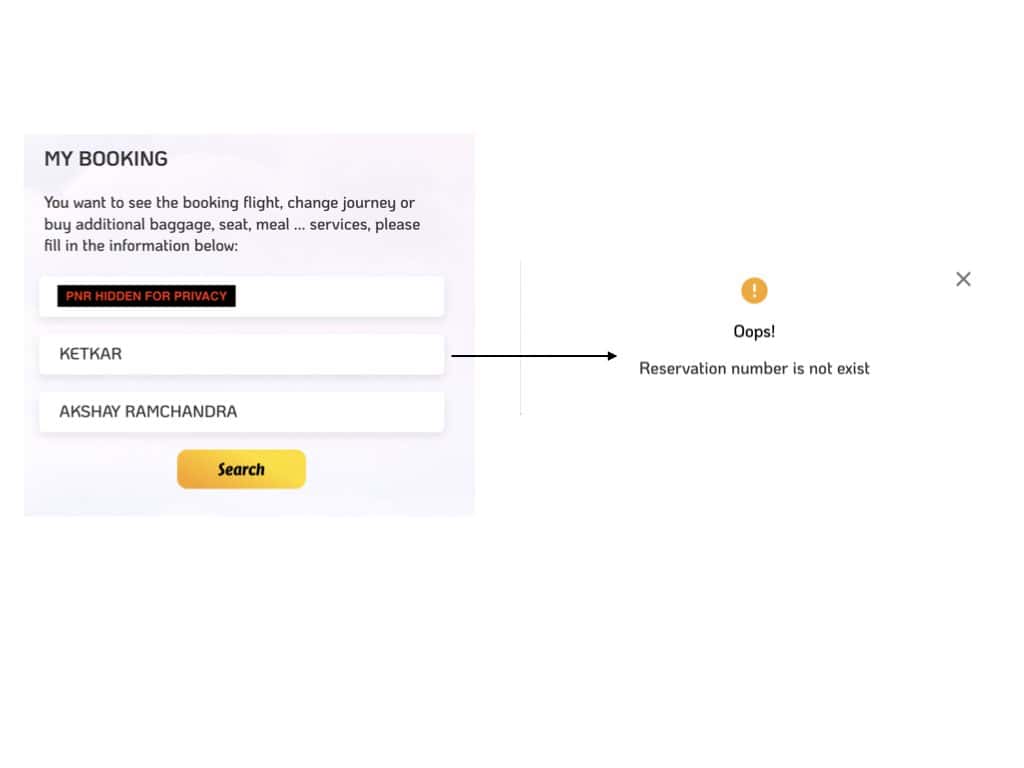 On contacting them, I was told that I should add 'Mr' after my husband's name and middle name to retrieve the booking. As ridiculous and absurd as it was, it did show me my booking and I was relieved. But I found this little glitch rather ridiculous.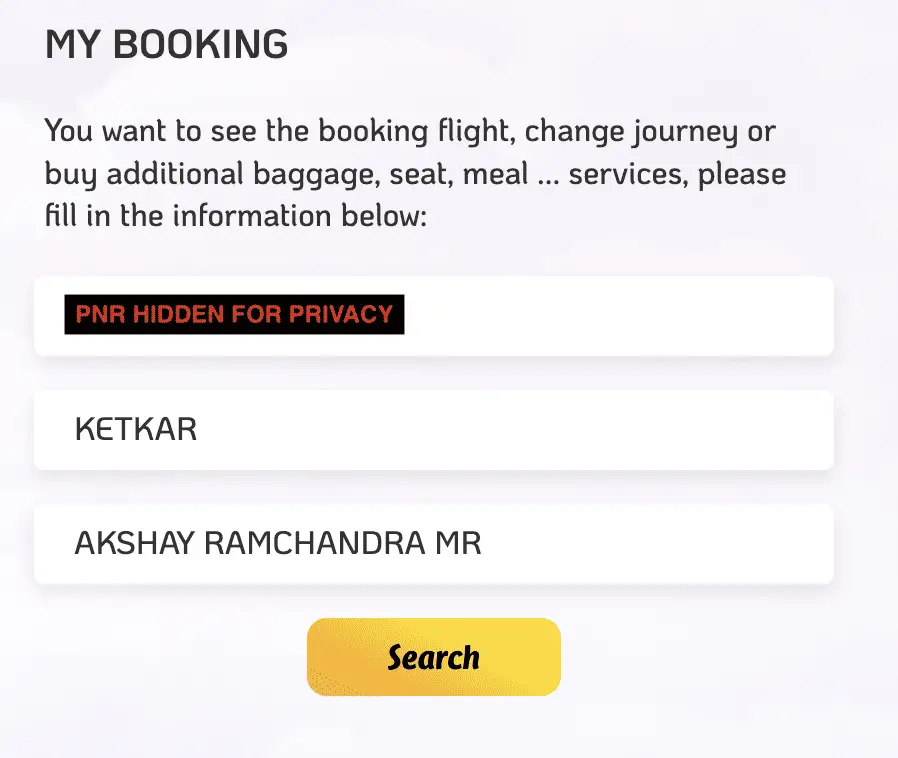 The customer care executive also had a confirmation email sent to me for both of my tickets. But again, I found it disappointing that I did not get an email automatically and that I had to reach out to them over an international call to get this rather straightforward process initiated.
Another small complaint I have about Vietjet Air is that its website doesn't seamlessly translate all the content into English. The cookie consent notification is in Vietnamese and I still have no idea whether I click on the agree button or not!
Similarly, the app kept sending multiple notifications to me in Vietnamese every day until I uninstalled it after coming back from the trip!
---
Purchase of Add-Ons like Seats and Meals
A couple of weeks before our trip, we decided to book our seats and prebook a few meals.
So we logged in again using our booking number (with the addition of Mr to the name of course) and went ahead and booked the most expensive seats available to the economy class ticket holders.
The seats cost us INR 800 per person.
We then also booked the meals. We were pleased to see a few Indianised options for its flights to and from India.
We booked the following three meals
– Veg Fried Rice
– Thai Rice
– Naan with Veggies
The exact names could be a bit different but this was the crux. Each meal cost us around INR 500 which is reasonable for international travel.
Upon making payment for our add-ons, I immediately got a confirmation email with the tickets reflecting our selected seats and meals.
An important note about buying add-ons
the total amount displayed includes the cost of your ticket plus the cost of the add-ons. It is displayed in VND and since the currency is weaker than INR – the amount runs in crores. Don't get confused. You are only charged for the add-ons you selected and you don't have to pay the fare for your tickets again!
In my opinion, the process of buying add-ons went far more smoothly than the initial booking process.
---
Changes to Itinerary
After I bought my add-ons for my flight from Mumbai to Hanoi, I immediately received a confirmation email with the ticket.
But, it is through this email that I found out that our flight which was scheduled to leave at 1:30 am at the time of initial booking had been preponed to 11:00 pm! The flight was preponed by a solid 2.5 hours and there was no communication from Vietjet about it.
Imagine the chaos if we had we not purchased add-ons and only found out about this at the time of web check-in.
So please keep checking your flight schedule to avoid missing out on key itinerary changes.
---
Check-in Experience
The experience of checking in luggage was extremely smooth. Since we had booked the Eco category ticket, we were allowed checked luggage up to 20 kg per person.
The staff, both in India and in Vietnam, spoke good English and seemed fairly cooperative and prompt.
This meant that we spent hardly 15 minutes for check-in and could then head towards security and immigration without any unreasonable delay.
---
In-flight experience
Seats and Leg space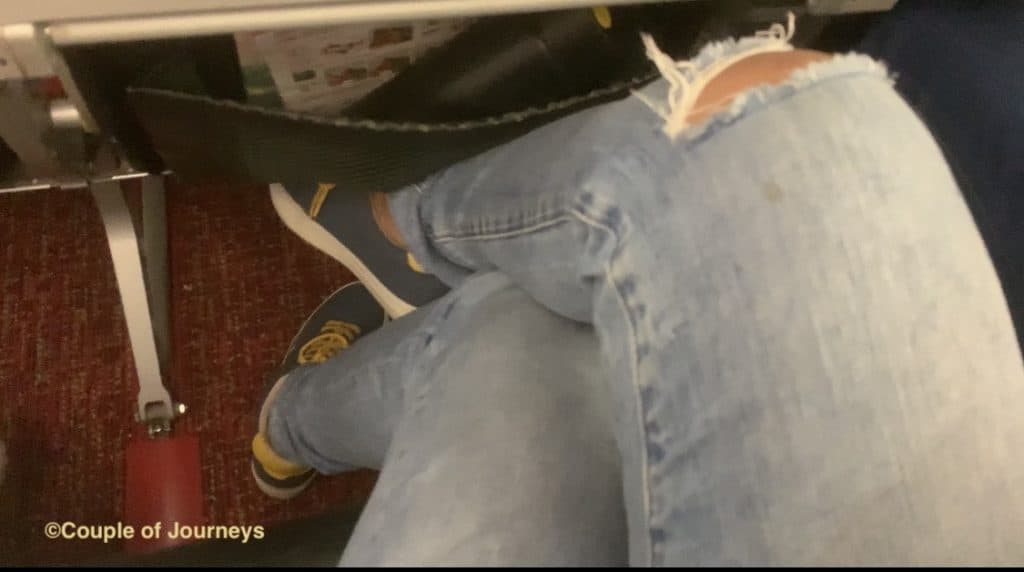 The seats that we had booked for our flight to Hanoi were the most expensive seats available to economy class ticket holders and yet the leg space was next to none.
We were cramped throughout our journey of about 5 hours and could hardly catch any sleep as a result. My husband who is 6 feet tall was particularly uncomfortable throughout as his knees kept brushing against the seat in front of us.
On our way back to Mumbai though, the same INR 800 seats offered decent leg space making the journey back to Mumbai slightly more comfortable.
So if you are travelling Vietjet and are yet to book your seats, please don't skimp on your seat selection. Spend those extra few bucks and buy the best seats as that's your only shot at finding some comfort.
If possible, book the emergency exit seats for guaranteed extra leg space.
Sadly, those seats were unavailable to us as we were travelling with a toddler.
Meals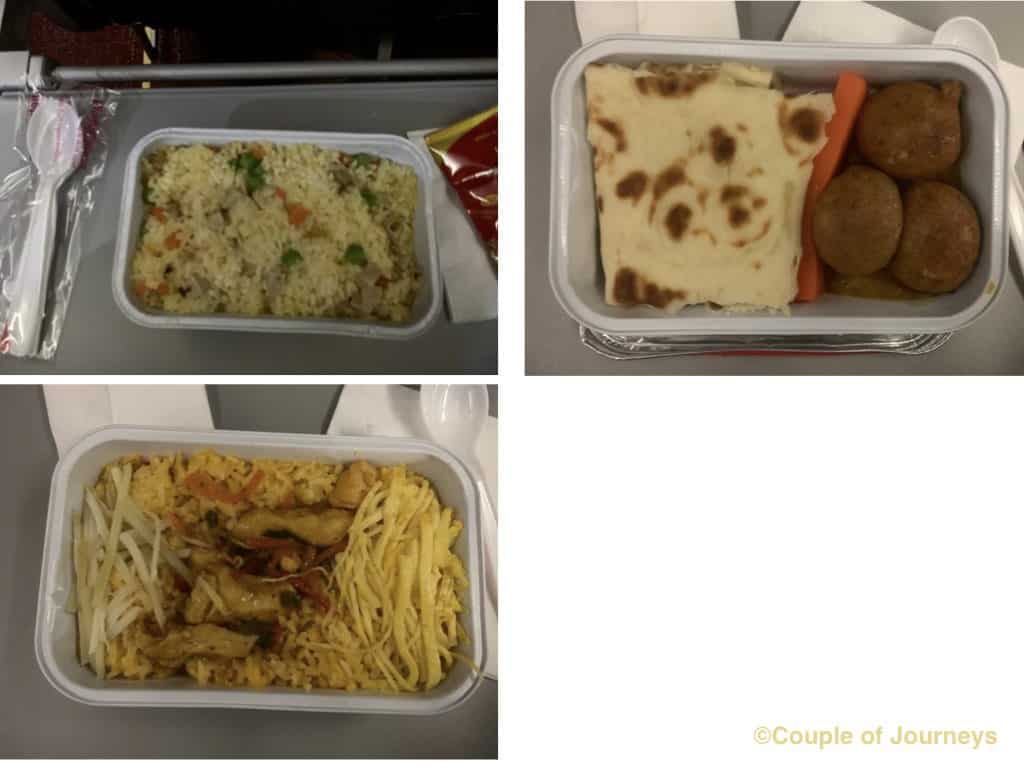 The meals we booked were average. The taste was quite bland and the portion size was disappointing. The meal composition also felt pretty dry as the rice was not served with any gravy. Even the kofta that came with the naan was completely dry. As a whole, the dining experience on the flight was not memorable.
If you can pack your own meals for the flight.
Also if you don't pre-book your meals, the choices offered on the flight are not as varied as the ones available while pre-booking.
The meal pricing is slightly more expensive than the one offered while pre-booking.
Water except for one complimentary glass is chargeable. Please fill up your bottles post-security to avoid paying for water.
Making payment for food is often an issue for passengers who do not have VND currency. don't expect the crew to have change for INR or USD when paying for your meals on the flight. Carry small currency notes to avoid issues and expect the crew to return any amount due in VND (Converted from USD or INR as per the rate decided by them)
Cabin crew
The in-flight crew is warm and prompt.
But their struggles with English make communication difficult resulting in goofing up meal and beverage requests.
Toilets
The toilets on both our flights were clean and came with all the basics required.
But they were the tiniest in-flight toilets I have ever seen. There is no room for you to extend your arms or legs.
---
Horrific experience at Ho Chi Minh City Airport
At Ho Chi Minh City airport, our check-in, security, and other formalities went by smoothly. After the boarding gates opened, we had to board a shuttle to go to the aircraft.
My husband, my 4-year-old kid and I boarded the shuttle along with the many fellow passengers of our flight. I have a feeling that the passengers on the shuttle were more than the permitted capacity.
It took the shuttle about 15 minutes to reach our aircraft and that is when the worst incident unfolded.
The driver of the shuttle turned off the engine and along with it the air conditioner and got down. We waited for the ground staff to open the doors of our shuttle. But that didn't happen and time kept passing.
After about 5 minutes, the passengers got restless as sweat started trickling down. The crowded shuttle added to the suffocation. Senior citizens panicked. Asthma patients started banging on the windows pleading for the doors to be opened. The suffocation made us miserable as we kept banging against the windows to draw the attention of the ground staff.
But to our horror, the staff continued to ignore us. Only after about 10+ minutes, when one of the passengers decided to break the window using the emergency exit hammer, did the staff try to find out what was wrong.
Finally, the captain of the aircraft asked the ground staff to open the doors of the shuttle. We weren't allowed to get off till the aircraft was ready. But the opening of the doors allowed some ventilation and provided slight relief.
After we were allowed to descend from the shuttle, all of us demanded an explanation for the horrible explanation causing suffocation and trauma to many passengers.
But unfortunately, the captain and the Vietjet staff refused to take any responsibility stating that it was not their fault and that the ground staff was responsible for the episode.
But as a passenger who pays the airline and not the ground staff, this entire episode made us feel like shit. The airline didn't stand up to defend us. Why the aircraft wasn't ready when boarding had started was also not understood. The staff or any member of Vietjet Air did not apologize to us and no compensation or explanation of any sort was offered.
A passenger on the flight had to be put on oxygen for the entire flight possibly due to the horrible lack of oxygen in the shuttle.
The lack of humanity shown by the airline staff was alarming.
Now I am not saying that you should be worried based on one such incident. But the brushing off of a life-threatening episode by Vietjet Air exposed its inhuman attitude.
---
Vietjet Air – Frequently Asked Questions
Does Vietjet serve alcohol?
Meals, sandwiches, water, and alcohol are available on a Vietjet flight subject to availability on a paid basis.
How much baggage is allowed in Vietjet?
The baggage allowed depends on the type of ticket you have purchased. But typically, one hand luggage not exceeding 7 kgs and one checked luggage not exceeding 20 kgs is allowed.
Some tickets do not allow any checked luggage while some allow checked luggage of up to 50 kgs as well as an extra small bag as hand luggage of up to 2 kgs. Please read the airline's baggage-related FAQs for a better understanding.
Is Vietjet trustworthy?
Vietjet is a trustworthy airline. It has also won the 'Most Valued Airline of the Year in Asia 2022' award and is a safe airline to travel with. But being a low-cost airline, the convenience of booking and flying offered doesn't match with other full-fledged carriers like Qatar, Emirates, Lufthansa, etc.
---
Summing Up
Vietjet Air is a budget airline and its service matches its price tag. In fact, its affordable pricing is what has made travel to Vietnam possible for so many Indians and budget travelers. So go with the right expectations and you would not mind the discomfort you face on your 5-hour direct flight.
But if airfare is not a pain point for you, please avoid Vietjet by all means.
---
More Vietnam articles
Vietnam vs Bali: Which is better?
Saigon Skydeck Review – Is it worth it?
---
TOP TRAVEL RESOURCES
Here is a list of our favorite travel resources- the ones that I absolutely swear by when planning almost every trip. Go through this list to plan a hassle-free trip and save a lot of money!
Flight Booking: Check the availability of tickets, the best time to fly, and the cheapest fares on Skyscanner. You may also find a cheap flight via CheapOair
Accommodation: I absolutely love booking through Agoda. In most countries and particularly in Asia, I often find the best fares on Agoda. But I also love the no prepayment and no cancellation fee policy of Booking.com. For cheap accommodations and hostels, nothing beats Hostelworld.
Car Rentals: You may find and rent an appropriate car via RentalCars. It's hassle-free and reliable.
Guided Tours: I absolutely love GetYourGuide for local sightseeing tours, walking tours, history tours, and food tours. The booking process is seamless, and the tours are super affordable. But in Asian countries, I prefer Viator or Klook for their affordably priced tours.
Lounge Access: Get Priority Pass – my personal favorite card that gives me unlimited access to premium airport lounges all over the world
Hey, if you found this post helpful, share it with more people or buy me a coffee!