1 day Hanoi Itinerary: Make The Most Of Your 24 Hours in Hanoi
This website contains no sponsored content. The content is written entirely on my own and is based on my personal experience and extensive research. This post may contain affiliate links. If you make a purchase through one of these links, I may receive a small commission at no extra cost to you. As an Amazon Associate I earn from qualifying purchases. Please read the disclaimer for more information.
Have only 24 hours in Hanoi?
This post will help you make the most of it!
This 1 day Hanoi itinerary is not practical and lets you experience the best of Hanoi: temples, lakes, architecture, food, coffee, and shopping!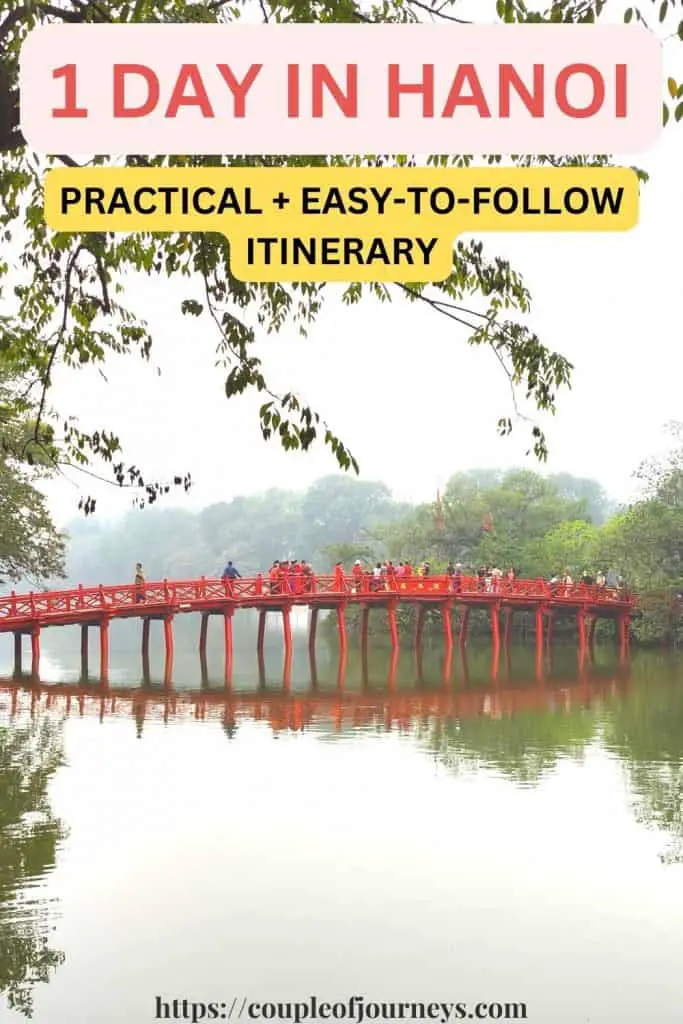 This post may contain affiliate links. If you make a purchase through one of these links, we may receive a small commission at no extra cost to you. Please read the disclaimer for more information.
1 day Hanoi Itinerary with Map
Hanoi Tourist Map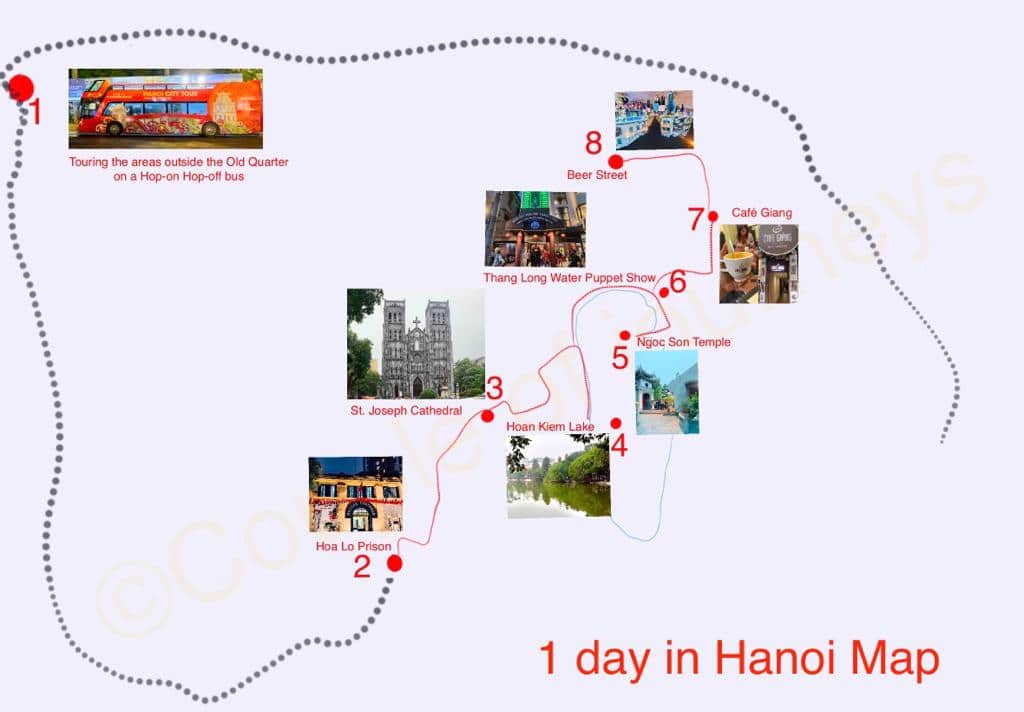 Everything that a tourist needs to see is located in and around the political center of Hanoi.
But this can be further subdivided into the following four areas:
The Old Quarter or the Hoan Kiem area
The Ba Dinh or the area around the Mausoleum
The Tay Ho area or the area with the Tran Quoc Pagoda
The Dong Da area or the area with the Temple of Literature
But to keep the 1 day Hanoi itinerary realistic, I recommend sticking to the Old Quarter for the most part as it lets you feel the essence of Hanoi on a realistic time budget.
1 day in Hanoi Itinerary
If you want a quick overview of the places I recommend you to visit when you have just 1 day in Hanoi, see the 8 Hanoi itinerary stops below.
Start by taking a quick one-hour trip around the areas outside the Old Quarter using the hop-on hop-off bus
Visit the Hoa Lo Prison
Click pictures at the Hanoi Cathedral
Take a walk around the Hoan Kiem Lake
Visit the Ngoc Son Cathedral
Watch a water puppet show at the Thang Long Water Puppet Theatre
Taste the famous Egg Coffee at Giang
Explore Hanoi by Night – eat, drink & shop
How to spend one day in Hanoi?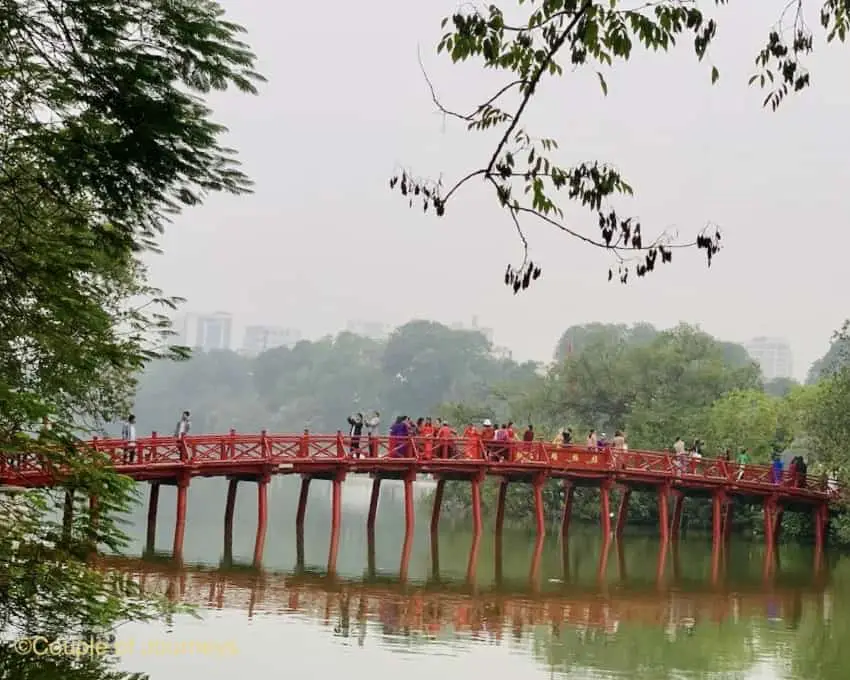 How to plan 1 day in Hanoi in a practical way
Hanoi is the capital of Vietnam and exploring its beauty thoroughly in just one day is difficult but still doable if you choose to visit the right places and skip a few places. To make the most of your 24 hours in Hanoi, you should stick to the Old quarter of Hanoi which has the beautiful Hoan Kiem lake, a few temples, a central market, and many small lanes to shop as well as the best eateries and coffee houses.
You can also take a quick round of the areas outside the old quarter but to get the most value out of your limited time, it is best to avoid visiting museums and attractions with vast interiors as the same would be time-consuming leaving you little time to explore the other interesting facets of Hanoi.
---
How to get around Hanoi
Hanoi is a vast city.
The famous attractions are also fairly spread out.
To get around Hanoi
Buy a ticket of the hop on hop off bus – it passes through all the key tourist areas and is affordably priced
Rent a scooter (only if you are comfortable driving in chaotic traffic and not sleep-deprived or jet lagged) Cost is approximately USD 7-8 or INR 600 + petrol
Book a taxi between places – Use the Grab app for best prices. But expect difficulty in communication with the driver
Book a full-day car with driver – Not practical as many areas are pedestrian areas and the cost of the car would feel like a waste
Book a cyclo between two places – expensive and involves the risk of getting scammed by cyclo drivers who want to exploit tourists.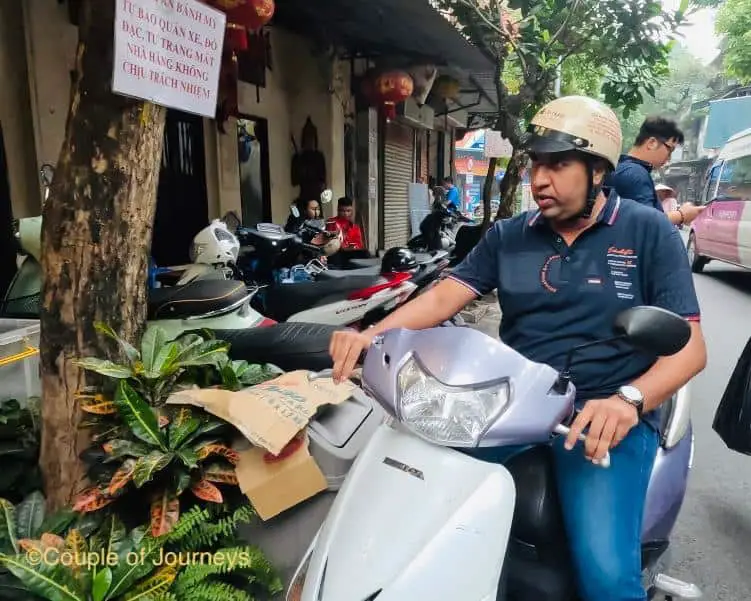 We were comfortable riding a scooter all around Hanoi. But parking was far at most places. Plus we had to pay a steep parking fee to the security guards on the side walks that would cost us around VND 10000 to 20000 (USD 0.5 to USD 1 or INR 30 to 70) every time we halted.
The best way to get around Hanoi when you have limited time is definitely booking yourself on a hop on hop off bus. It lets you experience a larger area in a limited time and for much cheaper price than booking a taxi or a cyclo.
Pre-purchase your hop-on hop-off ticket for a discount and in your currency
---
Where to stay when you have just 24 hours in Hanoi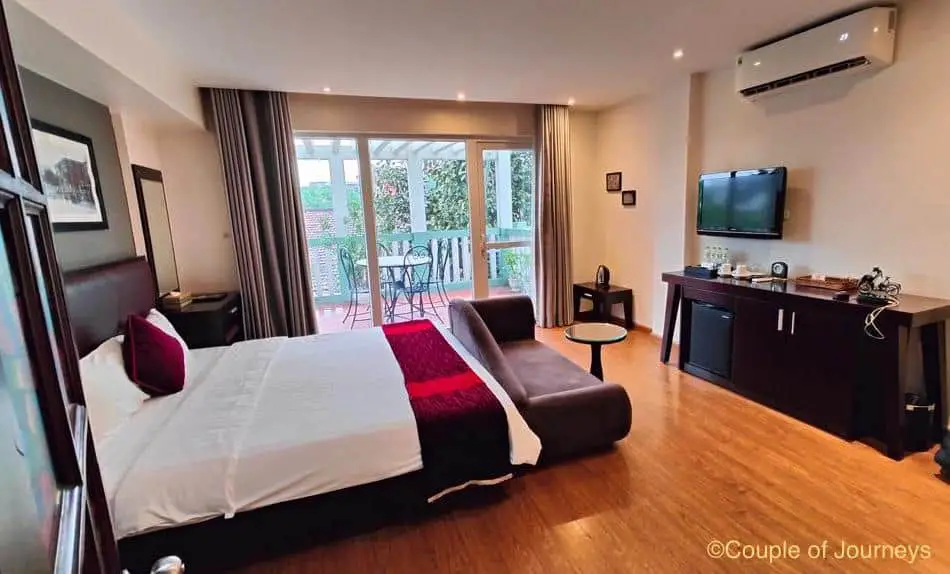 If you have limited time in Hanoi, you must stay in the Old Quarter. That's where the buzz is and that's the area that packs all of Hanoi's touristic beauty. Most places in the Old Quarter are within a walking distance from one another.
Here are my top picks of the best places to stay in Hanoi Old Quarter based on your budget
Budget: Nexy Hostel
– best location
– friendly and helpful staff
– Good privacy but enough opportunities to socialise too
See latest price on Hostelworld
Mid-range: Hanoian Central Hotel & Spa
– located in the Old Quarter in a quieter area.
– Excellent room quality
– Most value for money (winner of the 2022 Agoda award)
See latest price and availability on Booking.com or Agoda
Luxury: The Sofitel Legend Metropole
– central location close the
– luxurious room quality and top-notch hospitality
– heated pool and other nice-to-have amenities
See latest price and availability on Booking.com or Agoda
---
Related posts:
8 Best food tours in Hanoi for street-food lovers
An Ultimate Guide on the best things to do in Hanoi Old Quarter
Is Halong Bay worth visiting? An Honest In-depth Review
28 Must-have apps for your trip to Vietnam

---
Start with a quick tour outside the Old Quarter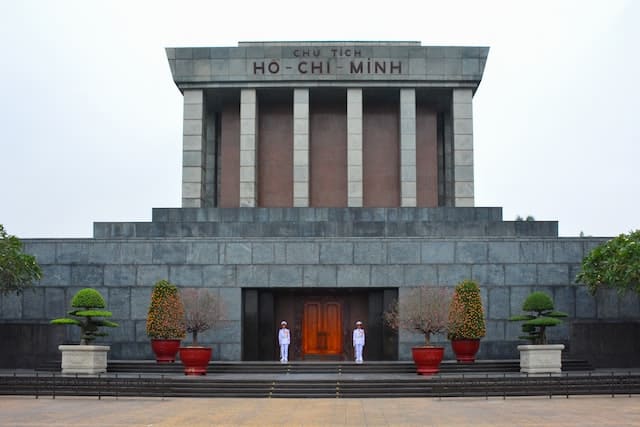 Start your day by jumping on the hop on hop off bus. It starts from the Frog Flower Garden.
From here the bus directly goes to the area outside the Old Quarters into the Ba Dinh quarter.
I recommend staying on the bus throughout. From the bus itself, you will be able to see the famous Ba Dinh square, the one-pillar pagoda, the famous Taoist temple as well as the lush complex of the Temple of Literature.
But if you do not appreciate this approach, you can get down at the Citadel stop and explore the attractions nearby.
But be mindful of your time and do not spend more than an hour here as the rest of the day is going to be pretty demanding.
If you are traveling with a young kid to Hanoi, you may want to visit the Botanical garden here and skip the Hoa Lo Prison (below) as it can be a pretty harrowing experience for a child.
If you are self-arranging this tour by a two-wheeler or a taxi, drive along the following places
One Pillar Pagoda
Ba Dinh Square
Presidential Palace
Hanoi Botanical Garden
Tran Quoc Pagoda and then back to
Temple of Literature
---
Visit the Hoa Lo Prison Museum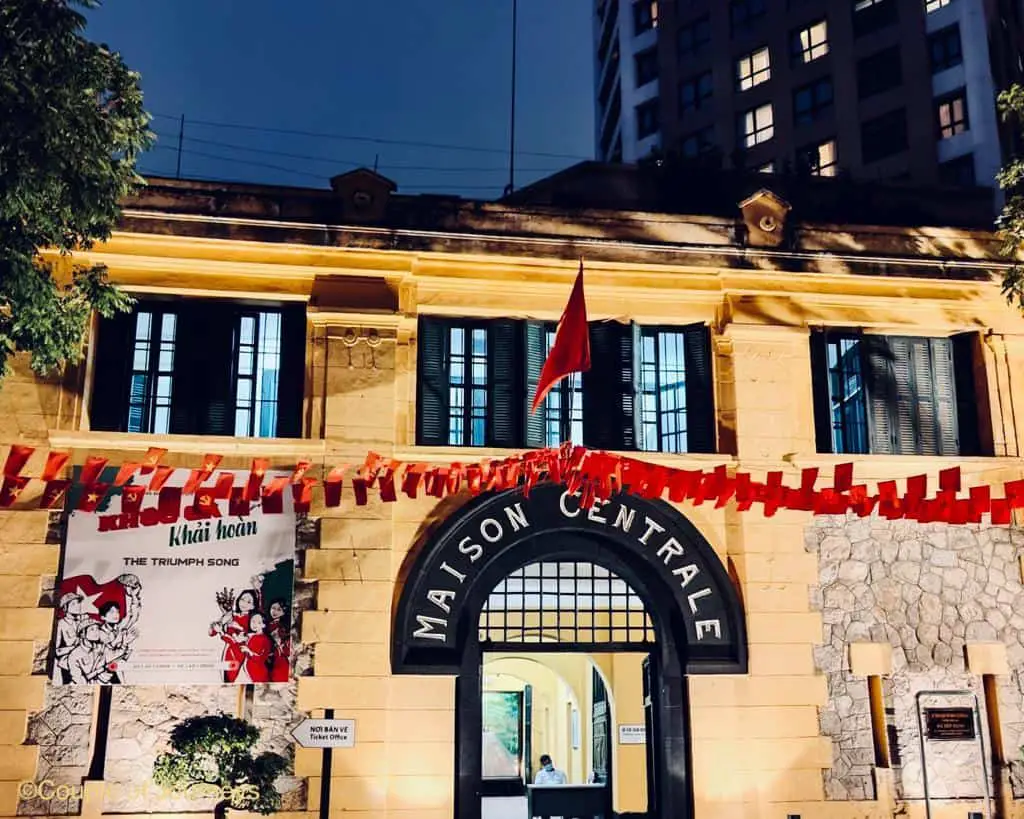 Once you reach the Hoa Lo Prison, you can bid adieu to the hop on hop off bus and explore the rest on foot.
The Hoa Lo Prison Museum is located in teh French Quarter of Hanoi.
During the French rule over Vietnam, it was used to house Vietnamese political prisoners. After Vietnam's independence, during the Vietnamese war against the Americans, it was used by the North Vietnamese forces to detain the American prisoners of war.
The prison provides a realistic look into the life inside the prison, the torture that the prisoners went through and the sub-human conditions in which they lived.
Plan to spend about an hour here.
Practical information about the Hoa Lo Prison
Timings: 8 am to 5 pm – all days
Entrance Fee: VND 30000 per person (children under 15 years – free)
Official Website
---
Visit the Hanoi Cathedral – St Joseph's Cathedral
Next up is one of the most Instagrammable spots in Hanoi – the gorgeous Hanoi Cathedral or the St. Joseph's Cathedral (Nhà Thờ Lớn Hà Nội)
The Cathedral belongs to the Gothic-Revival style of architecture.
It was opened in the late 19th century.
The exterior of the church employs granite which gives it a unique appearance.
Stand in the square opposite the church to capture the best images of the church.
If you are hungry or in need of quick recharge, stop at one of the many cafés in the plush area around.
You can sit at Tra Chanh – a café with small chairs on the sidewalk or at the Cong CaPhe – both are right across the street.
Also take a short walk in the nearby area to find the 12th century Buddhist shrine called Ly Trieu Quoc Su Pagoda
---
Walk around the Hoan Kiem Lake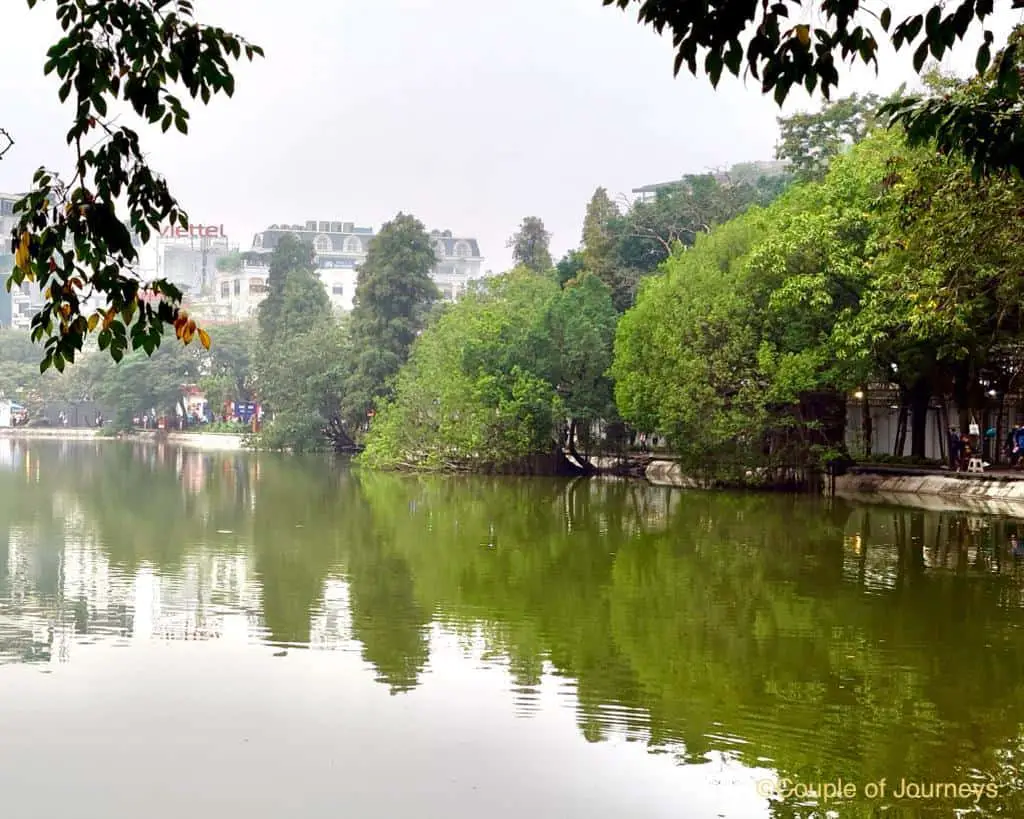 Next up is my most favourite area in all of Hanoi – The Hoan Kiem lake area.
Here you have two options – to walk on the promenade next to the lake or the Hoan Kiem walking street circling the lake. The street is pedestrian-only area on weekends and is always buzzing with local events and kids. I highly recommend the latter route if you are in Hanoi on a weekend.
Starting from the West end of the lake, first aim to reach the Ly Thai To monument.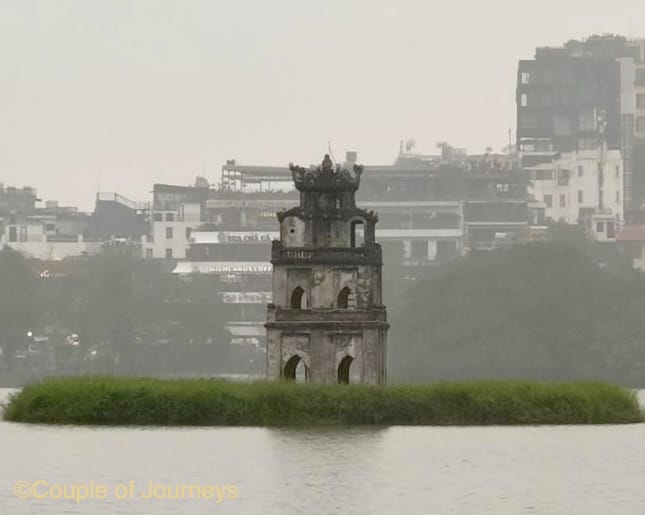 Along the way observe
– the Turtle tower in the lake
– the kids driving cars and scooters
– locals practicing dance
– food stalls and other games organized for locals
Slowly make your way to the Red Bridge end of the lake.
The stroll along the lake could take up a good 1 to 1.5 hours. But soak in the vibe as best as you can because the area around the lake is cultural snapshot of the Vietnamese local life.
You will find benches on the promenade to stop and relax.
---
Visit the Ngoc Son Temple
The Ngoc Son temple or the Jade Mountain temple is located on an islet in the Hoan Kiem lake. It is built to worship Tran Hung Dao – one of the greatest Vietnamese military commanders of the 13th century.
In Vietnam – a temple is built to worship historically significant people while a pagoda is a Buddhist religious worship place.
The temple is connected to the promenade by a striking red bridge called the Huc Bridge or the Light of Dawn deploying Buddhist architecture. The Red Bridge is a very famous photo spot in Hanoi. Click pictures of the bridge from the Northeastern end of the promenade for the best composition.
Once inside, observe the intricate carvings, and the beautiful layout. Soak the calming energy that genuinely offers a much-needed break from the chaos of Hanoian streets.
Practical information about the Ngoc Son Temple
Timings: 8 am to 6 pm – all days
Entrance Fee: VND 30000 per person (children under 15 years – free)

---
See a show at the Thang Long Water Puppet Theatre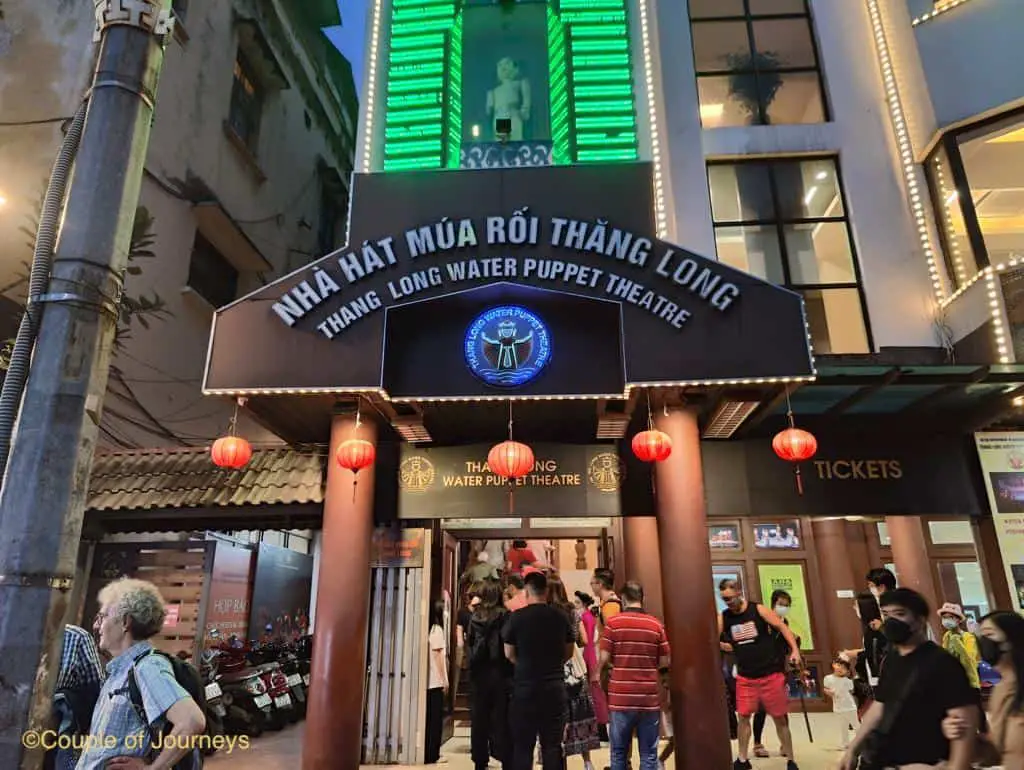 The Thang Long Water Puppet Theatre is the most famous water puppet theatre in Hanoi. It is the holder of the Asia Book of Records for the longest-running water puppet show.
The Thang Long Water Puppet theatre is located right opposite the Huc Bridge end of the Hoan Kiem bridge i.e. opposite the famous red bridge that connects Hoan Kiem lake.
Once at the show, expect:
wooden water puppets performing through creative story-telling
exposure to traditional Vietnamese music played using Erhu, Zither, etc coupled with local singing
change in lighting and genres of storytelling
Be prepared to not understand quite a few storylines. You may also find the performance a bit of a drag after the puppet movements become repetitive.
But even then, water puppetry is an enthralling form of entertainment.
It dates back to the 11th century and even then has been kept alive by the Vietnamese.
Practical information about the Thang Long Water Puppet Show
Show timings: 03:00 PM, 04:10 PM, 05:20 PM, 06:30 PM, and 08:00 PM, every day
Ticket: VND 100,000 to VND 200,000 per person. (i.e. USD 4 to 8 or INR 350 to INR 700)
Note on ticket booking: You would be able to buy tickets at the venue directly. Try to reach the venue about 30 minutes in advance. To enjoy the show, I highly recommend being seated in the middle and not on the sides. But since you are in Hanoi only for a limited time, I recommend pre-booking your ticket to avoid disappointment.
Prebook your water puppet theatre tickets here.
---
Taste the famous egg coffee at Giang Café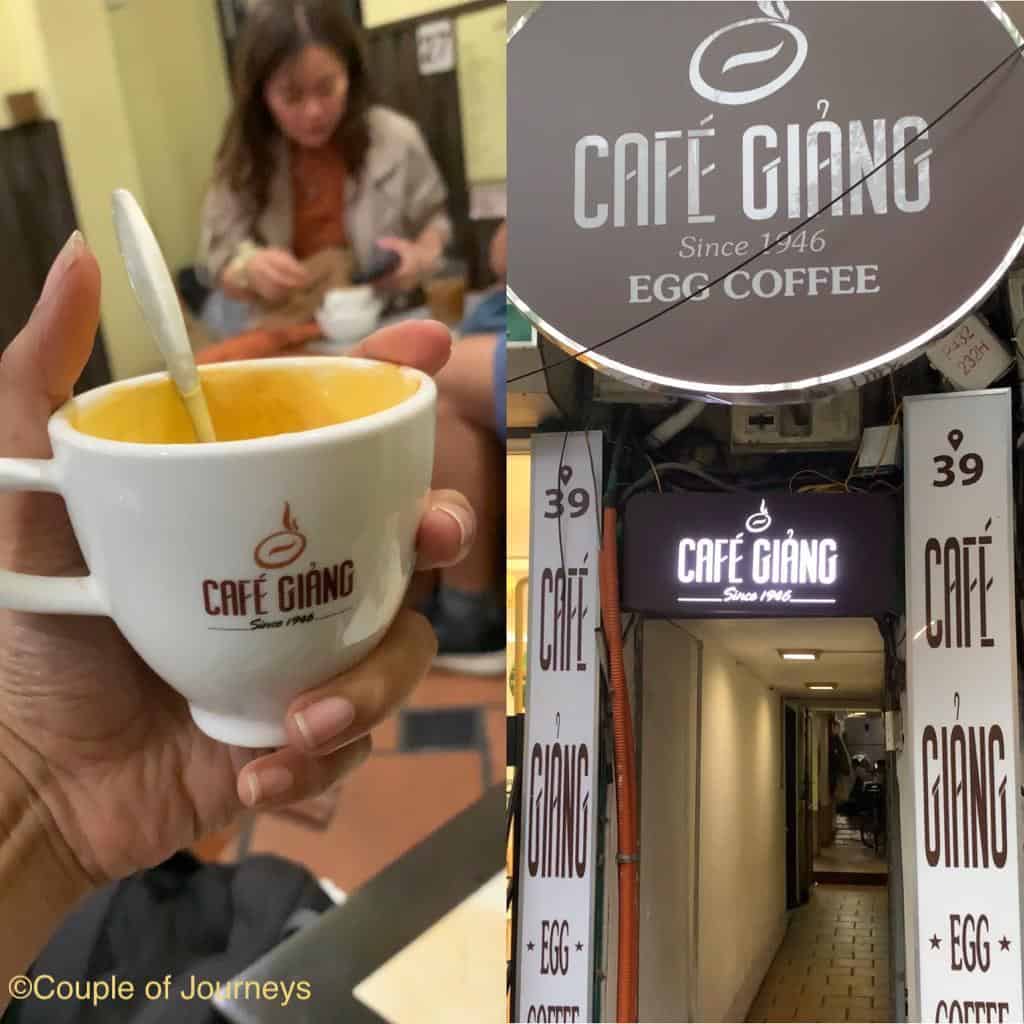 Egg coffee is a hugely popular Vietnamese beverage. It substitutes dairy with egg.
During the Vietnamese war, there was a shortage of dairy. That's when the owner of Giang Café replaced milk with egg yolk. The recipe for egg coffee has remained unchanged ever since and is definitely worth trying out.
Now even though egg coffee is available all across Hanoi, it makes sense to try it out at the place where it originated, right?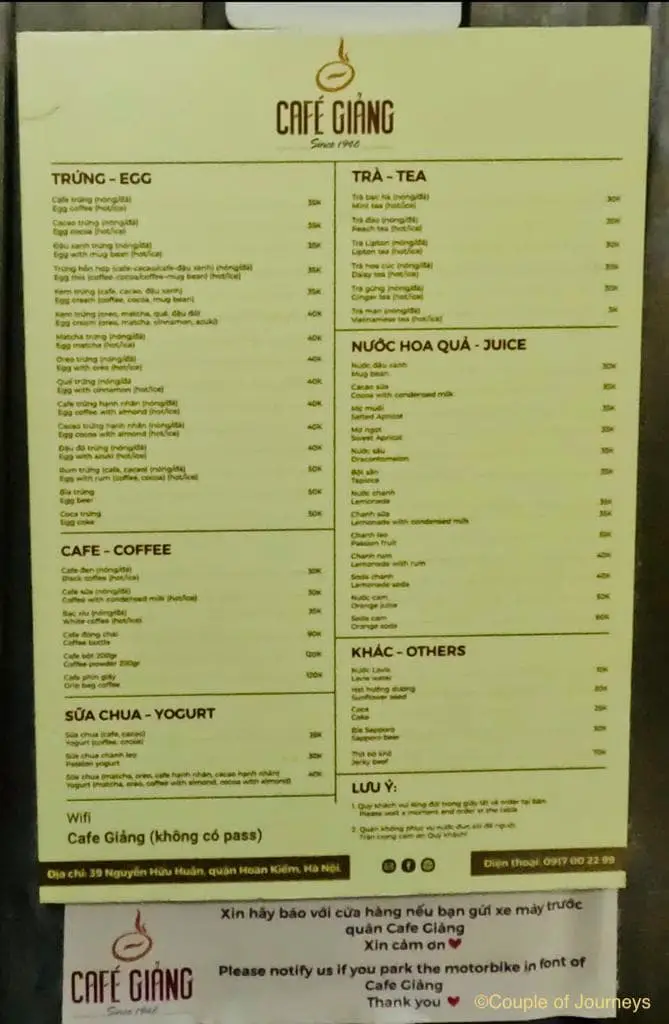 Things to note about Giang Café:
The place is always full.
The first floor has more seating and a better vibe. If you can, get the balcony view.
Egg coffee is available in multiple flavors. I loved the original one as well as the egg hot chocolate.
If you park your two-wheeler outside, inform the cashier at the time of payment. Your parking fees would be waived off.
Expect to spend about 45 minutes here.
---
See Hanoi by night – Eat, Drink and Shop
Once evening sets in, Hanoi is a whole different place – the bright lights, buzzing lanes full of excited shoppers and closed roads feeding thousands of hungry street food-lovers make for an ambience any tourist would love!
So while you are here
Shop in Hanoi
Every street in the old quarter is famous for selling a typical type of product.
e.g. hang bac = silver lane
hang vai = fabric lane
hang tre = bamboo street
In addition to all these different streets selling everything from clothes, souvenirs, food items, shoes, bags, silver and metal wear, etc, you can also shop at
Dong Xuàn Market: Largest indoor market in Hanoi. Open from 6 am to 7 pm
Hang Dao street: A lively night market in Hanoi that takes place only on weekends between 8 pm to 11 pm
Some rules to remember when shopping in Hanoi-
Bargain heavily when shopping here. Start with at least 50-60% lesser than the price quoted
Do not buy products without inspecting them thoroughly – especially if you are buying sports shoes and North Face products.
Eat and Drink in Hanoi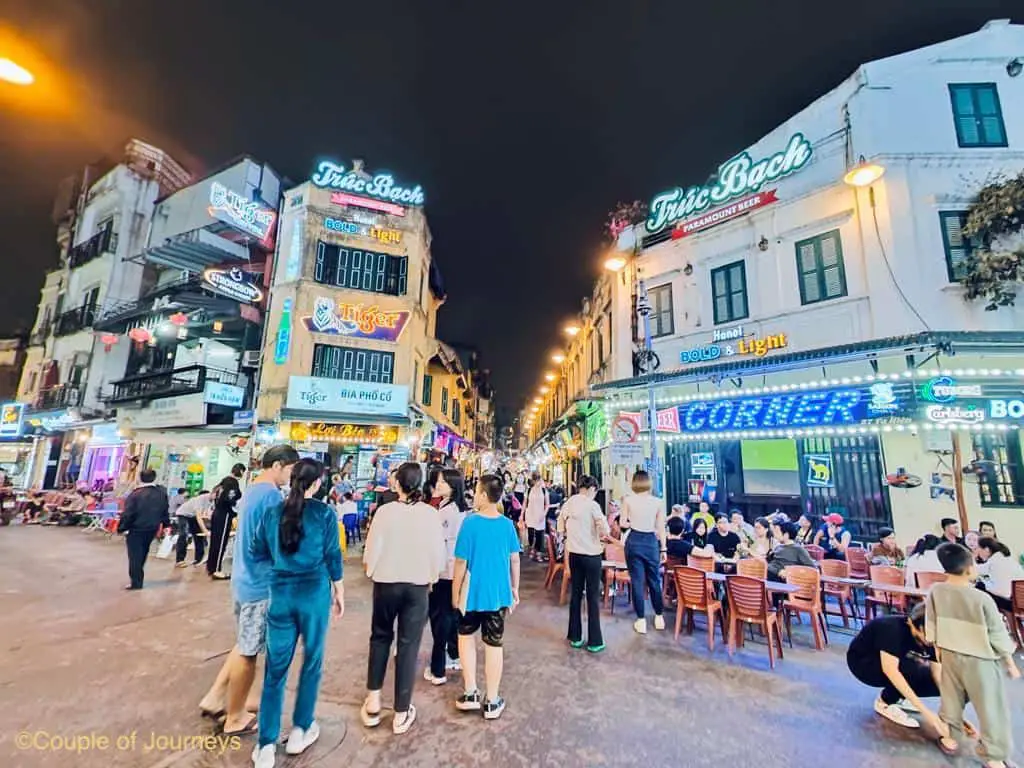 Cheap beer is found on Beer street in Hanoi – check out the area between 1 Pho Ma May to 9 Pho Ma May or just search for Ta Hien Street. Beer shops line the entire street and on weekends the streets are shut for traffic and tables and benches laid down for customers. Pick a place with live music around or street singers performing on karaokes.
The food served at these places is also delicious. Eat beef and fish dishes, and spring rolls here. Vegetarian dishes are also easily available.
Bun Cha is a famous Hanoian dish made of rice noodles and pork balls. You will also find excellent Bun Cha in many restaurants around the Old Quarter of Hanoi. The one that I highly recommend is Bun Cha Ta – its affordable, has a great ambience and the food is delectable.
If you want to try out Banh Mi – the Vietnamese local subway variant – eat at any of the food stalls on Hang Buom that are open until pretty late in the night. But if you want a youthful vibe and excellent beverages to go along with your Banh Mi – visit the Bang Mi 25 (closes at 9 pm)
---
What do you miss when you're in Hanoi for 24 hours only
The above itinerary is not a complete representation of Hanoi – but is realistically doable and packs the best of Hanoi for you.
Yet, let me tell you everything that you would miss if you have just 24 hours in Hanoi
The Train street
The narrow train street – made famous on Instagram – is now shut.
Some cafés are still open and a few tourists still visit the place to get a picture of the street.
But when you are on a limited-time budget, it is best to skip a street closed for tourism.
An in-depth tour of architectural monuments
You will not be able to admire many architectural monuments in the city like the Opera House or the Presidential Palace, etc.
But these places hardly represent the present-day culture of Hanoi and are skippable.
A visit to many historical monuments
On a short trip to Hanoi, it makes sense to skip a few historical places.
This is because understanding the history of Vietnam requires giving these monuments enough time.
Be it the Ho Chi Minh Mausoleum or the Temple of Literature – a quick visit to the place is not really helpful.
A visit to the museums
There are many museums in Hanoi like
– the Vietnamese Women's Museum
– Vietnam Museum of Ethnology
– Vietnam Military History Museum
– Vietnam National Fine Arts Museum
– National Historical Museum
But unfortunately, museums demand more time and hence have to be avoided.
That said, the Hoa Lo Prison Relic is an excellent starting point into the history of Vietnam for those who are short on time.
Attending at the Opera House
The Hanoi Opera House hosts some incredible performances by locally and globally celebrated artists.
Booking tickets for a show here, thus allows an opportunity to witness a grand show of artistry plus a chance to admire the interiors of the majestic Opera House.
But with just 1 day in Hanoi – it is not judicious to spend a few hours attending a show. Best to see it from the open-top bus.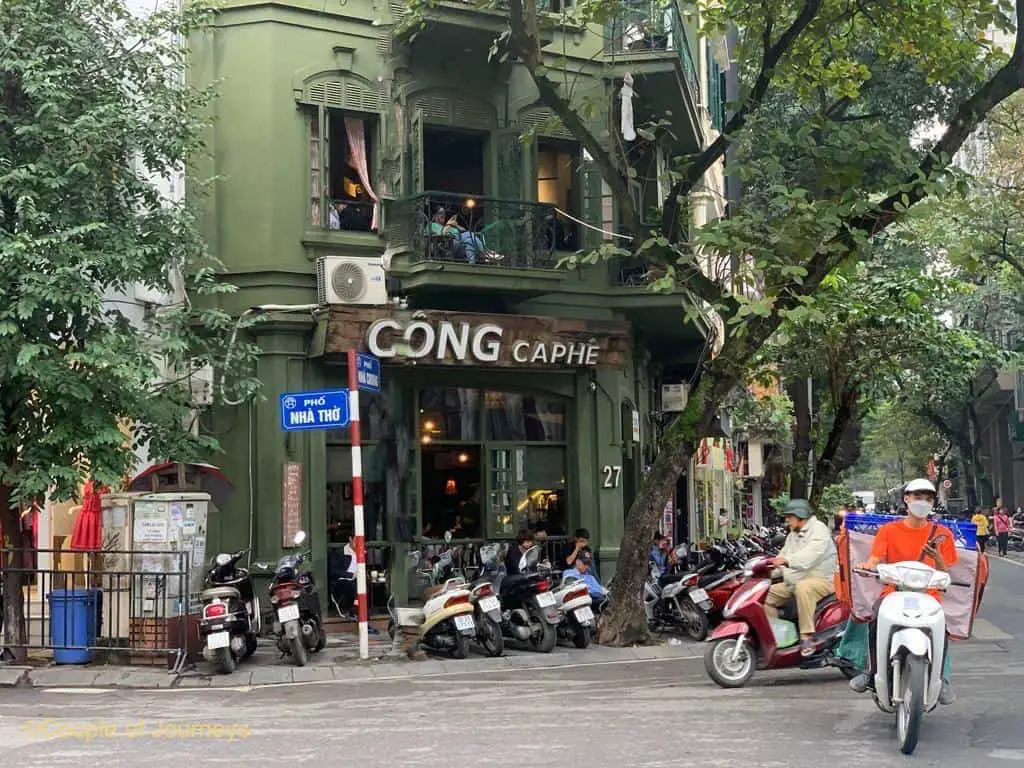 Café hopping
Hanoi has some of the cutest cafés in the world. But again – café hopping and people-watching demand time. Best left for a leisurely visit.
Local quarters
Most tourists only stick to the Old Quarter in Hanoi – and rightfully so because that's where the buzz is.
But Hanoi being the capital city of Vietnam is spread out extensively beyond the old quarters.
There is a lot to see from a touristic perspective in other areas of Hanoi too – particularly if you want to observe where locals live, eat and shop.
But given the distances involved, it is not practically possible in just one day.
---
One day in Hanoi – FAQs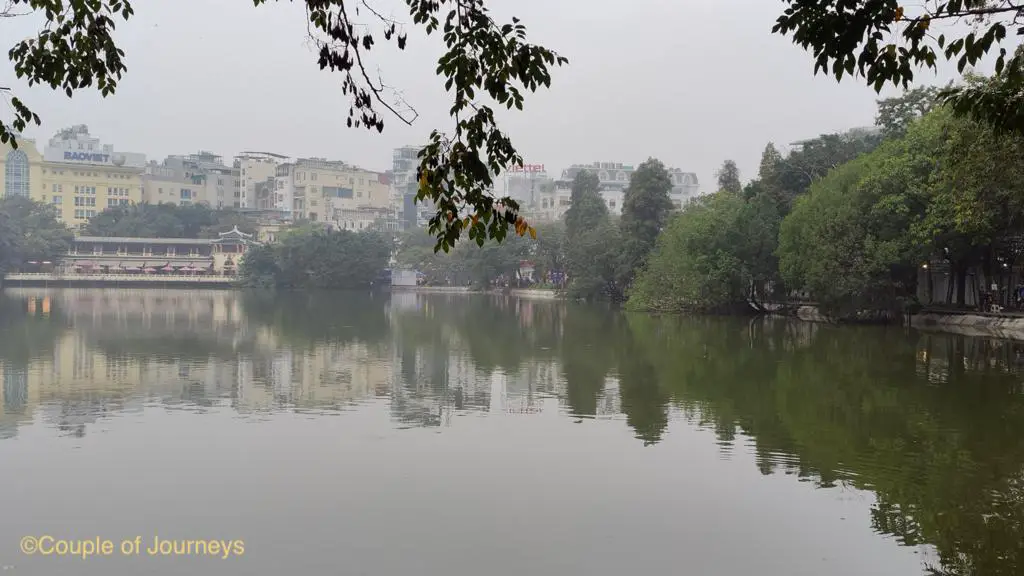 Is Hanoi worth visiting?
Hanoi is definitely worth visiting as it has everything a tourist needs for a fulfilling trip. It has a rich history, architecturally remarkable structures, plenty of shopping avenues, a unique café culture, a bustling nightlife and stunning lakes.
Is one day in Hanoi enough?
One day in Hanoi is enough to see the highlights of the city. But if you want to see the museums, try out the vast variety of local food, attend concerts at the Opera House or visit the malls in Hanoi, you should spend at least 3-4 days in Hanoi.
Is Hanoi a walkable city?
The Old Quarter in Hanoi, particularly, the area around the Hoan Kiem Lake is fairly walkable. But to visit the other parts, you may have to take a two-wheeler on rent or book a Grab taxi.
Is Hanoi safe?
Hanoi is a relatively safe city for tourists. There are hardly any instances of violent crime. The only crimes that often get reported are that of scooter-riding thieves stealing mobiles, tablets, cameras, wallets and other valuables and theft of two-wheelers. So exercise basic precautions with respect to your belongings and do not park your two-wheeler in an unsupervised or unpaid parking area.
But aside from the above, Hanoi is just as safe for tourists as any other major tourist place in the world.
---
TOP TRAVEL RESOURCES
Here is a list of our favorite travel resources- the ones that I absolutely swear by when planning almost every trip. Go through this list to plan a hassle-free trip and save a lot of money!
Flight Booking: Check the availability of tickets, the best time to fly, and the cheapest fares on Skyscanner. You may also find a cheap flight via CheapOair
Accommodation: I absolutely love booking through Agoda. In most countries and particularly in Asia, I often find the best fares on Agoda. But I also love the no prepayment and no cancellation fee policy of Booking.com. For cheap accommodations and hostels, nothing beats Hostelworld.
Car Rentals: You may find and rent an appropriate car via RentalCars. It's hassle-free and reliable.
Guided Tours: I absolutely love GetYourGuide for local sightseeing tours, walking tours, history tours, and food tours. The booking process is seamless, and the tours are super affordable. But in Asian countries, I prefer Viator or Klook for their affordably priced tours.
Lounge Access: Get Priority Pass – my personal favorite card that gives me unlimited access to premium airport lounges all over the world
Hey, if you found this post helpful, share it with more people or buy me a coffee!