Hammock Hotel Review: Most Value-For-Money Hotel in Saigon
This website contains no sponsored content. The content is written entirely on my own and is based on my personal experience and extensive research. This post may contain affiliate links. If you make a purchase through one of these links, I may receive a small commission at no extra cost to you. As an Amazon Associate I earn from qualifying purchases. Please read the disclaimer for more information.
This Hammock Hotel Review is based on my stay at the Hammock Hotel Ben Thanh with my family for 2 nights and 3 days. The review is 100% honest and based on my first-hand experience. In this Hammock Hotel Review, I will go over the following:
location of the hotel
room quality
amenities and other add-ons
staff and hospitality
food
other insights
Read the full review to find out if you should stay at the Hammock Hotel Ho Chi Minh City.
---
This post may contain affiliate links. If you make a purchase through one of these links, we may receive a small commission at no extra cost to you. Please read the disclaimer for more information.
When I was researching the best hotels in Ho Chi Minh City on Booking.com and Agoda, I noticed that the Hammock Hotel had an exceptional rating and the price per night of the hotel was also reasonable. Hammock Hotel seemed like the best match for me and so I went ahead and booked a Family Nest Room at its Ben Thanh property. And I am delighted to share with you that the Hammock Hotel truly lived up to its excellent ratings. The hotel is affordably priced and an excellent choice for couples or families who want to get the most out of their money's worth.
Note: This review is an unbiased review of the Hammock Hotel Ben Thanh based on my personal experience of staying at the hotel. However, I will be adding affiliate links to this post so that you can book your stay at Hammock Hotel. If you book using any of those links I will earn a small commission at no extra cost to you.
Hammock Hotel Review: In-depth review of the Hammock Hotel Ben Thanh
Location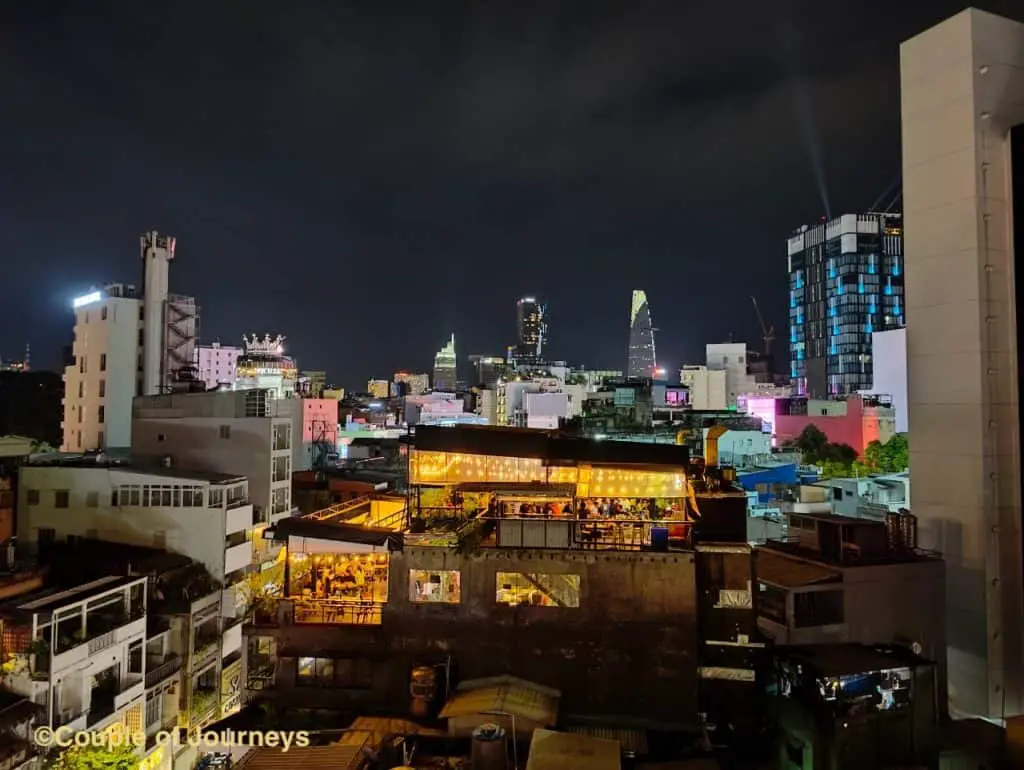 The Hammock Hotel Ben Thanh is located in District 1 of Ho Chi Minh City. The location is central and offers the perfect base to explore most of the major attractions in Saigon. The Ben Thanh market, the Saigon Skydeck, the Reunification Palace, the War Remnants Museum, the Saigon Central Post Office, Notre Dame Church, the famous walking street are all located within a distance of 2 km from the hotel. It is easy to get a Grab to reach these places. If you get a scooter on rent (From the hotel itself – more on this in later in the post), the location feels even more conveniently placed.
Supermarkets, money exchange centers and eateries are all present in the neighbourhood. The airport is also just half an hour away.
---
Room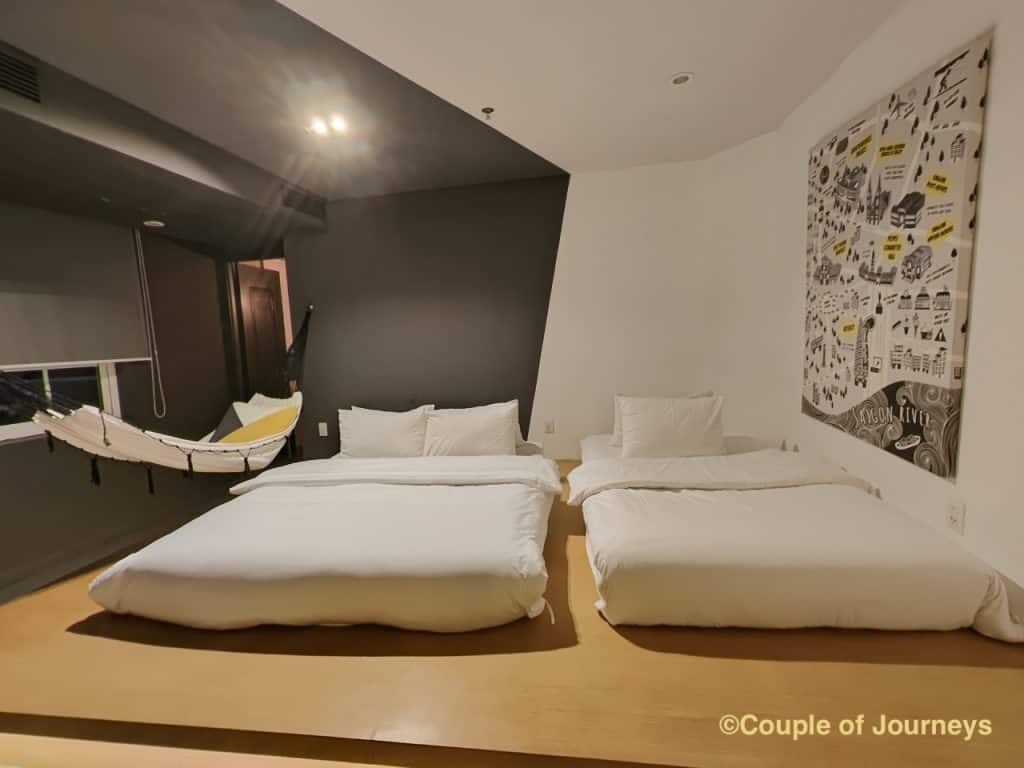 We stayed at the Family Nest room of the hotel which is their biggest room category. There are smaller, more affordable rooms available. But we stayed here because we were travelling as a family of 3.
The room was ideal for us as it had a King Sized bed and a single-sized bed placed on a wooden platform. The highlight of the room is ofcourse the hammock after which the hotel is named.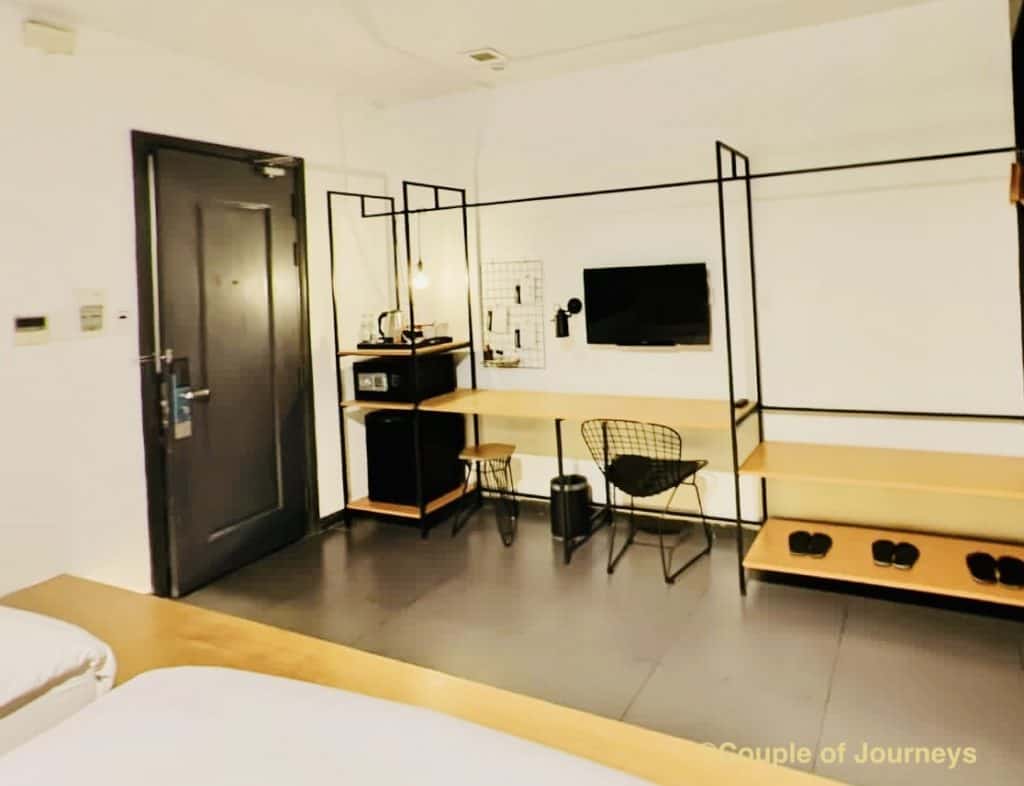 The room's design was reflective of its 'openness'. The desk connected to the open wardrobe tied in beautifully with the minialistic theme of the space.
The washroom was placed in one corner of the room. It was clean and well-maintained. I also found the shower area and the wash basin to be adequately spacious.
---
Amenities and Add-Ons
This is the department where the Hammock Hotel overdelivers and makes your stay memorable.
To begin with, the room comes equipped with all the essential toileteries. You would also find an extra toiler paper roll and a hair dryer tucked under the wash basin.
The in-room amenities include a generous number of free tea and coffee sachets and snack packets. The in-room mini-bar is loaded with soft drinks and beer and you can enjoy them all completely free of cost.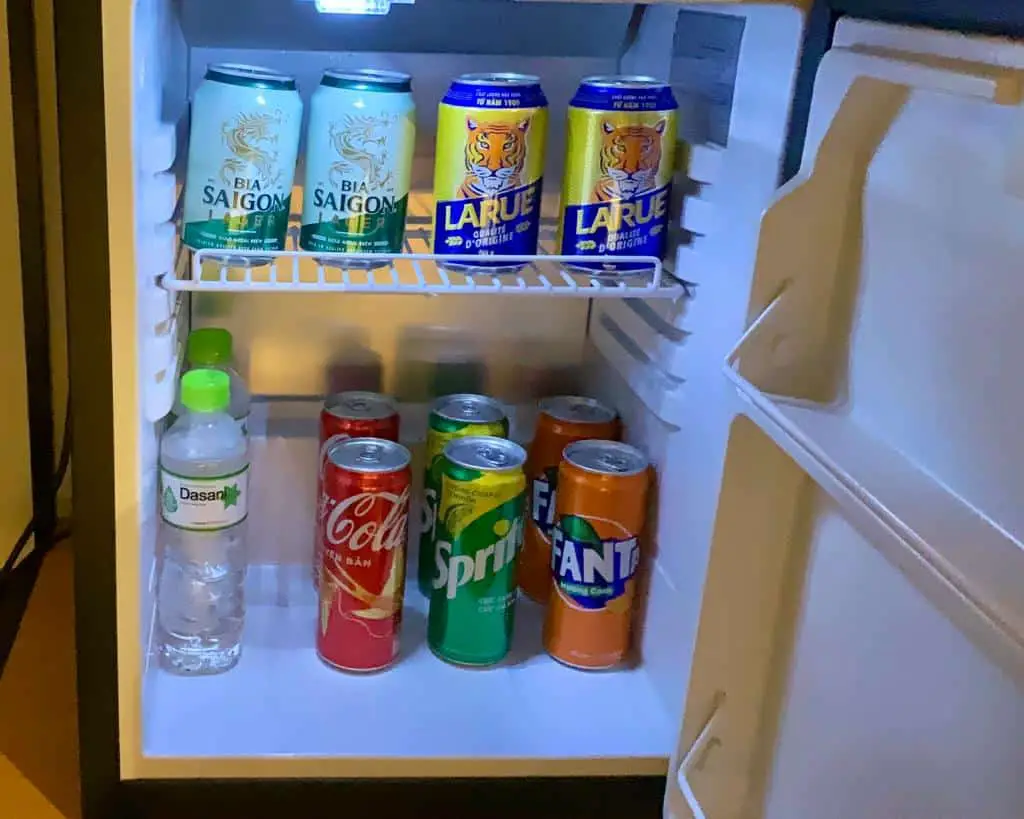 If you want more options or need to refill your in-room supply, you can simply walk up to the rooftop pantry and get more freebies. The roof-top pantry also has a coffee vending machine that you can use absolutely free of charge.
These perks are offered in addition to their free breakfast.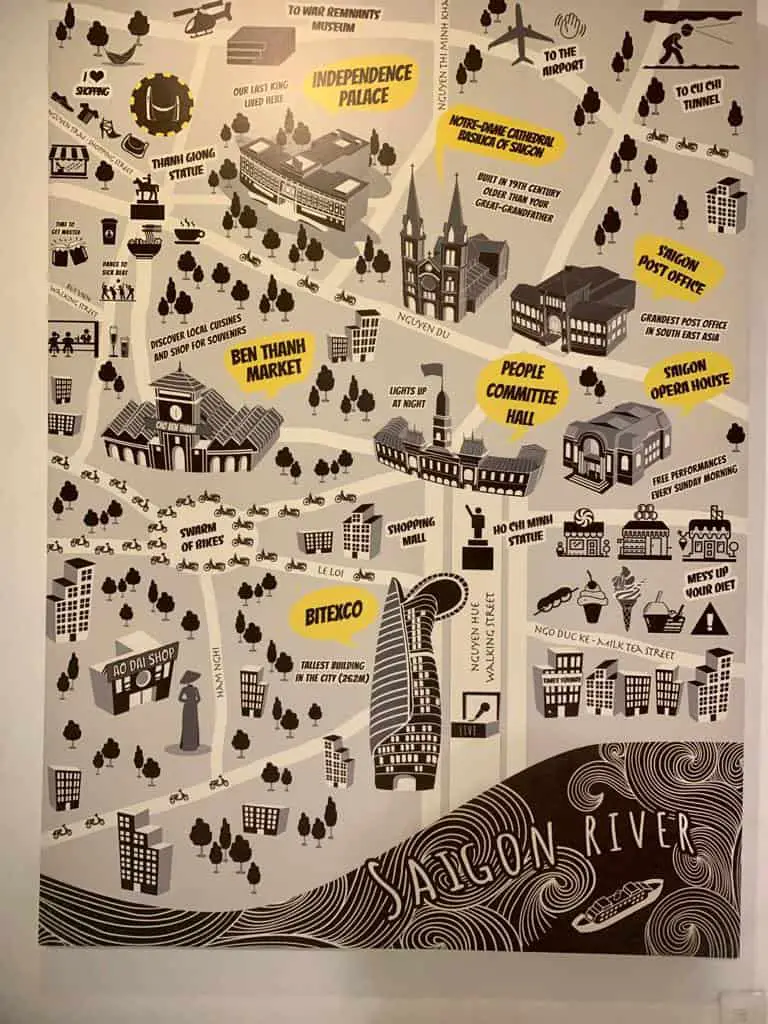 Coming back to the room offerings, the minimal wall art in the room includes a large artwork of Saigon's District 1. You can click a picture of this art and use it to orient yourself if you head out on a Saigon self-guided tour. For more accurate directions, you can also scan the map QR code pasted on the board over the desk.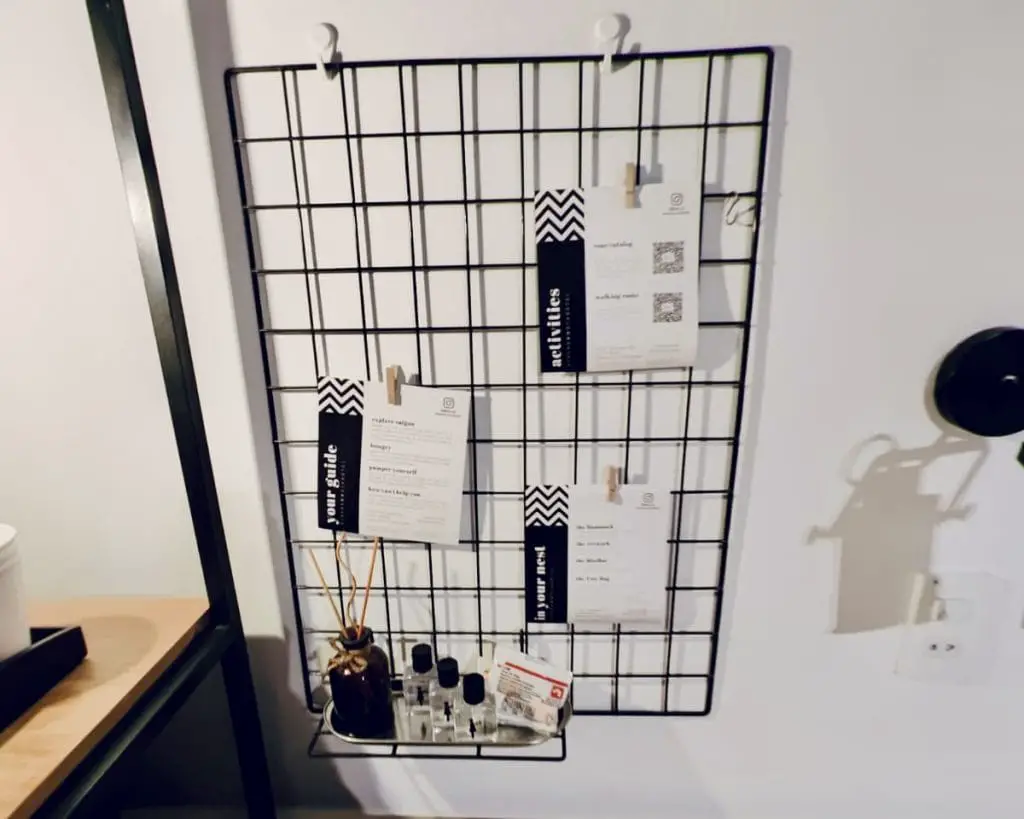 You can also scan another QR code to go through their travel brochure with a list of guided sightseeing tours in and around Saigon.
Now in addition to the above, the hotel gave us two more freebies – free scooters (with petrol) for the duration of our stay and a free airport pick up.
Since we were a family of 3, they gave us two Vespa Taya scooters. (You're allowed to ride a scooter up to 50 cc all around town without a driving license) We used the scooters all throughout our trip and since the scooters came with enough petrol, our travelling costs for Ho Chi Minh City were zero. The free airport pick-up further helped us save about 12-20 dollars making our stay at the hotel an absolute steal deal.
(Quick Note: From what I understand, they do not offer free scooters and airport pick-up to all their guests as their roll-out depends on the hotel's promotional activities and management policies. But even without these two offerings, we saved a lot of money thanks to the free food and minibar)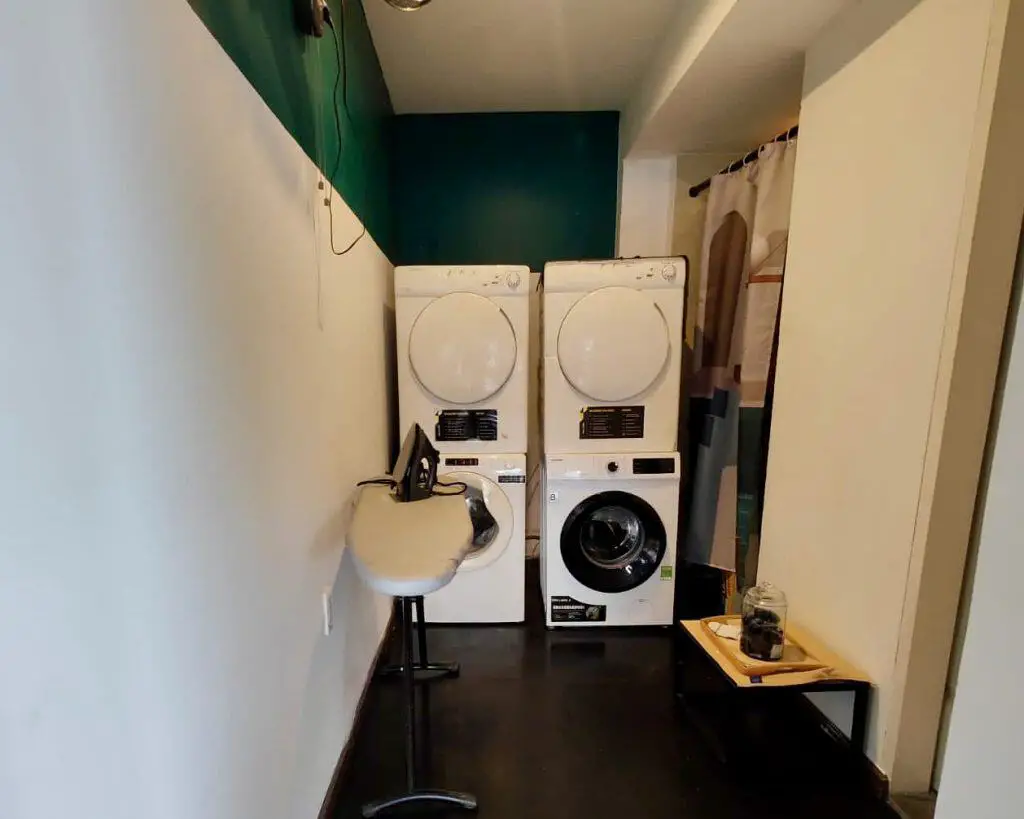 In addition to all the value additions above, the hotel also has a laundry area on the rooftop complete with a washing machine and a dryer. All guests can use these for zero additional cost! (We didn't use their laundry services as we had carried enough clothes for our whole trip, but if you are visiting Vietnam for a longer trip, you can easily save another couple of dollars here.)
So if the long list of amenities and add-ons has made you a bit dizzy, let me quickly summarise them for you here
If you stay at the Hammock Hotel you get
free toileteries
free tea/coffee and snacks
free mini-bar
free snacks and beverages from the pantry
free daily breakfast
free airport pick-up (subject to hotel's policies)
free scooter (subject to hotel's policies)
a chance to use the cute map artwork to orient yourself
access to a travel catalogue to book affordable tours in and around Saigon
a Google map with all the nearby attractions and eateries marked on it
Additionally the hotel had also kept a lovely tote bag for use during our stay at the hotel. Guests had the option of buying it for 150,000 VND if they wanted to take it back with them.
To be honest, the generous spirit of the hotel leaves you touched. The hotel doesn't really need to pamper you with all this goodness, but it does anyway and the difference it makes to the quality of your stay is remarkable.
Check availability and latest price of Hammock Hotel Ben Thanh here
---
Staff and Hospitality
Soon after I booked my stay at this hotel, I got in touch with the staff over Whatsapp. I informed them about the booking and the staff was prompt to acknowledge it. From that point on, I reached out to the staff with doubts about travelling within Saigon, Sim cards, local attractions, nearby eateries, cute cafés etc. The staff was always prompt with the replies. In fact, the hotel's staff soon became that trustworthy contact point you always wish you have when you are travelling to a new country and I can't thank them enough for all the tips and help.
Since we were reaching Ho Chi Minh City late in the evening, we didn't have any time to book a local agency's tour to Cu Chi Tunnels. The staff even had that booked for us (even before we reached Ho Chi Minh City). The price quoted for that tour was also reasonable and comparable with booking prices of local tour operators.
The Hammock Hotel's staff also handled our check-in smoothly, carefully educated us about all their hotel's offerings, breakfast timings etc. They arranged our free scooters and kept those ready at the desired time. They even co-ordinated with the guide of our tour to Cu Chi Tunnel regarding our pick-up time. For our way back to the airport, they booked a Grab for us.
Basically, what was the most impressive was that the staff spoke excellent English which made communication super easy (unlike our stay at other hotels in Vietnam). The staff always carried a warm smile on their face and looked willing to help out the hotel's guests.
We felt well-looked after and welcome throughout the course of our stay and for that the staff of Hammock Hotel deserves solid appreciation.
---
Food
Hammock Hotel provides free breakfast to its guests. Hammock Hotel does not lay down a breakfast buffet. Instead, breafast is a choice between 4 different set menus. We tried 2 out of those 4 options during our stay and were quite pleased with the taste, plating and the quantity.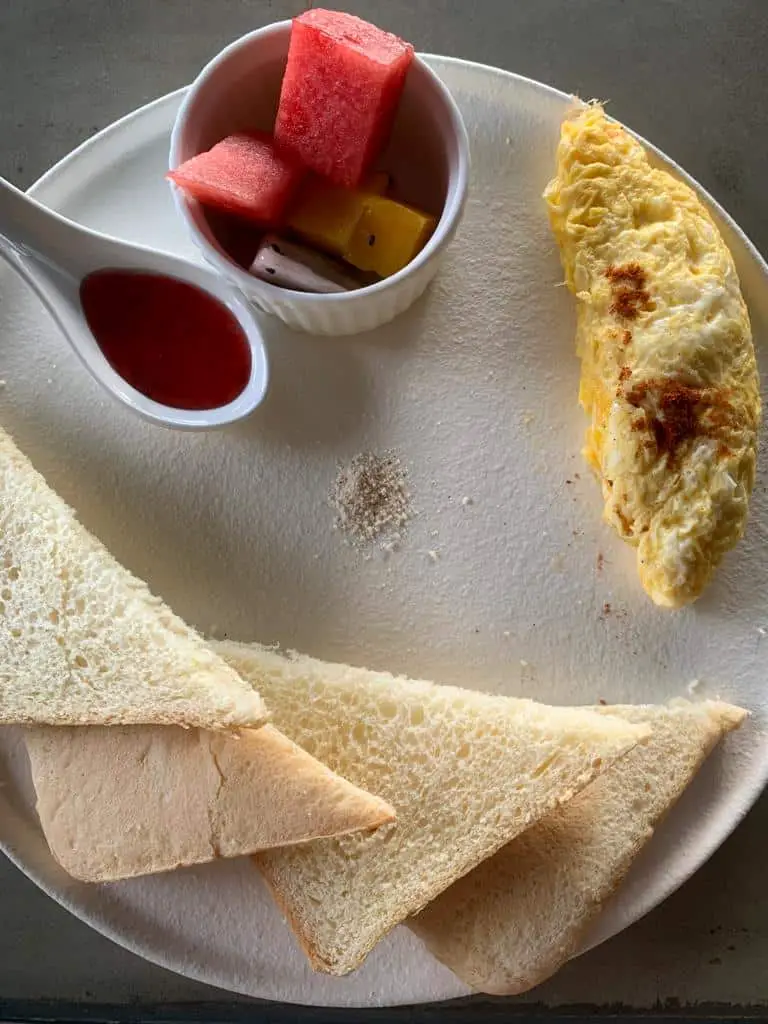 On the first day I tried their set menu that included eggs, bread, fruits and coffee. On the second day, I had their set menu with mac n cheese, soup and bread. On both the days, the staff was happy to customise a few items on the plate to my liking.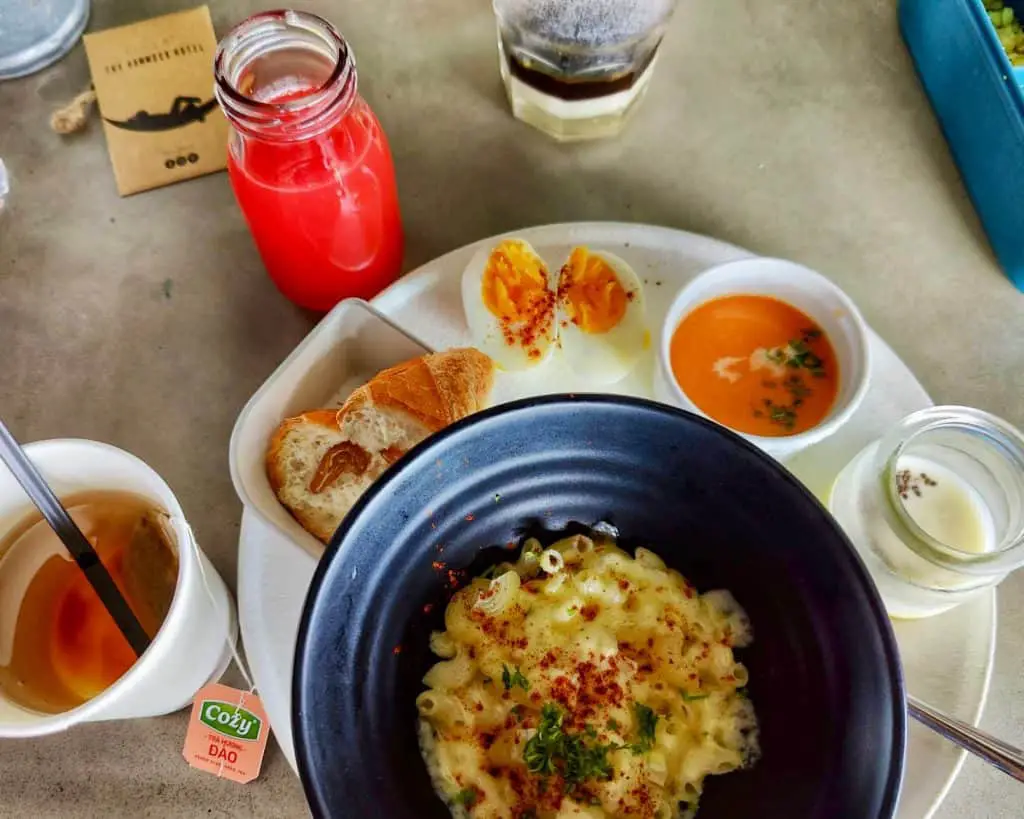 In addition to the free breakfast served on the rooftop, the hotel has a café on the ground floor (right next to the check-in counter). This café serves delicious food and beverages. It's also open 24*7 so you can just head to the ground floor whenever hunger strikes.
---
Additional Insights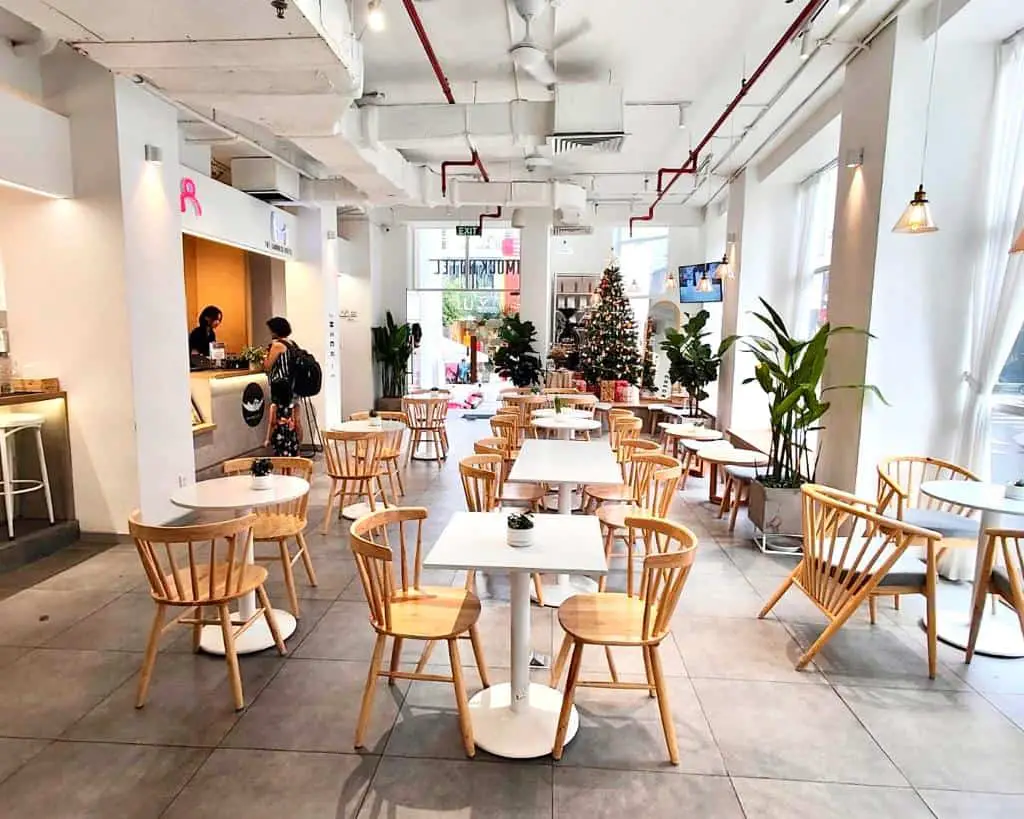 Now that I have technically evaluated all the offerings of the property for you, let me provide you with some more insights
Hammock Hotel's check-in counter is on the ground floor next to their vibey 24*7 café. Although a bit unconventional, it sets a modern, youthful tone to your stay.
The rooftop area on the top offers views of District 1. From here you can even see the Saigon Skydeck. The rooftop area has a few tables for guests to chill out. The area is also decked up with a few hammocks. My daughter was also thrilled to see a few swings installed here. The pantry is also located here and comes equipped with a small seating area. The laundry space is also located here. The rooftop also doubles up as the hotel's official breakfast area.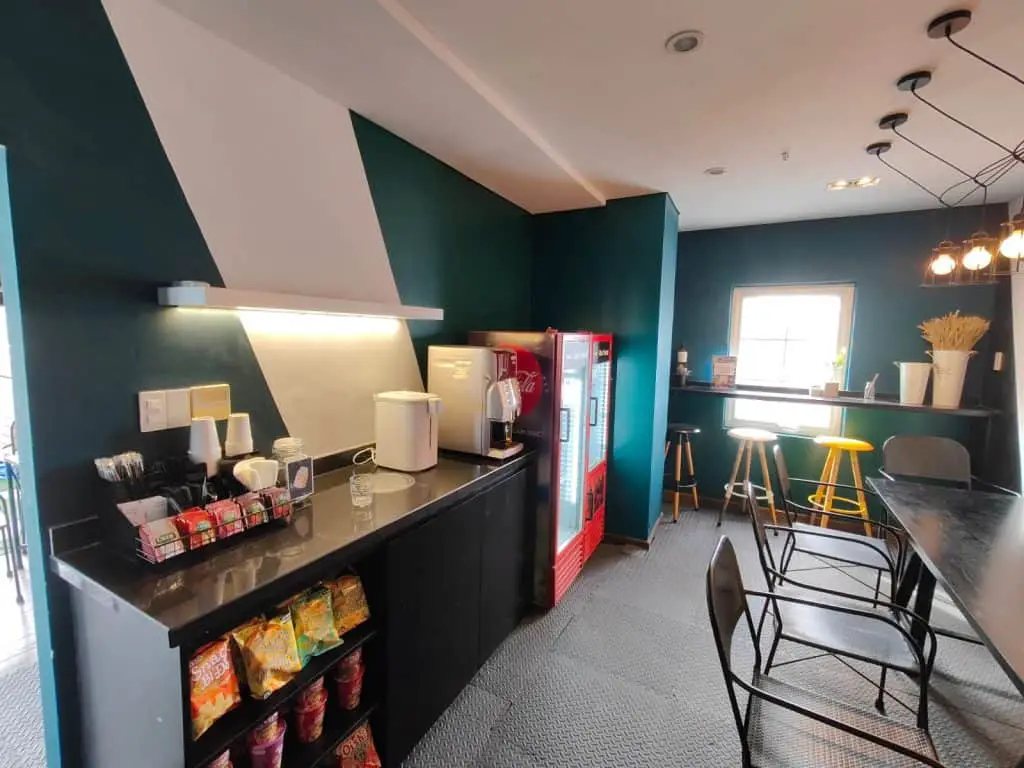 There are no telephones inside the rooms. The hotel provides you with a contact number on which the staff is easily reachable. But what this means is that you need a cell phone connection to touch base with the staff.
The area around the hotel can get loud on weekends. The hotel thoughtfully does keep ear plugs in the room but light sleepers may still have some difficulty sleeping.
There are plenty of charging points disributed all across the room. We could easily charge all our devices which included two smartphones, two smartwatches, a power bank, and two cameras without having to pull out a power strip that we carry along with us.
Hammock hotel also has another property near the Fine Arts museum which is also located centrally. We didn't visit that place so can't offer more details about it.
---
Final Thoughts
Hammock Hotel is the perfect balance between a social hostel and a classy hotel. It delivers the best of both the worlds – the warmth and friendliness of a hostel and the comfort and privacy of a hotel. It is a perfect fit for Indian travellers or travellers from developing countries who want to experience a pleasant stay in a central location without paying a steep price for it.
Check availability and latest price of Hammock Hotel Ben Thanh here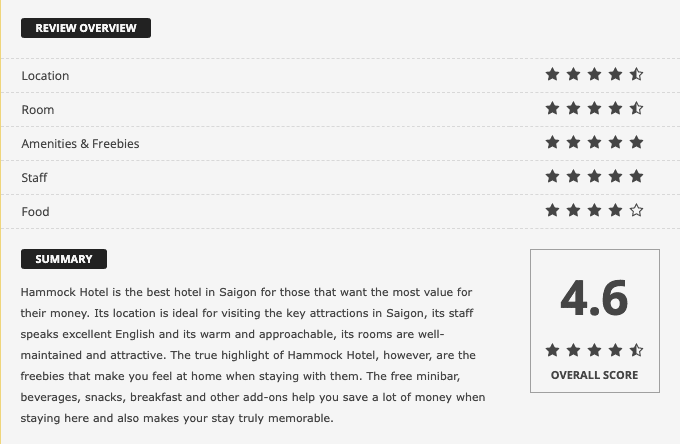 ---
TOP TRAVEL RESOURCES
Here is a list of our favorite travel resources- the ones that I absolutely swear by when planning almost every trip. Go through this list to plan a hassle-free trip and save a lot of money!
Flight Booking: Check the availability of tickets, the best time to fly, and the cheapest fares on Skyscanner. You may also find a cheap flight via CheapOair
Accommodation: I absolutely love booking through Agoda. In most countries and particularly in Asia, I often find the best fares on Agoda. But I also love the no prepayment and no cancellation fee policy of Booking.com. For cheap accommodations and hostels, nothing beats Hostelworld.
Car Rentals: You may find and rent an appropriate car via RentalCars. It's hassle-free and reliable.
Guided Tours: I absolutely love GetYourGuide for local sightseeing tours, walking tours, history tours, and food tours. The booking process is seamless, and the tours are super affordable. But in Asian countries, I prefer Viator or Klook for their affordably priced tours.
Lounge Access: Get Priority Pass – my personal favorite card that gives me unlimited access to premium airport lounges all over the world
Hey, if you found this post helpful, share it with more people or buy me a coffee!