Le Meridien Cairo Airport – Best Hotel near Cairo Airport
This website contains no sponsored content. The content is written entirely on my own and is based on my personal experience and extensive research. This post may contain affiliate links. If you make a purchase through one of these links, I may receive a small commission at no extra cost to you. As an Amazon Associate I earn from qualifying purchases. Please read the disclaimer for more information.
I had not had the chance of experiencing the charm of an Airport Hotel until my stay at Le Meridien Cairo Airport. I had always believed that a hotel close to an airport would be functionally on-point but it would not offer the warmth and comfort of a hotel located in the heart of a city on account of it being super busy and people not staying in it for lengthy stays.
Did Le Meridien Cairo Airport prove me right? Or was the hotel's service and hospitality friendly and welcoming?
Read my detailed review of Le Meridien Cairo Airport below to find out –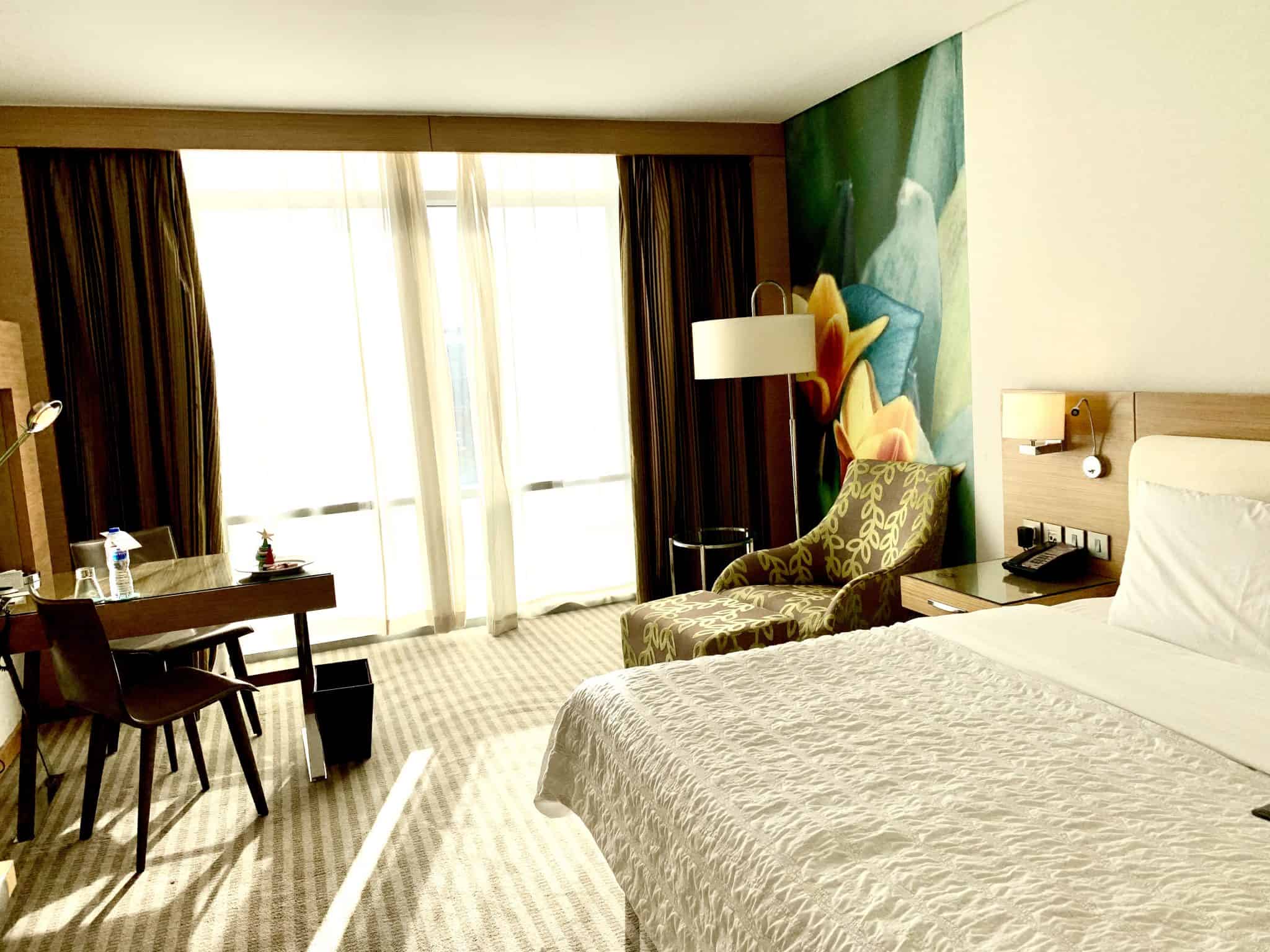 Location
It's a no-brainer that a hotel whose name has the word 'airport' in it would be close to the airport. But Le Meridien Cairo Airport is not just close to the airport, it is pretty much a part of Terminal 3 of the Airport. You don't even have to step out of the terminal to go to this hotel.
A lift inside the terminal will take you to an internal aerobridge connecting the terminal to the hotel. You can even take the airport trolley till the check-in area of the hotel and on your way out the bell boy will gladly drop you back till the lift inside Terminal 3.
Therefore, if you are looking for a hotel that is close to the airport. don't look elsewhere as you won't find a place to stay near the Cairo airport than this wonderful hotel.
That being said, please note the following –
If you arrive at Terminal 1, you will have to take the hotel's half-hourly shuttle to to reach the airport. The journey could take approximately 10 to 15 minutes.

You can walk to the hotel from Terminal 2 in about 10 minutes.

You can take the airport trolley right till the reception area inside the hotel.

Staying at this hotel makes sense only if you arrive late at night at Cairo and do not want to look for options to commute into the city at that hour or if you have a an onward flight journey from Cairo Airport and are looking for a good stay option in the interim period.

The hotel is a bit far from the city centre and about an hour away from Giza (where the famous pyramids are.) Therefore, if you are in Cairo for sightseeing, please choose to stay at the Le Meridien Pyramids and Spa in Giza or at any other hotel in central Cairo.
Rooms and Amenities
The hotel offers deluxe rooms, club rooms and suites to its guests.
The first time we stayed here, we chose the airport-facing deluxe room and on our second visit we stayed in a pool-facing deluxe room.
My personal favourite was the airport-facing room from where we could see planes take off and land. (Showing planes to my baby girl turned out to be a wonderful hack to calm her down when she got fussy!)  In fact, the airport view proved to be much better than facing the lacklustre pool and the roads leading into the city.
Now, the rooms at this hotel were very well-maintained and clean.
The layout of the rooms and the decor was inviting and eye-catchy. The rooms are spacious enough to comfortably accommodate a work-station and a seating area over and above the bed without the room feeling too congested.
The bathroom too is neatly-laid out. However, some rooms have a bathroom with a bath tub while some have a bathroom with a shower unit. If you have a specific preference, please make it known to the front office at the time of check-in.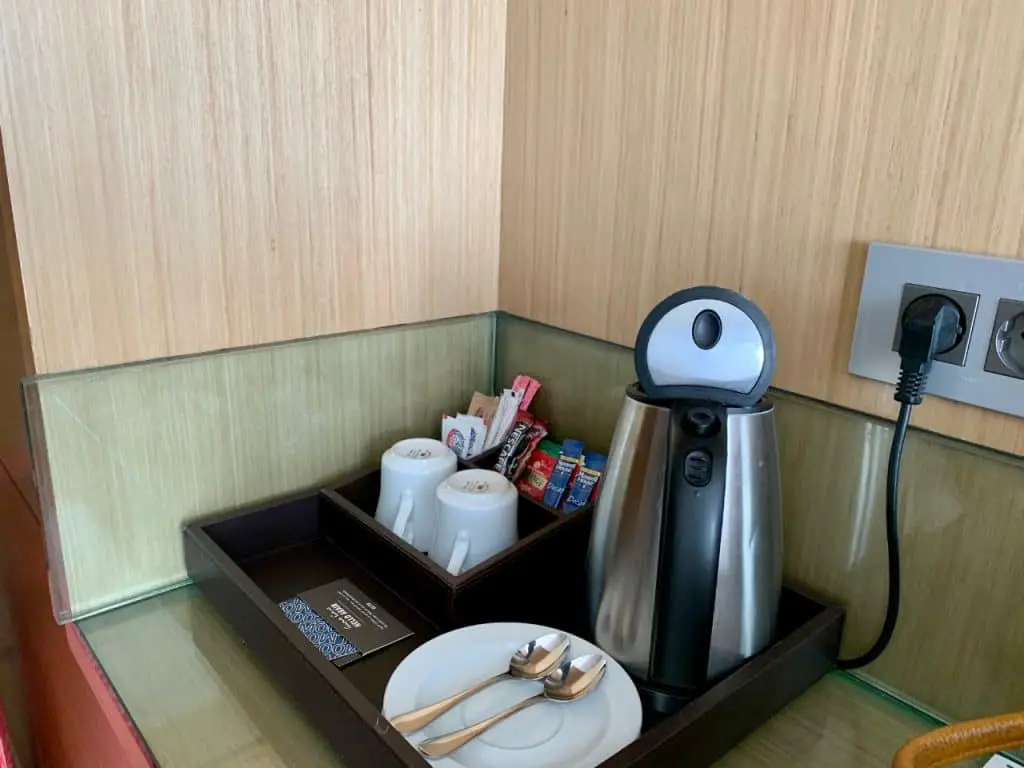 In-room amenities of even the basic deluxe room included hairdryer, minibar, ironing board, clothes rack and a tea and coffee maker. 
Food
I was aware that this being an airport restaurant, there aren't any other quality restaurants in the nearby area and therefore we would have no option but to eat at one of the three restaurants within the hotel.
I was, therefore, hoping that the restaurants would serve some really yummy ( read – vegetarian, baby-friendly and delicious) food! And thankfully, they did just that! 
There are three restaurants, a live sports bar and a 24-hour coffee shop within the premises of this hotel.
Evoo 
This is the main restaurant at the hotel and also my most favourite one!
This restaurant serves breakfast from 4.30 am to 10.30 am which ensures that you won't have to leave on an empty stomach even for your early morning flight.
The breakfast spread is quite sumptuous for the fact that this is an airport hotel. The staff at the restaurant is extremely courteous. However, most tariff plans for a stay at Le Meridien do not include complimentary breakfast. Therefore prepare yourself appropriately to pay extra for your breakfast here.
You also have the option of ordering a la carte if huge spreads do not appeal to you.
A few limited vegetarian options in pizzas and pastas are available at this restaurant.
Mezzeh 
This is the in-house Lebanese restaurant at this hotel and is quite a favourite among guests of this hotel. Unfortunately, thanks to its popularity, the place is usually crowded and you will have to patiently wait for a few minutes before you get a table.
China Red
This restaurant is a hit amongst most Asian travellers as the food here scores absolutely lip-smacking. The smell, taste and the vibe of the place will instantly transport you to China.
This restaurant too offers a few vegetarian dishes.
Live Sports Bar
This fun, lively place is a great place for you to unwind after a long flight. It is also the only place in the hotel that will let you socialise over a glass of beer and a bowl of delectable snacks.
There are plenty of vegetarian options available here as well.
In terms of taste, quality and service, all their restaurants live up to the mark. However, what turned out to be a let down was our in-room dining experience. The time taken to serve our food was much longer than the time committed and they even goofed up the order.
So unless the restaurants are full, I do not recommend ordering in.
Over and above these restaurants, the hotel has a coffee bar near the reception area that is open 24 hours! Isn't that absolutely cool and just the perfect way to warm yourself up after a long flight?
Also, those staying in club suites get access to the executive lounge which also serves buffets and meals to its members. 
Check-in and Check-out
The check-in process at Le Meridien Cairo Airport was smooth.
During our first visit here, we requested for two adjoining rooms since I was travelling with my baby and my parents and the front-office staff was courteous and kind enough to allocate appropriate rooms to us.
On our second visit too, we were pleased with the check-in process. The hotel duly noted our communication regarding a late check-in and the prepared our rooms accordingly. For a smooth check-in experience, I strongly recommend using the Marriott Bonvoy App.
Check-out too turned out to be a breeze. All the pending payments were effectively and expeditiously settled, our luggage was promptly picked up from our room and we were courteously wished a pleasant journey by the staff.
Thus, the check out process was fast enough to not hold us back from rushing for our flight.
Other highlights of our stay at Le Meridien Cairo Airport
The hotel offers free high-speed wifi to its guests. The coverage and speed of the wifi is impressive.

There is a basic pool and a fitness centre inside the hotel that is well-maintained.

Flight Information Display Systems are installed near the reception area for guests to be able to check the status of their flight. This proves to be particularly useful during check-out.

The hotel happily accepted our request for a late check-out when our flights got delayed, thus protecting us from undue hardships.

The staff at EVOO is particularly warm and friendly. They went out of their way to prepare and serve some baby food for my baby-girl.

Also one of the sweetest moments of our stay came on our second visit to this hotel when one of the staff members at this restaurant remembered not only our faces from our previous visit but also could exactly recollect our coffee preferences. Given the fact that there are plenty of guests who stay here for a short period of time before their onward journeys and that this hotel is mostly functioning at full occupancy, the sweet gesture from this staff member blew my mind.
This gesture made me realise that the staff here is particularly warm and welcoming and does not operate in an impersonal manner typical to other airport hotels.
Final Word
This hotel is an absolute worth your buck. The service lives up to the standards expected from a Marriott Hotel. The staff is warm, courteous and goes out of your way to accommodate your preferences and make your stay pleasant.
In fact, some of the fellow guests at the hotel with whom I had the chance of interacting even said that this is most definitely one of the best airport hotel that they have ever stayed at.
Therefore, if you want to make the most of your time on your quick visit to Cairo, you must stay at this wonderful hotel.
Click here for more information and latest price of this property