Hilton Hurghada Plaza – A useful review
This website contains no sponsored content. The content is written entirely on my own and is based on my personal experience and extensive research. This post may contain affiliate links. If you make a purchase through one of these links, I may receive a small commission at no extra cost to you. As an Amazon Associate I earn from qualifying purchases. Please read the disclaimer for more information.
Hurghada is a resort town. What that means is that most of the resorts in Hurghada are self-sufficient properties that provide everything from premium quality stay facilities to a private beach for its visitors. Tourists travel to Hurghada for leisure and relaxation.
In fact, after spending three days in Cairo and a couple more days in Alexandria sightseeing, we had also put Hurghada on our itinerary as a destination to relax. Plus we were also going to welcome the new year in Hurghada. Therefore the choice of the resort we stayed in at Hurghada was particularly important.
So did Hilton Hurghada Plaza live up to our expectations? Here is our detailed review of the property!
Room
Since I was travelling with my baby and parents, the hotel staff was kind enough to allocate two adjoining King Family Deluxe rooms to us. The rooms were spacious, well-maintained and absolutely clean. The art-work and the decor of the rooms here are highly impressive. What makes these rooms totally value-for-money is the fact that all the rooms at this resort offer a terrific view of the Red Sea.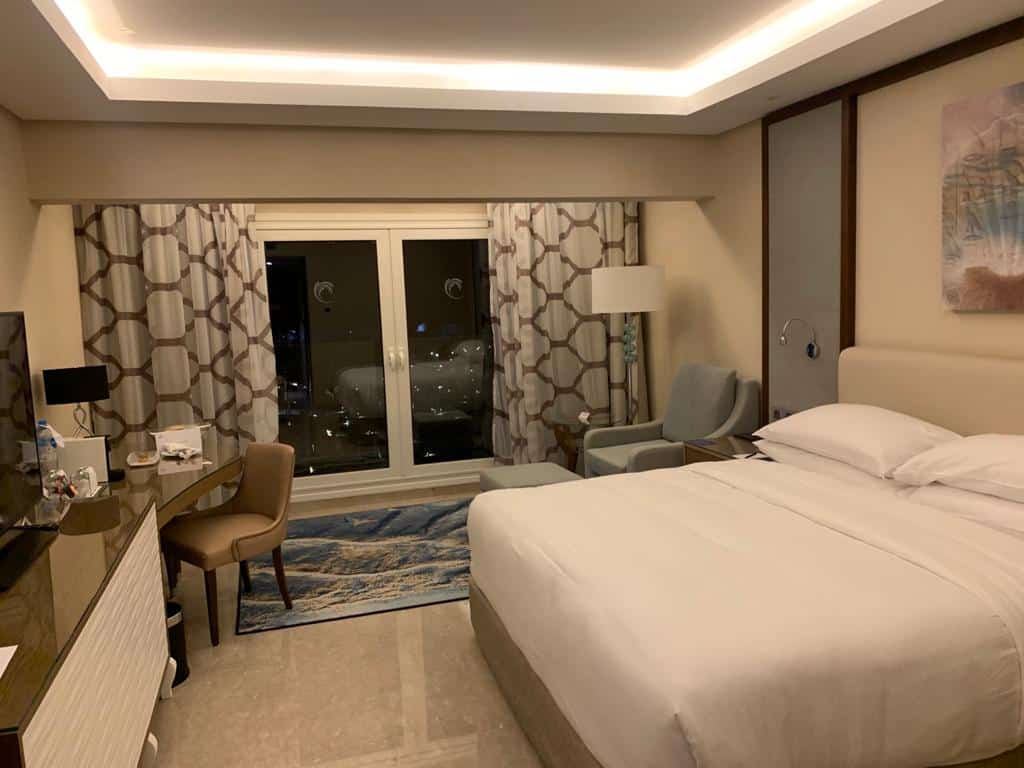 The mini-bar inside the room was well-stocked. The room comes with a lovely coffee-maker over and above the usual kettle. Although similar in-room amenities are offered by most resorts, because this resort is newly renovated, all the amenities are in great shape and work perfectly well. 
That being said, what was a little off-putting was the bathroom layout. The water from the shower overflowed into the toilet area making the floor wet. However, that was only a minor-drawback to what was possibly one of the best-looking deluxe rooms I have ever stayed in.
Hospitality
The other area where the hotel immediately impresses is the hospitality. The hotel has undergone years of renovation and has only recently become operational. Due to the fact that it is not yet accepting bookings to its full-capacity, the hotel is rarely full. This allows the staff to properly attend to all its guests. This was a welcome change after our stay at other hotels in Egypt!
The front-office staff took down our requests for a connecting room and also made specific arrangements for us given that we were travelling with a baby. The staff at the restaurant was particularly courteous. They made sure that we enjoyed our breakfast, promptly catered to our requests and always made sure that a baby-chair was properly set up for us at the table. 
The housekeeping staff, the staff at the pool, as well as at the travel desk was always friendly and willing to help. 
Yes, we did face some language trouble with the staff which is surprising considering how well-trained the staff at Hilton usually is, but the trouble was not so much that it negatively impacted our stay in any way. 
On-site facilities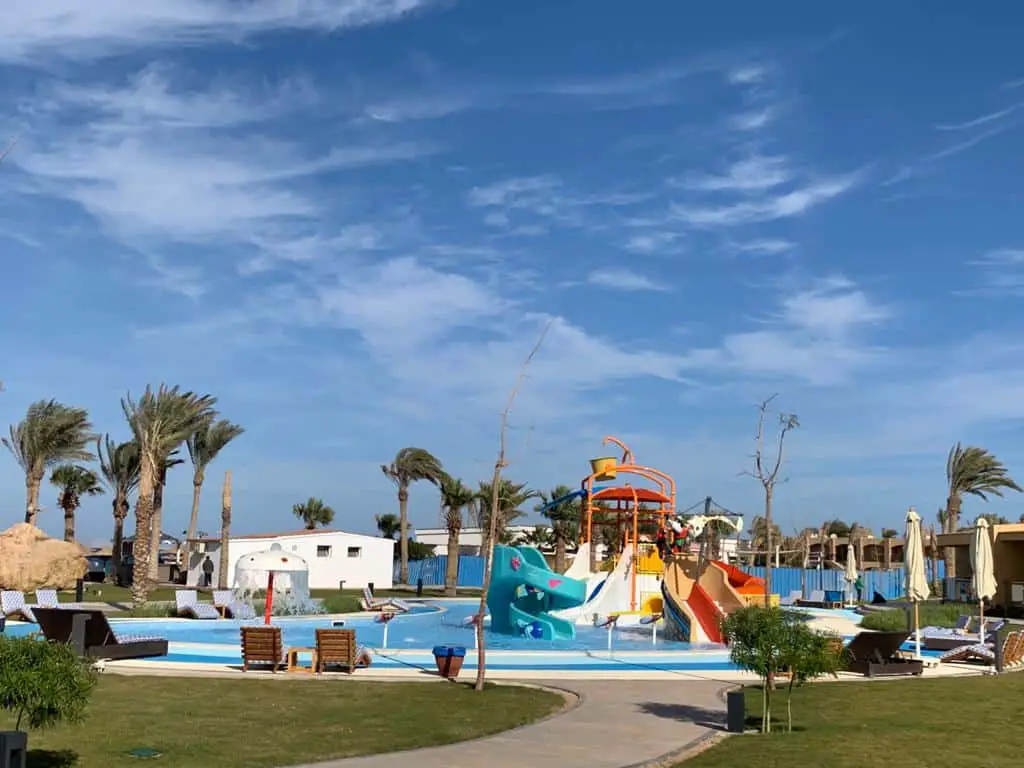 As I mentioned earlier, resorts in Hurghada are mostly all-inclusive and rarely leave you with reason to venture out of the premises. This resort was no-exception. It had a lovely heated-pool, a kids pool, a kids-area, a fitness centre, three in-house restaurants, a bar, a cafe, a souvenir shop, a tennis court, a spa and of course, a private beach.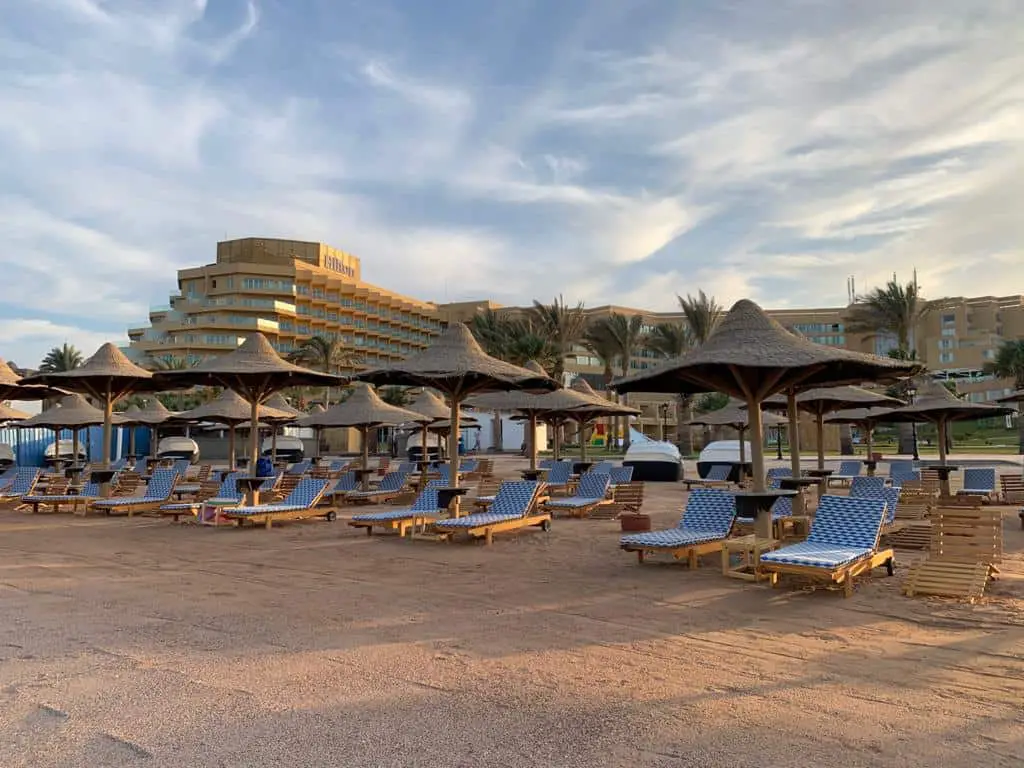 Okay, some points worth mentioning: 
A strong cold wind is always blowing in Hurghada during the day. So even though the pool is heated, the weather conditions are rarely ideal for a good swim. The kids' pool, which comes with awesome slides installed, is unfortunately not heated. That is also why we hardly saw any kids getting to splash water in it during our stay. 
The sauna/jacuzzi is only accessible if you take a spa treatment. 
There is a small snorkelling area at the beach that plenty of people enjoy
The hotel also arranges scuba-diving and the water-sport activities for its guests.
The on-site wifi connectivity is great no matter which part of the resort you are in.
Food
The food served here is great. Period. I was a major fan of the breakfast spread at this hotel. The spread catered to all tastes. What was also great was that they kept changing the items on the menu every morning to avoid repetitiveness. 
We were also here for on New Year's eve and the gala-dinner organised by the resort was a massive hit. Although there were very few vegetarian items on the menu here, the restaurant would go out of their way to cater to our individual needs. 
We did not try the sea-food restaurant here. But we did hear from sea-food lovers that the food there lived up to their expectations. 
Of course, what you must note is that the food here is expensive. You will definitely find much cheaper food in the restaurants at the mall next door. But if you are willing to pay up, you will not be disappointed with the quality, taste and the portion size of the food served on your plate. 
Additional Points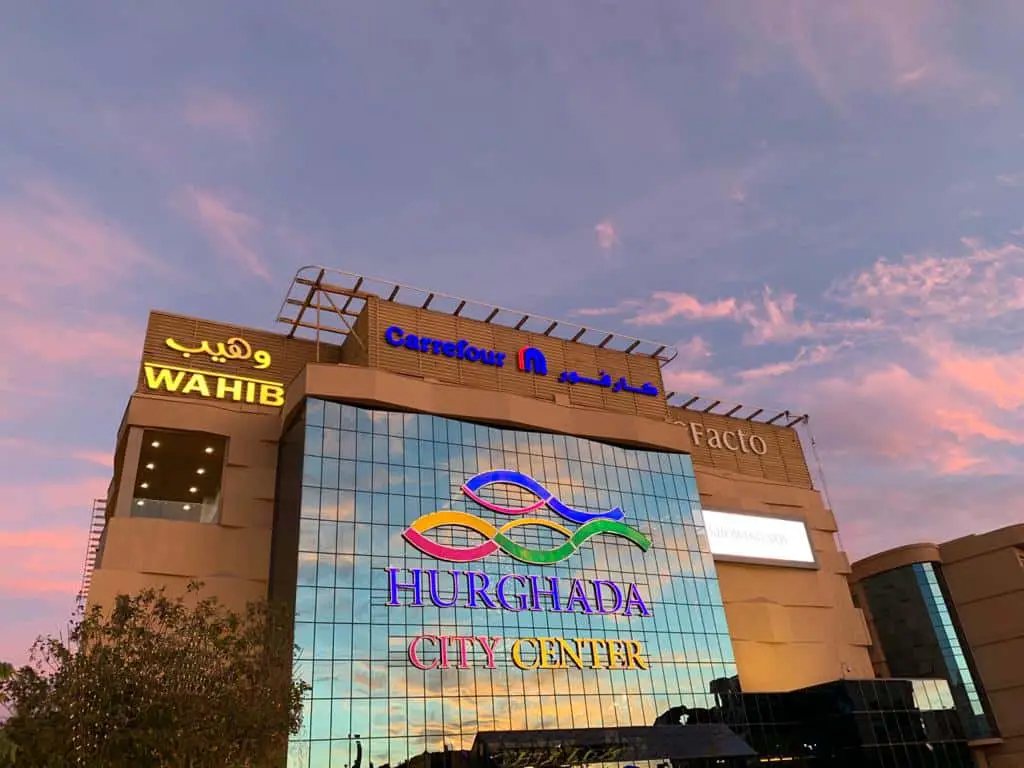 Every gate at the resort has a metal detector. All incoming guests are screened and their luggage scanned. 
The resort gives wrist bands to all its guests too for added security.
The lobby and the reception area looks great! The marble flooring impresses instantly. 
The beach area is also beautifully decked up and is a great place to hang out during the day.
The spa here is managed by a third-party service provider and the service may not necessarily live up to Hilton standards.
The kids area has limited toys for kids but the staff there is very friendly and arranged some fun events in which all kids staying in the resort are encouraged to participate.
The Hurghada City Mall is right next door (in fact, can even be accessed by an in-house gate) and has some great shops, including some global brands. There are a few cafes and restaurants here that serve great food that's much cheaper than the in-house restaurants.
There aren't many restaurants in the area close to the resort. 
Final Word
This resort is one of the better properties of Hilton in terms of the quality of the rooms, hospitality and on-site facilities. Plus, given the fact that some of the resorts in Hurghada look much better on paper and turn out to be a shocker, in reality, this resort definitely delivers everything that it promises. Also, since most tourists visit Hurghada for a relaxed in-house vacation, the quality of the resort and the services offered by it assume great importance. This resort definitely scores well on that front. In short, I definitely recommend staying at this resort for anyone looking to book a classic Hurghada vacation! 
You can read more articles on Egypt here. If you are wondering how to apply for an Egyptian Tourist Visa, click here. To read about our other destinations, click here.
---
TOP TRAVEL RESOURCES
Here is a list of our favorite travel resources- the ones that I absolutely swear by when planning almost every trip. Go through this list to plan a hassle-free trip and save a lot of money!
Flight Booking: Check the availability of tickets, the best time to fly, and the cheapest fares on Skyscanner. You may also find a cheap flight via CheapOair
Accommodation: I absolutely love booking through Agoda. In most countries and particularly in Asia, I often find the best fares on Agoda. But I also love the no prepayment and no cancellation fee policy of Booking.com. For cheap accommodations and hostels, nothing beats Hostelworld.
Car Rentals: You may find and rent an appropriate car via RentalCars. It's hassle-free and reliable.
Guided Tours: I absolutely love GetYourGuide for local sightseeing tours, walking tours, history tours, and food tours. The booking process is seamless, and the tours are super affordable. But in Asian countries, I prefer Viator or Klook for their affordably priced tours.
Lounge Access: Get Priority Pass – my personal favorite card that gives me unlimited access to premium airport lounges all over the world
Hey, if you found this post helpful, share it with more people or buy me a coffee!