Is Hotel Auspicious the Most Ideal Hotel in Leh?
This website contains no sponsored content. The content is written entirely on my own and is based on my personal experience and extensive research. This post may contain affiliate links. If you make a purchase through one of these links, I may receive a small commission at no extra cost to you. As an Amazon Associate I earn from qualifying purchases. Please read the disclaimer for more information.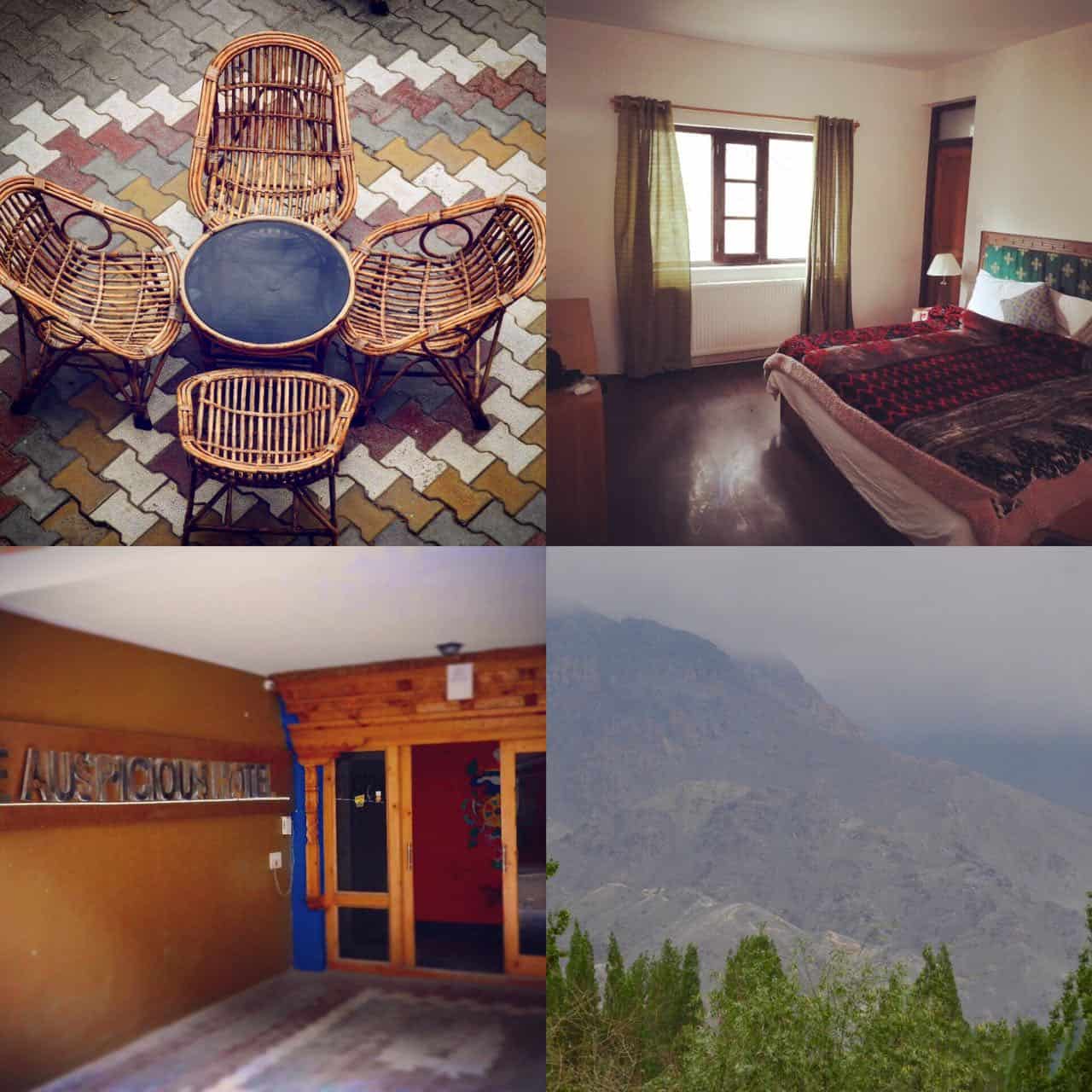 When you Google 'Hotels in Leh' you get an overwhelmingly long list of hotels. Every hotel in Leh seems to have a fantastic rating and there are multiple options for every kind of traveler.  How do you then decide which hotel to stay in?
We were faced with same dilemma when we were planning our trip to Leh. What made it worse was that our decision to travel to Leh was an impromptu one and we had hardly 7 days to plan our entire itinerary, stay and book our flights.
Feeling overwhelmed by the sheer number of options available online, I decided to consult my brother who had visited Leh the previous year. He immediately suggested that we book our stay with the 'Hotel Auspicious' where him and his friends had stayed last year. He assured me that the hotel will take care of everything. I called Mr. Robbin of the Auspicious Hotel and truly, he took care of everything after that.  He offered us a 7 nights-8 days package and mailed us a detailed itinerary. We paid an advance and as informed to us, a driver was waiting for us outside the Leh Airport on our day of arrival.
WHAT MAKES 'HOTEL AUSPICIOUS' THE MOST IDEAL HOTEL IN LEH?
Location
We love being in the centre of all tourist places for the sheer amount of convenience it adds to the stay. Hotel Auspicious is located right in the heart of Leh in a small lane opposite the famous Hotel Lamayuru. Because the hotel is in a small lane, the traffic and the hustle-bustle of the main street don't bother at all. Nevertheless, thanks to its location, some of the most famous restaurants in Leh like Gesmo- the German Bakery, Open House Café are all just a stone's throw away.  The main shopping areas and Tibetan markets are also just a few minutes away on foot.
Complete Package
Our 7 nights-8 days package with Hotel Auspicious included the following:
Stay at the Hotel for 5 nights
Stay in a camping tent at Nubra Valley for one night
Stay in a cottage opposite the lake at Pangong for one night
Breakfast and Dinner on all days
Car (Scorpio) with a driver exclusively for the two of us for local sightseeing as well as for our journey to Nubra and Pangong
Pick-up from and drop to the airport
Inner line permits as required by law
We usually don't like booking packages as we feel it doesn't leave us with much flexibility. However, once we arrived in Leh, the hotel introduced us to the driver and gave us all the freedom to plan our sightseeing trips as per our convenience. The stays that they had booked for us at Nubra and Pangong were also beautiful. In fact, our cottage at Pangong was located right next to the lake.
Efficiency
Given that we had booked a package, the hotel had to take care of our bookings at numerous places and had to also arrange for our inner line permits. They took our identity documents from us on Day-2 of our stay and had our inner line permits ready for our journey to Nubra Valley and Pangong-Tso. They even gave us our booking vouchers for our stay in Nubra and Pangong Tso on a timely basis. Our check-in and check-out process was really smooth. Also, our room was cleaned regularly without any reminders.
Food
The food at the hotel was delicious and we always longed for it after our sightseeing tours! Given that Leh has to face many odds such as shortage of food supplies, power cuts, low oxygen levels and sudden changes in weather, we were amazed by the wide spread buffet at the hotel.
For breakfast, they have tea, coffee, juice, eggs, poha/upma/paratha or some such hot meal as well as cornflakes and milk. For dinner, the buffet boasts of a hot soup, salad, 1-2 sabzis, 1 non-vegetarian dish on most days, rice, dal and a sweet for dessert. They also serve hot rotis on your table. Besides, you can always order snacks of your choice depending on availability at any hour of the day!
Staff
We believe that the quality of one's stay at a hotel is largely influenced by the quality of staff. The staff here is courteous and very friendly. On the first day when we decided to go for a walk, they sweetly advised us not to as the first day must be spent acclimatizing. They rushed with an oxygen cylinder whenever someone complained of breathlessness. They promptly gave Akshay an anti-allergic medicine when he suffered from a skin-rash due to the high altitude. Whenever possible, the chef went out of his way to cook us our favourite food. The staff even invited us to hang out with them and the other guests in the evening after we came back tired from our day trips. Overall, the warmth of the staff made us feel like it was a home-stay!
Price
This is probably one of the most important reasons why we feel Hotel Auspicious is the most ideal hotel for your stay in Leh. Since, we hadn't got a chance to research much about hotels in Leh, we weren't sure if our package was reasonably priced. On reaching Leh, we went around the town generally enquiring hotel tariffs and travel costs. Here is what we found:
Stay at a 3-star hotel in Leh costs approx. Rs. 4,000 per night
Stay at a tent in Nubra costs approx. Rs. 3,000 per night
Stay at Pangong-Tso costs Rs. 2,500-3,000 per night for a tent and Rs. 3,500 – Rs. 4,000 for a cottage
Inner line permit costs approx Rs. 400 per person
A car with driver for a one-night trip to Nubra Valley costs approx. Rs. 13,000-Rs. 15,000
A car with driver for a one-night trip to Pangong Tso costs approx. Rs. 10,000 to Rs. 12,000
Local Leh sightseeing costs approx. Rs. 3000 per day.
Based on this, we figured out that our trip for 7 nights and 8 days would have cost us approximately Rs. 50,000 to Rs. 53,000 had we booked it entirely on our own instead of taking a package from Hotel Auspicious. And guess what? Hotel Auspicious charged us just Rs. 53,000/- for the package (Inclusions mentioned above) for the two of us and more importantly, saved us the trouble of making last-minute plans and bookings all by ourselves!
SOME MORE POSITIVES OF HOTEL AUSPICIOUS
Finally, we would like to enlist just a few more fronts on which the hotel impressed us –
Facility of making payment via net banking
Prompt service as every member of the staff has a walkie-talkie for faster communication
A small courtyard in the middle of the hotel which was a great spot to relax in the evenings
Three categories of rooms to suit all tastes and budgets
No trouble due to power cuts as the hotel has a generator
Heater in the bathroom meant no need to call for a bucket of hot water before bathing (usually the practice in a standard hotel in Leh)
A Tata Sky connection in all rooms ensured we feel connected with the rest of the world given that Jammu and Kashmir has poor internet connectivity.
How to book?
You can book your stay at the Hotel Auspicious either by visiting their website here http://www.theauspicioushotel.com or by calling the hotel directly at + 91 9622027631 or +91 9419177864 or +91 9810305264.
Our stay at Hotel Auspicious was really amazing and we would definitely recommend it to anyone looking for a hotel in Leh.
Have you stayed at this hotel? If yes, how was your experience? If not, which hotel in Leh did you stay at and how was your experience at that hotel?
Also, in case you are planning a trip to Leh Ladakh, check out the DOS AND DON'TS FOR YOUR LEH LADAKH TRIP!

Disclaimer
Hotel Auspicious did not in any way sponsor our stay. The views presented in this article are entirely our own based on our personal experience. We are writing this article on our own free-will. Hotel Auspicious has not asked us to endorse them in any way.
Read more about our travel guides and travel tips on Indian destinations here.
Also, read our other accommodation reviews here.