An Honest, in-depth Bamboo Airways Review: Is it worth It?
This website contains no sponsored content. The content is written entirely on my own and is based on my personal experience and extensive research. This post may contain affiliate links. If you make a purchase through one of these links, I may receive a small commission at no extra cost to you. As an Amazon Associate I earn from qualifying purchases. Please read the disclaimer for more information.
How good are Bamboo airways? Is Bamboo Airways safe? Is Bamboo Airways a budget airline?
If you have booked a Bamboo Airways ticket or are about to book a Bamboo Airways ticket, these questions must have popped up in your head.
In this honest Bamboo Airways review, I will share my end-to-end experience of flying with Bamboo Airways. I will go over my booking experience, seat selection, check-in process, seat comfort, in-flight hospitality, and facilities. I will also go over how it fares in comparison with the Vietjet Air experience.
Before we dive into the Bamboo Airways review, here are a few quick facts about Bamboo Airways
Bamboo Airways was established in 2017. But its first aircraft flew on 16th January 2019.
It is the most punctual airline in Vietnam since 2019
It is the second-best regional airline in the Asia category and the fifteenth-best regional airline overall.
Its slogan is 'what comes from the heart goes to the heart' and that's why its crew always greets its passengers with a hand on their heart.
But how does Bamboo Airways deliver in terms of performance? We will evaluate that in detail below.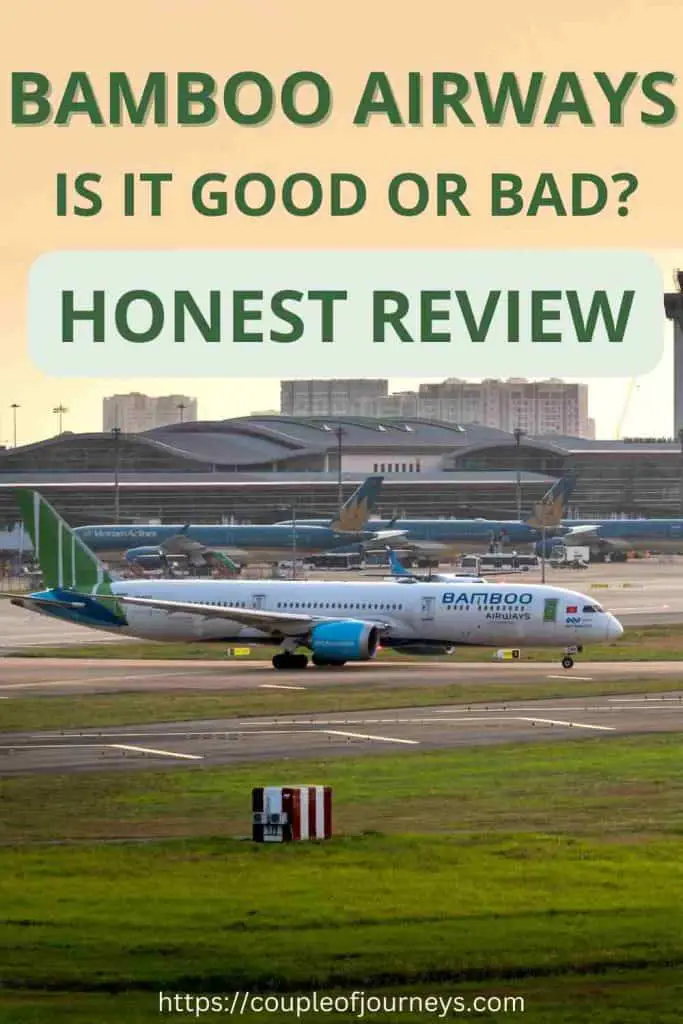 Bamboo Airways Review – Is Bamboo Airways Good?
This in-depth Bamboo Airways review is based on my flights from Hanoi to Da Nang and Da Nang to Ho Chi Minh City. I flew with my husband and my 4-year-old daughter.
Booking Process and Ticket Price
The booking process at Bamboo Airways was seamless.
I booked our tickets from the official Bamboo Airways website.
The website was clean and very user-friendly. Unlike Vietjet Air's website, this website's English content was well-written and did not feel like a cheap translated copy.
The payment was made in USD but the tickets were extremely affordable.
In fact, the massive price difference was why we chose to fly Bamboo Airways instead of Vietjet Air or Vietnam Airlines.
Here are some key details that you should know about Bamboo Airways ticket fares
– Bamboo Airways has tickets divided into economy fares and business fares.
– Bamboo Airways provides a pay-later option ticket too where you are allowed to hold your seats, are allocated a reservation code, and allowed to pay later (within 4-10 hours and as specified at the time of booking)
We paid 99 USD for the three of us per journey, per way with our toddler only being charged 75% of the adult fare. Thus, we paid a fee (without tax) of USD 7 per adult and USD 5 per toddler. In addition to this, we paid USD 2 per seat selected.
Today, the fares of Bamboo Airways have gone up considerably and cost approximately USD 99 and USD 20-40 (without taxes) for economy class and USD 110 (without tax) for business. The seat cost is between USD 5-8.
Moreover, the fares also include hand luggage up to 7 kg and checked luggage up to 20 kg.
Web Check-in
Web check-in, seat selection, and other 'manage booking' features were easily accessible post-booking. This too, is in sharp contrast to my experience with Vietjet Air where logging in to access booking details was a nightmarish experience
Check-in and Boarding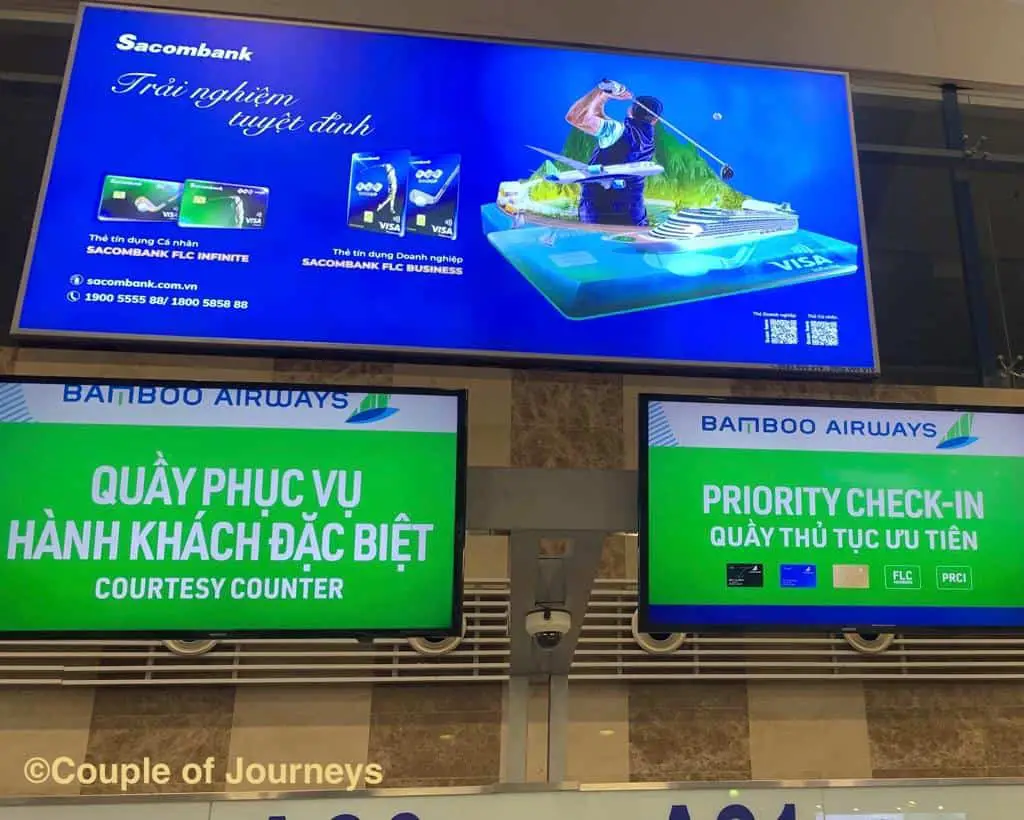 Check-in starts two hours in advance before which the counters remain closed or even if they are open for other flights, you need to wait for check-in for your flight to start.
Other than this minor inconvenience (which we only faced because we reached far too early for our flight to Ho Chi Minh City), the process of check-in and boarding went smoothly.
The airline staff speaks excellent English and could easily understand and communicate with international passengers.
In-flight experience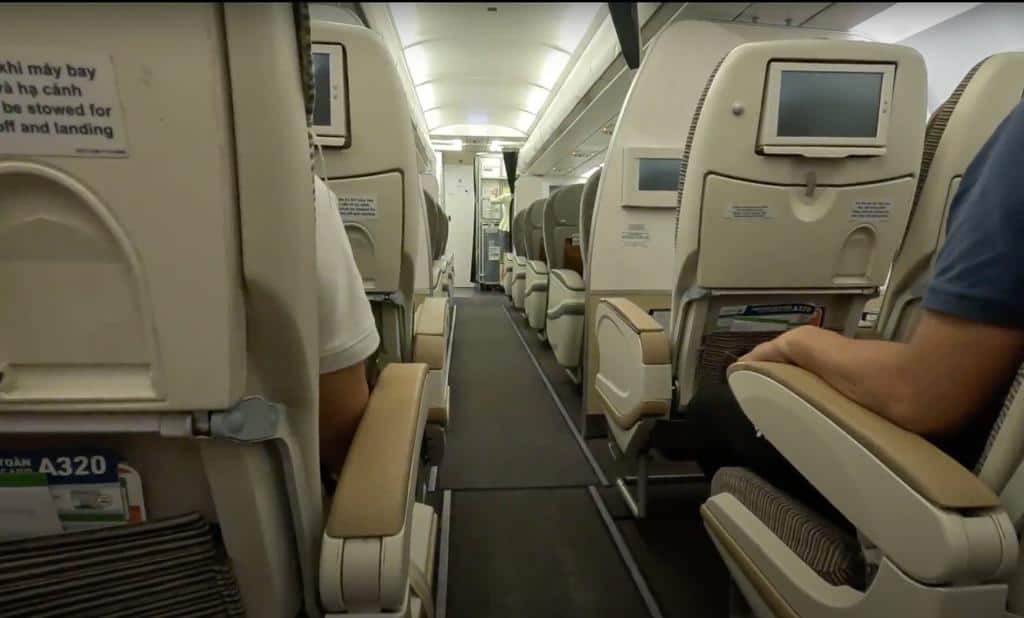 In-flight experience is where Bamboo Airways over-delivers for its price. The leg space in the aircraft is above average.
The in-flight attendants are extremely warm and friendly. They are happy to help you to the best of their ability.
The aircraft and toilets are extremely well-maintained. The upholstery is fresh and soothing on the eyes. The aisles and overhead bins are clutter-free.
Since the revision in their prices, Bamboo Airways has also started providing free meals onboard. However, since we weren't given free meals when we flew with them, I can't comment on the variety and quality of food available.
When exiting, the in-flight attendants stand with a hand on their heart (in line with the airline's slogan) and greet and thank every passenger. The hospitality and quality of service on flight truly leave a positive impression.
Other Key Observations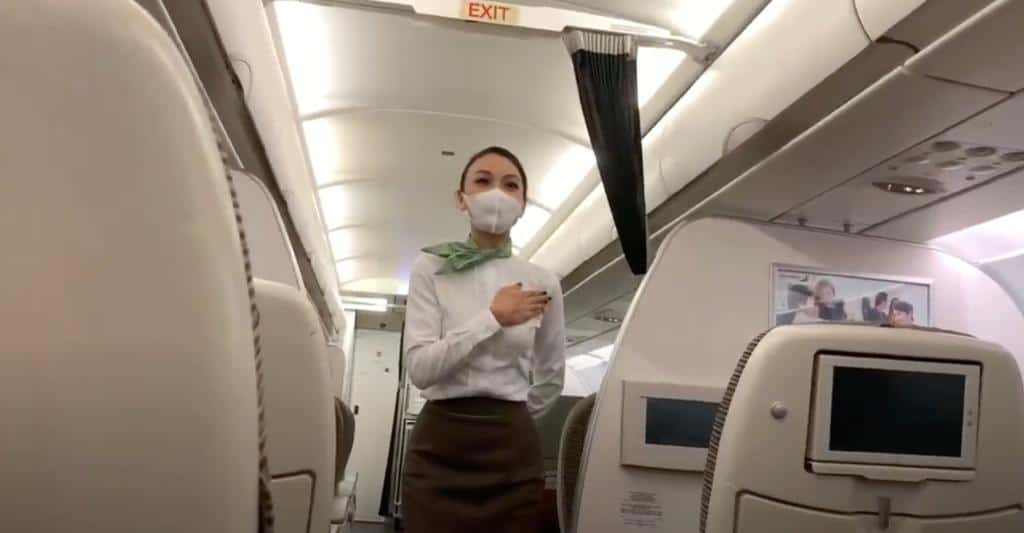 Given the fact that the prices of Bamboo Airways have gone up considerably since the time I flew this airline, Bamboo Airways may not seem like an obvious choice especially given how affordable Vietjet Air tickets are.
But a few distinguishing factors about Bamboo Airways that would still compel me to opt for Bamboo Airways are
Bamboo Airways flights rarely get canceled. Even during terrible weather conditions, when most of the Vietjet and Vietnam flights were canceled, Bamboo Airways continued to operate. This in itself was a major relief given that we were traveling on a tight travel itinerary that would have been completely thrown off had our flight been canceled.
The flights leave on time most of the time. ln fact, it has even won awards for its on-time performance and has consistently been the most punctual airline in Vietnam.
Bamboo Airways also operates internationally and flies to major destinations like Australia, Germany, and Japan.
Checked luggage of at least 20 kgs is included in all of its fare classes (Except Economy Super Saver which is rarely available for booking anyway) and takes away the hassle of buying checked luggage which you otherwise need to do in Asian carriers like Lion Thai Airways, Air Asia, etc.
---
Bamboo Airways – Frequently Asked Questions
Is Bamboo Airways a budget airline?
Bamboo Airways operates as a hybrid model. It combines the benefits of low costs and traditional full-service models. Thus, you get excellent leg space, meals, and checked luggage but you don't get perks like in-flight entertainment, alcoholic beverages, etc.
Is it safe to fly Bamboo Airways?
Bamboo Airways has earned a 7/7 safety rating from AirlineRatings. The staff is fully vaccinated and the flight's service equipment is fully sanitized as per flight service standards.
Where does Bamboo Airways fly to?
Bamboo Airways flies to various destinations within Vietnam like Hanoi, Da Nang, Da Lat, Phu Quoc, Hue, etc. Internationally, the flight flies to Tokyo, Frankfurt, Seoul, Taipei, Melbourne, etc.
---
Should you fly Bamboo Airways?
Given that Bamboo Airways is now priced similarly with Vietnam Airlines and is usually more expensive than Vietjet Air, does it still make sense to fly Bamboo Airways.
Honestly, I have not flown on a Vietnam Airlines flight so I can't comment on the in-flight experience of Vietnam Airlines.
But if you have read my review of Vietjet Air, you would know that the experience was terrible. There is hardly any leg space and the in-flight attendants are not very warm and cordial.
Plus, during bad weather, we did notice the cancellation of flights of both Vietnam Airlines as well as Vietjet Airways whereas Bamboo Airways flights flew as per schedule. This punctuality and commitment to fly in itself are enough to convince me to book a Bamboo Airways ticket even after the hike in its prices.
In my opinion, if you have the option of taking a Bamboo Airways flight, especially for domestic travel within Vietnam, and budget is not an issue for you, you should choose Bamboo Airways over Vietjet or Vietnam Airlines.
---
Travelling to Vietnam? Read more articles here
Hanoi street food tours – A complete guide
Best day trips from Hoi An for all types of travelers
What to do in Hanoi in 24 hours
Best things to do in Hanoi Old Quarter
How many days are enough in Hoi An
All the other Vietnam articles
---
TOP TRAVEL RESOURCES
Here is a list of our favorite travel resources- the ones that I absolutely swear by when planning almost every trip. Go through this list to plan a hassle-free trip and save a lot of money!
Flight Booking: Check the availability of tickets, the best time to fly, and the cheapest fares on Skyscanner. You may also find a cheap flight via CheapOair
Accommodation: I absolutely love booking through Agoda. In most countries and particularly in Asia, I often find the best fares on Agoda. But I also love the no prepayment and no cancellation fee policy of Booking.com. For cheap accommodations and hostels, nothing beats Hostelworld.
Car Rentals: You may find and rent an appropriate car via RentalCars. It's hassle-free and reliable.
Guided Tours: I absolutely love GetYourGuide for local sightseeing tours, walking tours, history tours, and food tours. The booking process is seamless, and the tours are super affordable. But in Asian countries, I prefer Viator or Klook for their affordably priced tours.
Lounge Access: Get Priority Pass – my personal favorite card that gives me unlimited access to premium airport lounges all over the world
Hey, if you found this post helpful, share it with more people or buy me a coffee!