10 Best Day Trips From Hoi An: A Useful Guide 2023
This website contains no sponsored content. The content is written entirely on my own and is based on my personal experience and extensive research. This post may contain affiliate links. If you make a purchase through one of these links, I may receive a small commission at no extra cost to you. As an Amazon Associate I earn from qualifying purchases. Please read the disclaimer for more information.
Wondering which are the best day trips from Hoi An? I've got you covered!
Hoi An was my favorite town in Vietnam not only for how everything about it felt like a fairytale set but also for its excellent location. There are plenty of options for day trips from Hoi An to suit your travel tastes. So whether you're a history buff, a culture geek, a beach person, or someone who loves touristy attractions, you are sure to find a suitable Hoi An day trip option.
In fact, that's exactly why on my Hoi An trip, I covered everything from Ba Na Hills to Coconut Village boat rides and more to give myself the best chance of exploring everything Hoi An has to offer.
Read on to find out all about the best day tours from Hoi An.
🤩 This Ba Na Hills day trip is affordable and convenient and my most favorite day trip from Hoi An
10 Best Day Trips from Hoi An: A Useful Guide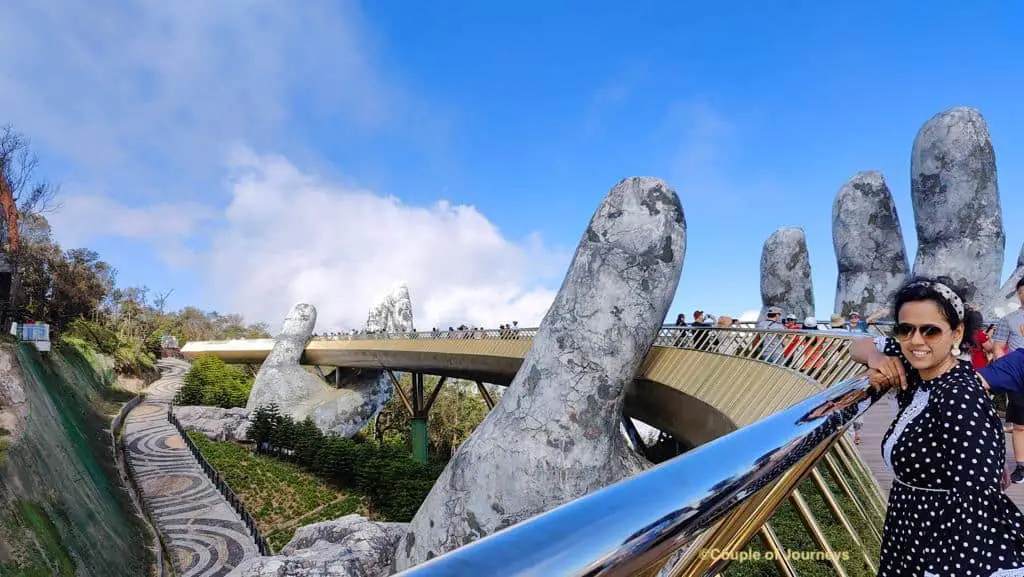 Ba Na Hills tour from Hoi An is one of the most popular day trips from Hoi An
Distance: Ba Na Hills is about 1.5 hours away from Hoi An
Things to do at Ba Na Hills:
Visit the famous Golden Hand bridge
See the classic French Village
Travel in one of the longest ropeways in Vietnam that take about 20 minutes to reach the top of Ba Na Hills
eat a ravishing buffet lunch
visit wine cellars from the early 20th century
visit the beautiful French gardens
Pray at the tall Buddha pagoda
Take part in amusement park rides and adventure activities.
In my opinion, a visit to the Ba Na Hills can be an overwhelming experience simply because there is so much to do.
The basic ticket to Ba Na Hills is expensive in itself but the place proves to be an excellent outing if you are traveling to Vietnam with kids.
Make sure you visit the place when the weather is likely to be clear. Avoid visiting Ba Na Hills in October and November when the chances of rain are high.
(Fun fact: We visited Ba Na Hills in November and were lucky to experience clear weather!)
Some things to remember about a day trip to Ba Na Hills from Hoi An
– Ba Na Hills is closer to Da Nang than Hoi An. So if you have enough days in Da Nang, avoid visiting Ba Na Hills from Hoi An as you would unnecessarily pay for the commute between Hoi An to Da Nang.
– Ba Na Hills can be explored on your own if you want to save costs. But the place is huge and crowded, and figuring out which place to visit when for the best experience can be a challenge. We took a group tour for this exact reason and the trip proved to be a much smoother experience.
– There are hardly any vegetarian food options at the Ba Na Hill buffet lunch. Either carry your own food or buy a pizza, french fries, or ice cream from the shops above. Paying for the buffet lunch would not feel worth the money if you don't eat meat.
We booked this Ba Na Hills day tour from Hoi An and were extremely pleased with the service, care, and punctuality.
Da Nang tour from Hoi An is one of the most convenient day trips from Hoi An
Distance: Da Nang is only 30 minutes away from Hoi An.
Things to do at Da Nang:
See the famous Dragon bridge
Visit the marvelous Lady Buddha – the tallest Buddha in Vietnam (read my guide on Lady Buddha)
Go to Marble Mountains – one of the best tourist attractions in all of Danang. It offers incredible views of the city, and has some of the best caves, temples and pagodas in all of Vietnam.
eat a ravishing lunch at Madame Lan (or any restaurant or café of your choice)
visit one or more of the many markets in Da Nang
hang out at My Khe beach or check out the My An beach
Go on a river cruise in Da Nang
A trip to Da Nang is a rich experience as it lets you explore one of the best coastal cities in all of Vietnam. The city is vibrant but not crowded. It has wide, clean roads lined with hotels, cafes, and restaurants.
Da Nang has a massive coastline that extends beyond 30 kilometers in length making its beaches some of the most spectacular in all of Vietnam. The water is also swim-friendly in many areas.
You'll also find many beach-facing restaurants, clubs, and cafés in Danang.
Some things to remember about a day trip to Da Nang
– Da Nang is the biggest city in Central Vietnam and the best way to commute is in a private car with a driver. Most tourist attractions in Da Nang have enough parking. The approximate cost of a private car to Da Nang is about VND 1.2 million. Most tour operators would expect you to define your trip hours and tourist stops at the time of booking. Steering away from the defined route could result in extra charges.
– If you don't mind riding a bike, you can even visit Da Nang from Hoi An on a motorcycle.
– Visit Lady Buddha and Marble Mountains when the weather is clear for the best views.
– Bargain at Da Nang Markets to avoid being ripped.
While it is easily possible to visit Da Nang on a privately arranged tour, my experience tells me that this tour on Viator proves to be a much better alternative.
We spent a few hours visiting local shops in Hoi An to book a car for Da Nang. But the difference in quotes was quite large. We had to spend a long time unsuccessfully negotiating. Finally, booking this day trip to Lady Buddha and Marble Mountains proved to be a far more hassle-free option. The price was also cheaper than the quotes we'd received.
Distance to Coconut Village and Tra Que Vegetable Village: 10 minutes from Hoi An
Technically, both Coconut Village and Tra Que Village are only about 4-6 kilometers away from Hoi An. So many people do visit these places for a half-day trip only.
But the places still have lots to offer for a full-day trip.
Things to do at Coconut Village:
Go on a basket boat ride in the coconut village – you can opt for a 1-hour tour for the most engaging experience
Try Karaoke on the boat
Get swirled around in circles. Watch a local catch fish.
Explore the delta-like region. Click lots of pictures
Drink a fresh coconut water drink before or after the trip.
Things to do at Tra Que Vegetable Village:
Walk through the multiple farms spread over acres of land
Learn farming techniques from a local
Try your hand at cooking local delicacies
Eat fresh produce served at a local's place
Click pictures of the lovely farms
Go on a bicycle ride around the small farms
This trip will not technically take the entire day but can keep you busy from 10 am to 4 pm.
Tips about visiting Coconut Village or Cam Thanh Village
you will have to pay an entrance fee decided by the local villagers to enter the village which would be about VND 30,000 per person
pick a bamboo boat option from one of the locals. Be ready to be hounded by many local villagers. Pick one option, bargain, and stay firm.
Ignore the people who could be following you on the ride to Coconut Village trying to sell you a bamboo boat tour.
I felt extremely hassled by the number of villagers who were following our scooter on our way to the village. One lady even followed us for over 3 kilometers. The behavior of the locals felt slightly rude and I wish I had booked a ticket online to cut out the drama associated with this tour.
The tour is genuinely scenic and an excellent thing to do near Hoi An.
Tips about visiting Tra Que Village
The vegetable village is open to all tourists for a self-tour.
On the way, you will come across the houses of locals who my try to sell their cooking class to you or ask you to buy produce from them.
When I explored the place, I wasn't asked to pay an entrance fee. I didn't even find an official entryway to the village. But I have heard of locals trying to get the better of tourists by asking for 'fees'. As with the coconut village, it is best to book your experience of this in advance for a fuss-free afternoon.
Cham island tour from Hoi An is one of the most satisfying Hoi An day trips.
Cham Islands are a group of 8 small islands in the Cu Lao Cham Marine Park. They are located just 15 kilometers away from Hoi An and are part of a UNESCO World Biosphere Reserve.
To get the most out of your trip from the Cham Islands, you would need to join a group tour.
A group tour typically includes the following
A speed boat journey from Cua Dai beach
a visit to a pagoda, a museum, and a gorgeous fishing village at Bai Long
a snorkeling session in the middle of the sea near Bai Xep.
a hearty lunch
beach time to explore one of the islands (mostly Bai Chong)
The trip as a whole takes you through 3 islands and lets you briefly see a few more.
Natural beauty abounds all through the duration of the trip. The rich flora and fauna make for the perfect natural outing away from the crowded Old Town of Hoi An.
A few tips for your day trip to the Cham islands.
Book from a trusted vendor to avoid being harassed at the port by small local vendors.
I highly recommend this online tour. It is professionally conducted and provides the best coverage of the Cham islands in a small amount of time.
Go only when the weather is clear.
Expect some waiting time at shower areas on weekends due to the large number of crowds visiting Cham Island. If possible, avoid visiting the Cham Islands on a weekend.
Carry and wear enough sunscreen.
Hue is a day trip that I don't recommend if you are in Hoi An just for 2-3 days. That's because there is already a lot to see in Hoi An and splitting that limited time to visit a whole entire city hardly makes sense.
But if you're in Hoi An for 3 or more days, you must visit Hue.
Hue was the imperial capital of Vietnam during the Nguyen Dynasty. As a former capital city, Hue ideally demands more than just a day trip. But if a day trip's all you can manage, you must make sure that you do proper justice to its architecture and cultural richness.
The best way to go on this day trip is through a tour company. I highly recommend this Hue with Hai Van pass tour.
On this tour, you get a free pick-up from Hoi An or even Da Nang which is a lot more convenient than having to book your own vehicle or getting on an early morning train from Da Nang.
After that, you drive straight through the Hai Van pass. Keep your cameras ready as this stretch is probably the most scenic belt in all of Vietnam.
Once you reach Hue, the guide would take you to the Nguyen emperor's tomb, followed by a walk around the imperial city.
Inside the Imperial City, you'll find the Citadel.
The Citadel is a sprawling complex with several historically significant palaces, temples and gardens. Exploring this feudal dynasty capital of Vietnam on your own would be a waste of your time and money and that's why it is imperative that you go on a pre-booked tour of the place.
The ticket for the Imperial Citadel itself is VND 200,000 while the combination ticket of all the major Hue attractions costs around VND 500,000. So even if you find the price of the guided tour high, it's 100% worth it for the convenience and insightfulness that it adds to your trip.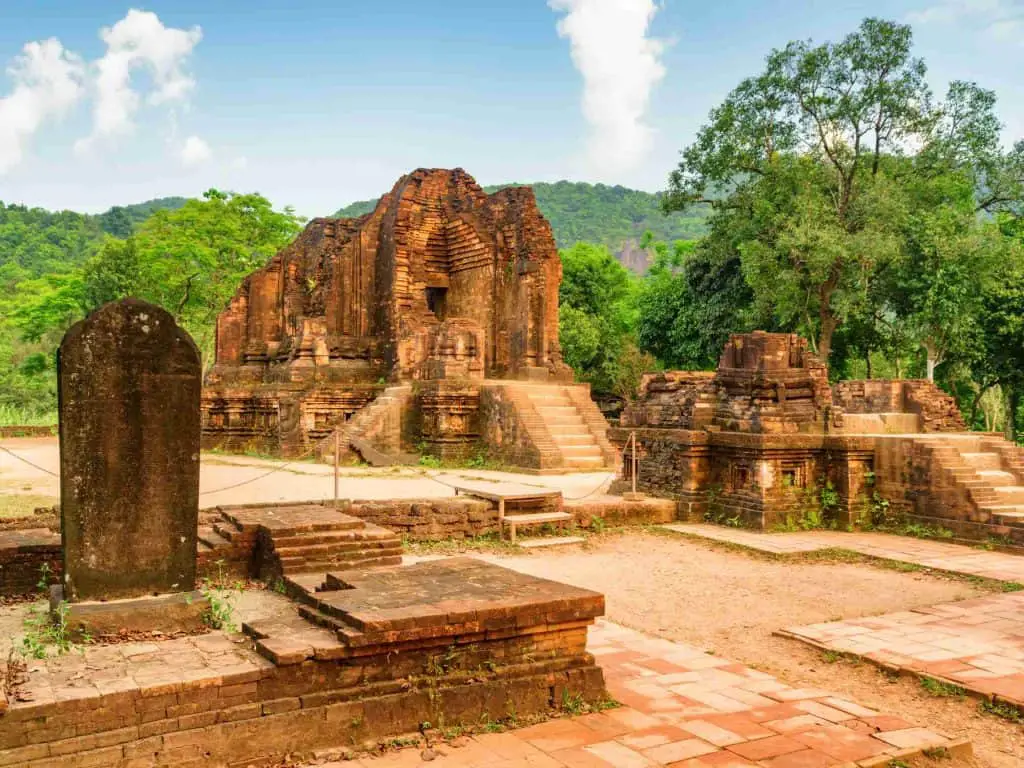 A day trip to My Son is one of the best Hoi An day trips for Indians or history and culture buffs.
My Son Sanctuary is a UNESCO World Heritage Site located in the mountainous border Duy Xuyen District of Quang Nam Province, in Central Vietnam.
It is a significant archaeological site that was once the religious and political capital of the Champa Kingdom. The sanctuary features a complex of ancient Hindu temples, some of which date back to the 4th century. These temples are dedicated to the worship of the god Shiva, known as Bhadresvara.
Distance to My Son Sanctuary: 1 hour away, approximately 40 km from Hoi An
Things to do at My Son Sanctuary
Go on a guided tour of the temples
Attend the Apsara Dance performance
Visit the My Son museum
Click fantastic pictures of the ruins of the temples
Explore the nearby area and appreciate the scenery and natural beauty around
If you see the place at your own pace, attend the dance performance and visit the museum, the whole day trip to My Son Sanctuary from Hoi An should cost you about 5-6 hours. If you visit the when the place is full of tourists, it could take you a couple of hours more.
Tips to visit My Son Sanctuary
Leave Hoi An by 6 am to avoid the crowds and to truly appreciate the beauty of the place. In fact, this tour leaves by 6 am and is the only one that reaches the temples before other tourists arrive. The place gets crowded with tourists by 9-10 am.
Dress modestly. Even though the place is now in ruins, it is till a religious Hindu place, and being respectful towards local customs is encouraged.
Wear comfortable shoes. Even though an electric car takes you to the ruins, you would have to walk a bit. Wear high-SPF sunscreen if you are visiting during the day. The sun is harsh and the weather is humid.
Do not skip the museum. It is very informative.
Attend the dance performance. There are two shows in the morning. Check the show timings beforehand. The performance is only 15 minutes long but beautifully choreographed.
The information boards are not well-maintained. You would miss out a lot if you don't get a guide. Guides are available for a nominal fee of about VND 100,000 from the official guide booking office. The most convenient way to understand the place, its architecture, and its significance is by booking a guided tour like this one.
If you love hiking and don't know where to go hiking in Vietnam, go on a day trip from Hoi An to Bach Ma National Park. Bach Ma National Park is between Hoi An and Hue and to visit Bach Ma, you need to go via the Hai Van Pass – the most scenic road in Vietnam.
Bach Ma National Park is a protected area in central Vietnam. It covers an area of about 220 square kilometers and is home to a diverse range of flora and fauna. The park is known for its stunning natural beauty in the form of lush forests, waterfalls, lakes and panoramic views from the summit of Bach Ma Mountain.
The place is also historically significant for being the helipad of US soldiers during the Vietnam War to monitor the area between Hue and Danang.
Distance to Bach Ma National Park: Bach Ma National Park is approximately 100 kilometers north of Hoi An. The journey typically takes around 2.5 to 3 hours by road, making it a feasible destination for a day trip.
Things to do at Bach Ma National Park
Be mesmerized by the beauty of the Hai Van pass that takes you towards Bach Ma
Admire the natural beauty, the rich flora and fauna
See a wide variety of rare birds
Take in the fantastic view from the summit.
See the observation tower and take time to understand the historic significance of Bach Ma. See the piece bell at the top.
Admire the Do Quyen Waterfall
Trek along the Five Lakes Cascade trail – a medium-difficult trek with outstanding natural beauty all along.
Bach Ma National Park is not very popular amongst tourists visiting Hoi An, Danang, or Hue. As a result, the place still retains its natural beauty and is one of the most photogenic places in Central Vietnam
Tips to visit Bach Ma National Park
Bach Ma is about 2.5 hours away from Hoi An. It is advisable to leave by 7 am from Hoi An to be able to do justice to the expanse and beauty of Bach Ma.
Wearing good-quality trekking shoes is non-negotiable as you would be hiking down a waterfall and a trail around the lakes. The lake trail requires you to climb on extremely narrow ladders and steps. The entire trail is quite slippery.
A decent level of fitness and stamina is required as you would be exploring the entire place on foot with some level of climbing required.
It is advisable to visit the place as part of a group tour. Some portions on the trail may be challenging and it is better to have support around in case you slip or fall. But if you are a pro-hiker, you can visit the place on your own in a small group by booking a private car.
The place can't be visited by those with mobility issues. Likewise, visiting with young kids is also not possible.
There are almost no cafés, restaurants, or eateries in this area. So carry water with you.
There is almost no network coverage in the Bach Ma National Park.
Honest disclosure: The My Lai massacre is one of the darkest episodes of the 20th century and I just do not have the courage to see the place and imagine the horror that the innocent civilians went through on the night of 16th March 1968. So I did not visit the place and if you're a faint-hearted, sensitive empath like me, I do not recommend visiting this place.
But if you are a history buff who would like to know more about the darkest day in Vietnam War history, do visit the My Lai. Today, the site serves as a memorial and museum, reminding visitors of the horrors of war and the importance of peace
Distance from Hoi An
The place is also historically significant for being the helipad of US soldiers during the Vietnam War to monitor the area between Hue and Danang.
Distance to My Lai: Bach Ma National Park is approximately 100 kilometers north of Hoi An. The journey typically takes around 2.5 to 3 hours by road, making it a feasible destination for a day trip.
What to expect on a day trip to My Lai
A visit to My Lai can be a sobering and emotional experience. The site includes a museum displaying photographs and artifacts from the massacre, as well as the remains of the burnt-out houses.
There are also several monuments and statues dedicated to the victims. The site is a place for reflection and remembrance, providing a stark contrast to the natural beauty of the surrounding countryside.
In addition to the massacre site, a typical day trip also includes a stop at the pig market – an entire market that only sells pigs.
Many day trips also include a stop to admire the Khuong my Towers – a 9th century tower built during the Champa dynasty's rule over Vietnam.
The rice fields that surround Hoi An are so beautiful and deserve so much more praise and publicity than they currently do.
The best way to admire these fields and the countryside around Hoi An is on a bicycle – not because it's romantic but because its practical. The lanes running through the fields are too narrow to allow any other type of vehicle.
Now, if you only want to get a feel of riding through the narrow rice field lanes, you could go on this cycling tour on your own.
You could even check with your hotel if they organize trips for their guests. The best time to go on this trip is an hour before sunset when the changing hues of the sky coupled with the lush bright greens of the farm create the most stunning visuals.
But if you want the countryside tour to give you insights into the life of locals and the local handicraft and skills, you must go on a guided tour.
I recommend this guided tour for various reasons
It takes up about 4-5 hours and is suitable for all age groups who know how to ride a cycle (Except kids under 4)
The tour lets you interact with locals
You get to see locals handicraft forms like weaving of sleeping mats, building basket boats as well as making rice wine.
You get to ride a local ferry and cross a floating bridge too.
You also get to eat a delicious authentic Vietnamese home-cooked lunch.
Overall, this tour is not only scenic, but it is very immersive as well. The many stops all throughout also don't make it exhausting at all.
For pleasant weather conditions, opt for the morning tour option.
This is technically not a day trip. But the experience is so immersive that I thought of adding it to the list.
So the primary reason why you must engage in this experience is
– it lets you cook a proper Vietnamese meal from start to finish
– it lets you interact with a local about local culture and their way of living instead of about tourist places
– it equips you with authentic recipes of Vietnamese food that you can replicate back home
This day tour is a half-day tour only i.e. it takes up only 4 hours. But yet, the experience feels far more satisfying than some of the touristy day trips.
The tour begins with a visit to a local market where you would buy supplies needed for your cooking class. After you select your vegetables, meat and other necessities, you are taken for an exciting crab fishing tour.
The crab fishing experience is conducted onboard a basket boat so if you have missed out on the basket boat tour mentioned above, you could get a quick feel of it on this tour. The crab fishing experience is also unique as it uses a traditional fishing style.
After you collect crabs, you are then taken to a restaurant where a chef greets you and teaches you various recipes. The recipes range from starters, rice paper, papaya salad, the famous Hoi An Cau Lao, Vietnamese noodles, pancakes, mains, and desserts.
The cooking class goes on for about 2 hours. The chef is extremely helpful, speaks good English and the effort feels absolutely worth it once you taste the dishes you cook.
FAQs About Hoi An Day Trips
Can you do a day trip to Danang
It is possible to do a day trip from Da Nang and visit the major attractions in Da Nang like the Marble Mountains, Lady Buddha, and Da Nang markets. If you want to visit Ba Na Hills as well, it is recommended that you head out on a separate day trip.
How much is a taxi from Hoi An To Da Nang?
A taxi from Hoi An to Da Nang costs around VND 350,000-400,000. But a private car to Da Nang for a day trip from Hoi An costs about VND 1.2 million for about 8 hours.
Which is the best day trip from Hoi An
The best day trip from Hoi An depends on your travel tastes.
A trip to Ba Na Hills is one of the best touristy outings, a day trip to Hue is a great choice to gain cultural insights, a trip to Bach Ma National Park works best for outdoor enthusiasts.
Final Thoughts: Best Hoi An Day Trips
Hoi An is an excellent hub to explore all of Central Vietnam. To round up and help you make the best choice, here are my top recommendations
Visiting Vietnam? Read more Vietnam articles here
Is Vietjet really bad? Full Review
How to spend 24 hours in Hanoi?
Best street food tours in Hanoi for foodies
What to buy in Vietnam? An ultimate shopping guide
Is Halong Bay worth it? Full Guide with Insights
---
Pin for later
---
TOP TRAVEL RESOURCES
Here is a list of our favorite travel resources- the ones that I absolutely swear by when planning almost every trip. Go through this list to plan a hassle-free trip and save a lot of money!
Flight Booking: Check the availability of tickets, the best time to fly, and the cheapest fares on Skyscanner. You may also find a cheap flight via CheapOair
Accommodation: I absolutely love booking through Agoda. In most countries and particularly in Asia, I often find the best fares on Agoda. But I also love the no prepayment and no cancellation fee policy of Booking.com. For cheap accommodations and hostels, nothing beats Hostelworld.
Car Rentals: You may find and rent an appropriate car via RentalCars. It's hassle-free and reliable.
Guided Tours: I absolutely love GetYourGuide for local sightseeing tours, walking tours, history tours, and food tours. The booking process is seamless, and the tours are super affordable. But in Asian countries, I prefer Viator or Klook for their affordably priced tours.
Lounge Access: Get Priority Pass – my personal favorite card that gives me unlimited access to premium airport lounges all over the world
Hey, if you found this post helpful, share it with more people or buy me a coffee!