Is Halong Bay Worth Visiting? In-depth Honest Review 2023
This website contains no sponsored content. The content is written entirely on my own and is based on my personal experience and extensive research. This post may contain affiliate links. If you make a purchase through one of these links, I may receive a small commission at no extra cost to you. As an Amazon Associate I earn from qualifying purchases. Please read the disclaimer for more information.
Is Halong Bay worth visiting? Want an honest Halong Bay cruise review?
The Halong Bay cruise price can be pretty steep – compared to the cheap travel costs of the rest of Vietnam. So is Halong Bay worth it? That's a legit question and I will share my experience and honest review of Halong Bay cruises in this post.
But if you have no time to read the in-depth evaluation and want a quick answer to your question on whether you should visit Halong Bay, here it is:
Halong Bay is worth a visit if you visit the less touristy areas in Halong Bay and opt for a budget-friendly Halong Bay cruise – one that provides excellent service, packs a tourist-friendly Halong Bay itinerary, and serves great food.
In other words, I feel splurging on a luxury 3-day Halong Bay cruise may not feel worth it, especially if you have been to other areas in Vietnam such as Ninh Binh which are scenic and much cheaper. But a 2-day 1 night – overnight Halong Bay cruise would feel worth your time and money if you choose a high-end cruise.
In this article, I would
– share my personal experience of the Halong Bay cruise and what to expect on a Halong Bay cruise
– talk about ways in which you could ensure that your Halong Bay experience feels worth it
– suggest which cruise to opt for and how much to spend on a Halong Bay cruise
– discuss a few strong negatives of Halong Bay that could ruin your Halong Bay journey and
– elaborate on what you should do to avoid these Halong Bay mistakes.
Read through everything to get the best understanding for your trip or jump to a section of your choice from the Table of Contents below.
---
What is Halong Bay?
Halong Bay has been recognized as a UNESCO Natural Heritage Site. It is a unique area with about 1600 small islands and islets. But what makes Halong bay beautiful is its lovely emerald water and countless limestone pillars. The seascape at Halong Bay is truly unique and a sight to behold.
It is one of the most Instagrammed spots in all of Vietnam and a famous tourist destination. As a result, you will find plenty of small and big sea ships and cruises spread out all across the Halong Bay region.
Day trips to Halong Bay or overnight cruises to Halong Bay are the most popular ways of exploring this scenic region. But some travel enthusiasts go on longer trips i.e take a 3-day Halong Bay cruise or even a 4-day cruise to Halong Bay.
---
Is Halong Bay Worth Visiting? My Honest Experience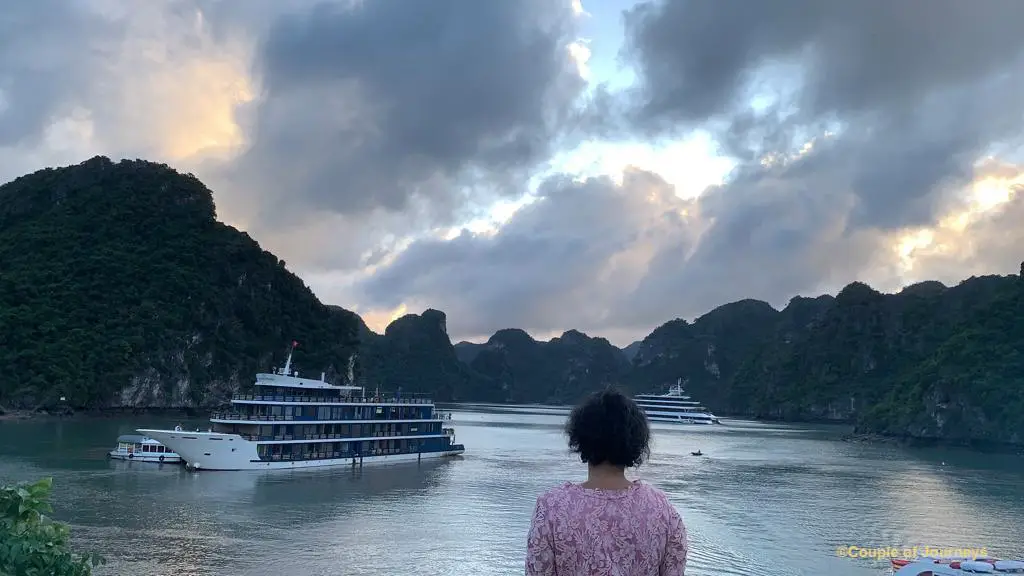 When people ask whether Halong Bay is worth it, what they are often wondering is – is Halong Bay Cruise worth it? As that is an expense that carries a lofty price tag and needs careful evaluation. So let me share my experience with you.
We had booked a 2 day 1 night overnight Halong Bay Cruise. We chose Le Theatre Cruises.
I have made a video detailing my full experience onboard the Le Theatre Cruises which you can see here.
But if you prefer to read, let's continue:
So Le Theatre Cruises runs over Lan Ha Bay – which is Halong Bay's less commercial neighbor. It is as scenic as Halong Bay but is visited by much fewer tourists.
Scenic beauty and sightseeing
During our time on the cruise, we did everything that most Halong Bay itineraries offer, but in a different, less touristy area. Our Lan Ha Bay sightseeing included visiting the Ao Ech area around Lan Ha Bay. We went kayaking here and were also allowed to swim.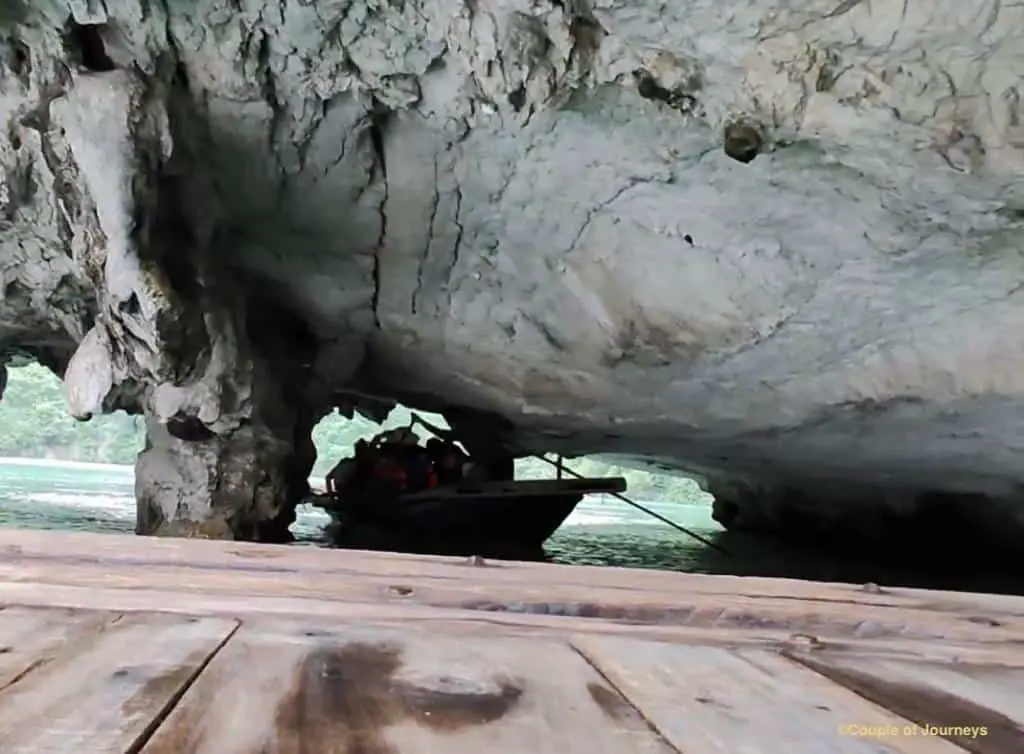 The next morning we also visited the dark and bright cave. The bamboo boat journey was refreshing, calming, and one-of-a-kind. The color of the water was the perfect emerald and the water was clean almost everywhere.
In addition to this, we were always surrounded by the most breathtaking seascape decorated with so many different and unique limestone pillars.
The scenic beauty was truly enchanting and far superior in person to what it looked like in the many photos and videos of the place that I had seen before going to Vietnam.
Cruise experience – food, room, service, etc.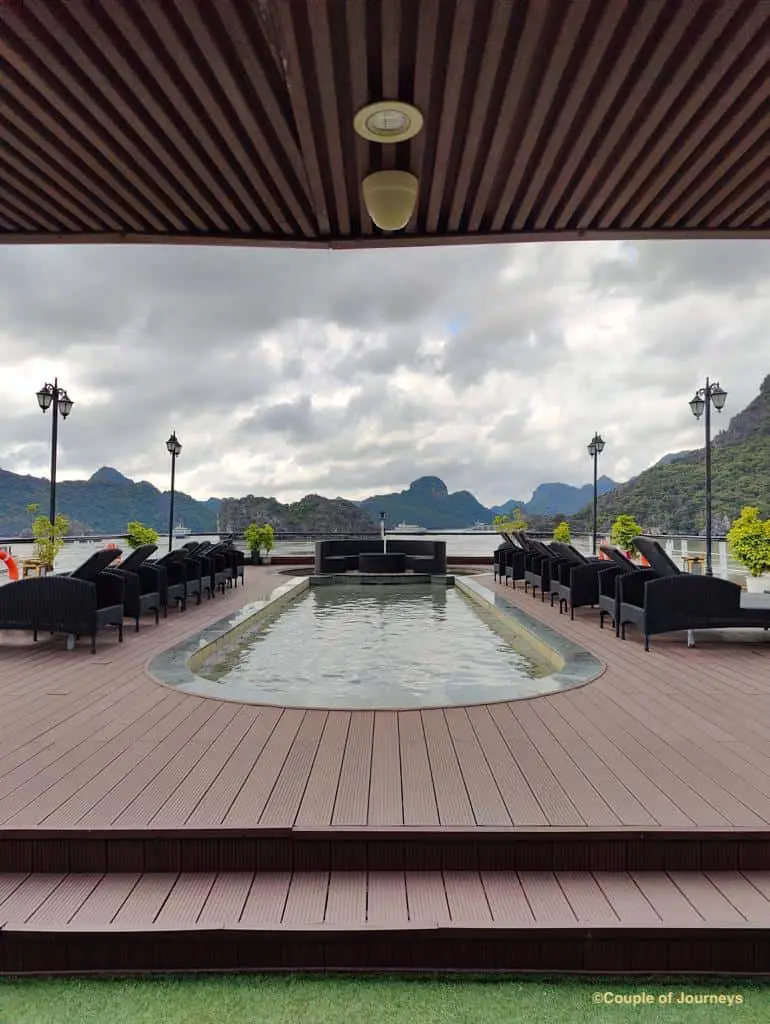 We were visiting Halong Bay with a kid and were not sure how much our kid would like the experience. But the staff took excellent care of her food preferences. They even arranged a three-person kayak to ensure she could enjoy the experience with us.
The food served onboard was top-notch. Our dietary restrictions and allergies were taken care of and we still felt spoilt with choices. The happy hour at the sundeck on our Lan Ha Bay cruise was personally my most favorite time.
We were surrounded by outstanding natural beauty and having drinks against the backdrop of a setting sun, grooving to excellent music, and hanging out with a bunch of jolly co-passengers.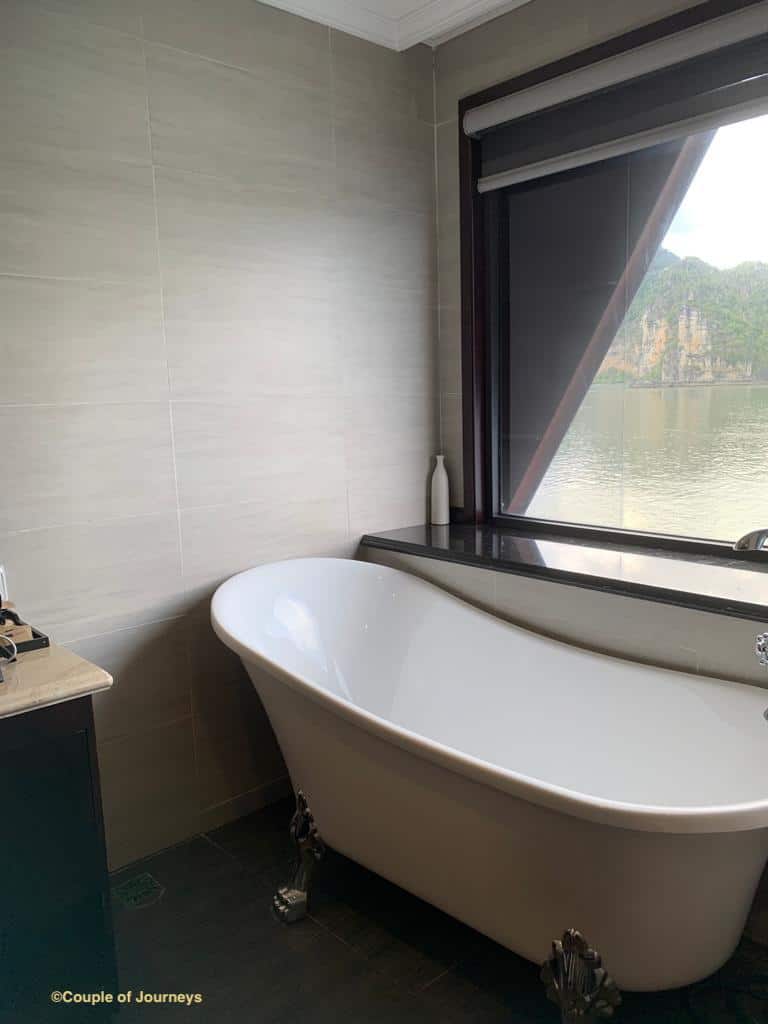 The executive suite in which we stayed further enhanced our Halong Bay experience as it came with a balcony, a fancy bathtub, a plush Japanese toilet, and all the necessary amenities.
Overall, at least for us, Le Theatre Cruise proved to be a wise choice.
Check the price and availability of Le Theatre Cruise here
---
How to make sure your Halong Bay Experience feels worth it?
Based on my personal experience, I definitely think that Halong Bay is worth visiting. But there are so many elements that could go wrong and ruin your experience as well as make you question your spending.
So to ensure that your Halong bay trip feels worth it and is memorable, take the following factors into consideration.
Visit Halong Bay When the Weather's Ideal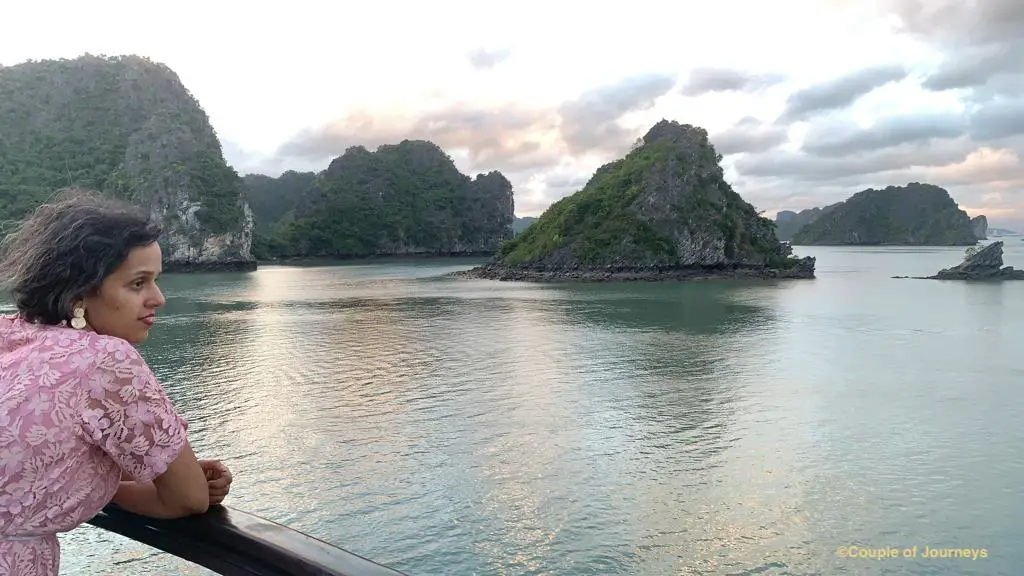 The weather has a huge role to play in deciding whether Halong Bay is worth it or not. 
If you visit when it's pouring or terribly cloudy, you wouldn't end up liking Halong Bay much. You'd barely be able to see the limestone pillars or the many hues of the sky at sunset. 
Your outdoor activities like visits to the cave, beach, or kayaking may also be canceled due to poor weather. 
The best time to visit Halong Bay is between late November and February when the weather is dry and pleasant. 
The months between March to May are dry but unpleasant because of the hot and humid weather.
Even in the winter dry months, unexpected rain could dampen your experience. If you have flexibility in your itinerary, book a Halong Bay tour online just a couple of days in advance based on weather predictions. 
I recommend this 2-day 2 night tour for its-cheap price tag and almost 5-star ratings
(Perfect for last minute booking)
Ensure that the Halong Bay Itinerary is diverse and engaging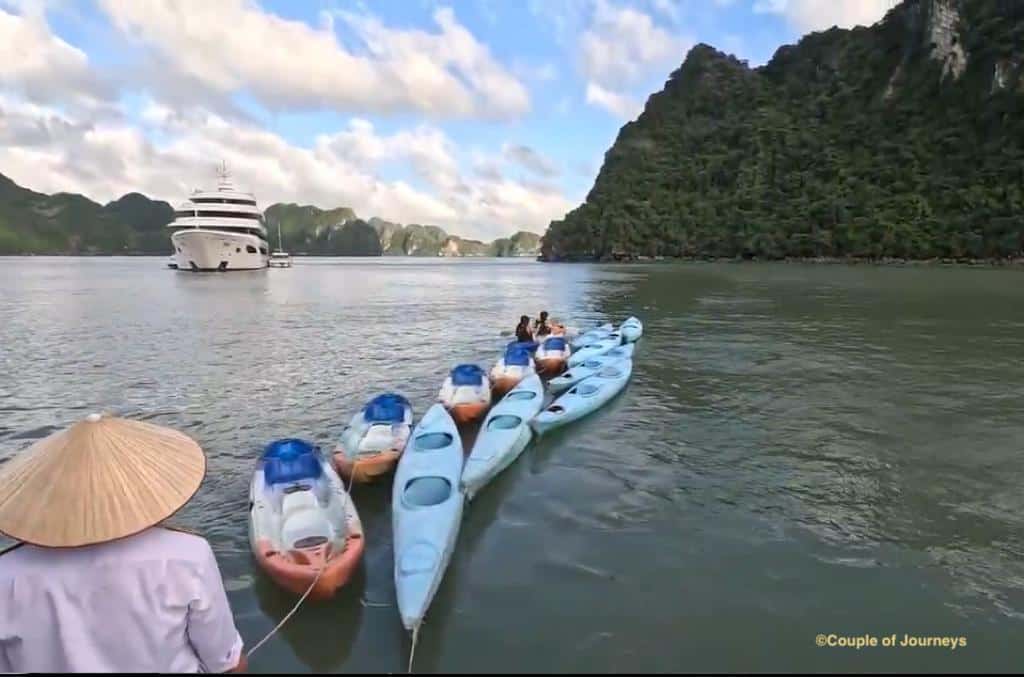 An ideal Halong Bay itinerary must include a mix of cruise time, Halong Bay sightseeing, and fun activities. 
See if your sightseeing in Halong Bay includes at least a few items from the below
A visit to one of the many Halong Bay beaches
A visit to one of the caves like the Luon Cave, Bright Cave, Dark and Light Cave, Surprise Cave
A trip to Cat Ba Island and National Park
Island hopping at Titop Island, Cong Do, Tuan Chau, etc.
Visit to the fishing village or pearl farming
Also, make sure there is enough interaction with the locals on your Halong Bay outings – this could be in the form of a visit to the fishing village, taking a ride with a local on a Bamboo boat, etc.
In addition to this, there should be ample cruise time. Ensure that your cruise time includes fun activities like a cooking class, squid fishing, tai chi sessions, etc.
Going on a Halong bay cruise that provides a good mix of sightseeing and onboard activities is important to get the best value for your money.
Choose the right Halong Bay cruise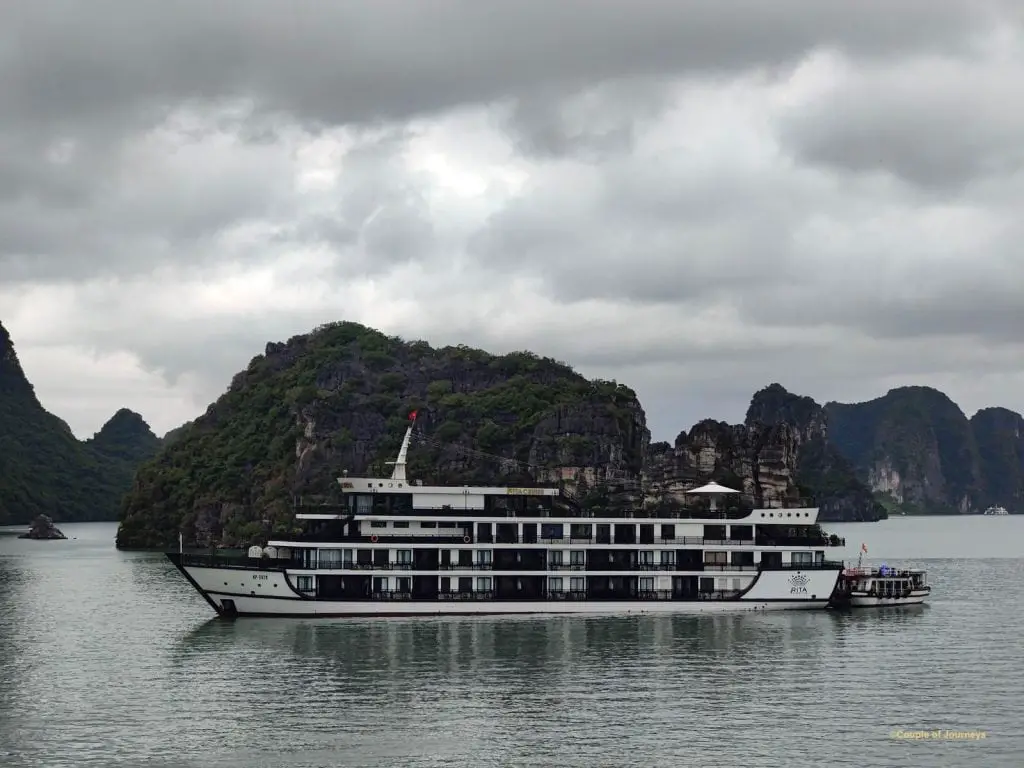 This factor is critical in determining your overall experience.
The more you pay, the more the cruise needs to offer for you to find value in your Halong Bay excursion.
But unfortunately, my research has shown that most cruises deliver a very similar Halong Bay sightseeing plan. So whether you opt for a budget Halong Bay cruise or a luxury Halong Bay cruise – the itinerary would be fairly diverse. It would take you to a beach or a cave, show you a few islands, allow you some free swimming or kayaking time and tie it up with a few onboard activities like cooking and fishing.
The real differentiator in price is based on the quality of the cruise, the rooms, the onboard amenities, and the overall service.
Thus, if you don't really plan to spend a whole lot of time indoors in your room, it doesn't make sense to pay a few hundred dollars more just for a fancy suite. It would only result in disappointment.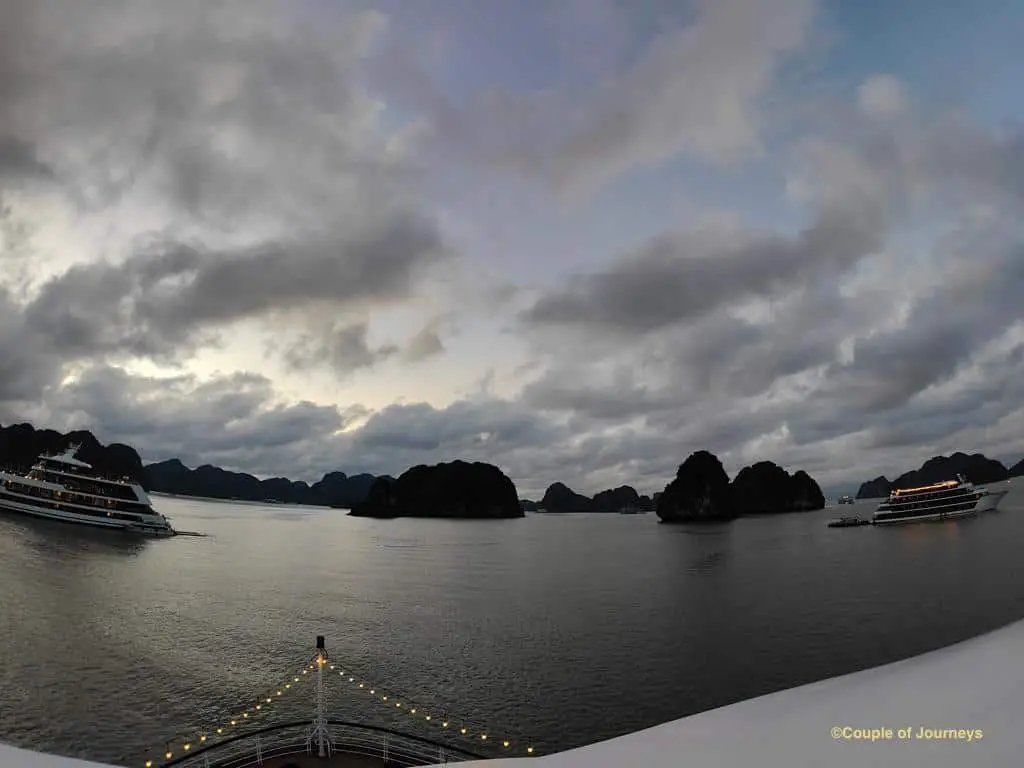 Some factors that you should consider when choosing your cruise if you want Halong Bay to feel worth it are
– the newness of the cruise – there are many old cruises in bad shape that are doing the rounds of Halong Bay. Passengers feel ripped off as the worn-out condition of the rooms and the cruise ship just do not justify the steep pricing. Some new cruises in the bay are Peone Cruises, Orchid Trendy Cruises, Stellar of the Seas Cruise (9.5+ rating!)
– the in-room amenities – a bathtub and a balcony are a must to soak in the magnificent views. Some cruises which provide these options are Le Theatre Cruises (where I stayed), Stellar of the Seas Cruise.
2 night 3 day cruises that require you to spend more time onboard should have a swimming pool, a jacuzzi, or a spa. Le Theatre didn't have this and I would probably not choose it for its 2-night 3-day package. But Stellar of the Seas Cruise is equipped with a stunning outdoor pool. Likewise, the luxury Ambassador Cruises offers excellent in-house spa treatments.
– Cruise equipment and staff – the cruise should be well-equipped i.e. they should have proper snorkeling or kayaking gear. Its kitchen should be able to cater to the dietary preferences of all of its passengers. The staff should be able to communicate with and understand the tourists' language and needs.
– Moderate number of cabins – The number of cabins should be between 15-30. Bigger cruises take large crowds with them wherever they go. This means you hardly get to see the pristine beauty of Halong Bay islands and caves.
– Pick up and drop off in a limousine – To be honest, the price of a Halong Bay cruise is about 2-3 times that of luxury accommodation in Hanoi and so any fancy perks included in the Halong Bay package only enhance the overall experience. A limousine pick-up and drop-off make the 3-hour journey from Hanoi and back remarkably pleasant. You don't feel fatigued and can easily take an onward flight, train, or trip to other parts of Vietnam or you can start Hanoi sightseeing without needing any extra time to rest from the long cruise. Cruises that offer limousine pick-up and drop-off are Ambassador Cruises, Stellar of the Seas Cruise as well as Le Theatre Cruise. Book directly through them and not an agent for this facility.
Go on a day trip to Halong Bay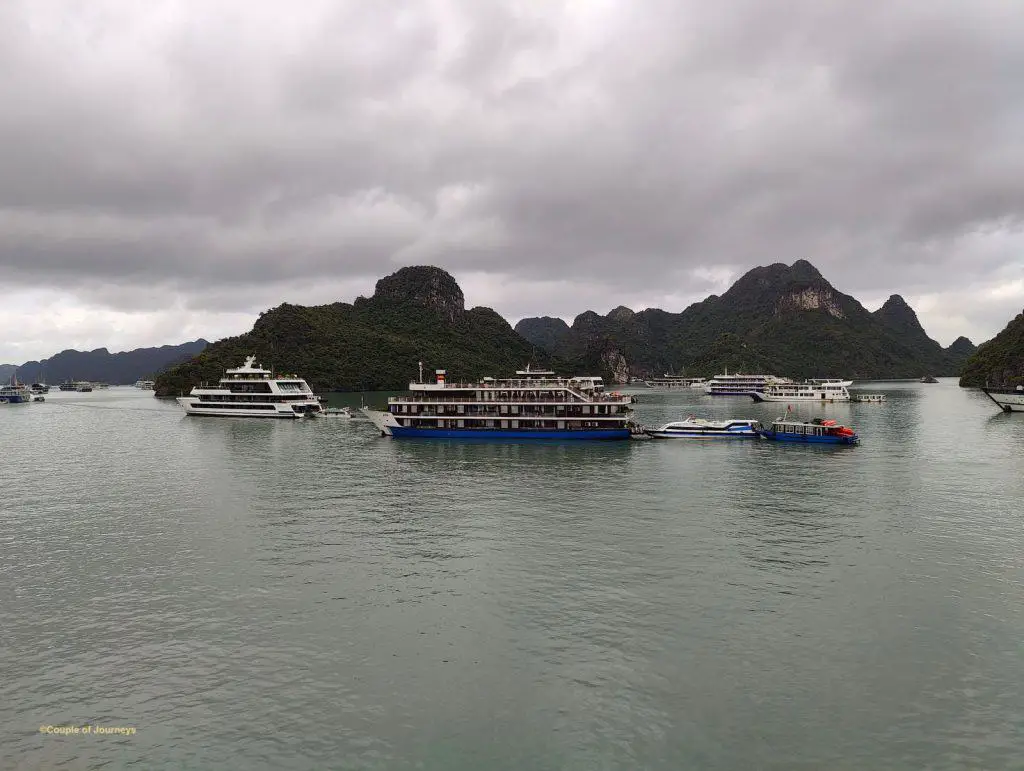 If you are on a tight budget and want to make sure that your trip to Halong Bay feels worth it, opt for a day trip. A day trip to Halong Bay can cost as low as USD 50 which is usually less than one-third the cost of an overnight Halong Bay cruise.
A day trip Halong Bay itinerary is packed with tourist delights.
You get to
fall in love with the limestone pillars seen on your day cruise
go kayaking, swimming, or snorkeling
explore one of the many beautiful caves
check out how pearl farming is carried out
have a gala time at an islet or a beach
The Halong Bay day trip package usually includes pick-up and drop from Hanoi allowing a seamless journey. Eat a lavish lunch and pamper yourself with cookies and tea – both of which are complimentary inclusions in your day tour to Halong Bay.
I think it would be hard to not find Halong Bay worth visiting if you explore it on a day trip. The day trip packs most of the inclusions of an overnight trip but at a much cheaper price tag.
I recommend this Halong Bay Day Trip for its affordable price
Related posts:
1 day in Hanoi – a perfect itinerary 2023
What to do in the Hanoi Old Quarter? A solid guide 2023
The best street food tours in Hanoi for foodies
Halong Bay Alternatives – And when should you consider these?
As I have said earlier, Halong Bay is absolutely worth visiting and it doesn't make sense to consider skipping it or looking for alternatives. But the options suggested below are places close to or similar to Halong Bay but far less touristy or expensive.
So if budget, overtourism, weather, commute, etc are a concern for you, consider the options below.
Bai Tu Long Bay
Located just to the northeast of Halong Bay, Bai Tu Long Bay is a quieter and less touristy alternative. It offers similar stunning landscapes of limestone cliffs and emerald waters but with a more tranquil atmosphere. 
It is an absolute hit amongst tourists for its spectacular, clean, unperturbed beaches.
There are daily boats available to Bai Tu Long Bay from Halong Bay – perfect for a day trip. 
Cat Ba Island
This is the largest island in Halong Bay and offers a more laid-back vibe than the bustling Halong Bay area.  There is plenty to do here for tourists including exploring the national park, hiking through its hidden trails, visiting the fishing village inside the National Park.
In fact, many 2 night 3 days Halong bay cruise itineraries include a visit to Cat Ba Island. But you can visit it on a day trip by a direct ferry from Halong Bay.
Ninh Binh
This region is known as the "Halong Bay on land" due to its towering limestone karsts and winding rivers.
Take a paddle boat tour through Tam Con or Trang An and spend any extra time visiting the local temples, and pagodas or hiking through its scenic routes. Many tourists, in fact, like Ninh Binh more than Halong Bay as they find it more charming and less touristy.
Sapa
This mountain town is located in the Hoang Lien Son range and is known for its stunning rice terraces and cultural diversity. You can hike through the surrounding hills and valleys, meet local ethnic minorities, and soak in the area's natural beauty. Visit the Silver Waterfall along with the numerous other waterfalls dotting this area.
---
TOP TRAVEL RESOURCES
Here is a list of our favorite travel resources- the ones that I absolutely swear by when planning almost every trip. Go through this list to plan a hassle-free trip and save a lot of money!
Flight Booking: Check the availability of tickets, the best time to fly, and the cheapest fares on Skyscanner. You may also find a cheap flight via CheapOair
Accommodation: I absolutely love booking through Agoda. In most countries and particularly in Asia, I often find the best fares on Agoda. But I also love the no prepayment and no cancellation fee policy of Booking.com. For cheap accommodations and hostels, nothing beats Hostelworld.
Car Rentals: You may find and rent an appropriate car via RentalCars. It's hassle-free and reliable.
Guided Tours: I absolutely love GetYourGuide for local sightseeing tours, walking tours, history tours, and food tours. The booking process is seamless, and the tours are super affordable. But in Asian countries, I prefer Viator or Klook for their affordably priced tours.
Lounge Access: Get Priority Pass – my personal favorite card that gives me unlimited access to premium airport lounges all over the world
Hey, if you found this post helpful, share it with more people or buy me a coffee!