Things to do in Hanoi Old Quarter: An Ultimate Guide 2023
This website contains no sponsored content. The content is written entirely on my own and is based on my personal experience and extensive research. This post may contain affiliate links. If you make a purchase through one of these links, I may receive a small commission at no extra cost to you. As an Amazon Associate I earn from qualifying purchases. Please read the disclaimer for more information.
Visiting Hanoi? Wondering what are the things to do in Hanoi Old Quarter?
Well, for one, Hanoi Old Quarter is the touristic hub of Hanoi. Most of the major tourist attractions are located in the Old Quarter. So whether you are in Hanoi for a short period of time or for a few days, you can't overlook the offerings of the Hanoi Old Quarter.
There are plenty of things to do in Hanoi Old Quarter such as admiring the Bach Ma Temple, taking a stroll along the Hoan Kiem Lake, trying out Vietnamese dishes and egg coffee, shopping for cheap shoes, souvenirs etc. as well as experiencing the nightlife of Hanoi.
This post is a detailed guide to the Hanoi Old Quarter. It would guide you on not only the best things to do in Hanoi Old Quarter but would also pack information about the best places to stay, tips to get the most out of your visit, a map to help you get oriented and much more.
This post may contain affiliate links. If you make a purchase through one of these links, we may receive a small commission at no extra cost to you. Please read the disclaimer for more information.
Top Things to do in Hanoi Old Quarter
There are honestly plenty of things to do in Hanoi old quarter to keep you busy for a few days. But if you are short on time, and want to explore only a few areas, here are my top recommendations of the things to do in Hanoi
See and admire Bach Ma Temple
Visit the Ngoc Son Temple
Take a leisurely walk around Hoan Kiem lake (a must on weekends)
Try the famous egg coffee at Café Giang and eat Bun Cha or Vietnamese street food
How to get around the Hanoi Old Quarter
Hanoi Old Quarter is a crowded area bustling with activity. So plan your internal commute well to avoid getting stuck.
Foot
Walking around or checking out the Old Quarter on foot is the best way to navigate the crazy town. It is also very often the most time-consuming during peak travel season and weekends.
On weekends, the area around Hoan Kiem Lake is shut for vehicular traffic – anyway forcing you to get off your vehicle and walk.
But if you plan to walk, I recommend you to go on a walking tour right at the outset.
A walking tour is the best way to get started on a new city adventure where a friendly local helps you get oriented, suggests local favorite places to eat and shop, and also talks at length about the culture and the history of a place.
Such a brilliant way to get acquainted with a city, right?
I highly recommend this walking tour of Hanoi
Scooter/Bike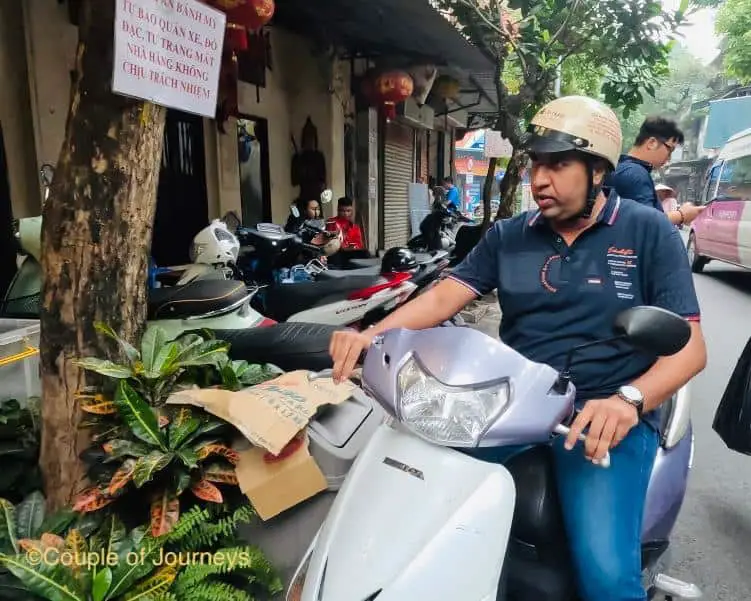 If you hate walking, are traveling on a weekday, stay on the outskirts of the Old Quarter, or are just in the mood to get a first-hand experience of the mad Hanoian traffic – renting a scooter would be a wise idea.
Remember to park your scooter at a safe place (more details below) Two-wheelers are stolen in broad daylight and you don't want it to be yours.
The few caveats of renting a two-wheeler are
you getting stuck in traffic
you not finding a place to park closeby
you having to walk in pedestrian-only areas
Even if riding around in Hanoi on a two-wheeler sounds scary, let me tell you that it can truly be convenient if you're short on time. We have done that during our time in Hanoi and were pleased with how kind and cooperative the locals were. Nobody shouted at us for being slow or parking on the wrong side of the road or blocking traffic while we tried to make sense of the chaos.
I recommend prebooking your bike on rent for an affordable price. Get it here.
Cyclo tours
You will find plenty of cyclos in the Old Town. You can use these to go from place A to place B or even go on a touristy ride.
The only issue I found with these tours was that they were crazily overpriced. On top of it, the price didn't even feel worth it for most parts as the cyclos would often prove to be slower due to the chaotic traffic of the narrow lanes.
So use a cyclo if you find it thrilling – for all other purposes, avoid!
Grab
The go-to taxi app of local Hanoians is Grab. Grab is certainly an economic option when trying to navigate the maze of the Hanoi Old Quarter. But when booking a Grab,
opt for a scooter if possible to save time
book in the presence of a local who can give clear navigation instructions to the driver who won't speak your language
avoid peak rush hours or
on weekends when most areas are pedestrian-only
Paid Jeep tours
The fanciest way of checking out the Hanoian Old Quarter is on a paid jeep ride.
The tour is definitely pricier than any of the options above – but if you have the time and budget, it is the most comfortable option for sure.
Plus the tours are specially created to engage and educate tourists and so the takeaway from the tours is often much richer than exploring the town yourself.
A jeep tour is also a convenient choice for seniors or those traveling with kids.
Check out this Hanoi Jeep Tour – it has a five star rating with over 1400 reviews
Hanoi Old Quarter – About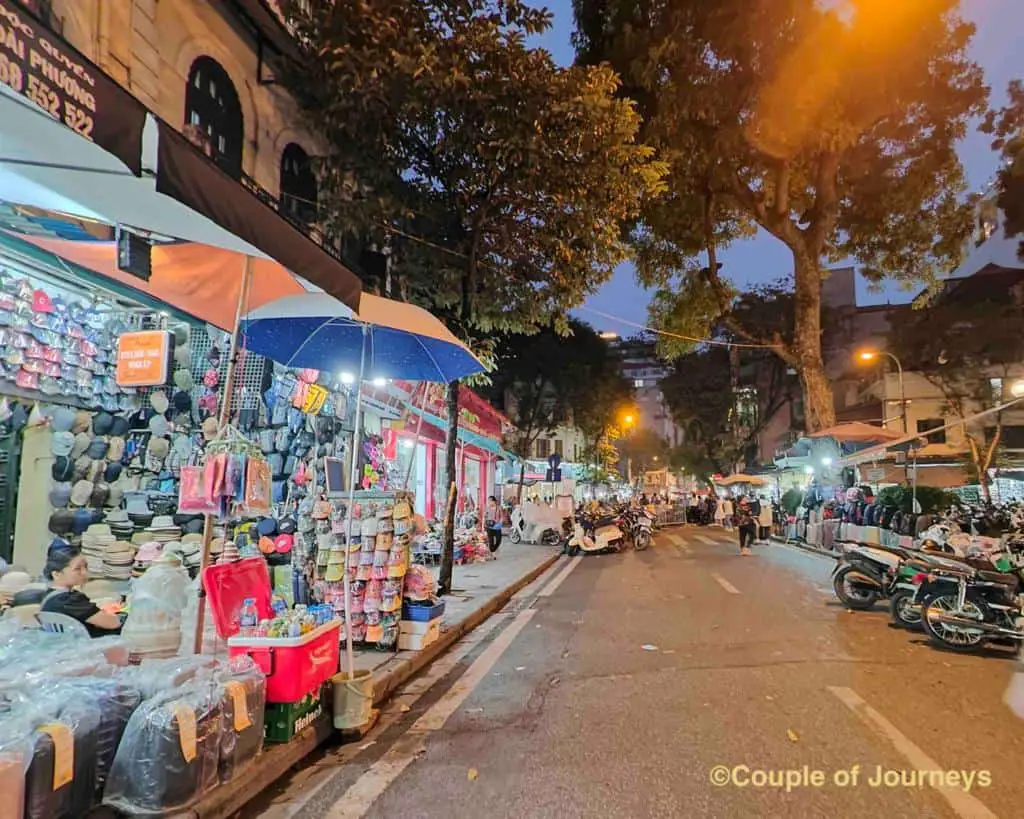 Hanoi Old Quarter
forms part of the Hoan Kiem District
is known for its 36 guilds or streets each dedicated to each individual trade. So don't be surprised if you find only silver shops in one lane or silk shops in another or footwear in yet another etc.
contains both commercial and residential places
is a buzzing tourist and local hub
Where to stay in Hanoi Old Quarter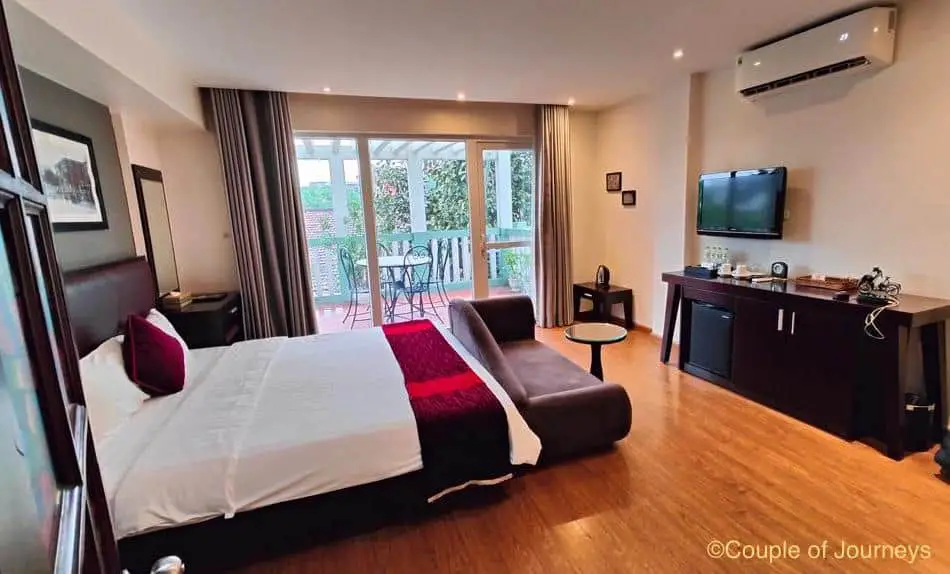 The best hotels to stay in Hanoi Old Quarter are
---
Hanoi Old Quarter – Visit Tips
Exchange currency in the Hanoi Old Quarter for the best rate. Avoid exchanging money at the airport. Exchange at a jeweler's shop at Hang Bac street for the best rate.
The pedestrian-only areas in Hanoi Old Quarter extend to a large area and on all sides of the lake on weekends. Plan accordingly. Avoid a Grab, taxi or other vehicle to commute between major tourist attractions in the Old Quarter.
Bargain heavily when shopping in Hanoi. Don't settle for the first shop
Get a SIM card in Hanoi Old Quarter if Hanoi is the first city you're visiting in Vietnam. Visit the official store of Mobifone for the best rates and an authentic SIM card. If that's not convenient, buy one online. Do not buy a SIM Card from random shops in Hanoi Old Quarter to avoid getting duped with a used card with lesser data than promised.
Leave your two-wheeler in a paid parking area, with a security guard for a fee or in an official parking area only. Two-wheelers are easily stolen and you could get yourself up in trouble if you're careless with your parking.
---
Things to do in Hanoi Old Quarter – A Detailed Guide
Pray at the Bach Ma Temple
The Bach Ma temple is essentially a Buddhist temple. It was originally built in the 9th century and was known as the Lon Do Temple.
But in later years, it was dedicated to Emperor Ly Thai's famous white horse and renamed as the Bach Ma Temple.
Today it is famous as being the oldest temple in Hanoi as it dates all the way back to the 11th century.
Visiting the insides of the temple offers an excellent opportunity to get a peak into the spiritual and cultural lives of the Vietnamese.
It is located in the heart of Vietnam's Old Quarter.
Tips to visit
It is difficult to find parking in the nearby area
The place is usually crowded and many local Vietnamese people and tourists visit the place. Watch out for pickpockets.
Be respectful at all times. Dress appropriately.
Yet, the temples are rich in culture
Entrance: Free
---
See the beauty of the Ma May Heritage House
May Ma House is one of the many traditional houses in Vietnam that is open to tourists.
May Ma is the most popular because of its central location which is just a few minutes away from the lake.
The house is built in the 19th century and the owners have changed multiple times. Yet, the charm of its old construction remains intact.
Once inside the house, observe the unique architecture, the wooden construction, the central courtyard and the beautiful traditional pieces for furniture.
If you are lucky, you may also witness cultural shows or performances held here.
Entrance fee: VND 20,000
---
Visit the Ngoc Son Temple – Temple of the Jade Mountain
Ngoc Son Temple is located on the Jade Islet on one end of the Hoan Kiem Lake.
To enter the temple, you have to walk across the striking red Huc Bridge.
When visiting the temple observe the following structures
The Huc Bridge – the stunning Red bridge which is a symbol of the Sun God is said to be a sight to behold at sunrise as the sunlight reflects from it. It looks beautiful no matter when you visit it. At night, it is beautifully lit.
The Pen Tower – a long tower with an ink pen with a nib
The gate to the temple is engraved with a turtle and dragon – both culturally significant
The temple area with the models of the Ho Guam Turtle
Quite frankly, even if you don't dive into the historical significance of this place, you can admire its beauty as a casual tourist. The flowers and the garden are well-maintained. The views of the lake are calming. The temple area itself exudes a peaceful vibe and the place seems like a good way of getting in touch with Vietnamese traditions and religious practices.
Entrance fee: VND 30,000 per person (Children under 15 – free)
---
Walk around the Hoan Kiem Lake
The highlight of the Old Quarter is Hoan Kiem Lake.
The best way to enjoy its calmness is by taking a walk around the lake.
On one end of the lake, you'll find the famous Huc bridge and Ngoc Son temple, while from the other end, you would be able to admire the beauty of the turtle tower.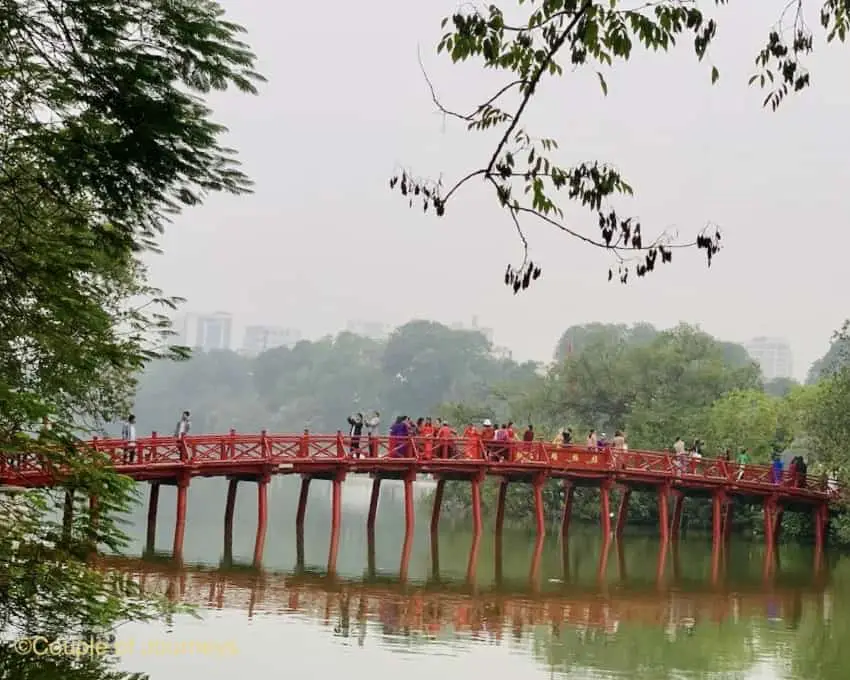 What to do at the Hoan Kiem Lake
There is a well-maintained promenade that goes all around the lake. It has enough benches for you to relax your tired feet.
On weekends, all the streets around the lake are closed to vehicular traffic.
You will find many events, concerts and shows hosted here. Attend one.
If you are travelling with kids, let them enjoy a ride on the play vehicles and scooters here.
Eat some streetfood or Vietnamese lollipops sold by streetside vendors
Admire the statue of Ly Thai To built on one side of the lake.
---
Check out the crazy Long Bien Bridge
The Long Bien bridge is significant because it connects the Old Quarter with the Long Bien district as it passes over the majestic red river. As it was an important bridge, it was bombed heavily during the American War.
Today, it stands in a rusty condition. Only motorbikes are allowed to use it.
A train track runs between the two sides of the bridge and you will find a few trains using the bridge.
The bridge is a tourist site because of how old it is and how unique it is. Visit it for a few pictures or if you are using a two-wheeler, drive over it to admire the Red river below, watch a few passing trains (if lucky) and see the crazy side of Hanoian traffic.
---
Attend a Thang Long Water Puppet Show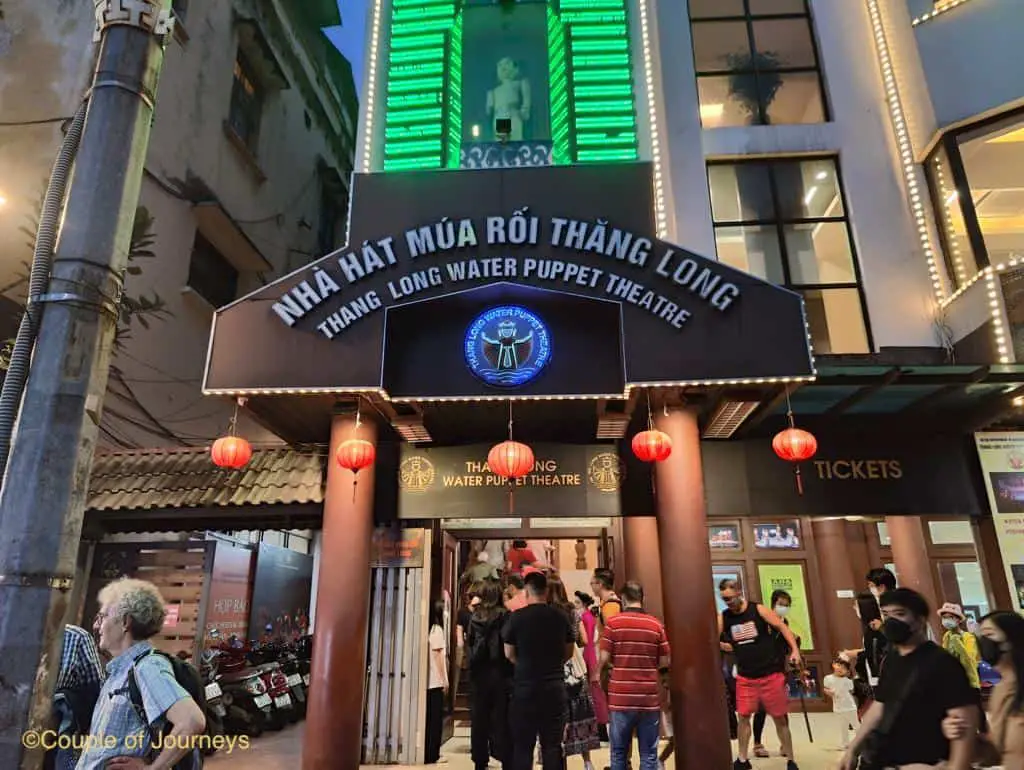 The Thang Long Water Puppet holds the record for being the only theatre in Asia performing water puppetry 365 days a year.
It is located opposite the entrance to the Ngoc Son Temple.
The show is engaging as it takes you through many cultural stories of Vietnam using water puppets with local music playing in the background.
The show tickets cost between VND 100,000 to VND 200,000.
Book in advance to avoid disappointment
---
Try out food at roadside cafes or sidewalk eateries
Hanoi is full of cafés and roadside eateries. In fact, you'll find many Hanoians having a hot piping breakfast sitting on a small stool on a sidewalk.
These places let you experience life like a local and are great spots for people-watching.
Try a 'lau' or a hot pot of a mix of veggies, greens, meat, seafood or whatever you prefer. Share one with your friends or family as the quantity is quite generous.
Alternatively, try the famous Vietnamese Pho i.e. rice noodles with beef
The best Pho in Old Quarter Hanoi is one that's made by a local at a joint frequented by locals and not one where tourists line up or one which is only Instagram famous.
So I recommend you head to
Pho Gia Truyen
Pho Ly Quoc Su
---
Taste the famous Egg Coffee at Giang Cafe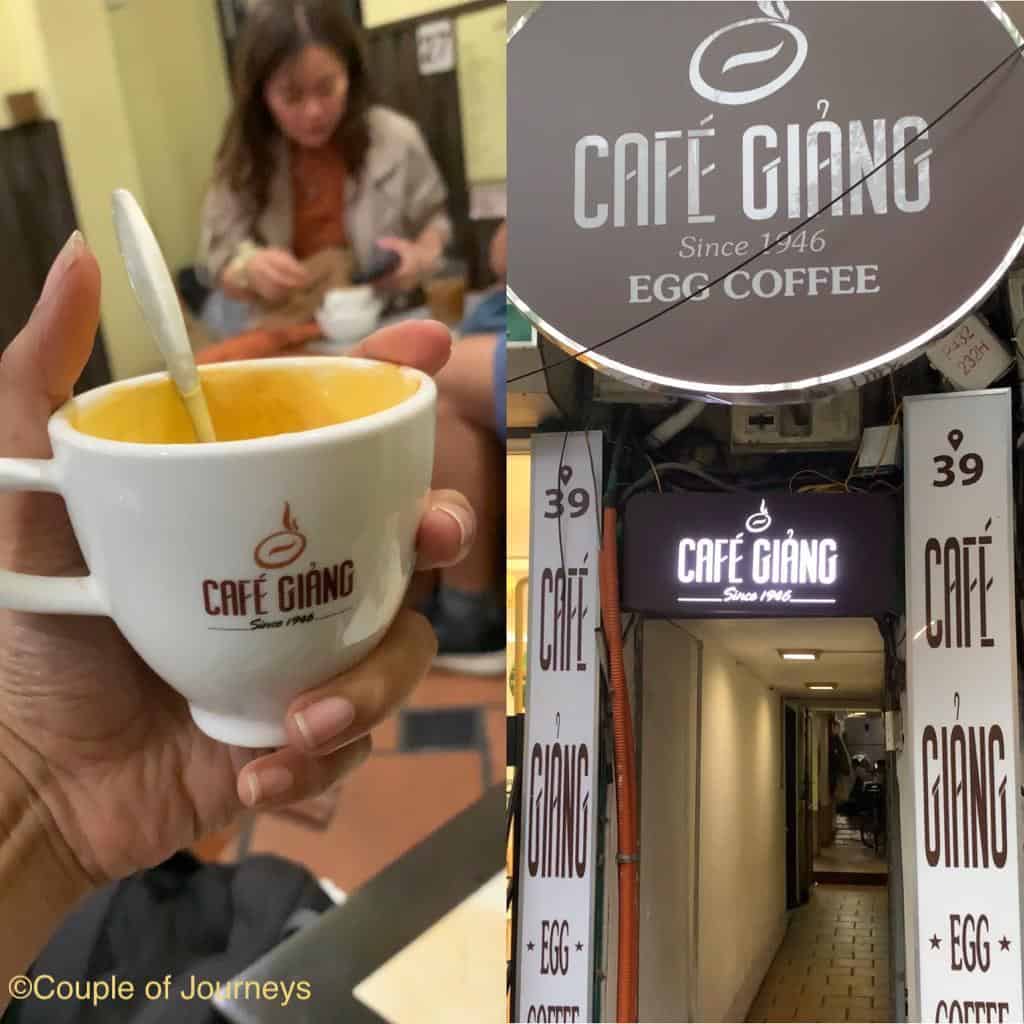 This hard-to-spot café opens through a tiny narrow lane in the middle of a busy street. But once inside you'd be surprised to see how big the café is and also how crowded it is. 
The café is known for its invention which is now also a distinct speciality of Vietnam – egg coffee. Try it. It's not as bad as it sounds. If you are not a coffee person, you can also try other egg beverages like egg cocoa, hazelnut egg, etc. 
The beverages are modestly priced, service is quick despite the rush and the parking is secure and free.
Overall, a lovely experience!
Approximate price of an egg coffee: VND 35,000
---
Eat a Banh Mi at Banh Mi 25
Banh Mi 25 is one of the most famous places to try out Banh Mi – A Vietnamese sandwich with meat and veggies packed inside a half-foot baguette. 
The place serves Banh Mis as well as a host of other delicious dishes and beverages. 
The café is an ideal hang out for couples, families with young kids who need a place to sit or those that love to travel slow and people watch. 
If you're in a rush, they have a takeaway counter opposite the café as well. 
Parking – two wheeler parking is available nearby. No place for 4-wheelers. The lane is also quite narrow. Best to visit it on foot. 
Approximate price of an Banh Mi: VND 40,000
---
Have Bun Cha for lunch or dinner
Try Bun Cha at Bun Cha Ta. The reason why I am not listing Bun Cha in the list of items to try at a roadside eatery is that it deserves a separate space in your itinerary.
Bun Cha is a Hanoian specialty. Bun Cha is essentially pork meatballs that are served with vermicelli and fresh vegetables.
The best place to try Bun Cha in the Hanoi Old Quarter is Bun Cha Ta.
Vegetarians can try the 'chay' variant made using friend tofu or spring roll – which is also very flavourful. The serving is quite filling for one person and the cost of a Bun Cha is around VND 100,000.
Two-wheeler parking is usually available around this place.
Approximate price of a Banh Mi: VND 100,000
---
Experience the Hanoi Nightlife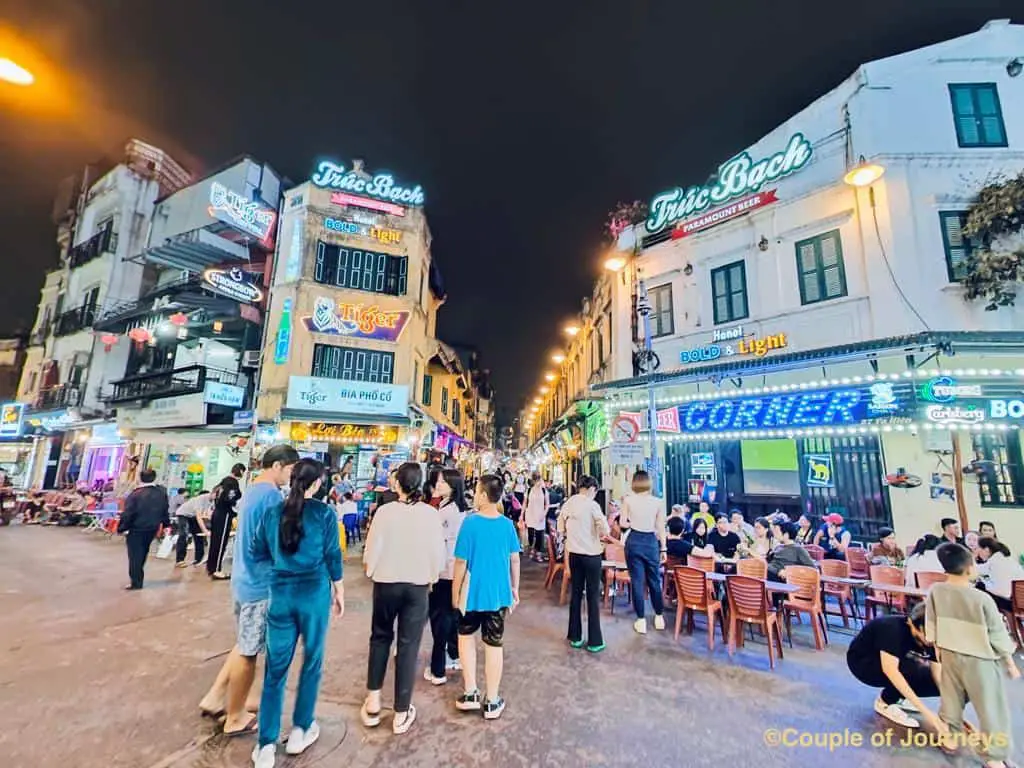 The Hanoi nightlife may seem absolutely crazy when you experience it for the first time. 
The nightlife is not quite as bold as the pole dance-filled streets of Bangkok but is rather a large, loud beer party. 
The Bia street known for its cheap beer is extends to a wide web of narrow streets – completely closed to vehicular traffic and filled instead with thousands of tables and tiny stools to accommodate the many beer fans and street food lovers. 
You can enjoy a cheap beer with roasted peanuts and other sides to munch or eat a hearty meal of Vietnamese rice & noodles or even a Lau (hotpot mentioned above). Even though this area is popular for its beer, it also serves the best Vietnamese food in Hanoi Old Quarter.
---
Check out the Dong Xuan Shopping Mall
Dong Xuan Shopping Mall is a three-storeyed wide building with each floor selling a wide range of products.
The place is known for its wholesale rates and always features on the list of things to do in Hanoi.
But the actual indoor shopping complex is not suitable for tourists. Many shopkeepers flatly say no to tourists as they are only wholesellers.
It will take you a while to find a shopkeeper who is interested in selling clothes to tourists on a retail basis and even if you find one, chances are that the shopkeeper would not understand English and would be pretty annoyed.
But you should still visit this market for its peripheral area and lanes on the ground floor. This is where you will find plenty of street food stalls, fruit vendors and vendors selling souvenirs. The shopkeepers here are glad to cater to tourists and make this area on of the best places to shop in Hanoi.
---
Shop at one of the many shopping Streets
Hanoian Old Quarter is known for being the hub of 36 trades. Each trade has an earmarked area.
So
– Hang Bac – sells only silver objects
– Hang Giay – sells footwear
– Hang Tre – sells bamboo products

These streets together with Hang Duong which sets up the night market on Friday, Saturday, and Sunday are the best areas to shop from.
But you will also find streets dedicated to paper, salt, mats, fabrics, curtains, spices, etc that are a delight to check out.
Besides these streets, all the lanes leading to the Hoan Kiem Lake have retail shops selling bags, luggage, footwear, souvenirs and sweets.
Top things to do near the Hanoi Old Quarter
St Joseph's Cathedral
St Joseph's Cathedral is definitely one of the best things to see near the Hanoi Old Quarter. It technically falls in the French Quarter but is only a short walk away from the Old Quarter.
It is one of the first French constructions in Hanoi and Hanoi's oldest Church.
It is built using stones and bricks on a piece of land that used to be a Pagoda in the olden days.
The Cathedral is very photogenic as it is inspired by the Notre Dame De Paris. But the interiors are very simple and avoidable if you are short on time.
Click a few good pictures of the Cathedral's façade and explore the vibey area around full of cafés and eateries.
---
Hanoi Opera House
The Hanoi Opera House is yet another enthralling place to visit if you are doing the walks of the area near the Old Quarter.
There are some very interesting performances that take place here that you can attend if you have enough time on hand.
Otherwise, just click a few pictures of the Hanoi Opera House. It is also representative of the French colonial architecture and is very photogenic.
The Vietnam National Museum of History
This place is a stone's throw away from the Hanoi Opera House.
A proper visit to the museum could cost you a couple of hours – which would still feel worthwhile to you if you are a history buff.
But if not, you can admire its structure from the outside and continue walking along the wide pavements of the French Quarter while taking in the beauty of this area standing in great contrast with the busy Old Quarter.
---
Hanoi Old Quarter – Frequently Asked Questions
How to reach Hanoi Old Quarter from the airport
The distance between the airport to Old Quarter Hanoi takes about 35-45 minutes by car.
The best way to get to the Hanoi Old Quarter from the airport is by a pre-booked taxi. Ask your hotel if they provide you with one. Alternatively, book an airport transfer here.
But if you want to save money, you can also book a Grab from the airport to the Old Quarter (provided you have an internet connection), hop on your airline's shuttle bus or if you are comfortable using public transport, take a public bus.
There are also many local taxis waiting outside the airport that run on a meter and can be booked easily.
What is the old town section of Hanoi known for?
The Hanoi Old Town is primarily known for its 36 trade guilds with each street dedicated to a specific trade. It is also home to the famous Hoan Kiem Lake, Bach Ma Temple, etc. The Old Quarter is also famous for its street food, shopping areas and beer street.
What is the best street in Old Quarter Hanoi?
The best street in Old Quarter Hanoi depends on your taste and preference. If you like shopping, the best streets would be Hang Giay (shoes) and Hang Dao (night market). But if you are a foodie, the best street in Hanoi Old Quarter would be Ta Hien street best visited after sunset on a weekend.
What is the difference between Hanoi French Quarter and Old Quarter?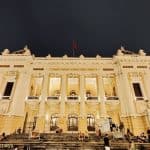 Hanoi French Quarter is only a short distance away from the Old Quarter. The French Quarter has colonial buildings, wider roads and footpaths and a more European vibe to it. The Old Quarter is a maze of small lanes buzzing with activity, shops and street food vendors.
The French Quarter has the Hanoi Opera House, the St. Joseph's Cathedral, The Vietnam National Museum of History as some of the primary tourist attractions. You will also find large shops, cute cafés and many commercial establishments alongside the lovely wide pavements of this area.
The Old Quarter and the French Quarter areas are so close to each other that there is hardly any point distinguishing between the two. If you are travelling through Hanoi on a two-wheeler, you can easily cover both the areas in a few hours. If you are walking, they can still be visited in a day's time. You can read my detailed post on the best things to do in Hanoi in 24 hours to see how to cover both areas.
---
Travelling to Vietnam? Read more helpful articles
---
---
TOP TRAVEL RESOURCES
Here is a list of our favorite travel resources- the ones that I absolutely swear by when planning almost every trip. Go through this list to plan a hassle-free trip and save a lot of money!
Flight Booking: Check the availability of tickets, the best time to fly, and the cheapest fares on Skyscanner. You may also find a cheap flight via CheapOair
Accommodation: I absolutely love booking through Agoda. In most countries and particularly in Asia, I often find the best fares on Agoda. But I also love the no prepayment and no cancellation fee policy of Booking.com. For cheap accommodations and hostels, nothing beats Hostelworld.
Car Rentals: You may find and rent an appropriate car via RentalCars. It's hassle-free and reliable.
Guided Tours: I absolutely love GetYourGuide for local sightseeing tours, walking tours, history tours, and food tours. The booking process is seamless, and the tours are super affordable. But in Asian countries, I prefer Viator or Klook for their affordably priced tours.
Lounge Access: Get Priority Pass – my personal favorite card that gives me unlimited access to premium airport lounges all over the world
Hey, if you found this post helpful, share it with more people or buy me a coffee!