28 Free Must-Have Apps for Vietnam Travel 2023
This website contains no sponsored content. The content is written entirely on my own and is based on my personal experience and extensive research. This post may contain affiliate links. If you make a purchase through one of these links, I may receive a small commission at no extra cost to you. As an Amazon Associate I earn from qualifying purchases. Please read the disclaimer for more information.
Traveling to Vietnam soon? In this post, I am going to share with you a list of must-have apps for Vietnam travel. All the Vietnam apps that I would be mentioning in this post are based on my personal experience of traveling to Vietnam.
I would be sharing exactly what apps to use for what purpose, the advantages of using the app as well as a few important tips to help you get the most from these apps.
Go through this list of Vietnam travel apps for a smooth trip. These apps will help you
book your tickets,
plan internal commute,
navigate through the crazy roads and traffic
book excellent accommodation
plan your meals and find the best restaurants
save money on tours and attractions
stay connected with the world
communicate better with locals
make seamless payments
…
Basically, these apps for Vietnam travel are guaranteed to make your trip smoother. Read on to learn more about all these Vietnam trip apps.
This post may contain affiliate links. If you make a purchase through one of these links, we may receive a small commission at no extra cost to you. Please read the disclaimer for more information.
---
Important note on using apps in Vietnam
Many of the apps listed below require you to get a local SIM card with a good data plan.
SIM card rates in Vietnam are not standard and differ from shop to shop.
My husband had a bad experience when he bought a Viettel SIM card from a local shop as the data expired much sooner than committed to us by the shopkeeper. It was probably a pre-used SIM.
But the SIM card that I bought from an official store worked seamlessly throughout the tip. I highly recommend you buy a SIM card from an official Mobifone, Viettel, or Vinaphone store.
If you don't know where to look for an official store, pre-order your SIM Card here to get it delivered to the airport of your choice.
I recommend pre-ordering one of these local SIM cards
---
Best Apps for Vietnam Travel – A Detailed List with Tips
In this section, I will enlist all the apps for Vietnam travel that you need to download. I will divide the apps into categories for easy understanding. Each Vietnam app would be loaded with generous tips and insights on how to use it. So make sure you go through the full list even if some of the apps on the list seem fairly self-explanatory.
Some quick global facts about the list below
All the apps are free. Some apps have in-app purchases but I didn't use the paid version of any app.
All the apps are available on Android and iOS.
Navigation
App #1: Google Maps
– Google Maps has all the data marked out for most major cities in Vietnam.
We used it all through Hanoi, Hoi An, and Ho Chi Minh City.
Some points to remember when using Google Maps in Vietnam are
– Google Maps does not show roads closed for pedestrians on weekends. This is a common practice in Hanoi on weekends when the roads around Hoan Kiem Lake are closed to vehicular traffic. Google Maps will make you go around in circles. So if you find barricades set up, park your vehicle and walk to the venue. Google Maps works seamlessly for walking navigation.
– In countryside regions, network coverage may be limited. Download an offline version of the map before leaving.
– Make it your default navigation app to quickly start navigating when driving through the traffic.
App #2: Maps.me
If you love visiting offbeat places, hiking, and going on paths set by other travelers, Maps.me would serve you better than Google Maps.
Maps.me is also better suited for offline use. Its offline downloadable maps are also more user-friendly. I found it to be particularly useful when navigating the countryside area around Hoi An.
Some points to remember when using Maps.me are
– Get acquainted with the app's user interface before reaching Vietnam as the app may seem slightly confusing if you are new to it.
– See how its offline function, downloadable maps, and magic ruler work before you reach Vietnam. Download the maps for each of the cities you would be visiting beforehand.
Personally, Maps.me is not my go-to app as Google Maps offers excellent coverage. But for offline usage, Maps.me beats Google Maps for ease of use.
---
Local Commute
Commuting within a city is a huge challenge in Vietnam as locals tend to overcharge tourists and the language barrier poses additional challenges.
App #3: Grab
Grab is a highly popular app that works exactly like Uber.
You can book a cab in minutes and be assured that the rate charged would be the same as that charged to locals.
The app lets you prepay using your credit card or even pay later in cash.
The only problem is that the navigation available to the driver doesn't work well at times. So if the driver calls, you will find it hard to communicate with him and direct him as almost nobody in Vietnam speaks good English.
Book a Grab either with the assistance of a local or have a local around you to help give directions to the cab driver.
App #4: GoJek
GoJek is a bike taxi that helps you navigate through the crazy Vietnamese traffic faster than you would in a car.
It is excellent for solo travelers. Grab also has a bike option but Gojek works equally well. In fact, GoJek's are more readily available than Grabs and make it one of the best apps to use in Vietnam for solo travelers.
Use GoJek to
– navigate through the lanes of Hanoi's old quarter
– visit District 4's street food areas in Ho Chi Minh City
– move faster through traffic on weekends
---
Food
Want to try out the food in Vietnam? Want to look for vegetarian options? Want a hotel delivery? Want to check out prices? These apps will help you navigate the food scene in Vietnam
App #5: Foody
Foody is the #1 food ordering app in Vietnam. It enlists a wide variety of restaurants, cafés, and takeaway outlets. Its operation is similar to that of Zomato or Swiggy.
You can check out the menu of the various places around, order what you need, and have the same delivered to your hotel, hostel, or homestay.
In some places, you can even make dining reservations using the app.
Its English interface works perfectly well too.
A quick note
– Foody is great if don't know what to order or where to order from. Use the user reviews to get an idea of what to expect from a place, what its best-sellers are and to eat food that local Vietnamese love.
App #6: Happy Cow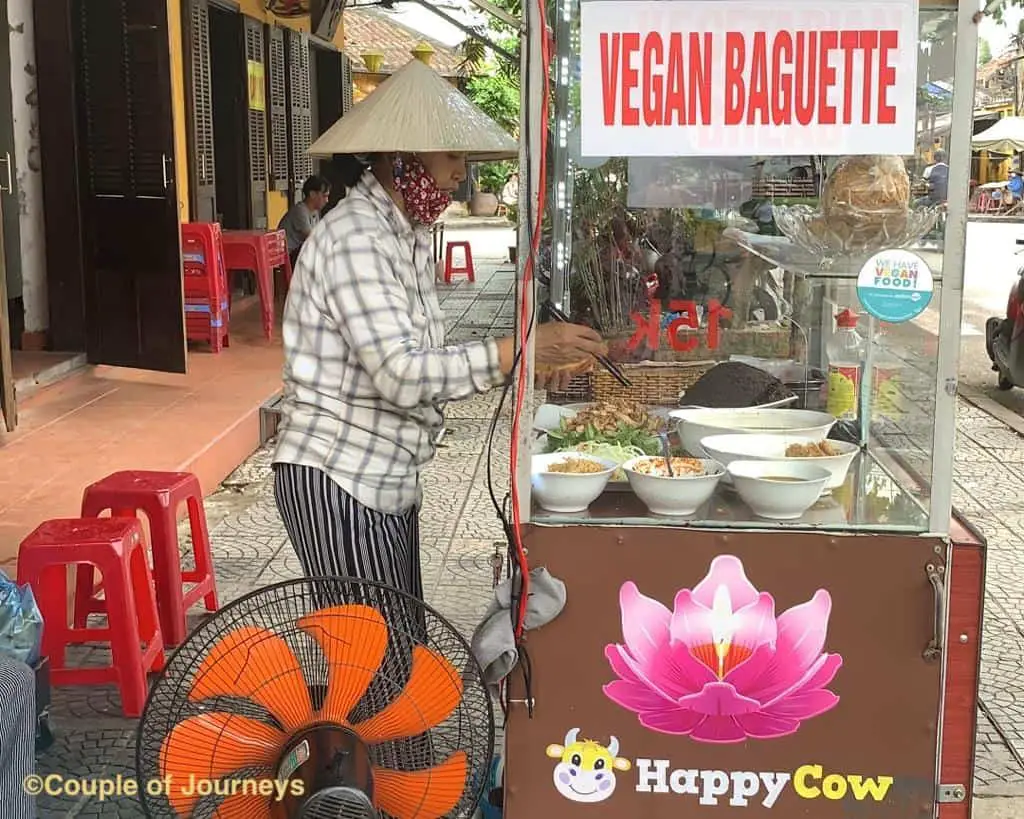 Ever since Happy Cow was launched, I have been a happy user of the app.
The app is a life-saver for people who only eat vegan or vegetarian food.
Most Vietnamese restaurants serve 'chay' or vegetarian or vegan food. But those dishes still, at times, include fish oil, prawn crackers, butter, cheese, etc.
If you don't want to accidentally end up eating food you don't eat, it is best to head to a vegan or vegetarian restaurant.
Happy Cow is the best app to find such places around you. I have used it extensively while traveling through Vietnam!
Extra Tip: Grab/GoJek
Grab and GoJek work as Vietnam delivery apps for food as well. In fact, the network of delivery agents on both these apps is so high that many times you get your food delivered to you faster through these apps than you would with Foody.
So don't just use these apps for internal commute, use them when you're hungry as well!
---
Tours
Tour booking is often a major challenge for those traveling to Vietnam. Local agents tend to overcharge tourists. Many agents can't speak the language properly and explaining exactly where you want to travel can also prove to be difficult given the language barrier.
To avoid this problem, it is best to book most of your tours online on any of the websites below. These websites also have their own apps.
Klook is the most popular trip-booking app for Vietnam. The best part about Klook is that it offers many attractions at a cheaper rate than the official ticket price.
Plus, it lets you pay in your own currency.
It allows you to go through various tour options and pick one with great reviews or with an itinerary that matches your requirements.
I highly recommend booking the following tours using Klook as they prove to be much cheaper
Cu Chi Tunnels or Cu Chi Tunnels with Mekong Delta – multiple 4+ star rated tours options
(Check details here)
In addition to this, if you have read my article on things to do in Hanoi in 1 day – you would know that I highly recommend you to book the Hop-on Hop-off bus using Klook for a better deal. In fact, not just in Hanoi, but Hop-on hop-off buses across Vietnam prove to be cheaper when booked using Klook.
Even though Klook is more popular in Vietnam, Viator is not far behind. Viator also offers plenty of amazing tours all across Vietnam.
In fact, if you find a tour unavailable or fully booked on Klook, you can always jump over to Viator and check out its availability.
While both Klook and Viator are comparable in respect of tours and tickets to attractions, I felt that Viator had better options for airport pick-ups and drops. On the other hand, Klook had better SIM card options than Viator.
App #9: GetYourGuide
GetYourGuide is a giant tour provider in many countries. But in Vietnam, the pricing for many local tours and attractions seems a bit more expensive than Klook and Viator.
But for cultural tours, food tours, and multi-day tours it still serves incredibly well.
App #10: TripAdvisor
Every travel question that occurs to you is often asked by someone else on a forum on Tripadvisor. Likewise, all the local agents that you find are reviewed on Tripadvisor.
I feel Tripadvisor is an excellent platform to take last-minute travel decisions or reach out to a community of people who have already 'been there done that'
Having said that, I don't prefer using it for making actual bookings of tours or accommodations as its user interface doesn't match up to the other tour or accommodation apps listed in this post.
Communication
Everyone I knew who had been to Vietnam had warned me that people in Vietnam don't speak English. And yet, the reality of it only hit me once I landed. Nobody speaks good English in Vietnam. So talking to shopkeepers, cab drivers, tour agents, waiters, SIM card sellers, etc. is a massive challenge.
App #11: Google Translate
I have never used Google Translate while traveling as much as I have used it in Vietnam.
But some things to bear in mind are
– Don't use the web version. Download the app. It's handier that way.
– Set the default to English to Vietnamese (or whatever is your first language to Vietnamese)
– Put the app somewhere on your home screen for quick access.
The only downside is that it only works when you have access to the internet.
App #12: Translator
Translator is yet another nifty translation app that also works offline.
Its paid version lets you play the audio of the translated version. But I didn't use it as I only needed Translator when I was in no-network areas.
But, in any case, it's a useful app to have on your phone.
Air Tickets
I am putting this section a bit later because the apps mentioned here are pretty known to most frequent travelers. But Vietnam being a long country, internal travel by air is a part of most people's Vietnam itinerary and so it is best to know which apps serve the purpose well.
App #13: Skyscanner
I am a huge fan of the Skyscanner app. I use it all the time to find cheap flights to various parts of the world.
Vietnam was no exception. I used Skyscanner to decide on the month and the exact dates of my trip. So if you are traveling on a budget, and want to get the most bang for your buck, use Skyscanner to book your flight tickets.
App #14: Bamboo Airways
For internal air travel within Vietnam, I highly recommend Bamboo airways. It's one of the best airlines in Vietnam. The flights are affordable. The staff is friendly. The flights are on time and unlike Vietjet Air and Vietnam Airlines, Bamboo Airways hardly cancels flights.
I am so glad I chose Bamboo Airways for internal air travel instead of Vietjet Air.
But the reason why I am recommending Bamboo Airways as a separate app is that its flights are not listed on Skyscanner or other aggregators. Many travelers to Vietnam end up booking Vietjet for that reason and miss out on the awesomeness of Bamboo Airways.
Use the app to book tickets, complete web check-in formalities and get flight updates.
A quick note on other aggregators: I have nothing against Expedia, MakeMyTrip or EaseMyTrip, or other airline aggregators. I love Skyscanner for its user interface and the ease it offers for finding cheap tickets. If price is not an issue, use an aggregator of your choice or book directly through the airline's website or app.
Train or Bus
If you have enough days on hand, the best way to explore the various towns and cities of Vietnam is by bus or train. These apps are the best suited for that.
App #15: 12Go
Booking an internal train or bus can seem confusing if you try to navigate the official websites. Most websites are in Vietnamese with poor translation functionality.
For that reason, the go-to bus, ferry, and train booking app when in Vietnam is 12Go.
You simply need to insert your departure and arrival towns and it will show you a list of options for trains, buses, and ferries if available.
In many cases, the e-ticket is also recognized and you don't have to worry about getting a ticket printed.
The app also features reviews from other users. These reviews are excellent to find out if a train would be spacious, what the different classes would offer, whether the toilets would be clean etc.
App #16: Book A Way
Book A Way is similar to 12Go as this app also enlists train and bus options of commuting between two places.
Its user interface is pretty straightforward. The app also shows photos of the various buses and trains enlisted.
Even this app has user reviews but since the app is less popular, the number of reviews is lesser compared to 12Go. Likewise, it issues a voucher upon booking that doesn't work as seamlessly as 12Go's e-ticket.
For general booking, 12Go is excellent. Use Book A way only if you want to hunt for deals and discounts.
---
Accommodation
The accommodation apps listed below are all commonly used. But yet I have a few observations that could help you use the right ones for the right reasons.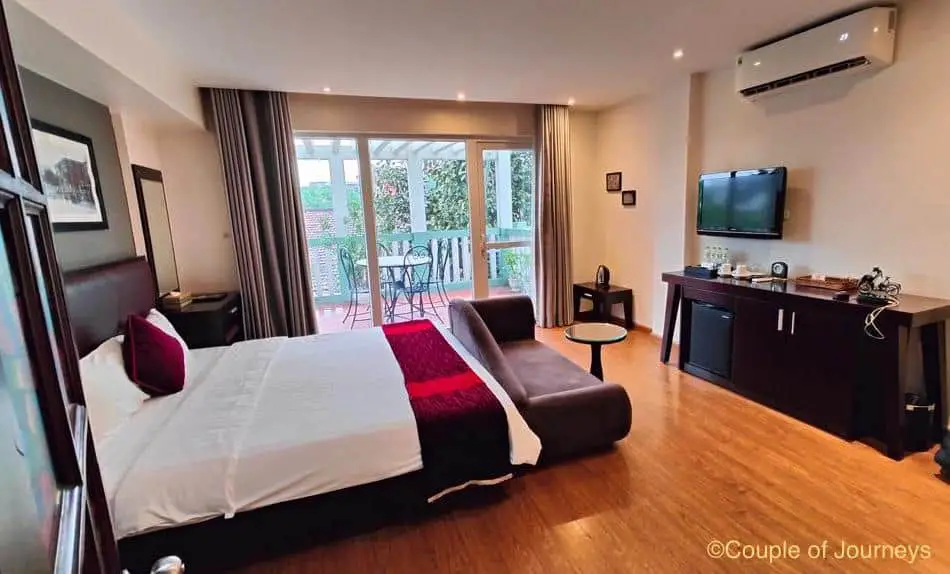 I have mainly used Booking.com for my trip to Vietnam. The reason for that? Massive discounts.
I normally compare the results across multiple platforms and I have scored some terrific deals using Booking.com that I didn't find on other accommodation platforms.
E.g: I got to stay at the award-winning Hanoian Central Hotel & Spa for about 60% lesser price than the price on its official website.
Plus the no prepayment policy for Booking.com is a great boost when you want to enjoy flexibility till the very last minute.
Even though I found better prices on Booking.com in Vietnam, I noticed that Booking.com hadn't listed many properties that Agoda had.
That's why you must not dismiss Agoda when you are in Vietnam. If no prepayment is not a deciding factor for you, booking through Agoda is often more reliable. The reviews on Agoda seem more genuine than those on Booking.com.
App #19: Airbnb
We all know that Airbnb is the best app for finding apartment rentals and homes. Exploring Vietnam by living in a home instead of a hotel is a far more enriching experience.
Plus the rates of homestays are so much more affordable than hotels, especially in touristy towns like Hoi An.
---
Staying Connected
App #20: Whatsapp
Whatsapp is the most used communication platform in Asia and Vietnam is no exception. Use Whatsapp to connect with locals, drivers, hotel owners, shopkeepers, tour operators, tour agencies, etc.
Use it both for chatting as well as calling.
Audio & video Whatsapp calls work in Vietnam, unlike other countries like Egypt.
App #21: Zalo
I had no idea what Zalo was until I reached Vietnam. Turns out, it is one of the most popular messaging apps in Vietnam.
Everyone that you would want to connect with or communicate with would probably be active on Zalo.
App #22: FB Messenger
Before our trip to Vietnam, the one platform that I used to communicate the most with Vietnamese people was FB Messenger.
Vietnamese people seem to be quite active on FB Messenger. So if you want to get in touch with a tour agent, a local, a taxi driver, or anybody that you don't really know but want to contact – starting out with Facebook Messenger is the best.
But how do you know whom to contact?
Join multiple Vietnam travel groups. Get your doubts cleared by asking questions. If you need more help, reach out to the people commenting on your posts over DMs. In fact, you would be surprised to see many local agents reaching out to you.
Entertainment
App #23: VPN App
Many entertainment apps like Hulu don't work in Vietnam. So you need a VPN service on your phone to watch your favourite series and movies from your home country.
I love Express VPN the most. But honestly, you can easily choose one of your choices.
App #24: Youtube
Youtube is a savior when you want to get a quick preview of the places you are going to visit on your trip.
It helps you quickly decide if a sightseeing tour, an attraction is worth your time and money or not.
I have also used Youtube when the food menu in front of me is in Vietnamese and I want to know how a particular dish would look like and how it's made.
Many don't consider Youtube to be a travel app. But it is one of the best ones out there.
App #25: Youtube Kids with offline downloads for flights
The best way to keep a bored toddler engaged while traveling is by handing the toddler a tablet or a phone with Youtube Kids on it.
To be honest, I am not a big advocate of using screen time to entertain kids on a trip. But you could use it strategically when nothing else is working.
I found having Youtube Kids with a few offline downloads useful on
turbulent flights where its difficult to explain what's going on to a scared kid
days when you are exhausted from all the travelling and need a quick rest to recharge and your toddler refuses to calm down.
If you are traveling with a kid, read my detailed post on how to travel with a baby based on my vast first-hand experience.
Payments
App #26: Paypal
When we were in Vietnam, we could easily use our credit cards at hotels and restaurants. But we did come across a few foreign travelers whose cards weren't getting accepted.
That's when they had to use their Paypal accounts to make payments for their hotels at the time of checkout.
Keeping it installed and ready to use could prove to be a lifesaver!
Other Useful in-built Apps
These are apps that we have on our phones and still forget about them because we don't quite associate these with travel.
App #27: Calculator
The only way that I could shop in Vietnam was because of the calculator.
Language is a huge barrier and all the bargaining had to be done by flashing amounts typed into your calculator or on the physical calculator they have.
The other reason why I heavily relied on it was to quickly convert the crazy large VND denominations into INR or USD. I know there are conversion apps for it. But if you know a general rate, you could simply use your in-built calculator.
App #28: Weather
Weather conditions in Vietnam fluctuate like crazy. We experienced uncommon weather conditions throughout our time in Vietnam.
Hanoi was rainy in November (November is a dry month in Hanoi)
Hoi An was sunny for two days and then rainy thereafter in November and December. (Hoi An experiences rains and storms in October and November)
Ho Chi Minh City was rainy in December (December is a dry month in Ho Chi Minh City)
But it was only thanks to the weather app that we could chalk out a favorable itinerary where in we visited Halong Bay when the sky was clear. Likewise, we picked a rare sunny day to visit Ba Na Hills only thanks to the predictions on the Weather app.
So don't rely on the general climatic seasons. Use your app throughout your time in Vietnam to plan and finetune your itinerary to make the most of your time in Vietnam.
---
Traveling to Vietnam? Read more helpful articles
24 hours in Hanoi – An easy-to-follow guide
Vietnam Vs. Bali – Which one's better
---
TOP TRAVEL RESOURCES
Here is a list of our favorite travel resources- the ones that I absolutely swear by when planning almost every trip. Go through this list to plan a hassle-free trip and save a lot of money!
Flight Booking: Check the availability of tickets, the best time to fly, and the cheapest fares on Skyscanner. You may also find a cheap flight via CheapOair
Accommodation: I absolutely love booking through Agoda. In most countries and particularly in Asia, I often find the best fares on Agoda. But I also love the no prepayment and no cancellation fee policy of Booking.com. For cheap accommodations and hostels, nothing beats Hostelworld.
Car Rentals: You may find and rent an appropriate car via RentalCars. It's hassle-free and reliable.
Guided Tours: I absolutely love GetYourGuide for local sightseeing tours, walking tours, history tours, and food tours. The booking process is seamless, and the tours are super affordable. But in Asian countries, I prefer Viator or Klook for their affordably priced tours.
Lounge Access: Get Priority Pass – my personal favorite card that gives me unlimited access to premium airport lounges all over the world
Hey, if you found this post helpful, share it with more people or buy me a coffee!