How Many Days Are Enough in Hoi An – Fully Explained
This website contains no sponsored content. The content is written entirely on my own and is based on my personal experience and extensive research. This post may contain affiliate links. If you make a purchase through one of these links, I may receive a small commission at no extra cost to you. As an Amazon Associate I earn from qualifying purchases. Please read the disclaimer for more information.
Confused about how many days to spend in Hoi An? Wondering how many days are enough in Hoi An? I have an answer for you.
I am not only going to answer this question based on my experience of traveling to Hoi An alone but also based on a travel poll that I conducted in a Facebook group of Vietnam travelers.
According to most travelers, approximately 3-4 days in Hoi An are enough to see its beautiful old town, and the many ancient structures, try out its delicious food and visit the nearby places. 
But that doesn't mean you can't stay longer in Hoi An. Hoi An and the area around has enough to even keep you busy for about 5-7 days.
Read further to find out how to use your time in Hoi An wisely, which nearby places to visit, and what to do if you have fewer days.
This post may contain affiliate links. If you make a purchase through one of these links, we may receive a small commission at no extra cost to you. Please read the disclaimer for more information.
How many days are enough in Hoi An
Hoi An is easily the most charming town in Vietnam. An ancient port town, it exhibits Japanese, Chinese, and Vietnamese influences. The town is located on the banks of the Thu Bon river.
There are lots of things to do and places to see during your time in Hoi An such as
taking a lantern boat ride in the Thu Bon river
going on a tour of the Old Town which comprises 1,107 timber frame buildings that date as back as the 17th century.
exploring the area outside the Old Town
visiting the nearby beaches
shopping local handicrafts and souvenirs and getting clothes tailormade
trying out the famous food of Hoi An
visiting places near Hoi An on a day trip
Doing justice to this melting pot of culture in Vietnam, thus requires you to spend at least 3-4 days here.
---
How to reach Hoi An and where to stay
Before I guide you with a sample itinerary, let me quickly brush up on the basics.
– Da Nang has the closest airport and railway station to Hoi An.
– The distance from Da Nang to Hoi An takes about 1 hour by car
The best places to stay in Hoi An are
Hoi An Heart Lodge – Warm hosts, extremely clean, and just a short walk away from the ancient town. Perfect for those that want homely comfort at a pocket-friendly price. (See photos & availability)
Allegro Hoi An – A stylishly decorated property with a lovely bathtub, a refreshing balcony, and helpful staff. 10-minute walk away from the Ancient town. Also good for those traveling with young children. (See photos & availability)
La Siesta Hoi An Resort & Spa – The best hotel in Hoi An, with luxurious interiors, 4 lavish pools, oriental furniture, and the most courteous and helpful staff. Worth stretching the budget a bit! (See photos & availability)
---
3-4 days in Hoi An: Itinerary for First-Time Visitors
In this section, I would provide you with a sample itinerary for your first time in Hoi An
Day 1: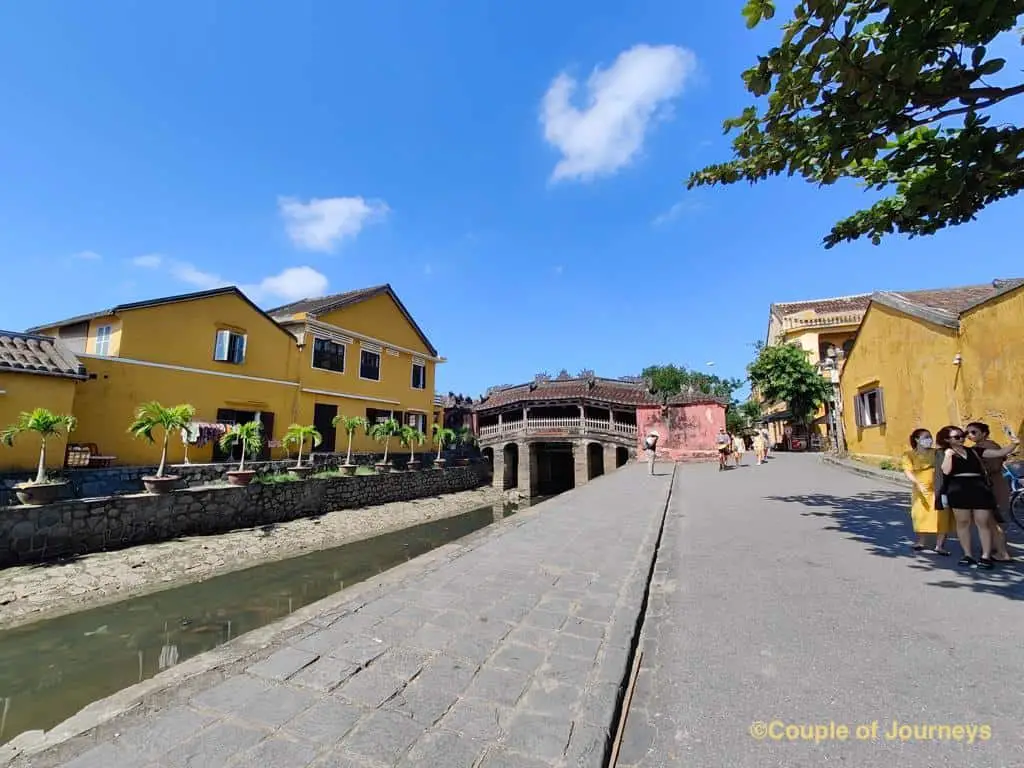 Explore the Ancient Town. Walk through all the small lanes and streets of the town.
Get yourself a ticket to the Old Town. A ticket lets you visit 5 places from a total of 21 old structures that include the famous Japanese Bridge, ancient assembly halls, museums, ancient homes, and traditional and cultural centers.
In the evening, take a lantern boat ride. Absorb the magical vibe of the beautifully lit ancient town of Hoi An.
Order a tailor-made dress to be stitched.
Explore the night market or eat at a restaurant with a view.
Day 2: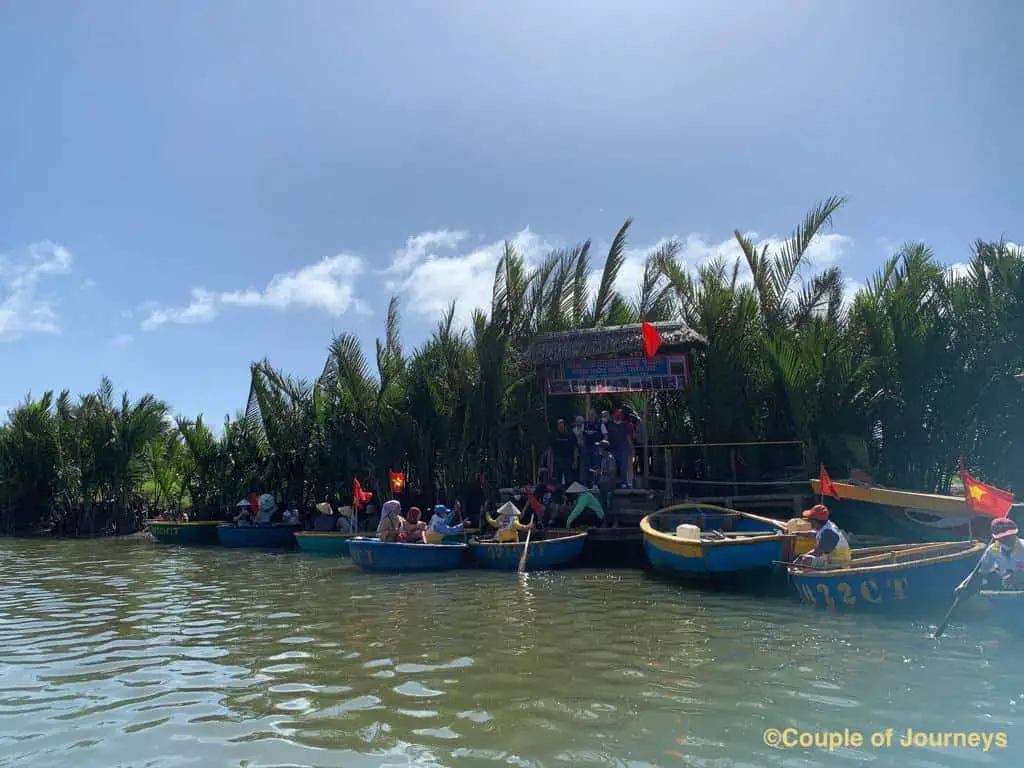 Choose from the options below
Visit the nearby Coconut Forest Basket Boat ride.
Visit the Pottery Village or the Tra Que Vegetable Village.
In the evening, go to the Memories Show or shop around in the Old Town.
Eat some local food or go to a rooftop café.
Day 3:
Choose one from the options below
Visit Ba Na Hills
Take a day trip to Hue
Go to the My Son Sanctuaries
Day 4:
Explore the beaches near Hoi An like An Bang Beach, Cua Dai beach, etc.
Go to the Cham islands for a day trip
---
What to do if you have more than 4 days in Hoi An
In the above itinerary, you would have to choose only a few from the many day trip options available.
If you have more days in Hoi An,
you could visit all the nearby places.
take cooking classes
learn pottery or spend more time at the pottery village
watch traditional and folk dance performances in the Ancient Town
go on a street food tour
go café hopping
take a lantern-making class
go to Da Nang for a day trip and visit the massive Lady Buddha, Marble mountains, etc.
visit the Vinwonders amusement park
pamper yourself at a spa or get a foot massage
or simply just stroll around the magical lanes of the Ancient Town as much as you can…. the magic of the beauty is truly mesmerizing
---
Frequently Asked Questions
Are 2 days enough for Hoi An? What to do if I have less than 3-4 days in Hoi An?
2 days in Hoi An are enough to explore the primary tourist attractions in Hoi An such as the Ancient town during the day, take a lantern boat ride after sunset, eat the famous Cau Lau of Hoi An, shop for some clothes or local handicrafts and souvenirs and just take in the beauty and magic of the spectacular UNESCO World Heritage Town.
But 2 days are not enough to explore areas outside the Ancient Town like the beaches, nearby islands, coconut village, etc.
Is it better to stay in Hoi An or Da Nang?
Many tourists who are short on time stay in Da Nang and visit Hoi An for a half-day tour that starts around 4 pm. This tour lets them absorb the magic of the riverside ancient town post-sunset and enjoy a lantern boat ride.
But to explore Hoi An properly, it is advisable to base yourself in Hoi An itself.
Is Hoi An worth visiting?
Hoi An is the most magical town in all of Vietnam. The town itself is a UNESCO World Heritage site with hundreds of ancient colourful buildings dotting narrow lanes. The town is also home to the iconic Japanese Bridge that features on Vietnamese currency. The food of Hoi An is also delicious with the Cau Lau being particularly famous.
---
Read all our posts on Vietnam here
TOP TRAVEL RESOURCES
Here is a list of our favorite travel resources- the ones that I absolutely swear by when planning almost every trip. Go through this list to plan a hassle-free trip and save a lot of money!
Flight Booking: Check the availability of tickets, the best time to fly, and the cheapest fares on Skyscanner. You may also find a cheap flight via CheapOair
Accommodation: I absolutely love booking through Agoda. In most countries and particularly in Asia, I often find the best fares on Agoda. But I also love the no prepayment and no cancellation fee policy of Booking.com. For cheap accommodations and hostels, nothing beats Hostelworld.
Car Rentals: You may find and rent an appropriate car via RentalCars. It's hassle-free and reliable.
Guided Tours: I absolutely love GetYourGuide for local sightseeing tours, walking tours, history tours, and food tours. The booking process is seamless, and the tours are super affordable. But in Asian countries, I prefer Viator or Klook for their affordably priced tours.
Lounge Access: Get Priority Pass – my personal favorite card that gives me unlimited access to premium airport lounges all over the world
Hey, if you found this post helpful, share it with more people or buy me a coffee!