What To Buy in Vietnam: A Guide To Shopping In Vietnam
This website contains no sponsored content. The content is written entirely on my own and is based on my personal experience and extensive research. This post may contain affiliate links. If you make a purchase through one of these links, I may receive a small commission at no extra cost to you. As an Amazon Associate I earn from qualifying purchases. Please read the disclaimer for more information.
Wondering what to buy in Vietnam? Looking for the best souvenirs in Vietnam?
This article is the best resource on things to buy in Vietnam. It covers everything from the best cheap things to buy in Vietnam, Vietnamese souvenirs, useful and famous things to buy in Vietnam as well as the best snacks to buy in Vietnam, and more.
On my trip to Vietnam, I actually had to buy an extra trolley bag to be able to carry all the stuff that we bought in Vietnam. I visited and bought from all the major shopping places in Vietnam right from the supermarket of Ho chi Minh city to the various night markets in Vietnam.
Read the full article to get a full understanding of shopping in Vietnam as well as to learn a few best practices.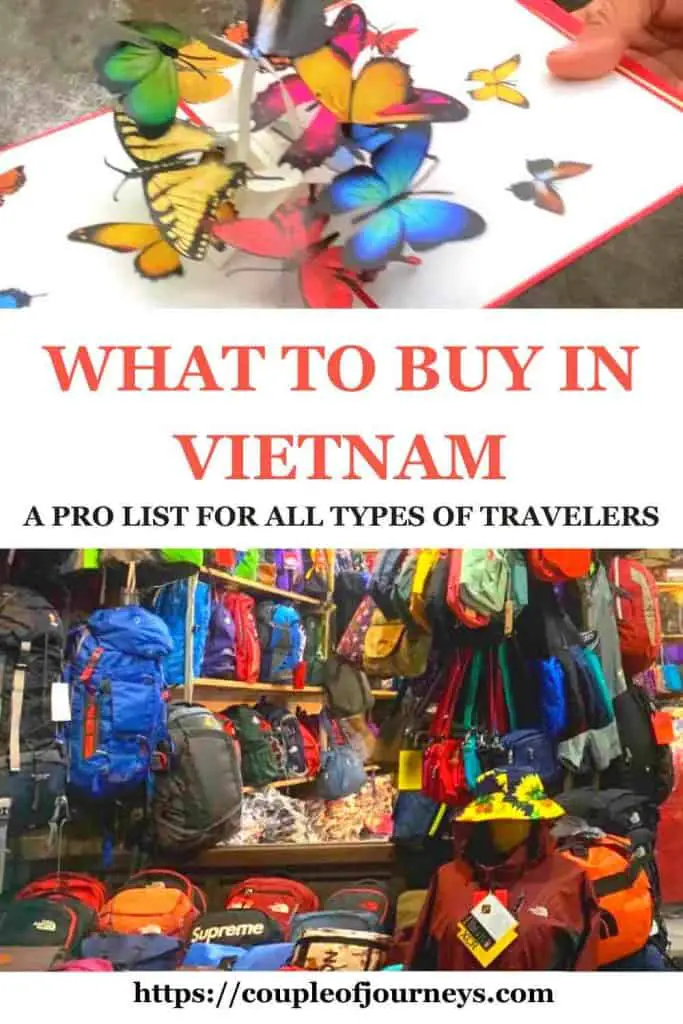 This post may contain affiliate links. If you make a purchase through one of these links, we may receive a small commission at no extra cost to you. Please read the disclaimer for more information.
What to buy in Vietnam?
Cheap finds
North Face jackets and Bags (Fake)
All of Vietnam is flooded with North Face Bags and jackets and while some people claim that they are original – the truth is they are not.
Regardless, the quality of these products sold is pretty solid for the price point at which they come – which is as low as 20% of the original Northface products.
Now, I am not at all encouraging counterfeit products. All that I am saying is that – ignore the brand name and think of the value for money.
The zippers are in excellent working condition, the stitches are impressive and the material and quality used will almost make you believe that the products are original and branded.
If you're not too worried about the brand's authenticity and care a lot more about getting the best bang for your buck – why not buy a few of these Northface Jackets and bags? – The Northface jackets especially are one of the best things to buy in Hanoi to beat the cold that's otherwise absent in the rest of the country.
Shoes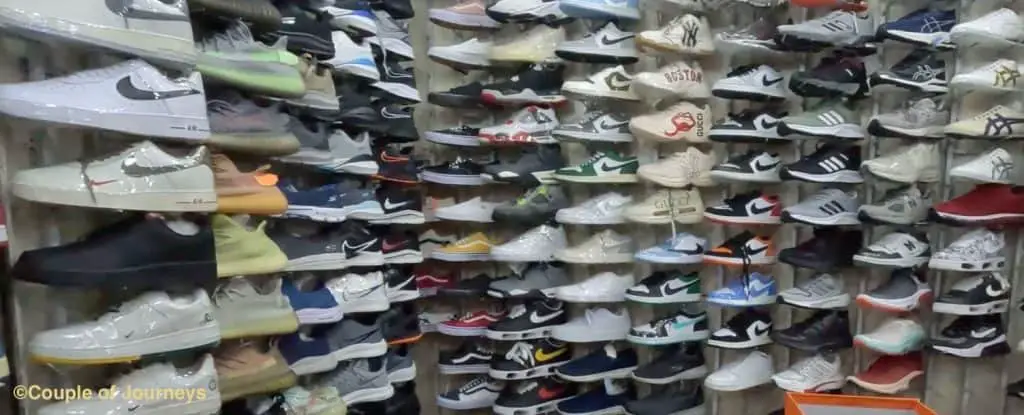 Vietnam is famous for being the shoe hub of Asia. You will find hundreds and thousands of shops selling Adidas and Nike footwear all over Vietnam and particularly in Ho Chi Minh city.
In particular, the Ben Thanh Market is one of the most popular areas for shopping. You can bargain hard and get your favorite pair of sneakers or shoes at a really reasonable price. Furthermore, the prices are quite reasonable, so you can get a great deal on shoes that is both stylish and affordable.
No matter what your taste is, you can find a great pair of shoes in Ho Chi Minh City.
Quick note- I was told by many that the sneakers sold in Vietnam are original. I am not sure they are. But just like the North Face products, even if they are not original, their quality is too good for the price. I didn't waste my time wondering if they were original or fake and instead just focused on how much of a steal deal they were!
If you like hoarding sneakers, make the most of your time in Vietnam.
Clothes
Buying clothes in Vietnam is an overwhelming experience because of the choice available at throwaway prices.
I am an Indian and we have access to cheap clothing all around the country and yet I was amazed to see some really high-quality, thick cotton t-shirts being sold for a price cheaper than in India.
If you are a tee and jeans kinda person, shopping in Vietnam would be a dream come true for you as you will find solids, printed, design tees all across Vietnam.
Luggage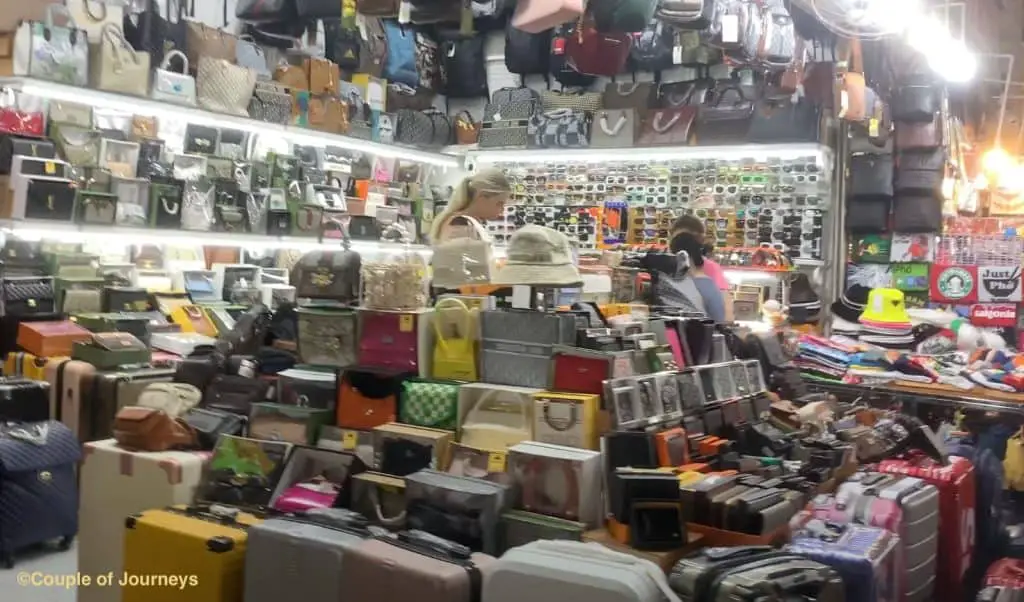 The cost of goods in Vietnam is so cheap that you are sure to go over your luggage capacity. Thankfully, trolley bags and duffel bags are available all across the country.
The quality may not be as good as an American Tourister or a Delsey or whatever is your favorite luggage brand but it is still excellent to pack all the extra stuff you buy in Vietnam.
Plus, because these bags are not branded, the design and color are often unique – making these easily identifiable at airports.
Souvenirs
Coffee + Filter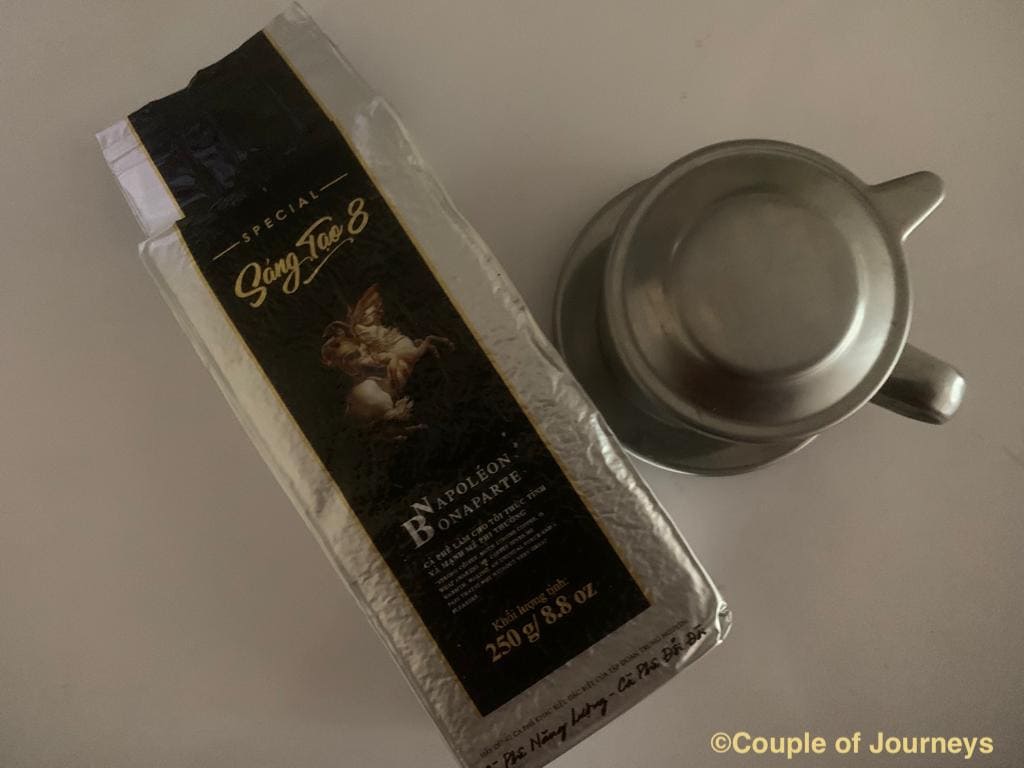 Vietnamese coffee is easily my top thing to buy in Vietnam.
If you are wondering what coffee to buy in Vietnam – I recommend you buy the classic Sang Tao coffee. You get it in a pack of three.
Or an even better idea is to select your coffee beans from the many variants available in the local markets and get those freshly ground from the shopkeeper. The aroma of freshly ground coffee powder is so much better than a packaged variant.
Add a coffee filter of your choice to go with it and you are set to enjoy a glass of freshly brewed Vietnamese drip coffee once you are back from your Vietnamese holiday.
Vietnamese coffee with a coffee filter is also one of the best gifts from Vietnam for your family and friends – they will love the aromatic coffee which is difficult to find outside Vietnam.
Vietnamese Hat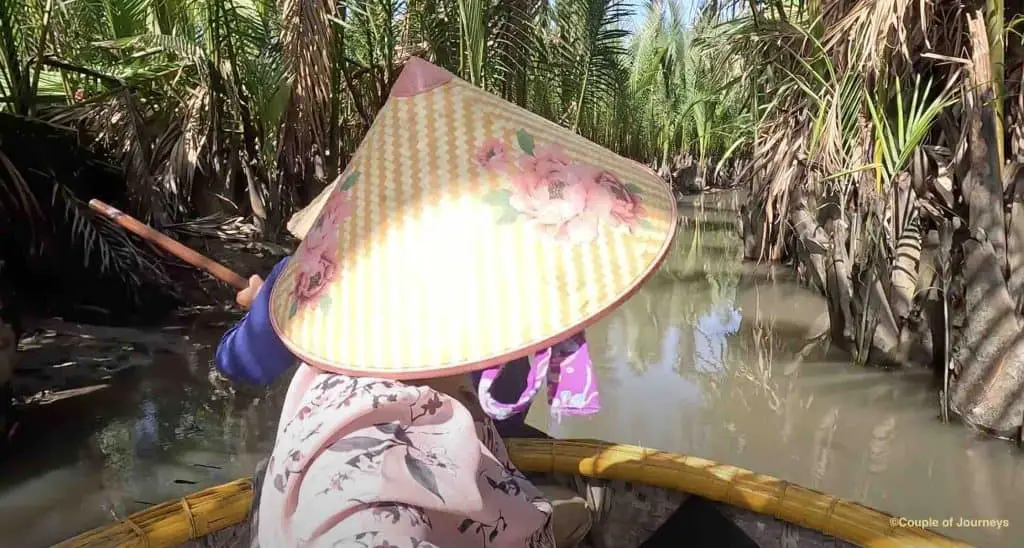 If you are looking for the best souvenirs from Vietnam, the Vietnamese hat should be at the top of your list.
These traditional conical hats are the perfect way to remember your trip to Vietnam and bring a piece of the country back home with you.
The hats are made of tree bark, palm leaves or other lightweight straw-type material and come in a variety of colors and designs. They are extremely affordable and can be found in almost any souvenir shop in Vietnam.
The hats can be seen on farmers, fishermen, and other people throughout the country. Wearing a Vietnamese hat will not only make you look the part while exploring Vietnam but will also provide shade from the sun.
The only downside – they don't pack too well! So be prepared to carry it in your hand luggage!
Ao Dai or Silk
If you're wondering what to buy in Vietnam, one item you should definitely consider is the traditional Ao Dai.
Ao Dai is the traditional dress of Vietnam
worn by both men and women
made of silk, with long flowing trousers and a tunic that falls to the knees.
with a top that has two slits on the side to allow for movement and the trousers are wide-legged.
The Ao Dai comes in a variety of colors, styles, and fabrics, making it perfect for any occasion. The dress is usually adorned with intricate embroidery and often has a mandarin collar. So if you're looking for a unique and traditional garment to take home from Vietnam, go for an Ao Dai.
Paintings
To be honest, I had no idea that paintings would also feature in this list of things to buy from Vietnam. But I found paintings all across the country. Paintings were made using simple watercolour or coconut shavings or acrylic or the best of all – lacquer.
Lacquer paintings are one of the top things to buy in Vietnam for art-lover. They are made using traditionally passed down knowledge and the paintings depict the local lifestyle, cultural highlights, or famous architectural spots of Vietnam.
Vietnamese lacquer paintings are obviously more expensive than the simpler, more commonly available watercolor or acrylic variants but if you are an art connoisseur they are a worthy Vietnamese souvenir to bring back home.
Lanterns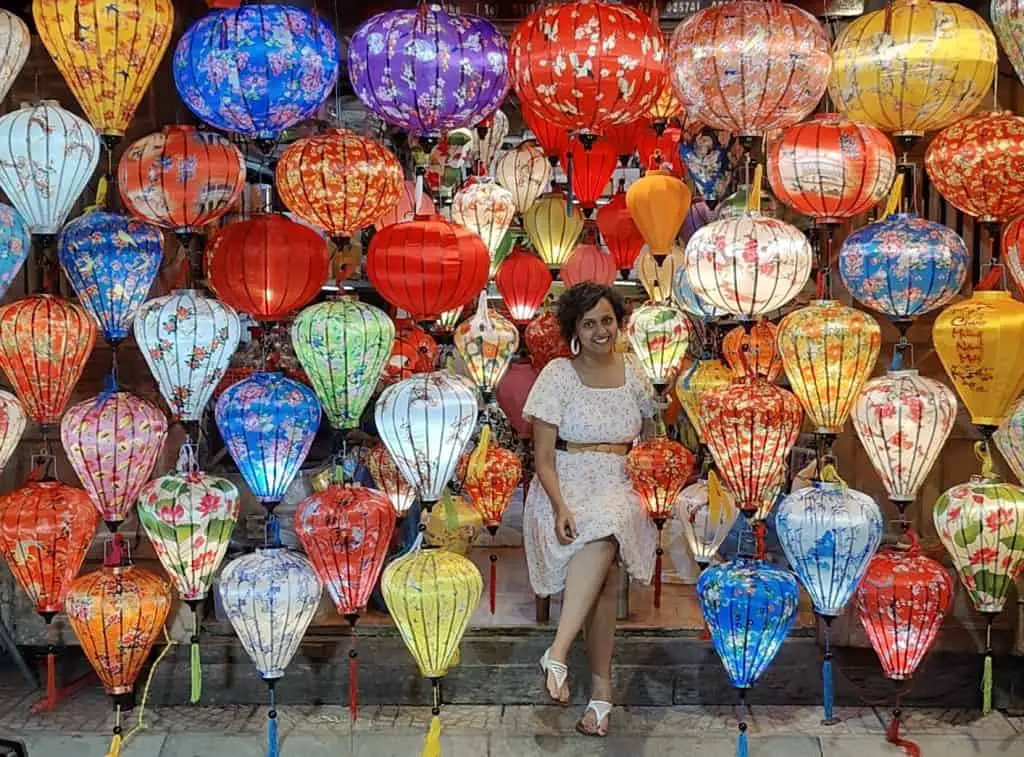 If you are wondering what is Vietnam famous for – one item that comes to mind is a colorful lantern!
From the brightly patterned traditional paper lanterns to the more modern metal and plastic designs, these charming decorations are a must-buy when visiting the country.
Whether you are looking for something to hang in your home or something to give as a gift, you'll find an array of sizes, shapes, and colors to choose from. Many of the lanterns are even decorated with intricate details, such as painted images and intricate carvings.
Musical Instruments
Again a surprise item on this list but I found so many varieties of musical instruments being sold in Vietnamese markets.
You will find traditional musical instruments like
– a bamboo flute
– a 16-string zither
– t'rung
– Vietnamese violin.
But if you are not familiar with these instruments, you can even find western instruments like a mandolin, guitar, ukulele, etc. at an affordable price point.
Notebooks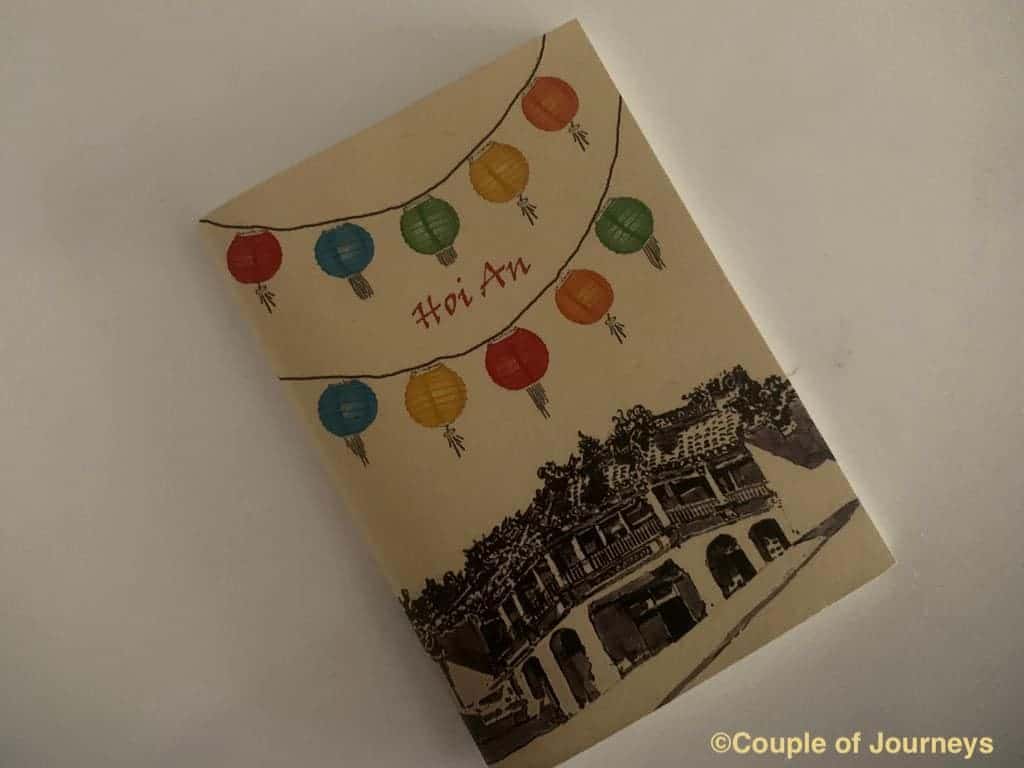 If you are a stationery hoarder like me, you would love Hoi An. Hoi An Old Town shops sell some of the cutest notebooks and diaries that I have ever seen in South East Asian countries.
The best part about these notebooks and stationery items is that they contain traditional Vietnamese artwork on them making them an excellent Vietnam souvenir choice.
The notebooks come in small palm-sized variants or regular A5-sized variants as well. The page quality is also impressive. Collect it for journaling when you are back or as a gift for fellow notebook lovers in your circle.
3D Pop-up cards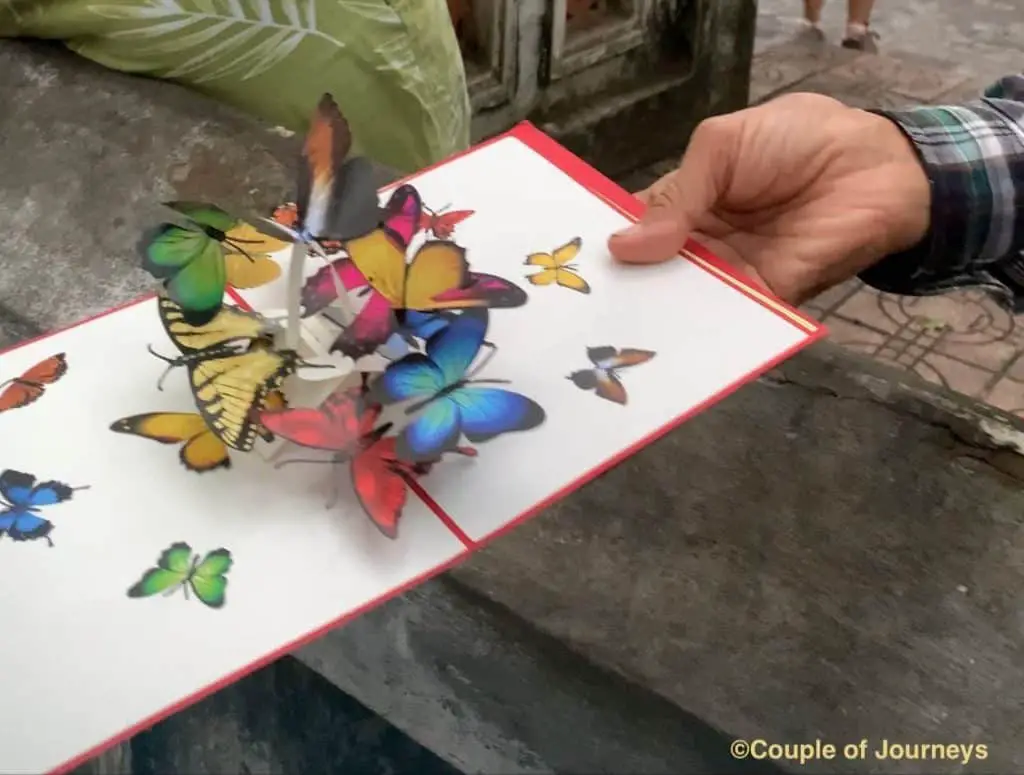 3D Pop-up cards are a unique thing to buy in Vietnam. You will find vendors selling these pop-up cards at most markets or even outside almost all the famous tourist attractions in the country.
They are not particularly useful but make for a great Vietnamese gift for kids.
They come in a variety of artworks like birds, architectural structures, flowers, etc.
If you are looking for cheap things to buy in Vietnam that also work as excellent souvenirs, these would make for an ideal choice.
Eggshell art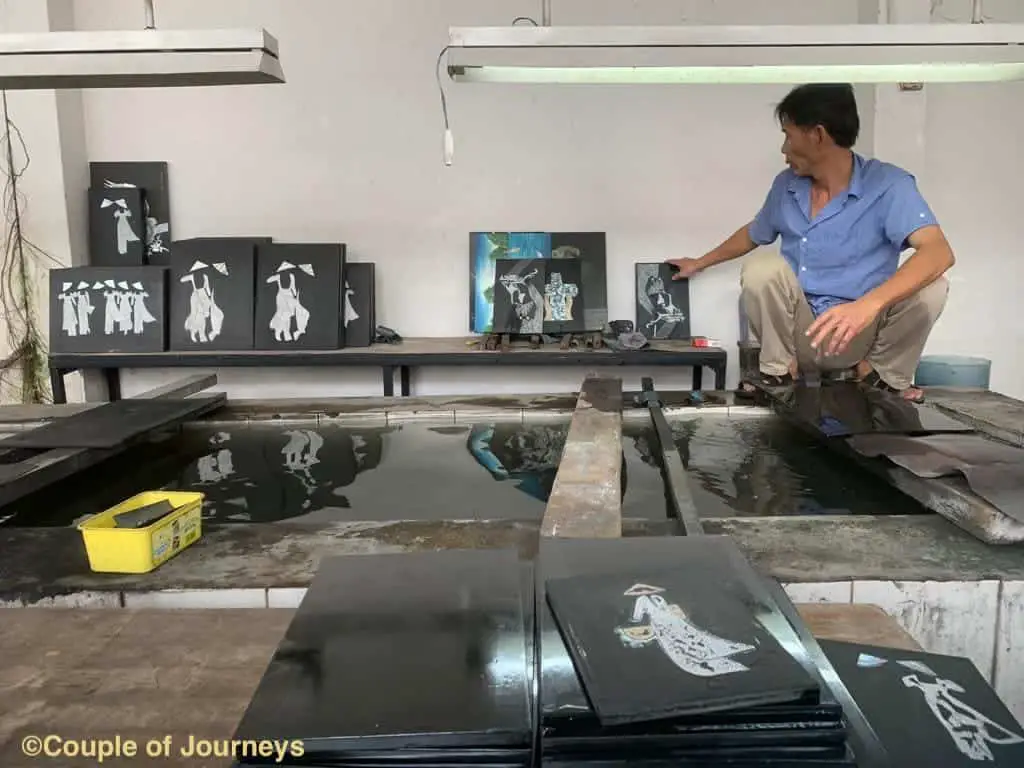 Egg shell art was one of the most jaw-dropping art forms that I came across during my time in Vietnam.
Each eggshell artwork is made using thousands of carefully pasted particles of an eggshell. Creating a painting using eggshell takes up months. The final artwork with its unique texture looks marvelous. You can use these paintings to adorn your walls back at home or take a smaller piece to put up on your desk to remind you of your time in Vietnam.
Moreover, many of these eggshell art pieces are made using handicapped survivors of the Vietnam war and your contribution would help keep this unique art form alive and also provide a livelihood to the families of these survivors.
Pearl Jewelry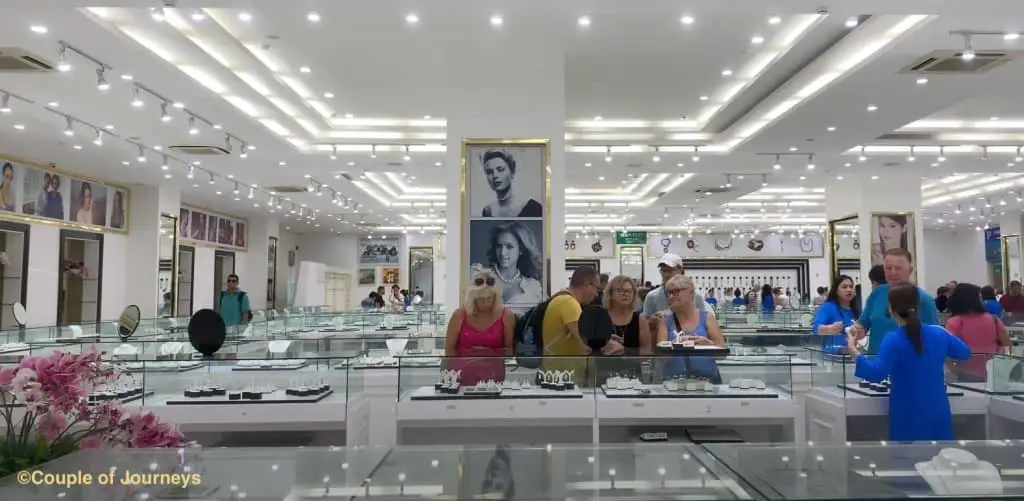 Pearl farming is carried out near Halong Bay as well as in many other coastal regions of Vietnam.
Given how vast the coastline of Vietnam is, pearl jewelry is found in abundance all across the country. The pricing of pearl jewelry is also cheaper than the pricing in most Western countries.
Buy it on your way to Halong Bay or from a local jeweler in Hanoi – as pearl jewelry makes for an excellent gift to buy from Vietnam for your loved ones.
Tailor-made clothing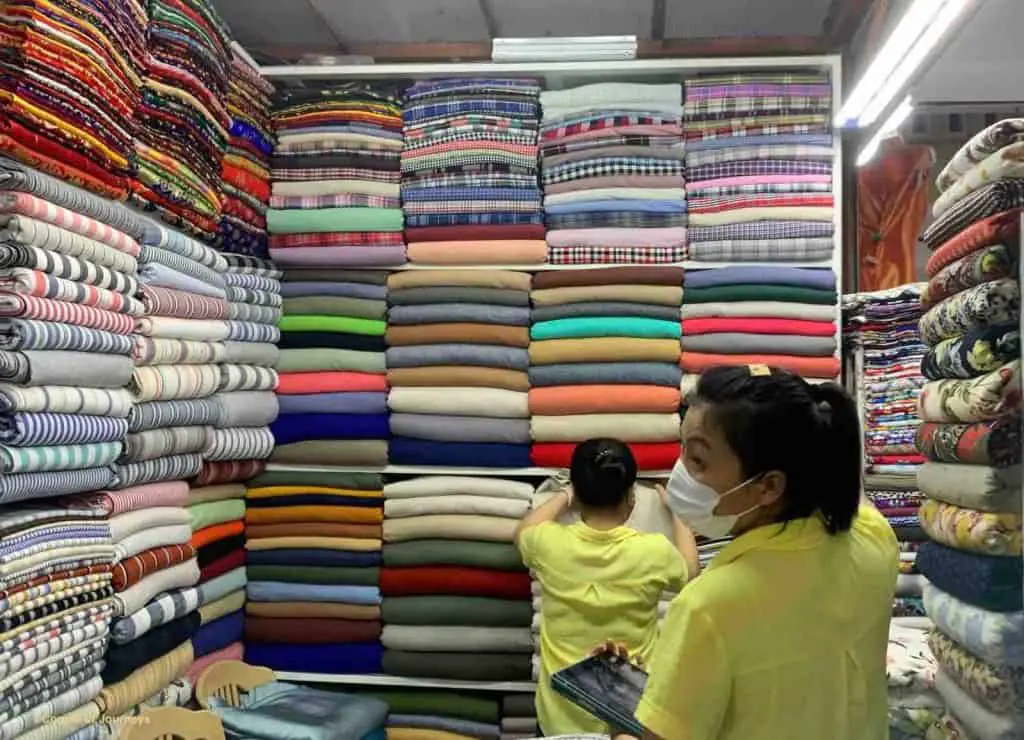 Tailors in Hoi An
– let you choose a fabric of your choice
– let you pick a design from a vast variety of Pinterest images
– let you show a style that you like
and stitch a dress or a top in a day's time!
Men also get the choice of getting a three-piece, tux, blazer, or a classic suit stitched to their exact fitting in a day.
The quality of the fabric is top-notch. The stitching is fast and the custom measurements make the finished garment look exquisite.
Now, to be honest, I am an Indian, and getting anything custom-made is not appealing to us. The prices of getting a tailor-made garment were also higher in Vietnam than the prices back home.
But if you come from western countries where getting anything custom-made costs you an arm and a leg, the affordable pricing of custom-made clothes in Vietnam would blow your mind.
Make it your first stop while you are in Hoi An so that you get your garments stitched before you leave.
Other Useful Products
Coasters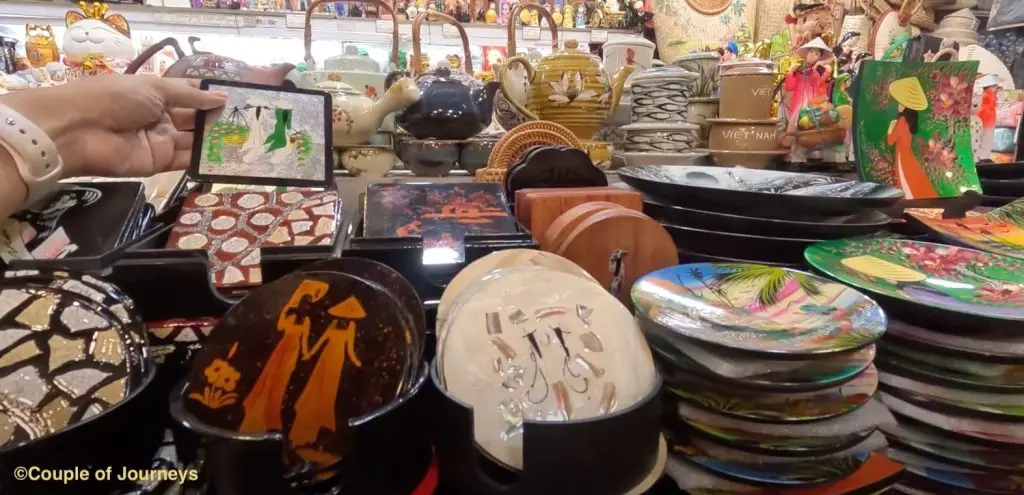 If you fancy buying useful things more than souvenirs, coasters are a good buy in Vietnam. The designs depict local culture. Some even include eggshell work or lacquer work.
Coasters are easily available in all the major markets in Vietnam and you can get a pack of 6 for a very affordable price.
We bought these in bulk to give as useful gifts from Vietnam to our folks back home. If you are like us, make sure you don't overlook this nifty Vietnamese gift option.
Chopsticks
Some of the best things to buy in Vietnam are chopsticks.
Made from various materials like wood, bamboo, and metal, they are an essential part of Vietnamese cuisine.
Not only do they look beautiful, but they are also extremely durable and can be used for years.
Another great thing about these chopsticks is that they are quite affordable, meaning that you can buy them in bulk and take them home as souvenirs for your friends and family.
They come in a variety of shapes, sizes, and colors, making them a great way to add a touch of traditional Vietnamese culture to your dining experience. Whether you're looking for something to use at home or something to give as a traditional gift, chopsticks from Vietnam are sure to please.
Products Locals use
Instant noodles/pho
Wondering what food to buy in Vietnam that you can take back home? There is no better option than packets of Instant noodles or Pho.
These are available at all major supermarkets in Vietnam.
You can easily put together Vietnamese noodles or Pho meals back home without having to work on your Asian cooking skills.
Cooking locally bought Vietnamese food is a great way to bring back the many pleasant memories from your trip.
Snacks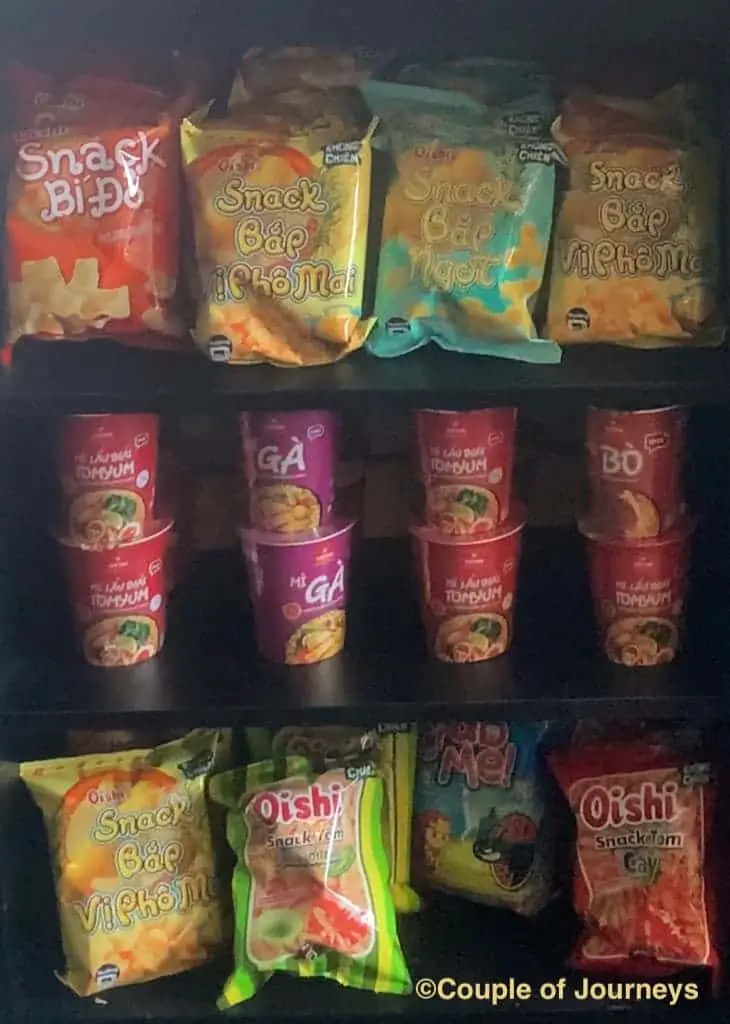 Vietnamese snacks are one of the least talked about things to buy in Vietnam and yet if you are a junk food eater, you would absolutely love the variety of snacks available in Vietnam.
These snacks are best available at railway stations. But if you are not including a train journey in your itinerary, don't worry. You can easily find these at local shops – go to smaller shops instead of supermarkets for more choices.
Your choices include
– fruit jelly cups
– crackers
– chips made from bananas, millet, shrimp, and a variety of other food items
– cheese wedges – so delicious
– Vietnamese variants of Maggi (instant noodles as mentioned above)
– mung bean cubes
– dried fruits
Local beer
Loved the local Saigon beer? Want to bring it back home?
Buy a few bottles at a supermarket and you are good to go.
You can also read my article on whether you can carry alcohol on a flight to learn more about the laws applicable.
Having said that, buy local beer only after you read the customs laws applicable to the country you are traveling to.
Instant tea/coffee sachets
Another one of our favorite Vietnam thing to buy is tea and coffee sachets. They are full of local flavor and are such a quick drink to put together.
You don't have to worry about brewing your coffee or about getting a local Vietnamese filter. You can simply buy a few packets of ready-to-drink instant sachets.
The other advantage of buying instant tea and coffee sachets in Vietnam is that they come for a fixed price at supermarkets. So you won't have to bargain or worry about getting overcharged by a local vendor.
Fruits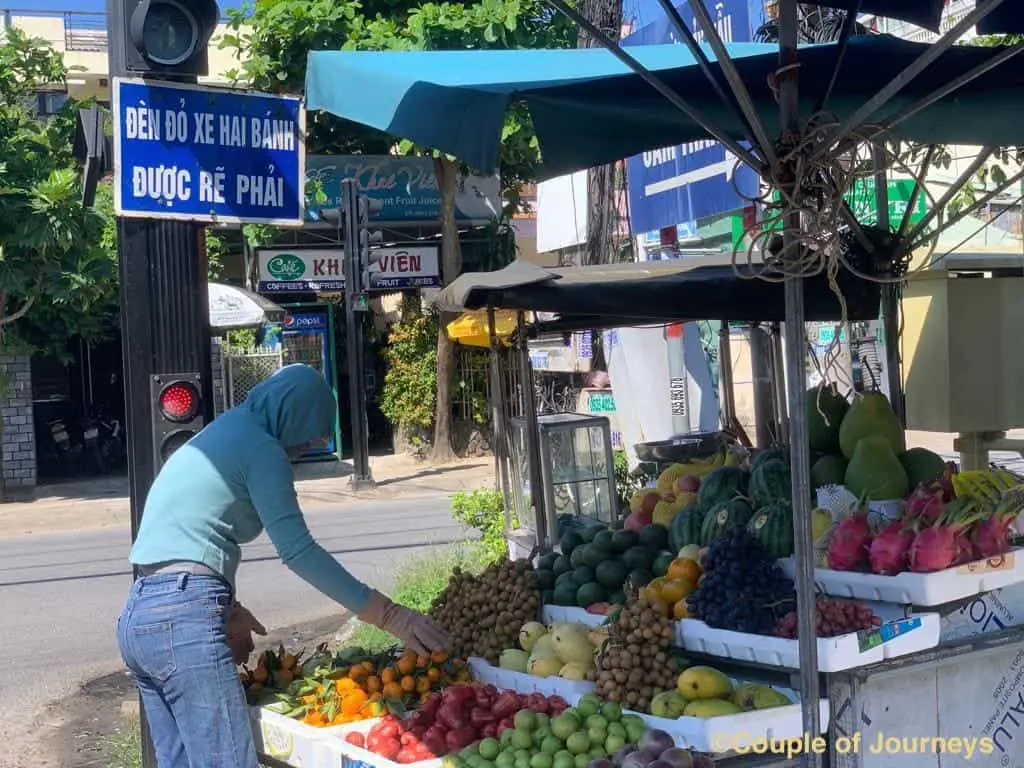 Okay, now carrying fruits back home is not the best idea given the limited shelf-life.
But still, let me tell you that the quality of fresh fruits available in Vietnam is exceptional.
So if you love fruits (like my daughter and husband), please pack dragon fruit, passion fruit, mangoes, lychees, or watermelon (if you can manage to get it cut into pieces) for your flight back home.
Fresh flowers
The sheer variety and accessibility of fresh flowers in Vietnam are highly impressive. Every major city and town has a fresh flower market.
If you love flowers, you can bring a few longer-lasting flowers back home and put those in a vase to mentally stay in Vietnam for a few days even after your vacation is over.
But please check the applicable customs laws.
Where to Shop in Vietnam
Local markets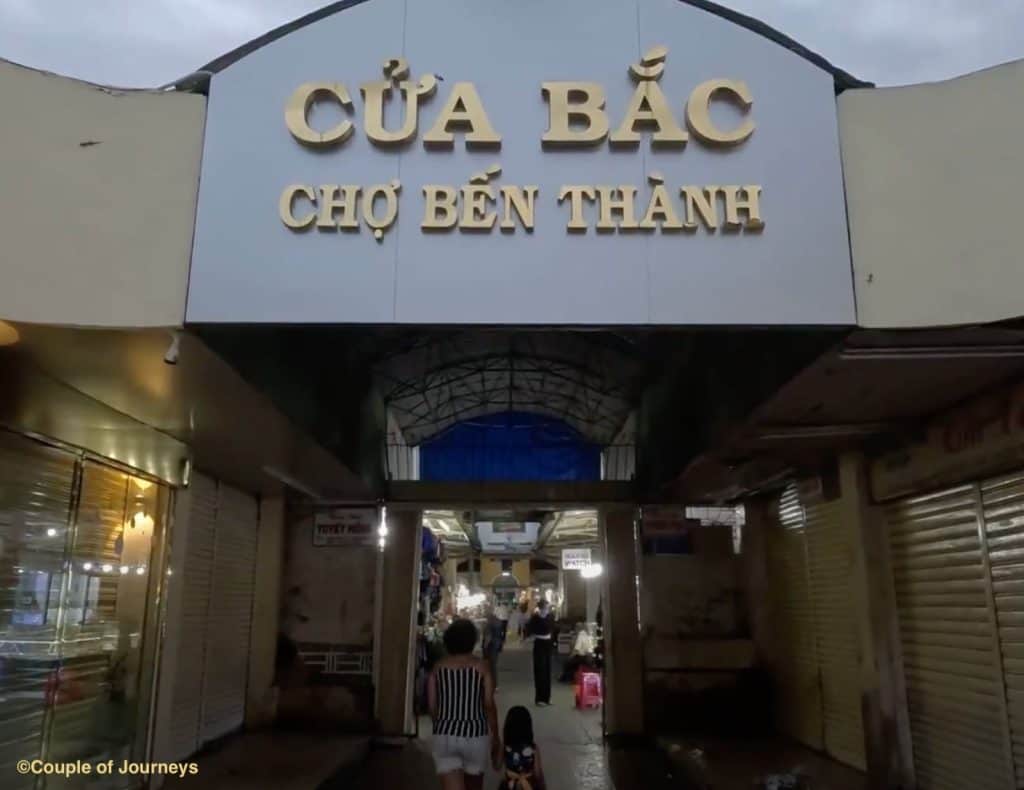 Vietnam is a shopper's paradise as it is full of local markets.
Hanoi's Old Quarter has streets selling specific goods only to provide you with ample choice. Visit these lanes if you are a shopaholic.
Likewise, Danang, Hoi An, Ho Chi Minh, and all other towns of many local markets that you can shop from.
Opt for markets from where locals buy to get better rates. But you will have to excessively rely on Google Translate.
Night markets
Just like local markets, every major town in Vietnam has its own night markets that sell souvenirs and the best things to buy in Vietnam for a truly affordable price point.
The night markets are usually put up only on weekends and run from sunset to midnight. But some markets, like the night market in Hoi An, are open on all seven days of the week.
Supermarkets / Local shops
Local supermarkets are the best place to buy food in Vietnam whether to munch on during your trip as well as to pack things to take back home.
The prices are always fixed and the shopping experience is far more seamless than visiting a touristy supermarket.
Frequently Asked Questions – Shopping in Vietnam
Is Vietnam good for shopping?
Vietnam is excellent for shopping for coffee, copies of North Face bags and jackets, sports shoes, and sneakers. It is also an ideal place to shop for cheap clothes, silk, and handicrafts. Vietnam has a lot to offer as souvenirs too in the form of conical hats, notebooks, Ao Dai, lanterns, and paintings.
Are luxury goods cheaper in Vietnam?
Luxury goods like North Face jackets and bags are cheaper in Vietnam. Likewise, branded sneakers by Adidas and Nike are also cheaper. But most of these products are not genuine but first copies. Original branded luxury goods cost the same or are at times even more expensive in Vietnam.
What snacks to buy in Vietnam?
The best snacks to buy in Vietnam are mung bean cubes, fruit jelly cups, prawn crackers, shrimp chips or other varieties of chips, dried fruits, cheese wedges, instant noodles, etc. It is advisable to buy these in a local supermarket for the best price.
Are clothes shopping cheap in Vietnam?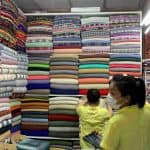 Clothes shopping is quite cheap in Vietnam. You will easily find affordably priced t-shirts, silk material, dresses, and fabrics all across Vietnam. But make sure you bargain heavily or buy from a shop preferred by locals to avoid being overcharged.
---
Planning a trip to Vietnam? Read more articles
---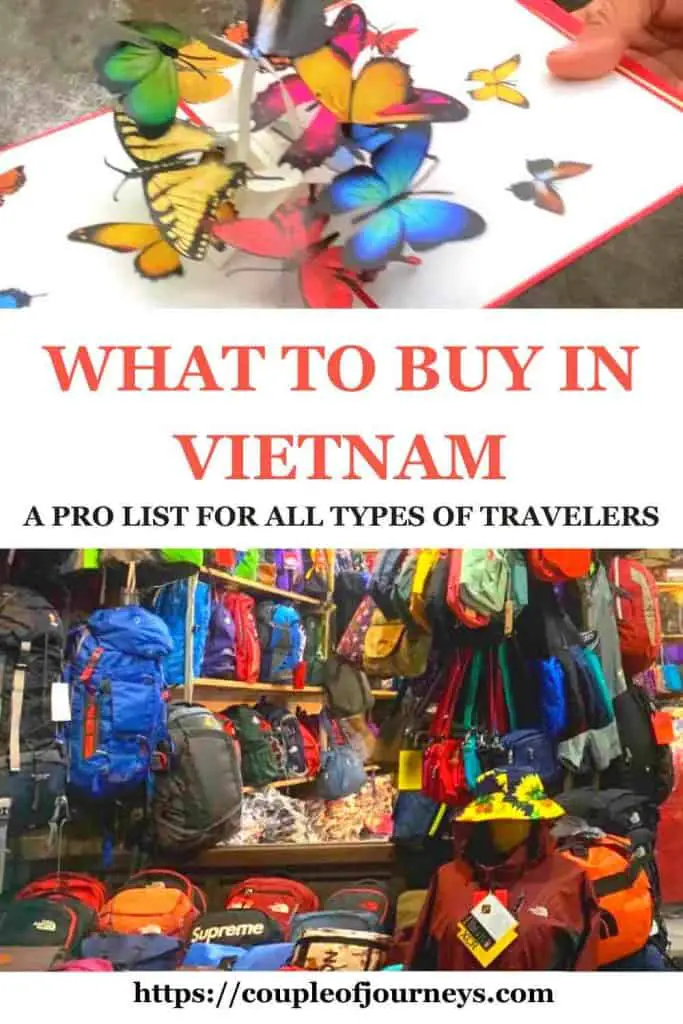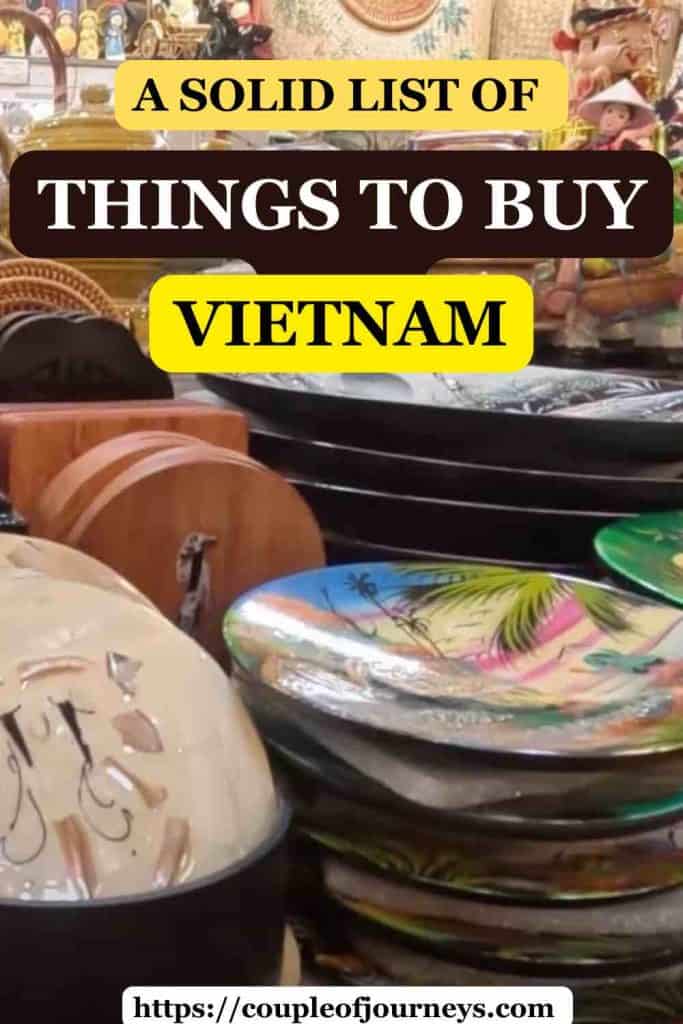 ---
TOP TRAVEL RESOURCES
Here is a list of our favorite travel resources- the ones that I absolutely swear by when planning almost every trip. Go through this list to plan a hassle-free trip and save a lot of money!
Flight Booking: Check the availability of tickets, the best time to fly, and the cheapest fares on Skyscanner. You may also find a cheap flight via CheapOair
Accommodation: I absolutely love booking through Agoda. In most countries and particularly in Asia, I often find the best fares on Agoda. But I also love the no prepayment and no cancellation fee policy of Booking.com. For cheap accommodations and hostels, nothing beats Hostelworld.
Car Rentals: You may find and rent an appropriate car via RentalCars. It's hassle-free and reliable.
Guided Tours: I absolutely love GetYourGuide for local sightseeing tours, walking tours, history tours, and food tours. The booking process is seamless, and the tours are super affordable. But in Asian countries, I prefer Viator or Klook for their affordably priced tours.
Lounge Access: Get Priority Pass – my personal favorite card that gives me unlimited access to premium airport lounges all over the world
Hey, if you found this post helpful, share it with more people or buy me a coffee!