8 Best Food Tours in Hanoi With Local Guides 2023
This website contains no sponsored content. The content is written entirely on my own and is based on my personal experience and extensive research. This post may contain affiliate links. If you make a purchase through one of these links, I may receive a small commission at no extra cost to you. As an Amazon Associate I earn from qualifying purchases. Please read the disclaimer for more information.
Want help selecting the best food tours in Hanoi? I have got you covered! In this article, you will get information on the 10 best food tours and eating experiences of Hanoi all led by locals – so be assured of a great food experience without the risk of a tourist trap.
Don't have time to read through the 10 Hanoi food tour options? No worries – Small-Group Hanoi Street Food Tour with a Real Foodie is the best Hanoi food tour with a smashing 5-star rating with over 1700 reviews!
My husband and I are crazy foodies and in our own different ways. My husband eats everything under the sun while I am a strict vegetarian. In fact, our research on traveling to any place begins with the food options there and we absolutely make it a point to try out local food on all our trips. In fact, we prefer starting off a new city adventure with a food tour as it's the best way to directly connect with the soul of the city.
Plus because I am a vegetarian, it lets me figure out the availability of food options for those with dietary preferences while my husband gets to try the whole gamut of local food offerings!
In any case a win-win for you!
Let's get started with exploring the best food tours in Hanoi – there are 8 on this list with brilliant ratings and offerings – so you can go ahead and book one right away!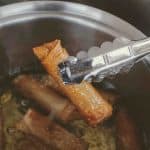 Small Group Hanoi Street Food Tour with a Real Foodie
⭐️⭐️⭐️⭐️⭐️
Best walking street food tour in the Hanoi Old Quarter
Taste bun cha, pho, banh mi, coffee, finger foods and dessert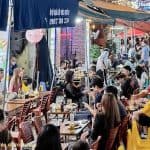 Hanoi By Night Foodie Motorbike Tours
⭐️⭐️⭐️⭐️⭐️
Experience the thrill of exploring Hanoi on a motorbike
Taste the best Bun Cha, Pho, salty & sweet donuts and more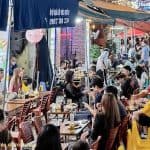 Private Hanoi Street Food Walking Tour With Real Foodie
⭐️⭐️⭐️⭐️⭐️
Best private tour
Enjoy tastings of pho, bun cha, spring roll, coffee and more
+ load yourself with a full meal
Best Food Tours in Hanoi 2023 – Reviews and Recommendations
1701 reviews | 5 Star Rating | 3 hours | BOOK NOW
Go hungry as you will be eating all the way on your walk around the Old Quarter. It's crazy how many different types of food you get to taste on this tour right from – the classic Vietnamse pho or bun cha ie. rice noodle soup with beef, chicken, grilled pork even a crazy taste of snail. You also try out staples like dry noodles and sticky rice with a sumptuous bites of donuts, steamed pancakes or Vietnamese sandwiches aka Banh Mi.
"Chung was one of the best tour guides we have ever had! We tried bun cha, sugar cane juice, banhi mi, rice pancakes, green papaya salad, egg drinks, and lots of finger food. Chung was so knowledgeable, had great interpersonal skills, and was kind and perceptive. We learned a lot about Vietnam and Hanoi and had a great time walking around even though it was super hot! Would recommend this tour to anyone coming to Hanoi."
– Elizabeth_D | Read more reviews
What makes the tour so popular is the guide's love for food and an elaborate knowledge of the city.
If you are a vegetarian like me, you don't have to worry as the tour can easily accommodate your dietary preferences. Just inform in advance!
The tour is also happy to welcome infants onboard and is usually conducted in a small group of 8 and operates twice a day.
This tour is easily the best Hanoi street food tour for someone who loves a deep dive into local cuisine coupled with a scenic walk around the Hoan Kiem Lake – that too, without feeling rushed.
Book Small Group Hanoi Street Food Tour with a Real Foodie
---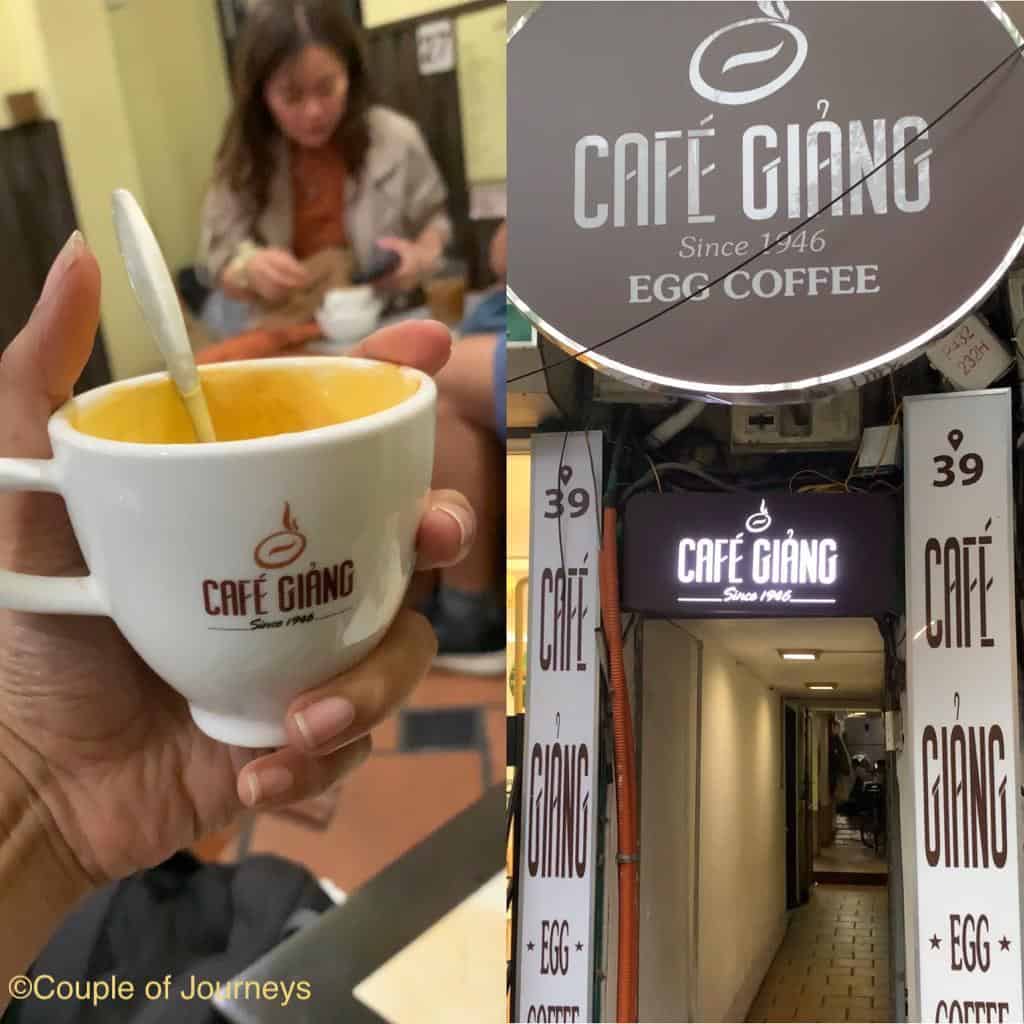 438 reviews | 5 Star Rating | 3 hours | BOOK NOW
This tour is a proper walking tour that takes you around all the small streets and lanes of the Hanoian Old Quarter while also delivering on its promise of excellent Hanoi street food.
The reason why this tour may suit you better than the tour above is that this tour operates 10 times a day so you can easily accommodate it in your Hanoi itinerary.
" The morning food tour was wonderful. Until this point we could not seem to find food we liked but the tour filled us in on what to order and where to find it. The chosen restaurants had delicious food and our guide was great…friendly, knowledgeable, and spoke good English. Part of the tour was an egg coffee making class….great fun and delicious"
Catherine_D | Read more reviews
On this tour, you would be delighted to find the famous Vietnamese Bun Cha, Pho, Banh mi as well as fresh spring rolls from places that you would hardly know about or dare to try.
The guide also encourages you to make your own egg coffee to make your overall experience thrilling.
I think that if it's your first time in Hanoi and you have no idea how to cross the streets, find your way or look for tasty satisfying local meals – start with this tour.
The guide is not only knowledgeable but also orients tourists on how to cross the streets, introduces the tourists on trade-specific 36 guilds of Hanoi Old Quarter, etc.
Book Hanoi Old Quarter Walking Street Food
---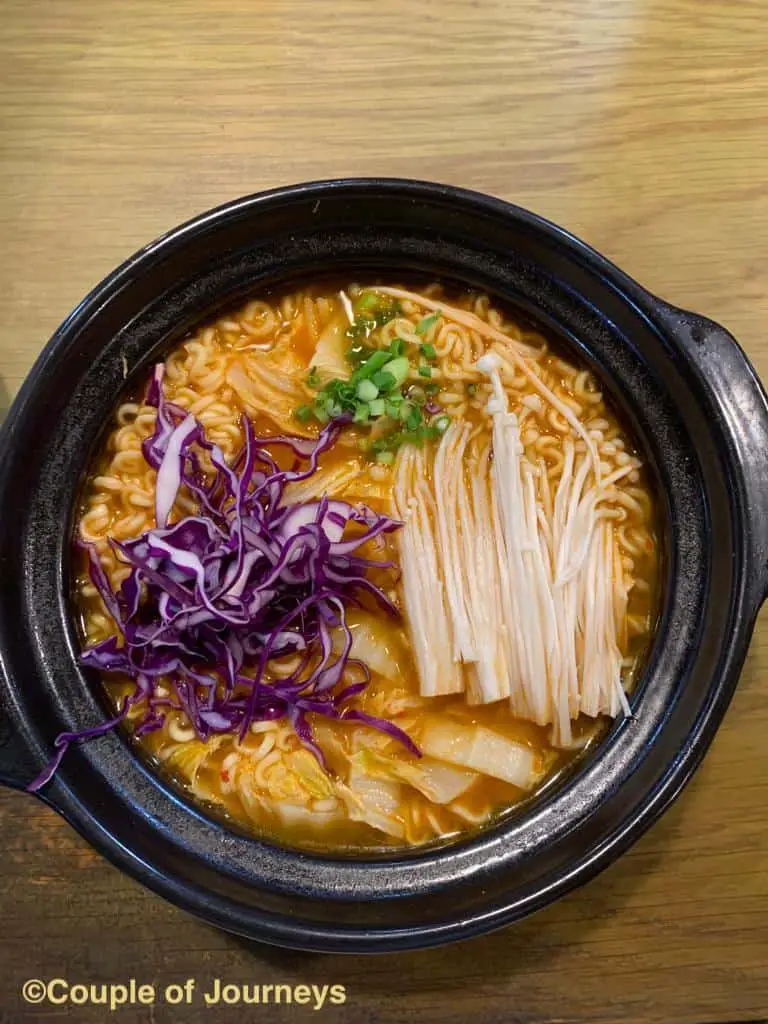 460 reviews | 5 Star Rating | 3 hours | BOOK NOW
Hate group tours but still want to do a walking tour? Here's the perfect find for you – a private food tour of Hanoi. So you can go with your partner, your kids or your parents and the guide will help you walk around at your own pace and comfort.
In fact, the guide may also be able to accommodate your specific 'tastes'. The start time is also flexible. So book this private tour as per your schedule and convenience.
"Linh was a fantastic guide and took us to a huge variety of different food stops, even tailoring it to our specific tastes and considered what we had already tried. Very knowledgeable and gave us lots of information about Hanoi and the history of some of places we visited."
Will_S | Read more reviews
The private tour typically lets you taste Pho, Bun Cha, Banh Mi and plenty of other local dishes – savoury and sweet. After spending about 2.5 hours in the lanes and stalls of the Old Quarter, it takes you to Café Giang – the place that invented the famous egg coffee.
What's amazing about this tour is that it not only includes tastings but a full proper meal (unlike the tours above!) Go hungry to do justice to this tour.
Book Private Hanoi Street Food Walking Tour with Real Foodie
---
289 reviews | 5 Star Rating | 4 hours | BOOK NOW
This motorbike-led tour is an excellent way to get a first-hand feel of riding through the crazy traffic of Hanoi, exploring all the major areas while also eating the diverse range of local Vietnamese food.
This tour lets you taste a wide variety of dishes like Banh Cuon (steamed roll cake), Bun Cha (grilled pork with vermicelli noodles), and Banh Ran Ngot (salty and sweet donuts).
But the real reason why you would love this tour is because it covers a much larger area than the Hanoi Old Quarter.
"Su and Linh were the best guides. We ate at the best places. Still thinking about all the delicious food to be honest. The tour on the motorbike was hands down one of the best experiences in Hanoi. Worth every penny for such an unforgettable experience. Don't miss out. Recommending to anyone who will listen. So good. Thank you Linh and Su!"
Belinda| Read more reviews
If you stay in the Old Quarter, you get a free pick-up else you can meet right outside the Hanoi Opera House.
The tour starts with you being provided high-quality helments with visor, face masks and even a raincoat if required.
The drivers are all professional and the bikes used are spacious and in great condition.
You will be provided with coffee or tea as well as alcoholic beverages which are otherwise not included in other tours.
The tour takes you through a large geographical area starting from
a family-run restaurant
busy lanes of the Old Quarter,
West Lake
Ba Dinh square (quick pass by)
Long Bien (Across the red river)
the famous train street.
The only downside is that infants and kids can't be taken along on this tour.
But it is easily the best way to get the best overview of Hanoian food, culture, architecture and city highlights in just a few hours.
Book Hanoi By Night Foodie Motorbike Tours
---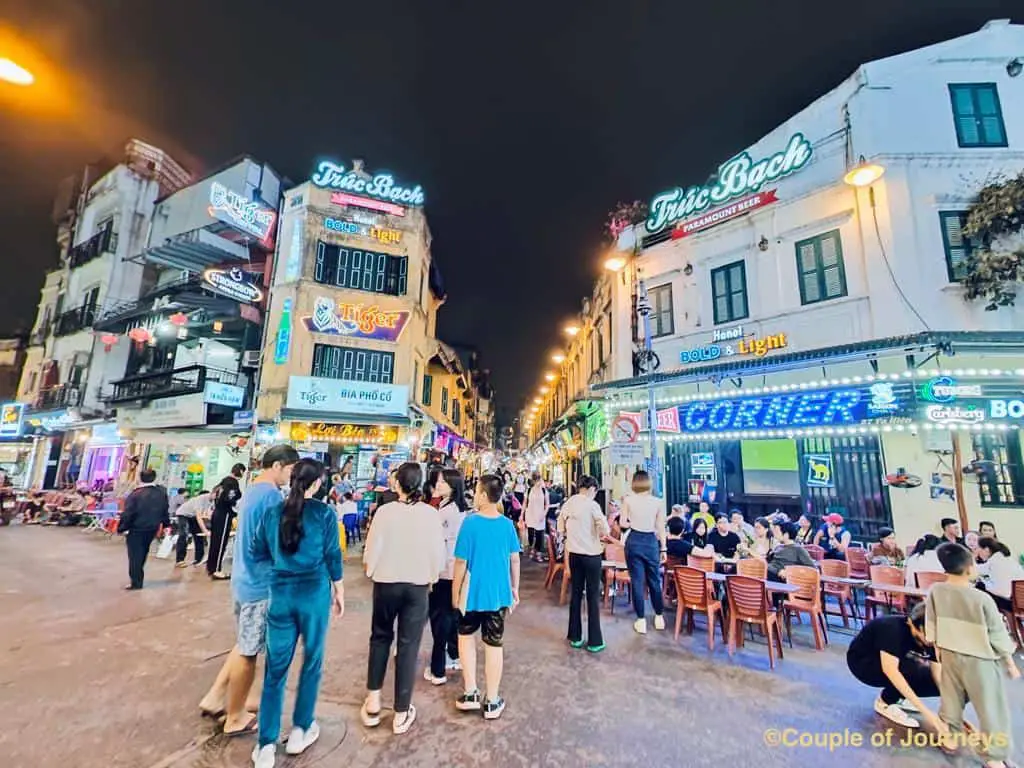 412 reviews | 4.5 Star Rating | 3 hours | BOOK NOW
This Hanoi food tour adds some touristy attractions to its offerings. It combines food with a visit to the local attractions of Vietnam. It is conducted as part of a small group of up to 12 people.
If you are wondering where to eat in Hanoi, check out this tour as it lets you taste not only the famous dishes like Bun Cha and Banh Mi, but also try out seasonal fruits, shop for local spices etc.
"We started our trip with this food tour so that we could revisit foods we enjoyed. San was an amazing tour guide. Very clear, made sure we didn't get left behind and made extra efforts to make sure we were comfortable and happy. Would strongly recommend! An amazing experience"
Audric_S| Read more reviews
The tour as the name suggests takes you on 5 key stops.
The tour starts with you visiting the lanes around the famous wholesale indoor market – Dong Xuan.
Here you sample street food delicacies while also trying out seasonal fruits.
Next, you enter the chaotic buzz of the Old Quarter where you stop for sumptuous tastings of the best Vietnamese food in Hanoi – a bun cha, a fermented pork roll, and a fresh fruit salad.
The Hanoi street food closes with egg coffee in a secret coffee house or a cold beer in one of the most happening areas of Hanoi.
An impressive highlight of this tour is that the entire street food tour of Hanoi is conducted in a carbon-neutral manner and runs twice a day.
Book Hanoi Food Lovers Walking Tour: Street Food Experience with 5 Food Stops
---
9 reviews | 4.4 Star Rating | 3-3.5 hours | BOOK NOW
Are you looking for Vegetarian food in Hanoi? Are you an Indian who generally only eats vegetarian food and doesn't know where to look for vegetarian food in Hanoi old quarter?
This Vegetarian Food Hanoi tour is ideal for you.
The tour comes in two attractive options
a tasting tour
and a sightseeing tour concluding with a buffet meal in a restaurant in Hanoi.
Plus the tour only needs a minimum of two people. So if you are travelling with a family or as a couple – it can work like your very own private food tour around Hanoi.
"We had the best time doing the vegetarian tour with Hoàng! He showed us the hidden spots of Hanoi and ended the tour in a lovely local café to have the best egg coffee. This tour can be done as a non-vegetarian too, you always have the option to choose between the vegetarian meal and the non-vegetarian. Definitely a recommendation for every food lover!"
– Anonymous traveller on GetYourGuide | Read more reviews
This vegetarian food tour of Hanoi would open you up to the vast number of options you enjoy even as a vegetarian in Hanoi.
The first option – i.e. the vegetarian food tour in Hanoi Old Quarter lets you taste vegetarian Banh Mi, Spring rolls cooked with delicious mango, papaya, carrots, etc, Vietnamese vegetarian fried dumplings, Vietnamese traditional desserts, egg coffee and lovely unique steamed rice roll cake. Love the options! So do I!
The second option, on the other hand, lets a guide walk you around the Hanoi Old Quarter for about 1.5 hours with a stop on the way for egg coffee followed by a visit to a restaurant with a massive vegetarian buffet.
Keep lots of space in your tummy to be able to stuff everything from salads, soups, main dishes, rolls, fruit and coconut milk deserts – the menu literally changes every day to reflect Vietnamese cuisine's diversity and seasonality in cooking.
The first option is suitable for those who want to walk around the town while exploring its food scene.
But if you hate multiple stops, and hate walking around for 3 hours, the second option of the vegetarian buffet meal is far more suitable.
Book Hanoi Old Quarter Vegetarian Food Tour
---
This option is a little different from all the options stated above because this tour is not about hopping around the town trying local food.
Instead, this tour lets you eat a local's. home. The experience doesn't involve walking. But it is still private and very insightful.
This option is excellent for those travelling to Vietnam with kids or for older couples, senior citizens, etc.
"Had a wonderful evening with Ngoc. She is such a really nice host – the food was lovely prepared and also she gave me the chance to interact with her in the kitchen. Had great time and nice conversations. Totally recommend!"
– Florian | Read more reviews
In this option, a local host cooks a local, delicious Vietnamese lunch for you. Most of the products used in the preparation of the lunch are homegrown.
This experience is also a little more personal and deep in terms of getting to know local Vietnamese culture.
The lunch is not just about food but also about chitchatting with the host (who by the way can speak English and French fluently!) and also trying out food items like pickles which you would otherwise not find on a Hanoi walking food tour.
---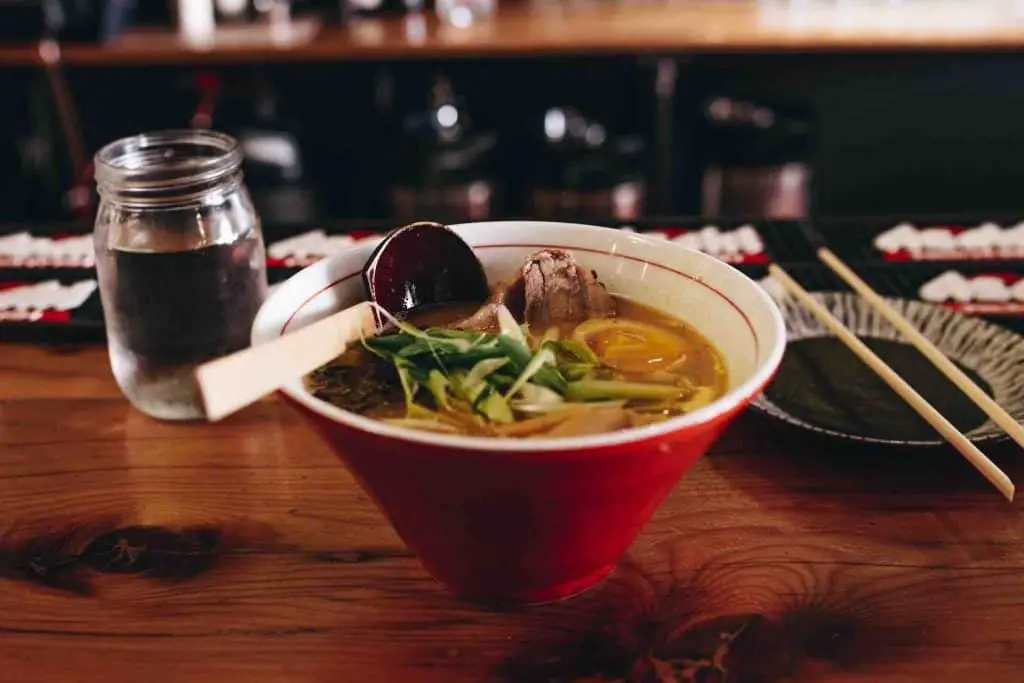 Don't find dining with a local over lunch convenient? No problem, head out for dinner at this fun host's place.
The menu is so elaborate that you are served the best food in Hanoi on your table. No need to walk around the crazy, loud town. Instead you can understand local cultures and customs while being hosted by a chatty, food-loving local.
This option is excellent for those travelling to Vietnam with kids or for older couples, senior citizens, etc.
"Thank you so much Viet for the lovely, generous and delicious dinner 🙏🏻 Our best dinner in Hanoi, being welcome by you and your beautiful family. We felt very privileged 😍 The food cooked by your wife was so tasty, many dishes we never tried before ! The conversation was so interesting, we learned a lot about Vietnamese culture and you have given us so many recommendations in Hanoi and Vietnam. It always feels special to meet like minded people around the world and be welcome like old friends 💕. A night we will remember ! A Must Do for sure!"
Camille | Read more reviews
The menu is a lavish mix of typical Hanoian dishes like
Spring Rolls with pork and rice paper, Fried Tofu, Mix Boiled Vegetables, Omelette, pork skin and sour soup.
In addition to the delicious taste, personal experience and hospitality, the food served here is far more hygienic than the street food in Hanoi. So if you want to avoid tummy troubles, this is a far better yet equally engaging experience.
Book Hanoian Dinner on Your Table
---
Frequently Asked Questions – Famous food in Hanoi
What food is Hanoi famous for?
The famous food in Hanoi is
– Bun Cha i.e. rice vermicelli with barbequed pork,
– pho – Vietnamese noodle soup,
– Banh Mi – Vietnamese sandwich with baguette
– Banh Cuon – rice rolls
– Egg coffee
In addition to this you can also find classic Vietnamese spring rolls, a variety of soups, hotpots and fruit jelly desserts in Hanoi.
What is a typical breakfast, lunch and dinner in Vietnam?
Banh Cuon, Banh Mi, Pho or sticky rice forms are the most common breakfast options in Vietnam.
For lunch and dinner, Vietnamese have noodles or sticky rice with meat or seafood with a side of stir-fried vegetables, sauce and soup. Bun Cha is a famous lunch option in Hanoi.
A typical Vietnamese meal is served in a family-style set-up. So all the preparations are put on the table and then the family members serve small portions into their own bowls or plates. Vietnamese meals also don't comprise courses served in chronological order.
Is it safe to eat street food in Hanoi?
Street food in Vietnam is probably as safe or unsafe as street food in other developing countries. It may also be said that street food is probably no less safe than the food cooked in restaurants. If you have a sensitive stomach, it is best to avoid spicy food, food that doesn't look hygienic or food that you are allergic to. Get a doctor's advice to clear your doubts and protect yourself against an upset tummy.
But street food in Hanoi is enjoyed by thousands of tourists visiting Hanoi every single day. Its variety and flavour is the primary reason why it is so popular even amongst tourists and it is definitely worth trying. Of course, practice basic precautions like avoiding food that looks obviously unhygienic, allergic substances etc. Always drink bottled water.
Final Thoughts: Best Hanoi Street Food Tours
I hope that this guide on the best food tours in Hanoi helped you. To get the most for your money's worth I recommend that you book Small Group Hanoi Street Food Tour with a Real Foodie. which has over 1700 stellar reviews.
Pro Tip: Before you book the tour, go through the details and the reviews by fellow travellers to see than the Hanoi tour company you go with meets your needs.
Each of the Hanoi street food tour companies mentioned in this post including the private Hanoi meals listed above are conducted by locals who speak excellent English.
To have the best experience, go with an open mind and an empty stomach! 🙂
---
Visiting Vietnam? Read more helpful articles
1 day in Hanoi – what to do, see and eat
What to do in Hanoi Old Quarter – A perfect guide
28 must-have apps for traveling to Vietnam
Saigon Skydeck – Is it worth it?
---