14 Reasons NOT to go to Vietnam: An Honest Take
This website contains no sponsored content. The content is written entirely on my own and is based on my personal experience and extensive research. This post may contain affiliate links. If you make a purchase through one of these links, I may receive a small commission at no extra cost to you. As an Amazon Associate I earn from qualifying purchases. Please read the disclaimer for more information.
Vietnam as beautiful and diverse as it is, may not be everyone's cup of tea. You need a peculiar mindset and an openness of personality to overlook Vietnam's strange characteristics and admire it for its sheer natural beauty, rich culture, diverse landscapes, and delicious food. So chances are that if you are very particular about how you like to travel and if you have specific expectations from your trips, Vietnam might not be the best destination for you.
So in this post, let me share with you honest reasons not to go to Vietnam!
This post may contain affiliate links. If you make a purchase through one of these links, we may receive a small commission at no extra cost to you. Please read the disclaimer for more information.
14 Reasons NOT to go to Vietnam
#1 The traffic is absolutely crazy
The traffic in Vietnam is absolutely crazy.
At any given point in time, you will find the roads buzzing with two-wheelers in astonishingly high numbers.
There are no real traffic rules. One-ways, traffic lights, parking spots, zebra crossings either don't exist at all or if they do are completely ignored.
By the way – (just to add some perspective to the level of craziness) – I am an Indian who is used to crazy unruly traffic conditions back home and yet the traffic in Hanoi seemed highly disorganized to me!
So drop Vietnam if you hate disorderly traffic.
How to cope with Vietnam's crazy traffic
– Avoid renting a two-wheeler. Book a car with a driver for the entire length of your trip. Vietnam is very affordable and booking a car with a driver won't burn a hole in your pocket. (See options here)
– Avoid crowded cities – in particular, Hanoi
---
#2 Public transport is not very helpful
Unlike European countries or South East Asian cities like Bangkok, Kuala Lumpur, etc. the public transportation system in Vietnamese cities is not very useful for tourists.
The only kind of public transport that exists in most Vietnamese cities is a bus network. But understanding its routes and stops can seem confusing to a regular tourist.
Many public buses don't even have stops near major tourist attractions and you would still have to walk around or book other means of transport to take you to the doorstep of the tourist attraction.
The only positive of public transport in Vietnam is that it is very cheap and serves those who stay in Vietnam for a longer period better than rushed tourists.
How to deal with the lack of proper public transport in Vietnam
– Understand the routes and the connectivity from a local. Give yourself some time to make mistakes, jump on the wrong bus, etc. Don't use it if you are in a particular city for a limited period only.
– For touristic sightseeing, book a hop-on hop-off tour. It covers all the major tourist spots, lets you board and alight wherever you like and takes you much closer to the entrance of the attraction than the regular public transport buses. Booking it on Klook also saves you extra bucks.
---
#3 Grab cabs are often not very suitable
Grab cabs are often much cheaper than booking a cab through a local agent. But they aren't always very suitable.
This is because
– the location of pick-up is often not very clear on the map for the driver leading to confusion
– the cab drivers hardly speak any English and communicating on phone with the driver is challenging
– the cabs often wait or drop you far away from your pick-up & drop location because of traffic issues, pedestrianized zones, etc. that are not shown on Google Maps or Maps.
– the price you actually pay would be much higher than the price suggested while booking because of route changes caused due to traffic conditions or intentionally by the driver to earn more.
How to make your Grab experience better?
– Have a local book a Grab for you. They would be able to offer clear instructions to the driver in the local language eliminating any scope of confusion and delay.
– Avoid booking a Grab in crowded areas e.g. Old Quarter in Hanoi, District 1 of Saigon, etc. Walk instead
– Use a GrabBike instead of a Grab Car in touristy areas
– Use a translator app to communicate easily with your driver
– Keep Google Maps or any other map application open to ensure that the driver is not taking unwarranted detours to overcharge you.
– For airport pick-ups and drops, book a cab from a trusted agent to avoid delays. Prebook pick-ups and drops online for peace of mind.
---
#4 Two-wheeler parking is difficult to find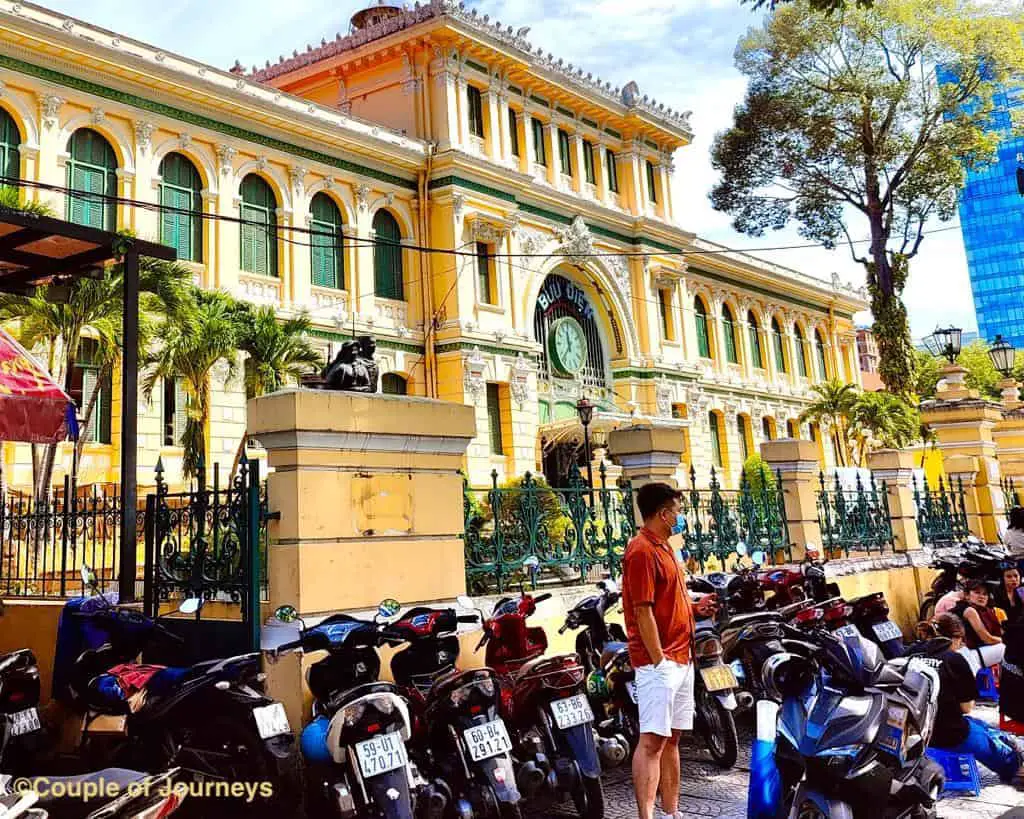 Even if you are cool about riding a two-wheeler in Vietnam, understand that finding a safe place to park is not easy at all.
There are very few Government regulated parking areas in Vietnam. Plus, two-wheeler theft is fairly common all across Vietnam. So you can't just leave your two-wheeler at any empty spot you find on the streets of Vietnam. You should find an official parking area. Alternatively, leave your two-wheeler under the supervision of a security guard at a private establishment. You would need to pay the guard a fee ranging from VND 500-20000 depending on how 'in-demand' the area is.
Not only does this difficulty of parking add up to the already existing traffic woes but the costs of parking also add up quickly nullifying the advantage of renting a two-wheeler. So be wise about renting a two-wheeler.
How to cope with the difficulty of two-wheeler parking
– Avoid using a two-wheeler to cover walkable distances or to visit pedestrianized areas e.g. Hoan Kiem lake on weekends
– Check with your hotel for free, reliable overnight parking before renting a two-wheeler
– Take a token from the security guard of the parking area where you leave your two-wheeler and store it safely.
– Never forget your key in the scooter or bike ignition. It can easily get your two-wheeler stolen.
---
#5 Four-wheeler self-drive car is rarely available
As much as you would want to, you can't exactly plan a road trip around Vietnam. This is because getting a self-driven four-wheeler on rent is quite uncommon. You always have to take a car with a driver.
Even though the price of getting a chauffeur-driven car is not too high, it limits your flexibility and freedom. You are always forced to determine an itinerary beforehand and negotiate and agree on a price beforehand.
We faced this issue when we booked a car for Da Nang sightseeing. During the trip, it started raining and we thought of making necessary changes to the itinerary but the driver was reluctant and demanded a premium.
How to cope with the unavailability of self-drive cars
– if you want more flexibility and freedom, book a cab with a driver on an hourly basis. Don't commit to a route or a fixed itinerary.
– Rent a two-wheeler in smaller towns like Hoi An or Hue for more flexibility
---
#6 People come across as rude
I hate saying these about the people of a country at large but I am just being honest about my first impressions of the many people of Vietnam. People in Vietnam rarely smile at tourists. Even hotel staff rarely greets its guests. Shop owners and tour guides also come across as purely transactional.
If you are a tourist who loves being greeted by warm, cheerful people, interactions with Vietnamese people could leave you feeling dispirited.
How to cope with people who come across as unhelpful or rude
– Make an effort from your end. Be respectful and trusting.
– Don't behave in an entitled manner. Lower your expectations and be more broad-minded.
I must add here that during our time in Vietnam, we built a great rapport with many tour guides, travel agents, cab drivers, shopkeepers, etc. Some did seem tough at the outset but eventually, they turned out to be warm and helpful completely disproving our first impressions of them.
We were also very pleased with the hospitality of a few places where we stayed like the Hammock Hotel in Ho Chi Minh City. (Read our full review here).
---
#7 Language barrier is a real
When I read that people in Vietnam don't speak English at all, I didn't quite take it seriously. The gravity of the situation hit hard only when we reached Vietnam.
Now I am not saying that the whole world must know basic English. But in many cases, at least hotel staff or people associated with the hospitality industry understand or talk basic English. Likewise, shopkeepers, cafés, and restaurants from touristy areas are often good at English.
But that is not the case in Vietnam. Language is a major barrier and you would notice the struggle when booking a cab, talking to a tour agent, ordering food, shopping or buying a sim card, etc.
If you are used to being able to communicate easily with locals in other South East Asian Countries, the lack of English understanding would shock you when in Vietnam.
How to cope with language barriers when in Vietnam
– Download Google Translate or any other offline Vietnamese translator
– Carry a picture translator book with you if you can. It is super simple to use and so much faster than a translating app at times.
– Prebook tours online on Klook.
---
#8 Overcharging is common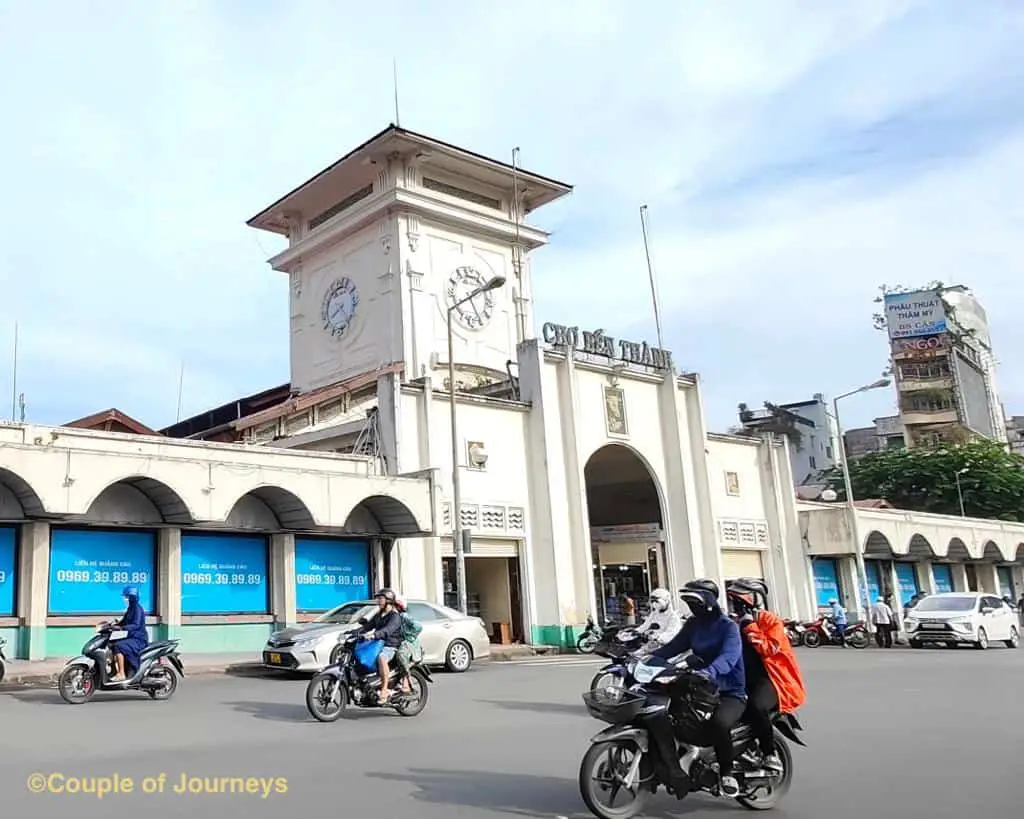 Vietnamese currency makes it a budget-friendly destination for many – provided tourists don't fall for the overcharging practices followed all across the country. There are separate menu cards for foreign tourists. Tour operators quote a much higher fee to Western tourists. Shopkeepers quote sky-high prices to innocent foreigners. Overall, the chances of you getting ripped off in Vietnam are high if you aren't vigilant and street-smart.
How to cope with the overcharging problem
– Book all your major tours, entry tickets, and commutes beforehand from a trusted online platform. Klook often proves to be cheaper than local pricing for visiting major tourist attractions.
– Bargain heavily when buying from a local vendor
– Check with multiple vendors instead of trusting the first vendor you find
– Compare prices with those quoted online.
– Ask a local to shop on your behalf
---
#9 There are many scammy tour agencies
Tour agencies in Vietnam often issue a receipt in a name that's completely different from the name displayed in their agency. This means that it is easy for tour agencies to scam trusting tourists by issuing fake receipts.
Many tour agencies also have no online presence. Thus, if you were to get into any trouble with your itinerary, you can't really call the agency from whom you had your itinerary booked.
Such scammy tourist agencies often dupe tourists of their money and leave them in sticky situations.
How to cope with scammy tour agencies
– Do not pay money to any agency without cross-checking their online presence. Double-check the receipt issued.
– Read reviews of tour agencies before deciding to go ahead with them
– Opt for agencies referred by other travellers who have used those agencies
– Book tours or tickets from trusted online platforms like Klook or Viator
– Get contact details of the tour guide, driver, or other important points of contact before booking the tour or immediately after.
---
#10 Theft is common
Theft and robbery are common occurrences in Vietnam.
There are bike thieves who steal bags, purses, phones, and cameras without you even realizing it.
In fact, even two-wheeler theft is pretty common in Hanoi and other parts of Vietnam.
How to prevent theft
– Practice basic vigilance throughout
– Don't keep all your cash in your purse or waller
– Avoid flashing your phones or cameras in crowded public places
– Don't carry easy-to-snatch bags. Use secure backpacks or fanny packs
– Don't keep all your valuables and important documents in the same bag
– Don't behave like an 'obvious' tourist.
---
#11 The weather is often hot
Vietnam is not a round-the-year destination. The temperatures are high between March to October in most parts of Vietnam. This only leaves a window between November to February to visit Vietnam. A trip during any other month may prove to be unpleasant because of the heat.
To add to the woes, Vietnam being a fairly long country doesn't exhibit similar weather conditions all across. Thus November even though a pleasant month to visit Hanoi is often a wet and stormy month in Hoi An.
How to cope with the hot weather conditions of Vietnam
– Plan a trip to Vietnam when the weather is usually pleasant i.e. between November and February
– Wear sunscreen at all times.
– Avoid cruises and beach activities during the summer months.
---
#12 Unpredictable rains or floods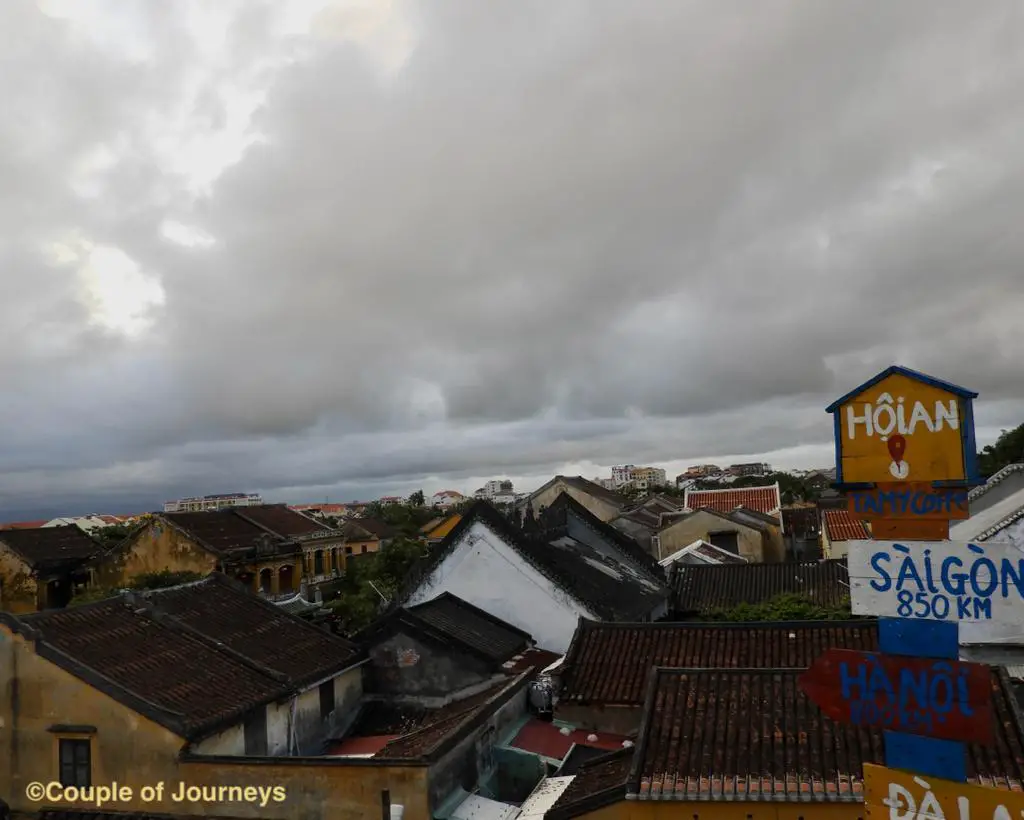 The dry season in Vietnam is not always dry. Expect untimely rains to wash out your travel plans – especially in Central Vietnam. Hoi An and Da Nang have frequent floods and storms between October and November that are bad enough to disrupt your travel plans.
Likewise, Halong Bay cruises also tend to get canceled because of occasional untimely rains.
How to cope with unpredictable rains or floors
– Mentally prepare yourself for the possibility of your trip not going entirely as per plan
– Don't make plans that are too tight. Leave a few extra days in your itinerary to compensate for cancelations on account of bad weather.
– Get travel insurance to cover up for flight delays, cancelations, etc.
– Book refundable tickets wherever possible
– Avoid central Vietnam in October and November and cruises during Vietnam's wet season – June to September
---
#13 There are limited options for vegetarians
Even though Vietnamese people understand the concept of Vegetarianism and now even Veganism, the choices offered to those with these dietary restrictions are far lesser than non-vegetarians.
If you don't mind settling for whatever you get, you would do fine. But if you have specific choices and preferences of the kind of vegetarian or vegan dishes you like to eat, you would end up disappointed.
I being a vegetarian – had to live on Banh Mi chay, steamed rice, Banh Xeo Chay, fruits, and coffee in most places.
How to travel as a vegan or a vegetarian in Vietnam
– Remember that the word 'chay' means vegetarian. Use it to convey your preferences.
– Use the app 'Happy Cow' to find vegan and vegetarian food places around you
– Visit Indian restaurants near you
– Carry your favorite food along with you to avoid hustling for animal-free meals.
---
#14 Animal Cruelty is rampant
Even today you will find animals consumed in large quantities in Vietnamese meals. Don't be surprised to find a dog, cat, frog, snake, turtle, etc on your plate.
Now, this kind of animal cruelty isn't unique to Vietnam but if it is a factor that disturbs you – Vietnam should be off your bucket list.
How to deal with the rampant animal cruelty in Vietnam
– Avoid participating in activities that promote animal cruelty
– Don't eat the meat of animals like dogs, cats, snakes, etc., and avoid contributing to this industry
– Be mentally prepared to see roasted barbeques of dogs, pigs, etc.
---
Final Thoughts
I know that this post would come across as a one-sided bashing of Vietnam. So I want to clarify that Vietnam has been instrumental in creating some of the best travel memories for me and my family in recent times.
I really admired its natural beauty, its food, its stunning towns, the mad traffic, its loud cities, and its rich history and culture. But I could only appreciate it because I went with the right expectations. I had done my homework on Vietnam and went with an open, accepting mind. I didn't visit Vietnam looking to draw parallels or to compare it with the Western world.
If you like traveling with a loving and accepting heart, you'll love Vietnam. If not, all the above reasons would make for good grounds to stay away from the country.
---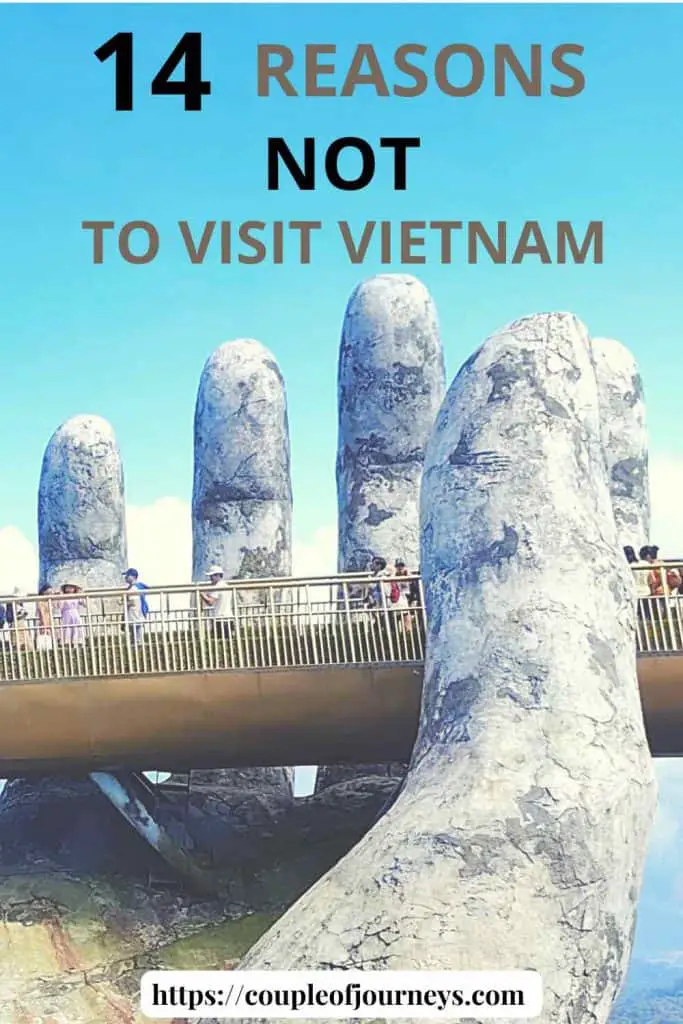 ---
TOP TRAVEL RESOURCES
Here is a list of our favorite travel resources- the ones that I absolutely swear by when planning almost every trip. Go through this list to plan a hassle-free trip and save a lot of money!
Flight Booking: Check the availability of tickets, the best time to fly, and the cheapest fares on Skyscanner. You may also find a cheap flight via CheapOair
Accommodation: I absolutely love booking through Agoda. In most countries and particularly in Asia, I often find the best fares on Agoda. But I also love the no prepayment and no cancellation fee policy of Booking.com. For cheap accommodations and hostels, nothing beats Hostelworld.
Car Rentals: You may find and rent an appropriate car via RentalCars. It's hassle-free and reliable.
Guided Tours: I absolutely love GetYourGuide for local sightseeing tours, walking tours, history tours, and food tours. The booking process is seamless, and the tours are super affordable. But in Asian countries, I prefer Viator or Klook for their affordably priced tours.
Lounge Access: Get Priority Pass – my personal favorite card that gives me unlimited access to premium airport lounges all over the world
Hey, if you found this post helpful, share it with more people or buy me a coffee!