In this post, you will find all the information you need on the best hiking shoes under $100. Thus, you will find buying advice on what to consider when buying hiking shoes under 100 as well as the best hiking shoes review guide.
When it comes to walking and hiking, I am an absolute lazy bum. I am pretty active otherwise – I work out regularly and spend half of my day chasing my hyper-active toddler. But hiking? Nah, I don't engage in that activity unless absolutely necessary!
That's exactly why, a couple of years ago, when my husband and I had to go out on a few back-to-back hikes with my friends, I was super reluctant about spending a fortune on hiking shoes. I spent a considerable amount of time researching and trying out women's hiking boots under $100. My husband, who is as lazy as me (yup, we are a match made in heaven) also tried out a few cheap hiking shoes. Thus, now I feel reasonably eligible to write this review post to help out beginner hikers, budget hikers or other lazy fellas like me find the best hiking shoes under 100!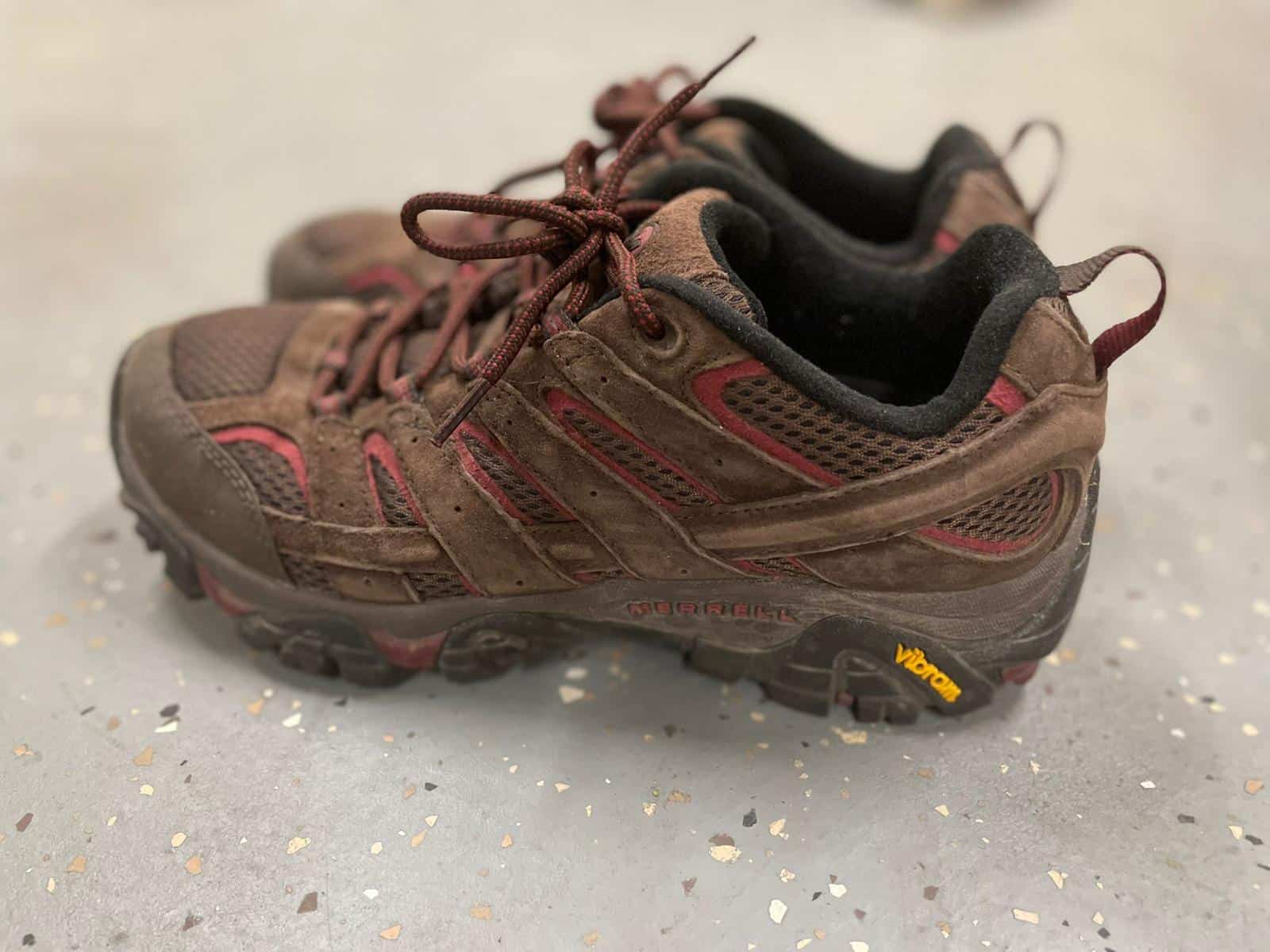 But before I start writing about the the best boots under 100 and put forth their reviews here, I have to make it very clear that even if the title of this post suggests that this post is about the best hiking shoes, I am very shamelessly also going to cover the best hiking boots for under 100. This is because, as the outdoor gear technology is progressing, the gap between hiking boots and hiking shoes in terms of comfort and performance is reducing. Thus whether we opt for shoes or boots hardly matters any more – and in fact, matters even lesser, when you are looking at the best cheap hiking shoes (or boots!)
Now that I have got that settled, let me now talk about some of the best hiking shoes on a budget and review those for you.
This post may contain affiliate links. If you make a purchase through one of these links, we may receive a small commission at no extra cost to you. Please read the disclaimer for more information.
Top Pick: Best Hiking Shoes under 100
Merrell Moab 2 Vent Hiking Shoes for Men or Women
The Merrell Moab 2 Vent Hiking Shoes are the best hiking shoes under $100. They are lightweight, keep the debris and small stones out and have an excellent grip to stop you from slipping. Read the detailed review in the review section below.
---
Comparison Chart: Best Hiking Shoes and Hiking Boots under 100
Here's a quick comparison chart to help you get a bird's eye view of all the hiking shoes mentioned and reviewed in this article. The figures mentioned below are on the basis of the best hiking shoes for men. Most of these shoes also come in a female variant.
Factors to consider when buying the best hiking boots under 100 dollars
We are talking about budget hiking shoes here and therefore it is important to set our expectations reasonably. Referring to generic buying guides enlisting the best rated hiking shoes will not help us when we have a budget of only 100 dollars for hiking shoes.
Thus what are the most important factors that you should consider when buying cheap hiking shoes?
Comfort/Fit
No matter the price of your hiking shoes, if they are not comfortable or if they don't fit you well, you will hate them. You will find yourself longing to take off your hiking boots and the entire hike will turn into an agonizing experience.
For fit: Check the size guides. For wider feet, opt for a wide-size.
For comfort: Buy hiking shoes that use a breathable upper like mesh. Waterproof shoes will not be as breathable as non-waterproof shoes.
Remember that the fit and the comfort should work together in such a way that you feel confident to hike. Your feet should not feel fatigued and your ankles should feel adequately supported when
Waterproofing
Waterproofing is often a welcome addition when buying budget hiking shoes. This is because they make the shoes more versatile for all-round use thereby increasing their value for money! However, if you are sure that you won't be heading out on hikes in wet or snow conditions, it is best to buy a pair of non-waterproof hiking footwear mainly because it is far more comfortable and breathable than waterproof shoes.
Weight
Irrespective of the price that you pay for your hiking boots, a pair of lightweight hiking boots is always better than heavier hiking boots. Moreover, the lighter the shoes the more comfortable they are.
But what you should remember is that when it comes to hiking shoes under 100 dollars, the quality of material used is not great. Thus, the shoes, even though lightweight, may not perform well on tricky terrain or may not last as long as the expensive hiking shoes. So when you opt for the best lightweight hiking boots under 100 dollars, do not expect them to be feature-rich or super durable.
What are the factors that you will have to compromise on buying hiking boots under 100 dollars?
Some key features that are not available in cheap hiking boots or hiking shoes are:
Durability: Budget hiking shoes are not meant to survive regular hiking in varied terrains. They will start wearing out if put to frequent, rough use.
Smart lacing: Smart lacing is a feature that often comes in high-end shoes. It saves lacing time, keeps the laces securely tied and adds ankle support. Unfortunately budget shoes do not offer this benefit.
Premium-quality cushioning or shock absorption: The mid-sole of hiking shoes comes equipped with shock absorbing compounds and plastic components. The quality of the material used is far superior in expensive shoes than in budget hiking boots. In fact, not only is this quality directly proportionate to how shock absorbent the hiking boots are but it is often the primary factor that determines the durability of boots. However, hiking shoes under 100 do not employ high-end shanks or tough plastic inserts but settle for a soft cushioning compound only.
Thus, to summarise, high-end hiking shoes are designed to meet specific hiking requirements. Their design and construction, therefore, employs high-quality material. Thus, when buying budget hiking shoes, buy shoes that fit well, feel comfortable and are good enough to take on odd hikes. Expecting anything more would only end up disappointing you!
Best Hiking Shoes: Reviews
In this section I am going to review the best hiking shoes and the best hiking boots under 100 dollars. Go through the reviews in detail to zero down on the ones that meet your requirement.
(If you are from India, and looking for the best trekking shoes in India, read the detailed post on the best Indian trekking shoes here)
What I like: Super comfortable, versatile, breathable, durable
What I dislike: Not waterproof
Who should buy these hiking shoes? Anyone who hikes in dry conditions and wants durable shoes for a budget.
As stated above, the Merrell Moab are the best hiking shoes to buy on a budget. For people like me, who don't go out hiking too often, shoes that need to be broken into often seem to be a hassle. But, these hiking shoes do not need any break in time and hence can be worn straight out of the box.
The comfort that these hiking shoes offer is unparalleled and the numero uno reason why I rate these shoes above all others. The mesh upper is highly breathable and excels at keeping the feet dry.
The Vibram sole is very durable and feels grippy even after multiple uses – a delightful quality when compared to other hiking shoes in this price range.
Moreover, without sounding too superficial, I also give a few extra points to these hiking shoes for their great looks. No matter what colour you opt for these hiking shoes have been designed to be the look good on both men and women. What's impressive is that the shoes do not lose their sheen even after multiple hikes on dusty terrains.
The only downside to these shoes is that they are not waterproof. Merrell does have a waterproof variant in boots that is widely popular but it comes for an extra price. The Merrell Moab Vent 2 are not waterproof but if you are looking for the best hiking shoes for summer, you should not look beyond these comfortable beauties.
(P.S: The comfort of these shoes is so appealing, you may even be tempted to replace your everyday shoes with these ones!)
---
What I like: Versatile, breathable, lightweight, comfortable
What I dislike: Not waterproof, not suitable for regular hiking or trail use
Who should buy these hiking shoes? Anyone who wants sporty shoes than are bankable for occasional hikes and trails
The Adidas Outdoor Terrex AX3 Hiking shoes are meant for logging trail miles or for heading out on relatively flat hikes. They provide excellent traction on the hike and the lightweight material prevents foot fatigue as well. They are fairly reliable for regular use but the sole does start to show signs of wear and tear if put to rigorous use.
In terms of fit, these shoes are cut out for narrow to regular feet. Wide feet may find the slender cut uncomfortable and it is best to opt for other hiking shoes and boots listed in this section.
What I love about these hiking shoes is that they do not carry a rugged heavy look like other hiking shoes. They look sleek and sporty and in fact the sole supports non-hiking uses as well in case you want to double up your hiking shoes for casual golf or other light sporting activity.
To sum it up, these hiking shoes are not meant for serious hiking but work incredibly well for long trails, occasional hikes and if used sparingly deliver great value for money.
---
What I like: Budget-friendly, great support, lightweight, comfortable
What I dislike: Not quite waterproof, prone to quick wear and tear
Who should buy these hiking shoes? Those that want super cheap, comfortable hiking shoes.
I love these hiking shoes for how comfortable they are. In my opinion, after Merrell Moab, these are the most comfortable hiking shoes in the market. Plus, they come at a super affordable price too and hence deliver great value for money.
The cushioning in the midsole keeps the foot firmly placed and protects against light shocks on uneven trails. The uppers are made from leather and mesh and render a secure but breathable finish.
However, what bothered me about these hiking shoes was how flimsy the material felt when exposed to wet conditions. The shoes are branded as waterproof shoes, however, their glue and grip just cannot sustain wet conditions.
If you look at these shoes as non-waterproof budget shoes, these are probably the best lightweight hiking shoes for women and men.
---
What I like: Budget-friendly, great ankle support, lightweight, comfortable, waterproof
What I dislike: Prone to quick wear and tear, not suitable for wide feet
Who should buy these hiking boots? Those that want cheap, comfortable hiking boots for all-weather conditions.
To begin with, I love the Columbia Newton Ridge Plus because they are boots and yet come with a cheap price tag. Boots are, by default, sturdier and offer more support than hiking shoes. However, the complaint that I have with many hiking boots is that they feel heavy and less roomy than shoes and hence take time to get used to. However, because these boots are super lightweight, my feet quickly adapted to them and I hardly longed for regular shoes.
That said, my husband's feet are a bit wider and even the wide variant didn't feel roomy enough for him. So if you have wide feet, it is best to avoid these boots. Also, the boots are inherently waterproof but factors such as improper lacing, and an improper fit do impact the effectiveness. Thus, what I am trying to say is that they will not provide blanket protection against water the way higher-end hiking boots do but will definitely not leave your feet completely drenched.
Overall, to sum it up, if you are looking for the best lightweight hiking boots under $100, go for them!
---
What I like: Great out-of-the box comfort, suitable for wide feet, waterproof, offer good value for money
What I dislike: A bit expensive compared to other options in this price range, a female variant is unavailable
Who should buy these hiking shoes? Those that want affordable, comfortable, waterproof hiking shoes
The North Face Hedgehog are the best hiking trail shoes in this price range. They come equipped with an excellent rubber sole that grips the surface well even in wet conditions. The shoes also fit really well and seem comfortable straight out of the box, without any break-in period required.
The sizing runs wide which is a great boon for people with wide feet but those with narrow feet could struggle.
In my opinion, for the price range in which these shoes feature, they do a great job at repelling water. These could possibly even be the best waterproof hiking shoes under $100.
It's a shame that these do not come in a female variant. Women will either have to test these shoes for the fit or try out other hiking shoes from North Face which boast of similar features.
---
What I like: Great value for money, classic style, waterproof, durable
What I dislike: Need to be broken into, not suitable for extreme hiking conditions
Who should buy these hiking boots? Those that classic looking best waterproof hiking boots under $100.
Timberland is one of the best hiking shoes brands and has been known to produce the best hiking boots in the market that come in a classic style and provide modern-day features and support.
Therefore, it is no surprise that the Timberland White Ledge are considered by many to be the best hiking boots for men.
The lacing system on these boots feels premium for this price range. Moreover, these hiking boots are waterproof and can be easily worn in snow and wet conditions. They are also super durable and can last multiple hikes without any wear and tear.
For infrequent hikers like me, who take pride in only heading out on easy hikes and trails not more than once every few months, buying these boots is a great way to stay hiking-ready for a few years!
---
What I like: Stylish, super lightweight, great value for money, versatile, waterproof, breathable
What I dislike: Odd sizing, a bit expensive
Who should buy these hiking boots? Those looking for the best light hiking shoes that are waterproof yet abundantly breathable.
Whether you are looking for the best hiking shoes for men or the best hiking shoes for women, Salomon is a brand that can be trusted with delivering quality. Therefore, this budget offering from Salomon goes above and beyond in terms of quality and construction.
The only reason why they don't feature here as my top choice is that they are priced a bit higher than the Merrell Moab listed above. But if you are a serious hiker or a regular hiker, these shoes can offer the best value for money.
First of all, they are the lightest shoes on this list and the slight difference in weight from some of the shoes listed above is noticeable when worn. Its waterproofness is excellent. The fit, if you find the perfect size for you, delivers supreme comfort.
Moreover, the shoes feel grippy and can be relied upon for tough hikes in wet or snowy conditions. The padding in the midsole offers incredible shock absorption and the shoes protect against debris and rarely look soiled.
Overall, these shoes are a great buy for those who want to stretch their dollar to the fullest!
---
Final Thoughts
Buying affordable hiking shoes is often an excercise that involves going back and forth with choices mainly with a view to maximise your return on the money spent. Therefore, I can completely understand if going through the above reviews has still left you feeling a bit confused. So as a quick summary, here are my top picks based on random criteria-
Best hiking shoes (budget): Merrel Moab 2 Vent
Best hiking shoes for summer: Merrel Moab 2 Vent
Best waterproof hiking shoes: Salomon Crest X
Best waterproof hiking boots: Timberland White Ledge
Best hiking shoes for wide feet: The North Face Hedgehog Fastpack
Best lightweight hiking shoes: Salomon Crest X
Best lightweight hiking boots: Columbia Newton Ridge Plus Waterproof Hiking Boot
Best trail hiking shoes: Adidas Outdoor Terrex AX3
Tell me your pick from the list above in the comments section below. Also do check out the other buying guides here.
---
Hey, if you found this post helpful, share it with more people or buy me a coffee!