Best Stroller in India 2020 – An Ultimate Guide
This website contains no sponsored content. The content is written entirely on my own and is based on my personal experience and extensive research. This post may contain affiliate links. If you make a purchase through one of these links, I may receive a small commission at no extra cost to you. As an Amazon Associate I earn from qualifying purchases. Please read the disclaimer for more information.
This post contains complete information on the best baby strollers or baby prams in India. All the strollers recommended and reviewed in this article are made by some of the best baby stroller brands in India.  
Are you one of those people trying to decode the world of baby strollers and looking for the best baby stroller in India? My husband and I were in the same boat a few months ago before our trip to Bali when we looked up a number of articles online trying to zero down on the best stroller in India. We also went to a number of shops and reviewed strollers and prams in person. Since we are travel bloggers, we wanted a good stroller that we could use not only on a day-to-day basis but also while travelling.
After a deep study of the baby strollers online and personally trying out quite a few different brands, we thought it's time to write a detailed post to help out fellow Indian parents going through the same struggle as we did.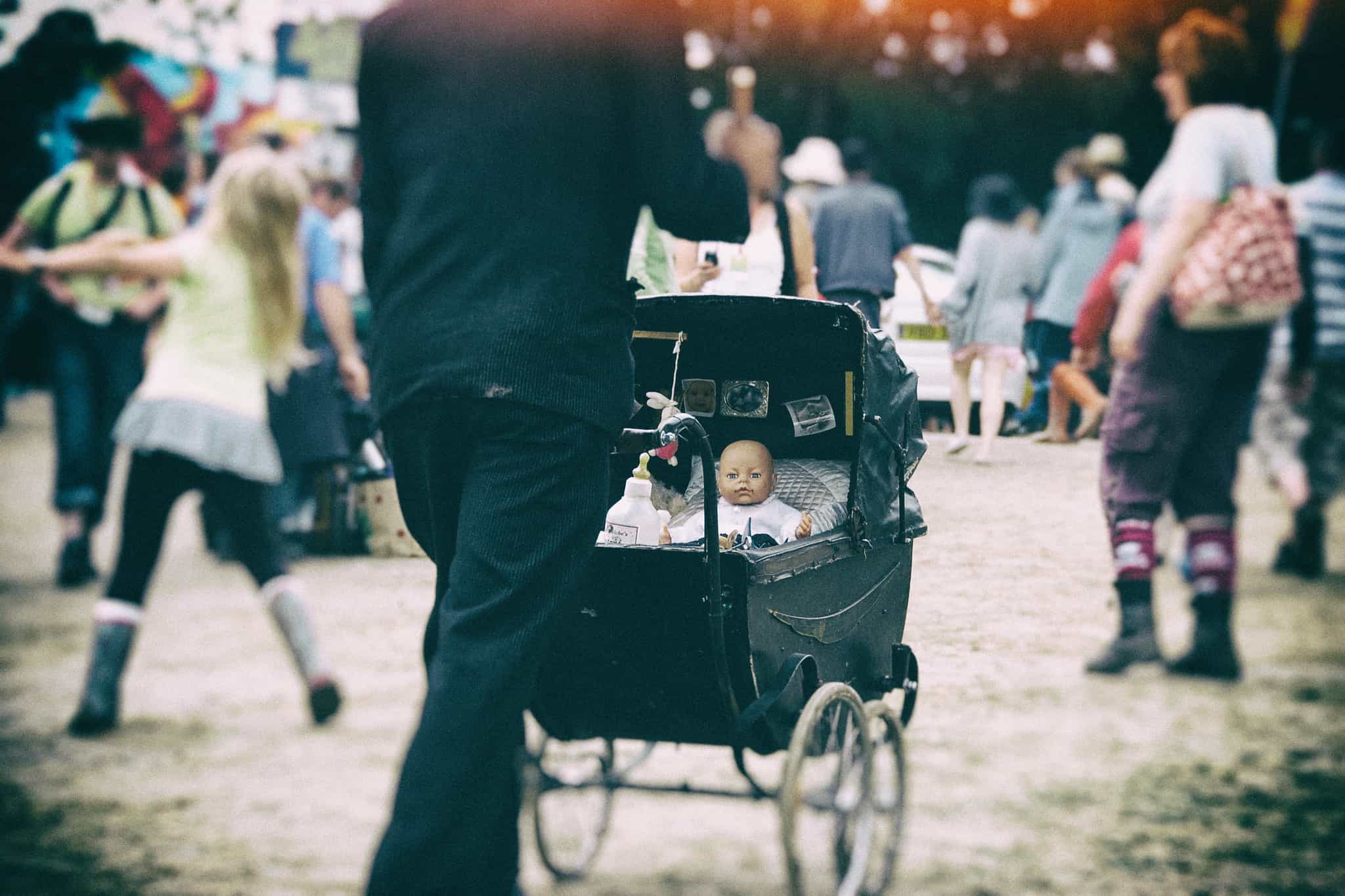 There are a number of different types of strollers and baby prams in India that are easily available online. I recommend that you go through the quick comparison table below. It lists down all the recommended strollers and specifies their type, features and baby stroller price range. You can find more information on these strollers below.
What's the difference between baby strollers and baby prams?
In the Indian context, none. But, technically, prams are for newborn babies who can't sit up and need to lie down as they can't hold up their neck while strollers are meant for babies who can sit upright through the age of 3-4 years.
Prams, being made mainly for newborns and infants, are usually more covered and are meant to protect from dust and noise while offering full support to the back.
However, today, baby products are becoming more and more sophisticated. Therefore, strollers are designed to work as prams and prams are designed to work as strollers. In short, the two terms can be easily used interchangeably.
Thus, when looking for a baby pram online whether you search for 'the best baby stroller online' or 'the best pram online' you will end up with the same set of products on the results page!
(Random info – I have also heard of some Indians refer to a baby stroller as a baby trolley or a baby buggy or a baby pushchair. But, in essence, all these terms refer to a stroller)
Should you buy a Baby Stroller?
Given the infrastructure condition in India, whether buying a stroller makes sense is a question that would cross anybody's mind.
You should buy a stroller if –
You hate carrying your baby
You would like to travel with your baby
You don't mind the struggle of folding up the stroller every time you need to travel in a car or fly.
Your have to go out for lunches and dinners at places that may not have a baby chair. (Your stroller would perfectly as that extra baby chair in such cases)
You would like to free up your hands while your baby naps
You do not need to climb up and down a lot of stairs
You intend on using it at places such as malls, gardens, and neatly paved surfaces where manoeuvring a stroller will not be a problem.
If most of the above points apply to you, then please go ahead and buy a stroller.
However, if they do not apply to you and you are still unsure about buying a stroller, I suggest that you stick to using a baby carrier instead. Our guide on the best baby carrier in India will prove to be super useful to you.
As for us, we always keep our baby carrier handy and whenever we travel to places with good quality roads or when we visit malls, we take the stroller along.
Types of strollers / prams
Full-sized stroller
A full-sized stroller is more commonly called a 'pram' in India. It is a pram that works from birth to toddlerhood.
Umbrella Stroller
It is a light-weight, travel-friendly stroller that collapses easily. An  umbrella stroller in India is made commonly and mostly freely available in places such as airports, shopping malls and zoos.
Jogging stroller or baby jogger
It's a stroller that you can take along with you when you intend to go jogging and don't know where to leave your baby. (Such privileges are pretty much inapplicable to the bumpy roads in Mumbai. The rest of India may give these different types of strollers a shot!)
Double stroller
This is a stroller designed to accommodate your twins and therefore also referred to as a twin stroller. Alternatively, it can also be used to accommodate two babies or toddlers as your family grows.
However, from the point of view of travelling with a double stroller, it is very important to buy the best double stroller for travel. For everyday use, you could use any of the lightweight double strollers available in the market.
Travel system
A travel system is a combo of the full-sized stroller and car seat that matches and fits well into each other when required.
Suggested Read: Read all about the best trolley bags in India here
Baby Stroller Features
Before you buy a stroller, you must study the safety and convenience features offered by a stroller. Some key aspects to watch out for are –
1. Harness
The two types of harness options offered in the variants of baby strollers in India are – a three-point harness and a five-point harness.
Three-point harness secures around the waist of the baby while a five-point stroller offers optimal protection as it has shoulder and waist straps to secure the baby. The best baby strollers in India will come with this type of harness.
2. Sturdiness 
A stroller must be sturdy. It should not topple on uneven roads or lose its balance based on the movement of the baby or road conditions. The best stroller brands in India offer sturdy strollers ideal for Indian conditions.
3. Reversible Handle 
This feature is extremely important when you are using the stroller for an infant or a baby. If the handles of the stroller are reversible, it allows the baby to face you and feel more secure. Strollers that face you also make it easy for you to keep checking on your baby.
4. Collapsible with one-hand
Some strollers can be folded with one-hand. This is a very handy and useful feature when you are alone with the baby and have no help to hold the baby while you fold the stroller.
Over and above these features, some features which you may want to consider while buying a pram for your baby are –
Reclining capacity
Wheel-lock
Mosquito net / rain cover / canopy
Removable tray, cup holder
Best Stroller in India – Our Recommendations
If you don't want to read any further, this is the best stroller for you. In our opinion, this R for Rabbit stroller is the most ideal stroller available for Indian consumers in terms of its affordability and features.
The design of this stroller is attractive. Babies enjoy sitting in it.
It offers a five-point harness flawlessly capable of securing a newborn baby or even a toddler. The suspension is designed specifically for Indian roads and the baby is protected against all road-bumps! The linked brake and front-wheel lock feature make controlling the stroller very easy.
Additionally, it offers all the premium convenience features such as a quick pull button fold, a removable food tray, and cup holder, a three-position recline and a two-position footrest and a UV Protection canopy to protect against harsh sunlight.
These features also work seamlessly when the handle is reversed to face the baby. The seat of this stroller may feel a bit too hard but in my opinion, it helps in protecting the back of the baby. If you are unhappy with it, you can always throw in a blanket or a soft-cushion!
The only minor downside of this stroller is that the stroller when folded is approximately 100 cms and may not fit in the boot of certain hatchbacks. This stroller may also feel a bit bulky for travel.
Amazon: Check the latest price here
Although this is one of the cheapest strollers available in the Indian markets, it packs a large number of features. It comes with a reversible handle feature, three-position seat recline, and an adjustable footrest and wheel-locks. A large storage basket and a back pocket (large enough to hold your phone) help you keep your hands free. The stroller is also quite compact and fits comfortably in the boot of the car.
It is one of the cheapest baby stroller and ideal for if you are not looking to put the stroller to long-term or rigorous use. However, the three-point harness makes using the stroller at an infant stage a bit risky. The wheels are also ideal only for use on smooth roads or malls.
Amazon: Check the latest price here
(A similar product in this price range is the Luvlap Star Shine Baby Stroller)
This is the mid-range from Luvlap and overcomes most of the shortcomings of its budget version. It possesses high-end safety features including a five-point harness and reliable wheel-brakes comparable with the standards set by the best baby prams in the world. This stroller also allows three-position recline, a reversible handle and comes with a storage basket, a back pocket, and a detachable food tray.
This stroller is also pretty compact and can be carried around in the boot of the car without any issue.
Although the makers claim that the stroller can be folded with one hand, in practice, it does not fold smoothly. Also, the stroller doesn't balance particularly well on its own when folded and may fall down increasing the likelihood of damages.
But aside from these minor issues, the stroller feels particularly rough and tough and great for daily use.
Amazon: Check the latest price here
This is a great stroller if you want a light-weight stroller that is compact enough to leave enough space in your car boot for other stuff. It folds in a jiffy with one hand and comes with a strap to carry it around. The handles grip well. The seat can be reclined to an angle that works well with your baby. It is sturdy enough for daily use in moderately good road conditions. The stroller works well with older babies or toddlers who can sit unsupported with ease.
However, it is important to note that it is not a full-sized pram and therefore is not equipped with a food tray, a cup holder or a storage basket or other convenience features.
Amazon: Check the latest price here
This is one of the premium strollers available in Indian markets. If you have the budget for it, you must go ahead and buy this product without any further thought!
Needless to say, this chic expensive stroller is equipped with all the key safety features such as a five-point harness, strong sturdy wheels, and a good brake-system. The suspension quality is top-notch providing maximum comfort to your baby in Indian road conditions.
Being a premium product, much thought seems to have gone in the making of these products. The storage basket is large and accessible. What's great is that the handle is adjustable as per the requirement of the parent and taller people don't have to bend much while navigating the stroller.
On the flip side, bear in mind that the stroller may seem a bit bulkier than the other baby prams online in India. Also, although the stroller stands on its own when folded, it is a bit larger than other strollers and may not fit in all cars.
The baby pram price of this premium product will seem totally worth it when put to daily rigorous use.
Amazon: Check the latest price here
As travel bloggers who want to travel the world with our baby, this stroller fits the bill on all fronts. This one is, without a doubt, the best travel stroller in India. It is extremely light-weight, super affordable and yet packs almost all the convenience features offered by some of the best prams for babies in India.
This stroller is EN 1888 certified and thus furnishes a reliable five-point harness and an efficient braking system with quality suspension.
The highlight feature of this stroller is its one-hand fold mechanism. It's one of the smoothest! In fact, this stroller folds so effortlessly with one-hand that it is great for security checks at the airport when you have to fold the stroller, pick your baby, all while carrying your passport and boarding pass! The compact downward fold makes it easy to drag it around like your trolley luggage.
Although the wheels of the stroller are not large like the other strollers mentioned in this post, they are strong enough to provide a smooth ride to your baby in decent quality road conditions.
Amazon: Check the latest price here
This full-sized pram is slowly gaining more and more popularity. It is moderately priced, comes with a five-point harness and multi-position back and footrest. It is relatively light-weight for a full-sized stroller and also quite compact for lugging around in cars.
Its unique twin front wheels and its anti-shock mechanism provide great support to a baby even in low-quality road conditions. The cushioning provided in this stroller is particularly soft and feels premium for this price range. Additionally, the stroller also has a tissue and a bottle-holder above the canopy. This is over and above the food and bottle tray for the baby. The storage basket is perfect for market visits.
The major downsides of this product is that the makers do not recommend it to be used by babies younger than 6 months and that the handles of this stroller are not reversible. Thus your baby will not be able to face you when riding on this stroller.
Amazon: Check the latest price here
Conclusion
I know that reading about all the above strollers is likely to leave you confused given that all of them have quite a few common features and yet the baby pram prices of the above seem to vary I faced a similar dilemma when I did my research on the best stroller in the Indian markets.
So to assist you in zeroing down from the list of the best strollers in India mentioned above, here are some of my insights –
Disclaimer: Couple of Journeys is a participant in the Amazon Associates Program, an affiliate advertising program designed to provide a means for sites to earn advertising fees by advertising and linking to amazon.in.