10 Things to do in Goa with Kids: Useful Ideas & Insights 2023
This website contains no sponsored content. The content is written entirely on my own and is based on my personal experience and extensive research. This post may contain affiliate links. If you make a purchase through one of these links, I may receive a small commission at no extra cost to you. As an Amazon Associate I earn from qualifying purchases. Please read the disclaimer for more information.
Want to travel to Goa with your kids and wondering what all you could do?
In this post
I enlist all the things to do in Goa with kids,
honestly answer if Goa is a good place to visit with kids,
suggest where to stay in Goa with kids,
guide on the best time to visit Goa with kids and
give you a few quick tips to prepare for your trip to Goa with kids
I have travelled to Goa over twenty times in the last decade. Out of those trips, one was a trip to Goa for my babymoon when I was pregnant and then three trips to Goa were with my daughter – first as a baby and later as an active toddler. All through these trips, I realised that Goa with kids feels different even though many of the places we visit and things we do remain the same. What I mean is when you visit Goa with kids you still visit beaches, museums and tourist attractions but the things you do at the beach as well as how, when and for how long you visit tourist attractions, museums, etc. changes creating a refreshing new experience for you.
Read on to find out all about travelling to Goa with kids and all the things you can do with kids as well as a few that you can't!
This post may contain affiliate links. If you make a purchase through one of these links, we may receive a small commission at no extra cost to you. Please read the disclaimer for more information.
Is Goa good to visit with kids?
Since Goa is reputed for its wild parties and drinks, many people wonder if Goa is good to visit with kids or if the destination is best enjoyed by youngsters, friends and couples.
My take on this is that, Goa is good to visit with kids provided you don't mind the lack of typical kid-friendly touristy attractions like zoos, bird parks, amusement parks etc. Goa, on the other hand, is a great destination to introduce your kids to natural beauty in the form of pretty beaches, rivers, waterfalls and wildlife. It is also a great place to help older kids understand the impact of Portuguese rule on Goa and the present-day co-existence of different cultures.
So if you set your expectations straight, you would have a wonderful time in Goa with kids. But if you visit Goa looking for fun activities specifically created for the entertainment of kids, you would end up disappointed.
In the later part of the article, I will tell you how to prepare for a trip to Goa with kids.
How to travel in Goa with a kid?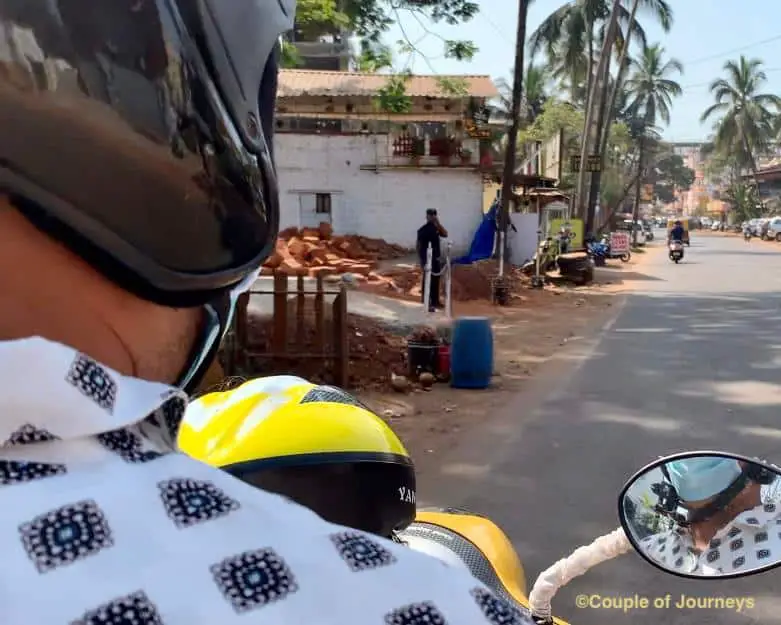 If you are travelling with a toddler and won't be travelling extensively, you can hire a scooter and have your kid stand in the front or sit between the two of you. (For safety, I recommend carrying a kids helmet like this one with you to Goa. Your scooter rental provider will not have one)
The best option, however, is to book a tourist vehicle with a driver or a self-rental car.
If you have an older kid and you only want to roam around locally within in the area near your hotel, you all can even rent a cycle each.
---
10 Things to do in Goa with kids
Now that you're clear on what to expect on your trip to Goa with kids and how to travel in Goa with kids, let me tell you all what's in store for you- the things to do in Goa with kids and the places to visit in Goa with kids.
1. Take your kids to Goan beaches
This one's obvious! But here are a few tips on visiting the beaches in Goa with kids.
Which beaches to visit:
Visit beaches that have good touristic infrastructure in the form of shacks, washrooms, parking etc. But choose the ones that are relatively less crowded. e.g. Candolim, Vagator, Morjim, Arambol in North Goa and Benaulim and Palolem in South Goa.
The more deserted beaches in Goa like Ashwem in the North or Talpona in the south are ideal to visit with kids who are a bit older – for a game of football, beach volleyball, frisbee etc. Younger kids who need diaper changes, quick access to washrooms etc. need to be taken to places which are a bit more touristy.
Which beaches to avoid
Avoid rocky beaches like Anjuna in the north and Agonda in the South, especially when you are going to Goa with a toddler or a baby who likes to roam around without footwear.
Avoid the extremely crowded beaches like Baga, Calangute and Colva (only crowded on long weekends during high season) as they are not too clean.
Avoid beaches with narrow access or access involving hiking etc like Mandrem beach in the north and Cola beach in the south.
Goa beach visit tips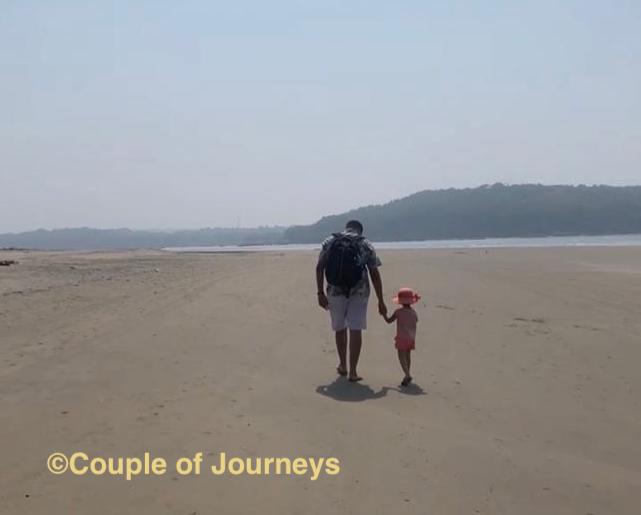 Visit the beach after 4 pm as the sand can get extremely hot during the afternoon.
If you plan to take your kids in the water for a swim, check with the on-site lifeguard before and equip yourself and the kids appropriately.
Beachwear for kids, sand toys, hats and other things will be available in shops close to major beaches e.g. Candolim in the North, Benaulim in the South.
2. Show Goan Forts to your kid
Which forts to visit with kids
1. Lower Fort Aguada:

This fort offers the best views of the sea and there are lots of open areas to walk inside.
The entrance is full of food stalls selling instant noodles, Indian snacks, lemonades and coconut water. Kids exhausted due to sweltering heat love recharging themselves at these stalls.
My 3-year old daughter fondly remembers her visit to this church simply as being a place with excellent views, unique structure and lots of place to run around!
2. Aguada fort:
The historic significance of this fort may appeal to older kids.
Toddlers may find the place too crowded to roam around freely. But it is still worth a quick visit.
If you're going here with a baby, carry your baby in a good baby carrier like Kol Kol to be able to climb the few stairs inside without difficulty.
3. Chapora fort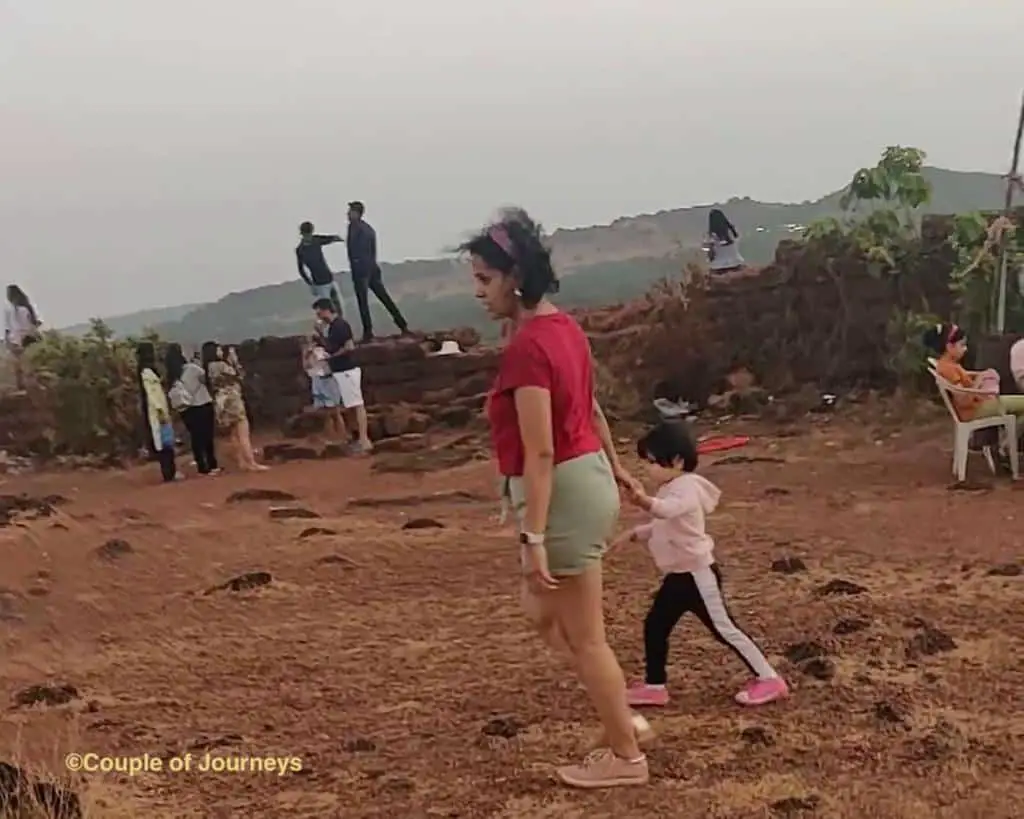 This fort is famous as the sunset fort or the Dil Chahta Hai fort. I think, climbing to the top of the fort would be challenging with a baby. There are quite a few steps and some are a bit uneven.
But toddlers climb to the top easily and in fact, love the little workout along the way. Even older kids enjoy the open space at the top, the stalls along the way and the beautiful sunset from the top.
There isn't much to learn for older kids here as there are very few informational panels. But you can read more about the significance of this fort here.
Forts that you may avoid
Cabo de Rama fort

: Difficult to climb, in ruins and attracts romantic couples and influencers interested in photoshoots

Tiracol fort

: Need to take a boat to visit, now a heritage hotel with little to see.
Goa fort visit tips
The washrooms at most forts are not in great condition. Take your kid to a restaurant or a café nearby if possible.
Avoid visiting at afternoon when the sun is too harsh.
Read up about the history and significance of the place to help older kids understand the place better. This helps them stay interested and get more value from the visit.
3. Plan a quick visit to Goan churches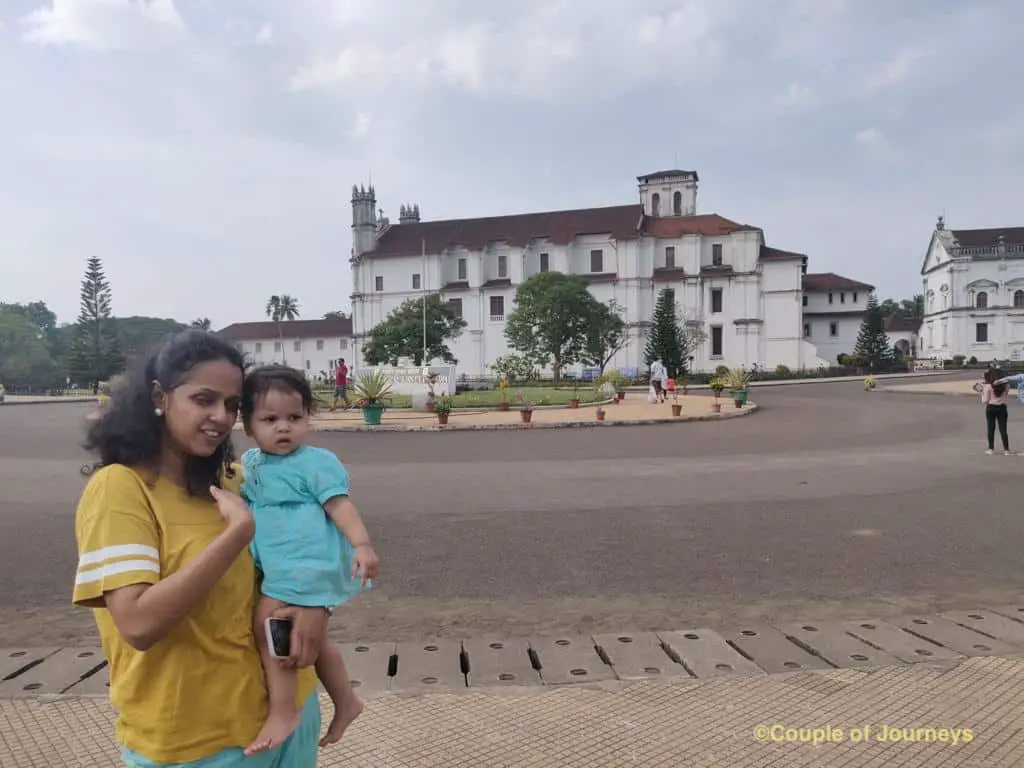 Visiting a church is a great way to introduce older kids to the Portuguese influence over Goa. For this purpose, you can visit all the churches in Old Goa like Basilica of Bom Jesus, Se Cathedral or St. Francis of Assisi Church.
Making the kid understand the architectural nuances of the place would be difficult. You can plan a quick visit though.
If you are travelling with a baby or a toddler, you could avoid visiting these churches, if you aren't very keen. This is because:
The churches are pretty crowded during high season
You may have to wait for about 15-20 mins in queue outside Basilica of Bom Jesus and standing in queue for this long with a baby or a toddler would be difficult
Toddlers are too young to understand the importance of the place.
Parking is not available close to the church and you would have to get off on the main road outside the church complex.
A quick stop at the Immaculate Conception Church enroute other tourist attractions in Goa is the best. You can see the stunning architecture from outside and click a few pictures with your kid.
4. Take a walk around colourful Fountainhas
Kids love all things colourful and therefore a walk around Fountainhas is far more fascinating for kids than you would imagine.
Fountainhas is the old Portuguese quarter in Panjim. Houses and buildings here belong to the Portuguese era and every house is painted in an attractive cute colour.
My daughter was fascinated with these colourful buildings. She loved posing outside these buildings and kept telling me which coloured buildings were her favourite.
During the course of your trip, these little moments may not count for much, but when they form part of conversations for months after you come back, you realise how introducing kids to different surroundings matters.
You can pamper your kid with freshly baked food from one of the many amazing bakeries here. My favourite one is Confeitaria 31 De Janeiro.
5. Take them to Goan museums
There are two museums in Goa which are a must-visit with kids.
Naval Museum
The naval museum is the only naval museum in Asia and probably the only place in all of India where they can see aircrafts from such a close distance.
Kids are thrilled to see huge aircrafts in front of them. Even though they may not understand their role in military operations, their little minds get a lot of joy from seeing actual aircrafts that they normally only see in books.
The touristic facilities here are also excellent. They have a small cafetaria that serves good food and also clean washrooms.
2. Big foot museum/Ancestral Goa
Big Foot Museum or Ancestral is an interesting cultural center in Goa. Here show your kids
Lord Parshuram – the creator of Goa as per a Hindu legend
life-sized sculptures of locals
recreations of various rural vocations
variety of actual birds
artefacts from art shops
Toddlers and older kids love this place for the colourful human structures, miniature version of houses and photo points. Plan to spend about 1 hour here.
---
In my digital travel plan, 'Goa – Planned for You' I cover places from this list in a neat, doable itinerary. It's a readymade trip plan for families.
---
6. Mandovi River Sunset Cruise
This cruise is such a fun place to take your kids to.
The facilities on the cruise are excellent for those travelling with babies, toddlers as well as older kids.
The cruise journey is also hardly an hour long which means that kids don't get bored.
On the cruise, the vibe is excellent. Kids get to
see live cultural performances
groove to local Goan music
try out tasty finger foods
experience sailing on a cruise
watch the sunset from the sea
The ticket of this sunset cruise is quite inexpensive. See tour details and availability here.
7. Get them to try out watersports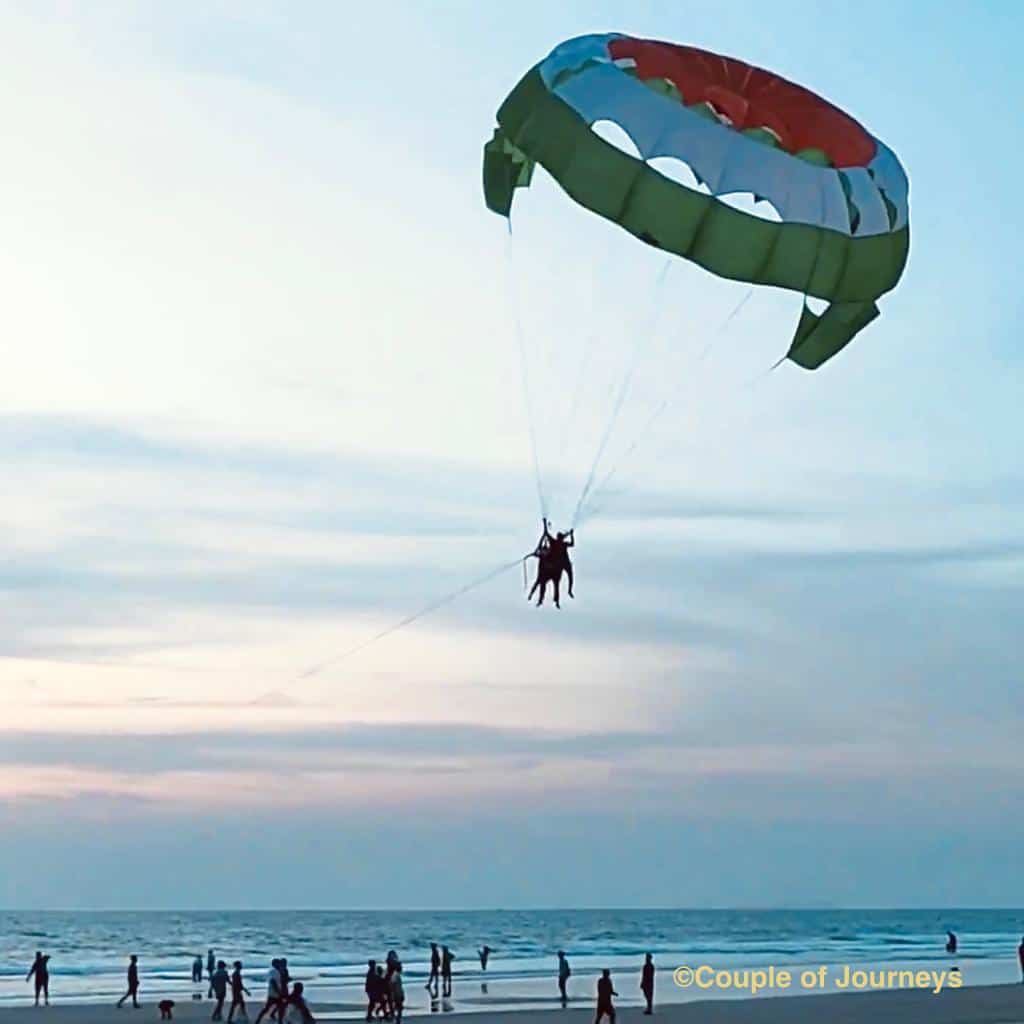 I am starting this one with a big word of caution: Many watersports are not suitable for babies and toddlers. Don't engage in watersports that violate child safety norms.
But for older kids, there are various options like jetski, parasailing, banana boat that are conducted in a safe manner. Engaging in watersport activities is often the highlight for kids visiting Goa.
The best beaches for watersports in Goa are
Sinquerim
Candolim
Calangute
Baga
Benaulim
Colva
Please go to authorised vendors only and let me repeat: do not engage put the safety of your kid at risk.
8. Take them to Bondla Zoo
The Bondla wildlife sanctuary is a beautiful wildlife sanctuary in the interior of Goa. Unlike other wildlife sanctuaries where you need to go on a safari for animal sightings, Bondla has a small zoo inside.
You can see many animals, birds and reptiles here.
The place being situated inside a forest area is green and cool and can be visited even during afternoons.
There are a few eateries around for quick snacks. The place also has washrooms.
Overall, it is one of the rare kid-friendly tourist attraction in Goa that is suitable for a visit with babies, toddlers as well as older kids.
9. Take them to cafés and local restaurants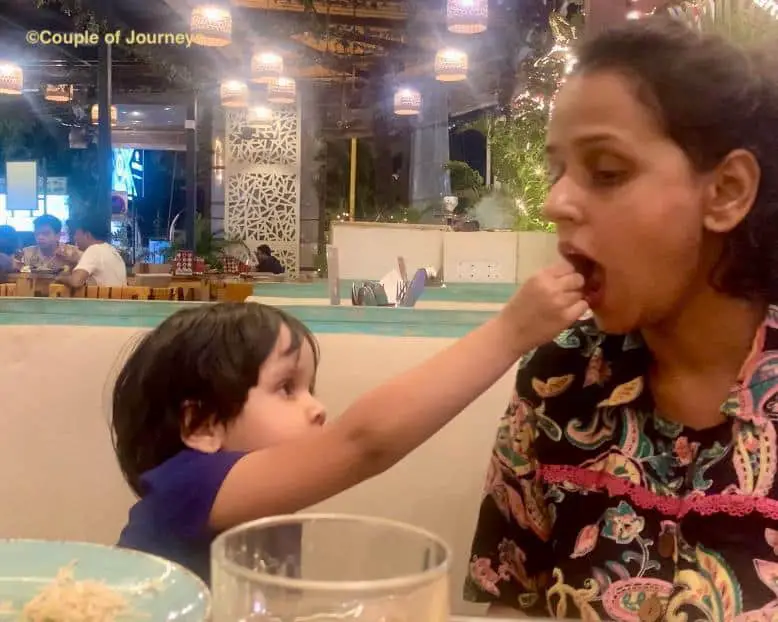 The reason why I am adding this point to the list is because Goan cafés and restaurants are very child-friendly.
Many cafés in peak touristy areas like Candolim, Anjuna, etc. provide baby-chairs and serve child-friendly food like
croissants
pancakes
milkshakes
french fries
sandwiches, etc
Even local restaurants like Vinayak and Ritz were glad to serve their famous dishes in less spicy, kid-friendly variants.
Visiting these places is a great way of introducing kids to newer tastes and food preparations while also getting to eat Goan food you love.
10. Spend a few hours at Snow Park
Honest truth is that visiting a snow park in Goa is one of my least favourite things to do in Goa with kids. This is because the place is entirely manmade, has nothing special to offer compared to snowparks in the rest of the country and visiting the place feels like a waste of my limited time in Goa.
But, that' just my way of thinking. If you or your kids love visiting such attractions, a visit to the Snow Park in Goa could be a fun experience.
In fact, it is one of the few manmade touristy attractions in Goa that's well-maintained and suitable for kids.
The rates are affordable.
The place is located in the heart of Baga.
See more details on the official website of Snow Park.
Additional ideas of kid-friendly things to do in Goa
Please only engage in things that are safe and suitable for your child.
Go kayaking or on a river boat ride (check age eligibility)
visit natural springs in the interiors of Goa
take your older kid swimming in local lakes e.g. sweet water lake of Arambol
go on relatively easy hikes with your kid e.g. butterfly beach hike
---
Things you can't do on a trip to Goa with kids
Visit nightclubs: Night clubs prohibit entry to kids
Attend famous parties: Parties like Sunburn held annually do not allow entry to kids
Engage in extreme adventure sports like bungee jumping – kids are not allowed
Go-karting – most Go-karting places have a height limit of 5 ft 2 inches and many kids may not qualify for it.
Visit a casino
---
Where to stay in Goa with kids?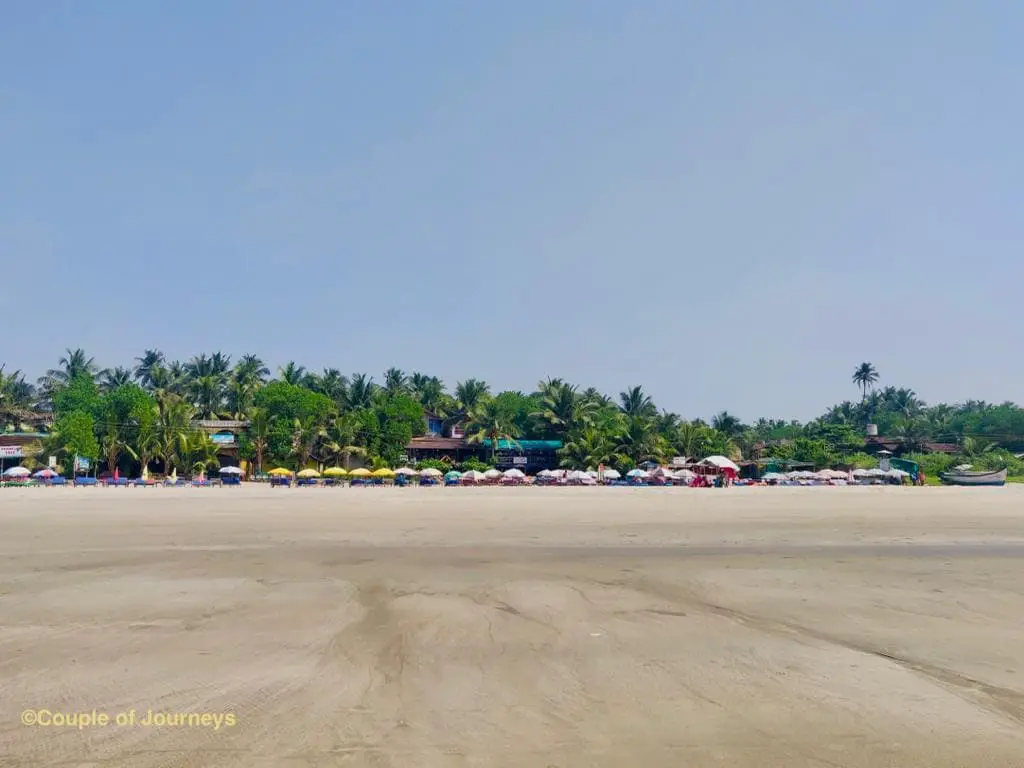 Where you stay in Goa with kids matters a lot. You need to select a property that has enough on-site facilities to keep your kids engaged.
So look for a place with an in-house swimming pool, restaurant, kids play area and an in-room kitchen (for those travelling with babies and toddlers).
Novotel, Candolim: Mid-range, prime location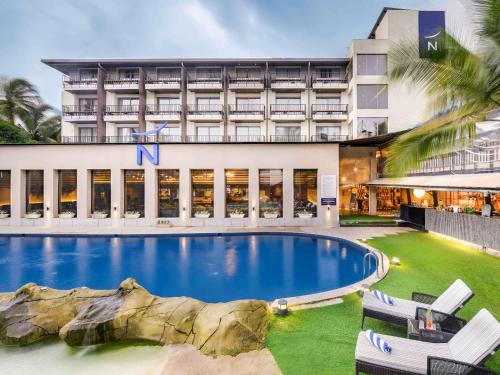 This place has a lovely swimming pool and a kids area to keep younger kids occupied. It is located just a few minutes away from the beach. The on-site restaurant serves family-friendly food. The rooms are really clean and spacious.
There are plenty of restaurants and cafés in the nearby area. You will also find supermarkets and grocery shops at a short distance.
The place is ideal for families across all age groups.
See more photos and availability here
Beira Mar, Benaulim: Moderately priced, close to the beach
This resort is located right next to Benaulim beach – one of the best beaches in Goa for families. The property itself features tastefully designed rooms, lush green outdoors, a large pool and a play area for kids.
The breakfast is sumptuous and the hospitality is quite commendable.
Overall, it is one of the best resorts in Goa to stay with kids.
See more photos and availability here
I recommend more properties and discuss in-depth about the 17 best areas to stay in Goa. Read here.
---
Best time to visit Goa with kids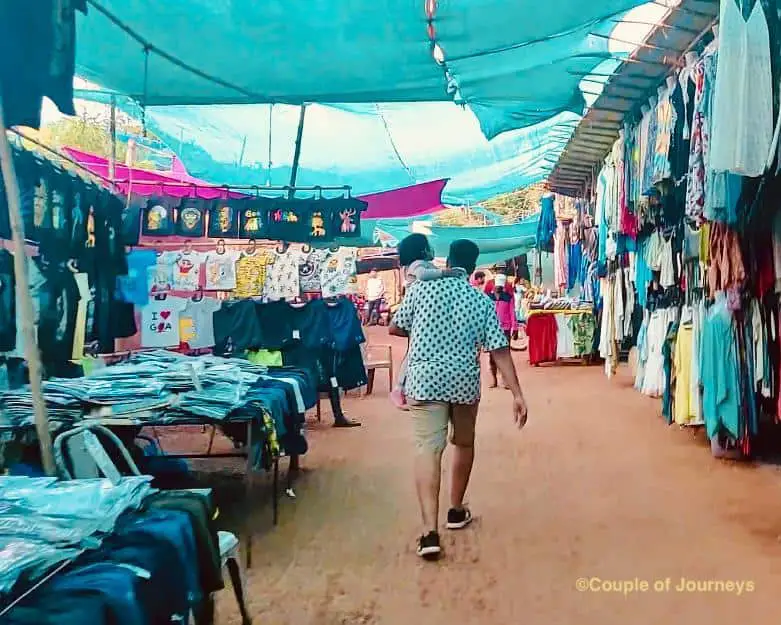 When you choose to visit Goa when planning a Goa trip with kids is a key factor in determining how many of the above things you'd be able to do. I have a full article on the best time to visit Goa that you can read here.
But let me share the gist here for you from the point of view of planning a vacation to Goa with kids. The best time to visit Goa with kids is between the months of November to February.
If you want to avoid crowds, avoid visiting Goa during Diwali vacation and during Christmas and New Year period. The best month to visit Goa with family is January when the weather is the most pleasant, all activities are open and the new year craze is over.
If you visit Goa with kids during other months, especially monsoons, it will be hard to keep your kids entertained as most beach shacks are shut, visiting beaches is not advisable and outdoor activities are difficult to execute either due to harsh heat or heavy rains.
In such a case, plan a staycation. Book a holiday at a resort with excellent on-site facilities like a pool, indoor games, kids play area, musical evenings, etc. For such purposes, getting membership at one of the time sharing resorts like Royal Goan Resorts makes a lot of sense. (Not sponsored) If not, be ready to spend on 5 star properties like the Taj Aguada.
---
How to prepare for a trip to Goa with kids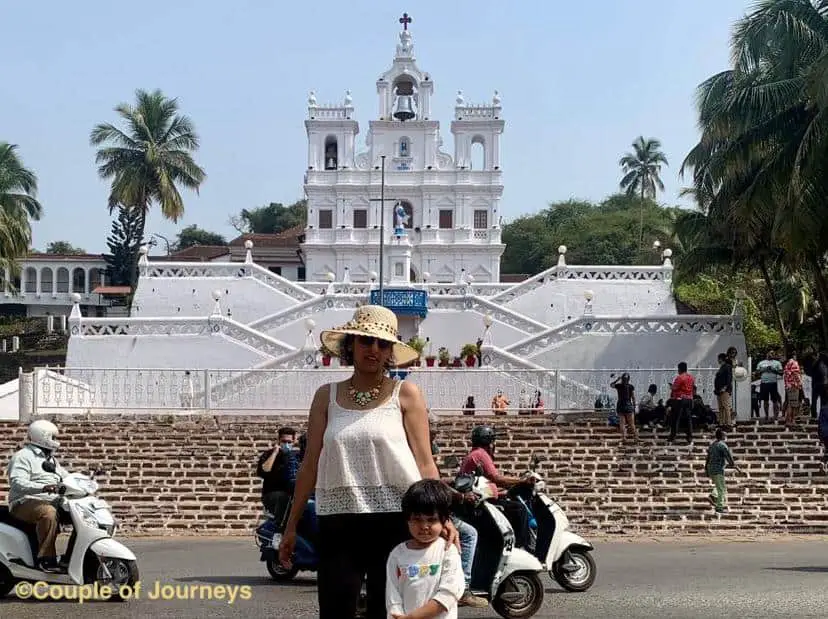 In this section, I will go through a few quick tips to help you prepare for your Goa family trip
For older kids:
help them understand that Goa doesn't have playzones, zoos, amusement parks. Help them understand that the quality of waterparks in Goa is quite disappointing in terms of cleanliness and a visit to one will not be a part of the itinerary.
that Goa is super laid-back and so the thing to do in Goa is basically visit the beach
Tell them a bit about the history of Goa, the Portuguese influence and the significance of the various forts
For babies/toddler: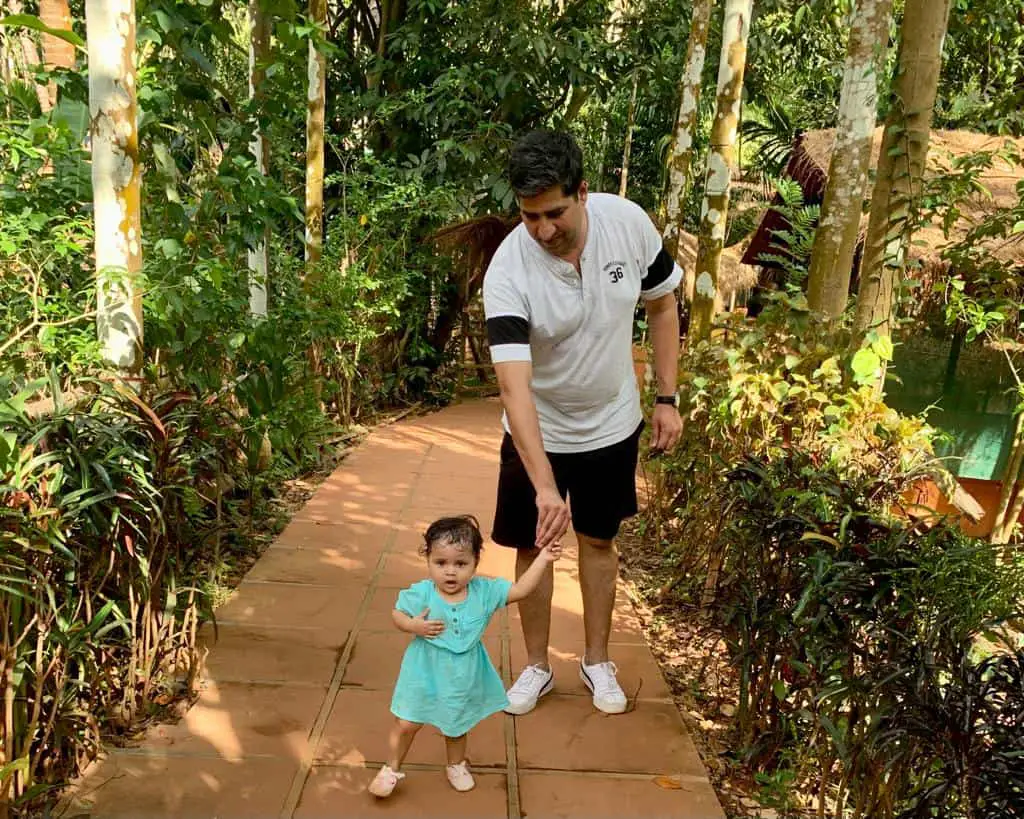 No mental preparation is required.
Prepare yourself to plan a slow trip. Let your kid explore the outdoors,walk on the beach, play in the sand and have fun.
Most hotels with an in-house restaurant as well as shacks serve plain rice, pancakes, bread, fruits, milk, etc. So managing your baby's food requirements won't be too hard
Touristy areas will have enough medical shops to buy diapers, baby wipes etc. So you need not pack them for the whole trip.
Skip forts and churches (without any guilt) if you think your young kid would get bored.
You can read my in-depth post on how to travel with a baby here.
Also see my travel vlog of North Goa to get an idea on how we travel with a kid
---
Final Thoughts
I hope you found the tips in this article useful for planning a trip to Goa with kids. Honestly, a trip to Goa with your little one can be a fun experience. The place has its own laid-back charm that automatically rubs off on everyone in the family and the vacation provides an excellent opportunity of bonding as a family.
---
Planning a trip to Goa? Read more articles
---
Check out my readymade digital plan
GOA: PLANNED FOR YOU
Benefit from our expertise in Goa. Save hours of trip planning effort, save thousands of rupees on travel agents and kill trip planning overwhelm.
Get access to the best Goa trip plan with specially curated stay recommendations, restaurant suggestions, day-wise break-up of things to do, a fully interactive Goa map and much more in a single downloadable pdf.
---
Pin for later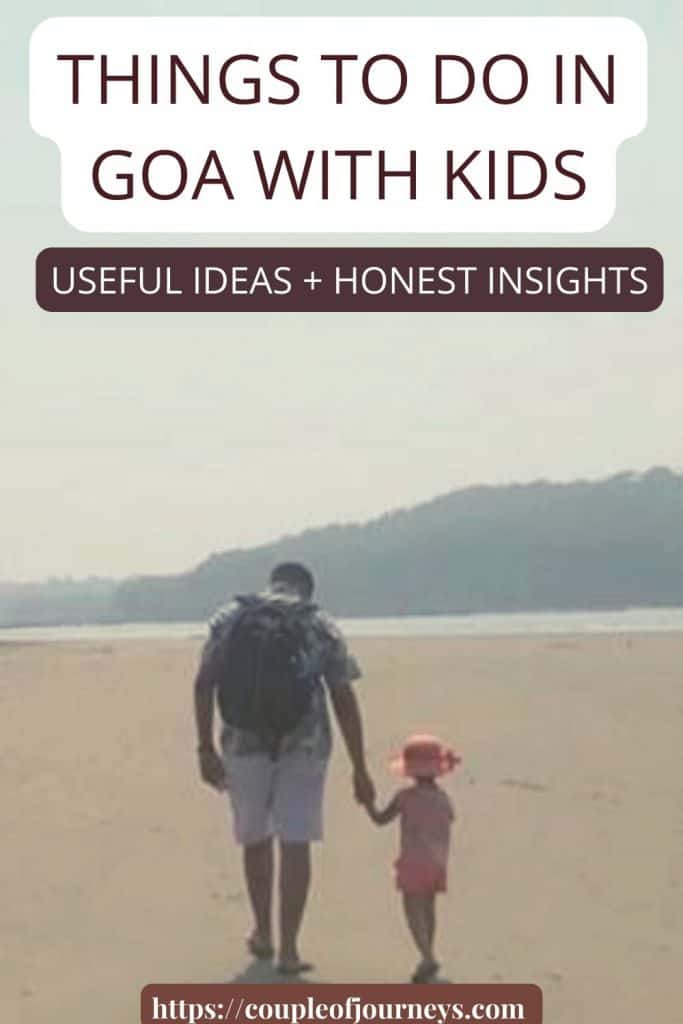 ---
TOP TRAVEL RESOURCES
Here is a list of our favorite travel resources- the ones that I absolutely swear by when planning almost every trip. Go through this list to plan a hassle-free trip and save a lot of money!
Flight Booking: Check the availability of tickets, the best time to fly, and the cheapest fares on Skyscanner. You may also find a cheap flight via CheapOair
Accommodation: I absolutely love booking through Agoda. In most countries and particularly in Asia, I often find the best fares on Agoda. But I also love the no prepayment and no cancellation fee policy of Booking.com. For cheap accommodations and hostels, nothing beats Hostelworld.
Car Rentals: You may find and rent an appropriate car via RentalCars. It's hassle-free and reliable.
Guided Tours: I absolutely love GetYourGuide for local sightseeing tours, walking tours, history tours, and food tours. The booking process is seamless, and the tours are super affordable. But in Asian countries, I prefer Viator or Klook for their affordably priced tours.
Lounge Access: Get Priority Pass – my personal favorite card that gives me unlimited access to premium airport lounges all over the world
Hey, if you found this post helpful, share it with more people or buy me a coffee!