What to pack for a Goa trip: A Practical No-Fuss List + Guide 2023
This website contains no sponsored content. The content is written entirely on my own and is based on my personal experience and extensive research. This post may contain affiliate links. If you make a purchase through one of these links, I may receive a small commission at no extra cost to you. As an Amazon Associate I earn from qualifying purchases. Please read the disclaimer for more information.
Wondering what to pack for a Goa trip? Don't worry, I have got the best goa trip packing list presented in a clear no-fuss manner.
In this post, I will share with you exactly what you should pack for a trip to Goa, things to avoid carrying and basic Goa packing tips. You can simply save the list and start packing for your Goa trip without any overwhelm.
As you know, I have been to Goa over twenty times and in every age and stage of my life (as a child, a teenager, with my husband, during pregnancy, as a new mom and as a mom to a toddler!) Based on my experience of packing for a Goa trip, I can assure you that while dressing up (or down!) is far more acceptable in Goa than in other Indian states, it's not a matter over which you should lose your sleep or get overwhelmed.
When packing for a trip to Goa, you need to carry lots of comfortable clothes, a few fancy clothes, good swimwear, comfortable footwear and sun protection.
In the article below, I discuss in detail all about the type of clothes to carry, non-negotiable skincare products needed for a Goa trip as well as items that you could leave out. Read the post below for an easy-to-follow list.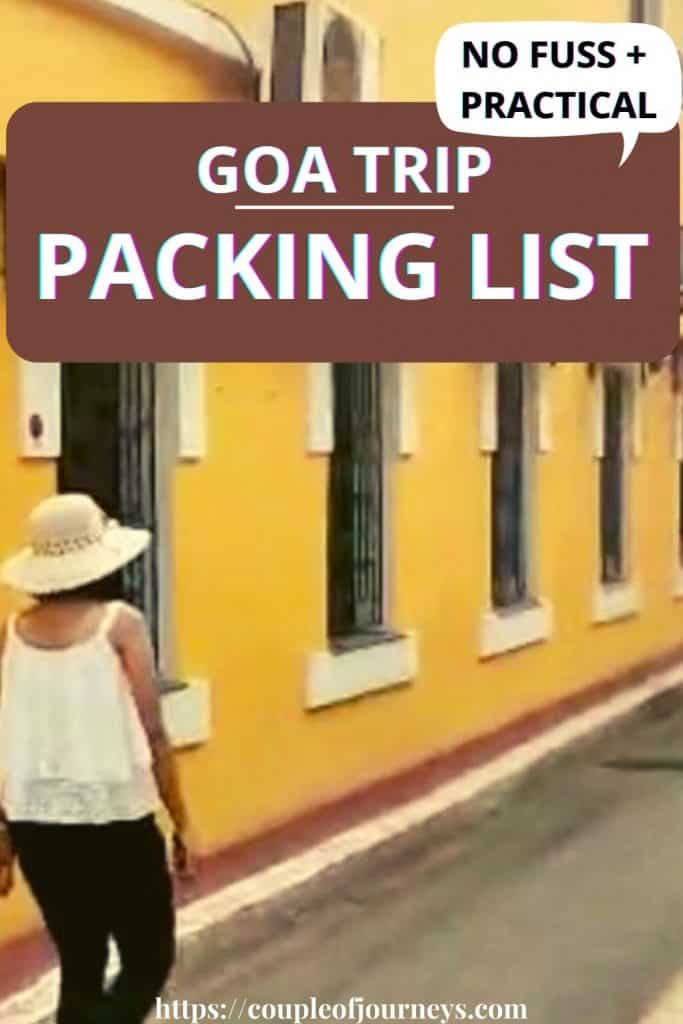 This post may contain affiliate links. If you make a purchase through one of these links, we may receive a small commission at no extra cost to you. Please read the disclaimer for more information.
Basic Packing Tips for Goa
Before we dive into exactly what to pack, let me share a few tips that you should keep in mind when you pack for a Goa trip.
1. Sun protection is non-negotiable
The sun in Goa is harsh, even in winters. Plus to make things worse, we tend to spend large portions of the day outdoors- on the beach, at forts and other tourist attractions or riding two-wheelers.
Carrying a high-quality sunscreen is an absolute must for men and women.
I have faced severe skinburn on trips where I have forgotten a good sunscreen and my burnt skin has literally peeled and flaked for weeks after coming back from the trip. It was so embarassing that I have had to keep my sunburnt arms covered with full-sleeved shirts and jackets for a few weeks after the trip.
So learn from my mistake and buy a good sunscreen.
2. Don't overpack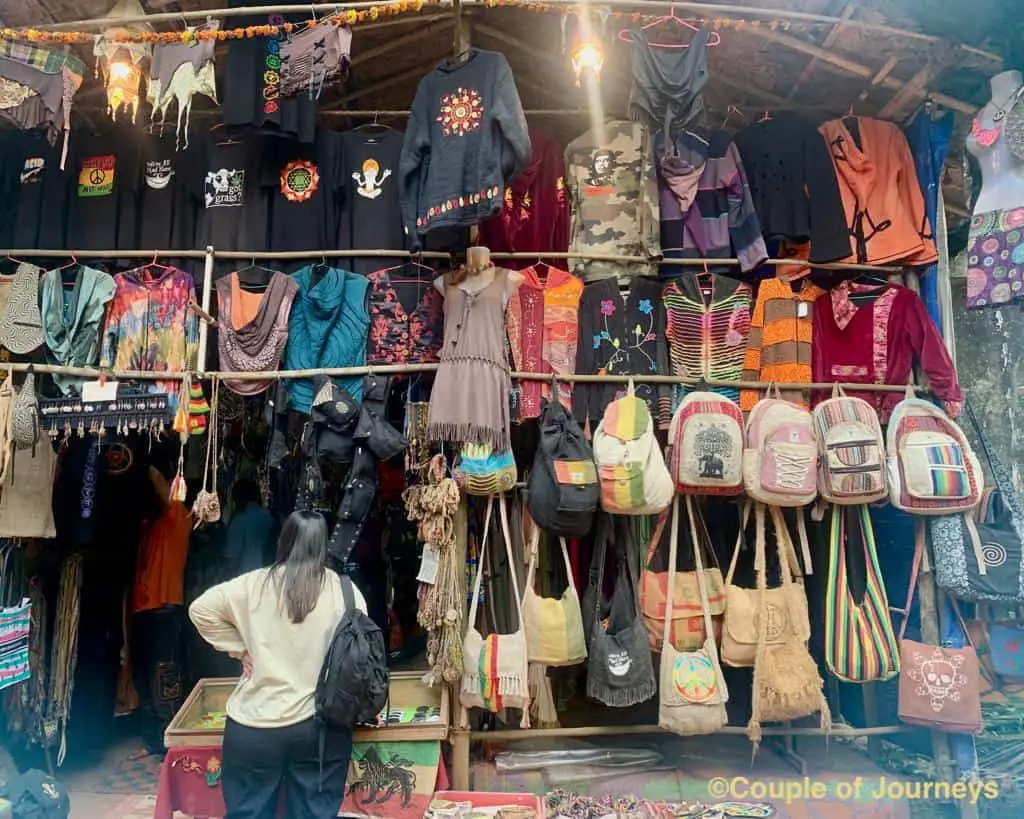 All the major tourist areas in Goa have enough shops selling clothes, handbags, jewellery and swimwear for men, women and kids. You will also find medical shops in all tourist areas.
Thus, don't overpack (to be on the safe side). If you think you've forgotten something, you can easily buy it for cheap in Goa.
In fact, on a number of trips to Goa, I have bought beach cover-ups and tops locally instead of carrying them to Goa from Mumbai. I find the variety of tops and beach cover ups far better and affordable in Goa than in other Indian cities.
That's also why, many foreigners buy most of their clothing upon reaching Goa.
Wondering where to stay in Goa?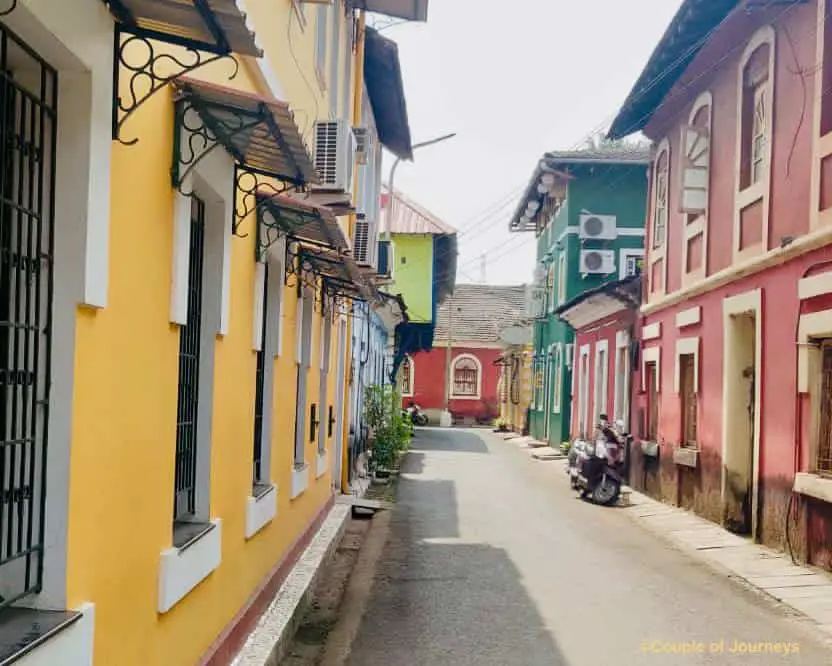 Find out:
the best areas to stay in Goa for all types of travellers
the best accommodation options in Goa
area-wise insights on where to stay in North Goa and South Goa
3. Leave space for shopping
It's hard to not shop when in Goa.
All the major beach areas are flooded with touristy shops. Goa is also known for its cashews and cheap booze.
Many tourists thus end up shopping quite a bit when in Goa.
So make sure you leave enough space in your bags to bring back everything you buy in Goa.
Related posts:
Best Trolley bags in India: An Ultimate Guide 2023
Can you carry alcohol on a domestic flight: Rules Explained
4. Opt for comfortable clothing
The weather in Goa is mostly hot with temperatures ranging between 27-38 for the most part of the year. Goan weather is only pleasant during winter i.e. between November to February.
Read my article on the best time to visit Goa as per months and seasons
So even if you want to look stylish all throughout, don't pack clothes that are not comfortable.
Avoid clothes that are-
of a synthetic fabric
too tight
Wearing such clothes will cause excessive uncomfortable sweating. Opt for cotton, breathable clothes in lighter shades.
5. Keep a few modest items of clothing
Goa is one place for which you can happily pull out your skimpy clothes. But reserve them for beachtime or other casual outings.
For church and temple visits, you will have to dress a bit more conservatively. Avoid sleeveless clothing or clothing above knee-length.
6. Choose the right colours (For perfect Instagram pics)
If you want to click the best pics for your Instagram, get your colour game right. Here are a few quick suggestions
Wear bold colors for Parra Road (the famous filming location of Dear Zindagi). Bold colours beautifully contrast the pale street shades and the neutral hues of the coconut trees in the background.
For beach pictures – opt for dreamy neautral shades. They complement the beach colors irrespective of the time of the day and enhance the lazy, laidback vibe.
Wear whites in Fountainhas – Fountainhas is a street full of colourful houses. To avoid getting camouflaged with any house colour or to conflict with the colours of the street, it is safest to wear beautiful textured white clothes.
---
What to pack for your Goa Trip: A Full Checklist
Now that you know the rules of what to pack for a Goa trip, here is a quick and handy checklist.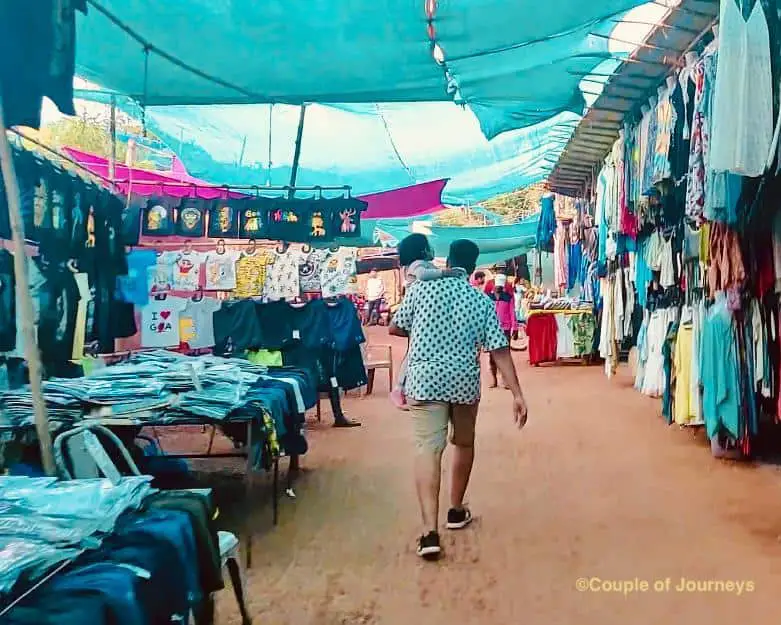 1. Clothes
Women: 
A few dresses – Great for cafés and tourist spots
Shorts & Tops – good for comfortable scooter rides, hikes and adventure activities
Beachwear like a Bikini, Tankini, Beach cover-up, sarongs
Party Outfits – for the club nights
Men: 
Casual clothes – for cafés, tourist spots and casual outings (include a few athlectic clothing pieces for adventure activities and hikes)
Fancy clothes – for club nights
Beach wear
2. Footwear
A pair of good flip flops – for the beach or for quick outdoor outings not involving much climbing
Casual sandals/shoes – for evenings out with friends and family
Heels, closed shoes – for club visits
Outdoor shoes for hikes and adventure activities like bungee jumping
3. Accessories
Jewellery (Consider buying at a flea market in Goa)
Hair clips, hair bands, etc. – needed to keep your hair in place when riding on a scooter.
4. Gadgets
A good camera phone (with protection – to protect against water and sand damage) + A zip-lock cover for the phone (for when you go for watersport activities)
Drone for overhead shots (completely optional)
Go Pro for bike, underwater & adventure footage (completely optional)
Chargers of all your gadgets
Kindle – for reading by the pool or on the beach
Headphones/Earphones/Airpods
Add such other gadgets as you consider fit or are used to travelling with on your trips. The ones listed above are recommended specifically for a Goa trip.
5. Bag
A nice backpack – to keep all your belongings safely for days involving touristy outings
A Large tote bags for beach time or casual, unplanned outings
6. Skin and hair protection
Hat/Cap (You can buy a hat in Goa itself- lots of variety and super cheap)
A good mosquito-repellant cream (especially important during monsoons)
In addition to this, carry your favourite shampoo, moisturiser, cleanser, toner or any other products that form part of your daily skin and hair care routine. The ones listed above are non-negotiable for a trip to Goa.
7. Safety
Torch Light – For late night outings in deserted areas like Cabo de Rama (avoid as best possible) or secluded beaches.
I love this torch light. It's lightweight and works on easily available AAA batteries – check on Amazon
Powerbank – to get the most out of your phone on long touristy days or beach days.
Pepper spray (optional) – advisable for solo women travellers
This pocket-sized one with a solid range is very travel-friendly – check on Amazon
8. For vehicle rentals
Valid Id card
Driving license
9. For monsoons
Final Thoughts
Honestly, packing for Goa is not as big a challenge as packing for other destinations could be. The weather in Goa is fairly standard and the Goa packing list given above should work for any season.
If you are travelling with a baby to Goa, you can rely on my comprehensive article on how to travel with a baby for detailed insights. (click here to read article)
---
Check out my easy-to-follow digital travel plan specially curated for your travel style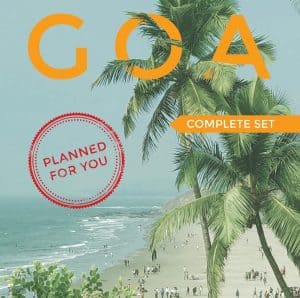 Goa: Planned for You
A handy digital travel plan that includes
Specially curated stay recommendations
restaurant suggestions
a day-wise break-up of things to do
a fully interactive Goa map
special insights and lots more!
---
Travelling to Goa soon? Check out more articles:
46 things to do in Goa: An Ultimate Guide
3 days in North Goa: Best Places to Visit
5 days in Goa: An Ultimate Guide
12 Useful Tips to visit Goa on a budget
South Goa Itinerary for 1,2,3,4,5 days
---
Save for later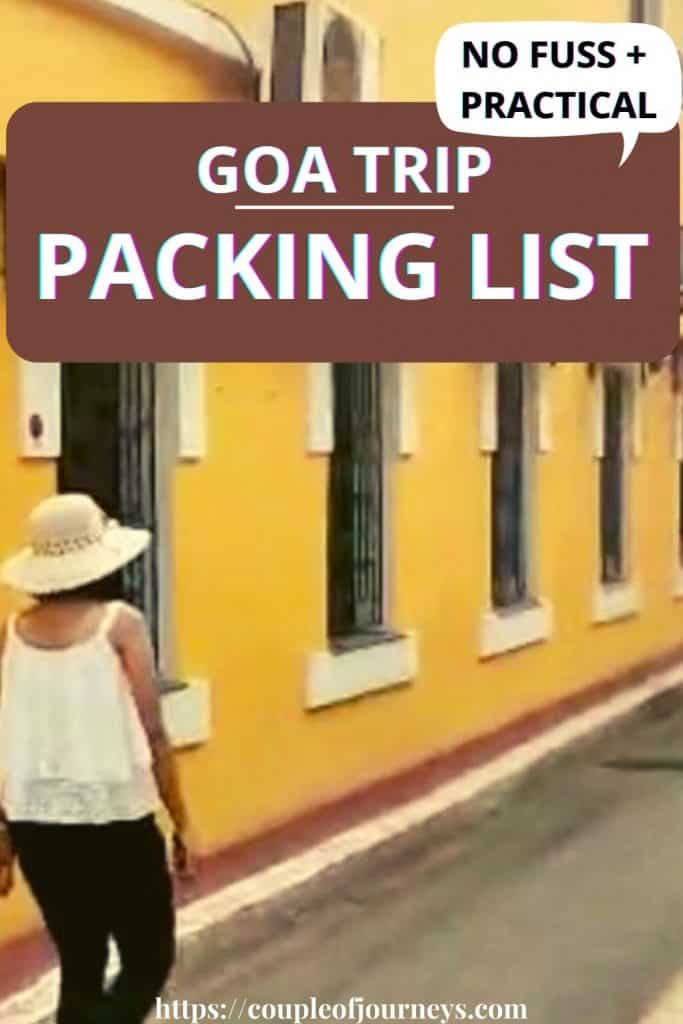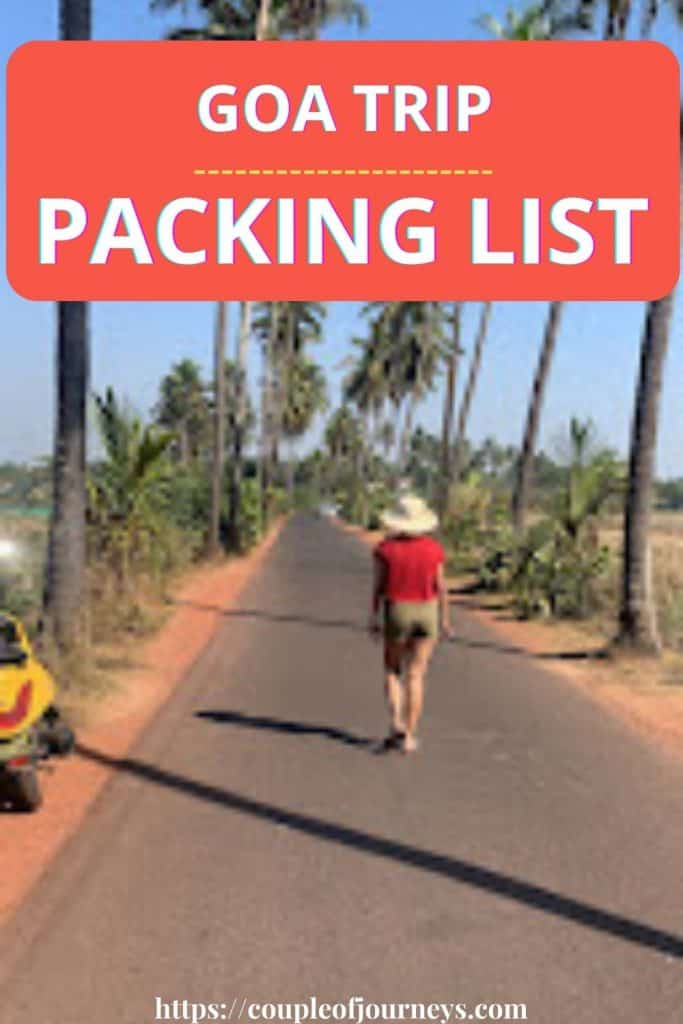 ---
TOP TRAVEL RESOURCES
Here is a list of our favorite travel resources- the ones that I absolutely swear by when planning almost every trip. Go through this list to plan a hassle-free trip and save a lot of money!
Flight Booking: Check the availability of tickets, the best time to fly, and the cheapest fares on Skyscanner. You may also find a cheap flight via CheapOair
Accommodation: I absolutely love booking through Agoda. In most countries and particularly in Asia, I often find the best fares on Agoda. But I also love the no prepayment and no cancellation fee policy of Booking.com. For cheap accommodations and hostels, nothing beats Hostelworld.
Car Rentals: You may find and rent an appropriate car via RentalCars. It's hassle-free and reliable.
Guided Tours: I absolutely love GetYourGuide for local sightseeing tours, walking tours, history tours, and food tours. The booking process is seamless, and the tours are super affordable. But in Asian countries, I prefer Viator or Klook for their affordably priced tours.
Lounge Access: Get Priority Pass – my personal favorite card that gives me unlimited access to premium airport lounges all over the world
Hey, if you found this post helpful, share it with more people or buy me a coffee!