This post contains complete information to help you choose from the best trolley bags in India whether you are considering buying one as your check-in luggage / cabin luggage, carry on luggage, laptop trolley bag or even as a duffel trolley bag.
The world of travel has expanded enormously in the last decade. The growing number of travel websites, travel blogs, and travel apps have made people travel-crazy. In view of the rise in the amount of travel an individual now includes in his lifestyle, it has become exceedingly important to choose the right kind of travel luggage.
Travel trolley bags, in particular, have the capacity to add an immense amount of convenience to our journeys. Therefore, making the best choice from amongst the many luggage trolley bags is extremely important.
If you have tried to make this decision and felt overwhelmed by the sheer variety and types of travel bags online, this post is perfect for you. Through this post, I aim to make your decision easier by recommending a few of the best trolley bags in India.
Before I enlist my favourite trolley luggage, the one tip I have for you is to not buy a trolley bag from shops or malls as the prices in shops are higher than the travel bags online. Therefore, it would be advisable to visit these shops to check out the bag of your choice in person and then eventually buy it online.
How to choose from the best trolley bags in India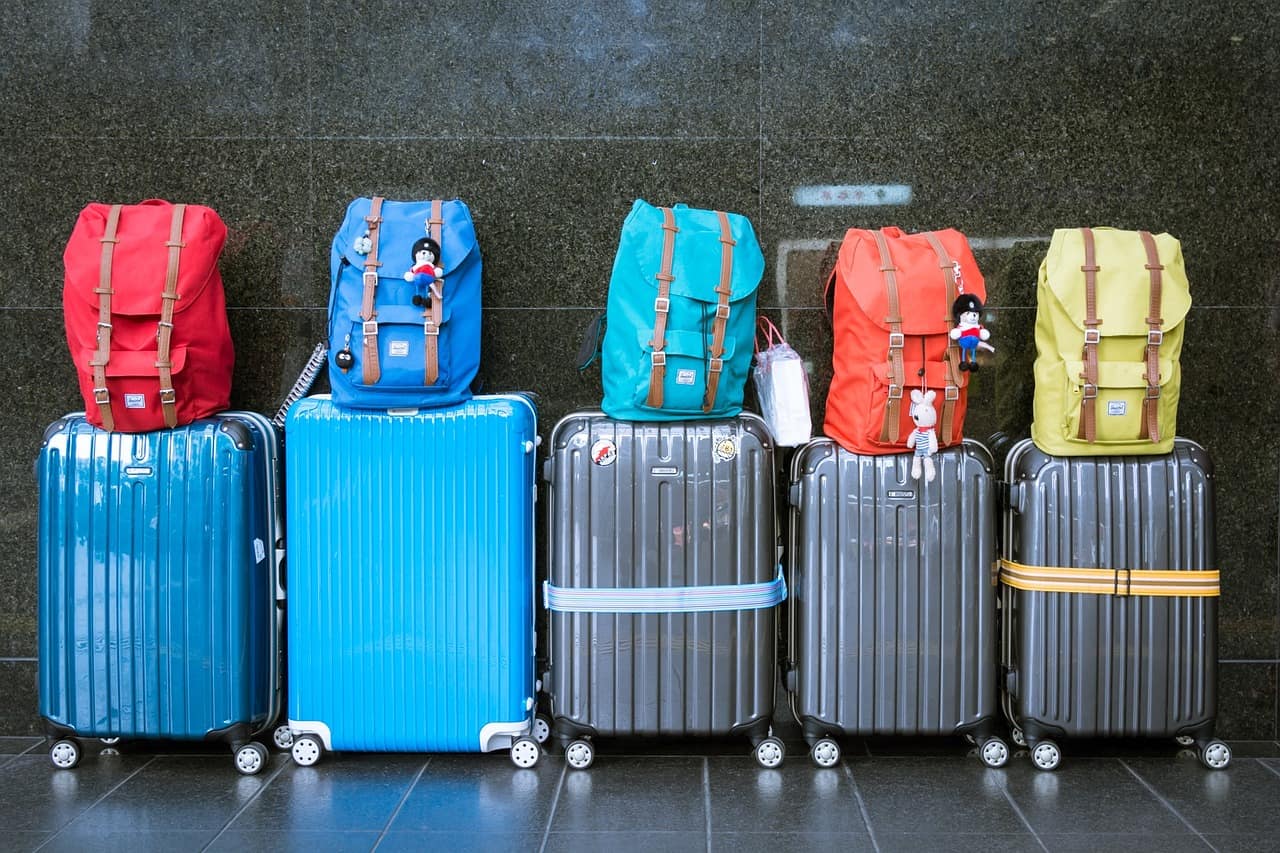 Before I recommend some of the best travel bags in India, let me first give you pointers on what you must consider before you buy travel bag online.
Size
The size of your trolley bag is a crucial factor that you must take into consideration when checking out travel bags online. If you are looking for a bag for international travel or for a long holiday, then you must ideally choose a large luggage bag. Typically the height of a large travel bag is 70 cms or more.
However, if you are going on a short trip, then you should buy yourself carry on luggage. Carry on luggage or hand luggage is the luggage that you are allowed to take with you on the flight. Typically hand luggage bags are small and should have a maximum height of 56 cms.
Number of Wheels
A travel bag with wheels is mostly available in two variants – with dual wheels and with singular wheels. What this means is that a travel bag with wheels may either have four wheels or eight wheels.
In order for a travel bag with just four wheels to operate smoothly on all surfaces, the wheels must be of good quality and the size of the wheels must support the weight of the bag.
Therefore, you will note that a premium-quality luggage bag with wheels usually has eight wheels – dual wheels below every corner of the bag. These provide optimal support, carry the weight of the bag evenly and work really well on all surfaces.
In most cases, a bag with eight wheels need not even be tilted while dragging as it can smoothly roll across all surfaces in a straight position.
(Of course, some trolley bags still come with only two wheels. However, I do not recommend using these as they do not support themselves when standing and have to be tilted for dragging at all times.)
Hard or Soft
The outer surface of trolley bags could either be hard or soft. Hard case luggage offers more protection as it usually absorbs the bumps and knocks that a travel bag has to endure.
Additionally, they protect against theft. It does not have any outer pockets and therefore you do not run the risk of items being put inside your luggage without your knowledge.
However, the biggest downside of hard luggage is that they have lesser space than soft luggage and the bag needs to be opened completely and items need to be packed in the two individual halves of the bag. Therefore you can only carry items that are half as deep as the total depth of the bag.
Soft luggage, on the other hand, offers greater storage. It is less bulky and usually comes with an expander. While it is subject to more wear and tear and runs the risk of being slit through, it does not crack and is more secure as checked luggage.
The best trolley bags in India are available in both variants and what you choose depends entirely on what meets your requirements.
But, if you are still confused, read an in-depth comparison of these two types of luggage here.
TSA Lock
TSA stands for Transportation Security Administration. In the US, a TSA agent is allowed to open the bag and inspect the contents of the bag. Therefore a bag with a TSA lock can not only be opened by its owner but also by the TSA agents. The advantage of buying a bag with a TSA lock is that the agents will smoothly open the bag with their TSA key.
However, if your bag does not have a TSA lock and it needs to be inspected, the TSA agent will, unfortunately, have to break through your bag by other means that involve heavily damaging it. Therefore, it is always advisable to buy a bag with a TSA lock.
However, do note that the trolley bag price of such bags is usually higher than those without a TSA lock.
Best Trolley Bags Brands in India
There are a number of travel bag brands that are making a mark in the Indian markets. My most favourite brands are –
VIP Bags
When you think 'travel', you think VIP. VIP is one of the oldest travel companies in India. VIP Trolley bags come in a multitude of colours and sizes ideal for all types of travellers. Moreover, the trustworthiness of the brand allows you to buy VIP bags online without any hesitation.
Skybags
Skybags is also a baby of VIP Industries Ltd but has been marketed as a brand for the stylish. Therefore the designs of Skybags luggage are trendier and more colourful. However, the quality of these bags is excellent given that this brand is a part of VIP Industries Ltd.
American Tourister
This brand produced by Samsonite Corporations is one of the oldest luggage brands in the world. Their luggage is particularly structured to suit air travel and every single product goes through rigorous quality checks.
(American Tourister is one of my personal favourite brands for its smooth wheels and wear and tear-proof quality of soft luggage)
In addition to these, you will find brands like Swiss Gear, Tommy Hilfiger, MI, Nasher Miles that are producing some high-quality trolley bags.
Tommy Hilfiger
Although this brand is an overall lifestyle brand and not exclusively limited to travel luggage, its hard case trolley bags are my personal favourites. The bags come in attractive colours suitable for the taste of every kind of traveler. These bags are usually more expensive than the market average but the quality of the product justifies the price!
Suggested Read: In case you are travelling with kids, read all about the best stroller in India here
Best Trolley Bags in India
In this section, I am going to put forth my recommendation of the best travel trolley bags online. I have categorised my picks into various different categories and I am sure you would easily be able to arrive at a decision based on this article.
Best Cabin Trolley Bags
Skybags always comes up with really stylish bags and this design is one of the best examples of how well one can fit style with functionality. This lightweight travel bag is my favourite from amongst all the cabin bags online.
Pros:
Colourful stylish design

Lightweight

Strong hard case

4 double wheels (8 wheels)

International warranty
Cons:
Outer peeling comes off at times
Who should buy it?
This is the best cabin bag for someone who hates boring luggage in neutral colours.
Check latest price on Amazon here
The best product from the VIP cabin bag range, this soft-sided bag packs tons of features without ripping you off your money. In any case, given the longstanding trustworthiness of the brand, I feel that a VIP Trolley bag price is always worth the investment.
Additionally, this bag is available in two colours and in three sizes, so if you want all your luggage to look similar and part of the same series, you could definitely opt for this bag.
Pros:
Great quality soft-sided trolley bag
Extremely light-weight
Comes in a high-quality butterfly lock
Cons:
No TSA lock
It comes with four wheels and therefore does not have the smoothest of wheels.
Who should buy it?
This small trolley bag is perfect for VIP loyalists and those who prefer premium quality soft-sided luggage. However, if you intend to travel to the USA, the lack of a TSA lock might be a problem for you.
Check latest price on Amazon here
Most men complain that they either have to use a trolley bag that's outright dull or a colourful bag that often comes in a slightly feminine design. However, this smart yet small travel bag with wheels works perfectly as a mens travel bag due to its stunning design.
Pros:
Light-weight
Sturdy hard-cased
4 doubles wheels (eight wheels) for better manoeuvrability.
Number Lock
Cons:
Slightly weak handle
No TSA Lock
Who should buy it?
This cabin luggage bag is ideal for all types of travellers who love hard-cased luggage and bags with super smooth wheels. However, this bag is most ideal for men looking for a stylish cabin bag with ultra-smooth wheels
Check latest price on Amazon here
This hard-sided cheap trolley bag is the best carry on luggage option for those who are looking for a carry on bag that is slightly smaller than the market average size. This carry on bag by MI packs every important feature, has one of the smoothest wheels offering 360-degree seamless movement and also comes with a TSA Lock!
Pros:
Comes with a TSA lock
Sturdy hard-cased
Scratch-resistant
4 doubles wheels (eight wheels) for better maneuverability.
Cons:
Only a 1-year warranty
Who should buy it?
This bag is perfect for those willing to try out a relatively new brand that despite its late entry into the market delivers a great product.
Check latest price on Amazon here
There is something about a classic slate grey hard-sided cabin bag that instantly appeals to travellers and this beautiful small travel bag will do exactly that!
Pros:
Classic design

lightweight

strong hard case

5-year International warranty
Cons:
No lock

The design is common and you may need to use a name tag to avoid confusion on luggage belts.
Who should buy it?
This small luggage bag works perfectly as a business trolley bag and is ideal for corporate employees flying frequently on work-trips.
Check latest price on Amazon here
Best Big Trolley Bags
This bag together with its big travel bag from the same series is great for your long-distance trips. They have a stylish look and have external compartments that are tall enough to store larger items that must be handy.
Pros:
Tall external compartments
Comes with a number lock
4 wheels that support the size easily
5-year warranty
Cons:
The material is prone to wear and tear.
The lock can be hard to use for some hands.
No TSA lock
Who should buy it?
This bag and its bigger version are perfect for those looking for trolley luggage for their long-trips within India.
Check latest price on Amazon here
This is one of my personal favourite bags only for the wonderful neat look and the lovely unique turquoise colour. The bag is large to contain all your stuff for a ten-day holiday and unless you plan to stow your bag under the cramped lower-birth of trains, this bag should work wonderfully well for you.
Pros:
Attractive premium look and stylish-looking colour
Smooth 4 wheels
Comes with a number lock
Cons:
No TSA lock
Does not fit inside a train's lower birth
Who should buy it?
This is one of the best big luggage bags for those who want to pack plenty of stuff for their trip within India or abroad (Except USA due to lack of a TSA) and those who would love a stunning bold turquoise-coloured trolley bag.
Check latest price on Amazon here
These trolley bags of these brands don't usually feature in the most popular section of luggage bags online but that does not mean the bags are in any way less qualitative. This brand is my personal favourite brand among trolley bags and this large bag with a sporty look should explain why. It ticks all the essentials in terms of features. But more importantly, you won't find a bag this large with smoother wheels. You literally can roll this bag around with the push of your finger.
Pros:
Super-smooth 4-double wheels
Comes with a TSA Lock
Soft-sided but will not easily get torn.
Cons:
Costlier than other bags in this segment
Who should buy it?
Those who love a sporty, trendy more fashionable looking large trolley bag with the smoothest wheels should buy this bag without any hesitation.
Check latest price on Amazon here
Best Laptop Trolley Bag – India
This 40-litre laptop strolley bag which can fit a 15.6 inch laptop is perfect for a one or a two-day work trip. The bag comes in two wheels that roll smoothly when inclined. The height of the handle works perfectly for everyone.
Pros:
Sturdy
Fits a 15.6 inch laptop
Affordably priced
Can also be carried as a backpack
Cons:
Some may find it uncomfortable when carried on the back.
Who should buy it?
If you want a bag that's good enough for your not-so-frequent work trips, that does not compromise on key features and doesn't make you spend a fortune on it, this is the right laptop trolley bag for you.
Check latest price on Amazon here
This horizontal laptop bag is a dream for those that need to travel often for work. The design of this bag is thoughtful for work use. It comes with 2 wheels and can even accommodate a 17-inch laptop! (Although I would feel very sorry for you for having to carry such a huge laptop around!) Additionally, Nasher Miles is considered by many to be among the best luggage brands in terms of after-sales warranty-based service.
Pros:
2 wheels with smooth 360-degree rotation
External pockets for quick access to newspapers, etc.
Room to pack clothes for overnight stay
Cons:
Not sturdy enough for rough surfaces
Cannot be carried around as a backpack
Who should buy it?
If you don't mind a laptop bag that you can't wear on your back, but need a smooth laptop bag that you can carry around with you on your frequent work-trips, this bag should work well for you!
Check latest price on Amazon here
Best Duffle Bag Luggage – Trolley Bags
Personally, I am not a fan of duffle bags as I find it hard to organise clothes and stack them neatly inside the bag. However, many travellers swear by it for the amount of stuff they can carry for their size! Also, if you are looking for cheap travel bags online, it is best to settle for a duffle bag.
This is the most value-for-money bag amongst all the bags listed in this article. Despite its insanely affordable pricing, the bag does not compromise on quality. Its straps can be easily adjusted, the wheels work well on smooth surfaces and the size if perfect even for use as a carry on luggage.
However, duffel bags often suffer from poor stitching quality when compared with other trolley bags and this bag is not an exception to it!
Pros:
Cheap pricing
Adjustable Straps
Cons:
Poor stitching quality
Who should buy it?
If you are looking for a really cheap bag with wheels, this bag should be your first choice.
Check latest price on Amazon here
This bag rarely features on the list of the best luggage bags due to the fact that the brand is relatively unknown to people. However, the reason why I have put this bag on the list of best trolley bags in India is that this duffel bag is a high-quality bag that will not disappoint you.
If you are looking for cabin bags online, and even if you were not considering a duffle bag, I would urge you to check this bag out. This bag looks as premium as any of the regular carry on bags listed above, is water-resistant, has multiple pockets and the material of the bag protects against rough travel.
The wheels of this bag or not very sturdy but work well for moderate use.
Pros:
Premium look
Water-resistant
Handy external pockets
Cons:
Wheels are not very sturdy
Who should buy it?
Those who want to try out a duffel bag or those looking for a relatively cheaper but premium looking cabin bag must go for this bag.
Check latest price on Amazon here
Conclusion
While all of the above bags, listed above are great, following are our ultimate favourite picks under each category –
Which of the above bags would you buy?