A few days ago, I wrote a detailed guide on the best hiking shoes under 100 dollars. However, some of my Indian readers felt disheartened because many of the best hiking and trekking shoes mentioned in that post weren't available in India. And since I hate leaving my readers feeling helpless, I thought of writing an exclusive post on the best trekking shoes in India – yes, all the shoes listed in this post are available in India and will help you head out to the best trekking places in India.
Thus, this post is full of personal recommendations on the best trekking shoes for women, the best trekking shoes for men as well the best waterproof trekking shoes in India. I am also going to include a small section with ample buying advice on trekking and hiking shoes so as to demystify trekking in India for beginners.
So, my dear Indian readers, I hope you find this helpful!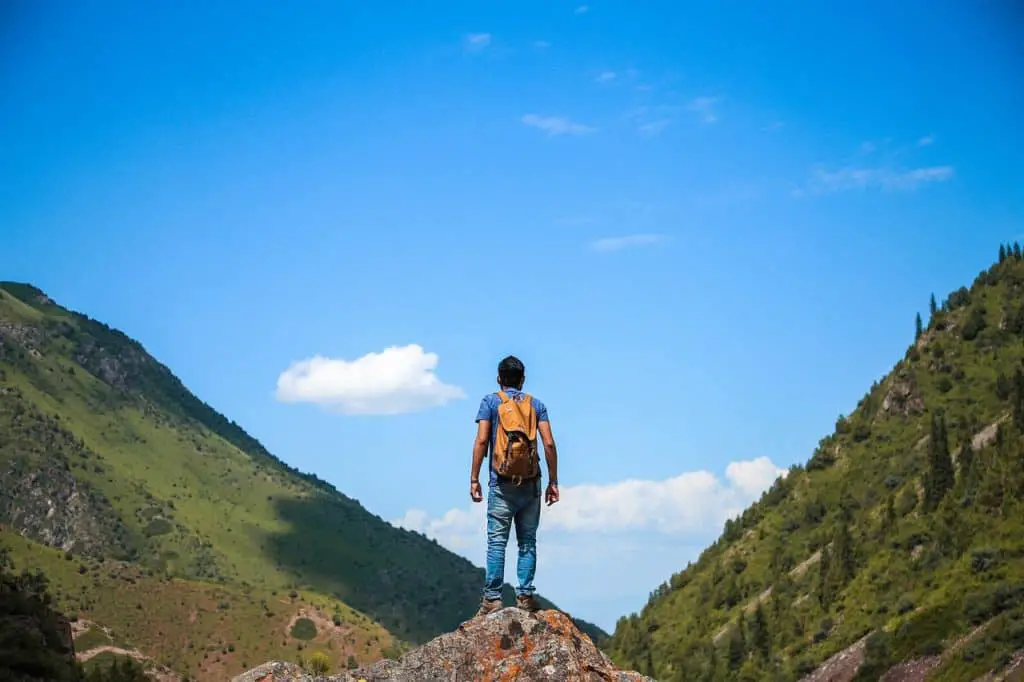 This post may contain affiliate links. If you make a purchase through one of these links, we may receive a small commission at no extra cost to you. Please read the disclaimer for more information.
Comparison Chart
In this section, you will find a quick overview of all the best hiking shoes – India reviewed in this post. I find this comparison chart immensely useful for those that do not like to read through detailed reviews and buying advice as well as for those that feel a bit overwhelmed reading all the information shared below. So whether you are looking specifically for waterproof shoes India or simply for cheap and best shoes in India, all you need to do is glance through this chart!
Detailed Reviews: Best Trekking Shoes in India 2022
Let's look at the many trekking shoes available in India in greater detail to see which ones you should be investing in for getting started with trekking in India.
Let's go!
| | |
| --- | --- |
| What we like | What we don't like |
| durability | slightly high price |
| waterproofness | slightly heavy |
| quality | |
The MT100 Tex by Forclaz sits on the top of this list because of the shoes' superior quality.
If you want the best waterproof trekking shoes then the MT100 should be your top pick. You can easily walk in these shoes even on rainy treks for up to 3 hours. Even though the makers suggest using these shoes on relatively even, straight trails, in my opinion, the sturdiness of the shoes is quite reliable even on moderate difficulty trekking in Indian Himalayas.
The shoes are a bit expensive compared to other Indian trekking shoes, but if you want to buy trekking shoes that will last you a couple of years, you should safely opt for these shoes.
Check the latest price of MT100 TEX: Men/Women
---
| | |
| --- | --- |
| What we like | What we don't like |
| excellent value for money | mid-ankle coverage limits water resistance |
| sturdy | slightly less durable |
| lightweight | |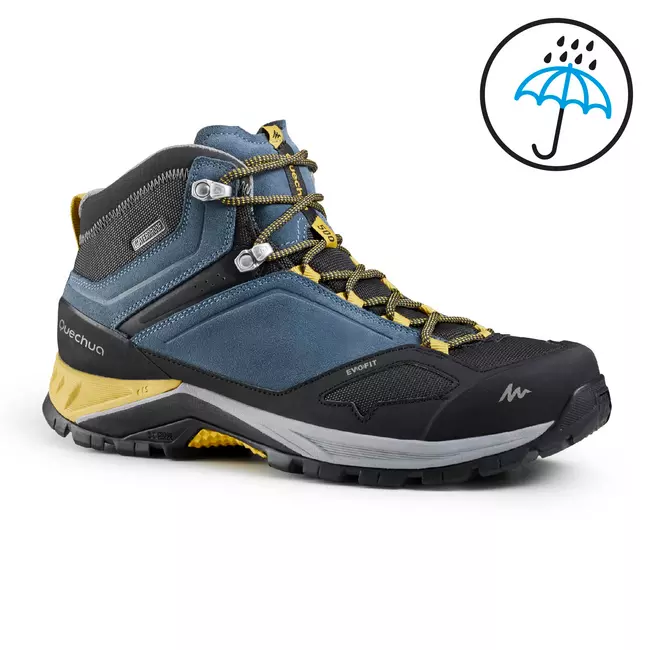 These Quechua trekking shoes are one of the best hiking shoes India. They are moderately priced and offer almost all the features as that of the slightly costlier MT100 listed above.
The fit is comfortable and the shoes feel very light and breathable when worn. The outer membrane is also quite waterproof i.e. it can definitely withstand rains but water would seep in if you walk through ponds and rivers because of their mid-level coverage.
The shoes feel quite grippy for walking on uneven surfaces as well and can be easily used as mountain trekking shoes.
They can also be worn as the best outdoor shoes be it for biking, cycling, climbing or walking. The only area where they disappoint is durability. They fall a bit short of the MT100.
Check the latest price of Quechua Hiking Shoes MH500 (Men/Women)
---
| | |
| --- | --- |
| What we like | What we don't like |
| excellent value for money | only suitable for winters |
| great coverage | |
| lightweight feel | |
These are one of the best trekking shoes in India. You can use them for trekking in North India or anywhere in mountainous regions. Given that they are boots and not shoes means that they extend above the ankles and offer excellent coverage.
These Quechua Trekking shoes can also be used as snow trekking shoes as they use the Snowcontact technology to grip easily on snowy surfaces. Moreover, the shoes are extremely warm on the inside without feeling stuffy.
However, these ice trekking shoes can be used in cool weather but the extended coverage and fur closure will make your feet sweat when used for summer hikes.
Check the latest price of Quechua Trekking Shoes SH100 (Men/Women)
---
| | |
| --- | --- |
| What we like | What we don't like |
| excellent look and design | not waterproof |
| Don't need much break-in time | not suitable for steep hikes |
| Durable | ladies variant unavailable |
These Woodland Trekking shoes are one of the best leather shoes in India, especially for this price. However, their utility as trekking shoes is fairly limited to light hikes on relatively even surfaces. Plus, the shoes are not even waterproof, thus, further diminishing their utility.
But having said that, these are the only leather shoes in the market that can double up as trekking shoesn and hence deserve to be on this list. What my husband also liked about these shoes is that they require hardly any break-in time and therefore don't really cause foot fatigue on hikes.
If you want a pair of great looking trekking shoes from the best leather shoes brand in India, then go ahead and buy these. You won't be disappointed.
Check the latest price of Woodland Men's Leather Hiking Boots
---
| | |
| --- | --- |
| What we like | What we don't like |
| Most affordable | ladies variant unavailable |
| Excellent grip | |
| Super stylish camouflage pattern | |
If you want the best shoes for a fraction of the price you would have to otherwise pay for good hiking shoes like the MT100 listed above, you have to opt for these shoes. The Bacca Bucci is gradually making its way towards being the best trekking shoes brand in India. The trekking boots are extremely affordable and incredibly comfortable and grippy for the price.
You can use them on trying hikes, steep treks, in snowy conditions or on rocky terrains and be certain that the grip of the soles would not let you down.
They also look stylish and the green camouflage pattern suits wildlife adventures as well.
I only wish that these shoes came in a women's variant too!
Check the latest price of Bacca Bucci Men's Trekking Shoes
---
How to choose the best trekking shoes in India?
Internationally popular brands like Merell and Salmon produce trekking shoes that are feature-rich as well as excellent at providing comfort and grip. However, they are quite expensive for Indian standards and hence Indians feel the need to opt for a locally popular brand.
So what should you choose a good pair from popular trekking shoes in India?
Comfort: Comfort is the numero uno factor that every hiker must take into consideration when buying hiking shoes. Hiking shoes in India are extremely breathable but can feel stuffy on account of the humid Indian weather. Therefore, you should consider the temperature rating of the hiking shoes before buying them. e.g. Quechua Trekking Shoes SH100 (Men/Women) are only suitable for winter trekking in India and will prove to be extremely warm and uncomfortable for summers.
Water-resistance: Most of the mid-range trekking shoes in India are water resistant and not waterproof. Honestly, you only need waterproof trekking shoes if you plan to trek in torrential rains, heavy snow or in a terrain that involves river crossings. In all other cases, opting for water resistant trekking shoes proves to be a wiser choice as shoes that are not waterproof offer much better breathability than waterproof shoes.
But, if you are going to be hiking in wet conditions, you must buy waterproof shoes to ensure that water stays out and your feet stay dry and clean. The best waterproof shoes are MT100 TEX (Men/Women).
Weight: Trekking shoes that feel heavy on the feet can never be comfortable. Heavy hiking shoes can cause foot fatigue and swelling. They also restrict movements and make inclines particularly hard. Thus, whenever you are opting for trekking shoes, you should opt for lighter shoes.
However, care must be taken to ensure that lightweight shoes are not compromising on grip and sturdiness. All the shoes listed above are in the moderate weight range and ideal for trekking.
Additional features
To get the most value for money when buying trekking shoes in India, you should look for enhancing features like:
Snow grip technology as found in Quechua Trekking Shoes SH100 (Men/Women)
Extra heel cushioning for a firmer fit
Smart lacing or lacing with hooks and straps for even distribution of tightness
Final Thoughts
Which shoes from the above list are your favourite Indian hiking shoes? Let us know in the comments below. Also, if there are any additional Indian shoes that you want us to review, do let us know and we would be glad to review them and include them in the list of they deliver a satisfactory performance.
Check out our other travel product guides here.