The Best Rucksack in India – An Ultimate Guide 2023
This website contains no sponsored content. The content is written entirely on my own and is based on my personal experience and extensive research. This post may contain affiliate links. If you make a purchase through one of these links, I may receive a small commission at no extra cost to you. As an Amazon Associate I earn from qualifying purchases. Please read the disclaimer for more information.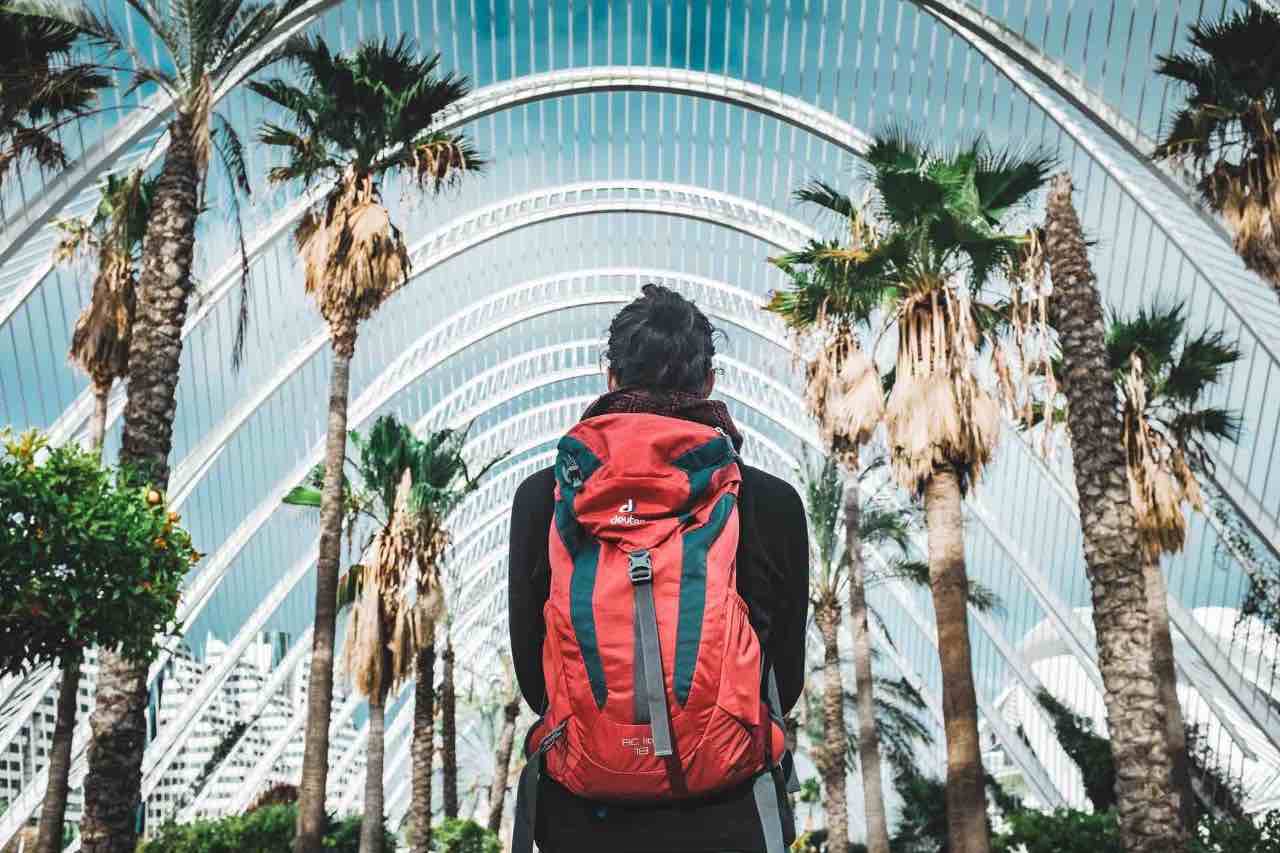 The first time I bought a rucksack a decade ago, I had no idea what to look for in a rucksack. Obviously, my choice turned out to be totally wrong for me. The rucksack turned out to be too big for me. It opened only from the top end and every time I needed something I had to dig through all of my belongings inside the rucksack. 
Also, because the rucksack was too big for my requirements and my body shape, I was uncomfortable throughout our hike. I kept hoping for the hike to get over as quickly as possible so that I could just get rid of the rucksack on my back. 
After that experience, I swore to never make the mistake of buying a rucksack without proper research. Thankfully, now I know what to look for when trying to zero down on the best rucksack bags. 
In fact, that is exactly why I have decided to compile all of my research into this article to help you buy a rucksack online. 
Rucksack vs. Backpack
At the very outset, let me clarify that this article is a guide on the best trekking rucksack in India. So do not confuse a rucksack with a regular backpack.
So what is the difference between a rucksack and a backpack?
Technically, rucksack is a type of backpack. But in the travel lingo, rucksack and backpack are quite different. 
| | |
| --- | --- |
| Rucksack | Backpack |
| Used for trekking, hiking or for outdoor adventure activities | Used for everyday use, office use, casual use |
| Usually much larger than a backpack | Usually much smaller than a rucksack |
| Usually meant to be used for carrying on the back for longer duration such as on treks and hikes | Usually meant to be carried on the back for shorter durations such as local commute, a short day outing |
| Usually comes with greater support to the back, chest and hips | Offers lesser support and usually only comes with shoulder and back support |
| Expected to endure heavy wear and tear | Provide lesser protection against wear and tear |
Wait, were you looking for an article on backpacks and landed on this article instead? Don't worry! We have got you covered! Read all about the best backpack in India here!
If not, continue reading all about the awesome rucksacks available online!
Comparison Chart – Best Rucksack in India
If you do not have the time to read about detailed information about the best rucksack bags in India, refer to the quick overview in the comparison chart below. 
Here you will find out all about the best rucksack in India, its image, its capacity, overall rating based on our review. You can click on the column headings to easily compare as per the criteria you want.  
How to choose a rucksack?
Remember that in order for a rucksack to be good, it should meet your specific requirements. 
Simply because a rucksack is generally popular, widely promoted or preferred by people you know does not necessarily mean that the rucksack is good. 
You must carefully assess if the rucksack meets your requirements by taking into consideration the following aspects – 
Capacity
One of the most important factors that should help you choose a rucksack is its capacity. Almost all the top rucksack brands in India specify the capacity of the rucksack in the brand name of the rucksack itself. 
Rucksacks, used for trekking and hiking, are available in capacities varying between 25 litres to 100 litres.
While everybody packs differently, a general rule to help you decide which capacity is idea for your needs is – 
Capacity (in litres)
10 – 30 short trips and one day hikes
30 – 50 Hiking, Weekend treks, Overnight trips
50 – 70 Longer trips and hiking expeditions
70 > Longer trips and for those carrying a lot of gear for outdoor adventure activities
In my opinion, unless you genuinely need to carry a lot of stuff –
Women should carry a rucksack that is around 40-45 litres in capacity and men should carry a rucksack that is around 50-60 litres in capacity. 
Size
The next most important factor to look for when choosing a rucksack is the size. 
The 'back system' that sticks to your back while you travel has straps that need to be tied around your chest and hips to provide you with optimal support. 
If you choose a size that is too big for you, these straps won't fit your body structure properly. When the rucksack is full to its capacity, you may even lose your balance while walking. 
On the contrary, if the rucksack is too small, it won't sit on your hips and your back will carry most of the weight. This could lead to back pains and injuries. 
Therefore, it is important to look at the size, particularly the vertical size of the backpack. 
Additionally, you must also note the following general rule- 
A standard sized rucksack is suitable for average – tall men and tall women with a broad built
A ladies sized or a small sized rucksack is suitable for – shorter men, slimmer men and women with average height. 
Comfort
No matter the size and the capacity of the rucksack, the best rucksack for travelling is one that is absolutely comfortable.
In order for a rucksack to be comfortable, it must place its weight on your hips and the weight must be distributed evenly. 
Additionally, the rucksack must have padded straps and must also provide adequate padding on the back.
Good padding helps immensely when you have to carry the rucksack all day long. It especially protects you from the weight of the stuff filled inside your rucksack. 
Similarly, the rucksack must come with a sturdy frame structure. There are two types of frames – external and internal. External frames provide added internal storage space but the outer ends may press into your backs. Personally, I am not a fan of external frames. 
Internal frames, on the other hand, reduce the storage capacity of the rucksack a bit, but they provide superior comfort. 
Features
The best rucksack brands in India pay attention to detail and try to make their rucksack as feature rich and functional as possible. 
If you are going to be carrying your rucksack during monsoons or in regions that could receive rain, it is extremely important to buy a waterproof rucksack. At the bare minimum, you should at least opt for a water-resistant rucksack. A good waterproof rucksack in India is Impulse Waterproof Travelling Trekking Hiking Camping Bag.
However, if the rucksack is not waterproof, it should ideally come with a rain cover. 
If you like to carry your laptop with you when you travel, you should also make sure that your rucksack has a specifically allocated laptop compartment. This compartment should ideally be padded and should come with a strap for the optimal protection of the laptop. The best laptop rucksack is NOVICZ 60 Ltr Black Rucksack.
Similarly,  depending on your taste and preferences, you should also check out if the rucksack has a shoe compartment. Even the best hiking shoes are often damaged if they do not have a proper storage compartment in a rucksack. Similarly, check for additional internal compartments and side pockets for holding water bottles, etc. 
Best Rucksack in India 2023 – My top picks
Wildcraft has been growing a lot in popularity among Indian travellers and is now considered one of the best brands for rucksacks in India. 
This rucksack by Wildcraft is the best 45 litre rucksack available in the market in the budget price range. 
This rucksack comes in a clean, smart design. The rucksack itself is quite light weight. The dimensions of the rucksack are perfect for taking it along with you on the flight as hand luggage. 
The rucksack is a top load rucksack with draw string closure. 
Pros
Adjustable shoulder straps.
Adjustable height and depth adjuster to allow rucksack to fit snug on you
Water-resistant nylon outer material
Solid 5-year warranty
Can be carried as hand luggage
Cons
No internal pockets
No hip strap support
In my opinion, despite the fact that this rucksack is not feature-rich, it is the best rucksack under 2000 INR available online. 
Additionally, its solid 5-year warranty makes it a complete steal. 
CHECK LATEST PRICE ON AMAZON NOW
This rucksack comes loaded with so many amazing features that it has to be the best rucksack for trekking. 
The rucksack looks very impressive given its smart compact styling. It is designed very thoughtfully as it comes with a large internal storage. It even has a dedicated laptop compartment for those who like to carry a laptop with them while travelling. 
Its straps and zippers feel premium. Its top handle seems sturdy. Furthermore, they can be easily adjusted to make the rucksack snug and easy for carrying around. 
Thanks to its shoulder padding and airflow technology supported back padding, it is very comfortable for carrying around for long hours. 
It has a bottle holder on the side, a small zip compartment at the top as well as pocket on the belt.
Pros
Affordable
Shoulder straps and airflow technology for comfort
Laptop compartment
Additional pockets on the top and in the belt strap and bottle holder on the side
Premium quality zippers and straps
Water-resistant
Cons
A bit delicate for long term rough use
Overall, given how affordably priced and feature reach is this bag is, it definitely qualifies as the best 60L rucksack in the market. 
CHECK LATEST PRICE ON AMAZON NOW
If you are looking for a rucksack online in India, the design and look of this Polestar hiking rucksack will instantly tempt you to pick it up and go on a lovely mountain hike. 
The capacity of this rucksack is 44 litres.
This rucksack comes with 4 compartments. Thus, in addition to its large compartment, the rucksack also has a top zippered compartment for storing handy utilities as well as a front zippered pocket. Plus, it also has a quick access bottle holder on both the sides. 
The back system of this rucksack is adequately padded to provide comfort for long duration usage. The wide straps also sit comfortably on the shoulders and balance out the weight of the rucksack evenly. The 
The loops are made from high quality plastic capable of lifting strong weights. 
Also, even though the rucksack is water-resistant, it also comes with a rain-cover for protecting your belongings during heavy rains. 
The highlight feature of this rucksack are the night reflective strip installed on the front panel. This strip glows in the dark thus making it absolutely safe to travel even at night. 
Pros
4 compartments
Sturdy straps
Night reflective strip
Padded shoulder straps and back system
Sturdy straps and loops for carrying strong weights and distributing weight evenly
Rain cover for added protection
Size is ideal for unisex use
Cons
No laptop compartment
A bit delicate for long term rough use
In my opinion, this is the best rucksack for hiking, particularly weekend and overnight hikes.
CHECK LATEST PRICE ON AMAZON NOW
If you want to buy a rucksack in India that is affordable, trendy and scores high on features, this one is ideal for you. 
This rucksack has a capacity of 55 litres. 
This rucksack comes with straps that can be easily adjusted for different back lengths and heights. Not only does it work great for men of all body types but it is also one of the best womens rucksack bag options available online. 
This rucksack has a large compartment that uses the drawstring closure. 
In addition to that it has an inverted shoe compartment to protect the rest of your belongings from getting soiled. Plus a handy top compartment and a bottle holder on both the sides makes it a great rucksack for hiking. 
The rucksack also has solid padding on its shoulders to protect your shoulders against bruising. Plus an air-mesh ventilation system provided on its back panel means that you don't get drenched in sweat while carrying this rucksack on your back. 
The best part about this rucksack design is the emphasis placed on the comfort of its wearer. The compression straps, the S-shaped ergonomic shoulder straps adjustable for all body types ensure that the weight of the rucksack is distributed evenly.
Pros
Adjustable straps perfect for all body types 
Padded shoulder straps and back panel
Multiple pockets for organisation
Separate shoe pocket
Trendy design
Water-resistant
Affordable
Cons
Let me tell you, this is one of the best rucksacks available in India. The vast number of features offered at such a low price will make it absolutely worth your money. 
CHECK LATEST PRICE ON AMAZON NOW
This is one of the best rucksack backpacks in terms of its trendy style. The big bold colours of this rucksack make it a standout when compared to other designs. 
The rucksack has a capacity of 65 litres. It is made out of water-resistant polyster material. 
It has a large main compartment, a shoe compartment which is easily accessible from the front panel and two bottle holders on the side.
The rucksack employs s-shaped shoulder straps for comfort of carrying. Both the shoulder strap and the back system are adequately padded and ensure enough air circulation. 
Additionally, the hip strap of this rucksack is wide enough to provide enough support for all body types. 
In fact, this rucksack has 8 tactical military style straps. These straps help condense the belongings and brings them closer to your back for better balance. On the bottom of this rucksack, you will find a rubber stud to protect the rucksack against rough surfaces. 
Pros
Adjustable straps perfect for all body types 
Padded shoulder straps and back panel
Military-style tactile straps for better balance
Separate shoe compartment on the front
Attractive design
Water-resistant
Cons
All of these features coupled with its trendy style makes this the best 65L rucksack available online. 
CHECK LATEST PRICE ON AMAZON NOW
Mount Track is one of my husband's personal favourite rucksack brands in India. A Mount Track rucksack is usually long-lasting and made of good quality material. 
This particular rucksack has a capacity of 55 litres. 
The main compartment uses secure draw string closures. Inside the main compartment, you will find a padded laptop compartment ideal for up to 15-inch laptops. 
In addition to that there is a spacious shoe-compartment on the front that can easily double up as space to stuff used clothes. The bottle holders on the side are super handy too.
The rucksack comes with a water-proof nylon cover which is very beneficial during heavy rains. 
In terms of comfort too, the rucksack delivers. Its straps can be easily adjusted as per your body shape. The padding on the shoulders protects against the weight of the rucksack. Plus the adjustable hip belts can be firmly secured and they work really well in distributing the weight of the backpack evenly. 
Pros
Great quality durable material
Spacious main compartment
Additional compartment for shoes and used clothes
Laptop compartment
Water-proof rain cover included
Adjustable straps support all body types
Padding on the shoulder, air mesh and hip straps make carrying this rucksack very comfortable
2 year warranty
Cons
Side pockets should have been deeper
If you are looking to buy a high-quality long-lasting 55l rucksack, this rucksack over-delivers for its price. 
CHECK LATEST PRICE ON AMAZON NOW
When you buy a rucksack online in India, you should often go for a popular product. One such popular rucksack is the Mufubu Get Unbarred 55 Litre rucksack.
This rucksack is absolutely affordable and yet does not under perform in terms of its quality. 
The rucksack is made of polyester material that is used both on the inside as well as the outside. This material makes the rucksack water-resistant. 
In addition to this, like other rucksack brands in India listed above, Mufubu uses the tactical military style 8 adjustable straps. Using these straps you can secure the rucksack on your waist no matter your body type or gender. 
Both the waist belt and shoulder straps are sufficiently wide. The shoulder straps come in an 'S' shaped structure. This ensures that all the weight of the rucksack does not fall on your back and gets evenly distributed.
The padded straps and back system allows proper airflow and thus protects your back from over-sweating, particularly during summers.
The rucksack has one large compartment, one shoe compartment on the front, one zipper pocket on the top and two mesh bottle pockets on the side. 
Pros
Adjustable straps perfect for all body types 
Wide padded shoulder straps and waist belt for optimal support
Military style straps for better balance
Separate shoe compartment on the front
Top zippered pocket and side bottle pockets
Attractive design
Water-resistant
Lightweight
Cons
No laptop compartment
No warranty
If you are not sure which rucksack to buy and do not want to spend a lot of money, you should consider buying this popular rucksack.
CHECK LATEST PRICE ON AMAZON NOW
Deuter is a famous German brand that is considered by many to be one of the best rucksack brands in the world. The rucksacks made by this Deuter use high-quality material, display a thoughtful user-friendly design. 
While they offer a wide variety rucksacks, this 35 litre rucksack is a particular favourite among taller people.
There are very rucksacks that come in a small capacity that fit well on men or broader and taller built women. But this rucksack does a fantastic job at that. 
The rucksack uses premium quality polyester material on the inside as well as the outside. The material is water-resistant and can sustain rough weather conditions. 
The storage space of this backpack is perfect for a day long hike or for a weekend excursion. 
The rucksack comes with a number of compartments including a main compartment and one to secure your valuables. The best feature of this rucksack is the small compartment on the front. It is great to store snacks or other quick access items so that while hiking you don't have to take off your rucksack. 
Additionally, this compartment also gives access to the internal main compartment so your can simply pull out items from the main compartment without having to open the backpack completely. 
The feature that makes it particularly useful for Indians, is its fantastic air ventilation system. This ensures almost no sweating even during harsh summer conditions making it the best rucksack for trekking in India.
The padding quality is superior and the adjustable belts make the rucksack sit firmly on your hips and your back and your shoulder do not feel any weight of the rucksack. 
Pros
Supreme quality for long-term use
Thoughtfully laid out compartments that allow quick access to items without the need to open the backpack
Premium quality padding
Top-quality air circulation system
Water-resistant
Great fit for tall people
Cons
If you are a hiking pro or some one who wants to invest in a superior quality product you must buy this rucksack. 
CHECK LATEST PRICE ON AMAZON NOW
Let me begin by making two statements – 
I absolutely love AmazonBasics. In my opinion, the brand always overdelivers in terms of quality and its product are always value for money.
This product by AmazonBasics is most definitely the best hiking rucksack (for hardcore trekkers) among all the rucksack bags online in India.
This is the best 50L rucksack online and its capacity is further expandable to 55L if required. The rucksack is also available in two bigger sizes of 65L and 75L respectively. it also comes in black and green colour variants. 
The rucksack itself is made up of durable polyester material. 
The rucksack has perfectly adjustable straps for various body types and sizes. It is suitable for both men and women and of people of all age groups. The rucksack's notable feature is that it comes with an open-cell foam lumbar pad and moulded channels for complete lower-back support. 
The airflow mechanism of this backpack also protects well against sweating in hot conditions.
In addition to this, the rucksack comes with a completely waterproof cover that can even withstand heavy rains and keep your belongings safe. 
The storage facility offered by this rucksack is excellent.It comes with a large main compartment, two small compartments, and bottle holders. The most notable feature of this rucksack is its dedicated compartment to hold sleeping bags. 
The multi-directional compression straps firmly secure your belongings and give the rucksack a snug fit. 
Pros
Suitable for all body types, men , women and people of all ages
Particularly useful for serious hikers 
Various compartments for ideal storage solutions
Dedicated sleeping bag compartment
Rain cover included
Multi-directional compression straps
Padded shoulder and waist straps with lumbar support
Cons
Susceptible to wear and tear
No laptop compartment
Okay if you want a good quality hiking rucksack for your next expedition, look no further as this rucksack is perfect for you. 
CHECK LATEST PRICE ON AMAZON NOW
Final Thoughts
The rucksack variety available in India is getting fairly large now as more and more people are showing interest in hiking and trekking. As I said at the beginning, there is no one rucksack that you can label as perfect. Therefore, give every rucksack listed above a good consideration and then determine which one to buy based on your needs and budget.
Related articles:
Best trekking shoes in India (2023)
Best hiking shoes under 100 dollars
Also, check out our other amazing buying guides on the best trolley bags in India here.