Goa Itinerary for 5 days: The Most Reliable Goa Trip Plan
This website contains no sponsored content. The content is written entirely on my own and is based on my personal experience and extensive research. This post may contain affiliate links. If you make a purchase through one of these links, I may receive a small commission at no extra cost to you. As an Amazon Associate I earn from qualifying purchases. Please read the disclaimer for more information.
Every time someone asks me to recommend a Goa trip plan, I perform a little jig in my head! If you don't know yet, Akshay and I, love Goa. It's a place that we have visited over two dozen times in the last decade. It's practically our second home and a place that we can't seem to get enough of.
But that's also why we feel sad when many people treat it like a long weekend destination. But, you? You are amazing because you've decided to spend at least 5 days in Goa. That's also why you deserve access to the best Goa itinerary for 5 days available on the internet.
If you are spending 5 days in Goa, you should ideally spend 3 days in North Goa and 2 days in South Goa. The 3 days in North Goa should be spent exploring touristic Goa, unseen Goa and Panjim while 2 days in South Goa should be spent exploring beaches and touristic attractions between Benaulim and Palolem.
In this article, I will break down the perfect Goa itinerary for 5 day. I will give you details of tourist attractions, Goa beaches and Goa restaurants that you should visit. By the end of it, you will have your easy-to-follow Goa travel itinerary.
Before I break up the above itinerary for you, let me first address a few basic questions surrounding a trip to Goa
Frequently Asked Questions about a Goa trip
Where to stay on a 5-day trip to Goa?
The best areas to stay in Goa are:
North Goa:
South Goa:
Read my in-depth article on where to stay in Goa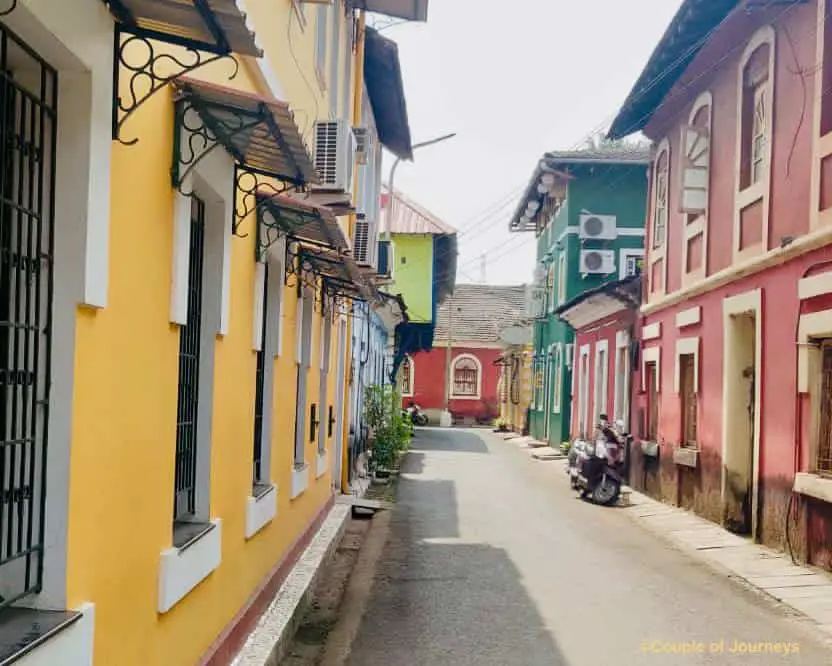 Find out
a full list of the best areas to stay in Goa
best accommodation options for your travel type
Are 5 days enough for a Goa trip?
Goa is a state of India and in fact, one with a slightly more distinct cultural and historic background than most of the other states in India. But, if you want to only visit the touristic attractions of Goa while also briefly acquainting yourself with its culture and present-day way of life, 5 days in Goa are enough.
How to commute within Goa?
The best way to travel within Goa is on a two-wheeler. You can easily get a scooter on rent for around Rs. 400 per day. If you don't want to rent a scooter, opt for a rented car or use local cabs. Bargain heavily with local drivers as they tend to overcharge innocent tourists. In most tourist areas, you can also use Goa Miles: a cab booking app similar to Ola/Uber.
The most Epic Goa Itinerary for 5 Days
Day 1: Touristy North Goa
On the first day in Goa, explore the touristy side of North Goa. Here are some of the places you should visit and places you should visit:
Have breakfast/brunch at a cute café
The touristy North Goa is full of cafés with pretty interiors and a smashing breakfast menu. Some of my favourite cafés are:
Café Chocolatti: Spacious outdoor seating, delicious frothy coffee and a kickass English Breakfast
Café Candolim: Cutest decor, a large collection of books and the best food
Café Artjuna: Artsy vibes, great food
Jaws Bakery: Budget bakery serving fresh lip-smacking breads, croissants and more.
Visit Fort Aguada, the biggest fort in Goa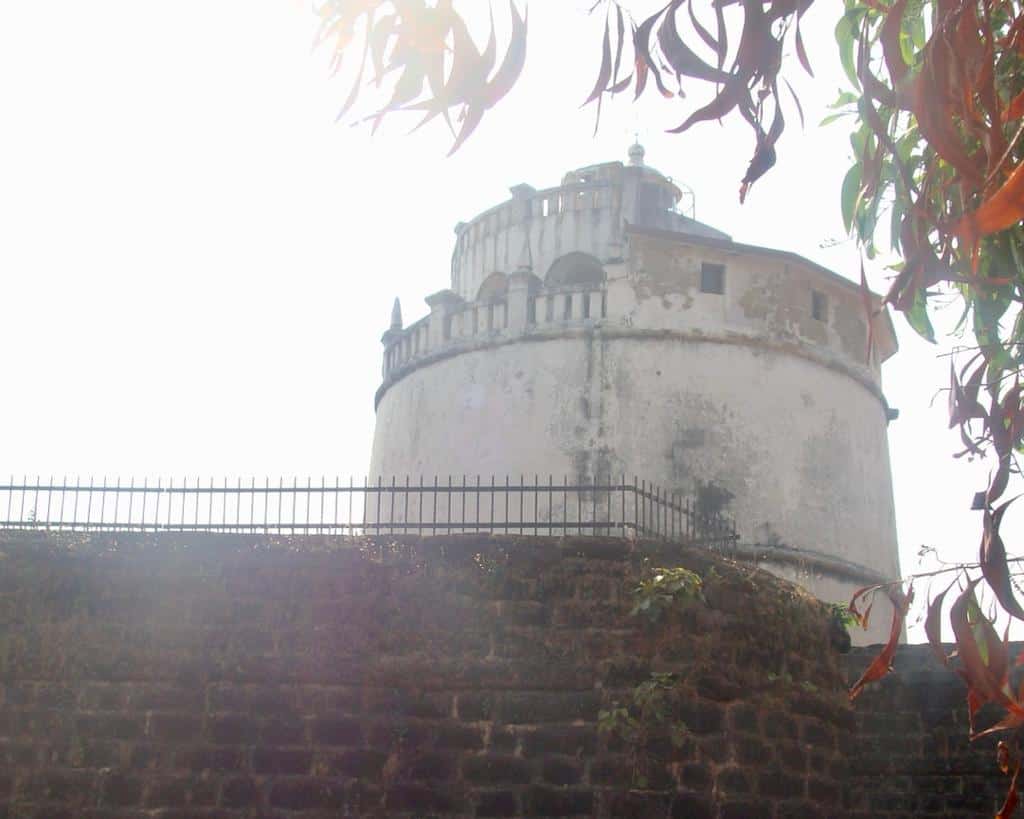 The biggest fort in Goa and the biggest freshwater reserve in Asia is in the heart of North Goa. You must visit this place on a 5 day trip to Goa. It is close to Candolim and offers great views. But hey, it's usually crowded and not super pretty anymore. Yet, it is a great starting point for your Goa trip.
Go parasailing at Sinquerim Beach
Indulge in watersport activities at Sinquerim beach. I think that the watersport infrastructure is the best at this beach. The presence of multiple vendors also means that you get better rates.
Enjoy a boat ride at Nerul River
Goa may be famous for its beaches, but it also has plenty of rivers running close to its coastline. A boat ride at Nerul river is a great opportunity to watch dolphins, splash around some cold river water and click pictures of the coastal paradise that Goa is.
Eat at a seafood restaurant
Seafood and particularly Konkani seafood is to die for! (I am a vegetarian but I have seen my husband Akshay get excited about seafood in Goa months before our trip!) Some places that serve fresh, yummy and flavourful seafood are:
The Lazy Goose: Located right under the Nerul Bridge, the place offers exotic views of the river and offers you a chance to indulge yourself with the best seafood.
Fat Fish: This restaurant packs a generous serving of delectable seafood on your plate.
Vinayak: The seafood thali perfectly satisfies your pangs especially when you're ravenous and want everything yummy on your plate.
Watch a magnificent sunset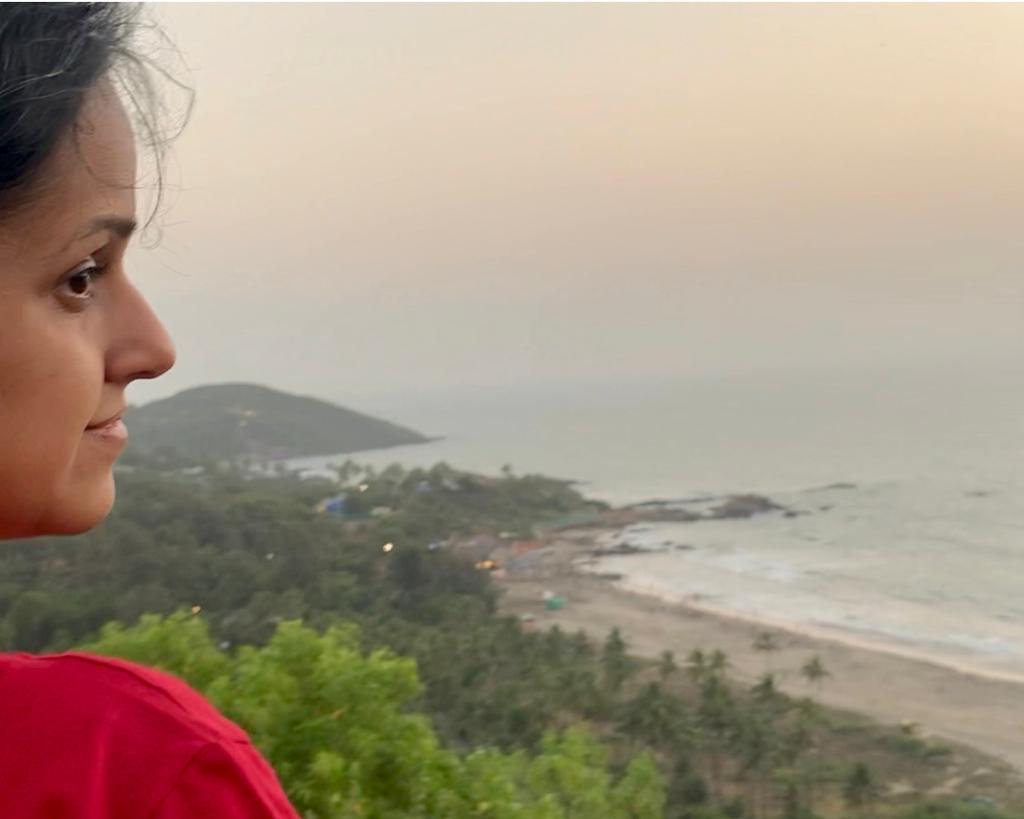 The best places to watch the sunset in the touristy side of North Goa are:
Chapora fort: Head to this fort, also known as the Dil Chahta Hai fort, for the best sunset views. Reach the top at least 30 minutes before sunset to get a good place on the wall. Also, visiting the Chapora fort involves a bit of a climb. So plan accordingly.
Vagator Beach: Vagator beach is also famous for its sunset. Located at the foot of the Chapora fort, you get to see the same sunset, albeit at a slightly lower angle. A better option is to watch the sunset, especially, if you are feeling lazy to climb the fort or if you are travelling with young kids.
Morgan's Place Café/Café Purple Martini: If you want to sip on your choice of beverage while watching the changing hues of the sky, hanging out at any of these cafés would fulfill your wish like nothing else in Goa would. Purple Martini is usually super crowded and the balcony views come for a cost. Settle for Morgan's Place if you want great views without hosting.
Party hard at a nightclub
North Goa is a great party hub with the best clubs like Hammerzz, Titos, SinQ, etc. Go here if you love partying!
---
Day 2: North Goa
It's Day 2 in Goa and it's time to explore the slightly offbeat beaches in Goa.
Click pictures at Parra Road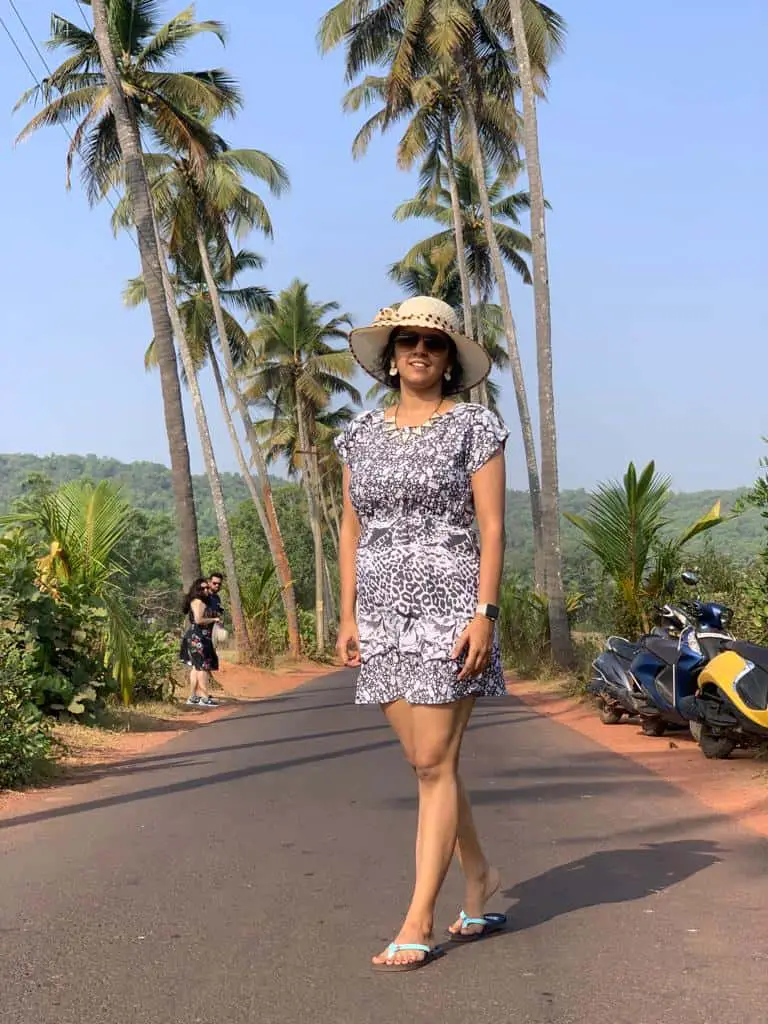 Parra Road is a narrow road with coconut trees on both sides that has recently gained popularity thanks to the movie 'Dear Zindagi'. Visit the road for a classic Instagram shot.
Visit the famous Siolim Church
St. Anthony's Church is a gorgeous church located in Siolim close to the Chapora River. It is not a popular tourist attraction but is nevertheless worth a visit for its architectural beauty.
Chill at Morjim Beach or Ashwem Beach
Morjim beach is one of the most deserted beaches in Goa. Even on a weekend, you will find it relatively empty. You can plonk yourself on one of the sunbeds and spend a chilled out day. Take breaks at the many shacks on the beach. Also, visit the Turtle Nesting Site to know more about how magical this beach is.
Experience the hippie vibe of Arambol
Arambol is known for its hippie vibe, yoga classes and drum circles. It is the place that attracted the most number of foreign (especially Russian) tourists. Visiting the place exposes you to a unique side of Goa- the one taken over by touristic preferences.
Visit the 'Garden of Dreams' – a fun restaurant with a hippie vibe and appetising vegan food.
---
Simplify your planning process. Get my specially designed quick itinerary: Goa: Planned for You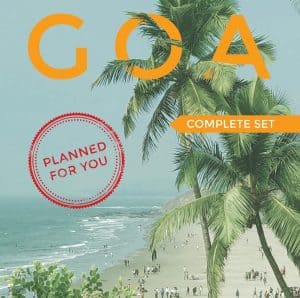 Goa: Planned for You
A handy digital travel plan that includes
Specially curated stay recommendations
restaurant suggestions
a day-wise break-up of things to do
a fully interactive Goa map
special insights and lots more!
---
Day 3: Panjim/Old Goa
Panjim, the capital of Goa, is nothing like the touristic Goa that you would see on Day 1 and Day 2. It is rich in Goan culture and is a place where you see the cathedrals, churches and even a few temples close by.
Basilica of Bom Jesus
This is one of the biggest and most visited cathedrals in all of Goa. In fact, it is also a UNESCO World Heritage site. Its unplastered exterior is uniquely attractive.
It holds the mortal remains of St. Francis Xaviers.
Entry to the cathedral is free. But on weekends and during peak tourist season, the place is very crowded. Expect long lines and a wait of about 20-30 minutes for entry.
On other days, you will get a fairly zero-hassle entry into the cathedral.
Timings:
Mon to Sat – 9.00am to 6.30pm
Sunday – 10.30am to 6.30pm
Se Cathedral
This Cathedral is situated right opposite the Basilica. Its Gothic architecture is attractive.
The Cathedral is famous for its Cross of Miracles.
Church of St Francis of Assisi
This Church is right next to the Se Cathedral. It was built to celebrate the victory of Afonso de Albuquerque over the Muslim army.
In fact, the road leading to the Church is also very picturesque and one of the best places to capture a stunning picture of all the churches and cathedrals.
There is also an archeological museum here that's open on all 7 days. (9.00am – 12.30 and 3.00pm to 6.30)
The church is not open for tourists on Sunday.
Mangueshi temple
After the Christian side of Goa, it is now time to visit the Mangueshi temple.
The Mangueshi temple was a very important place of worship in Goa since many centuries. In the 16th century, the Gaud Saraswats (the community that worships Goddess Mangueshi) moved the temple from its old location to its present location with a view to protect it from the Portuguese invasion.
The temple has been restored a few times and not only does it look pleasing but it also exudes a serene vibe.
Eat at Ritz, Panjim
Ritz is one of the best seafood restaurants in Goa. It's a favourite amongst both – Goan tourists and Goan locals. So while you are in the very neighbourhood of Ritz, it make absolutely no sense for you to skip Ritz from your itinerary.
So go to Ritz and order a sumptuous Fish thali for yourself. (And if you are vegetarian like me – just order their kokam solkadhi alongwith your favourite main dish and watch the satisfied faces of fish lovers around you!)
Foutainhas/Our Lady of Immaculate Conception Church
The perfect afternoon walk would be through the lanes of the Fountainhas.
Fountainhas is the colourful quarter in Goa that retains Portuguese style houses.
You can go here for a nice post-lunch walk, for a quick bite at one of its bakeries or to get a picture clicked against the backdrop of one of its colourful houses to jazz up your Instagram.
Follow up your Foutainhas visit with a quick visit to the famous Immaculate Conception Church. You would recognize the church immediately because of its many Bollywood appearances. Again, a great place for a classic #goatrip picture for the gram
Miramar/Dona Paula
Close your day with a walk along Miramar beach. Miramar beach is one of the most non-touristy beaches of Goa. It is beach that's most frequented by the locals of Goa.
But even though it doesn't have too many touristy shacks, it's a lovely place to wind down after a sightseeing-heavy day.
If an urban beach doesn't excite you, you can visit the famous Dona Paula jetty.
Dona Paula jetty is also a famous filming location in Goa.
---
Watch my North Goa vlog for more ideas
---
Day 4: South Goa Attractions
Start your day down south with a visit to some of the famous tourist places in South Goa
Naval aviation museum
Mind you, this is the only naval museum in Asia!
Plus, it is also one of the only two military museums in India.
If you love aircrafts, you're in for a treat as the naval musuem houses 13 aircrafts.
Plus, the museum is designed to look like the interior of the aircraft carrier – INS Viraat – how cool is that!
Timings: Tuesday to Sunday from 9.30am to 5.30pm
Big Foot/Ancestral Goa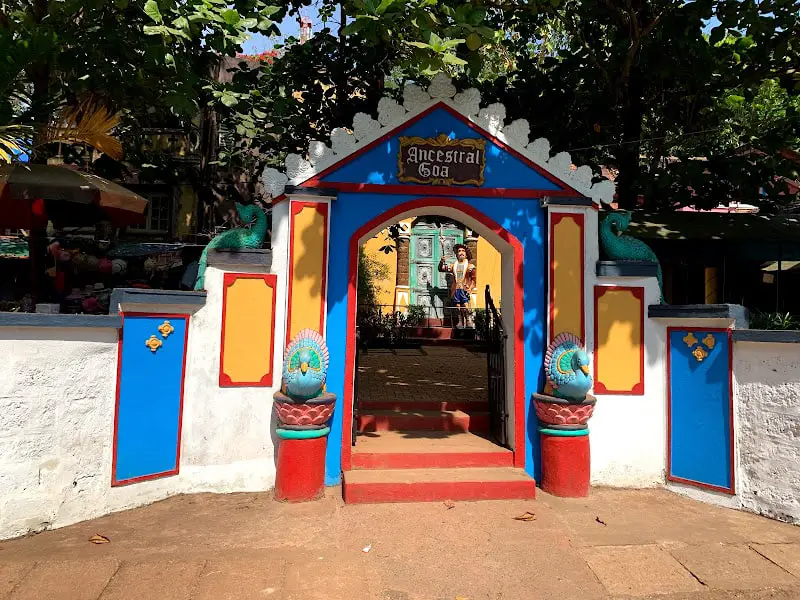 The Big Foot and Ancestral Portuguese House are located right next to each other.
One is a recreation of a typical Goan village. You will see life-sized statues of fishermen, rice farmers, etc. You will also see the statue of Mirabai (record-holder for being carved from a single stone).
I think the place is a great place to educate children and foreigners about the history of Goa and Goa's typical village life.
Right next to the Big Foot is the Ancestral Portuguese House – Casa Araujo Alvares. It is a 250-year old house of a renowned lawyer.
A 20-minute guided tour takes you around the many rooms of the house. An excellent way to experience life as it was two centuries ago!
The house has also appeared in the Bollywood movie Singham.
Colva Beach/Benaulim Beach
You should end your South Goa sightseeing day with a trip to Colva Beach or Benaulim Beach.
Colva beach
it is more crowded and attracts many Indian tourists
it has plenty of stalls outside selling icecreams
its silvery sand is great for a family outing or simply for people-watching
Benaulim beach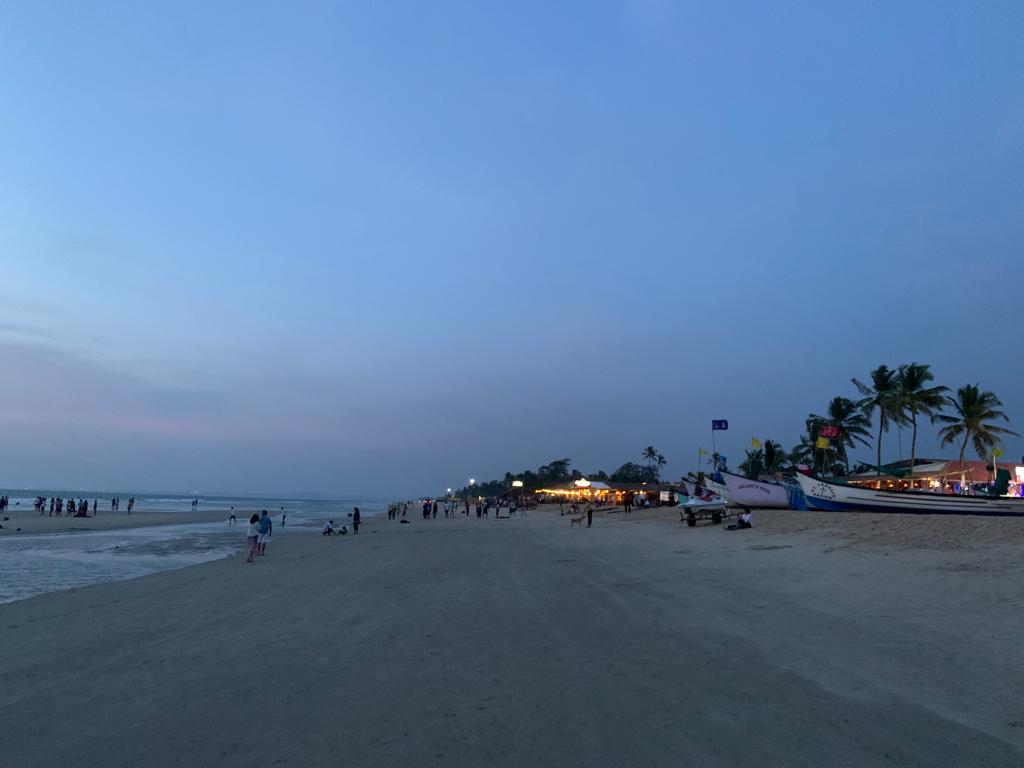 Benaulim beach has some of the best beachside shacks in South Goa. Roger's and Rafaels are particularly famous. You can even enjoy a quiet, romantic candle-light dinner here after sunset.
You can enjoy some watersport activities here before sunset.
Even though both Indians and foreigners love this beach, it's usually less crowded than Colva
---
Day 5: South Goan beaches
The beaches in South Goa are scenic and far less crowded than North Goan beaches.
They are a great escape from the touristy madness of the North.
Today, visit a few of the beaches from the list below:
Mobor beach
This wonderful Cavelossim beach is usually pretty deserted. Its white sand would light up your drone shots.
But even if you don't have a drone, it's a great place for a quick breakfast, a romantic walk with your loved one or a game of football with kids!
There are many good places to stay in Cavelossim for couples and family travellers.
Agonda beach
This beach is one of the southern-most beaches in Goa.
The 2020 cyclone Nisarga damaged many of its beachside shacks. But today, without an army of beachside huts and restaurants, the beach looks even more stunning. The palm trees lining the shore add to its appeal. It's quiet, deserted and encapsulates the beauty of raw Goa – Goa without tourism.
Palolem beach
If you like a slightly more vibey beach, visit Palolem beach.
It is as stunning as Agonda but adds a little touristy air to it with its beachside shacks and souvenir shops.
You can even take boats from here to go
eagle-feeding
island hopping to monkey and honeymoon islands
dolphin watching
There are many good places to stay in Palolem, especially for group travellers and solo travellers.
Some wonderful restaurants in this area worth trying out are
Ciaran's – wholesome Indian food
German bakery – delicious croissants and more!
Kopi Desa – lovely ambiance, tasty food
Cabo de Rama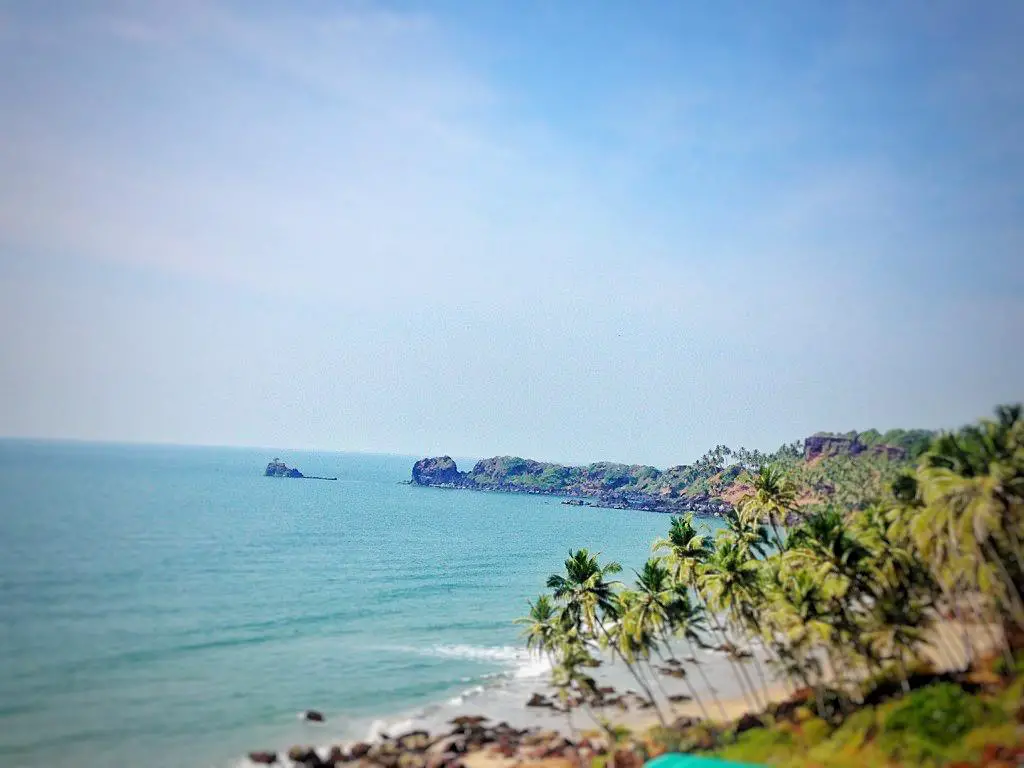 Cabo de Rama is one of the most special places in Goa. The cliff at the top is truly the best place in all of Goa to capture the Goan coastline decorated with coconut and palm trees around.
You can even climb down to the secluded little cove – Cabo de Rama beach to witness the most spectacular sunset in Goa.
The road leading to Cabo de Rama is pretty secluded with very few shops or houses along the way. Avoid wandering around alone in this area after sunset.
If you want to only stay in South Goa, see my article on the best South Goa itineraries for 1,2,3,4,5 days here.
You can read more about the best beaches in Goa in my article here
---
How to design a 5-day Goa itinerary to suit your travel style?
The 5-day Goa itinerary given above is a recommended itinerary. You do not need to strictly adhere to it or feel overwhelmed by it.
Goa is a state that's unlike any Indian state and no matter how you spend your time in Goa, you are going to have a great time!
Some ways to personalize your Goa itinerary are:
Ditch tourist places that don't match your travel style – e.g., skip Old Goa if you're not into churches or history.
Add more beach time: If you are a beach bum, skip Panajim and hang out longer at beaches you like. You don't even have to visit them all. If the beach close to the area you are staying in matches your liking, just spend your days there.
Add more adventure: You can add more adventure to your itinerary by trying out watersports at Sinquerim beach in North Goa or Benaulim in South. You can even go boating at the Nerul river. Go on this incredible bungee jumping tour in Goa.
Hope the above helps you customize the trip as per your liking.
Alternatively, you could simply get my digital travel plan Goa: Planned for You. It's curated to meet different travel styles.
GOA: PLANNED FOR YOU
Benefit from our expertise in Goa. Save hours of trip planning effort, save thousands of rupees on travel agents and kill trip planning overwhelm.
Get access to the best Goa trip plan with specially curated stay recommendations, restaurant suggestions, day-wise break-up of things to do, a fully interactive Goa map and much more in a single downloadable pdf.
---
Read more articles on Goa:
46 Best things to do in Goa: An Ultimate List
26 Goa travel tips: You must know before you go
North Goa in 3 days: The best itinerary
Read about other destinations in India here.
---
Save it for later!
---
TOP TRAVEL RESOURCES
Here is a list of our favorite travel resources- the ones that I absolutely swear by when planning almost every trip. Go through this list to plan a hassle-free trip and save a lot of money!
Flight Booking: Check the availability of tickets, the best time to fly, and the cheapest fares on Skyscanner. You may also find a cheap flight via CheapOair
Accommodation: I absolutely love booking through Agoda. In most countries and particularly in Asia, I often find the best fares on Agoda. But I also love the no prepayment and no cancellation fee policy of Booking.com. For cheap accommodations and hostels, nothing beats Hostelworld.
Car Rentals: You may find and rent an appropriate car via RentalCars. It's hassle-free and reliable.
Guided Tours: I absolutely love GetYourGuide for local sightseeing tours, walking tours, history tours, and food tours. The booking process is seamless, and the tours are super affordable. But in Asian countries, I prefer Viator or Klook for their affordably priced tours.
Lounge Access: Get Priority Pass – my personal favorite card that gives me unlimited access to premium airport lounges all over the world
Hey, if you found this post helpful, share it with more people or buy me a coffee!