How to Spend One Day In North Goa: 4 Solid Itineraries
This website contains no sponsored content. The content is written entirely on my own and is based on my personal experience and extensive research. This post may contain affiliate links. If you make a purchase through one of these links, I may receive a small commission at no extra cost to you. As an Amazon Associate I earn from qualifying purchases. Please read the disclaimer for more information.
Running short on time and want to spend just one day in North Goa?
Don't worry, it is possible to plan one day North Goa.
You can travel on your own or go with an organized tour.
In this post you will learn all about the best places to visit in North Goa in one day along with a few itineraries to suit your travel type.
---
On most of my trips to Goa, when I stay in South Goa, I plan a quick one day trip to North Goa. So given that I have done this a few times, I can help you plan your one day in North Goa in a way you like. Whether you're on a quick weekend trip, have a short layover, travelling on a short work trip or visiting Goa for a day from nearby regions like Konkan or Karnataka – if you have just one day for North Goa – you don't have to worry. The best way to spend just 1 day in North Goa is by visiting the key monuments in Old Goa, followed by the famous forts of Goa and then finishing off with time on a beach in North Goa.
Read on to find out more about which places to visit, how to visit and what to remember when planning a day in North Goa.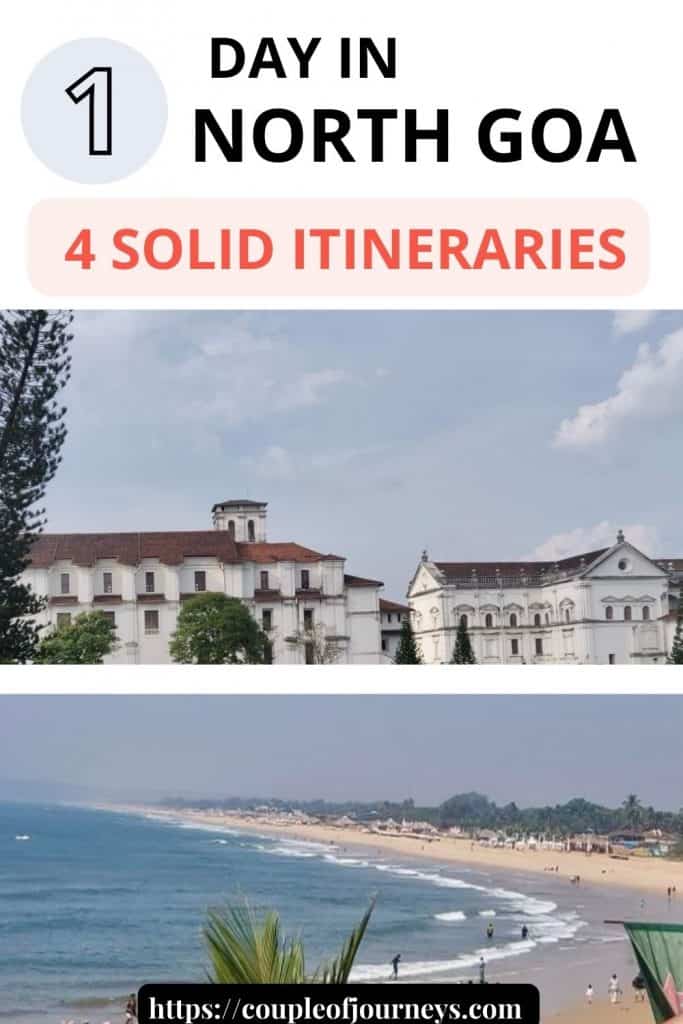 This post may contain affiliate links. If you make a purchase through one of these links, we may receive a small commission at no extra cost to you. Please read the disclaimer for more information.
One day in North Goa: Frequently Asked Questions
Is 1 day in North Goa enough?
One day in North Goa is enough for visiting key tourist attractions, forts and the main beaches. But the trip would feel a bit rushed. If you want a more slow-paced trip to North Goa, plan to spend at least 2 days in North Goa.
How to spend one day in North Goa?
To get the most out of one day in North Goa, visit the primary tourist attractions mostly located in Old Goa, Panjim in the morning and in the afternoon visit Fort Aguada or Fort Chapora and spend the evening on a beach of your choice. You can plan a one-day visit to North Goa either through a tour operator or on your own.
Is it possible to visit North Goa on a day trip from South Goa?
Many tour operators in South Goa offer day trips to North Goa which include a visit to the Old Goan churches and forts, a few famous North Goan beaches and at times a 45 minute cruise in the Mandovi river. The entire tour takes up at least 8 hours and proves to be a bit hectic.
A better way of spending a day in North Goa is by visiting fewer tourist attractions and spending more time at the beach absorbing the vibe of the place which is so different from South Goa.
---
How to spend one day in North Goa
Option 1: Organized tour
Heading out on an organized tour is the most common way of spending one day in North Goa. An organized tour is a fair choice if you're staying in South Goa and don't want to bother creating an itinerary that works i.e. one taking into consideration the distance between places, opening and closing hours etc.
The best way to book an organized tour is by getting in touch with a nearby vendor. Most local operators provide a car and a driver cum guide. For larger groups, they may even provide a slight concession and book a small bus for you.
A typical North Goa tour itinerary includes the following
Old Goa
Fort Aguada
Chapora Fort
Vagator Beach
Baga Beach
A few less famous temples and churches and
a tourist attraction like Snow Park
The other alternative is to book an organized tour online. The benefit of doing this is that you pay per person and it proves to be a bit cheaper for solo/couple travellers.
Choice 1 – Organized tour to North Goa (History, architrecture and beaches – Famous and less famous tourist spots)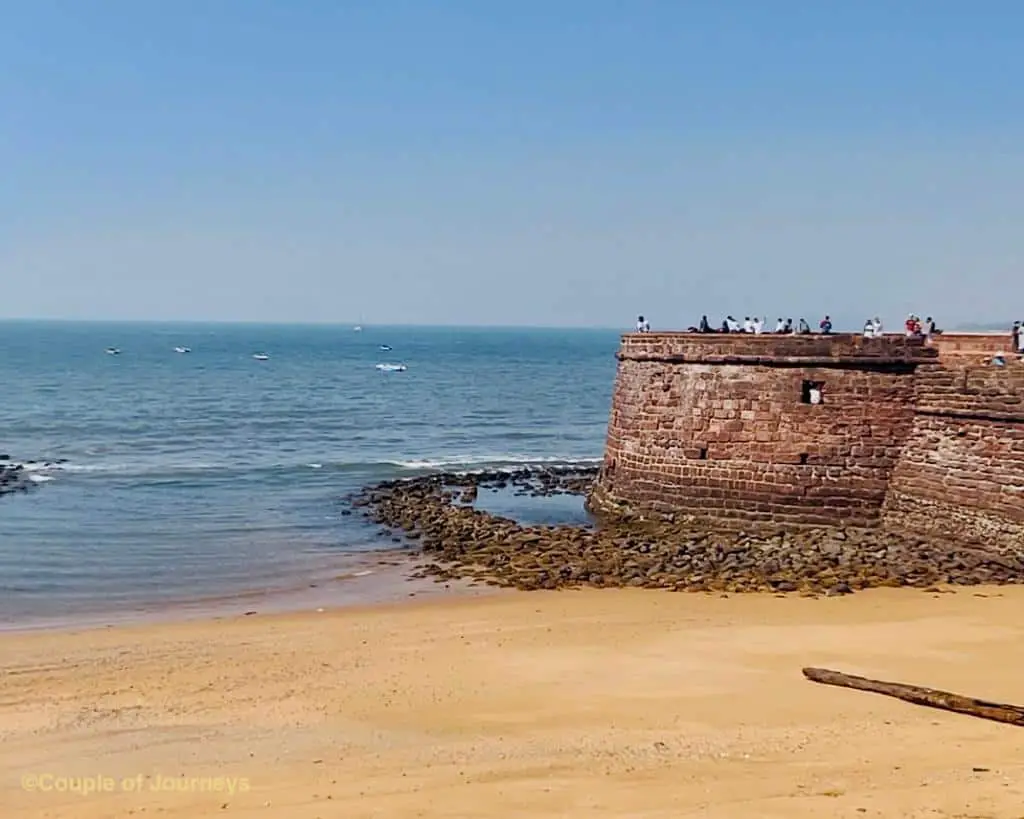 This trip includes a visit to the Immaculate Conception Church, St. Sebastian Church, the colourful Fountainhas quarter followed by a visit to the stunning Aguada fort and a beach in North Goa.
But over and above these standard attractions, the tour also lets you visit a few offbeat places like the Kala Academy, the Houses of Goa museum and the local's favourite- Miramar Beach.
It is a great choice for those that want to dive deeper into the history of Goa and get a feel of how Goa stands today.
See tour details and availability here.
Choice 2 – Organized tour to North Goa (Beaches & Forts only)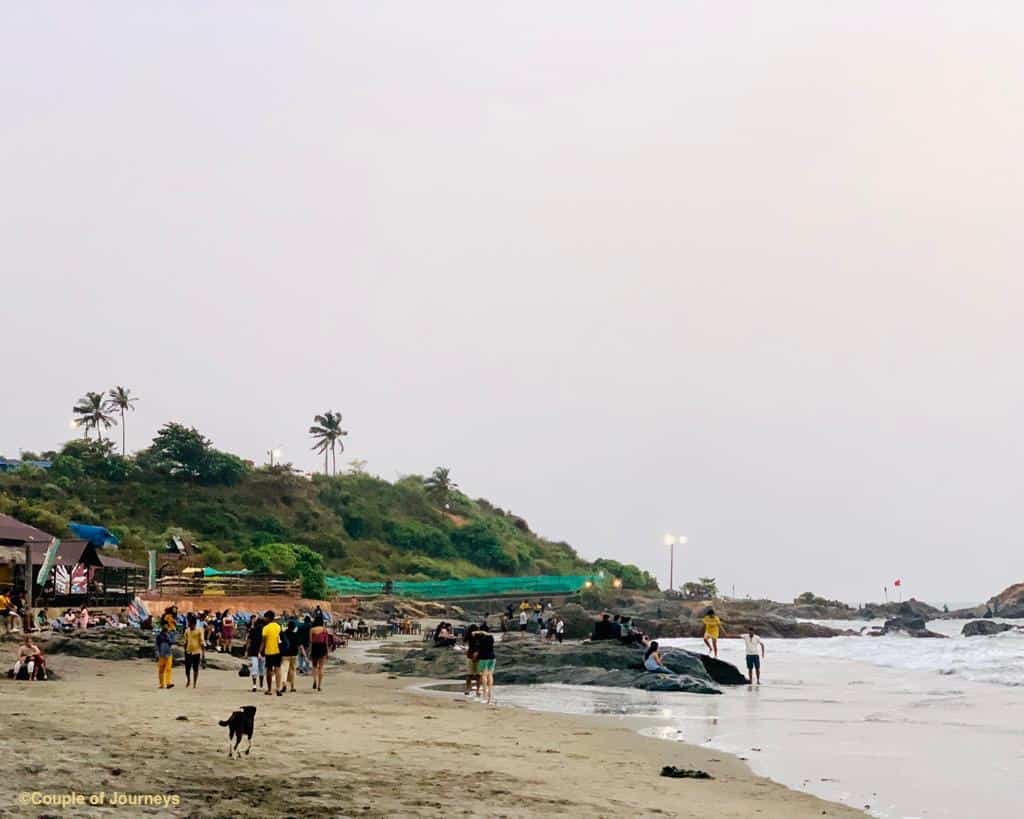 If you want to skip Old Goa altogether, try out this trip.
It takes you through all the beaches between Candolim and Vagator.
It also lets you spend enough time at Fort Aguada and Fort Chapora.
Basically, you cover the touristy part of North Goa in just one day!
See tour details and availability here.
---
Option 2: Self-organized North Goa tour
Now as you can see, there are restrictions in terms of the places you can see when you're on an organized tour. I see no point in visiting all the beaches of North Goa when you just have one day. Likewise, visiting multiple museums and art centers when you're short on time, is also not judicious.
So here's a sample 1 day itinerary of North Goa.
You can use it to plan your own trip. To execute this itinerary, book a car or a two-wheeler for an entire day from a vendor close to your hotel.
Old Goa Churches (10 am to 12 noon)
Visit the churches in Old Goa. The primary ones to visit are Basilica of Bom Jesus, Se Cathedral and St. Francis Assisi church.
I recommend you to visit the museum at St. Francis Assisi church if you're short on time.
Visit these places first thing in the morning to avoid crowds and queues.
Observe the different styles of Portuguese architecture. The use of laterite stone at Basilica of Bom Jesus sets it apart from many other Portuguese churches across the world.
Panjim Church/Immaculate Conception Church (12 noon to 12:30 pm)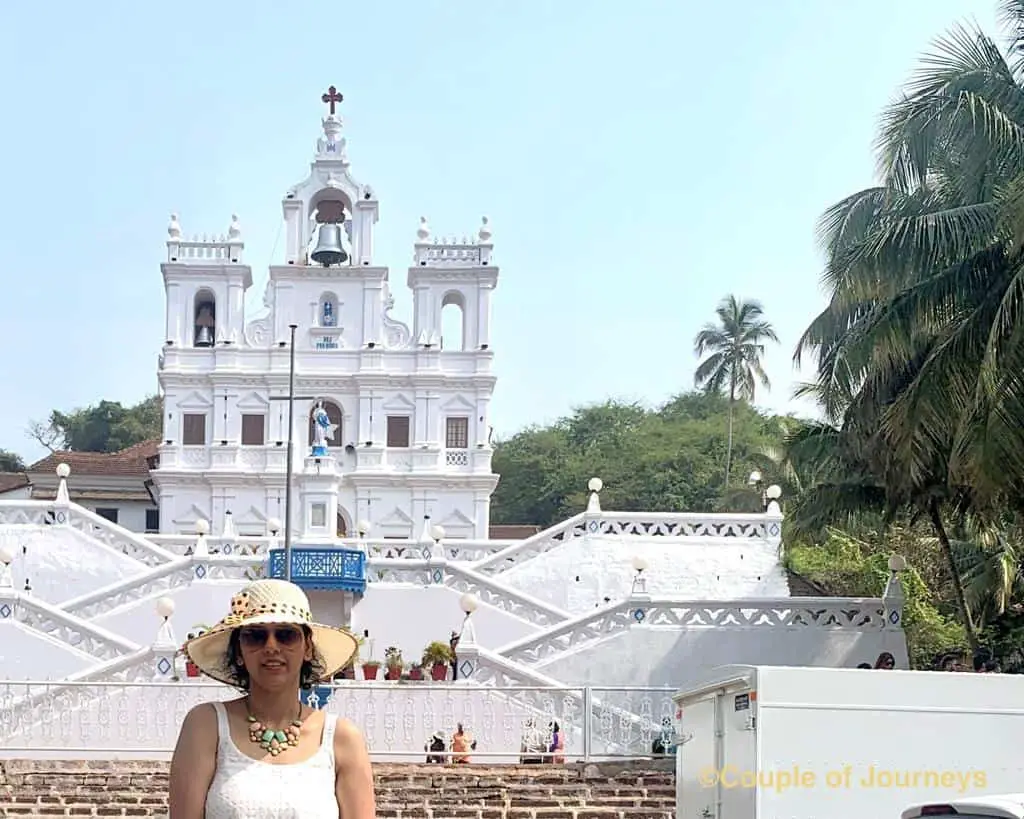 From here make a quick stop at the Our Lady of Immaculate Conception Church. It is one of the most architecturally beauiful churches in all of Goa. It is also a major filming location and you'd recognize it instantly if you've watched movies like Simmba, Josh, Kabhi Ha Kabhi Na, Aashiqui 2 etc.
Don't spend too much time here. Click a picture from the divider across the street for a full view of the church.
Fountainhas (12:30 pm to 1:30 pm)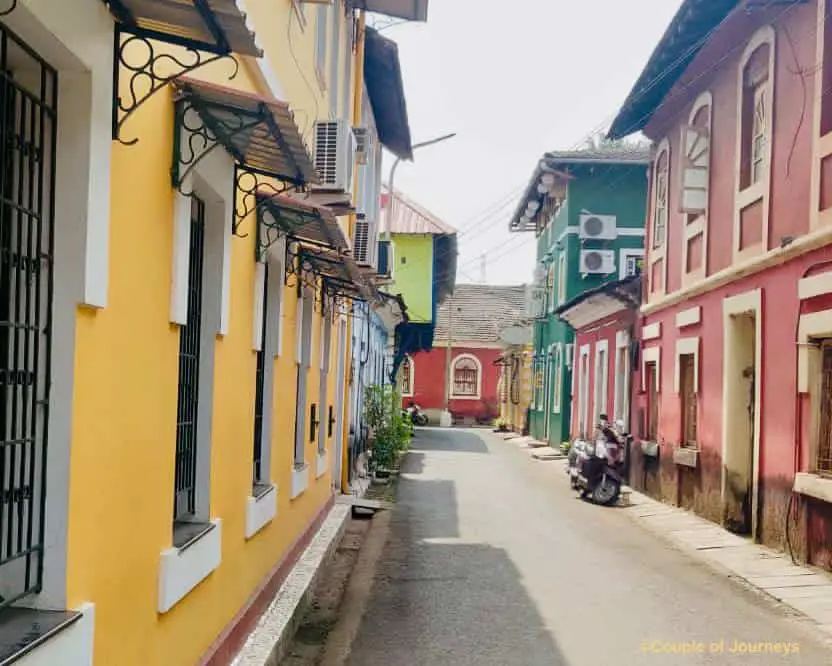 Walk through the lanes of Fountainhas
Appreciate the use of colour
Observe how the houses are still in use by locals
Click pictures outside a building of your choice
Check out St. Sebastian Church from outside
Have lunch at Ritz Classic (1:30 pm – 2:30 pm)
The seafood thali is globally renowned. But they serve excellent vegetarian food too.
Visit Fort Aguada (2:30 pm to 4:00)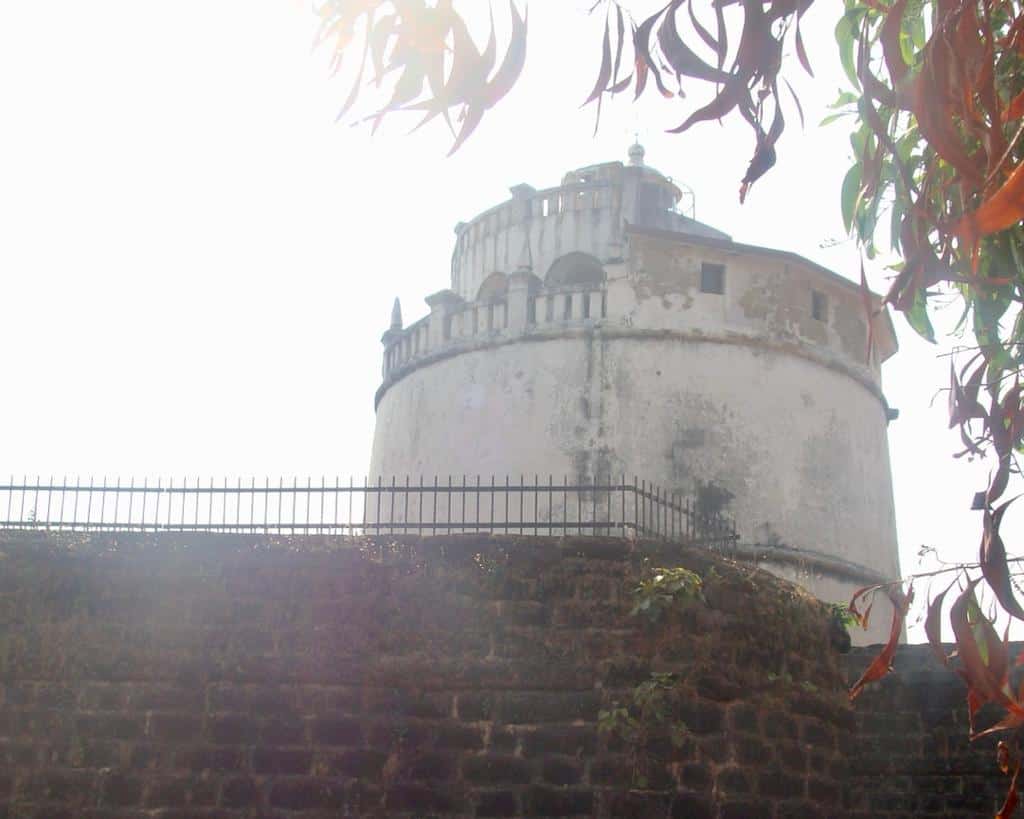 Walk around the entire place
Observe their water storage facilities
Go and check out the lighthouse
Click pictures of the surrounding coastal area from the top
Hang out at Baga Beach/Anjuna Beach (4:00 pm to 5:00 pm)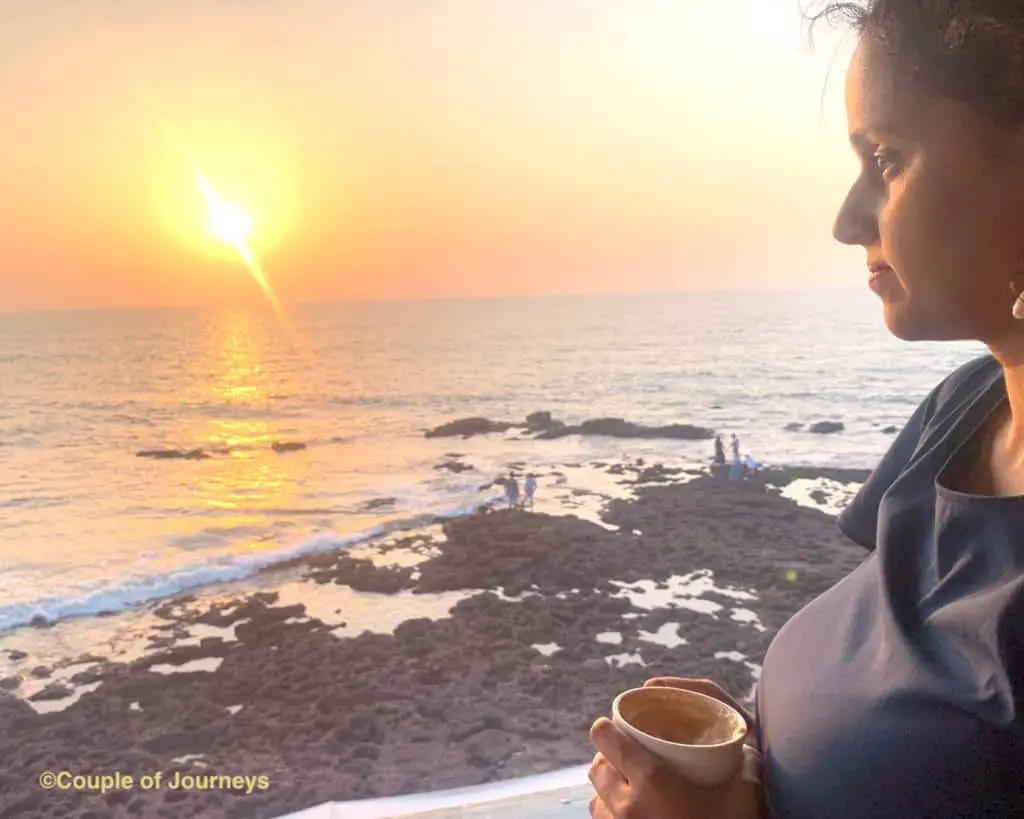 Spend time at a beach of your choice. Baga is more crowded. Anjuna is rocky.
Try out watersports.
Chill at a beachshack
Or shop at streetside markets
Basically, take in the vibe of touristy Goa – a rare blend of buzzing yet laid-back.
Watch the sunset at Chapora Fort (5:00-sunset)
Head towards Chapora fort around 5. Besides its enormous historic significance, the fort is now renowned as the 'Dil Chahta Hai' fort. But it is also one of the best spots in North Goa to watch the sunset from. It also overlooks the gorgeous Vagator beach.
Between November and February, the sun sets around 6:30 pm. So try to reach Chapora by 5:30 pm.
Climb to the top and grab a spot on the fort wall by 6 pm to ensure you get the best sunset view.
Quick tips for your self-organized tour
Booking a vehicle with a driver is recommended if you don't want to worry about finding parking for your car. Finding a parking for your car is difficult in Old Goa and Fountainhas. But you can easily find parking if you're travelling on a two-wheeler.
If you're staying in South Goa and plan to follow the above itinerary, leave early morning. (7:30 am from Palolem and 8:30 am from Benaulim). You will go back by 8:30-9:00 pm. So book your vehicle accordingly.
---
Option 3: Overnight stay in North Goa (recommended for party-lovers and couples)
If you can extend your stay in North Goa by a few hours to be able to spend one night, you'll be able to do lots more than you can if you just spend your daytime in North Goa.
But before that make sure that you
Visit North Goa during peak season. Many beach shacks and party places are shut in monsoons and summers and spending a night in North Goa would not really help you much if you visit Goa during offseason.
Anjuna is quieter than Baga but full of incredible accommodation choices catering to all budgets.
The cafés, bars, and beach clubs are also very charming in terms of their ambiance, vibe, and decor.
But if you prefer, you can stay in other North Goan areas as well. Check out my article on the best areas to stay in Goa.
Now that we know the prerequisites – here's what you can do post sunset or instead of a sunset at Chapora
Chill at a cafe in Anjuna. I love Purple Martini, Moon Star. Both offer exceptional sunset views.
Head out on a sunset cruise over Mandovi river. See options here
Plan a candle light dinner on a beach shack. (Vagator beach is ideal as it's far less crowded) or a special one at Olive Bar & Kitchen
Go partying at Curlies, Club Cubana, Titos, Hammerz, Hilltop or any other famous Goan nightclub
Visit the Friday Night market at Vagator (if you're in North Goa on Friday). There's lots to shop and eat. The music played is also very vibey. It goes on until the wee hours of the night.
---
Option 4: 1 day in North Goa (nature-lovers/offbeat)
If you're a nature lover and want to skip the touristy side of North Goa, here's how you can put your day in North Goa to use.
Choose from one of the options below
Go white water rafting in Mhaidei river inside the Mhaidei wildlife sanctuary (Plan around 5 hrs)
Go an island trip to Divar island, Chorao Island or Sao Jacinto island. Enjoy a boat ride, go cycling or go on a bird trail at Dr. Salim Ali Sanctuary. See e-bike island tour details here.
Hike in North Goa. Go up the Arambol Mountain for a difficult session or climb to the Bear's Claw near Lower fort Aguada for a quick hike.
---
Where to stay in North Goa?
If you have just one day in North Goa and you plan to stick to the touristy side, stay in Anjuna. There are lots of things to do in Anjuna and Vagator itself to keep you busy for a day.
If you want to explore the offbeat places, stay in Candolim or Arambol (spl. for hiking and rafting).
See best-rated accommodations in North Goa here. Use the map function for better understanding.
---
Want to see more of the best Goa has to offer?
---
Don't spend hours planning a Goa trip, when I already have Goa – Planned for You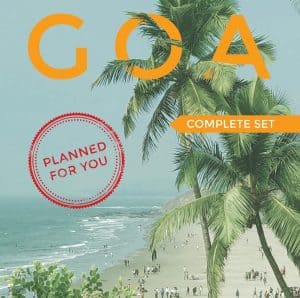 Goa: Planned for You
A handy digital travel plan that includes
Specially curated stay recommendations
restaurant suggestions
a day-wise break-up of things to do
a fully interactive Goa map
special insights and lots more!
---
Save for later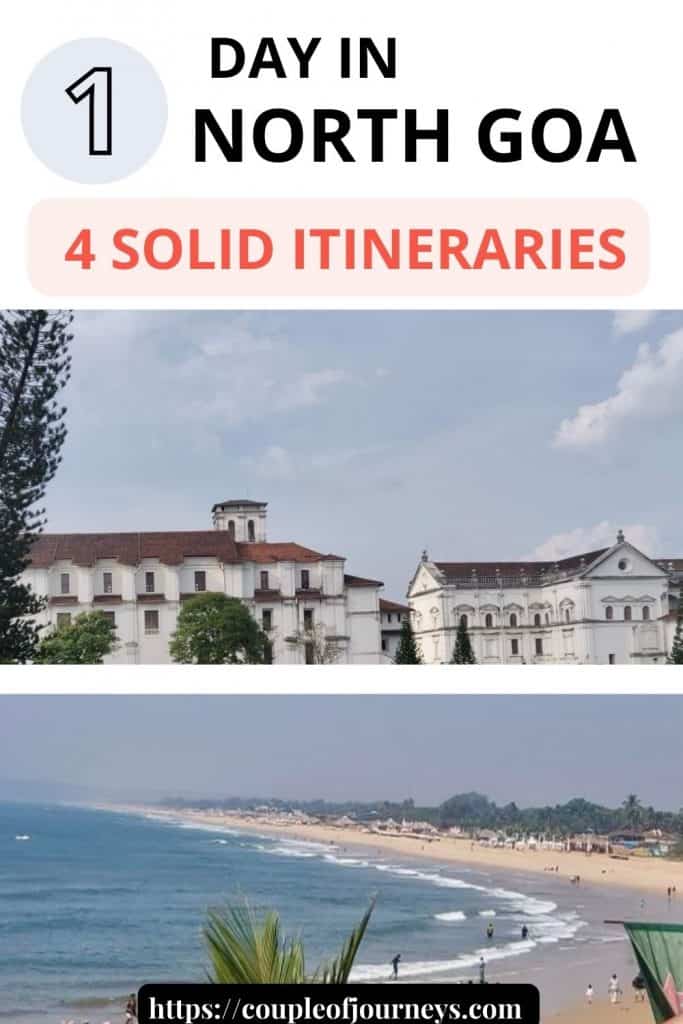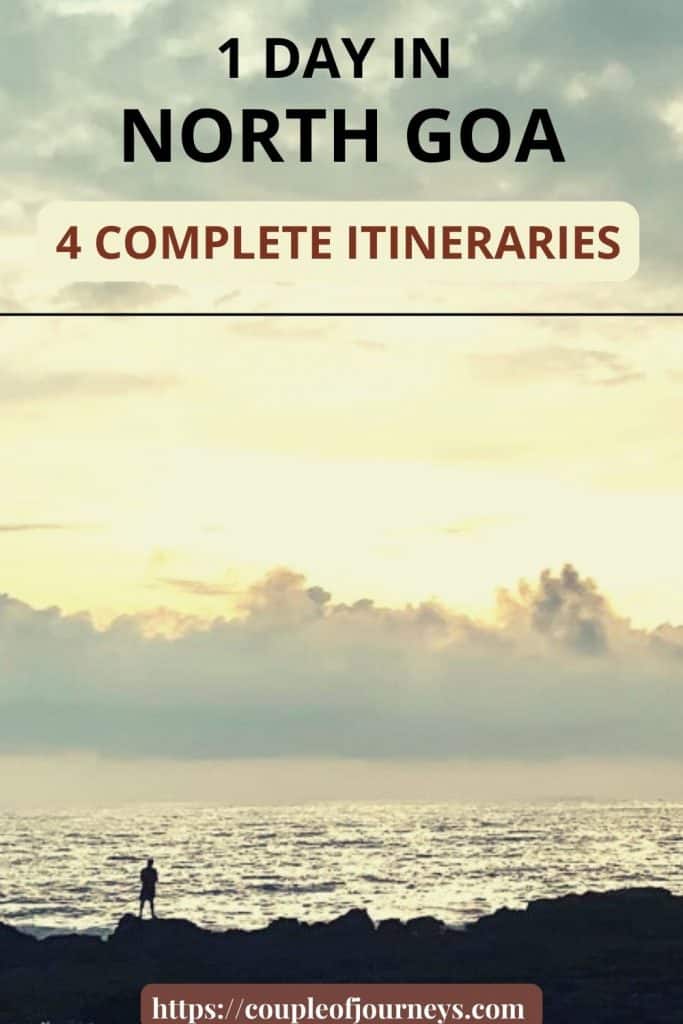 ---
TOP TRAVEL RESOURCES
Here is a list of our favorite travel resources- the ones that I absolutely swear by when planning almost every trip. Go through this list to plan a hassle-free trip and save a lot of money!
Flight Booking: Check the availability of tickets, the best time to fly, and the cheapest fares on Skyscanner. You may also find a cheap flight via CheapOair
Accommodation: I absolutely love booking through Agoda. In most countries and particularly in Asia, I often find the best fares on Agoda. But I also love the no prepayment and no cancellation fee policy of Booking.com. For cheap accommodations and hostels, nothing beats Hostelworld.
Car Rentals: You may find and rent an appropriate car via RentalCars. It's hassle-free and reliable.
Guided Tours: I absolutely love GetYourGuide for local sightseeing tours, walking tours, history tours, and food tours. The booking process is seamless, and the tours are super affordable. But in Asian countries, I prefer Viator or Klook for their affordably priced tours.
Lounge Access: Get Priority Pass – my personal favorite card that gives me unlimited access to premium airport lounges all over the world
Hey, if you found this post helpful, share it with more people or buy me a coffee!