46 Best Things To Do in Goa
This website contains no sponsored content. The content is written entirely on my own and is based on my personal experience and extensive research. This post may contain affiliate links. If you make a purchase through one of these links, I may receive a small commission at no extra cost to you. As an Amazon Associate I earn from qualifying purchases. Please read the disclaimer for more information.
In this post you will learn all about the best things to do in Goa. We will cover
the best beaches in Goa
the best churches and temples in Goa
the best forts, museums and other tourists attractions
the best sunset points in Goa, Goa filming locations and must-try experiences in Goa.
---
Goa is my most favourite travel destination in India. I visit it at least 2-3 times every year and, in total, I must have been to Goa over 20 times. Every trip to Goa is special in its own unique ways and every trip, I discover new facets of Goan beauty.
In this post I am going to share with you a long list of the best things to do in Goa that I have personally curated based on my vast Goa travel experience.
For a perfect Goa trip, visit places from the list below that excite you, add some interesting experiences to your itinerary and park enough time in your schedule to simply chill in a classic Goan susegaad (laidback) way.
This post may contain affiliate links. If you make a purchase through one of these links, we may receive a small commission at no extra cost to you. Please read the disclaimer for more information.
Best Things to do in Goa: Why visit Goa
Is Goa worth visiting?
Goa is absolutely worth visiting for every type of tourist. Goa presents endless opportunities to tourists in the form of spectacular beaches, forts, monuments, temples, churches, delectable food and unique cultural offerings.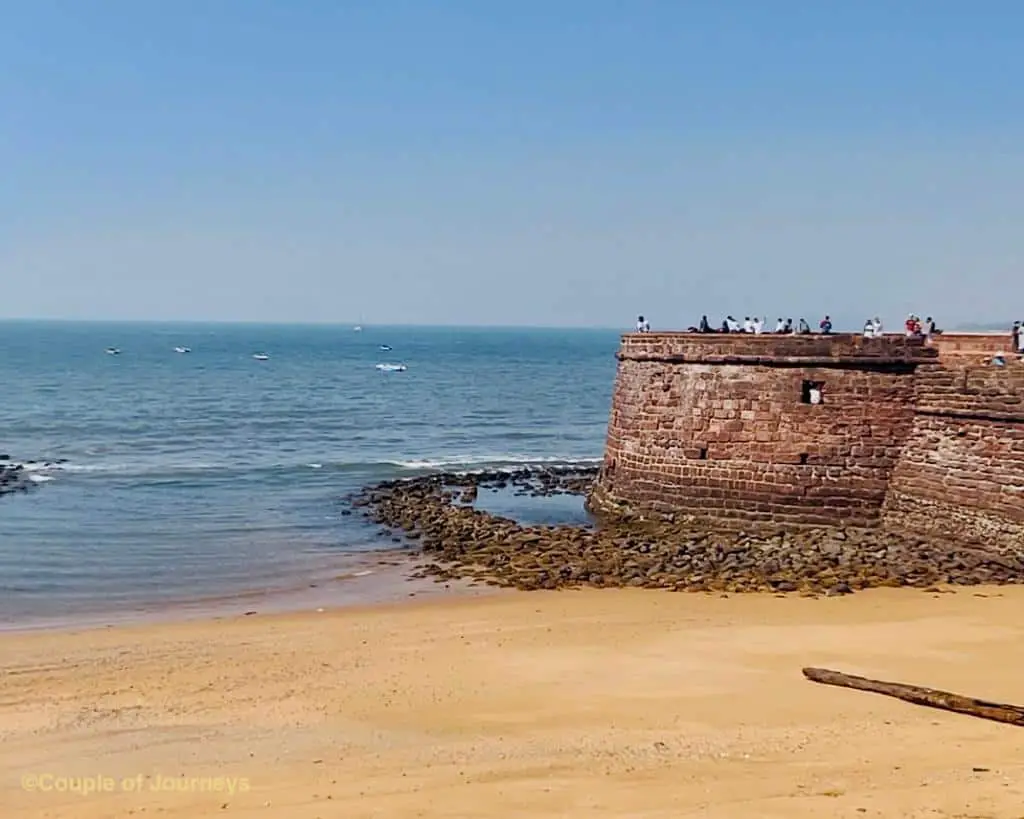 What is Goa famous for?
Goa is famous for its unique Indo-Portuguese cultural blend, its many stunning beaches, old temples and churches. It is also popular amongst tourists for its vibrant nightlife and seafood.
What is special in Goa to buy?
The best things to buy in Goa are cashews and feni (indigenous Goan liquor). But many foreign tourists also buy spices, beachwear, handbags and other locally made products sold in Goan flea markets.
If you are planning to carry alcohol bottles with you back home, please read all the rules in my post on travelling on a domestic flight with alcohol here.
---
Top 5 Things To Do in Goa
I will explain all the best things to do in Goa in greater detail later in the post. But first, here are my top 5 things to do in Goa
Visit Chapora fort for sunset
Visit the monuments in Old Goa and walk through the lanes of Foutainhas
Take in the spectacular panoramic view from Cabo de Rama
Try out Goa's local food and drinks (Seafood, feni and King's)
Chill for hours on a gorgeous Goan beach
---
About the name
Goa has been known by various names since ancient times.
Some of the names by which it has been known are Gomant, Govarashtra, Goparastra, Govapuri, Gopakpuri, Gopakapattana and Gove.
While some of the names referred to the whole region, a few referred to its capital or its primary port.
All the Hindu names associated with Goa refer to it as the land of the fertile soil.
The Portuguese changed the name of this region to its present day name 'Goa' 400 years ago.
---
Goa trip: Planning Tips
Goa map and where is Goa located?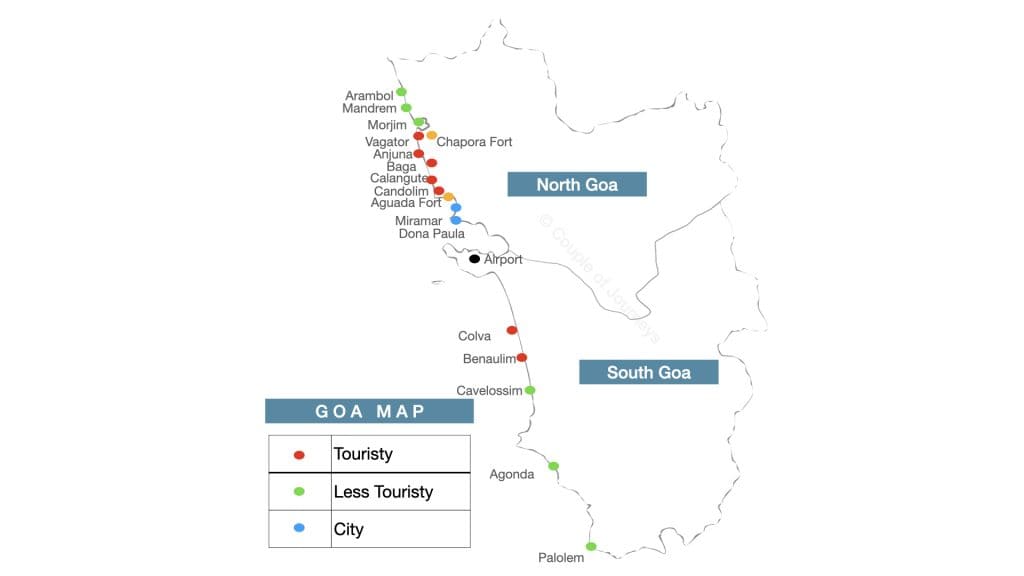 Goa is located on the western coast of India.
It is located to the South of Maharashtra and to the North of Karnataka.
Distance to Goa from major cities is as follows:
Mumbai to Goa: 591 kms (12 hours by road)
Pune to Goa: 448 kms (9 hours by road)
Kolhapur to Goa: 220 kms (4.5 hrs by road)
Bangalore to Goa: 562 kms (11 hours by road)
Mangalore to Goa: 345 kms (7.5 hours by road)
How to get to Goa?
You can travel to Goa by road from any of the cities in India
You can also take a flight to Goa. Goa has an airport that is connected to all the major cities in India as well as a few international destinations.
You can also take a train to Goa. Madgaon, Vasco de Gama and Karmali are the major junctions connecting Goa with the rest of the country.
The Konkan Railway route connecting Mumbai and Goa is particularly scenic. Book the Tejas Express for the best views.
You can even visit Goa on a cruise from Mumbai by Cordelia cruises.
Best time to visit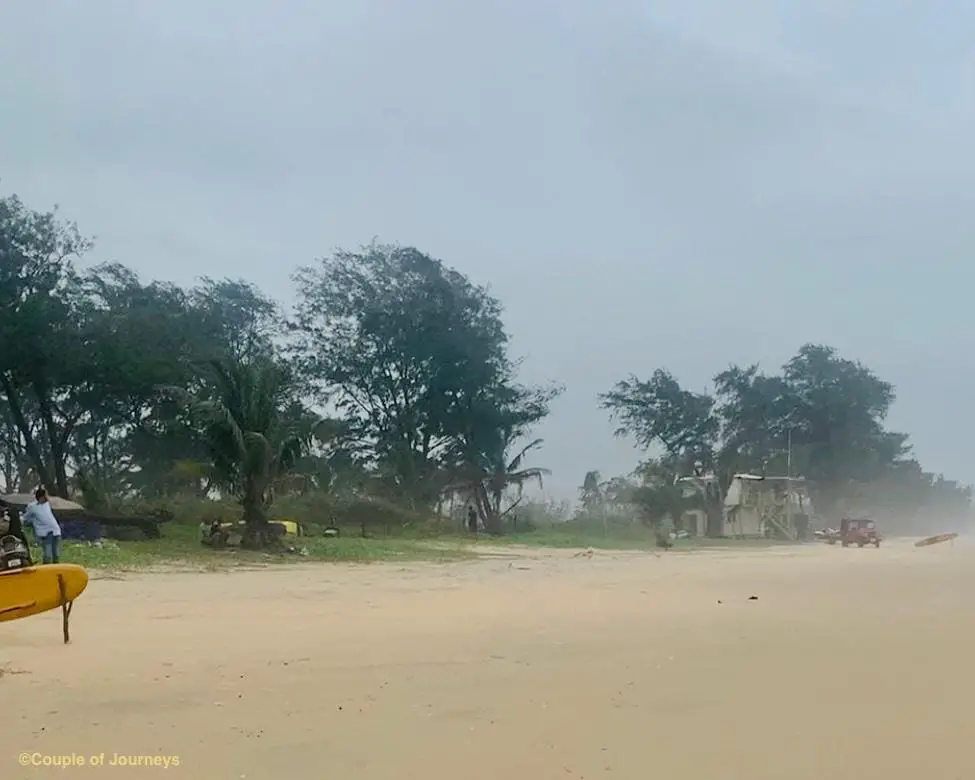 The best time to visit Goa is between November and February when the weather is the most pleasant with temperatures between 20 and 30 degrees celsius.
If you are a nature-lover, not specifically seeking Goan beaches, shacks and parties, you can also visit Goa during monsoons i.e. between June and September. Goa is most scenic during monsoons but be willing to navigate through heavy rainfall in June and July.
How to get around in Goa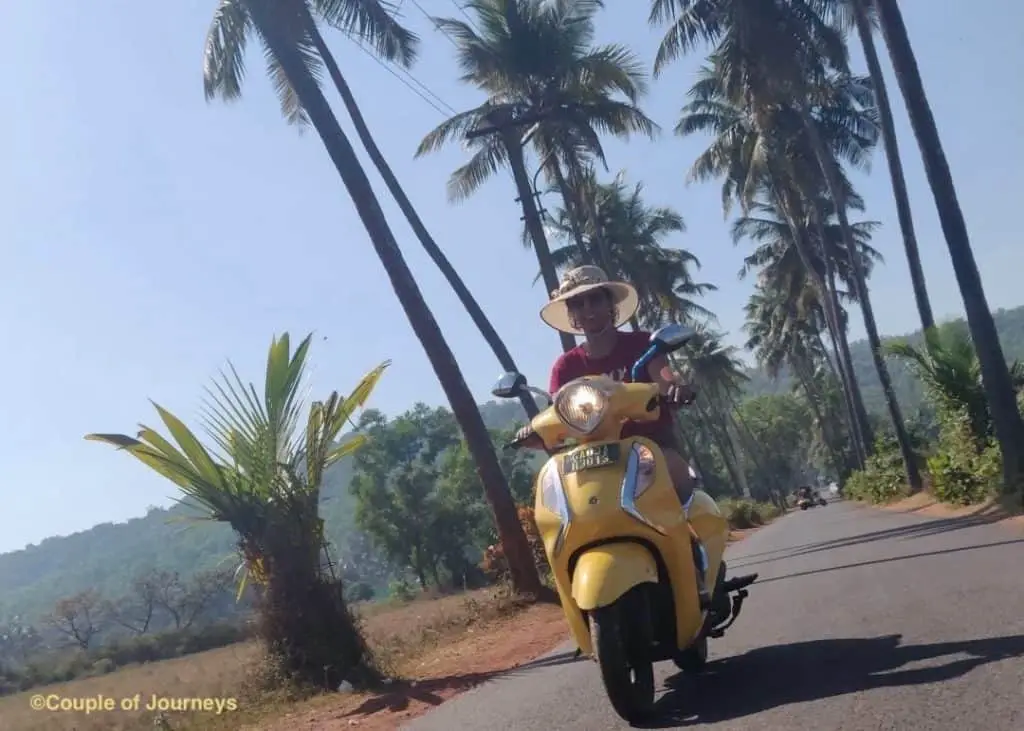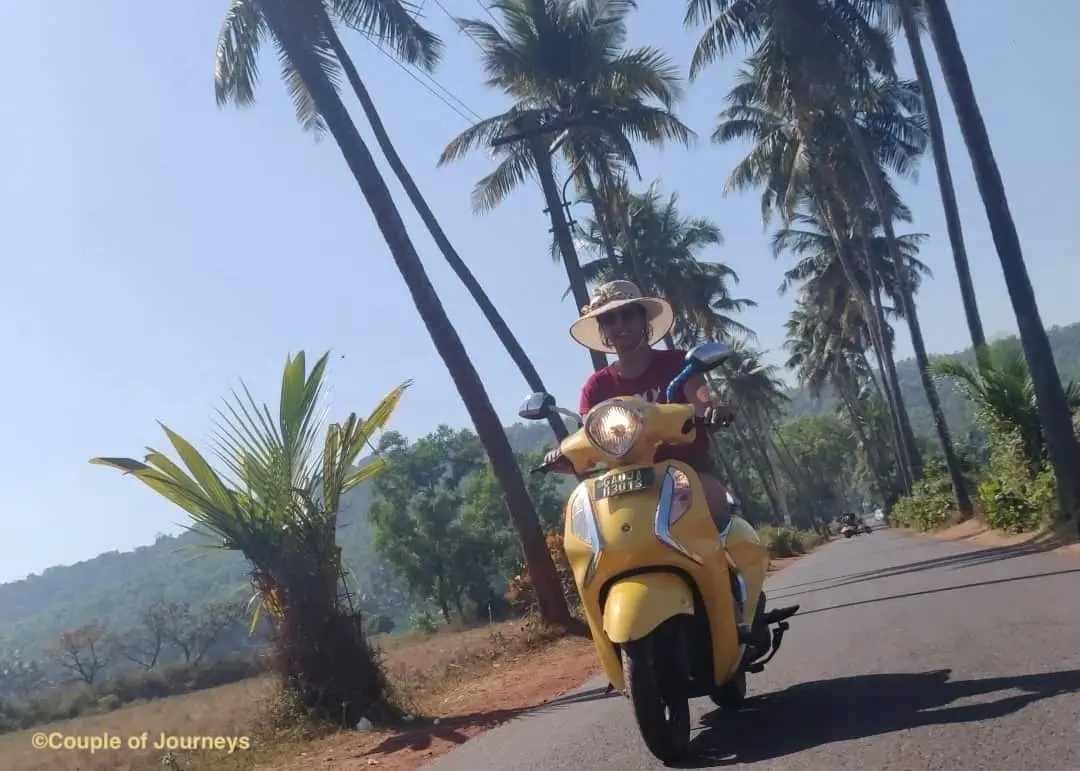 Goan public transport does not have great connectivity and is best avoided. But if you are on a budget, you can use a train or a public bus to travel from North Goa to South Goa or vice versa. (Check timings beforehand)
The best way to get around in Goa is by renting a two-wheeler or a car. Petrol is much cheaper in Goa than its neighbouring states and rental vehicles are easily available at all tourist locations.
How long to visit Goa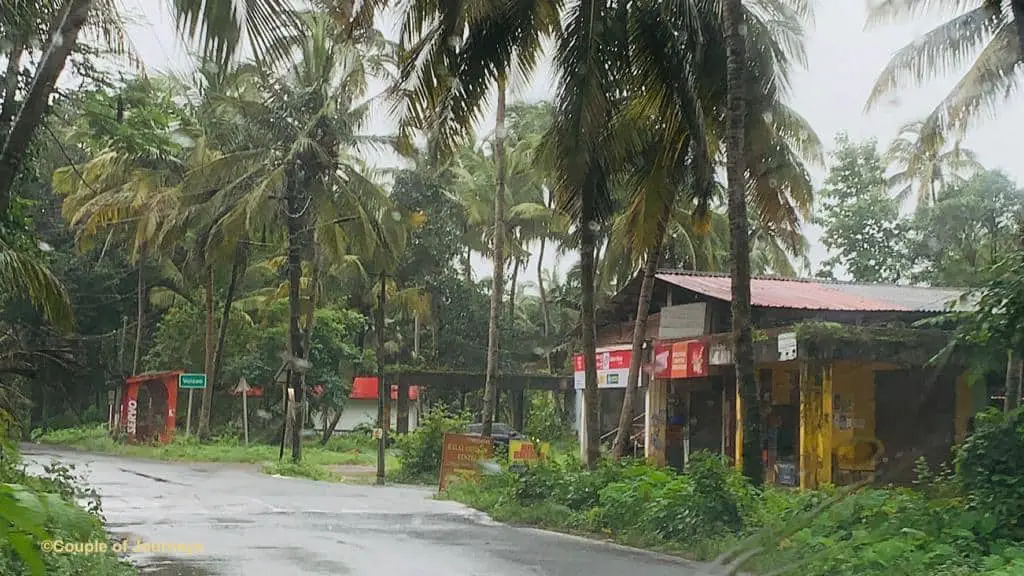 You can easily visit all the touristic highlights of Goa in 4 days (North Goa and South Goa both)
But to experience the true essence of Goa – its unique susegaad vibe (laidback attitude), it is recommended that you stay in Goa for at least 7 days and divide your stay between North Goa and South Goa.
You can even use Goa as your workation base and stay for longer periods of time in Goa. There is enough to explore in Goa even you stay there for a month
Read my article on how many days are enough in Goa here
Important Goa Travel Tips
Goans love their afternoon siestas. So many local shops remain shut in the afternoon.
Expect crowds and over commercialisation in touristy areas like Candolim, Calangute and Baga.
Even between November and February, the sun is quite harsh during the afternoons. Always wear a 50 SPF sunscreen in Goa like this one to avoid sunburn (I learnt this the hard way!)
To experience the true magic of Goa, keep a few days free to simply relax on a beach
Goan taxi unions are strong and unless you a rent a car online, you will have to hire a cab from your local area only.
Goamiles is the best app and often the cheapest too for booking a cab from the airport to your stay area.
Paid parking is available near most major tourist attractions
Avoid accepting any food or drinks from strangers. It could be a scam and you could get arrested for wrongful possession of banned substances.
Always check most recent user reviews of accommodations before booking. Many properties have shut down in the last couple of years.
Dress modestly when visiting churches and temples.
It is also advisable to keep a mosquito repellent like this one handy (if staying at homestays, hostels or visiting Goa between June to February)
---
Where to stay in Goa
Best areas to stay in Goa
The three best areas to stay in Goa are:
Candolim, North Goa: Best for first-time visitors to Goa, close to most touristic attractions, plenty of restaurants, cafes, shacks and clubs around. If money is not an issue, stay at the luxurious Taj Aguada for royalty-like treatment and the best views. For more pocket-friendly options, stay at a 3 star property in Candolim. These places are popular and always book fast. Check out availability here.
Palolem, South Goa: Most scenic base in South Goa. Excellent for couples, solo travellers and foreigners. Close to many South Goan attractions, beaches and trekking trails. There aren't many luxury properties here. The best one for couples, families and foreigners is The Arks Comfort. For solo travellers, I like The Lost Hostel, Palolem for its clean dorms and terrific location 2 mins away from the beach.
Ashwem/Mandrem, North Goa: Quaint, scenic area in North Goa ideal for families, workations and longer stays. Favourite amongst foreigners too. The Boomerang Resort here is a small colony-like resort property here that's just perfect!
Looking for the best places to stay in Goa?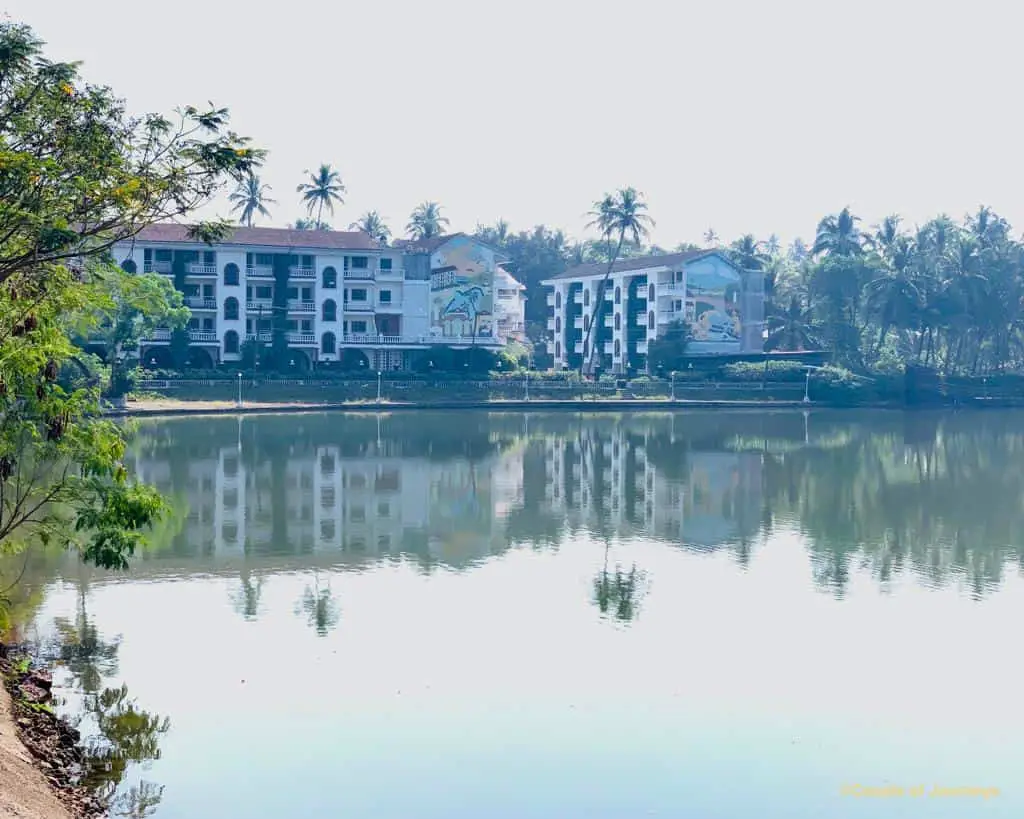 See my guide on the best 17+ areas to stay in Goa for all travel types.
With the best accommodation options for all budgets!
---
1 to 6: Best Beaches to visit in Goa
1. Palolem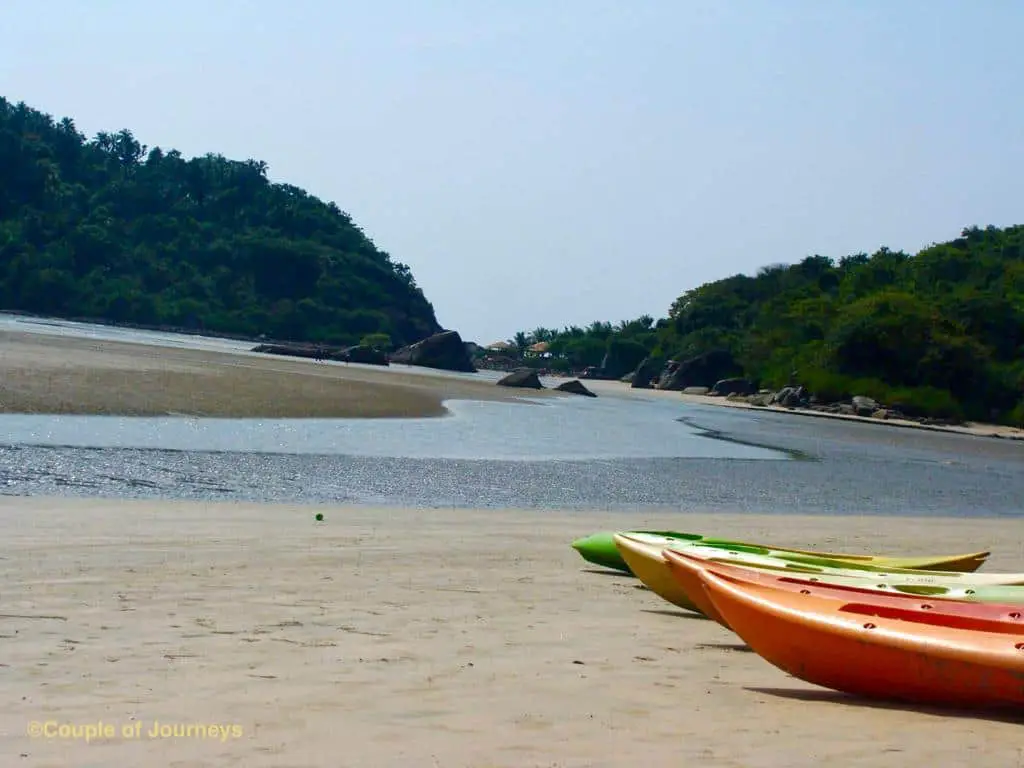 It is one of the southernmost beaches in Goa.
Clear waters, golden-white sand and a large overlooking cliff on one side make it one of the most scenic beaches in Goa.
It is also an excellent base to take boatrides to smaller nearby islands like the honeymoon island and monkey island.
You can also head out on an eagle feeding trip from Palolem.
Other scenic but much lesser known beaches like Talpona and Patnem are right next to it.
2. Cavelossim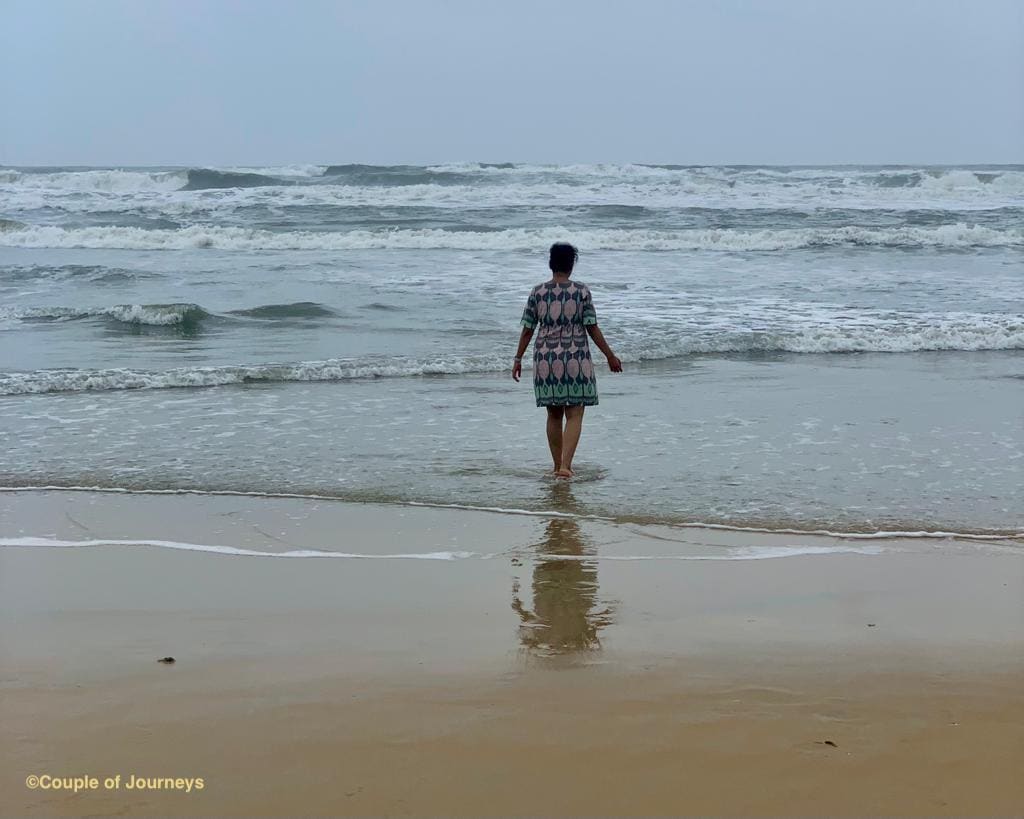 Cavelossim is a spectacular white sand beach in South Goa.
The beach itself is very clean and usually pretty deserted. You can come here for a swim or to spend some quality time with your loved ones.
There aren't many shacks on this beach. But there are many renowned local seafood restaurants in the nearby area.
Many luxury hotels are located in this area thanks to its etheral beauty.
3. Benaulim
The most family-friendly area in all of South Goa is Benaulim.
The beach itself has the best blend of natural beauty and touristy shacks.
You can come here with your kids, for a walk, for sunbathing in the afternoon or even for a candlelight dinner in the evening.
The nearby area also has many nice restaurants, pizza places and bakeries.
4. Vagator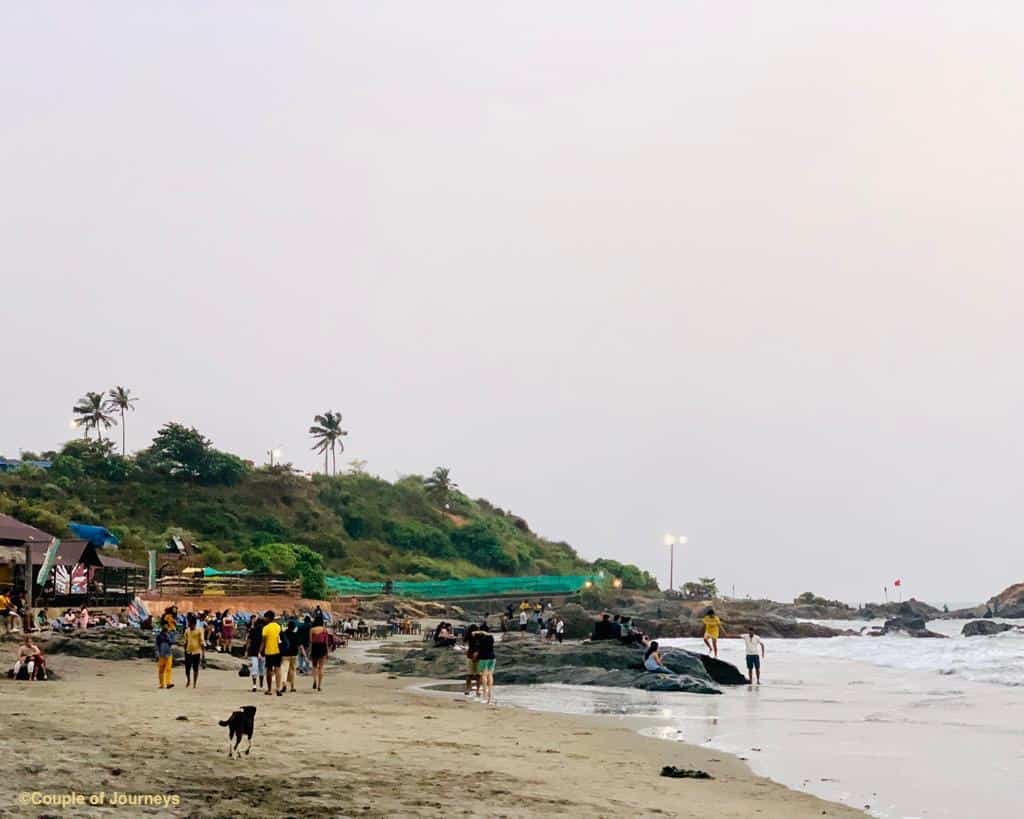 Vagator beach is a beautiful beach under Chapora fort. You can come here for excellent sunset views and watersport activities.
For couples – Visit the smaller beach next to Vagator, called Ozran beach. It is prettier and far less crowded.
Also visit the hundreds of bakeries and cafes in this area. Jaws is my favourite bakery in North Goa and I also love Café Morgan's (ten minutes away) for the best sunset views from a café.
5. Morjim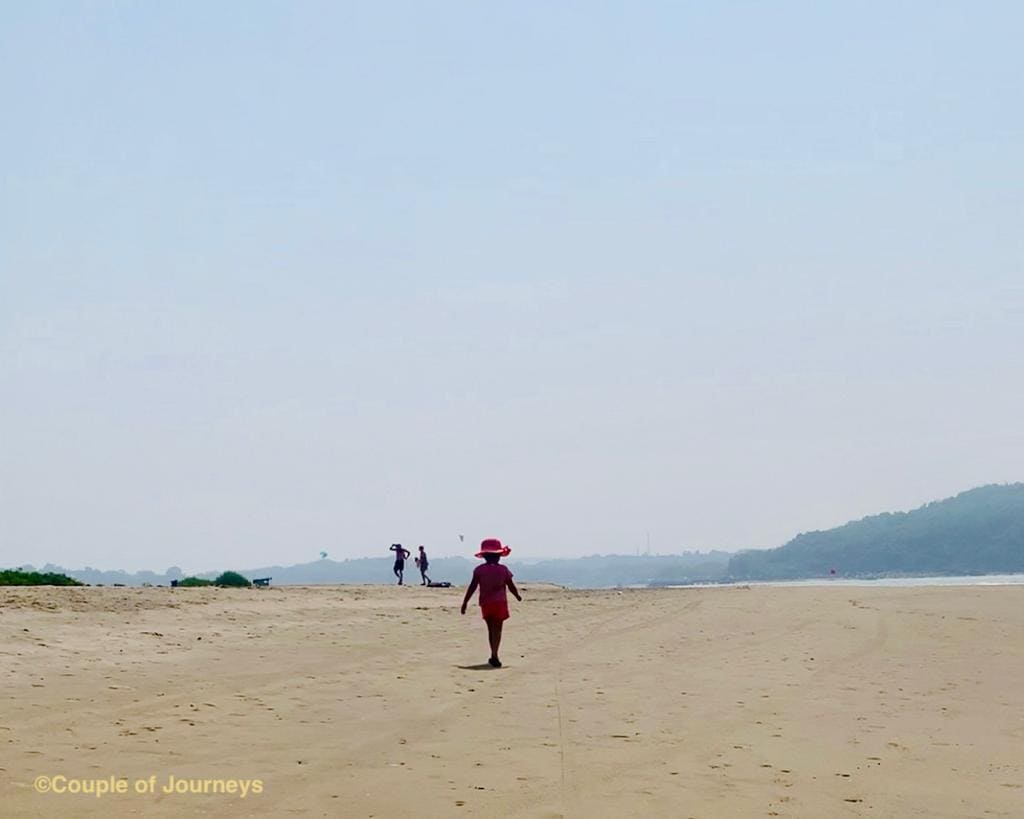 This beach is a favourite amongst foreigner and locals looking for a quieter beach.
The beach is a unique white sand beach surrounded with dense palm trees.
At the entrance, you will find a turtle nesting centre and in evenings (during nesting season) you will be amazed to find many Olive Ridley turtles on the shore here.
Plenty of sunbeds are available all across the beach for spending a lazy afternoon under the sun.
6. Arambol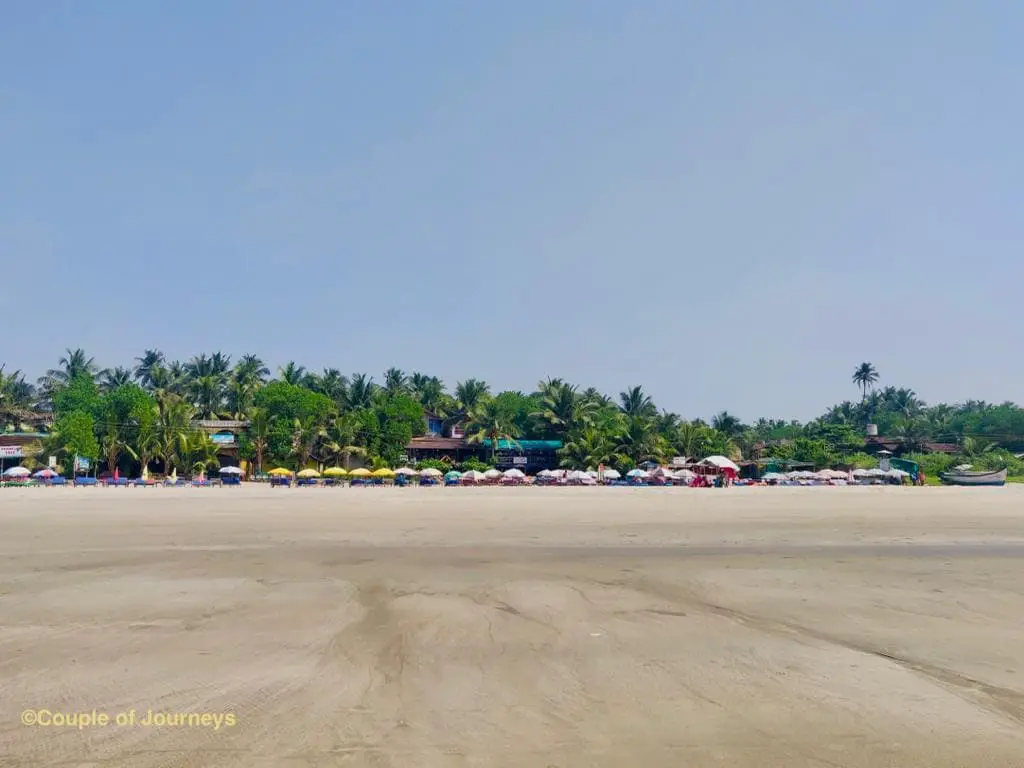 Arambol is the most foreigner-friendly beaches in Goa.
There are many shacks all along the beach.
The waters are excellent for a swim. You can also take surfing lessons here.
There are many yoga classes, in the nearby area.
A foreigner's market sits here in the evenings selling unique handicrafts, beachwear and more.
You can also check out the beautiful sweet water lake next to the beach.
Note on Calangute and Baga
These are the most popular beaches in Goa and unfortunately the least beautiful.
They are best base for those interested in partying and nightlife but the beach itself is always too crowded and dirty.
For watersports, surfing or sunbathing – choose other beaches in North Goa that are quieter and cleaner.
---
7 – 11 Best Churches/Temples in Goa
7. Mangeshi Temple
Mangueshi Temple is a beautiful, serene temple that's very popular among Shiva worshippers.
In the 16th Century, the Portuguese, upon their conquest tried to destroy this temple. However, before its destruction, the linga was moved to its present day location and the temple was protected from destruction.
The Deepasthamba (lamp tower) in the courtyard of the temple is its highlight.
You can find parking outside the temple. Wear modest clothes.
8. Basilica of Bom Jesus
The Basilica of Bom Jesus is one of the oldest churches in Goa.
It exhibits a Boroque style of architecture. Its interiors are fairly simple.
The exterior façade, however, is unique as it uses laterite stone – a rarely used material for church façades.
The place is usually very crowded during the day as it is a mandatory stop on all tourist tours. Expect long queues to enter (Plan around 30 to 45 minutes)
Once inside, see the remains of St. Francis Xaviers – the highly revered priest who played a key role in the introduction of Christianity to Goa.
Timings: Mon to Sat – 9.00am to 6.30pm, Sunday – 10.30am to 6.30pm
9. Se Cathedral
The Se Cathedral is located right across the street from Basilica of Bom Jesus.
It is a beautiful Cathedral built using classis Portuguese Manueline style of architecture. Photography enthusiasts love capturing the façade of this Cathedral. The interior boasts of intricate wood work.
The Church was built to commemorate the victory of Afonso de Albuquerque over the Muslim rulers in the region.
Plan to spend half an hour here and longer if you are particularly interested in 16th century architecture.
Timings: 7.30 am to 6 pm (Monday to Sunday)
10. Church of St Assisi
This Church is next to Se Cathedral and yet another must-visit 17th century structure.
Its façade craftily uses the Portuguese-Manueline style of architecture. Unlike the simplistic interiors of its neighbours, this Church is lavishly decorated on the inside as well.
The place exudes a calm vibe and is usually not as crowded as the Basilica of Bom Jesus.
Photography is prohibited inside the premises of this church. Remember to dress modestly.
It also houses a museum of Archeological History. The pieces of art on display definitely make it completely worth a quick visit.
Timings: Museum (all days): 9.00am – 12.30 and 3.00pm to 6.30
Church Mon to Sat – 7.30am to 6.30pm
Quick note on visiting Old Goa: You can visit the churches in Old Goa entirely on your own. But honestly, the first time I did that, I hardly got any insights. The place doesn't have many informative boards detailing the significance of the Portuguese structures.

On one of my later trips though, I booked a guided tour and learnt so much more, it felt truly worth the time and money. I have also found a church walk tour that not only includes the above churches, but also takes you to the Gateway of the Palace of Yusuf Adil Shah and Church of St. Cajetan. You can check out the details of this Church Walk tour here.
11. Shantadurga Temple
The Shantadurga Temple is an important place of worship amongst the Gaud Saraswat community.
Many people who originally hail from Goa pay regular visits to this temple.
The original temple was destroyed by the Portuguese during the 16th century.
The present day temple is one that has been constructed under the Maratha ruler Chhatrapati Shahu's dictate.
Inside, observe the deity holding two serpants – significant of Lord Brahma and Lord Vishnu.
12-15 Best Forts in Goa
12. Chapora Fort
The Chapora Fort is without a doubt my most favourite fort in Goa. Its laterite walls that overlook the Vagator beach offer the best sunset views in Goa. It is also famous for being a filming location of an iconic scene from a popular Hindi movie 'Dil Chahta Hai'.
The fort was originally called Shahapura or the place of Adil Shah of Bijapur dynasty. When the Portuguese entered Goa, it was taken over by them and the name changed to Chapora.
Later, during the reign of the great Chhatrapati Sambhaji, the fort was won back over when the brave Maratha warriors scaled up its vertically steep walls.
Today, however, the only element of its giant structure that is still intact are its fortified walls and the steps that lead up to the entrance.
When you visit the place:
Plan to reach the place about an hour before sunset.
Be prepared to climb up a flight of old stairs to reach the top (takes about 15 minutes)
Pick a place on the wall to admire the glorious sunset. Be careful with kids. Going over the walls on the cliff end can be risky.
Shop wonderful souvenirs and handicrafts at one of the many local shops lining the stairs.
13. Reis Magos
Many tourists visiting Goa choose to visit Fort Aguada over Reis Magos.
But personally, I prefer Reis Magos for its giant structure overlooking Mandovi river and Goan countryside and its historic significance.
Reis Magos was originally built during the Adil Shah reign and was later expanded and restructured by the Portuguese. It served as a giant fortified structure protecting the Portuguese from invasions and keeping the old capital of Goa – Velha in the safe custody of the Portuguese.
The protective function of this fort was later transferred to the newer Fort Aguada and Reis Magos was converted into a prison.
Today, the fort is open to tourists, is a home to cultural activities and is an excellent place to click some of the best panoramic shots of the Mandovi river and Goa's current capital – Panjim.
Timings: Tuesday to Sunday – 11.00am to 5.30pm
14. Fort Aguada
The most popular fort in Goa is Fort Aguada. It stands tall near the touristy area called Candolim.
The word Aguada originating from Portuguese signifies the primary purpose of this fort – water storage. The fort had the largest storage of water in Asia. Its strategic position near Mandovi river and Arabian Sea also protected it from invasions and the fort through its entire tenure remained a stronghold of the Portuguese.
The fort was constructed in the early 16th century and today, there are many things to observe inside the fort
Laterite construction and the wide walls overlooking the Arabian Sea
The large water resource that was used by Portuguese ships sailing further east.
The old lighthouse (the first lighthouse ever in Asia)
A new lighthouse offering panoramic views
In addition to this, you can also travel to the nearby area to see the Lower Fort Aguada overlooking the Sinquerim beach.
The Taj Aguada, which in my opinion, is one of the best luxury properties in Goa offering a Portuguese vibe coupled with top-notch hospitality is also located within the fort boundaries.
15. Fort Tiracol
Fort Tiracol is the northern most fort in Goa.
To reach the Fort, you have to drive to the banks of the river Tiracol and then take a short ferry across.
The fort is a 15-minute drive away from the riverbank.
The fort is now converted to a heritage hotel. Even though considerably smaller than other forts, the hotel management maintains the fort in good condition adding to the charm of the visit.
You can visit the fort during the day and click stunning pictures of the coastline.
If you want to stay here, see availability and prices here.
16. Cabo de Rama
Cabo de Rama is my favourite viewpoint in all of Goa. It is located in South Goa and is a short drive away from major tourist hubs like Benaulim, Cavelossim and Palolem.
The fort itself is not well maintained at all and most of its walls are damaged and broken. But the fort is an absolute must-visit for its breathtaking views. Although fairly deserted, you will find a few Instagrammers and influencers posing for pics and shooting reels here.
You can also climb down from the fort to reach the completely deserted gem 'Cabo de Rama beach'
Also, if you want to skip the fort altogether, you can visit the Cabo de Rama view point – a vast open piece of flat land overlooking the South Goan coast.
---
17-18 Best Museums/Tourist Attractions
17. Naval museum
The Naval museum in Goa is truly remarkable. It is the only naval museum in Asia.
You get to see some of the naval aircrafts on display. A video documentary is also played thrice a day.
The exhibits are very well-maintained and seeing the collection of aircrafts, the history and growth of naval aviation invokes a sense of pride.
This is one of the only two military museums in India and absolutely worth a visit (Especially for Indians).
Timings: 9.30am to 5.30pm
18. Bigfoot Museum
The Bigfoot Museum or Ancestral Goa is a representation of Goan life in a museum-like manner.
You will find life-sized images of Goan locals, recreation of Goan houses, small bird aviary, shops selling local produce and handicraft and the highlight of the place – the tallest laterite sculpture that of Saint Mirabai.
A walk through the entire area will give you a glimpse into the origin of Goa, the legends that surround Goan history and the life of its locals.
The place is a must-visit for those travelling with kids for its educational value. Foreigners or those not acquainted with the unique history of Goa would also learn more about the roots of Goa from this place.
Timings: 9.00am to 6.00pm
19-21 Best offbeat places
19. Cola beach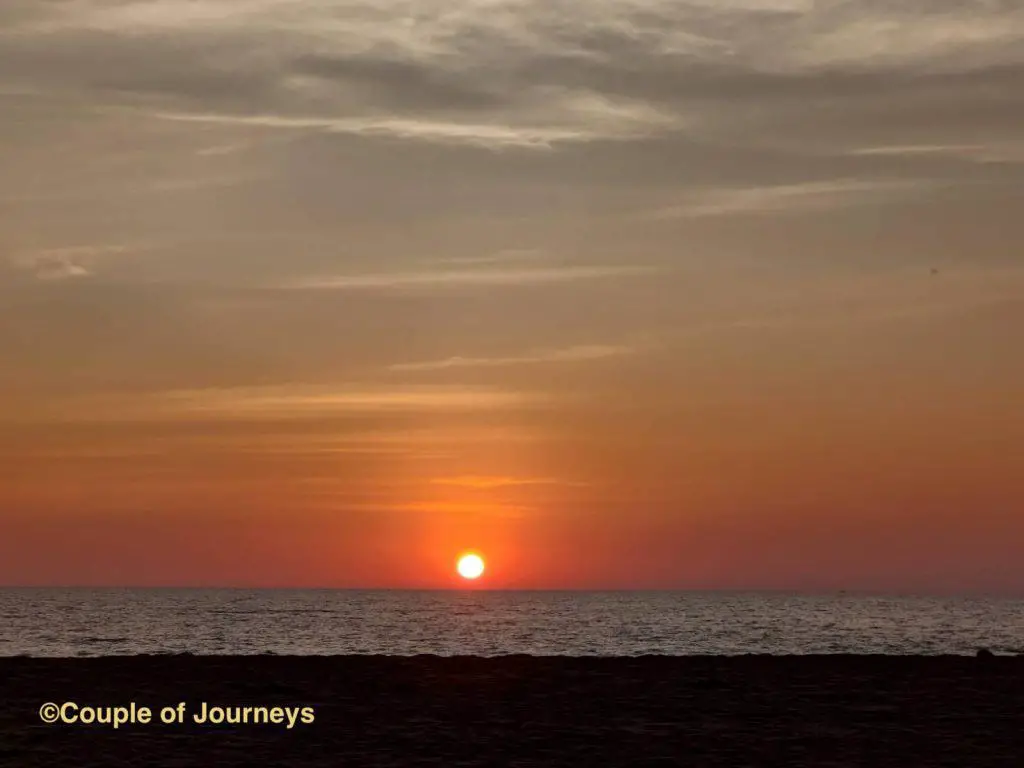 Cola Beach is an offbeat place in Goa for two reasons – a) its remote location and b) its blue lagoon
To visit the place, you need to drive a car with excellent ground clearance as the road leading to the beach is rough. If not park your car where the road ends and walk your way down. You can also access it through Samyama Resort for a better pedestrian road.
Once here, get lost in pristine, unperturbed, raw natural beauty. Hang out at one of the restaurants or take a dip in the blue/emerald lagoon.
If the water is too high for you, you can even try paddling.
If you absolutely love spending time away from chaos, you can even stay overnight at the Blue Lagoon Resort or the Samyama Resort.
Quick tip: Reach Cola before sunset at all costs
20. Mollem/Dudhsagar/Mahavir Wildlife Sanctuary
Mollem is a lush green widely spread out area in Goa that provides an excellent opportunity to explore Goa beyond the beaches. Remember, it is not a specific place in a
In this area, you will find:
the stunning Tambdi Surla temple
the Mahavir Wildlife sanctuary – home to a wide variety of animals and birds and accessible by car throughout. You can also head out on jungle safaris inside this area.
The Dudhsagar waterfalls – one of the tallest waterfalls in the world
Visiting Mollem on a day trip is possible. Remember that the area is entirely deserted and pitch dark after sunset.
It is advisable to visit the place through an organised tour like this Dudhsagar Falls tour. You will be picked up from your hotel and dropped back by evening. En route Dudhsagar, you will pass by Old Goa and on your way back, you will stop at a Spice Plantation.
See more details of Dudhsagar tour here.
Do not the waterfalls solo or on scooter.
If you want to stay longer in this part of Goa, stay at The Dudhsagar Spa Resort.
21. Goa Islands
The state of Goa includes a few nearby islands that are not only offbeat but absolutely spectacular and full of natural and historic offerings.
The three islands that are particularly rewarding for tourists are
a) Divar Island: St Mathias Church, Our Lady of Piety Church
b) Chorao Island: Salim Ali Bird sanctuary, Boat ride, Feni urrak tasting
c) Sao Jacinto Island: St Hyacinth Church
Don't expect to see awe-inspiring churches or architecture here. The roads on these islands are also not in the best condition.
But these islands are in a far more raw state than most of touristy North Goa. Spending a day visiting these islands helps you reconnect with the essence of Goa, its coastal beauty, water bodies and cultural blend.
The most interesting and fun way of exploring these islands (Divar and Chorao) is on a bicycle with a bunch of fellow travellers. Check out this Goa Island cycling trip for more info.
The trip usually gets full pretty fast as it only allows few people on the tour. Book it before it gets full.
---
22-28 Best Filming Locations
I don't think there is any state in Goa which has served as a filmmaker's muse as much as Goa has. From romantic movies to comedies to action films, there is a place in Goa that caters to every director's vision.
Here are a few top filming locations in Goa that are worth visiting on your trip to Goa. (in addition to Chapora Fort aka Dil Chahta Hai fort listed above)
22. Dona Paula Jetty and Beach
The Dona Paula Viewpoint is a famous shooting point in Goa. But the movie for which this location is the most popular is Singham. A famous fighting sequence of the movie was filmed here.
On your visit, you can check out the stunning viewpoint, relax on one of the benches there while taking in the view or buy some quick snacks from one of the 'Singham' food stalls here.
On the other hand, the Dona Paula beach has appeared in other Rohit Shetty films like Golmaal. The beach is just a short distance away from the jetty.
23. Ancestral House/Casa Araujo Alvares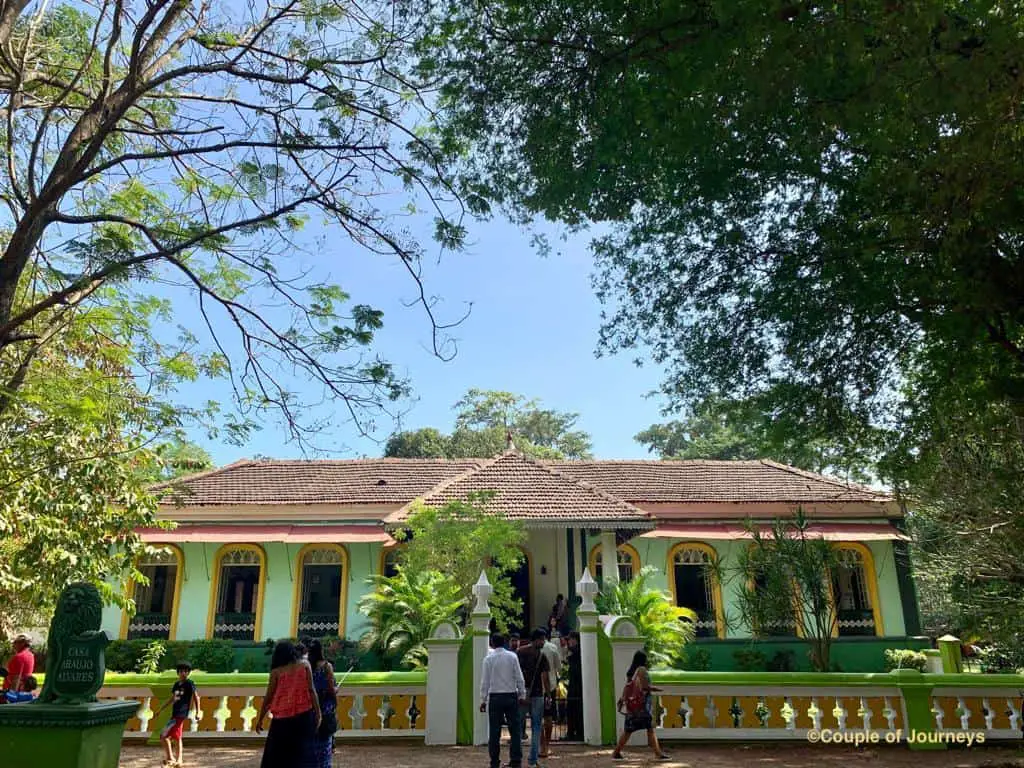 This house is most famous as being Singham's house in the movie Singham. The house is called the Ancestral House and is located outside the Big Foot Museum in Loutulim.
The 250-year old house belonged to a lawyer of the Portuguese times and each of its rooms are well-preserved.
As part of a 20-minute guided tour, you can walk through each of the rooms, have a look at the centuries-old furniture, tapestry, utensils and room structures, house layout and home decor. A walk through the house gives you a first-hand feel of what life would look like in the era of the Portuguese.
24. Anjuna Beach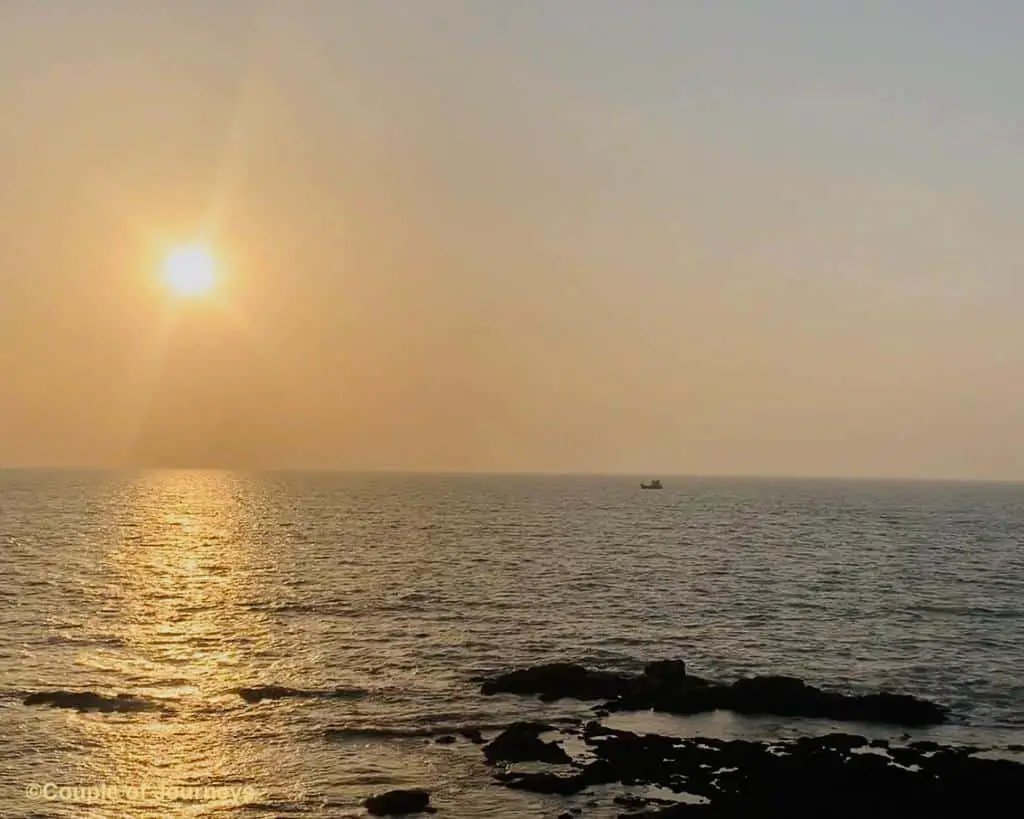 Remember Urmila Matondkar in Rangeela? Most of her beach sequences have been shot at Anjuna beach.
Anjuna beach has rocky formations inside it that appeal to the photography aesthetic of many.
That's why the beach has appeared in many other Bollywood movies like Khamoshi and Dil Chahta Hai.
You can spend an afternoon on this beach sunbathing or come here in the evening to watch a sunset. Expect crowds on this beach irrespective of the season.
Read my article on things to do in Anjuna and Vagator
25. Our Lady of Immaculate Conception Church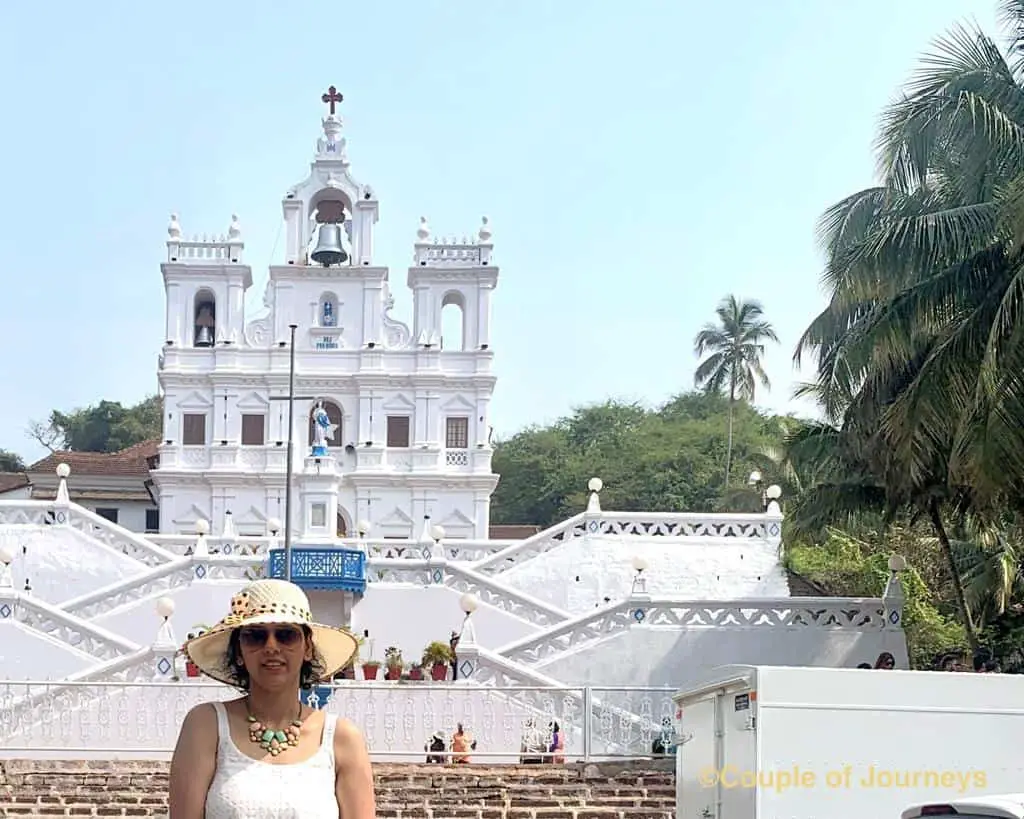 From Kabhi Haa Kabhi Na to Aashiqui 2 to Simmba, this grand Church has appeared in many Bollywood movies.
As a tourist, you can pay a quick visit to it when you are in Fountainhas (See more details below) or in Old Goa.
The place is always crowded and getting a picture without any strangers photobombing your frame is almost impossible.
A great way to capture the entire church is from the road divider in front of it. Instead of standing on the stairs, stand at the very end of the divider to get your picture clicked.
26. Coco Beach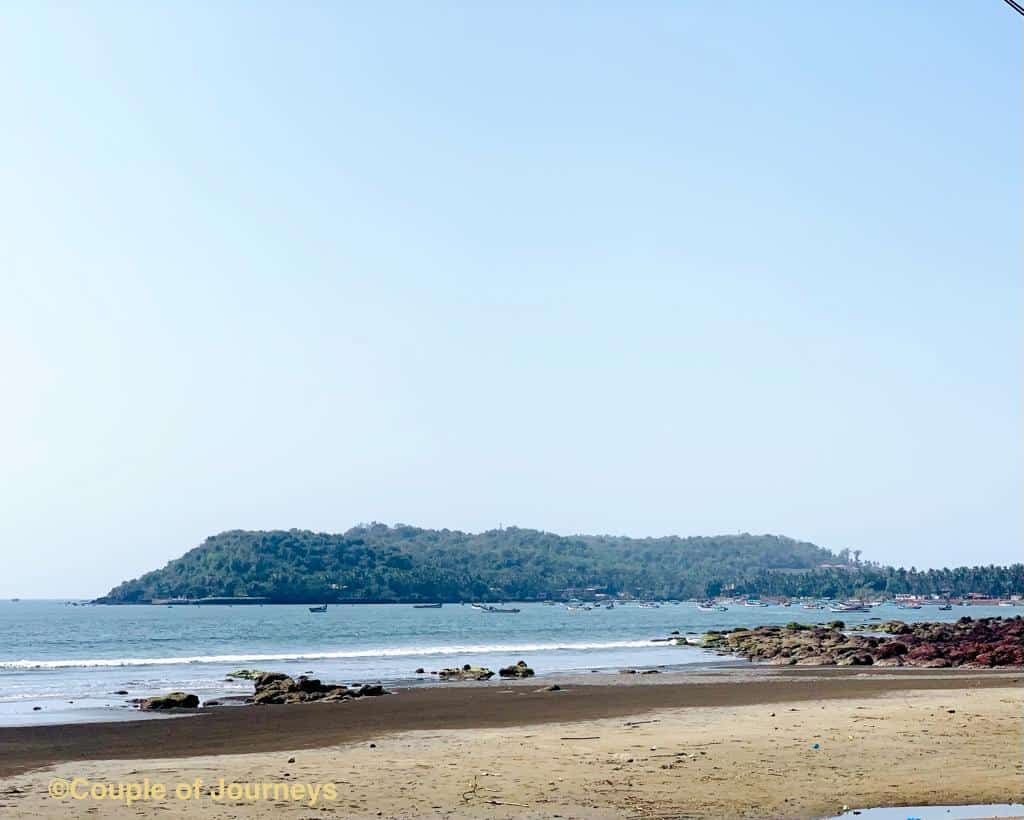 The Coco Beach features in the movie Gehraiyaan – another movie which tastefully showcases Goan beaches.
In fact, the bungalow in the movie (which is shown to be in Alibaug) is in fact a stunning beach property on Coco Beach. It's called Ahilya By The Sea and is a plush property ideal for a luxurious time out in Goa. (Check availability here)
Coco Beach, is in fact, a terrific way to step away from the crowds in North Goan regions of Candolim, Calangute, etc without having to travel too far. It is located just about 10 minutes away from Candolim and lies on the foot of the Reis Magos fort.
27. Parra Road
The current hotspot in Goa is Parra Road. This is a narrow road lined with coconut trees on both sides – its probably the prettiest road in all of Goa. But it rose to fame when it featured in the movie 'Dear Zindagi'.
Today, it is flooded with young tourists all day long. Everyone wants to get a good pic of here to add some oomph to their gram.
You will find vendors here offering cycles on rent to help you recreate the Dear Zindagi shot.
The road stays fairly busy with vehicular traffic. So be careful when clicking pictures here.
28. Chapel of our Lady of the Mount
This Chapel is technically situated in the heart of Old Goa. But very few tourists visit it as it is not located in the same complex as the Basilica of Bom Jesus.
This Chapel has featured in various Bollywood movies like Golmaal, All The Best, etc.
The chapel is built on a small mount near Church of St. Catejan. The church overlooks the Mandovi river and the beautiful Divar and Chorao islands.
---
29-45 Best experiences
29. Walk at Fountainhas
Fountainhas is a dreamy pastel colony in the heart of Goa. It was a former residential quarter of Portuguese officers. But today, it is one of the most picturesque heritage area in all of Goa.
But a simple walk across the area would not help you much. To understand its historical signifance, as well as to make sure you see every hidden gem in its lanes, you should participate in a Fountainhas heritage walk.
A Fountainhas Heritage Walk is the perfect Old Goa experience for every tourist. A guide or a storyteller will educate you about the history of Fountainhas, introduce you to delectable snacks at the best bakeries and walk you to some beautiful art galleries. There can't be a more authentic and fun way of spending a few hours in Goa. The heritage walk is quite popular and gets full pretty quickly. Check the availability here.
30. Engage in Watersports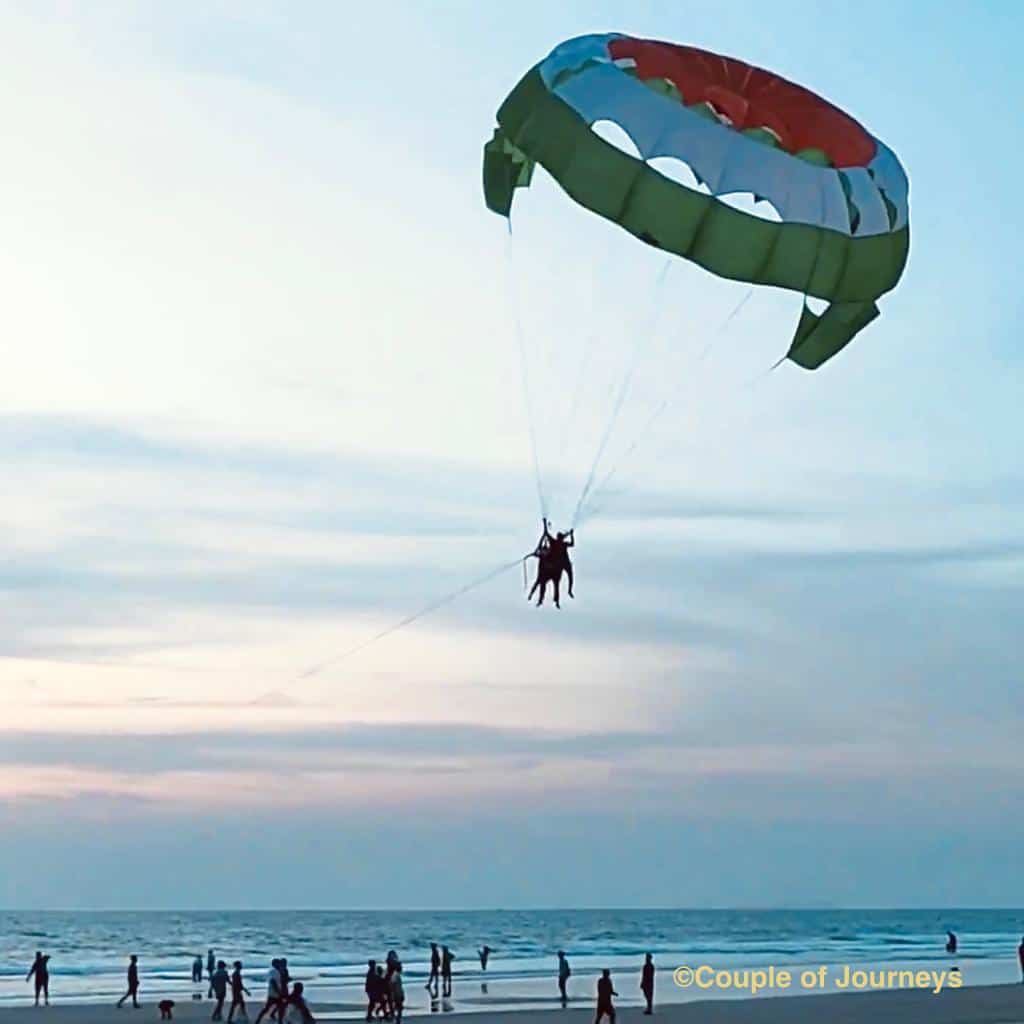 What's the use of visiting Goan beaches if you don't want to indulge in watersports? Practically every major beach in Goa offers watersport activities.
But the ones offering the best views are:
Sinquerim Beach, North Goa
Ozran Beach, North Goa
Palolem Beach, South Goa
Try out parasailing, paragliding, banana boat and jet ski.
Book your watersport activities on reaching the beach and bargain hard with all the vendors.
Watersport activities are shut during monsoons.
31. Go Kayaking
There are many places where you can go kayaking in Goa. Some places are Baga River, Sal backwaters, Agonda, Palolem backwaters, etc.
There are many guided tours that introduce you to kayaking and lets you explore the Goan waterbodies in a safe, guided manner. Check out this fun kayaking tour here.
32. Spice plantation tour
There are many spice plantations in Goa that have opened up to tourists.
Some famous spice plantations are Sahakari Spice Farm, Tropical Spice Plantation and Tanshikar Spice Plantation.
A spice plantation tour educates you on the various spice trees in Goa, takes you across the plantation on an interesting guided tour. The farm usually also welcomes you with a lovely welcome drink and serves freshly produced local lunch.
You can include a Spice plantation tour to your itinerary in the following four ways:
A stop over to Sahakari Spice farms when you are moving your base from North Goa to South Goa (or vice versa)
As part of a half day tour (if based in South Goa)
As part of a full day tour to Dudhsagar from North Goa (check this tour for more details)
As part of a full day tour to Old Goa from North Goa (check this tour for more details)
33. Flea market shopping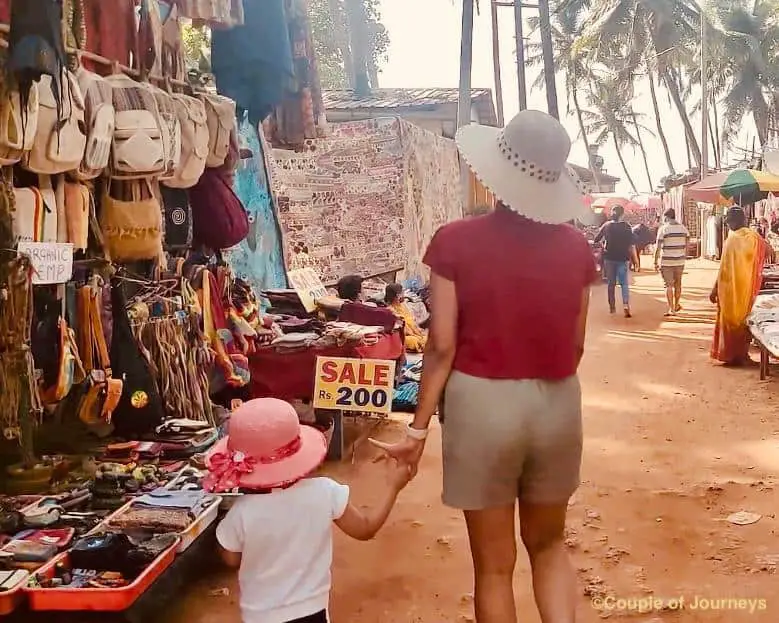 There is a flea market in and around every major tourist hub in Goa.
In fact, you will see a flea market
at the entrance of almost every beach
on the stairs going up to Chapora Fort
Outside Old Goa Church
But the two flea markets that I find particularly worth visiting are:
Anjuna Weekly Flea Market (takes place every Wednesday)
Friday Night Market at Vagator
The flea markets are a great spot to buy beach cover ups, sarongs, handicrafts, hats, junk jewellery, bags and spices. Remember to bargain.
There is also a foreigner's market at Arambol every evening where foreigners sell beaded jewellery, musical instruments, postcard and other interesting items.
34. Try out a Fish Thali
A big reason why many people crave a Goa trip is for its lip-smacking seafood.
Try out freshly cooked fish preparations served in a Thali (a big round plate full of food) at some of the all-time favourite restaurants in Goa like
Ritz Classic, Panjim or
Vinayak, Assagao
35. Binge on Goan Street Food
The best way to save money on a Goa trip is by eating at street food joints.
They serve delicious food at super cheap prices (A filling meal for two would cost only about INR 200)
Some dishes to try are the famous Ros Omelette, Poi (Bread), Goan Chilly Chicken and Xacuti.
36. Go Clubbing
Goa has become synonous with clubbing, especially amongst the youth.
The best area for clubbing is Baga and the best night clubs are
Curlies
Titos
Hammerz
Club Cubana
SinQ
Base yourself in a closeby area to get the most of Goan nightlife.
If you want to party and dance all night long, but don't want to spend a fortune on these clubs, you can simply walk into a beachside shack at Calangute or Baga or Anjuna that features a live DJ.
37. Have beer in a beach shack
The simple vision of spending a lazy afternoon at a Goan beachside shack drinking King's Beer evokes such soothing emotions. In fact, as simplistic as it may seem, slowing down life and taking in its beauty with a drink to keep you company is the true definition of a Goan vacation.
Leave enough time in your Goa travel plan for such laid back afternoons. It's a classic Goan experience that's hard to replicate in other towns.
38. Check out the Drum circle at Arambol
Every evening a corner at Arambol beach comes to life as a large group of people play drums. The vibe is electric.
Its the best way to sa Goa evening as you watch the sun go down while tapping to the beat of drums.
39. Try your luck at a Goan Casino
Goa as something for everyone and casinos have been a huge draw for those who love to test their lady luck.
Personally, I am yet to try out a Goan casino, but those who have, love the experience and find it pretty engaging (if not addictive).
Some of the best casinos in Goa are:
Deltin Royale
Majestic Pride
These are located offshore (near Old Goa) and provide super entertainment, delicious buffet meals and an enthralling gaming experience.
40. Try out a massage by the beach
When chilling at a beach in Goa, you will find people who would drop by asking you if you want a full body massage.
Even though I find the idea of getting a massage from a random person on a beach anywhere not appealing at all, I am surprised to find a large number of locals and foreigners pampering themselves to a massage while laying on a sunbed on a beach.
Like with everything else, you need to bargain and decide on a price in advance to avoid getting ripped off.
41. Sign up for a Yoga class
If you want to take your yoga practices deeper, Goa has a suprising number of genuinely authentic yoga classes or yoga retreats.
Most require you to stay at the retreat for 3+ days. The one that's particularly popular amongst Indians and foreigners is the Asthanga Vinyasa Kranti Yoga.
You could also take up a yoga class from one of the many at Palolem (check the options listed here)
42. Bungee jumping
Goa has a quite a few bungee jumping options to cater to the tourists that need some adrenaline rush in their itinerary.
Jumpin Heights, the popular bungee jumping company of Rishikesh, is now in Goa and many of this crazy adventure sport have had a positive experience here.
Check out a bungee jumping tour at Jumpin Heights here.
43. Visit a café for sunset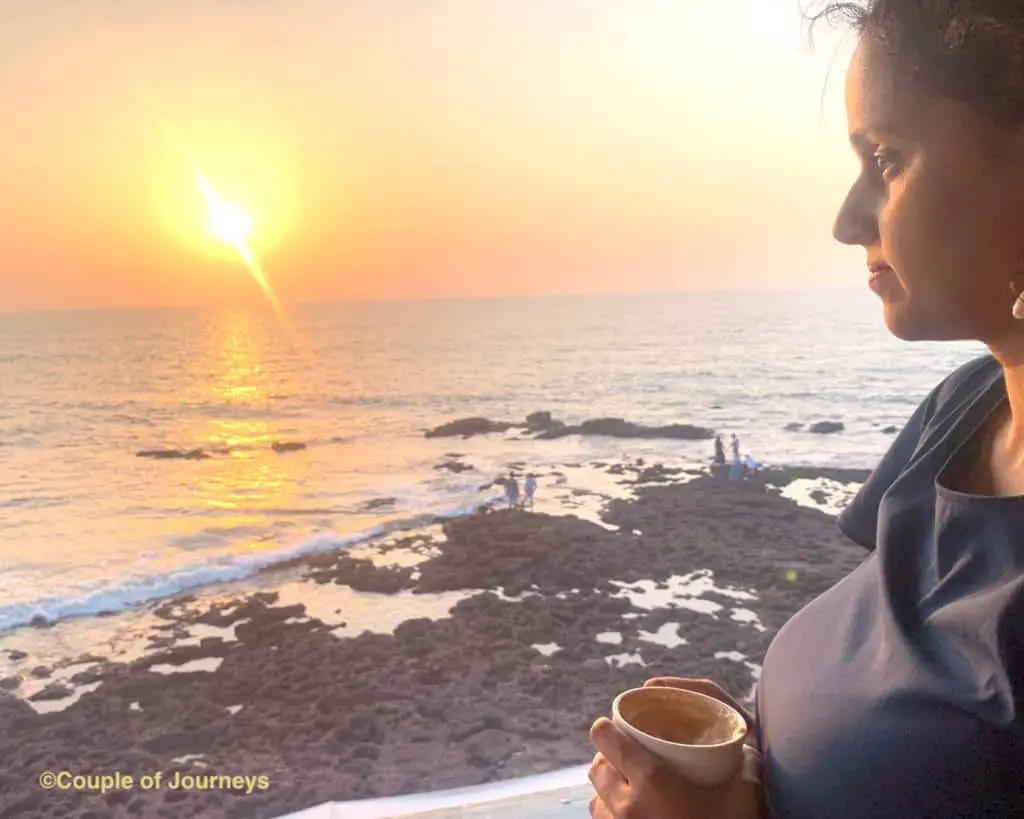 I am a huge fan of cafés and I spend a great amount of time working out of cafés. That's exactly why I was immediately attracted to the idea of watching the sunset from a café in Goa. The cafés near Anjuna that are particularly famous for their sunset views.
Café Eva (most popular, super crowded at sunset)
Purple Martini (a bit expensive, solid vibe, best sunset views)
But the café that's my personal favourite, for its humble setting, level 1 sunset views and good food is the Morgan's Place, Anjuna.
44. Dolphin Viewing
A rage that has recently gained momentum amongst Goan tourist is the dolphin watching boat ride.
You can book it at any tourist shop near Candolim.
But quick disclaimer – you may not be able to see dolphins on your trip or you could just spot the fin.
That said, if you have never seen dolphins in your life and would like to try your luck, head out on a dolphin watching boat ride. I don't recommend going on a full day tour though. A 2-3 hour dolphin watching tour like this one is worth the time and money.
45. Take a dip in one of the many Goan waterfalls
Goa has so many unknown and relatively unpopular waterfalls spread out all across its mainland.
Like locals, the best thing to do if you spot a nice waterfall with a safe pond-like area is to take a dip in it.
---
Goa Itinerary
Check out these posts, where I make your trip planning easy by laying out day-wise itineraries for you.
3 days in North Goa: The best guide
5 days in Goa: An Ultimate Itinerary
---
Simplify your planning process. Check out Goa: Planned for you – a digital travel plan specially curated for you.
In this plan, I recommend the best places and activities from the list above. All you have to do is book your Goa tickets and follow the plan as it is!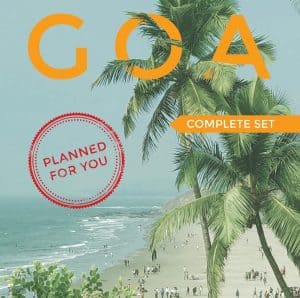 Goa: Planned for You
A handy digital travel plan that includes
Specially curated stay recommendations
restaurant suggestions
a day-wise break-up of things to do
a fully interactive Goa map
special insights and lots more!
---
Frequently Asked Questions
How much will a Goa trip cost?
The cost of your Goa trip depends entirely on where you stay and what you do.
But if you want to visit Goa on a budget, read my article on 12 tips to visit Goa on a budget that actually work
Is Goa good for a family trip?
Goa is an excellent destination for a family trip. The beaches, churches, temples and other tourist attractions coupled with Goa's many food options make it an ideal family travel destination.
In fact, you can see a glimpse of how we travel as a family in Goa in my vlog on North Goa.
What's better North Goa or South Goa?
Ideally, you should divide your time in Goa in both North Goa and South Goa. But if you are a party animal, love crowds and want to be close to major tourist attraction, North Goa would be a better fit for you. If you like calmer beaches, natural beauty and a less commercial atmosphere, opt for South Goa.
---
Visiting Goa soon? Read more Goa articles here:
---
Save for later
---
TOP TRAVEL RESOURCES
Here is a list of our favorite travel resources- the ones that I absolutely swear by when planning almost every trip. Go through this list to plan a hassle-free trip and save a lot of money!
Flight Booking: Check the availability of tickets, the best time to fly, and the cheapest fares on Skyscanner. You may also find a cheap flight via CheapOair
Accommodation: I absolutely love booking through Agoda. In most countries and particularly in Asia, I often find the best fares on Agoda. But I also love the no prepayment and no cancellation fee policy of Booking.com. For cheap accommodations and hostels, nothing beats Hostelworld.
Car Rentals: You may find and rent an appropriate car via RentalCars. It's hassle-free and reliable.
Guided Tours: I absolutely love GetYourGuide for local sightseeing tours, walking tours, history tours, and food tours. The booking process is seamless, and the tours are super affordable. But in Asian countries, I prefer Viator or Klook for their affordably priced tours.
Lounge Access: Get Priority Pass – my personal favorite card that gives me unlimited access to premium airport lounges all over the world
Hey, if you found this post helpful, share it with more people or buy me a coffee!