A Solid List of All the Things to do in Anjuna & Vagator 2023
This website contains no sponsored content. The content is written entirely on my own and is based on my personal experience and extensive research. This post may contain affiliate links. If you make a purchase through one of these links, I may receive a small commission at no extra cost to you. As an Amazon Associate I earn from qualifying purchases. Please read the disclaimer for more information.
Planning to stay in Anjuna or Vagator? Wondering what are the things to do in Anjuna and Vagator?
In this detailed post, discover all about the best things to do in Anjuna, best things to do in Vagator as well as the places to eat in Anjuna and Vagator and where to stay in Anjuna and Vagator.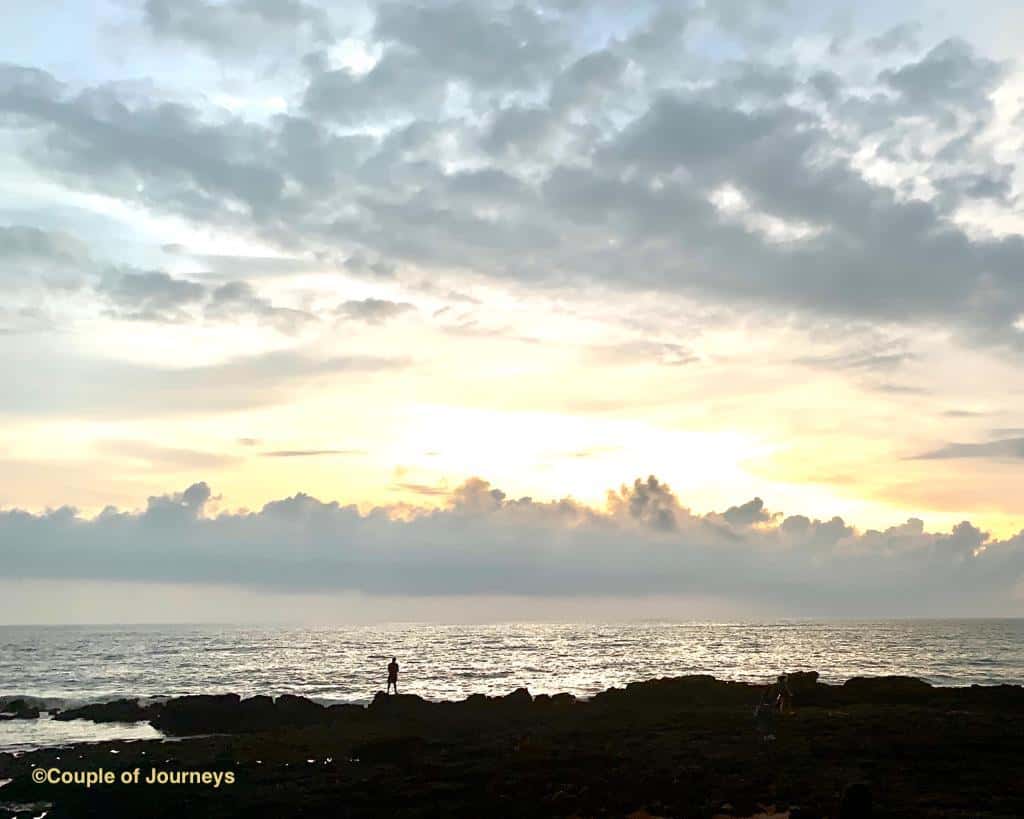 Anjuna and Vagator are neighbouring areas in North Goa. There are lots of things to do in Anjuna and Vagator. You can visit the rocky beach in Anjuna, head to the famous Chapora fort for spectacular beach views, watch a sunset from Vagator beach or the more deserted Ozran beach, sip your favourite drink at one of the many tastefully done cafés in the area, shop at flea markets or party hard at Hilltop.
In this post, I will share the details of everything mentioned above and more – all based on my personal experience of travelling to Goa over twenty times. So read on!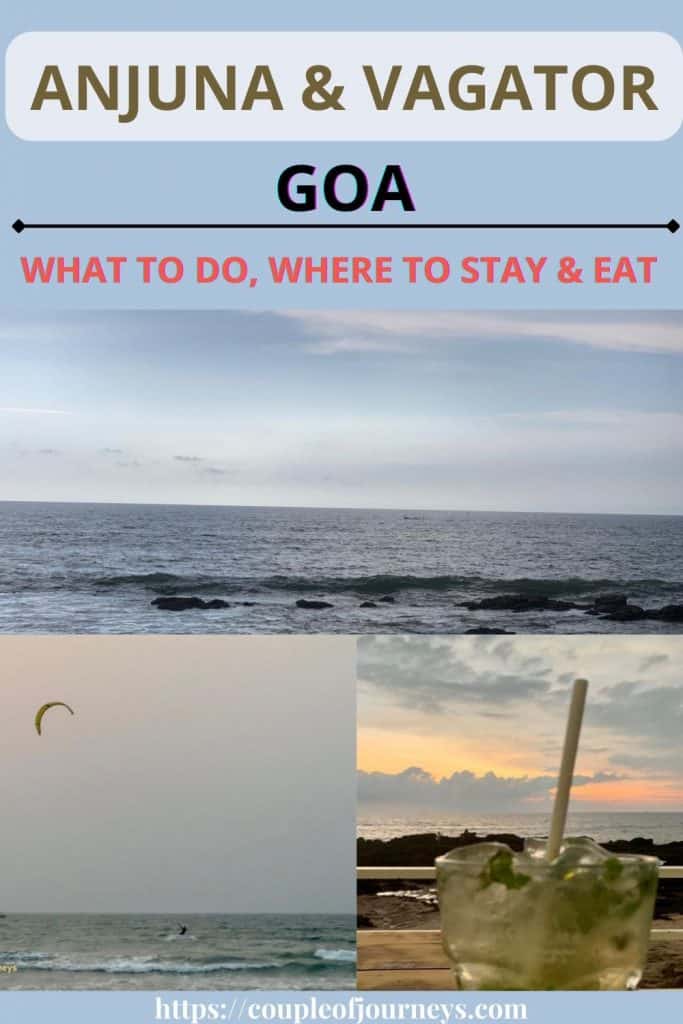 This post may contain affiliate links. If you make a purchase through one of these links, we may receive a small commission at no extra cost to you. Please read the disclaimer for more information.
Top things to do in Anjuna & Vagator
If you don't want to read the full article, here are my top 5 things to do in Anjuna & Vagator
Visit the Chapora fort (aka Dil Chahta Hai fort) to watch a glorious sunset
Click Instagrammable pictures on the rocks at Anjuna beach
Spend time at a tastefully done café like Artjuna or enjoy a sundowner at Café Moonstar
Go shopping at the Anjuna flea market or the Vagator Saturday night market
Party hard at nightclub in the area like Hilltop or Curlies or or hang out with your friends at a seafacing joint like Purple Martini.
Attend a cooking class specially designed by locals. (See details here)
---
Anjuna & Vagator: Map & Location
Anjuna and Vagator are located in
North Goa
in Bardez
to the South of Morjim/Chapora river
to the North of Baga
Anjuna is to the south of Vagator.
Anjuna and Vagator map
How to reach Anjuna & Vagator
Reaching Anjuna and Vagator is fairly easy as they both form part of the touristy areas in Bardez taluka in North Goa. Booking a direct cab is the most convenient option. (use Goamiles for the best fares – not sponsored).
Typical time taken from
Airport
Goa airport to Anjuna/Vagator: 1h 15 mins
Book a prepaid taxi from the airport.
Or save money and book your cab using Goamiles app.
Call a local driver or your hotel in Benaulim and ask him to pick you up from the station or the airport for a predecided price.
You can also take a Kadamba Bus shuttle from the airport to Calangute (Check timetable) and then hire a private taxi/rickshaw to Anjuna and Vagator. Getting the onward taxi or rickshaw may be a challenge depending on when you reach.
Train stations
Thivim to Anjuna/Vagator: 45 mins
Karmali to Anjuna/Vagator: 52 mins
Vasco de Gama to Anjuna/Vagator: 1h 15 mins
Madgaon to Anjuna/Vagator: 1h 30 mins
Even though Vagator is to the South of Anjuna, i.e. a little further away when travelling from the stations listed above, the time taken to reach Vagator is almost the same as the time to taken to reach Anjuna.
Hail a rickshaw or a taxi.
Book a cab using Goamiles app.
Call a local driver or hotel driver to pick you up.
Other areas in Goa
Panjim to Anjuna/Vagator: 50 mins
Calangute to Anjuna/Vagator: 30 mins
Arambol to Anjuna/Vagator: 45 mins
Colva to Anjuna/Vagator: 1hr 30 mins
Palolem to Anjuna/Vagator: 2 hr 30 mins
---
Where to stay in Anjuna & Vagator
The wide range of options available in terms of hotels, hostels, guesthouses and villas available in Anjuna and Vagator can feel overwhelming. Here are a few of my top recommendations.
Anjuna
Luxury: Westin, Anjuna – top-rated, 5-star property, excellent rooms and hospitality (check photos and availability)
Value for money: Reemz Beach Heaven – family-friendly, good pool, close to many restaurants (check photos and availability)
Villa: Myconos – Luxury beachfront villa with a pool, tastefully done decor, 2 bedrooms (check photos and availability)
Vagator
Luxury: W Goa – luxurious, excellent rooms, hospitality and ambience (Check photos and availability here)
Resort with a view: Red Thread Vagator – great views, clifftop property (Check photos and availability here)
Stylish Cottages: Whiteflower Cottages – close to the beach, clean, outstanding hospitality, yummy breakfast (check photos and availability here)
Hostel: Dreams Hostel – excellent location, close to the beach and fort, many lovely eateries nearby, affordable with a great vibe. (check photos and availability)
---
Wondering if you should stay in Anjuna and Vagator? Read my detailed article on the 17 best areas to stay in Goa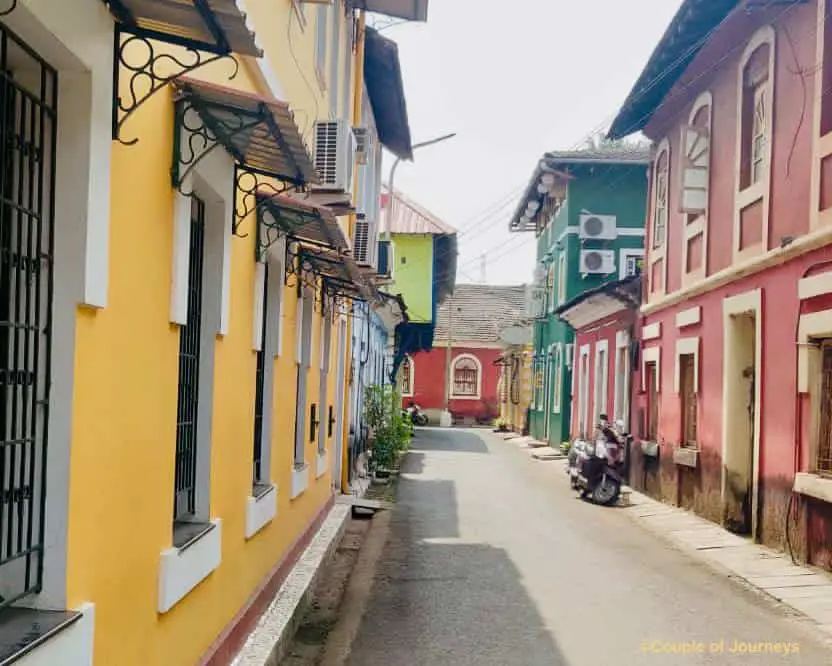 Find out
a full list of the best areas to stay in Goa
best accommodation options for your travel type
---
About Anjuna & Vagator
Significance, History and Name – Vagator and Anjuna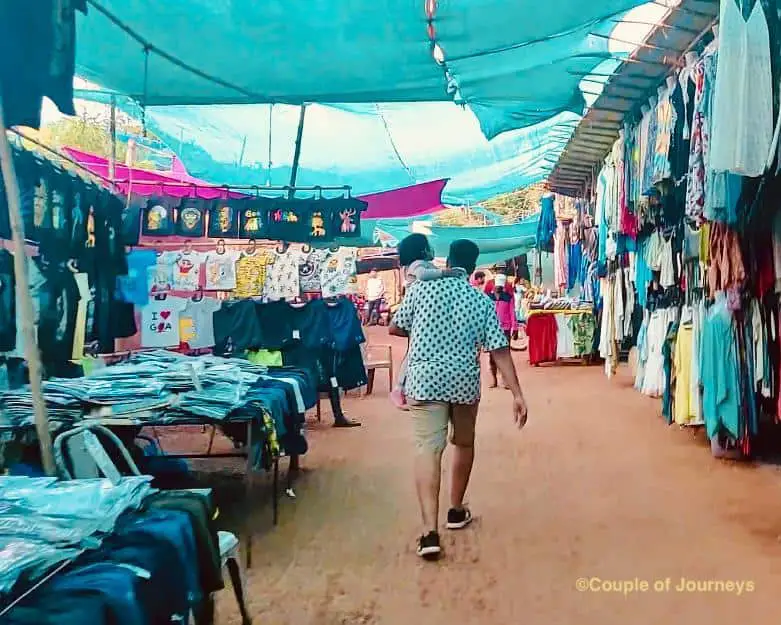 Anjuna is a word derived from the words 'Hanjuman' or 'Hanzun' both loosely referring to the commercial significance of Anjuna.
Vagator is a combination of the words 'Vagha' and 'Teer' which mean Tiger and shore respectively. In earlier times, Vagator was the place where tigers would visit to quench their thirst from the nearby dense forests.
The Chapora fort in Vagator held military significance during the Adil Shah rule as well as after its capture by the Maratha army. The fort was finally taken over by the Portuguese.
In later years, Anjuna formed part of the hippie trail and then for many years continued to be the hippie hub in Goa.
Quick overview of Anjuna and Vagator – Present day
Anjuna beach is a rocky beach in Goa. It is also a popular filming location.
Vagator is quite laidback and the coast is divided into Ozran Beach (smaller, more deserted beach) and Vagator beach (the bigger, more popular beach). Sunset at Vagator is famous.
Both the areas are fairly touristy but Anjuna is usually more crowded than Vagator
Both Anjuna and Vagator are full of properties catering to all budgets. You will also find plenty of cafes and clubs in this area.
The area is popular amongst both western and Indian tourists.
---
Anjuna & Vagator Visit Tips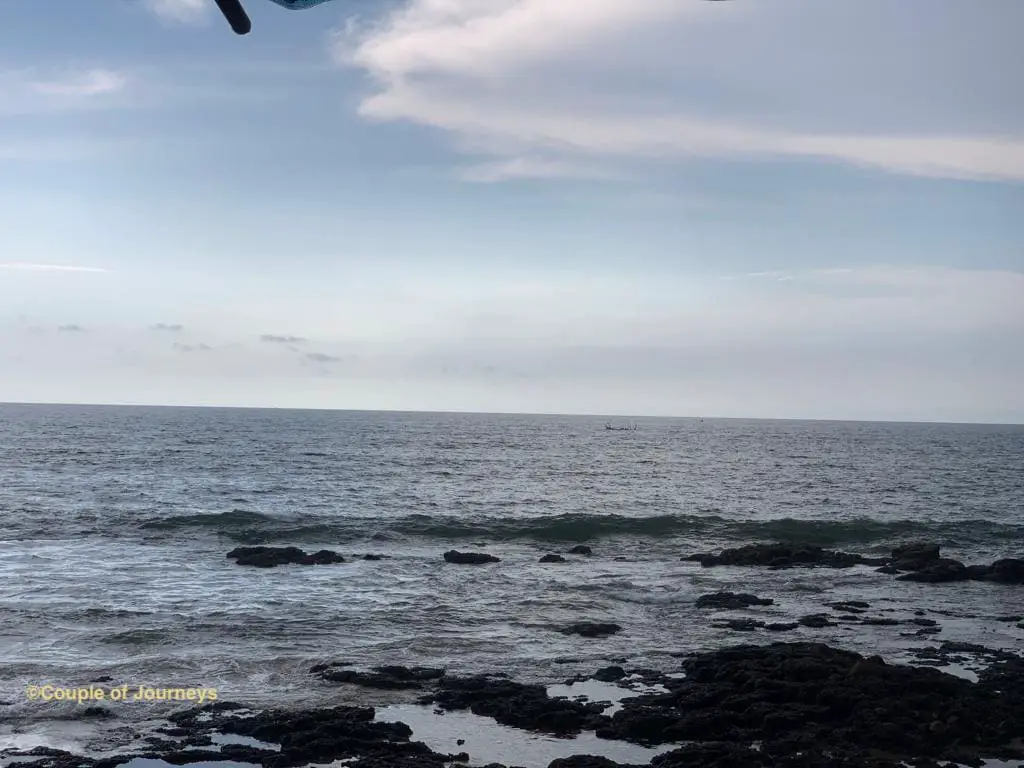 Anjuna and Vagator attract a wide variety of tourists and are therefore full of properties catering to all budget types.
Getting a rickshaw to visit any of the attractions in Anjuna and Vagator like its beaches and cafés is difficult. Even if you find one, you will end up paying almost as much as booking a tourist taxi. Please rent your own vehicle for commuting. Relying on public transport like buses is also not recommended for short-distance travel. There are no suitable routes and the timings and punctuality of the buses are not traveler-friendly at all.
Anjuna beach is rocky and has no tree cover. Vagator beach too has hardly any tree cover. Avoid visiting the beaches during the afternoon time without proper sun protection like this SPF 50 sunscreen that I always wear in Goa
Finding parking for a four-wheeler at the parking outside Vagator is difficult if you visit it around sunset during peak season. Anjuna has a large parking area at the top.
The beach is a bit far from the official parking area in Anjuna and involves some walking. Prepare for it. Likewise, visiting Ozran beach involves climbing down steps. Avoid going there with young kids or those with limited mobility issues.
If you plan to drink at a party, arrange for your commute back to your accommodation in advance. It would be very difficult to find a taxi or a cab in the wee hours of the night. If you hail one on the spot, be prepared to steeply overpay.
Even though Vagator is surrounded by a red cliff, there aren't many cliff-top properties in Vagator that offer a spectacular beach view.
---
Things to do in Anjuna & Vagator
Spend time at the Vagator Beach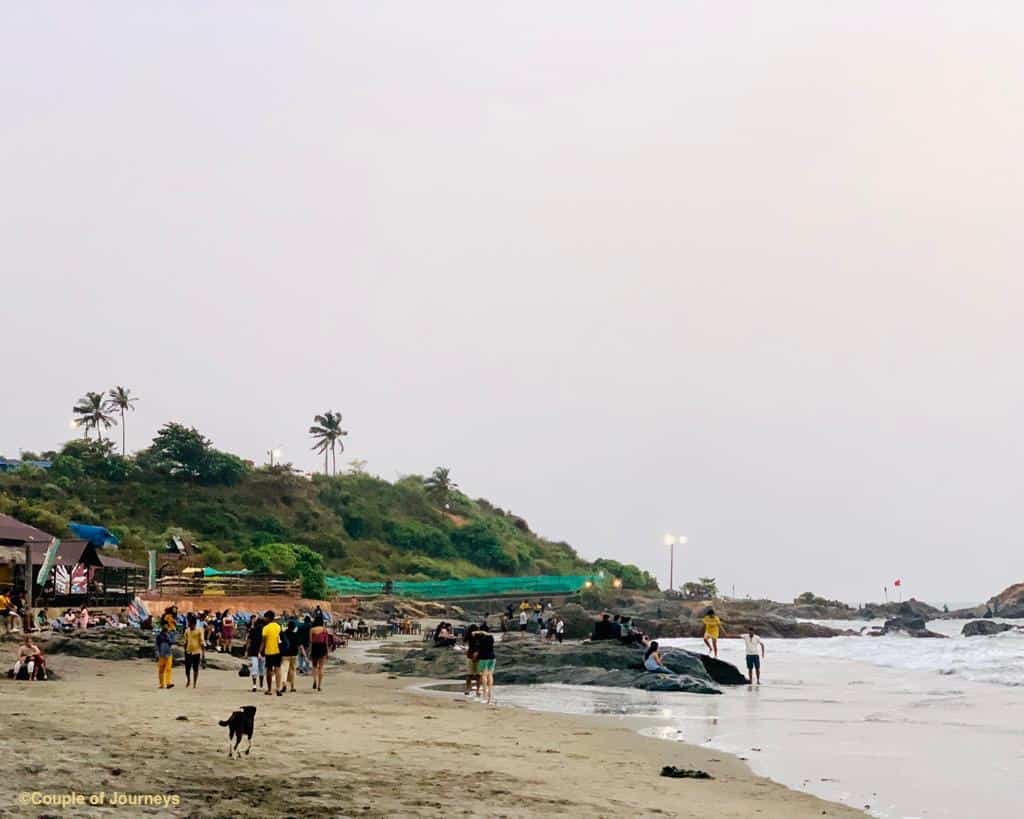 Vagator beach is one of the best beaches in the touristy side of North Goa.
It is not too crowded, except around sunset when people visit it to watch the sunset from the rocks.
It is family and couple-friendly.
The golden sand is fairly clean and good for enjoying beach sports
Watersport activities do take place here but are usually more expensive than those offered at Sinquerim, Calangute or Baga.
The beach is very scenic thanks to the red cliff overlooking it on one end and the backdrop of the Chapora fort on the other.
Check out the less famous Ozran Beach
Between Anjuna Beach and Vagator Beach, you'll find Ozran Beach also known as the Little Vagator Beach. This beach is drop-dead gorgeous. To reach the beach, you have to climb down a series of odd steps. It's not suitable for those travelling with young kids or senior citizens.
But its difficult to access location make the place special. It's much more raw and clean than other beaches, there are fewer shacks and the beach is one of the most beautiful sunset beaches in Goa.
Admire the Shiva carving on one of the beach-side rocks here.
This beach, although, fairly difficult to access attracts many foreigners.
Admire the rocks at Anjuna Beach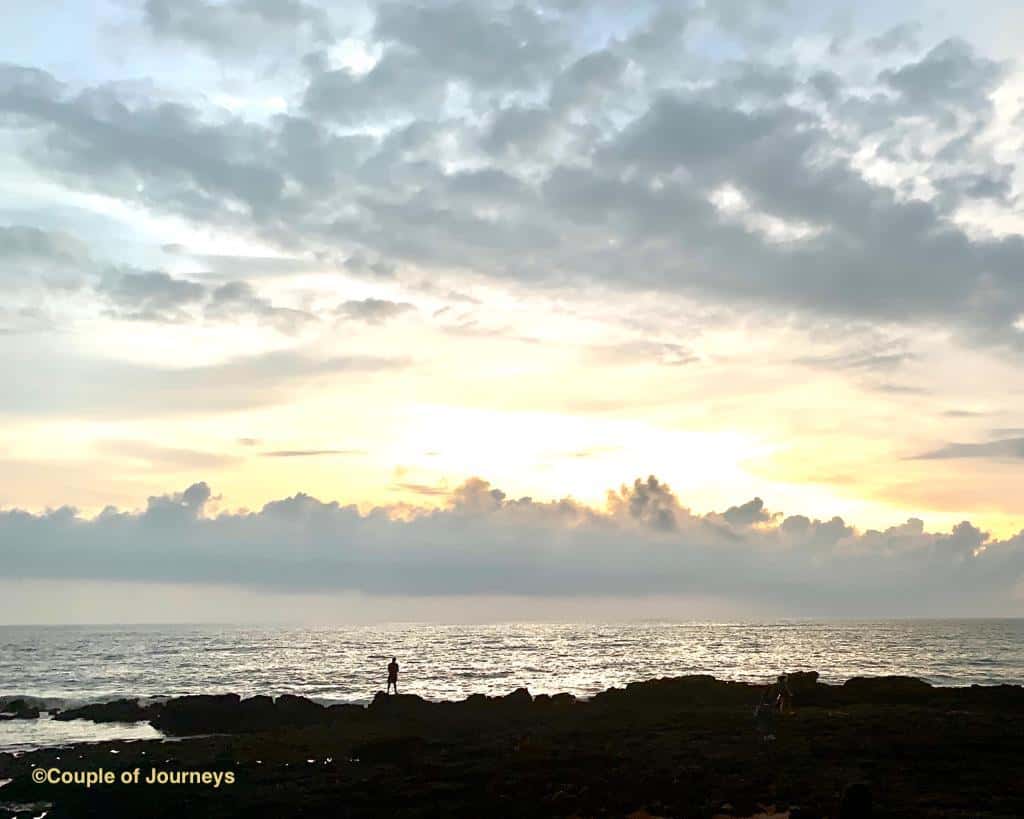 What distinguishes Anjuna beach from many other beaches in North Goa are the rocky formations on its coast. They have featured in many films (e.g. Rangeela) and continue to be popular amongst Instagrammers and photographers.
One end of the beach has soft sand and shacks while the rocky end is lined with cafes and restaurants offering spectacular views.
At night, a few of the beach shacks turn into party areas. The famous one amongst them are Curlies and Café Lilliput.
Watch a glorious sunset from Chapora Fort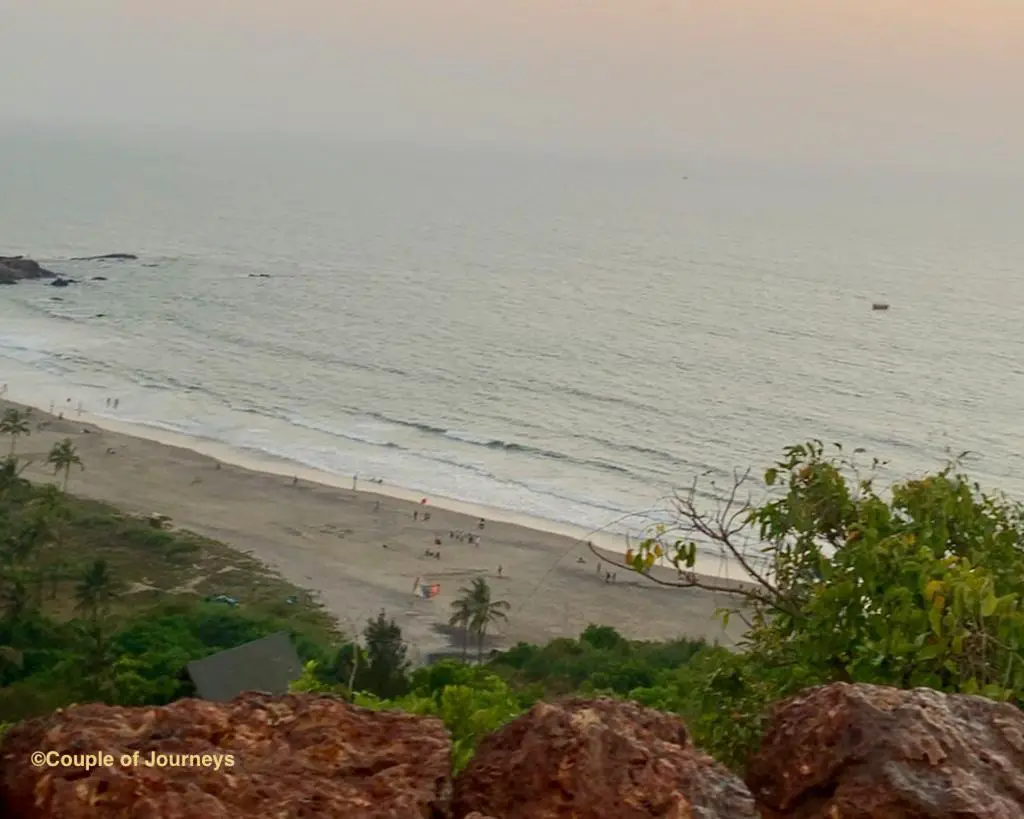 Chapora fort aka Dil Chahta Hai fort is a very famous tourist attraction in Goa.
The fort attracts fans of the movie Dil Chahta Hai which shot one of its iconic scenes here. In fact, many stalls on the fort are also named after the movie.
The fort holds historic significance. But unfortunately, the fort itself is not too well maintained.
The walls of the fort which overlook the Vagator coastline are the best place in North Goa to watch a sunset from.
You will find adequate parking at the base of the fort. But reaching the top involves climbing up a series of steps. My 3-year old could easily climb to the top, but those with babies or those with difficulty climbing should avoid going to the top.
Anjuna Flea Market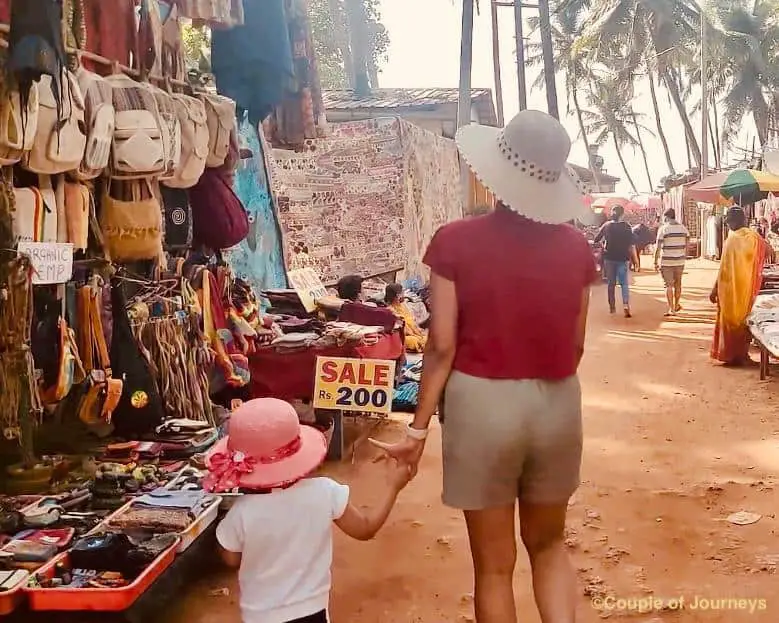 Anjuna flea market is a famous weekly bazaar that sits near Anjuna Beach.
It is open every Wednesday during the day.
It hosts multiple shops selling clothes, bags, jewellery, handicrafts, musical instruments etc.
To be honest, I didn't find the stuff sold here too unique or distinct from the ones sold in the street-side markets surrounding Anjuna Beach.
But if you do visit this place
visit it in the afternoon when it is less crowded
bargain heavily
visit it after visiting the local markets so that you only buy unique items here.
Vagator Friday Night Market
The Vagator Market, unlike Anjuna, is a night market.
It is held on a flat top on a cliff near Vagator. It is held every Friday during the high season i.e. between November and February.
The market features stalls by Indians and foreigners selling clothes, jewellery, bags, metallic artwork, etc.
Again, just like the market at Anjuna, you really need a keen eye to spot unique items. If not, you will end up finding the clothes, sarongs, etc sold here are very similar to those sold elsewhere in Goa.
In addition to these shops, the market also puts up local food and drink stalls. The music played here makes the place very vibey and makes for an excellent evening outing when in Goa.
Visit a sunset café/restaurant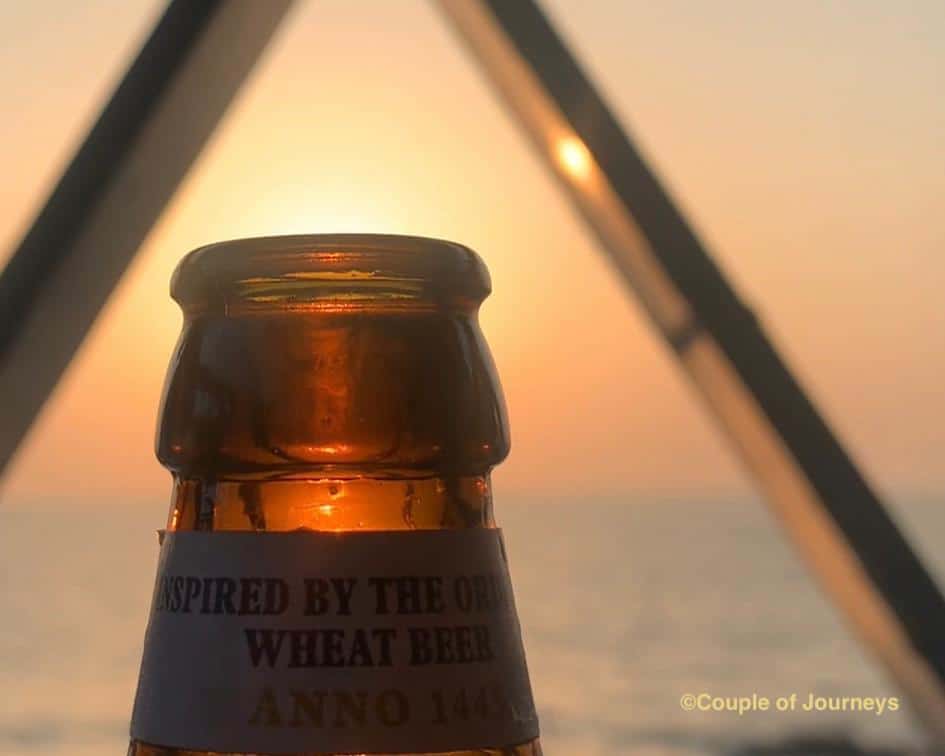 Most of the coastline in Anjuna and Vagator is famous for its spectacular sunsets. The rocky formations in the water, the cliff between Anjuna and Vagator paint a pleasing sunset canvas.
If you don't want to be outdoors on the beach or at Chapora fort to take in the sunset view, hang out at a sunset cafe or a restaurant along the coast.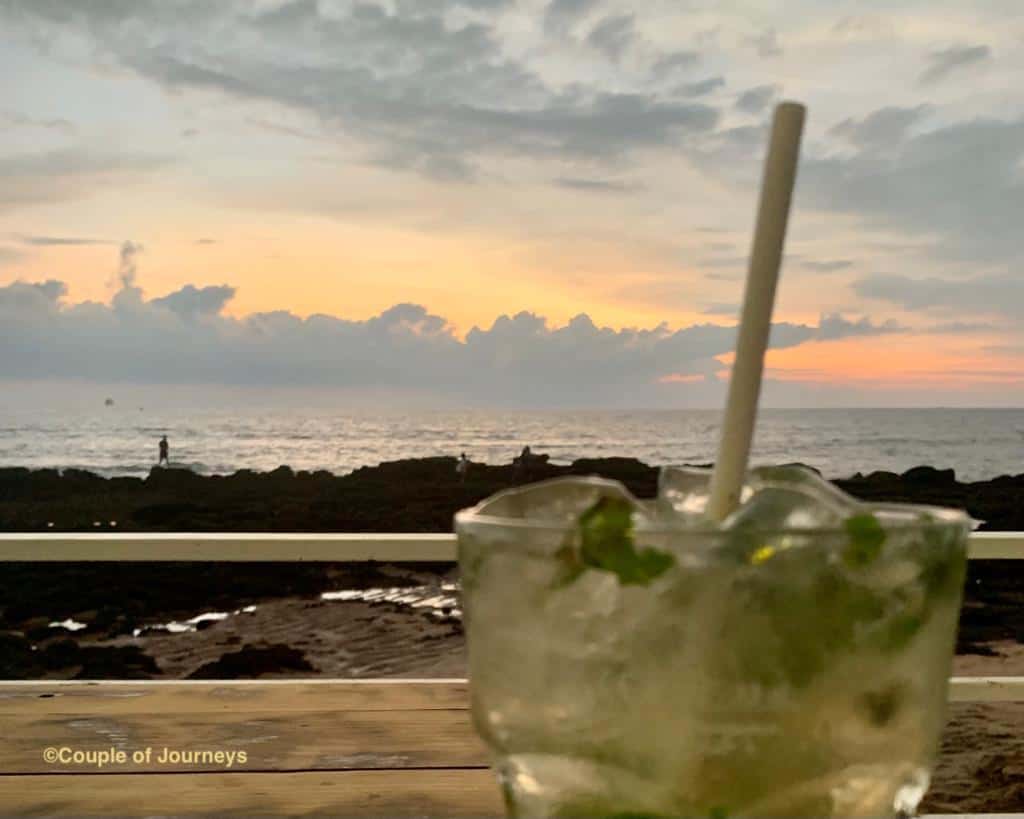 Some cafés or restaurants that are particularly famous for their sunset views are
Café Moonstar (not too crowded, excellent deck to watch the sunset – personal favourite)
Guru Bar (great for a drink and the vibe)
Pisco by the Beach (newly opened, aesthetic decor, smashing food)
Purple Martini (the food and the service is no longer worth the hype, but the sunset views are!)
Update October 2022: The famous Café Eva is now shut. A new café is opening at the same place but has not yet become operational.
To enjoy a sunset from any of these cafes, try to reach the place at least one hour in advance. Some places like Purple Martini expect a minimum billing of about INR 2k for the sunset view tables.
Quick note on Artjuna: Artjuna is not a café on the beach and does not offer sunset views. It's a beautiful artsy café in Anjuna. Best visited to spend a lazy afternoon in Anjuna.
Hog at a streetside stall
Anjuna and Vagator are dotted with many budget accommodations and hostels.
To cater to this set of tourists, you will find lots of local streetfood vendors. Most don't even bear an official business name.
But the food that they serve is absolutely delectable and packed with authentic Goan flavours.
Try out Xacuti, Ros Omelette, Patal Bhaji, Bhaji, Samosas, Chicken curry, Prawns with typical Goan Poi. (Poi means bread)
Also look out for Maruti's food truck in Anjuna – the taste of the food here is so yummy, it stays with you forever! Also visit the Juicy Burgers food truck – yummy veg & non-veg burgers for just Rs. 100.
Have breakfast at Jaws bakery
The many famous cafés and restaurants in Anjuna and Vagator often overshadow little gems in the form of bakeries.
One such modest bakery that overdelivers in terms of taste and value for money is Jaws. To get the best of this beautiful place, go here for breakfast. Thinking of its continental breakfast, croissants and coffee is make my mouth water.
Try out a sumptuous thali at Vinayak
Vinayak Thali is situated in the interior end of Vagator.
The beautiful, airy place by the river serves one of the best seafood thalis in Bardez. There is ample seating to accommodate its many visitors. The service is quick for Goan standards.
My husband loved the prawns served here and my vegetarian belly was happy with the veg thali that included the best solkadhi I have ever had.
Go on a date at Thalassa
On the northern end of Vagator, next to the Chapora river, you'll find the famous Greek taverna – Thalassa.
Thalassa, to be honest, is expensive compared to many other eateries in Goa.
But the taste and quality of its food justifies its high price tag. What adds to the beauty of this place is its ambience.
The open air dining with views of the adjacent sea and the river are the perfect way to spend an afternoon or an evening on a holiday in Goa.
To avoid disappointment, reserve a table in advance.
Get filmy at Parra Road
Parra Road is the road that shot to fame after it appeared in the movie 'Dear Zindagi'
Today, it is a hit amongst youngsters, especially Instagrammers and influencers.
You would find tourists stopping here for the perfect Instagrammable picture almost all throughout the day making it difficult to get a clear shot devoid of annoying photobombers.
But the road is still worth a visit as it truly is a unique road lined with coconut trees on both the sides.
If you want to click pictures here – visit it in the morning to avoid direct sunlight. Watch out for the traffic. Parking is prohibitted on this road. But tourists still stop to get a quick (or not!) picture.
Enjoy watersports with a view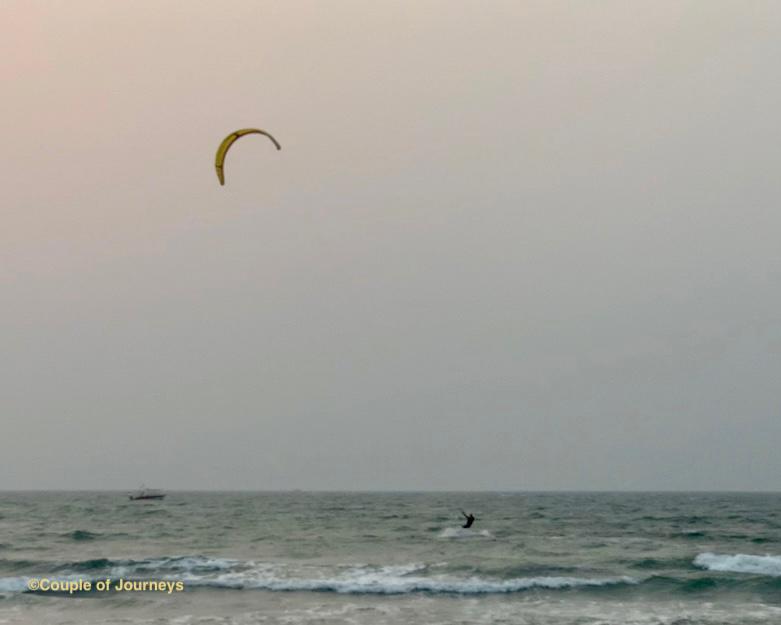 As I stated earlier, both Anjuna and Vagator beaches have good watersport offerings. The only minor drawback is that they are a bit more expensive than Baga and Calangute.
But, honestly, you won't mind paying a bit extra for that given how much better your experience would be. You won't have to wait for your turn, watch a sea of people (instead of just the gorgeous beautiful sea) from above and deal with slightly arrogant vendors who aren't exactly chasing customers.
At Anjuna and Vagator, your water sporting experience would be far better. If you can, choose Vagator over Anjuna. Book from the official association. They have standard rates and you won't have to bargain.
Party hard!
Finally, what's a trip to Goa without a night (or more) spent partying.
Anjuna and Vagator have fewer partying options when compared to their loud neighbour Baga. But the quality of the options is better ( at least in my opinion)
The few places that you can consider visiting are
Hilltop – the best trance party in Goa. Super crowded. Attracts a large number of foreigners too.
Curlies – a beach shack that turns into a party place.
UV Bar – a good party place, less crowded. (its recent reviews are not great though – read them before you commit to this place)
Café Lilliput – another beach shack that turns into a party place
Shiva Valley – one of the vibiest beachside party place
Remember that many of the places listed above have come under the legal scanner. Visit at your own risk and exercise due caution.
Attend a culinary class
Taking a culinary/cooking class in Anjuna is the best way to connect with the flavours of the land.
To be honest, there are few tourist places in the world that manage to deliver an authentic cooking experience to its visitors. Many are just another commercial toruist attracting avenue.
But the cooking class in Anjuna that I am referring to is run by a local organisation. You need to go to the village-side of Anjuna and learn from the local women. The cutlery and the equipment used is traditional Indian and the dishes served are all typical Goan dishes. It's a beautiful way to immerse yourself in the experience. (See details and price here)
---
Best places to visit from Anjuna and Vagator
Anjuna and Vagator maybe slightly quieter than Baga and Calangute but they aren't too far in terms of their location from many worth-visit attractions in Goa. Here are a few trips that you can take from Anjuna and Vagator.
Old Goa – half day
Old Goa is only about an hour away from Vagator and Anjuna.
Once at Old Goa, visit the famous churches and cathedrals like Basilica of Bom Jesus, Se Cathedral, St. Francis Assissi Church, etc.
In my opinion, half a day is enough to visit all these 3 churches as they are all very close to each other

Old Goan structures reflect the impact of Portuguese rule on India. These churches are significant for their historic heritage as well as for their architecture.

To be honest, visiting Old Goa can be a boring experience if you visit it like all other tourists do in a rushed manner, just to tick off items from their Goa tourist places list. To better understand the area – which is full of architectural gems, you should see it on a heritage walking tour. The guide is informative (but not boring at all) and takes you through not only the key attractions but also spectacular structures around that most standard tourists skip.
Fountainhas tour – half day
Fountainhas is one of my favourite quarters in Goa.
A walk in the UNESCO heritage area takes you back in time to the Portuguese era.
The quarter is full of colourful houses and buildings belonging to the Portuguese times
The architecture and the choice of colours are all reflective of the Portuguese influence on India and what makes the experience real is that most of these buildings are still inhabited by locals.

To better understand the significance of this place, go on a walking tour of Fountainhas. The trip not only helps you better understand Fountainhas but also takes you to little spaces in the quarter that are often overlooked by tourists like a famous bakery, art gallery, church, etc. (See tour availability and price here)
Visit the Islands of Goa (4-6 hours)
One of the most rewarding offbeat things to do in Goa is visiting the islands near Panjim. The lack of tourism has helped retain the raw charm of these islands.
At the islands, you can visit local churches, try out some feni (Goan liqueur), or go on a river trip in Mandovi. The experience is truly rejuvenating.

An e-bike tour of the Goan Islands is an excellent opportunity to meet new people, explore the scenic islands of Goa, learn more about them from a guide – all while riding an e-bike
Visit the more secluded beaches in Northern Goa
Anjuna and Vagator are close to the river Chapora and that means that visiting beaches to the North of river Chapora is not too time consuming.
The beaches North of Chapora river that you should visit are
Morjim beach: One of the best white-sand beaches in all of Goa, also a turtle nesting center. Famous amongst Israeli and Russian tourists.
Ashvem beach: Almost always deserted. Many lovely properties, shacks and restaurants nearby.
Mandrem beach: A little bridge across a river takes you to Mandrem beach – a deserted beach, lined with very few shacks. Also a turtle nesting center.
Arambol beach: Best beach in Goa for foreigners. Very vibey in the evening, has a sweet water lake to its north.
You can spend an entire day visiting all or any of these beaches or plan a quick half-day visit up north.
These beaches are far more blissful than the overcrowded beaches to the South of Anjuna and Vagator.
---
Anjuna and Vagator: Frequently Asked Questions
Is Anjuna and Vagator the same?
Anjuna and Vagator are not the same. Vagator is to the North of Anjuna. But both are famous areas amongst tourists located in the Bardez taluka of North Goa.
Which is better – Anjuna or Vagator?
If you want to visit scenic beaches, Vagator is better and if you want to spend time in breathtaking seafront cafés, Anjuna is better. But Anjuna and Vagator are just about 10-20 mins apart from each other and it is best to explore both the areas and visit their touristic offerings.
---
Final Thoughts
Anjuna and Vagator are one of the best areas to stay in Goa for any type of tourist. I hope that you found the information contained in this post helpful for your Goa trip planing and that you enjoy your stay in Vagator and Anjuna as much as I have over the last many years.
---
Planning a trip to Goa? Grab my premade digital itinerary – 'Goa – Planned for You'.
---
Visiting Goa soon? Read more Goa articles:
---
Pin for later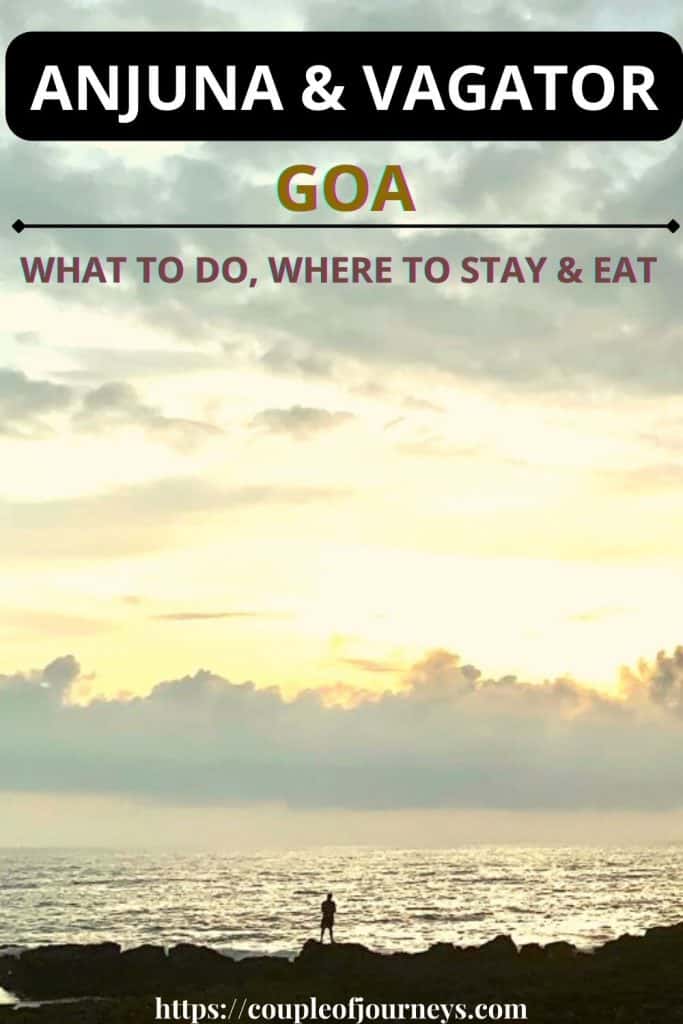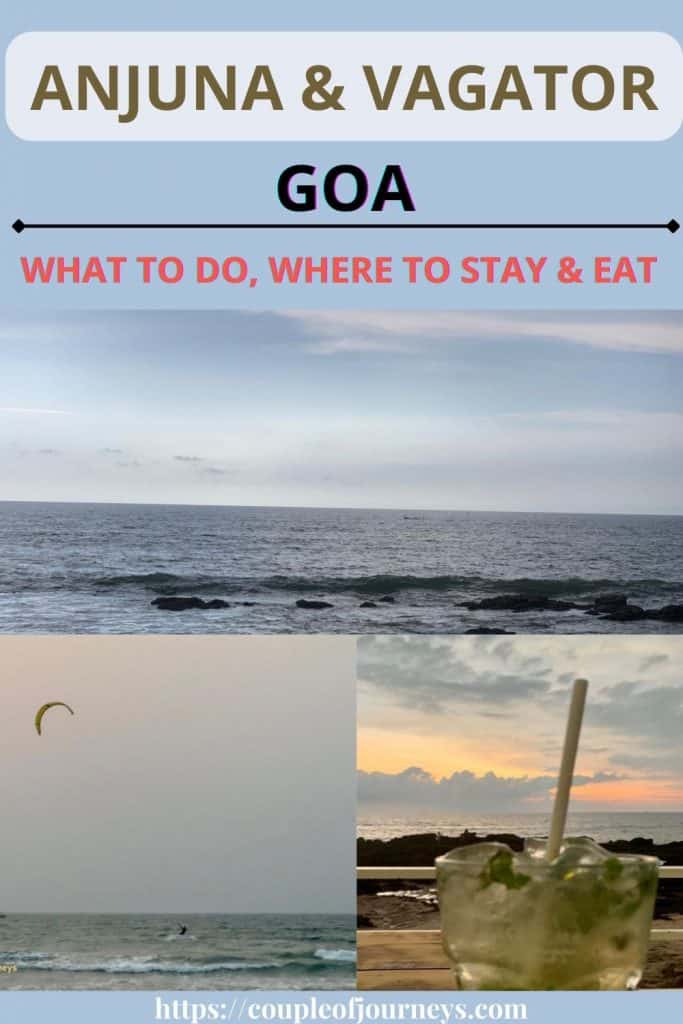 ---
TOP TRAVEL RESOURCES
Here is a list of our favorite travel resources- the ones that I absolutely swear by when planning almost every trip. Go through this list to plan a hassle-free trip and save a lot of money!
Flight Booking: Check the availability of tickets, the best time to fly, and the cheapest fares on Skyscanner. You may also find a cheap flight via CheapOair
Accommodation: I absolutely love booking through Agoda. In most countries and particularly in Asia, I often find the best fares on Agoda. But I also love the no prepayment and no cancellation fee policy of Booking.com. For cheap accommodations and hostels, nothing beats Hostelworld.
Car Rentals: You may find and rent an appropriate car via RentalCars. It's hassle-free and reliable.
Guided Tours: I absolutely love GetYourGuide for local sightseeing tours, walking tours, history tours, and food tours. The booking process is seamless, and the tours are super affordable. But in Asian countries, I prefer Viator or Klook for their affordably priced tours.
Lounge Access: Get Priority Pass – my personal favorite card that gives me unlimited access to premium airport lounges all over the world
Hey, if you found this post helpful, share it with more people or buy me a coffee!