Benaulim Beach: Full Guide on What to do, Where to Stay & Eat 2023
This website contains no sponsored content. The content is written entirely on my own and is based on my personal experience and extensive research. This post may contain affiliate links. If you make a purchase through one of these links, I may receive a small commission at no extra cost to you. As an Amazon Associate I earn from qualifying purchases. Please read the disclaimer for more information.
Planning a vacation near Benaulim Beach?
Discover the best things to do in Benaulim and learn all about where to stay, eat and attractions near Benaulim Beach.
Ever since I was a kid, I have been visiting the beautiful Benaulim Beach. Amongst all the areas in Goa, I have been to Benaulim the most number of times.
This post may contain affiliate links. If you make a purchase through one of these links, we may receive a small commission at no extra cost to you. Please read the disclaimer for more information.
Top things to do in Benaulim
If you don't want to read the whole article, here are my top 5 things to do in Benaulim
Walk at the beach around sunrise or sunset (sunrise is pretty empty, sunset is a mix of culturally diverse crowd)
Spend your afternoons chilling at a sunbed of a beachside shack (details and suggestions later in the article)
Enjoy a candle light dinner on the beach at the Southern Deck or Little Tiger's
Have a delicious seafood lunch or dinner at Johncy's.
Eat the best wood-fired pizza at Goodfellas on Benaulim Beach Road
But that's not all, there is lots more to do and understand about Benaulim. Read the full article for all the details.
---
Benaulim Beach: Map and Location
Benaulim beach is located
in South Goa
in Salcete
to the south of Colva
to the North of Varca
Benaulim Map
How to reach Benaulim
Reaching Benaulim is fairly easy as it close to Madgaon train station as well as pretty close to the airport in comparison with North Goa beaches.
Typical time taken to reach Benaulim is as under:
Airport:
Goa airport to Benaulim: 45 mins drive
Book a prepaid taxi from the airport.
Or save money and book your cab using Goamiles app.
Call a local driver or your hotel in Benaulim and ask him to pick you up from the station or the airport for a predecided price.
Train stations
Madgaon Railway station to Benaulim: 20 mins drive
Karmali Railway station to Benaulim: 60 mins drive
Thivim Railway station to Benaulim: 1h 30 mins drive
Vasco de Gama Railway station to Benaulim: 55 mins drive
Hail a rickshaw or a taxi.
Book a cab using Goamiles app.
Call a local driver or hotel driver to pick you up.
Other areas in Goa
Panjim to Benaulim: 55 mins drive
Calangute to Benaulim: 1h 20 mins drive
Palolem to Benaulim: 1h 10 mins drive
Dudhsagar Falls to Benaulim: 1h 55 mins drive
---
Where to stay in Benaulim
Benaulim has some of the best mid-range and luxury properties. Stay in one close to the beach to avoid the hassle of walking or renting a two wheeler or a car to go to the beach.
Luxury: Fairfield by Marriott – Near Sernabatim, Benaulim's quieter neighbour, an outdoor pool, a refreshing garden and rooms with a lovely decor. (check photos and availability here)
Beach Resort: Azaya Beach Resort – Beautiful property throughout, close to the beach, a lovely lounge area, Portuguese decor and the most lavish villas in this area. (check photos and availability here)
Family-friendly Villa: Villas Knox – close to the beach with in-house kitchen and more family-friendly amenities. Helpful staff. (check photos and availability here)
In addition to these properties, Benaulim is also home to one of the best timesharing properties. If you are not a member, see if you can find a way to book a stay at Karma Royal Palms, Benaulim. Its a beautiful family-friendly resort.
---
Wondering if you should stay in Benaulim? Read my detailed article on the 17 best areas to stay in Goa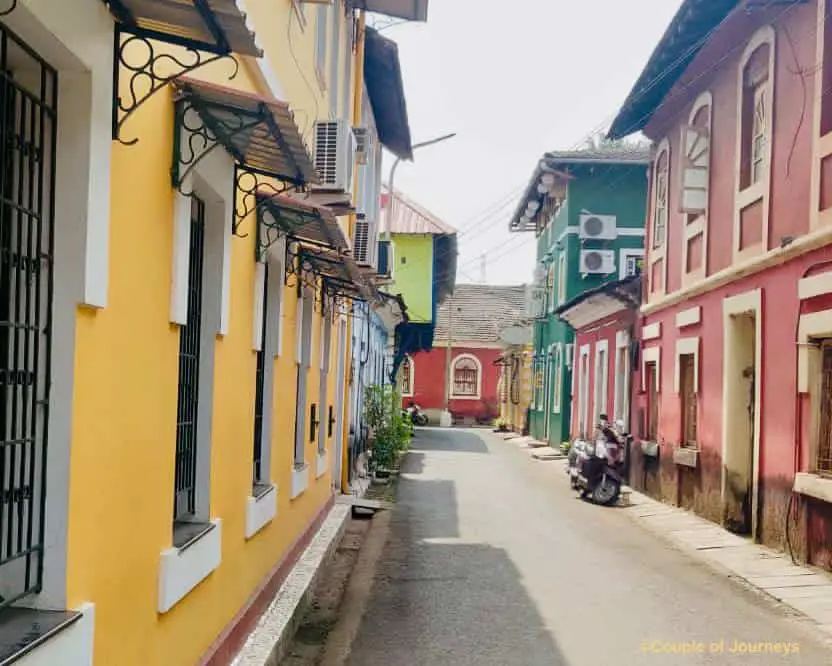 Find out all about
the best areas to stay in Goa
the best Goa accommodation options as per area
the best Goa accommodation options as per your travel type
---
Understanding Benaulim
Significance of Benaulim
As per a Hindu legend, Goa was created when Lord Parshuram hit an arrow from the Sahyadri mountains into the sea. The arrow touched the waters near Benaulim (also known as Banavli). The water receded till this point and created a safe land that's now the state of Goa.
Benaulim is also the birth place of Father Joseph Vaz – the first saint of Sri Lanka
Quick overview of Benaulim Beach
Benaulim is one of the best beaches in Goa for families.
It exudes a calm, laidback vibe.
There are quite a few tourists here but still far less compared to the crowded Colva or the tourist thronged beaches of North Goa.
There are many beach shacks all along the beach. The ones near the entrance are a bit more expensive and famous. But keep walking further north or south to find cuter shacks.
---
Benaulim Visit Tips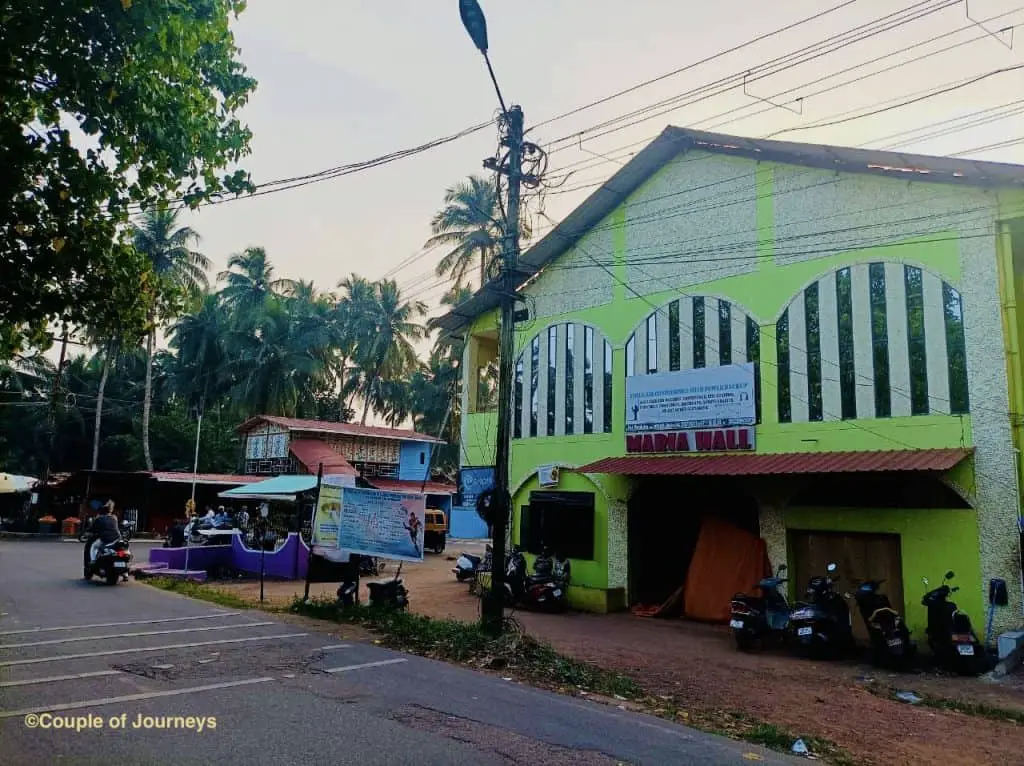 Getting a rickshaw or taxi to go to the beach is difficult. Even if you get one, the price you will have to pay is very high (approximately 400-800 INR depending on the vehicle) for a distance that could be as short as a couple of kilometres. If your property is a little away from the beach, check if your property has a beach shuttle or else rent a vehicle.
There are lots of shops who give scooters on rent in Benaulim. The one that we trust the most is Mr. Clapston next to Kelly's shack. (

You can contact him on +91 9130717197

). Get a scooter with a yellow number plate. Book before noon to avoid availability trouble. Scooters get rented out fast in the morning. ((I always avoid Dream Ride opposite Royal Palms, Karma as my experience with the owner has been horrible.)
There is almost no tree cover on the beach and the beach can get very hot and humid. Always wear a good sunscreen when visiting Benaulim Beach.
There are no ATMs close to the beach. The closest are on the Dabolim-Cavelossim road aka Benaulim main road (at least 1.3 km away from the beach). I prefer the HSBC ATM. It's right opposite Ruella, a few blocks north of Maria Hall.
There are lots of sightseeing tour operators in Benaulim. The prices offered by them are often cheaper than those offered by your hotel. You can also book cheaper airport/station drops from local drivers near your hotel.
If you book a vehicle for sightseeing or commute directly from a local vendor, the vendor's car won't be allowed to enter the hotel premises and you will have to walk up to a nearby pick-up point.
Finding a parking spot for a 4-wheeler near Benaulim Beach around sunset can be a challenge if you're travelling on a weekend during peak season.
The flea shops around Benaulim do not attract much touristic footfall and the stuff sold here is often very old and not in the best condition. The same goes with the stuff sold at tea and spice shops. Avoid shopping from these places unless absolutely essential.
---
Things to do in Benaulim
Have breakfast at Hari's German Bakery
Hari's German bakery is a small bakery outlet near Kadar supermarket on Benaulim beach road. It has only two tables on the area outside his shop. But even then, the shop is almost always full of tourists and locals.
Have some freshly cooked eggs or pancakes for breakfast (if you find a seat) pack a few croissants, or rolls and eat them when you picnic on the beach. I also love the caramel cappuccino here.
Try out local street food near Maria Hall
Every day on the corner opposite Maria hall, at the intersection, you will see street stalls serving local Goan food. They serve the Ros Omelette, Bhaji, Poi and many other local specialities that you hardly find anywhere else in this area.
So, raise your Goa quotient by trying out the food at these stalls.
While away your day with beer and beach at Roger's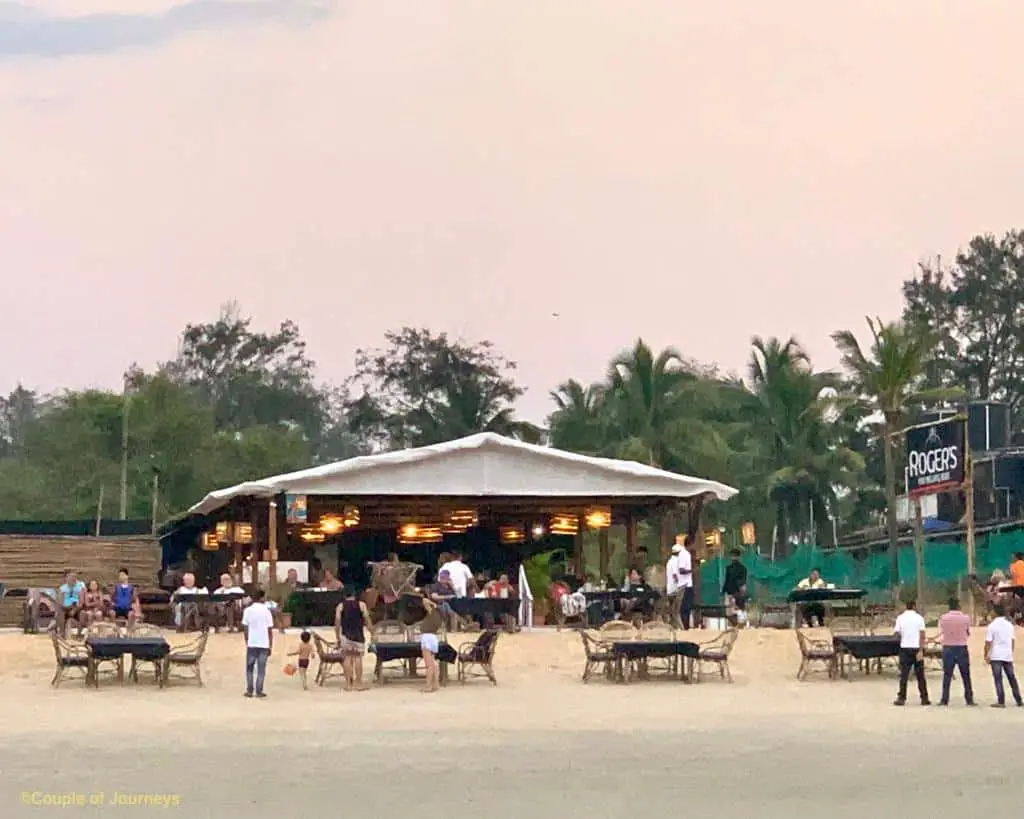 Benaulim Beach has quite a few shacks and yet the one right at the entrance called Roger's is my favourite.
I love the food and the vibe here during the day. So long as you order food or drinks from here, you can use the sunbeds for free for as long as you like.
Go for a long walk at the beach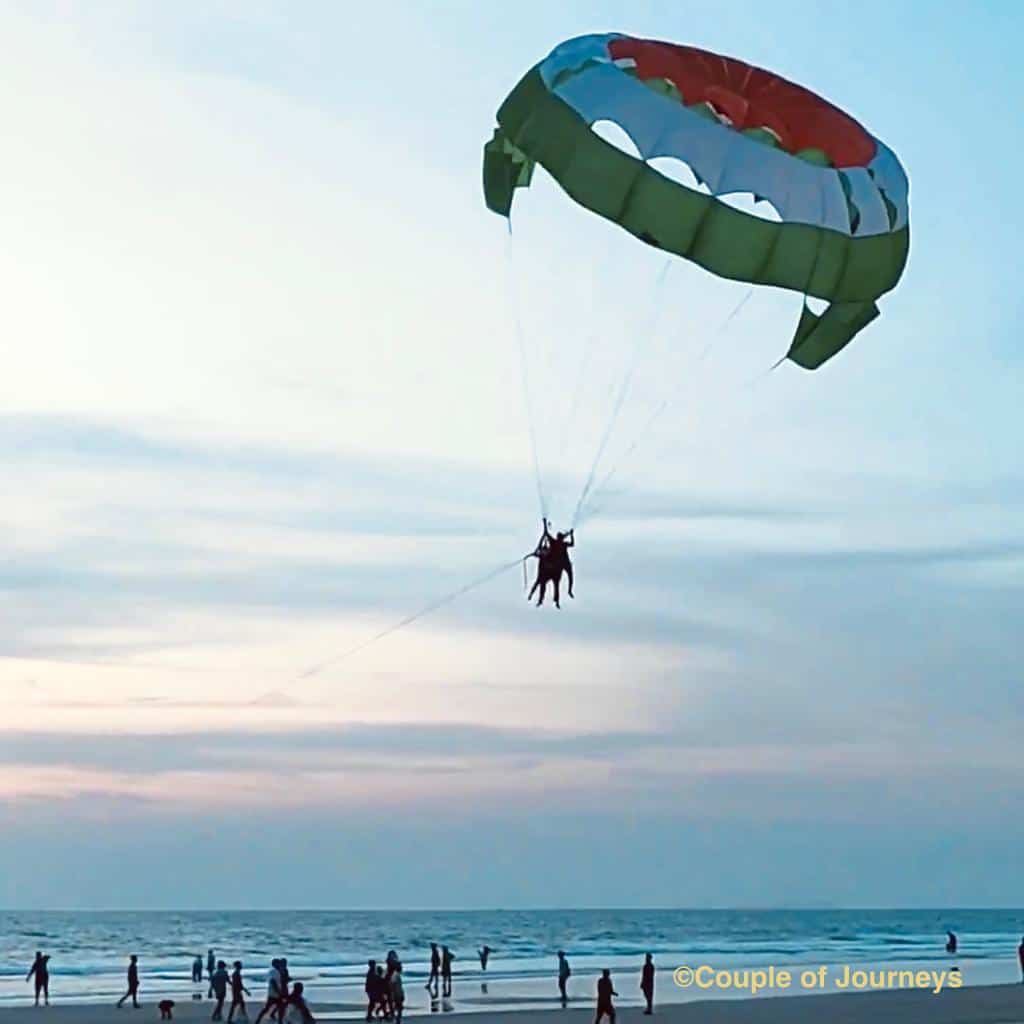 Not all beaches in Goa are suitable for a walk, especially for tourists. Some are too crowded and some too lonely and deserted. Some often have high waves and a narrow coast.
But Benaulim is not like either of those. It has a fairly wide beach and soft golden sand that's perfect to walk on. You will find some locals and tourists on the beach at all times to keep you company without invading your personal space.
Come here for a leisurely walk and take in the charm of Goa.
Try out seafood at Johncy's
Even though all the shacks in Goa serve seafood, if you want to eat good, freshly-made, delicious seafood, eat at Johncy's right next to the parking. (Quick disclosure: I am a vegetarian, but my husband who eats seafood is obsessed with this place!)
I must admit that the service here is usually a bit slow, but if you grab the seafacing seats, you won't mind the extra serving time.
Eat a classic wood-fired pizza at Goodfellas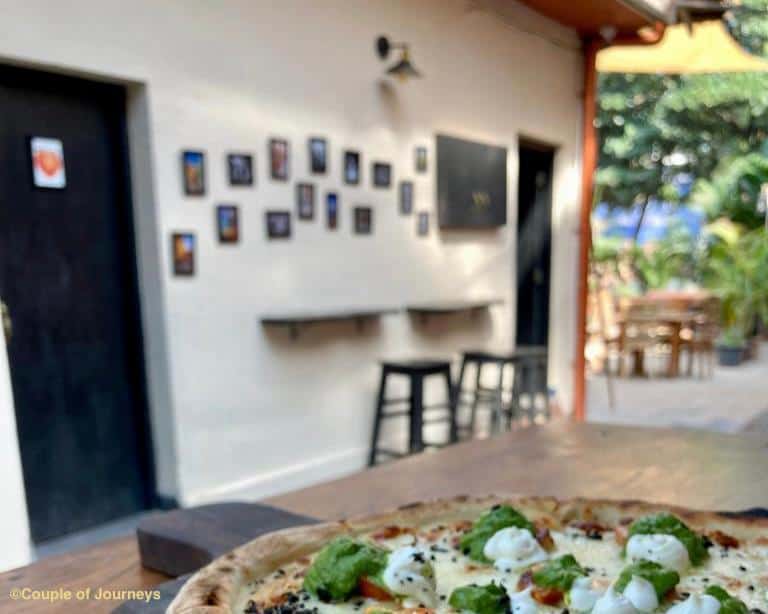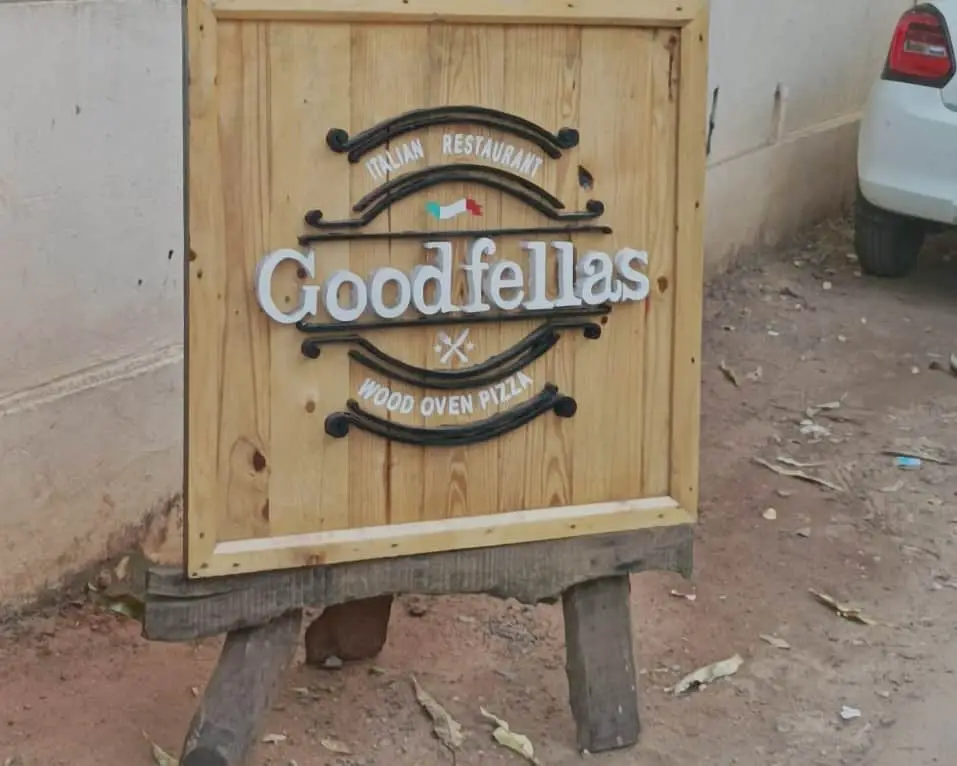 Goodfellas is probably my most favourite place to eat in Benaulim. It is a cute, little restaurant situated on the corner opposite Kadar Supermarket. Since it is set up on a slightly raised level from the road, many tourists often miss it and with that also miss their chance of experiencing the most authentic tasting wood-fired pizza in South Goa.
On winter evenings, the place looks lovely with its warm lighting and outdoor seating. So reach the place by 8 pm to avoid having to wait for too long. If you are a true fan of pizza, you will absolutely love the pizza here. The drinks and other finger foods served here are also quite tasty. So make sure you put this place high up on your list of things to do in Benaulim.
Watch the sunset from Southern Deck or Blue Corner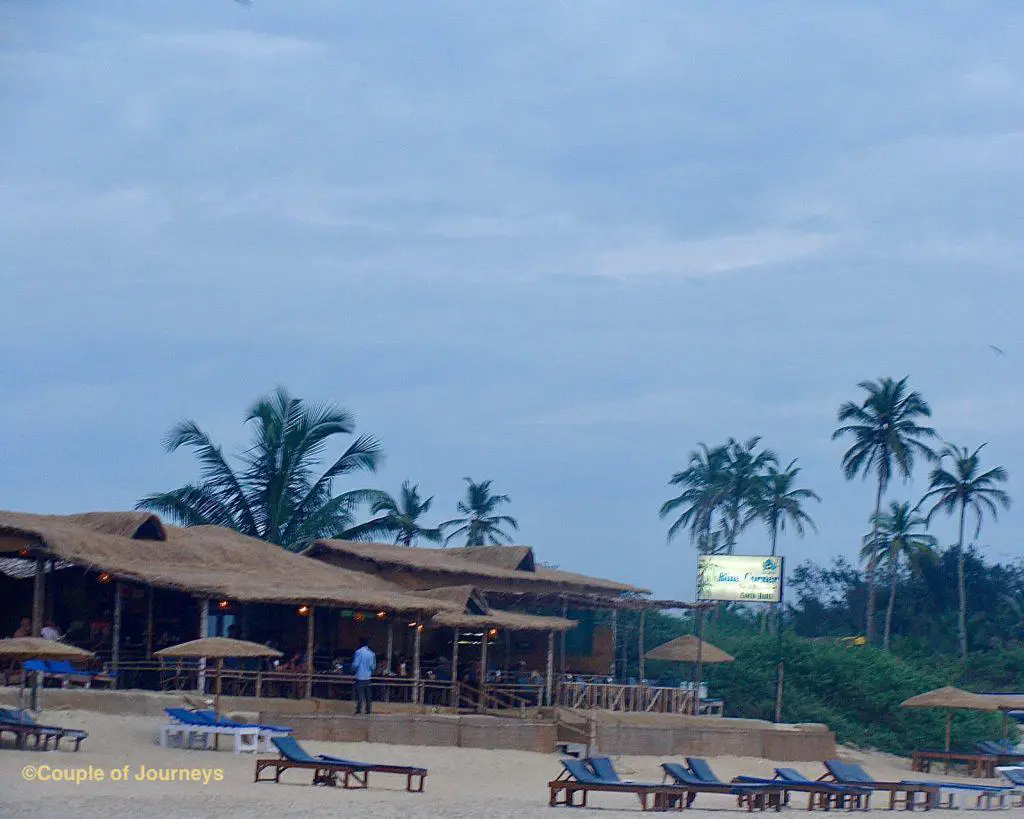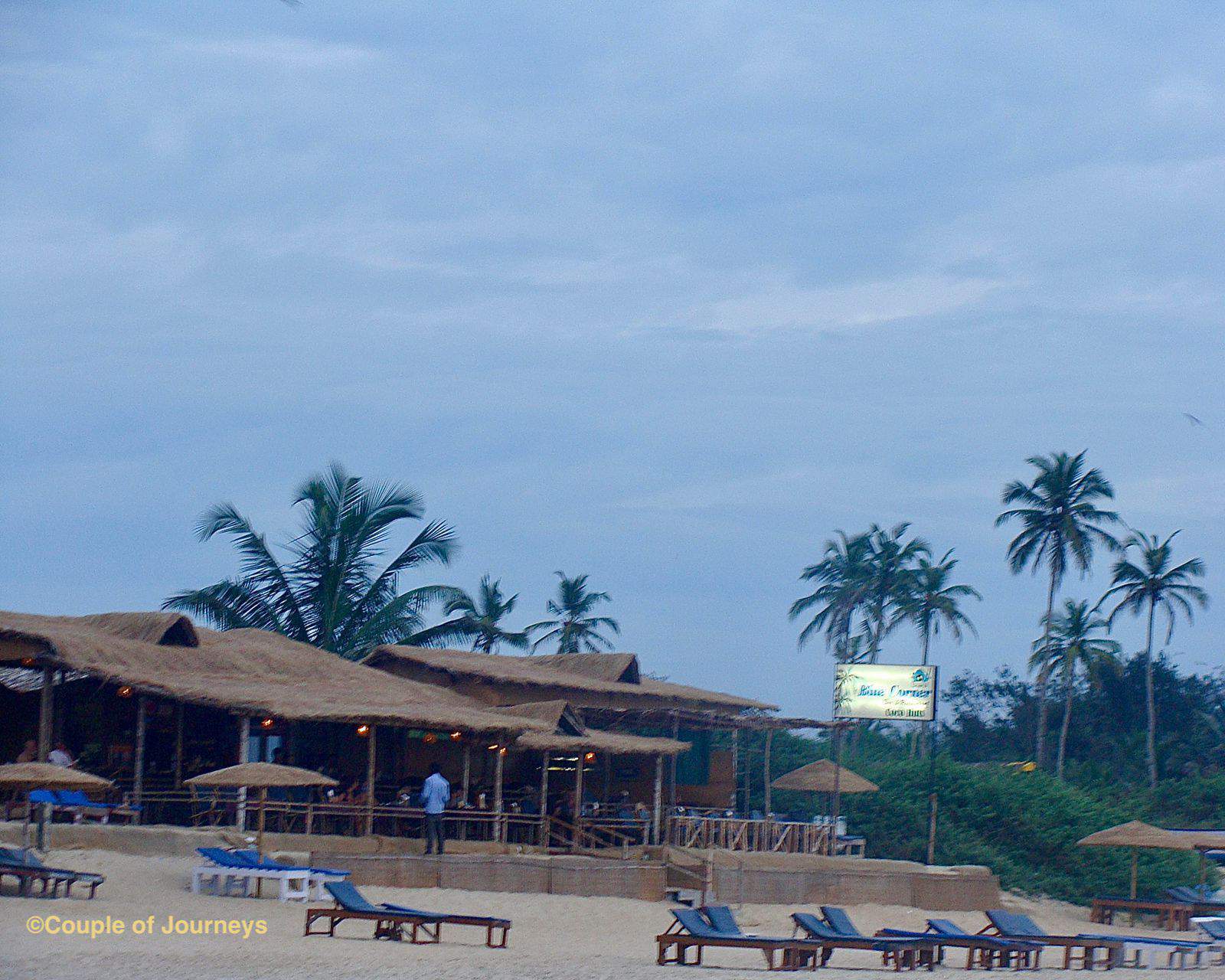 Technically, you can watch the sunset from anywhere on the beach and still be charmed by its magic. But if you want a balcony-like view of it, you should head to the Southern Deck or Blue Corner.
Both these wooden shacks are located slightly away from the entrance. You will have to walk to North from Roger's for about 4-5 minutes to reach these shacks. But the elevated wooden structure with beach facing tables creates the perfect setting to slowly watch the sun drown.
Reach the place at least an hour before sunset to get the best tables.
Have a candlelight dinner with your loved one on the beach
Most beach shacks in Benaulim put out tables after sunset to provide a sweet candlelight experience to its customers. You can pick a table on any shack you like.
The one that's my favourite is Little Tiger on the northern side of the beach and Parola Beach Shack on the Southern side of the beach.
Explore cute shacks in the lanes in the heart of Benaulim
Even though there are plenty of eateries and shacks on Benaulim Beach, the lanes around the beach are also dotted with beautiful shacks, So make sure you explore the lanes between Maria Hall and the beach. A few places that I keep going back to are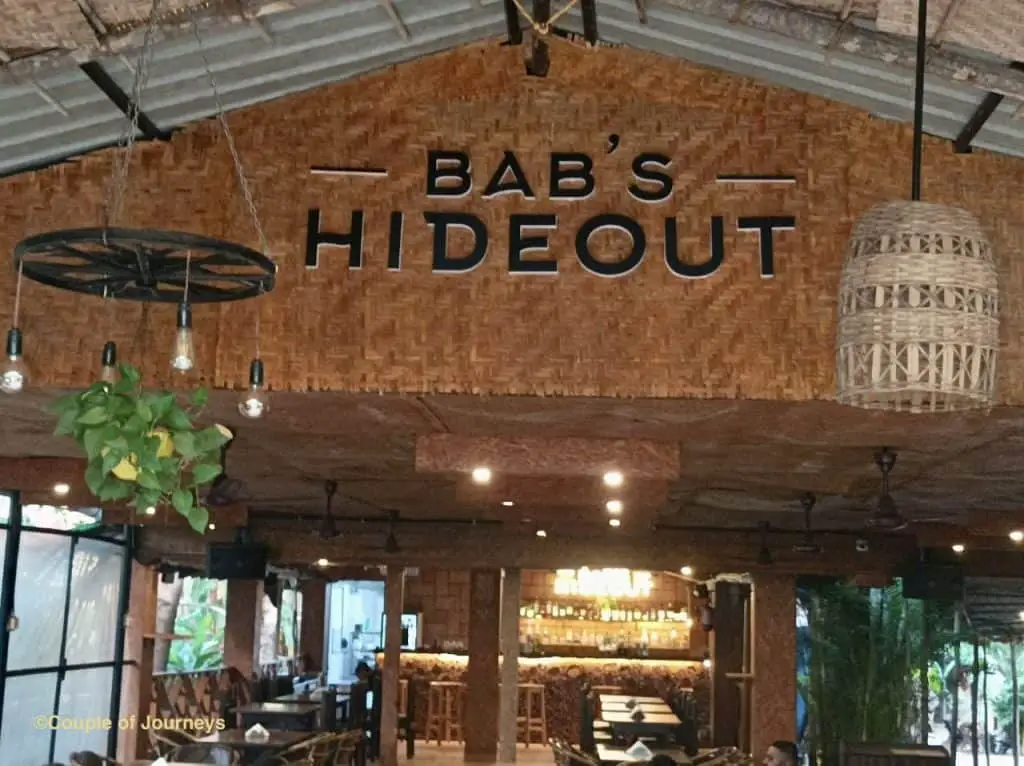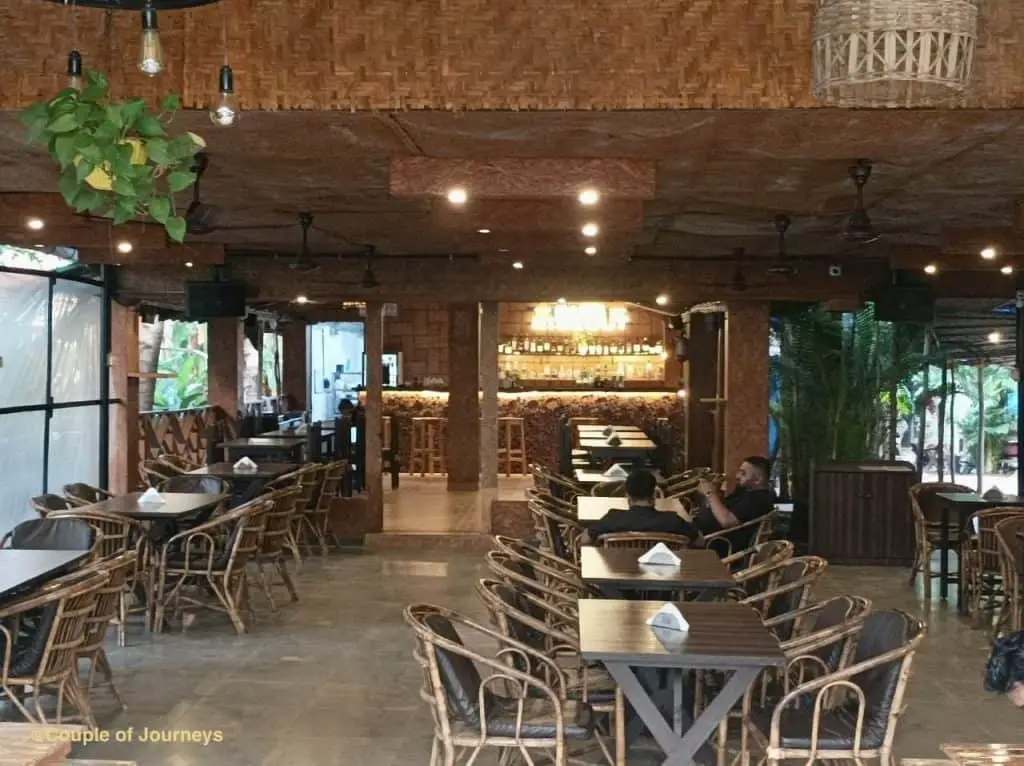 Hide Out: This gorgeous shack like restaurant is located in a small lane right opposite Karma Royal Palms. The English Breakfast it serves is one of the best in South Goa. But you can also visit the place for dinner. The restaurant serves really good Indian and Chinese food. Indians and foreigners both flock the restaurant. The ambience is perfect and the kind hospitalilty of the team is an bonus.
Palm Garden: This restaurant is a hidden gem but once you find it, there is no way you're going to forget about it. The restaurant is located in a small lane (a few metres ahead of Hide Out). From the outside, you won't quickly realise that it's a restaurant.
That's because the restaurant is surrounded with beautiful plants and trees. The fairly lighting at night gives it a lovely date night setting. But the greatest pull of this restaurant is its food. My husband loved the Calamari here and I was also overjoyed by the vegetarian food.
The place is often full of foreigners who love the seafood and cocktails here.
Visit the Sernabatim beach right next to Benaulim beach
Very few people know about the existence of Sernabatim Beach because there is no clear distinction between Benaulim beach and Sernabatim beach.
Sernabatim beach is located on the Northern end of Benaulim.
It's almost completely deserted and therefore more magical. Go there with your own towel and picnic and spend a lovely time on the beach.
See the beautiful local houses on the internal roads surrounding Benaulim
I hate it when people visit Goa and the only area they explore is their resort and the beach close to the resort.
The essence of Goa is spread out in the pretty colourful houses, the laidback life, the narrow roads, the little bakeries, football grounds, locals playing cards at street-side nooks, etc.
Benaulim being in South Goa, close to Madgaon, is the best place to tap into the locals' way of living.
Jump on a scooter and ride through the internal roads surrounding Goa.
---
Best places to visit from Benaulim
There are lots of things to do in and around Benaulim. Benaulim being a popular tourist hub also has plenty of sightseeing tour operators to take you around Goa.
Here are some things that you could do
Half Day tours from Benaulim
Uttorda, Majorda, Betalbatim
Go on a half day tour to the beaches to the North of Benaulim like Uttorda, Majorda and Betalbatim. All the beaches are very scenic and almost always deserted. Avoid Colva – its usually quite crowded. Benaulim beach is far better than Colva in terms of eateries, things to do and natural beauty.
Cavelossim, Cabo de Rama and Palolem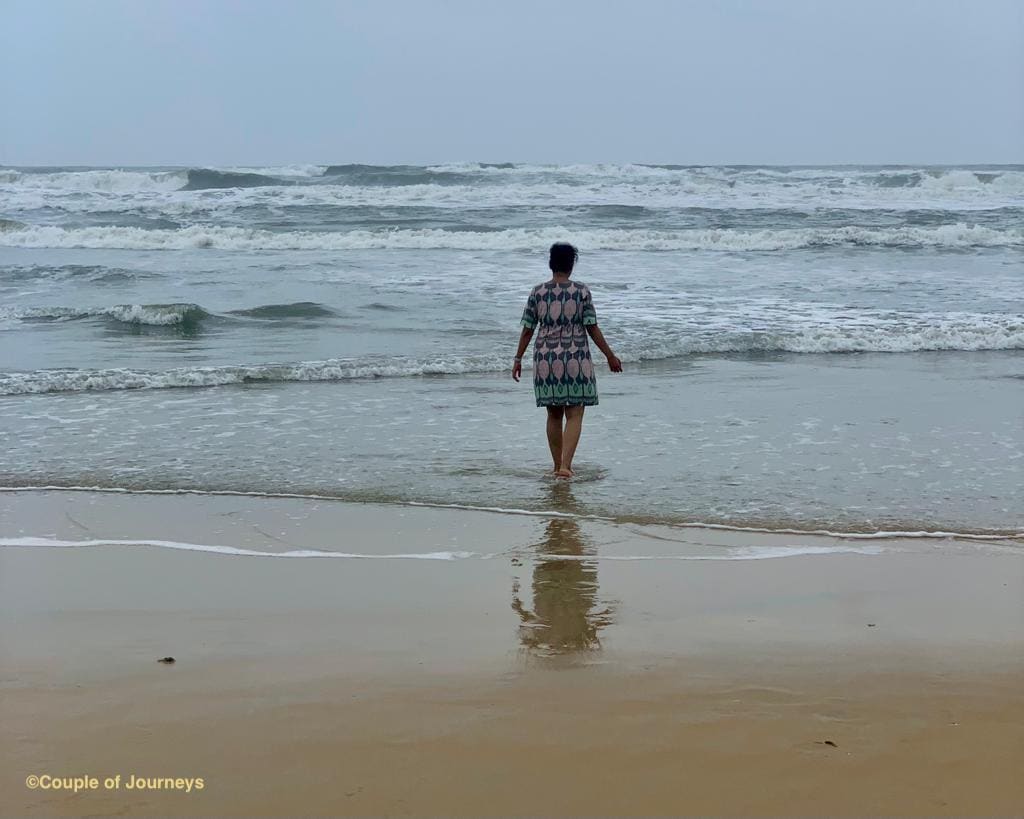 You can go on a quick half-day tour right up to one of the southernmost beaches in Goa – Palolem. But on a half-day tour, you would only get to briefly have a step out and look at these places.
Spice Plantation and Big Foot
Start with a quick visit to the Big Foot museum and the Ancestral House (35 min drive away). Plan to spend an hour here. From here, go further to Sahakari Spice Plantation. At Sahakari Spice Plantation, have delicious local lunch, go on a guided tour and conclude your tour by mid-afternoon.
Full Day tours from Benaulim
North Goa/Old Goa
Visit the famous tourist attractions in North Goa like Basilica of Bom Jesus, Se Cathedral, Fort Aguada, etc. You will have to leave in the morning and will only be able to come back for dinner.
Dudhsagar Falls/Tambdi Surla
Visit one of the tallest waterfalls in Asia – the Dudhsagar Falls. You can also go visit Tambdi Surla – one of the oldest temples of Goa. You would also get a chance to explore the beauty of Goa beyond beaches.
South Goa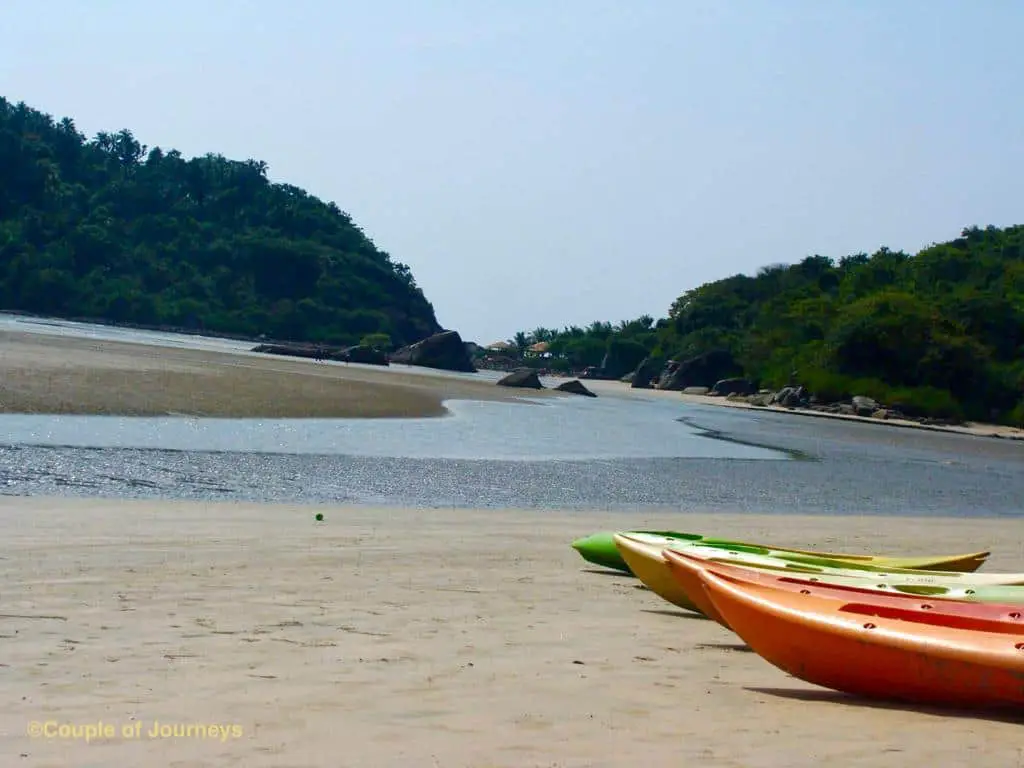 If you want to explore the South Goan region of Palolem, Agonda and the nearby islands thoroughly, plan to spend a full day out. Head to Agonda or Palolem or both. From either of the beaches, take a trip to the nearby islands. Spend time exploring the backwaters and then conclude your trip.
---
Benaulim Beach: Frequently Asked Questions
Which beach is better – Colva or Benaulim?
Benaulim is much better than Colva because it is less crowded and slightly less commercial. The price of watersport activities at Benaulim and that of the food and drinks served at the shacks at Benaulim is slightly lesser than that at Colva. Benaulim beach attracts both locals Goans as well as Indian and foreign tourists. The overall vibe is more soothing.
Is Benaulim Beach safe to visit?
Benaulim Beach is absolutely safe to visit. However, the area in the smaller lanes and internal roads around the beach can get very deserted after 8-9 pm. Avoid travelling alone without a flashlight. In any case, exercise basic caution the way you would at any tourist place.
Why is Benaulim beach famous?
Benaulim beach is famous as it is one of the closest beaches from Madgaon train station. It is also only a 45 minute drive away from the airport. The beach itself is very scenic with its soft golden sand and clear blue waves. It is busy and vibey but not too crowded and there are plenty of things to do in Benaulim and in the nearby areas.
---
Final Thoughts
I hope that you found this article on Benaulim beach useful for planning your trip to Benaulim. I also hope that you enjoy your time in Benaulim as much I have always enjoyed on my many many trips to Benaulim since childhood.
---
Planning to go to Goa? Don't worry, I have Goa: Planned for You.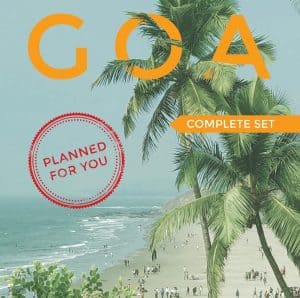 Goa: Planned for You
A handy digital travel plan that includes
Specially curated stay recommendations
restaurant suggestions
a day-wise break-up of things to do
a fully interactive Goa map
special insights and lots more!
---
Visiting Goa soon? Read my other Goa articles:
46 things to do in Goa: The ultimate guide – read article
Where to stay in Goa? 17 Best areas for all types of travellers – read article
The Ultimate 5 day trip Goa itinerary – read article
Incredible North Goa itinerary for 3 days – read article
Goa travel tips: Important must-knows for your Goa trip – read article
---
Pin for later
---
TOP TRAVEL RESOURCES
Here is a list of our favorite travel resources- the ones that I absolutely swear by when planning almost every trip. Go through this list to plan a hassle-free trip and save a lot of money!
Flight Booking: Check the availability of tickets, the best time to fly, and the cheapest fares on Skyscanner. You may also find a cheap flight via CheapOair
Accommodation: I absolutely love booking through Agoda. In most countries and particularly in Asia, I often find the best fares on Agoda. But I also love the no prepayment and no cancellation fee policy of Booking.com. For cheap accommodations and hostels, nothing beats Hostelworld.
Car Rentals: You may find and rent an appropriate car via RentalCars. It's hassle-free and reliable.
Guided Tours: I absolutely love GetYourGuide for local sightseeing tours, walking tours, history tours, and food tours. The booking process is seamless, and the tours are super affordable. But in Asian countries, I prefer Viator or Klook for their affordably priced tours.
Lounge Access: Get Priority Pass – my personal favorite card that gives me unlimited access to premium airport lounges all over the world
Hey, if you found this post helpful, share it with more people or buy me a coffee!