32 Offbeat Things To Do in Goa: Upgrade your Goa Experience
This website contains no sponsored content. The content is written entirely on my own and is based on my personal experience and extensive research. This post may contain affiliate links. If you make a purchase through one of these links, I may receive a small commission at no extra cost to you. As an Amazon Associate I earn from qualifying purchases. Please read the disclaimer for more information.
Searching for offbeat things to do in Goa? Here's an epic guide on the best offbeat things to do in Goa to upgrade your Goa experience.
In this guide, you'll learn all about
offbeat beaches in Goa
offbeat tourist attractions in Goa
offbeat experiences in Goa
and ways in which you can visit touristy places in an offbeat manner to get the most out of them
I am so happy that you've come in search of offbeat Goa because it hurts me when I see
many places in Goa losing their charm because of over-commercialisation and
most tourists treating Goa like a party destination and missing out on its real charm.
But you? You're not one of those tourists. You have come here to get more value from your time in Goa!
Read the article in-depth for offbeat Goa ideas.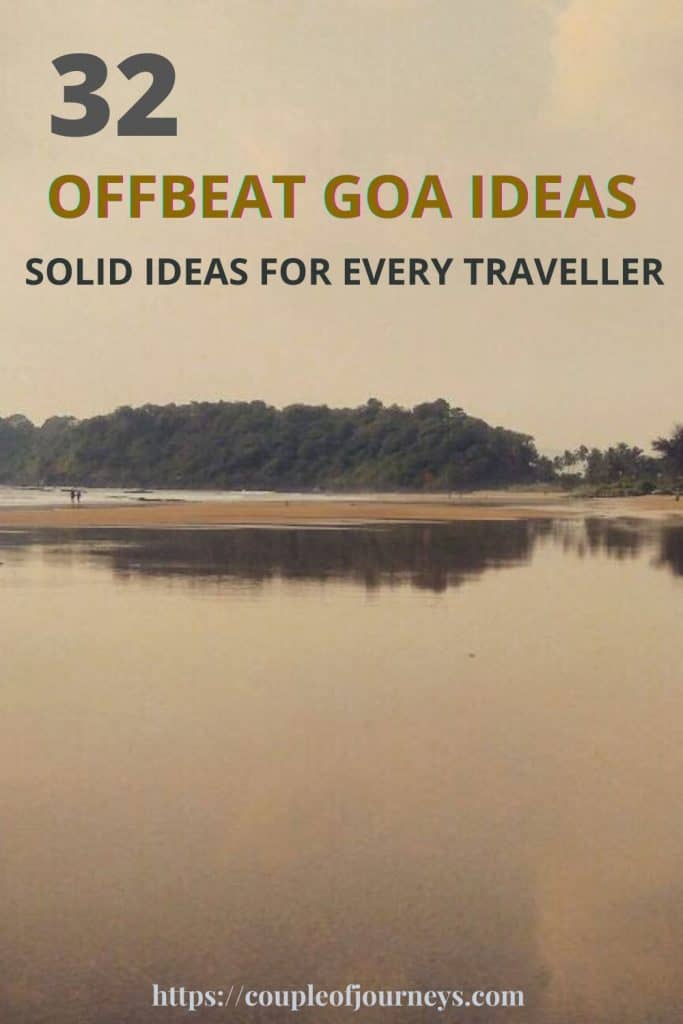 This post may contain affiliate links. If you make a purchase through one of these links, we may receive a small commission at no extra cost to you. Please read the disclaimer for more information.
---
Why should you do offbeat things in Goa?
Most mainstream tourists visit Goa in a fairly standard manner. They visit the beach close to the area, plan trips to a few major tourist attractions in Goa and breeze through them quickly and in a rather disinterested manner, they eat their hearts out at the famous restaurants in Goa, party at nights and leave.
There are a number of reasons why engaging offbeat activities in Goa would be more rewarding to you as a tourist. Some of those are
The touristy side of Goa is usually crowded and completely lacking in charm.
The cafés and restaurants are fairly commercial and modern and not representative of local Goan culture.
Many key tourist attractions are not maintained properly or lack touristic information boards and panels giving you little idea about the significance of the place.
What kind of offbeat things can you do in Goa?
The offbeat things that I am referring to are things that can be done by all types of tourists.
In fact, some of the offbeat activities that you will read about in this post are those that can be easily added to your itinerary without adding any extra time or days. Some others would include adding a few days' time to your trip and some activities would include basing yourself in a less touristy part of Goa.
Visit regular tourist places in a non-touristy manner (1-3)
This way of adding value to your existing Goa trip is the most recommended because you just have to make minor tweaks to your itinerary and the quality of the experience would be greatly enhanced.
1. Heritage walk
Instead of taking a casual walk around the beautiful churches and cathedrals of Old Goa, sign up for a heritage walk.
A heritage walk is the most beautiful way of visiting Old Goa. It can be taken by people across all age groups. An expert guides you along the many heritage structures of Old Goa. You get to learn so much about Goa's rich history, Portuguese rule, local customs, and traditions in a manner that's fun and engaging.
The heritage walk that I highly recommend is this one. It is conducted twice a day and is widely popular. Make sure you secure a spot by booking it at the earliest.
By the end of the walk, you would be fascinated by the history of Goa and would want to learn more about it.
2. Dolphin tour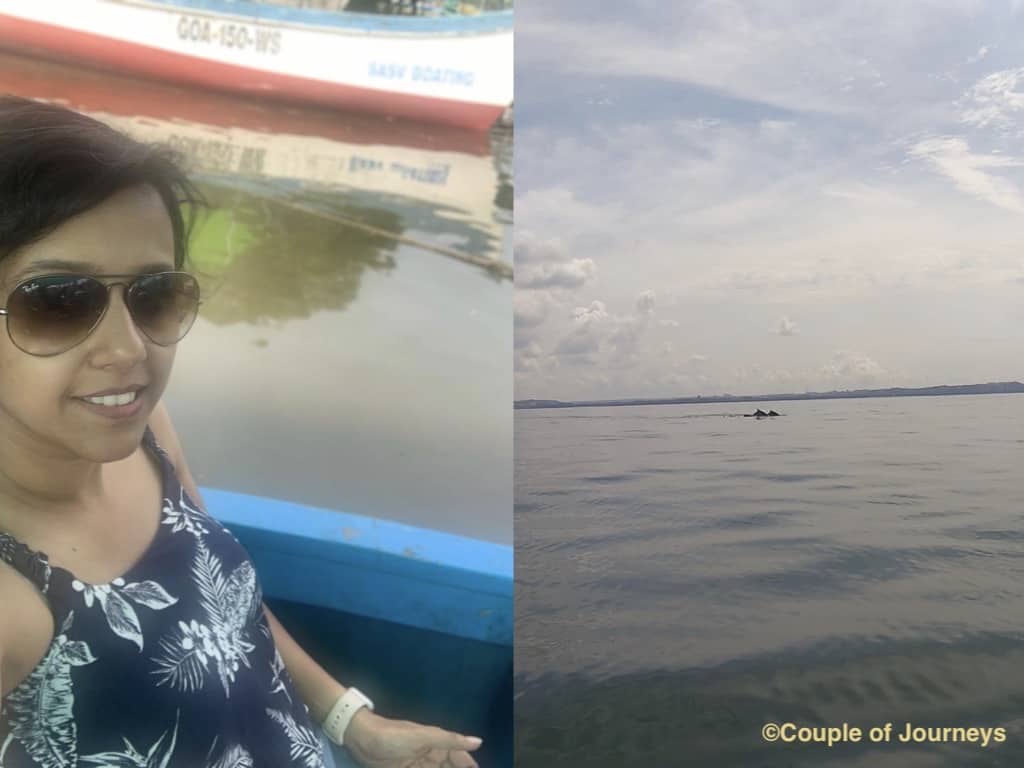 Dolphin trips do not always end up in a dolphin sighting. But you can improve your chances by
Going around 10 am
Going on a weekday
Basically going at a time when there aren't too many boats in the sea helps. When there are too many boats, dolphins go much deeper and rarely surface above the waters.
If you are travelling in a group can pre-book a dolphin tour here or book from the Dolphin tour point near Aguada fort and Coco beach
3. Eagle feeding
I never thought I would go on an eagle-feeding boat ride in my life. But that opportunity came to me when I ventured a little farther away from the touristy side of Palolem beach and checked out the backwaters.
Near the backwaters, ask a local about the eagle feeding ride.
The ride
needs to be taken in the early morning for higher eagle-feeding chances
lets you see many more beautiful birds
takes up hardly an hour
The whole trip leaves you awestruck. The vibe of the calm backwaters with chirpy birds is totally worth waking up early on a Goan morning. Plus the precision with which eagles swoop down to catch food is a true sight for sore eyes!
If you take a similar trip from Chorao island, you can even spot camouflaged crocodiles!
---
Visit non-touristy beaches (4 – 8)
4. Betalbatim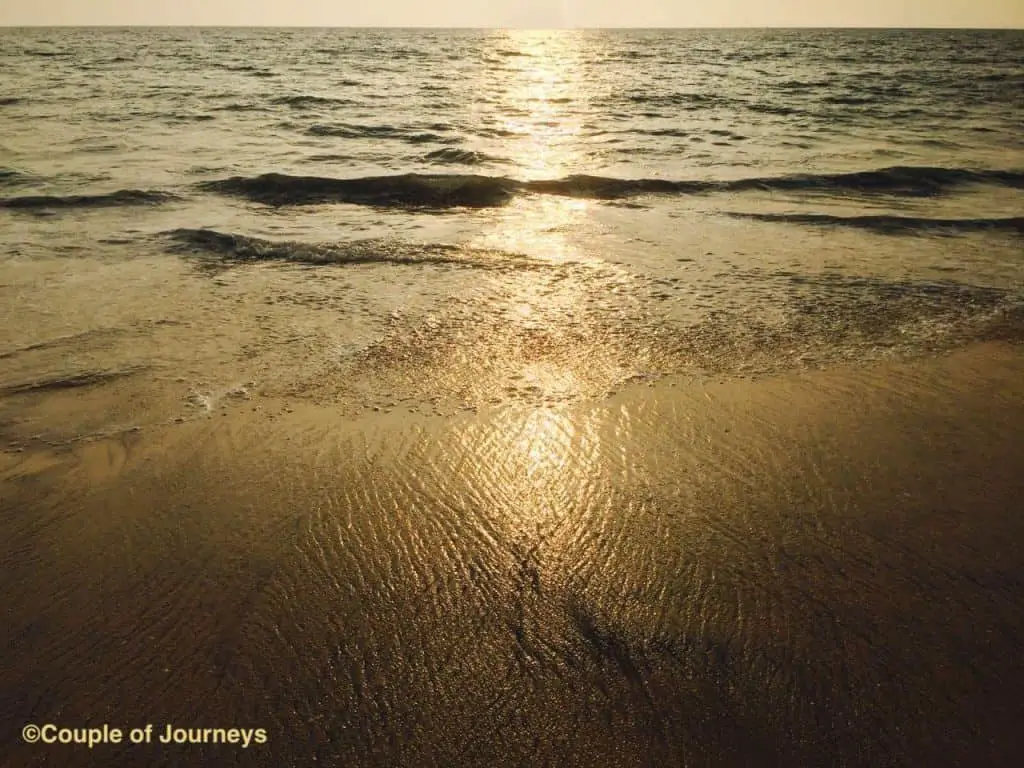 Betalbatim glows on certain nights of the month because of a concept called 'bioluminescence'. If you are lucky to head to Betalbatim on one such night, you're in for a treat.
The best time to catch it is on a clear winter night i.e. between the months of October to February.
(Unfortunately, I have never been able to see this natural spectacle.)
But even then every visit to Betalbatim feels remarkably calming. The beach is almost completely deserted throughout. There are no shacks or shops around. This means the beach is remarkably clean. Even a short 15-minute walk on this beach can feel recharging.
Location: Just 10 mins from Colva beach, 20 mins from Madgaon
5. Talpona Beach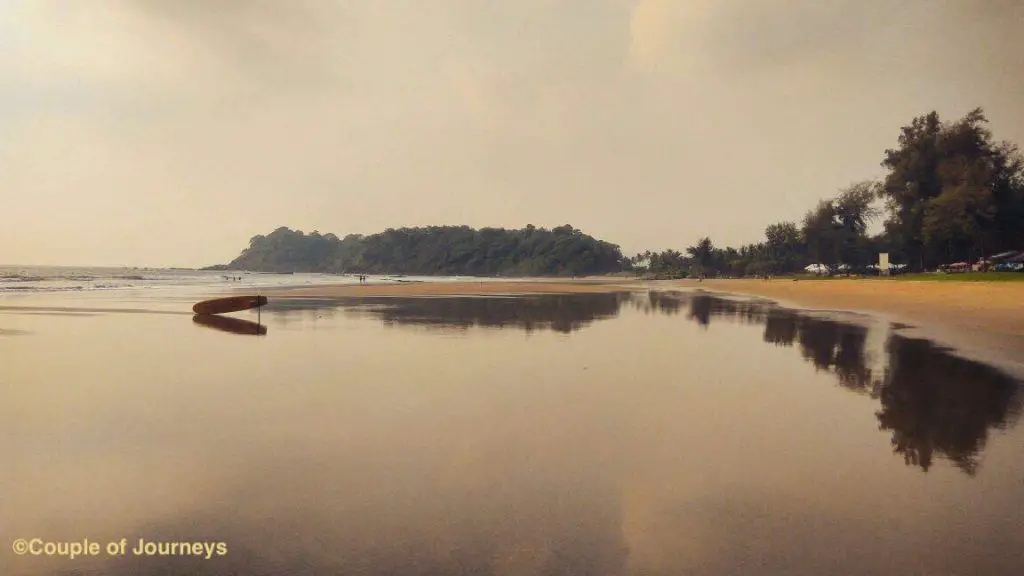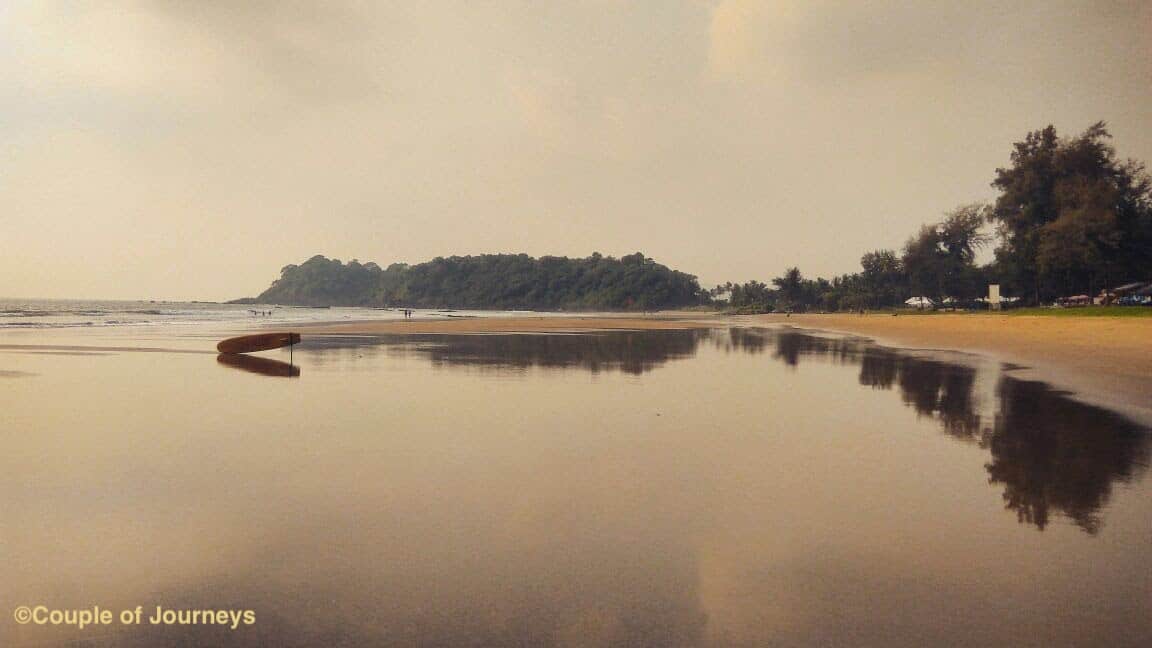 Most people assume that Palolem is the southernmost beach in Goa. But it's not. There are a couple of beaches further south.
The one that's my favorite is Talpona. Talpona is just 15 minutes away from the Karnataka border.
Talpona beach is one of the best offbeat places in Goa because
Talpona beach is also called Turtle beach. One area of the beach is restricted as it is a turtle nesting area.
The beach has no shacks and is probably the cleanest beach in Goa.
It is the most soothing place in Goa to watch a sunset from.
Talpona is generous with its natural beauty. The palm trees fringing the coast, the soft golden white sand, the rocks along the coast and the clear blue water are a sight to behold.
Location: 15 mins from Palolem
6. Patnem Beach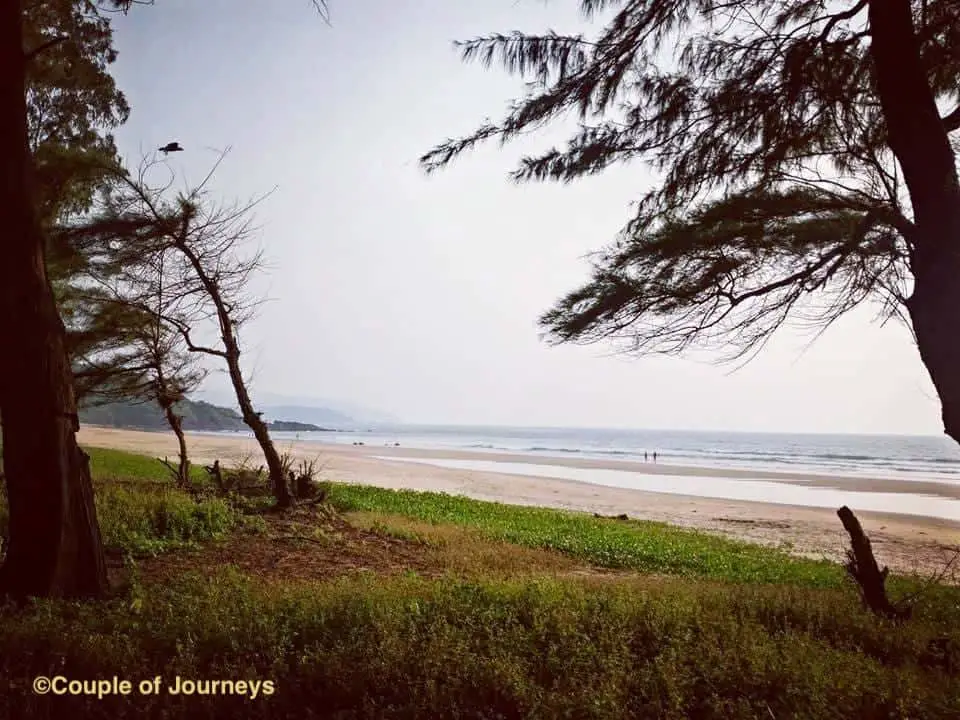 If you don't want to go to an absolutely deserted beach (because that's not your vibe and I get it!), opt for Patnem instead of Palolem.
Patnem is Palolem's southern neighbor. It is definitely a bit more vibey than Betalbatim and Talpona because of the presence of a few beach huts and shacks.
But even then it is far more peaceful and rejuvenating than the more buzzing Palolem.
Things to do in Patnem:
Kayaking
Sunset watching
Playing beach games
Taking a yoga class
Location: 10 mins from Palolem
7. Keri Beach/Querim Beach
This North Goan beauty is unlike any other beach in North Goa.
Hardly any tourist ventures up to Querim Beach and that's what makes it offbeat.
Things to do at Querim
Visit the lush green hilltop sunset view
Go to the nearby cave
Sit and admire the sea from the Ajoba garden. Mumbaikars would find the place similar to Marine drive but far more clean and more scenic.
(Ajoba in Marathi means grandfather and I find the name of the garden adorable!)
Location: 1 hour away from Baga beach
8. Cola beach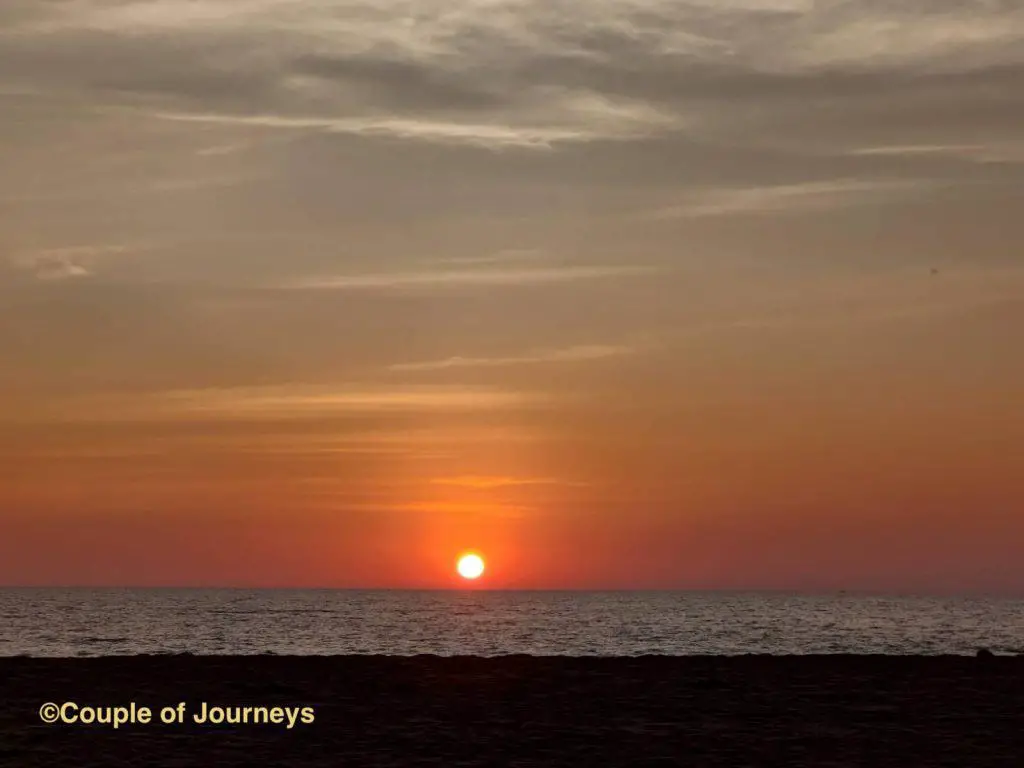 I know that with the massive popularity Goa enjoys on Instagram, Cola beach is no longer a beach tourists don't know of.
But even though many people know about the beach, very few tourists actually visit the beach because of how difficult it is to access.
You can visit Cola beach
by boat from Agonda beach or
by foot from a path through Samyama Retreat
Things to do at Cola Beach
Stay at Blue Lagoon
Visit the blue/emerald lagoon
Go paddling
Forget your worldly woes!
Check out Goa beyond beaches (Waterfalls, temples, etc.) (9-19)
There is a world beyond beaches in Goa where you will find greenery, wildlife, heritage, bonding, and spirituality.
9. Tambdi Surla
Tambdi Surla is a 12th-century Shiva temple.
It is one of the best-preserved old temples in India
The temple is surrounded by greenery and flowers on all sides. You will also find lots of monkeys in this area.
It is significant because it is the only Kadamba architecture structure in all of Goa.
I was smitten by the atmosphere at this temple. The temple's raw beauty is unlike most Indian temples. There is no grandeur and opulence but sheer purity of design.
Location: 1.5h away from Colva/Madgaon, located inside Mahaveer Wildlife Sanctuary
10. Waterfalls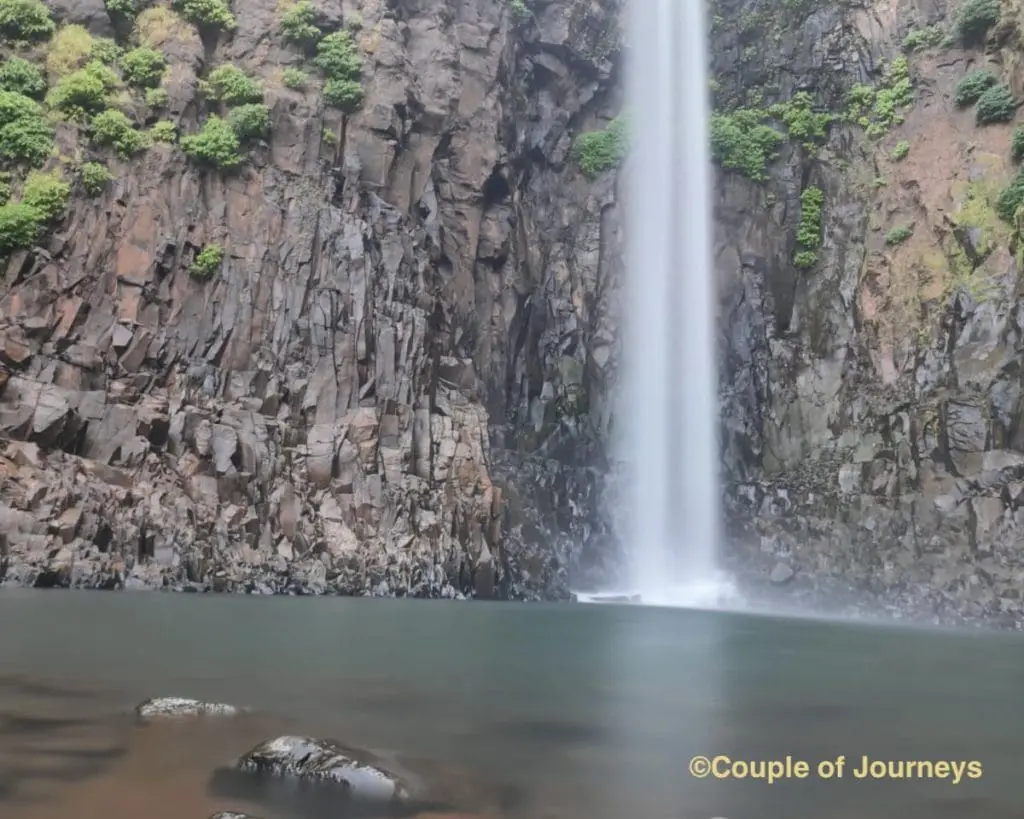 Goa has so many waterfalls and yet the only one that people visit is the Dudhsagar waterfall.
But look beyond it and visit waterfalls like the
Arvalem waterfall or
Tambdi Surla waterfall or
Netravali waterfall
Chorla Waterfall
Visiting a waterfall is one of the best things to do in Goa during monsoons.
11. Visit a natural spring in Goa
Most people who visit Goa never visit a natural spring.
But those that have visited a spring think of it as one of the most unique things to do in Goa.
Some natural springs that you could visit are
Pomburpa spring (30 mins from Old Goa) – visit in May, water has medicinal properties
Udear spring (30 mins from Colva)
Ambora spring (30 mins from Colva) – excellent free and natural fish pedicure
12. Go for a trek
Have you tried trekking in Goa? There are plenty of options that most tourists do not know of and don't participate in. But if you are interested, here are a few good hiking or trekking options in Goa:
Dudhsagar falls trek:
Best during monsoons
Takes approximately 6-8 hours one way
Involves walking on a railway track and through a railways tunnel
Netravali waterfall trek:
Butterfly beach trek
Takes about 1 hour one way
Involves walking through dense trees on a secluded road
Go from the Leopard Valley or the Butterfly café
Strictly avoid close to sunset and at night
In addition to these treks, you will find plenty of smaller and mid-sized trekking routes in the sanctuary areas and the cliffs surrounding various beaches e.g. Tambdi Surla trek, Arambol trek, etc.
13. Visit Goan caves at Arvalem
I have no idea why tourists don't flock these caves. I think these caves are extremely significant because
they are a rare archeological structure in Goa that dates back to somewhere between the 4th and 6th century. Most other temples in Goa are from the 12th and 13th century or were constructed during the Portuguese rule.
they are beautifully maintained
This truly rare location in Goa is also called the Pandava caves as it is believed that the 5 Pandavas lived in these 5 caves. You will also find Shivlings inside the caves. Some believe that the caves were used by Buddhist monks.
However, no matter which historical theory is true, the fact is that, they are a rare, unique and a very ancient construction located about 30 mins away from Old Goa.
Plan to visit for 15-20 mins and then proceed towards Arvalem falls.
14. Islands in Goa – ebike tour
Goan territory includes the mainland that we all visit as well as a few islands surrounding the mainland like Divar Island and Chorao Island.
The islands have their own charm because they are sparsely populated, less commercial and completely in their raw form.
To reach Divar or Chorao island, you need to take a ferry from Ribandar jetty in Old Goa.
You can transport your two-wheeler to the island and explore the island on your own.
Divar features some beautiful churches while Chorao hosts the famous Dr. Salim Ali Bird Sanctuary (details above). Both the islands are excellent spots to go on a boat ride in the Mandovi river and do some bird watching and crocodile spotting.
But the best way to explore the island is in a small group of like-minded tourists on an e-bike. If you have the time to check out both islands, go on this super fun 5-hour bike ride tour (see details and availability here).
15. Wildlife Sanctuary
Visiting a wildlife sanctuary in Goa is a very fulfilling experience. A trip to a wildlife sanctuary allows you to spot animals on a jeep safari, visit dense forests, see gushing waterfalls and go on treks.
The biggest sanctuary in Goa is the Mahaveer Wildlife Sanctuary which is where you will find teh Tambdi Surla temple as well as the Dudhsagar falls. There are plenty of overnight stay options here for those that love wildlife exploration.
The other popular sanctuary in Goa is the Bondla Wildife Sanctuary. If you want to visit a zoo and spend just half a day away from the bustling beaches of Goa, visiting this sanctuary is ideal.
Mhaidei sanctuary is one of the least popular sanctuaries in Goa amongst tourists. But it is home to a wide variety of animals (including Bengal tigers) and birds. Besides safaris, it is also an excellent place for white water rafting.
16. Cabo de Rama Fort
Most people who visit Cabo de Rama, only visit the viewpoint – a large open plateau with a view of the coast of Goa.
But the fort that sits next to the viewpoint offers better views.
The fort is not maintained well at all but still holds significance as being a protection fort in the Southern region of Goa.
Visit the fort for
photoshoots and Instagram pictures
better views of the ocean
climbing down to the small and stunning Cabo de Rama beach
17. Dr Salim Ali Bird Sanctuary, Chorao
Dr Samil Ali Bird Sanctuary is located on Chorao islands.
A visit to the bird sanctuary transports you to the true home of the birds. The place feels completely disconnected from the urbanness of the rest of Goa.
The best thing to do here is to follow the natural trail created inside the sanctuary and take in the sounds and the visuals of the birds surrounding you.
Watch out for snakes. Avoid going here with young kids. The path's is uneven and narrow with water bodies on at least one side.
18. Visit the navy museum
Goa is the home of the only naval museum in India and yet tourists conveniently skip it.
The highlight of the naval museum are the large naval aircrafts exhibited here that you would never get to see elsewhere.
The museum is managed well and has excellent facilities for tourists of all age groups.
19. Visit The Friday Night market at Vagator or the hippie market at Arambol
With so many shops around all the major tourist places in Goa, why is visiting a flea market an offbeat thing to do – you'd wonder!
But here's the thing, the flea markets are not worth a visit only for the stuff they sell but more so for their ambience.
Friday Night Market, Vagator – it's an all-night market with live music, lots of shops by locals and foreigner settled in Goa, excellent local and global food. It presents a unique setting to spend a night out in Goa.
Arambol Hippie market – This is a market where foreigners living for long periods of time in India sell stuff on the beach. The stuff sold here is unique compared to other shops in Goa. It is worth a visit for shopping (if you're a foreigner) and for a newish experience (if you're a curious Indian)
---
Try out local stuff (20-24)
Your list of offbeat things to do in Goa should not be limited to places alone. Expand your scope to experiences and you will be surprised by how much more you could upgrade your Goa experience.
20. Try feni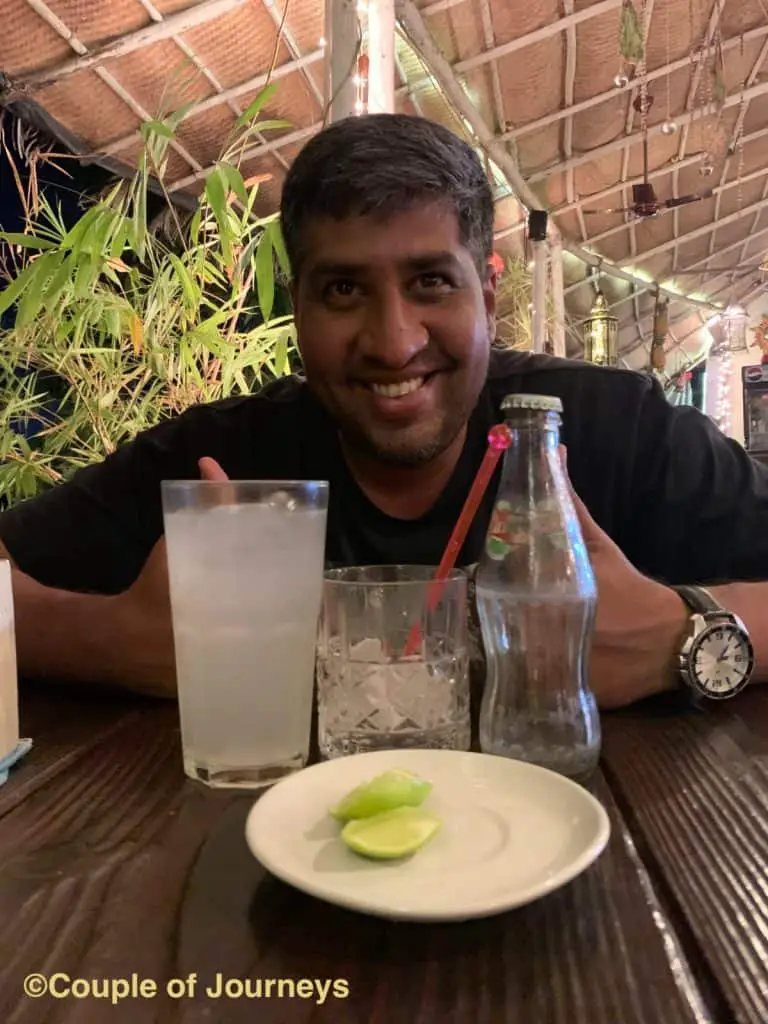 Feni is a local alcohol made from cashews or coconut.
It has a very high percentage of alcohol and the chances of you hating the taste are high because of its strong odour and taste.
But once you get used to it, it will give you a 'high' like no other fancy drink sold in Goa.
Now the best way to taste feni (without the risk of getting sloshed) is by going out on a Feni and Tapas tour. It's probably the best food and drinks tour in Goa where you walk through the streets of Panjim learning more about Goa's feni culture. You also get to sample some Goan delicacies all in an immersive setting.
See availability of the very popular Feni and Tapas tour here.
21. Learn fishing
Fishing is one of the primary professions of local Goans. But fishing is not an activity that has been widely converted into a touristic offering. (although I sincerely hope that it becomes more mainstream!)
So if you do get a chance to learn fishing from a local, it would definitely be one of the highlights of your trip.
If you don't want to go looking for opportunities, you can check out a South Goa fishing expedition like this one here.
22. Eat Ros Omelette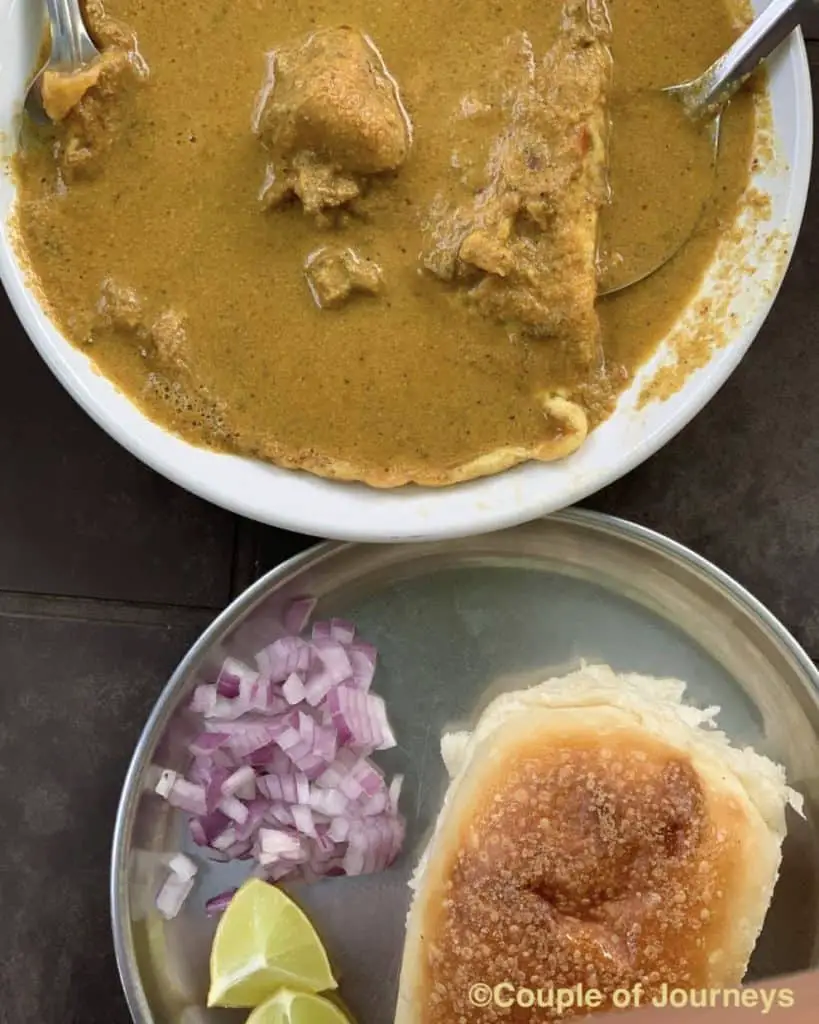 It's disheartening to mention Goan staple foods and drinks in a list of offbeat things to do in Goa. But unfortunately majority of tourists visiting Goa never connect with the soul of Goa.
The best way to find that connection is by sampling (or rather hogging on) local Goan dishes like Ros Omelette or Xacuti. Pair them with the many varieties of Poi and delight your taste buds.
Visit any of the street stalls away from the beaches. Stalls that don't even have a name are some of the most authentic.
23. Try out a local fish thali at a less touristy place (e.g. Green view bar, Naguem)
Eating a fish thali at a popular place like Ritz is an experience most tourists enjoy.
But visit a less touristy place like the Green view bar, Naguem. It would be a humble place with plastic chairs and a table with a family member serving you food for a very inexpensive price.
But the experience is humbling because of the taste of the freshly made food and the warmth of its owners. Vegetarians, kids and older members of the family would feel far more looked after here than at a more commercial seafood joint.
24. Work at a coworking space in Goa (NomadGao)
Working at a holiday destination like Goa can evoke mixed feelings – the joy of getting to work from such a beautiful place and also frustration for having to work when at a holiday destination like Goa.
A good way to navigate that emotional dilemma is by ensuring that you work from one of the prettiest work cafes in all of Goa – NomadGao at Assagao and Anjuna. Take a day pass and spend your time working with a view, lots of free coffee and a fun bunch of people just like you for company.
Take up classes or adventure activities (25-28)
Even though the activities mentioned below may seem a bit commercial, they are all far less popular amongst regular tourists to Goa. Most tourists visiting Goa only engage in the watersport activities like parasailing, banana ride, jet ski, etc. available on leading tourist beaches.
25. Surfing
Even though Goa has a massive coastline, it has never been a popular surfing destination. However, the surfing community in Goa is growing rapidly thanks to the surfing classes that have opened up at a number of beaches in Goa.
Surfwala in Arambol has amazing lesson options ranging from 1-day, 3-day, and 5-day lessons to surfing camps.
26. Kayaking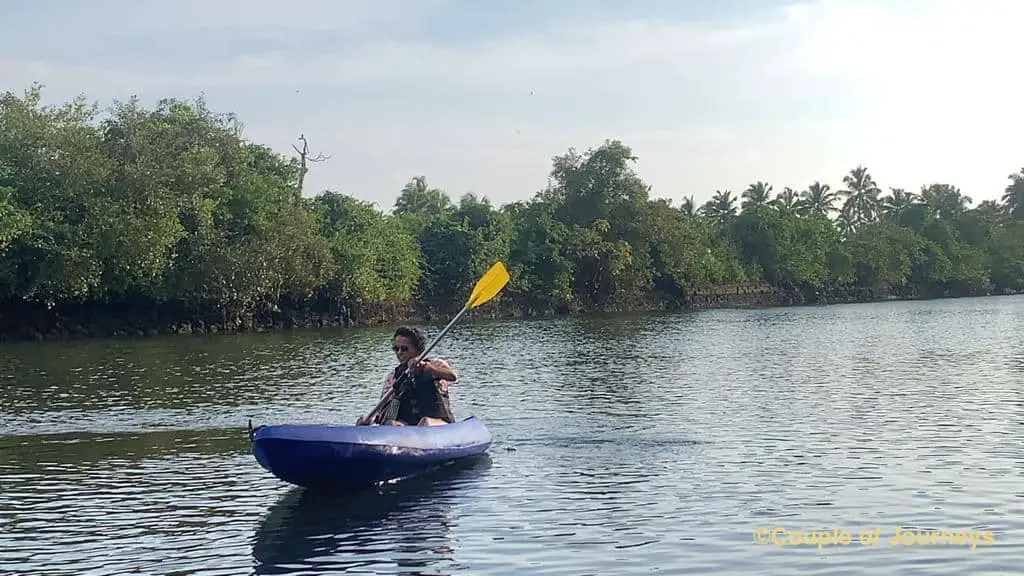 Kayaking is more widely available across Goa.
You can get kayaks on hourly rents for about INR 500 at Agonda, Palolem, Talpona etc. You can also go kayaking in the rivers of North Goa like Baga river, Siolim river, etc.
You can even go kayaking at the picturesque Sal backwaters. It's a two-hour ride taking you through the prettiest kayaking location of Goa amidst mangroves. You get to see lots of rare birds, trees, and fish. An expert guide will assist you throughout to help you max out the quality of your experience. (See details and availability here)
27. Bungee Jumping
Goa now has a few truly world-class bungee jumping platforms.
Most of the platforms are fairly new and have only gained popularity recently.
Try out the one by Jumpin Heights Goa – it is run by the same company which is hugely popular in Rishikesh. It's located at Bicholim and is just an hour away from Baga & Calangute. The setting is over Mayem lake and extremely scenic and the quality of equipment is top-notch.
28. White water rafting
What makes white water rafting a true one-of-a-kind experience in Goa is that it's only available in Mhadei river in Mhadei Wildlife Sanctuary.
The route takes you across 10 km-long stretch of river. You will be surrounded with nature in all its glory as you make your way through the many sections of the sanctuary.
The route is ideal for first-timers as well as experienced rafters.
Offbeat experiences (29-32)
29. Attend a Yoga retreat in Goa
Have you considered staying at a Goan Yoga retreat? If not, it's definitely worth considering.
A typical yoga retreat requires you to stay in-house for at least 4 days. You will go through extensive yoga lessons taught by experts.
It's one of the most sought after Goa activity amongst foreigners visiting India for slow, long-term travel.
The one that's particularly popular amongst Indians and foreigners is the Asthanga Vinyasa Kranti Yoga.
You could also take up a yoga class from one of the many at Palolem (check the options listed here)
30. Attend a cooking class in Goa
Learn cooking from women of a small project community
Location: Anjuna
Cook up to 5 dishes in the traditional style – sitting on the floor, using typical Goan-style utensils. Understand Goan food practices and learn more about Ayurveda. See details and book class
31. Stay at a heritage property
Heritage properties in Goa book fast because very few are open to tourists.
Some of the best heritage properties that are open for tourists are
32. Check out the drum circle at Arambol
At Arambol, every evening on the beach, a bunch of people gather with their percussion instruments and get the place dancing to their beats. The style of playing, the acts performed, and the number of participants changes everyday as most of it is unplanned and improvised on the spot.
Watching the drum circle perform and tapping to their beats is truly one of the best ways to spend an evening in Goa.
Even though the drum circle had disappeared in the last two years, it is slowly making a regular reappearance again. Do check out if it's back in its full glory when you visit Goa.
---
Where should you stay in Goa?
Given how spread out things in Goa are, deciding where to stay can often feel confusing.
My quick recommendations are as follows:
For heritage walks, dolphin tours, cooking classes, and other local experiences: Stay in North Goa between Candolim and Vagator
For non-touristy beaches: stay in South Goa near Palolem or high up in North Goa near Arambol
For wildlife and trekking: Stay in Colva or directly inside the wildlife sanctuary like Mahaveer Wildlife sanctuary.
---
You can read more about accommodations in Goa in my detailed guide on the 17 best areas to stay in Goa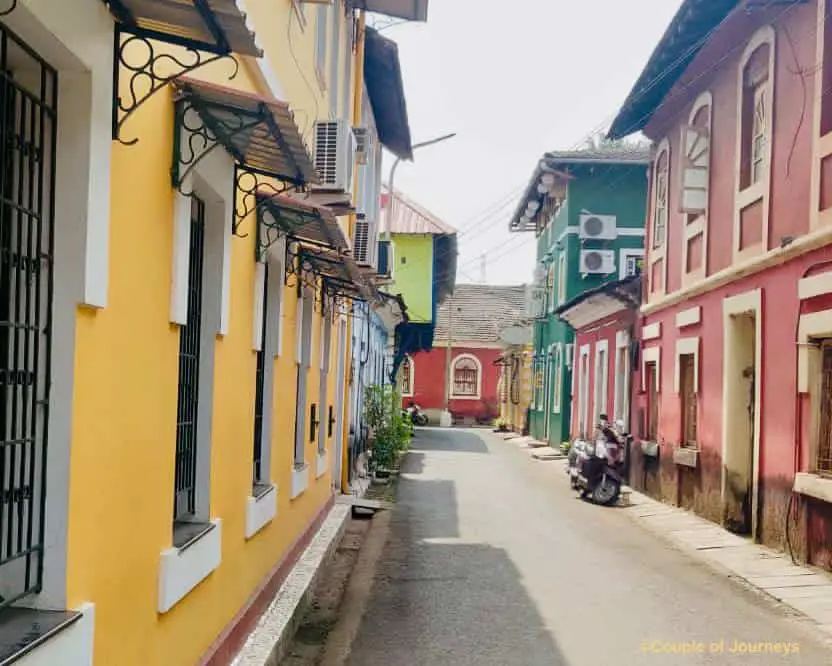 Find out
a full list of the best areas to stay in Goa
best accommodation options for your travel type
---
Final Thoughts
Even if you manage to do 3-5 offbeat Goa activities from the list above, you would greatly enhance the quality of your Goa trip experience. Let me know which ones you found the most fascinating and if there are some that you would like me to add to the above list.
---
Save your Goa trip planning time with my readymade digital itinerary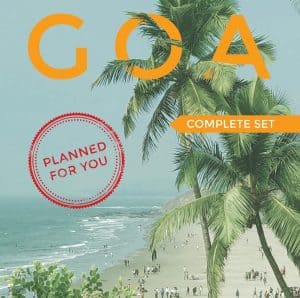 Goa: Planned for You
A handy digital travel plan that includes
Specially curated stay recommendations
restaurant suggestions
a day-wise break-up of things to do
a fully interactive Goa map
special insights and lots more!
---
Visiting Goa soon? Read other articles on Goa:
Where to stay in Goa – best areas – read article
46 best things to do in Goa – read article
Best beaches in Goa with complete insights – read article
26 Goa travel tips – important must-knows – read article
Best places to visit in North Goa in 3 days – read article
The Ultimate Goa 5 day trip plan – read article

---
Save for later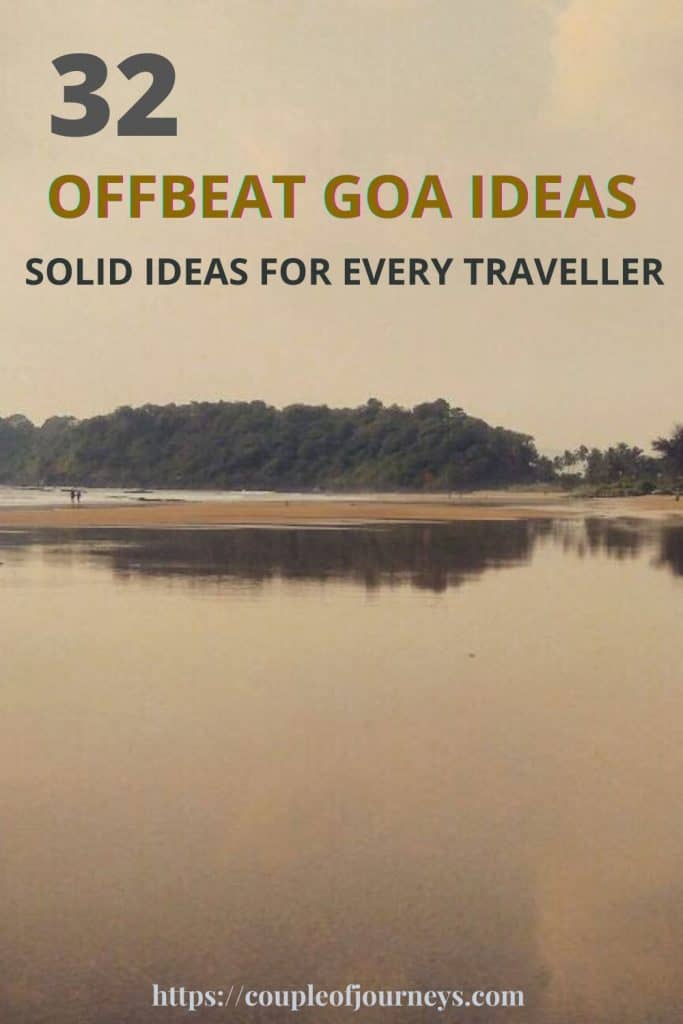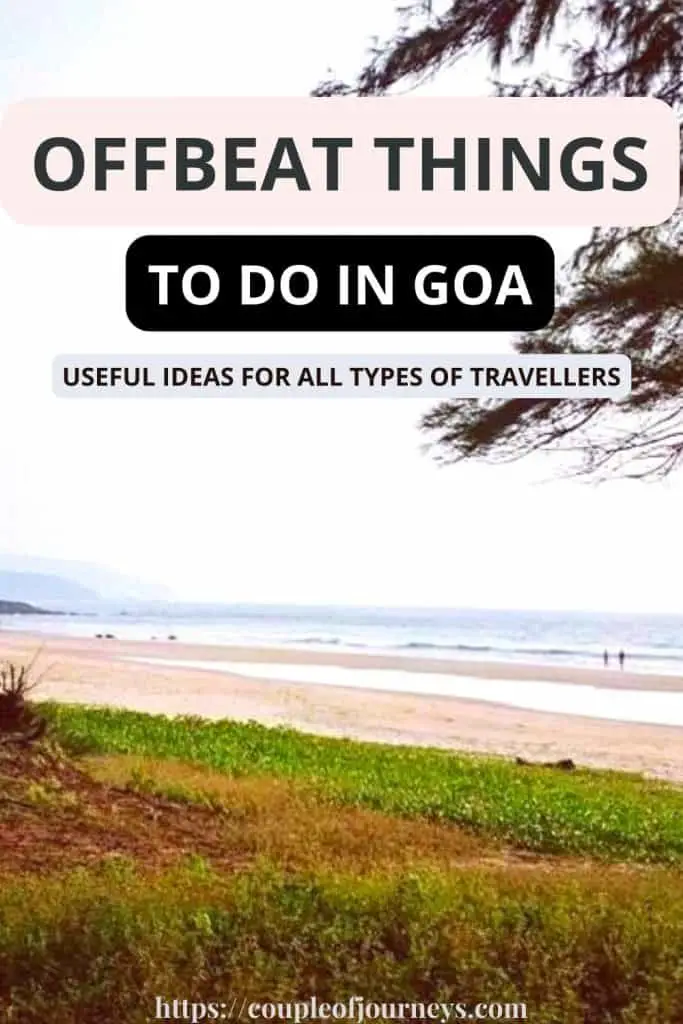 ---
TOP TRAVEL RESOURCES
Here is a list of our favorite travel resources- the ones that I absolutely swear by when planning almost every trip. Go through this list to plan a hassle-free trip and save a lot of money!
Flight Booking: Check the availability of tickets, the best time to fly, and the cheapest fares on Skyscanner. You may also find a cheap flight via CheapOair
Accommodation: I absolutely love booking through Agoda. In most countries and particularly in Asia, I often find the best fares on Agoda. But I also love the no prepayment and no cancellation fee policy of Booking.com. For cheap accommodations and hostels, nothing beats Hostelworld.
Car Rentals: You may find and rent an appropriate car via RentalCars. It's hassle-free and reliable.
Guided Tours: I absolutely love GetYourGuide for local sightseeing tours, walking tours, history tours, and food tours. The booking process is seamless, and the tours are super affordable. But in Asian countries, I prefer Viator or Klook for their affordably priced tours.
Lounge Access: Get Priority Pass – my personal favorite card that gives me unlimited access to premium airport lounges all over the world
Hey, if you found this post helpful, share it with more people or buy me a coffee!