Places to Visit in North Goa in 3 days: Incredible North Goa Itinerary (2023)
This website contains no sponsored content. The content is written entirely on my own and is based on my personal experience and extensive research. This post may contain affiliate links. If you make a purchase through one of these links, I may receive a small commission at no extra cost to you. As an Amazon Associate I earn from qualifying purchases. Please read the disclaimer for more information.
Looking for the best places to visit in North Goa in 3 days? Well, you've made your way to the best article on this topic!
The list of best places to visit in North Goa that I am about to share with you will have you covered for a perfect 3-day trip to North Goa. It will be the only list you need to use when planning your trip to North Goa.
But to summarise it, if you are looking for the best places to visit in North Goa for 3 days, you should spend your first day visiting beaches and forts near Candolim, Baga and Vagator, spend your second day visiting places in Old Goa and Panjim and spend your third day visiting beaches further north of Vagator. You can easily pick from the list of tourist places given below. I have personally visited all the places in Goa that I have enlisted and have presented all the information for you in such a way that you will know exactly which place is worth your time and what to expect at that place.
But before we get started with building a Goa itinerary of places to see in North Goa, here are a few travel basics:
When should you visit North Goa?
If you want the best weather and coolest vibe, you must visit Goa between November and February. All the shacks, restaurants, hotels and homestays are functioning in full swing, and you won't encounter any roadblocks during this time. (Please check the latest Goa travel guidelines before planning a trip)
However, if you hate travelling in the peak touristy season and want to avoid the crowds, you must visit Goa during the rainy season. Goa's natural beauty gets highly accentuated during the rains, and it's the perfect time for a true nature-lover to explore Goa. The downside, however, is that you will have to cover fewer places, the beach shacks will mostly be shut, and Goa would hardly be the buzzing Goa you may have seen in travel videos and pictures.
Where should you stay in North Goa?
North Goa is full of properties suitable for all budgets and travellers.
Some areas that make for an ideal base are:
Candolim: A town-like area in North Goa that features high-end hotel properties to simple 2-3 star hotels. It is one of the best areas to stay in Goa with family or when travelling as a couple. (see best-rated accommodation here)
Calangute/Baga: If you are on a budget and do not mind being surrounded by hordes of crowds, you should opt for a property in Calangute or Baga. It is also an ideal base for party animals. (see best-rated accommodation here)
Anjuna/Vagator: Anjuna and Vagator are relatively quieter areas in the touristy side of North Goa and feature some of the best homestays, villas as well as hostels. If you want to be close to the main tourist attractions but slightly away from the insane crowds, staying in Anjuna or Vagator would make a lot of sense. (see best-rated accommodation here)
Morjim/Mandrem/Ashwem/Arambol: These four beaches are located much further away from most mainstream tourist places to visit in North Goa. But all the four beaches are spectacular. Ashwem and Arambol, in particular, are hubs of the hippie culture. (See best-rated accommodation in Ashwem here) Morjim is also the preferred base of most international tourists interested in spending a quiet vacation with their family or spouse. (see best-rated accommodation in Morjim here)
Read my in-depth article on where to stay in Goa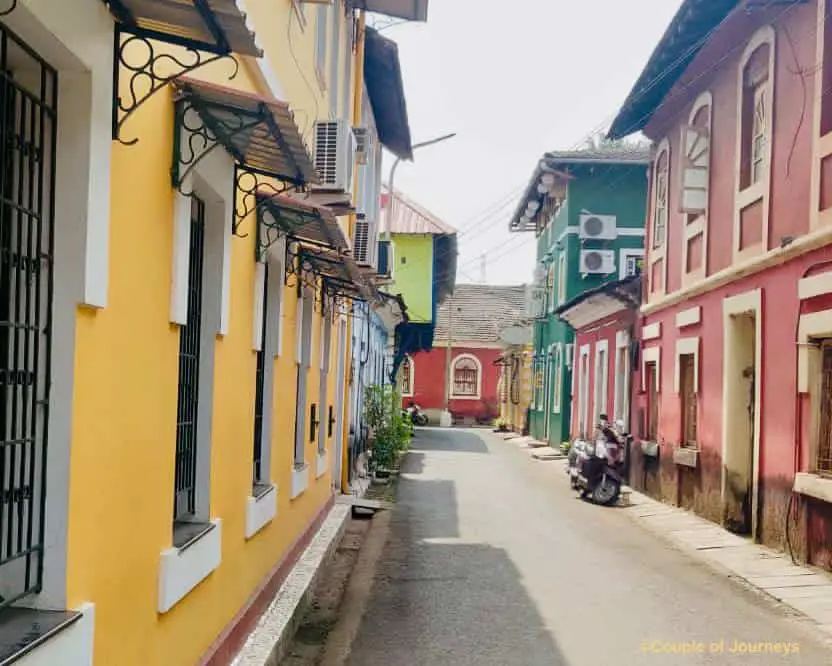 Find out
a full list of the best areas to stay in Goa
best accommodation options for your travel type
---
The Best Places to visit in North Goa in 3 days (2023)
Day 1: Touristy North Goa
Touristy North Goa is the popular side of North Goa. It covers the area between Candolim and Vagator. Ideally, this is the area in which you should spend your first full day in North Goa.
For Day 1, choose from the following places to roam in North Goa based on your travel type and taste.
Fort Aguada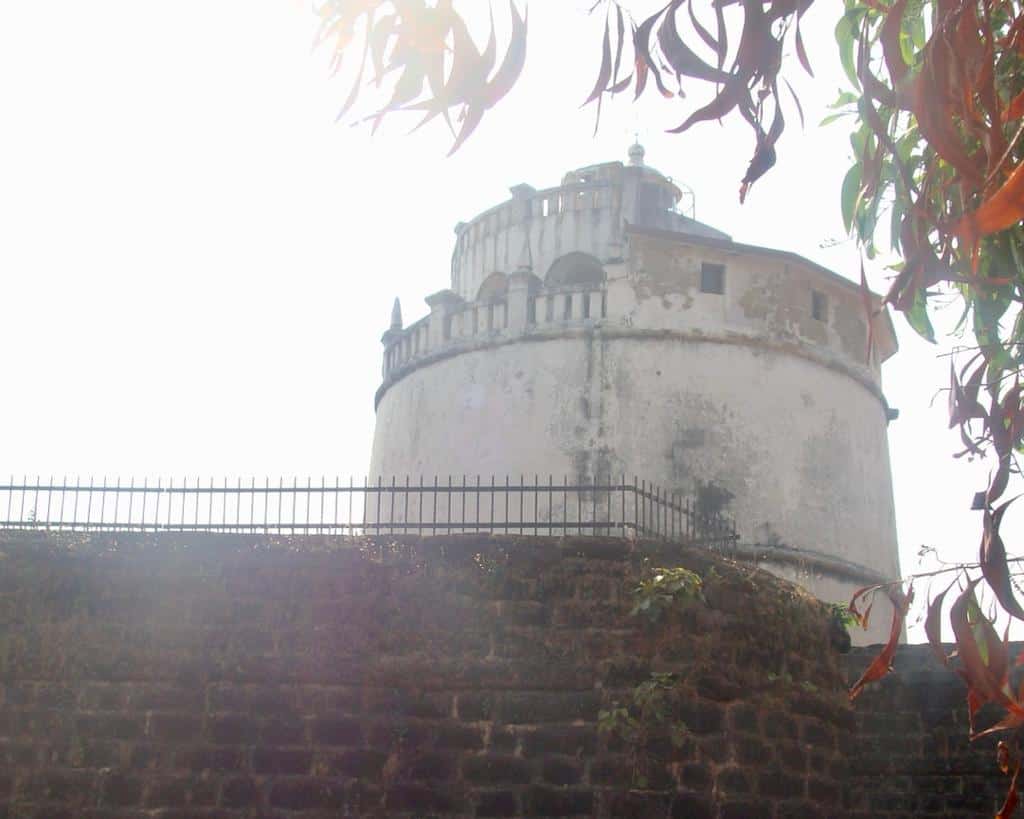 Aguada Fort is situated in Candolim and is a great place to experience the Portuguese influence on Goa. Fort Aguada was the largest freshwater reserve in Asia, and all Portuguese ships travelling to the east would stop here to refill their water reserves. The fort itself is majestic and makes for a great outing.
However, it is also true that the fort is not too well-maintained, and there aren't many guides in this area who will help you understand its significance. That said, if it's your first visit to Goa, you must visit Fort Aguada.
Aguada Jail
The Aguada Jail has recently opened up for tourists.
Aguada Jail is located a short distance away from Fort Aguada, and a visit to the jail allows excellent insight into the colonial and post-colonial struggles of Goa. If you want to skip the jail, you can simply stand outside the entrance for some terrific panoramic shots.
Lower Fort Aguada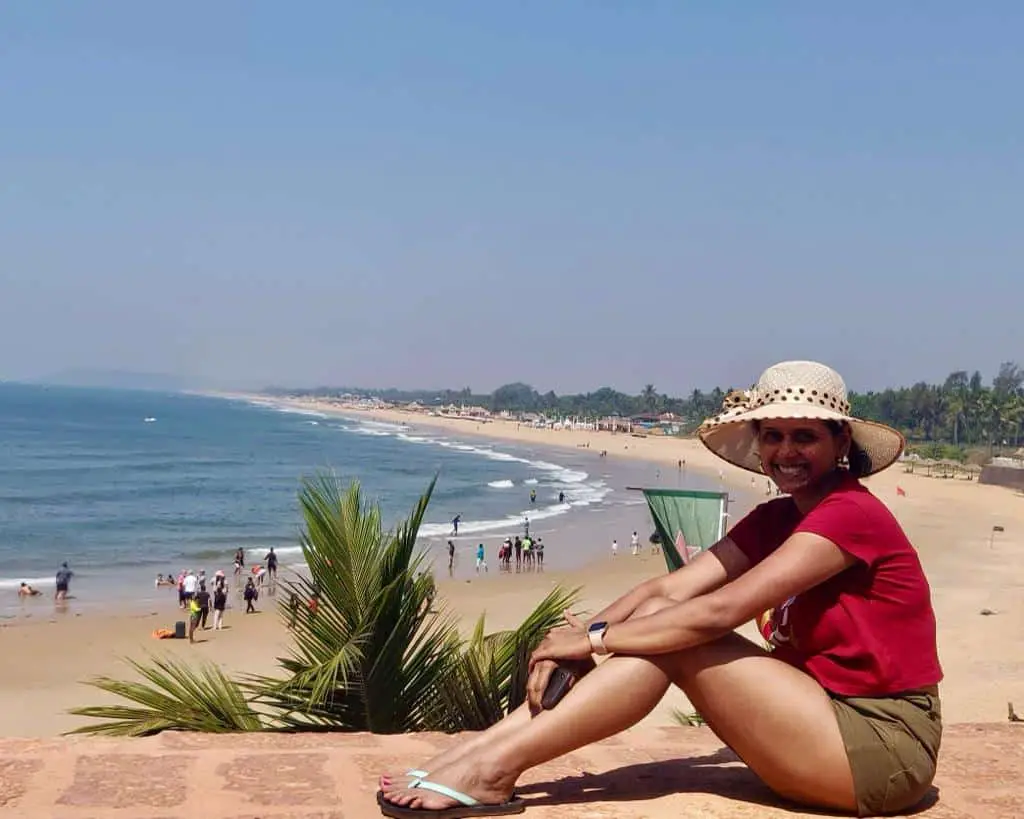 This one is my personal favourite location in North Goa. The lower fort overlooks the Sinquerim beach and presents the most breathtaking views of the North Goan coastline. It's a terrific place to explore the rich history of Goa while also being surrounded by the best that Goa has to offer. Enjoy some lovely nariyal pani or nimbu sharbat at the entrance and then spend a memorable time with your partner or family here.
Sinquerim Beach
Out of all the places to visit in North Goa for watersports, this one tops my list!
The Sinquerim Beach, located right under Lower Fort Aguada, has a coastline whose pictures you can use to trick people into believing you went to Europe! And that's why zooming on a jet ski or parasailing here offers the best views.
There are also far many watersport vendors here to choose from than at most other beaches. Which means? You can take haggling to a whole other level!
Cola Beach
Cola beach is an introverted person's bae. You are partially right if you think North Goa beaches are loud and disgusting. But you aren't entirely right, because there are some pristine beauties like Cola Beach that can pamper you with that much-needed solace and serenity that you seek from a beach vacation.
Reis Magos
If it's not your first visit to Goa or if you are in a mood to see the slightly unseen side of Goa, you should visit Reis Magos. It overlooks the Mandovi river, facing Panjim.
Calangute/Baga beach
In all honesty, these places don't really deserve a visit unless you are a hardcore party animal who loves to let the hair loose under harsh fluorescent lights, deafening music and wild crowds.
That's also why, during the day, these beaches are pretty much a copy of any crowded beach in Mumbai. But at night, they transform themselves into a few kilometres line of open-air discotheques.
It is also in this area that you will find the best nightclubs like Tito's, SinQ and Hammerz. The stretch of road outside these beaches is also a street shopper's paradise From clothes, jewellery, bags, cashews, musical instruments… you'll find it all here!
---
Check out my readymade Goa travel plan – it contains a day-wise itinerary to suit your travel type.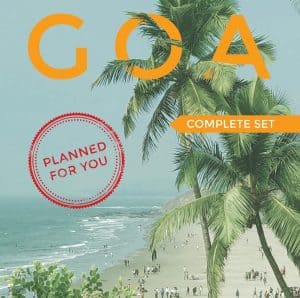 Goa: Planned for You
A handy digital travel plan that includes
Specially curated stay recommendations
restaurant suggestions
a day-wise break-up of things to do
a fully interactive Goa map
special insights and lots more!
---
Anjuna Beach
If you are an Indian, I am sure you've watched 'Tanha Tanha' from Rangeela. Now apart from appreciating Urmila's beauty in that song, I am sure you've also wondered which rocky beach she is dancing at. The answer to that question is Anjuna!
Anjuna is located right next to Baga and yet looks so much different thanks to its rocky coastline. Go fire up your Instagram (or Facebook or Whatsapp) with some fiery portraits of you on these rocks. (but don't carelessly fall off a cliff and drown)
Vagator Beach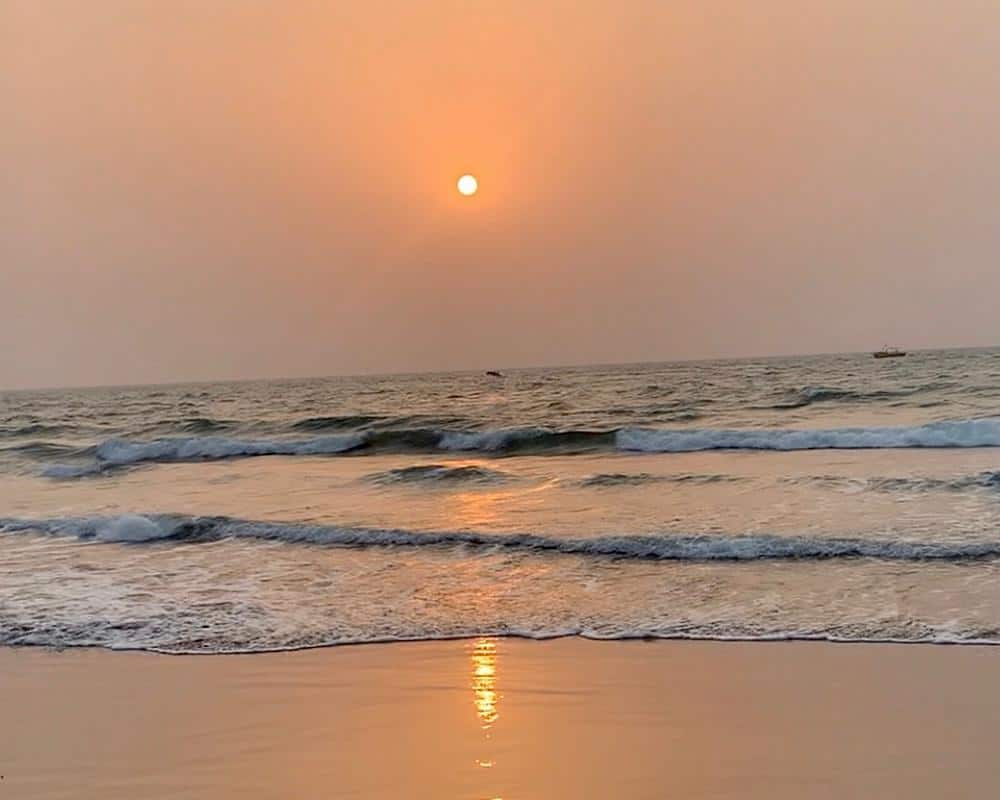 Further north from Anjuna is Vagator Beach. Technically, the beach is divided into two sections: the Big Vagator Beach and the Small Vagator Beach (aka Ozran beach) But as a tourist, all that you need to care about is the sunset view from this beach. Technically, sunsets from most beaches in Goa are a visual treat. Yet, this beach enjoys more popularity because of the rich backdrop of stunning red cliffs, a giant Chapora fort and large rocky formations inside the waters.
Before 2020, this beach was also a huge party hub. But today, with lesser international tourist inflow, this lush beach is crawling upwards in my list of top places to visit in North Goa
Chapora Fort (aka Dil Chahta Hai fort)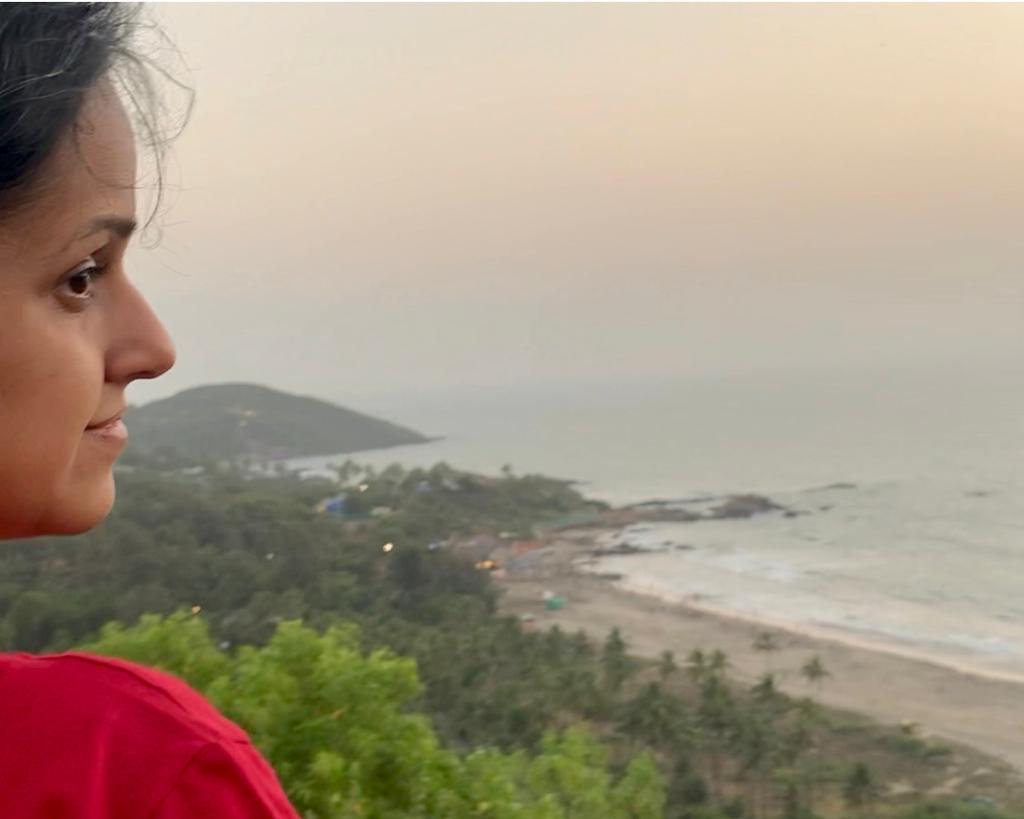 Chapora Fort is famous because it's the place where that iconic scene from the movie 'Dil Chahta Hai' was shot and because the sunset views from here are truly special.
You sit right on top of the fort, overlooking the Vagator beach, as the sun silently makes its way into the water casting the perfect twilight over all of Goa. And you? You enjoy a special balcony view of this majestic natural phenomenon.
---
By the way, before we move on to the next day, if you're tired of reading, you can watch our latest 3 days North Goa Vlog below for ideas on how to spend 3 days in North Goa.
---
Day 2: Panjim/Old Goa
Today, it's time to visit the Goan capital Panjim as well as its erstwhile capital Goa Velha or Old Goa. In fact, it is also the day to visit places in North Goa other than beaches.
You can visit all or a few of the places from Old Goa and Panjim from the list below:
Basilica of Bom Jesus
This is the most iconic place among all churches and cathedrals in Goa. This is because the place holds the mortal remains of St. Francis Xaviers – the saint who brought Christianity to Goa in the 17th century. If you are someone who understands and appreciates architectural nuances, the baroque-styled church will definitely appeal to you.
But, mind you, on most touristic days (like long weekends and public holidays), you should expect to stand in a long queue to get inside. Factor an extra 30 minutes for this.
Se Cathedral/Church of St Francis of Assisi
Yet another magnificent cathedral, this cathedral is a stone's throw away from Basilica of Bom Jesus. The Se Cathedral was built to mark the victory of Afonso de Albuquerque over the Muslim army. The Cathedral and the adjoining Church of St. Francis of Assisi are architecturally beautiful monuments. They also give a deep insight into the growth of Christianity in Goa.
Mangueshi Temple
Located about a 15-20 minute drive away from the Basilica of Bom Jesus, the Mangueshi Temple is an important place of worship for the Gaud Saraswats. The temple exudes a calming vibe and if you like visiting religious places, a visit to the Mangueshi Temple would be a rewarding experience for you.
But note that it is slightly farther away from Panjim
Fountainhas
This quarter in Panjim has gained massive popularity in recent times thanks to its Instagrammable value. It is a busy quarter with small lanes lined with the prettiest, colourful houses that are a true living example of the Portuguese architectural influence on Goa.
You will find many young creators clicking pictures here through the day. So if you want the perfect shot for your gram, be willing to wait patiently for that moment when traffic and crowds clear!
Our Lady of Immaculate Conception Church
Every Bollywood buff has seen this church. From Simmba, Singham, Josh, Aashiqui 2 or even Kabhi Ha Kabhi Naa, this church has been a movie maker's delight for ages. That's also why it enjoy so much popularity amongst tourists visiting Goa.
It's just a couple of minutes away from Fountainhas. Its architectural beauty never fails to impress and even the cold-hearted, artistically non-inclined tend to pull out their cameras to capture its beauty.
Dona Paula Jetty
This place is not a beach and yet is one of the best places to take in the views of the Arabian Sea. The benches at the jetty add to its relaxing vibe and you can just pass time observing the sushegaat lifestyle of Goa while also briefly participating in it.
The Dona Paula has also been featured in many Bollywood movies, the most important one among them being, Singham. Go there to spend some leisurely time with your peeps!
Miramar Beach
Miramar Beach to Goans is like the Chowpatty to Mumbaikars. It probably has the least touristy vibe as its primary visitors are local Goans who come here to meet their friends for a leisurely morning or evening walk.
As mundane and dull as this visual may seem to you, the beach itself is beautiful with palm trees skirting its sands. It is one of the most family-friendly beaches in all of Goa.
---
Day 3: Travel Further North
Today it's time to travel further north from Vagator to explore the areas that regular tourists hardly ever visit. But in my opinion, this area is so beautiful that it deserves a separate Goa trip altogether.
Pick from some of the best beaches in Goa listed below
Morjim Beach
There is a creek that separates the Vagator/Anjuna/Baga/Calangute side of North Goa from the Morjim side of North Goa.
Morjim Beach is easily the best place to visit in North Goa if you want to experience Goa's raw beauty.
It is a rare white sand beach, lined with lush green trees and visited by cute turtles in the evening. You will not find more than a few dozen people on the beach if you were to visit it on a weekday. That's how quiet and beautiful the beach is. But the good news is that it still has plenty of shacks to cater to its visitors. It also has a turtle nesting site that further accentuates its touristic value.
Mandrem Beach
This beach which is Morjim's neighbour is mostly deserted even on long weekends and hence is one of the best beaches to visit in North Goa. There are a few cute cafés and shacks outside the beach. It is also one of the best places to visit in North Goa with family, especially when you want to set up your own sweet picnic and have a gala time with kids!
Ashwem Beach
I am going to award this beach the title of the best beach in Goa. The sand is soft and clean. The waters are relatively calm and the beach is a great place to swim. Plus, along the northern end of the beach, you will find a small creek that's also cool enough for a quick dip.
The surrounding area has some great cafés for working people as well as the best places to stay in North Goa (near the beach). For workations and some quiet me-time, it's best to base yourself in Ashwem.
Arambol Beach
Arambol, a few years ago, was rarely visited by locals. It was a home of hippies. But now, it presents the perfect balance of Goa's natural delights and its crazy touristic vibes. The place comes alive in the evenings with its drum circles. Even during the day, loud music is often blaring out of its shacks while many Russian tourists are moving to some trance music. It is a great place to watch Goa come alive without actually having to mingle amongst sweaty crowds. (like those found in Baga and Calangute)
---
Best Places to eat in North Goa
Here are some top recommendations of places you should eat at on your trip to North Goa:
Ritz Classic, Panjim: Easily the best seafood restaurant in Goa
Fat Fish, Calangute: Excellent seafood and terrific service
Britto's, Baga: The best restaurant for tasting authentic Goan cuisine
Vinayak, Assagaon: Yummy seafood thali
(All the above restaurants also serve good vegetarian food)
Eva cafe, Anjuna: Great young vibe and excellent beach and sunset views
Morgan's Place, Anjuna: Right next to Eva, less crowded and the upper deck provides the best sunset view, ever.
Café Chocolatti, Candolim: Yummy breakfast, fresh bread and delicious beverages
Café Candolim, Candolim: Cutest decor and cleanest toilets
Tomato's Candolim: Live music in the evening, good food.
Prana Café, Ashwem: Delicious continental food
Any roadside vendor selling Ross Omelette or Bhaji Pav: Best, most-filling local meals on a budget
---
Bonus suggestions:
Parra Road
The famous road featured in the movie 'Dear Zindagi' is just about 15 minutes away from Baga. And it truly is worth a visit. There are very few roads that are so narrow, straight and lined with coconut trees on both sides. So if you like visiting filming locations that are so pretty that they can easily light up your Instagram, do visit this place.
Divar Island/Chorao Island
A short boat-ride away from Panjim lie the Divar Island and Chorao Island. You can transport your vehicle too to these islands and spend a quiet time away from the hustle-bustle of mainland Goa. Enjoy boat rides, drink feni and visit dilapidated monuments.
By the way, Chorao is also the home of Dr Salim Ali Bird Sanctuary and many nature-lovers pay a visit to this place first thing in the morning.
How to make a Goa itinerary that works for you?
Remember, that it will be physically impossible for you to visit all the places listed above. But you can easily pick a few based on your taste and travel style.
However, if you want the perfect Goa travel plan that suits your budget and travel style and one which comes with hotel and restaurant suggestions plus a premade interactive map, just for you: check out our unique offering Goa: Planned for You here.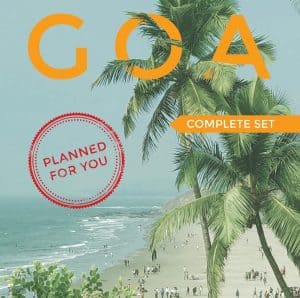 Goa: Planned for You
A handy digital travel plan that includes
Specially curated stay recommendations
restaurant suggestions
a day-wise break-up of things to do
a fully interactive Goa map
special insights and lots more!
Final Thoughts
Which of the above places are you planning to visit? Do let us know in the comments below!
More Goa articles
46 Best things to do in Goa: An Ultimate List
26 Goa travel tips: You must know before you go
12 tips to visit Goa on a budget that actually work!
How to spend 1 day in North Goa: 4 amazing itinerary ideas
5 days in Goa: Best of North and south Goa
Where to stay in Goa: An Ultimate Guide
Pin it for later!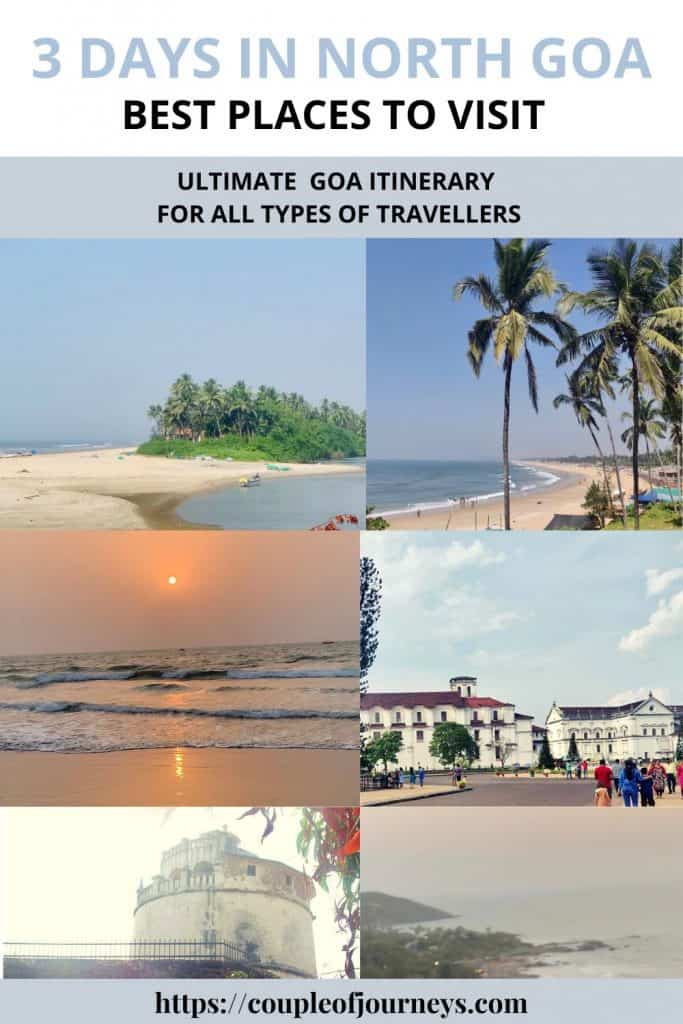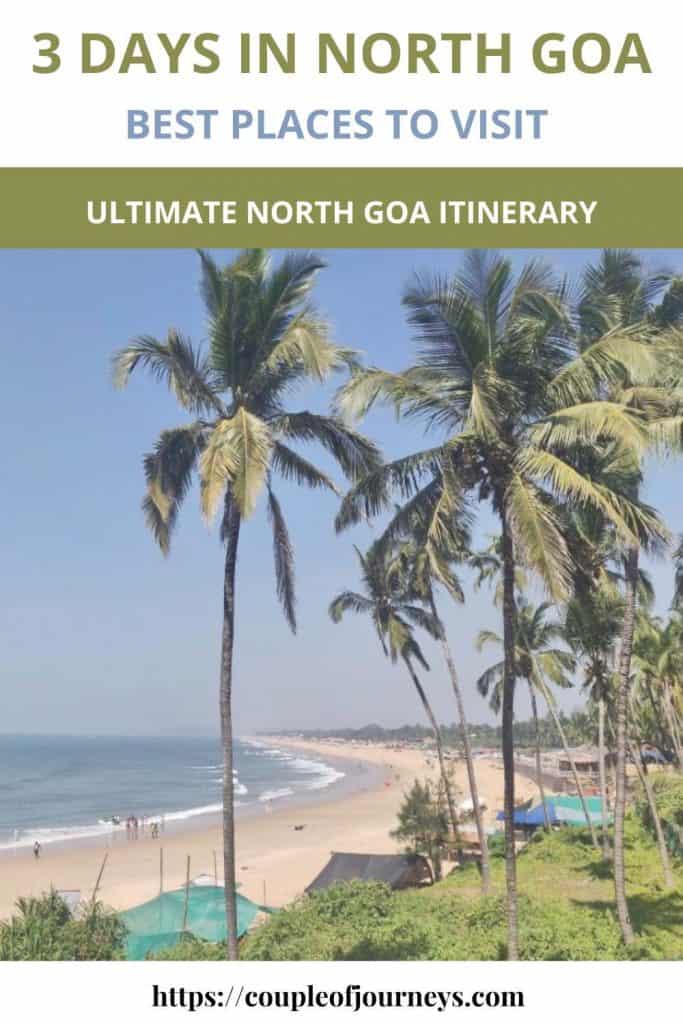 TOP TRAVEL RESOURCES
Here is a list of our favorite travel resources- the ones that I absolutely swear by when planning almost every trip. Go through this list to plan a hassle-free trip and save a lot of money!
Flight Booking: Check the availability of tickets, the best time to fly, and the cheapest fares on Skyscanner. You may also find a cheap flight via CheapOair
Accommodation: I absolutely love booking through Agoda. In most countries and particularly in Asia, I often find the best fares on Agoda. But I also love the no prepayment and no cancellation fee policy of Booking.com. For cheap accommodations and hostels, nothing beats Hostelworld.
Car Rentals: You may find and rent an appropriate car via RentalCars. It's hassle-free and reliable.
Guided Tours: I absolutely love GetYourGuide for local sightseeing tours, walking tours, history tours, and food tours. The booking process is seamless, and the tours are super affordable. But in Asian countries, I prefer Viator or Klook for their affordably priced tours.
Lounge Access: Get Priority Pass – my personal favorite card that gives me unlimited access to premium airport lounges all over the world
Hey, if you found this post helpful, share it with more people or buy me a coffee!