How Many Days Are Enough in Goa: Explained for Every Travel Type
This website contains no sponsored content. The content is written entirely on my own and is based on my personal experience and extensive research. This post may contain affiliate links. If you make a purchase through one of these links, I may receive a small commission at no extra cost to you. As an Amazon Associate I earn from qualifying purchases. Please read the disclaimer for more information.
As someone who has been to Goa over twenty times and has written multiple posts on Goa, the one question that people ask me the most is – how many days are enough in Goa. In this post, I am going to answer this question not only based on my personal experience but also based on a little poll that I conducted of people who have already been to Goa.
According to most travelers, for first-time visitors, approximately 4-5 days in Goa are enough to experience its essence, to visit the famous beaches, forts and tourist attractions.
But to be honest, Goa is one destination where you can spend as little as 2 days or even as long as a month and still find enough things to do. Plus the number of days you need in Goa will vary slightly depending on what type of travel you are aiming for.
In this post, I am going to tell you how many days are enough in Goa for every travel type. I am also going to suggest a few sample itineraries to help you plan your trip to Goa.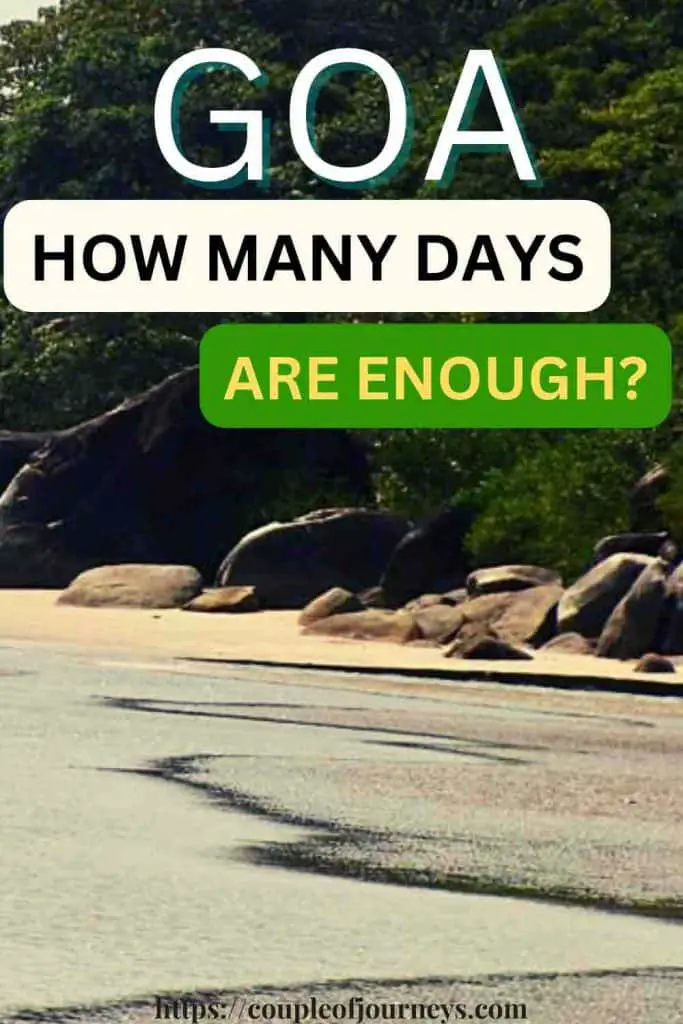 This post may contain affiliate links. If you make a purchase through one of these links, we may receive a small commission at no extra cost to you. Please read the disclaimer for more information.
How many days are enough in Goa?
Even though Goa is one of the smallest states in India, it has a lot of tourist offerings. The long western coastline is full of some of the best beaches in Goa. Every beach has a different personality in terms of the crowd it attracts, things to do on the beach, the scenic beauty of the beach and its overall vibe.
Thanks to the rich Indo-Portuguese culture, Goa is home to many archaeologically beautiful structures like temples, churches, heritage houses and forts.
The boom in tourism has also made Goa the hub of some of the best nightclubs, restaurants and cafés in India.
There are also a few islands near Goa that are rich in scenic beauty and heritage offerings. Wildlife sanctuaries and stunning waterfalls beautify the interiors of Goa.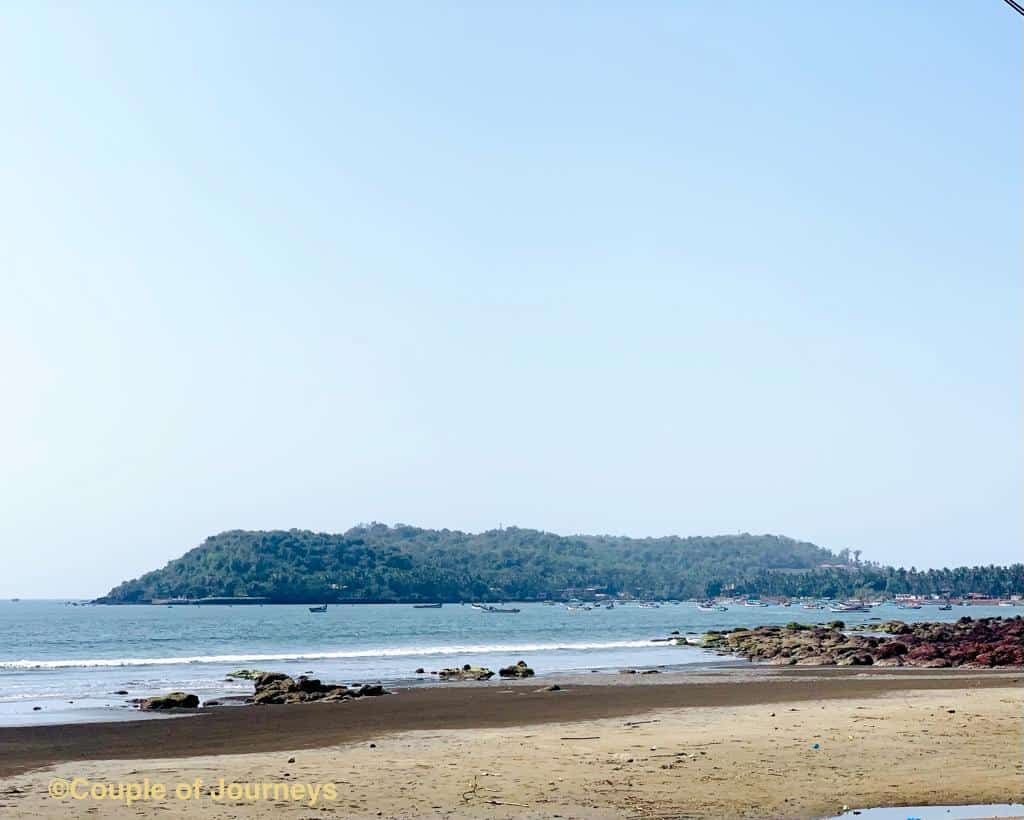 That's why I conducted a poll on Instagram about how many days are enough in Goa. The results of the poll were as under:
Therefore, as a first-time visitor of Goa, you need at least 4-7 days to be able to experience its essence, visit its beaches and tourist attractions and get a satisfactory feel of the touristic offerings of Goa.
But even then, the number of days needed would vary slightly depending on whom you're travelling with and what your objective is. Here is a quick table providing an overview of how many days are enough in Goa.
| | | |
| --- | --- | --- |
| Type of visit | Key objective | Number of days enough in Goa |
| Quick visit | To get the most of Goa in a short time period | 2-3 days |
| Couple trip/Honeymoon | Laidback trip with visit to only key tourist spots | 4-5 days |
| Family trip | Visit to all the major tourist spots with enough beach time | 4-6 days |
| Partying trip | Visit to all clubs and party places and few tourist spots | 2-4 days |
| Relaxing and Leisure trip | A relaxed itinerary, exploring nearby areas and beaches | 4-7 days |
| Workation | Work during the day and explore Goa after work and on weekends | 7+ days |
What you should remember though is that the days specified in the above table only indicate how many days are enough in Goa to meet your vacation objective.
Even after spending those many days in Goa, you won't be able to capture all of its touristic beauty. That's also why, we have kept visiting Goa over and over again (more than 20 times) and yet continue to find lots of new things to do in Goa on every trip.
Continue reading the post for sample itineraries and insights to help you plan your trip to Goa.
---
In my digital travel plan, I plan the perfect Goa trip for your travel type. Click here to get Goa Planned for You.
See below to find out everything that's included in this super awesome and time-saving trip plan.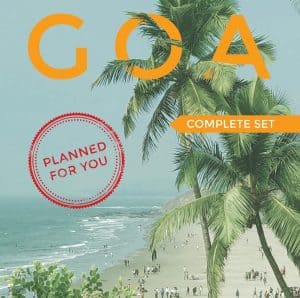 Goa: Planned for You
A handy digital travel plan that includes
Specially curated stay recommendations
restaurant suggestions
a day-wise break-up of things to do
a fully interactive Goa map
special insights and lots more!
---
When and how are you travelling to Goa?
When deciding how many days to spend in Goa, you should factor how and when you're travelling to Goa as well.
Weather
Weather will play a huge role in determining what you get to do in Goa.
Summer trip to Goa:
The sun is extremely harsh. Avoid beaches or outdoor attractions like forts during the day
Spend a lot of time indoor in cafes, restaurants, churches and temples.
Monsoon trip to Goa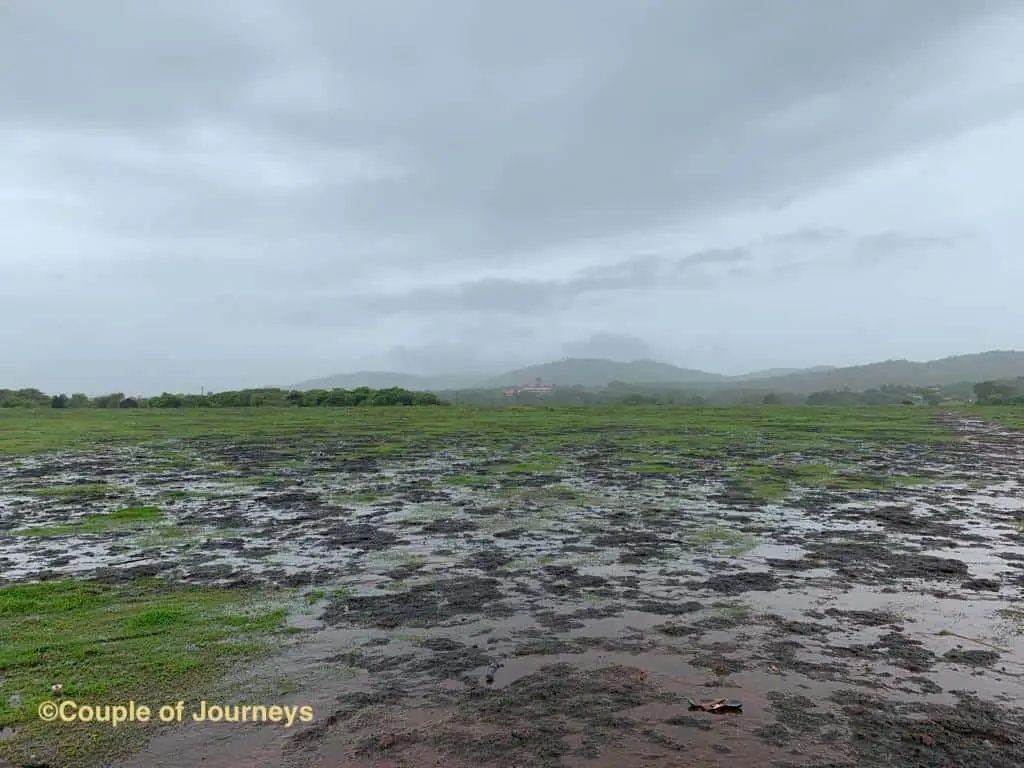 Goa experiences heavy rainfall. Most beach shacks are shut. Watersports, adventure activities, flea markets and huge nightclubs also remain closed.
You can visit museums, churches, temples, cafés and restaurants during this period.
You can go on long drives and appreciate Goa's lush greenery and waterfalls.
Winter trip to Goa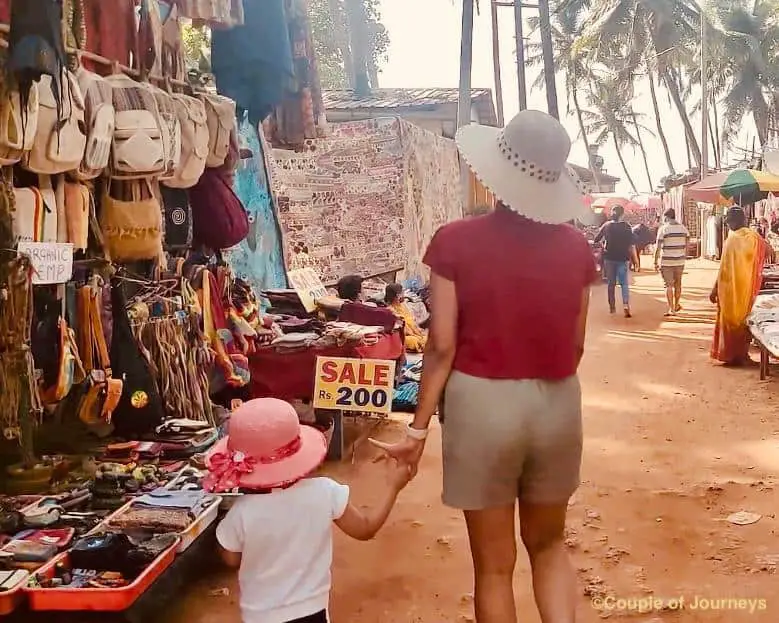 This is the Goan tourist high season. All attractions are open.
Add a couple of extra days to your Goa trip to make the most of Goa.
Read my article on the best time to visit Goa – season and month-wise here.
Arrival, departure, check-in & check-out times
For a quick trip to Goa, make sure you arrive in Goa early in the morning and leave after sunset.
Goan train stations and airports are deserted at odd hours (early morning or late night) and you may lose a lot of time finding commute to your hotel or sightseeing area. It is best to If you are arriving or leaving at odd hours, book an airport transfer in advance.
If you don't find cabs near the airport or station when you arrive, use the Goamiles app to book the nearest available cabs.
---
Where to stay in Goa?
If you are staying in Goa for around 4 or more days, it is best to divide your time between North Goa and South Goa. This will help you explore Goa conveniently and extensively.
Read my detailed article on the best areas to stay in Goa here.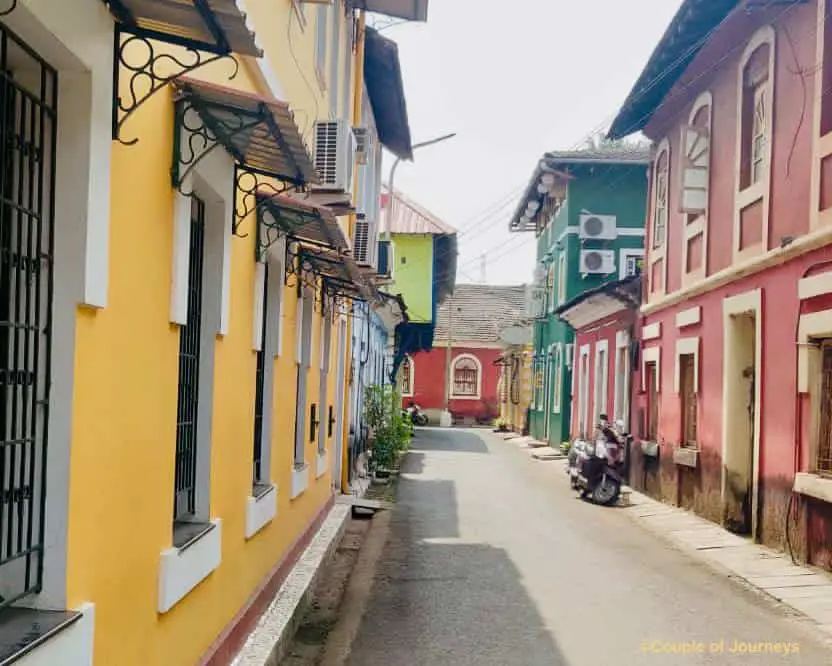 Find out
a full list of the best areas to stay in Goa
best accommodation options for your travel type
But if you had to choose between North and South, here're my thoughts-
North Goa: more crowded and touristy, best for first-timers, party-lovers and large groups. Ideal for short trips and touristy vacations.
Check best-rated accommodation in North Goa here.
South Goa: less crowded, scenic, best for introvers, couples and those travelling to Goa for relaxation. Ideal for longer trips.
Check best-rated accommodation in South Goa here.
---
Must-visit places in Goa (For first-time travellers)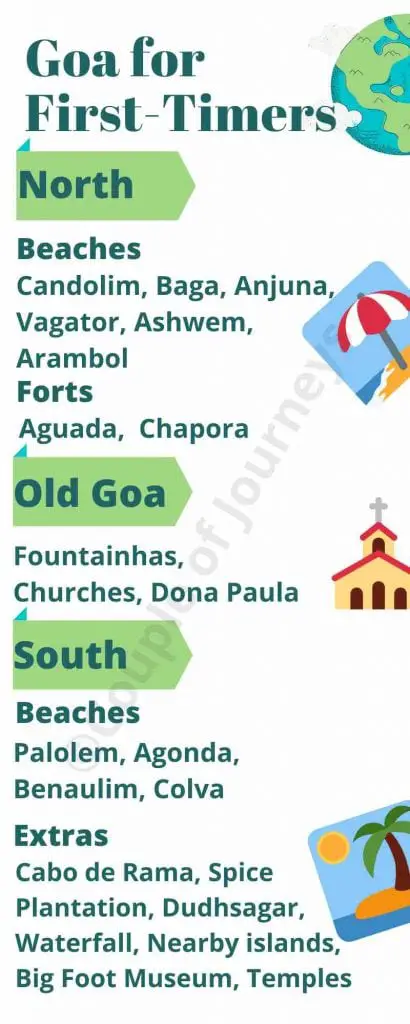 The first trip to Goa should always be a healthy mix of must-visit tourist places and lots of chill time!
Here's a quick list of places that you shouldn't miss on your first trip to Goa-
1. North Goa beaches: Choose any one or more based on your personality and taste.
2. Goa Forts: The two key forts that you should visit are Fort Aguada and Fort Chapora. They are historically significant and a great viewpointof the nearby sea.
3. Old Goa and Fountainhas: The famous churches in Goa like Basilica of Bom Jesus, Se Cathedral, Immaculate Conception Church are all located in Old Goa. They give insights into the Portuguese rule over Goa and are also important places of worship of Christians. Fountainhas is an old heritage quarter in Goa that's very photogenic.
4. South Goa beaches/view points: Choose any one or more of the many impressive beaches in South Goa. Also visit Cabo de Rama, the best viewpoint in all of Goa. Read my post on the best things to do in South Goa here.
5. Additional must-visit attractions: Besides the above, visit a spice plantation, the Big Foot Museum, Dona Paula Jetty, Shantadurga temple, Mangueshi Temple and India's only Naval museum.
---
Suggested Goa travel plans as per travel type
Now that you know how many days to spend in Goa, here are a few quick sample itineraries and travel tips.
You can use these as a guide to plan your trip.
(Or you could simply save your time by opting for my readymade Goa itinerary. Check details here)
First-time in Goa/Touristy Goa/Family Trip to Goa: 4 days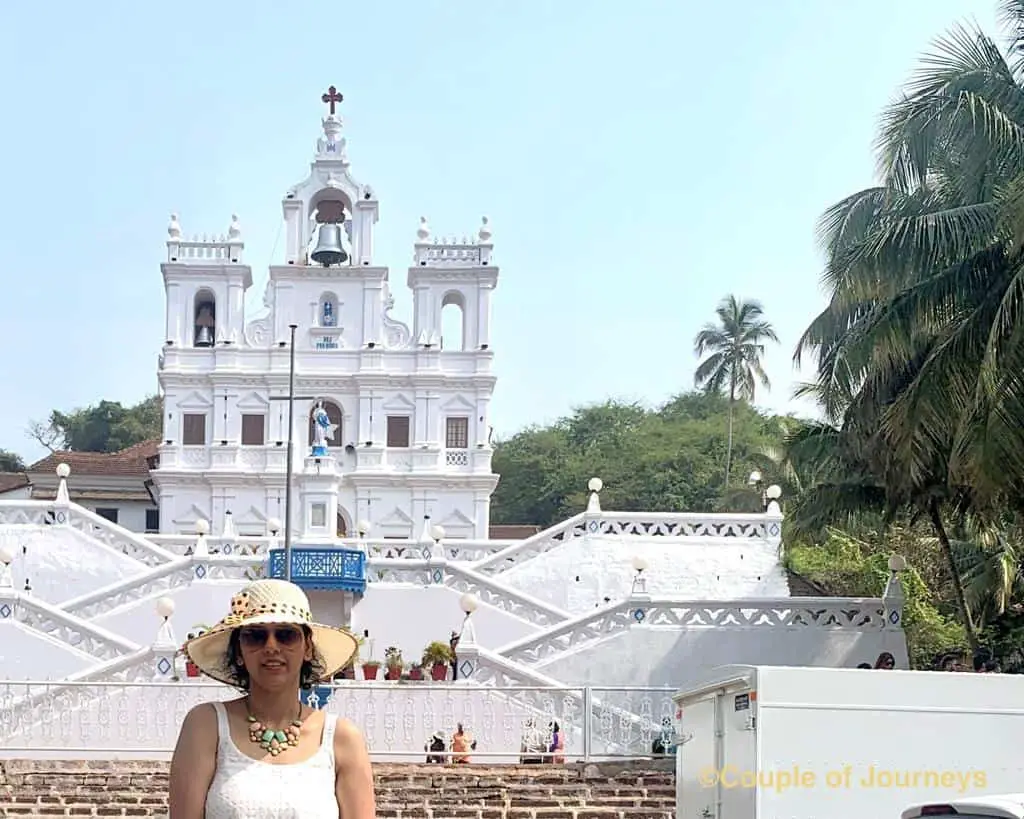 To be honest, visiting Old Goa can be a boring experience if you visit it like all other tourists do in a rushed manner, just to tick off items from their Goa tourist places list. To better understand the area – which is full of architectural gems, you should see it on a heritage walking tour. The guide is informative (but not boring at all) and takes you through not only the key attractions but also spectacular structures around that most standard tourists skip.
Day 2: Visit other North Goan beaches. Engage in watersports or go bungee jumping. (Book your bunjee jumping tour here)
Visit Dona Paula jetty. Spend your evenings at cafés, restaurants or nightclubs of your choice. Go shopping.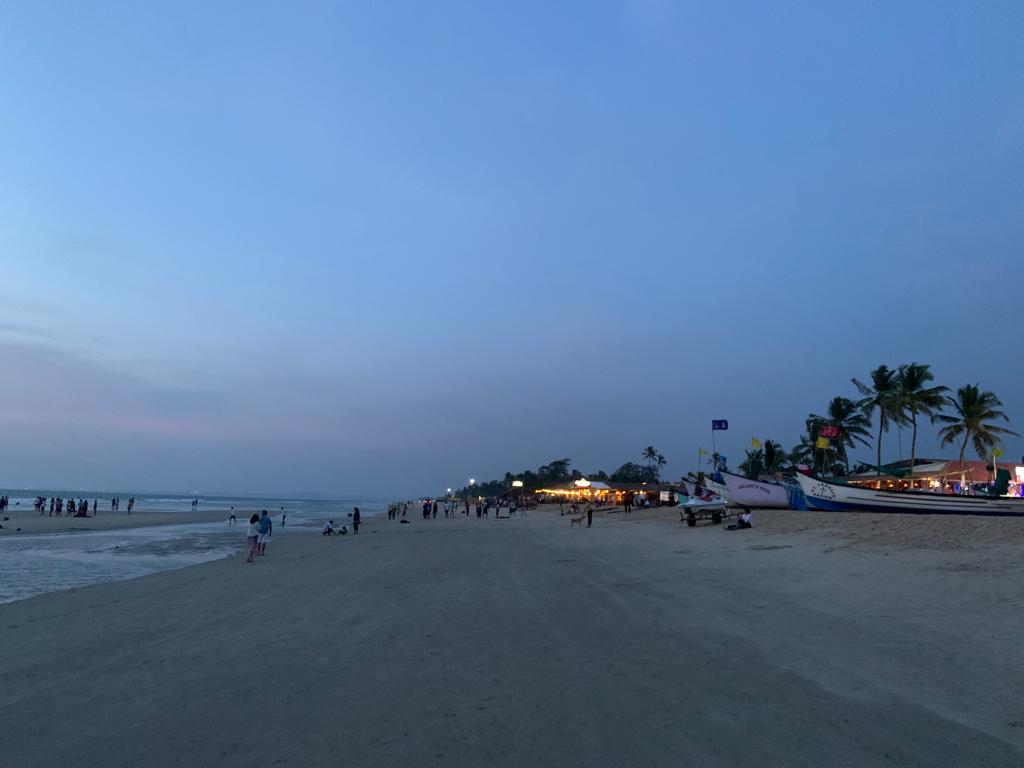 Day 3: Head South. Enroute visit Naval museum, Big Foot museum, Shantadurga temple and Spice plantation.
Stay at Benaulim. (See best-rated accommodations here). Spend evening at Benaulim.

Read my full article on things to do in Benaulim here.

Day 4: Head South to Palolem, visit the beaches en route. Watch the sunset from Cabo de Rama.
You can add more things to do to this itinerary or even spread out the places into more days depending on your preference.
---
Leisure/Laid-back trip to Goa: 4-7 days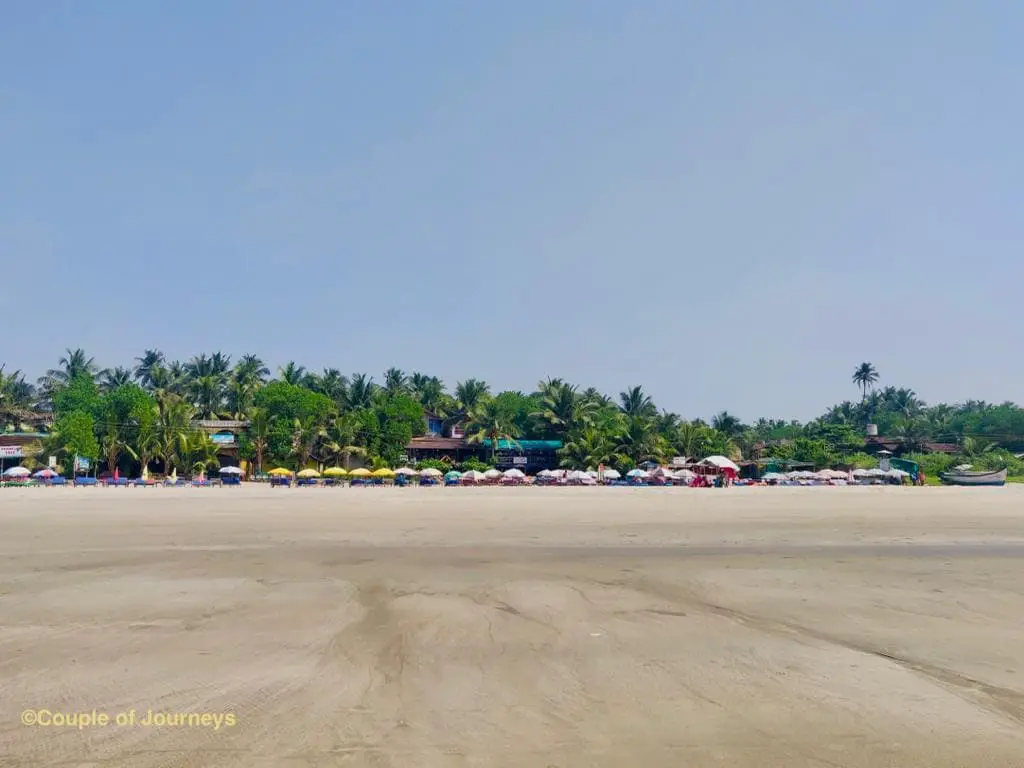 For a more leisurely, laid-back trip, visit only a few of the must-visit tourist attractions from the above list of must-visit places and spend the rest of the time doing the following:
Visiting amazing cafés and restaurants
Lazying around on the beach
Going for yoga retreats and classes
Engaging in interesting experiences like cooking classes, mud baths, drum circles, etc.
Choose from the list of the 46 best things to do in Goa. Read full article here.
It would be ideal to base yourself in Anjuna in North Goa. It has the best cafés and flea markets. It is also close to most tourist attractions. (See best-rated accommodation here) Read my post on the ultimate things to do in Anjuna and Vagator here.
In South, stay at Palolem. It's truly a paradise on earth and has option of lots of things to do around. (See best-rated accommodation here)
---
Workation in Goa: 7 days+
For a workation, you will have to spread out the must-visit places during your free time after work or on weekends.
Here's a sample itinerary.
Weekend Day 1:
Visit Fort Aguada, Old Goa churches and Fountainhas. (See this amazing Old Goa tour here)
Weekend Day 2:
Visit Naval museum, Big Foot museum, Shantadurga temple and Spice plantation.
In the evenings after work:
hang out at sunset cafés,
visit nearby beaches,
watch a sunset at Chapora fort
go clubbing at the Goa's famous nightclubs
shop at weekly flea markets
---
Goa trip for partying: 3 days
Day 1: Stay in Baga or Calangute (see best-rated accommodation here) or
if travelling alone, stay at a hostel near Anjuna. (See best hostels in Goa here)
Spend the day sightseeing or chilling on the nearby beach.
After sunset, head to a nearby club like Titos, Club Cubana, Hammerz, etc.

Day 2: Spend a relaxed day and then attend a beach party or a beach disco.

Day 3: After a day out relaxing, choose from a live party, a DJ night, a dinner cruise, a silent club party or a trance party. You will have to choose from what's happening at the time when you visit. You can also choose to simply go out on a boozy night with friends at a nearby club or party with your hostel friends in the hostel's bar.
---
Quick visit to Goa: 1-3 days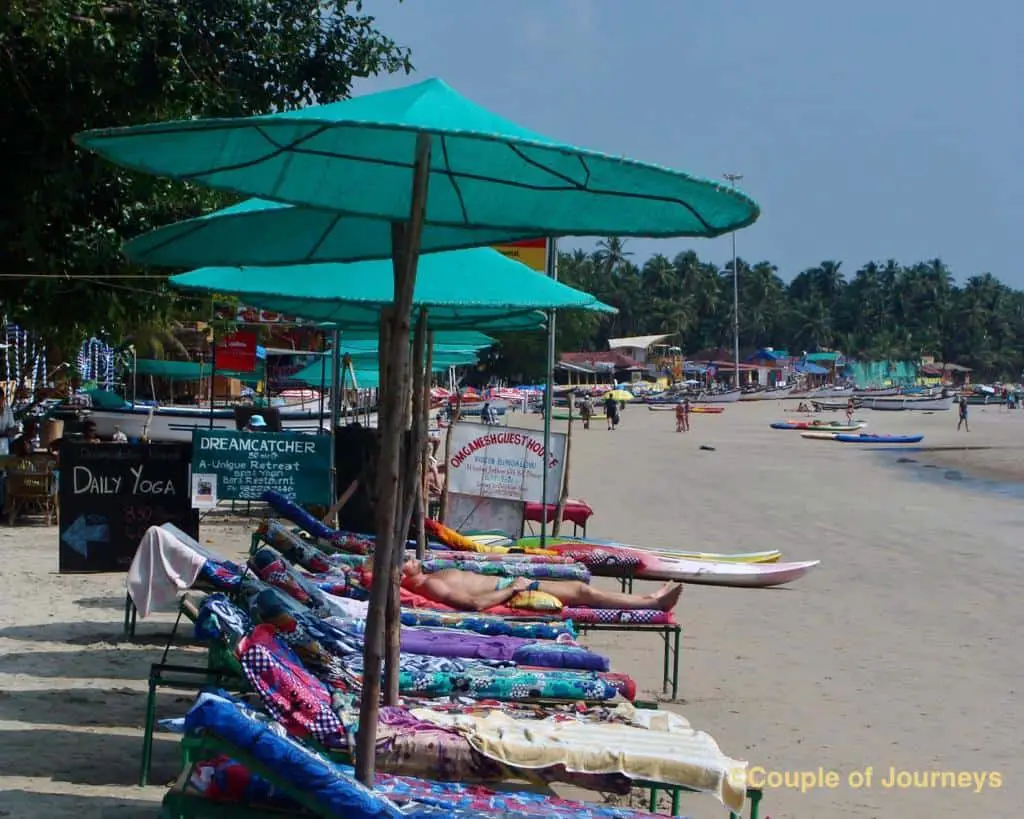 For shorter visits to Goa, stick to just one side of Goa – North or South.
In North, stay at Candolim and in South, stay at Benaulim for shorter commute time from the airport or train stations.
Don't pack your day with too many tourist spots as they don't represent the essence of Goa.
Spend enough time on the beach, restaurants, cafés or clubs to get into Goa's unique susegaad (laid-back) mode.
---
Travelling to Goa soon? Read more articles on Goa:
An easy-to-follow 5 day Goa trip plan
Best places to visit for 3 days in North Goa
4 Amazing ways to spend just one day in North Goa
How to visit Goa on a budget: Real tips that work
---
Save for later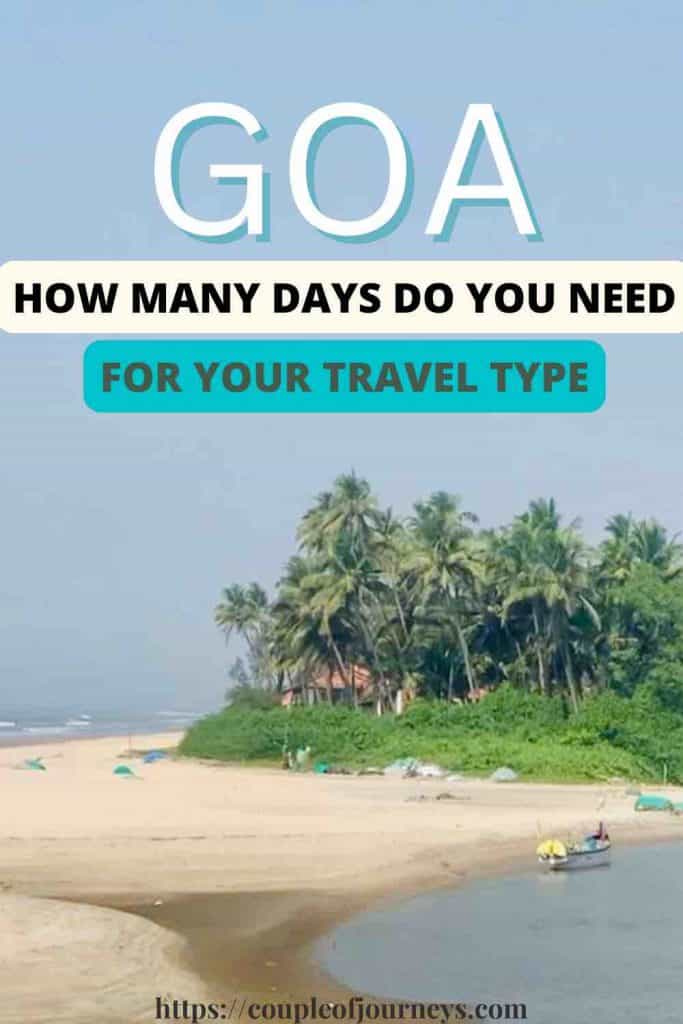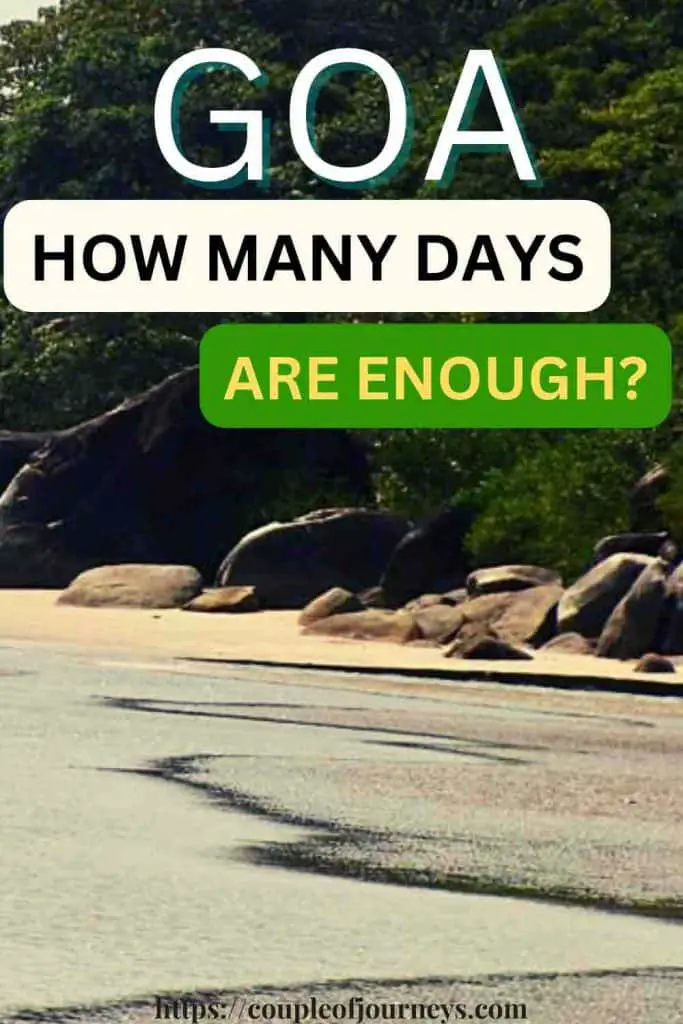 ---
GOA: PLANNED FOR YOU
Benefit from our expertise in Goa. Save hours of trip planning effort, save thousands of rupees on travel agents and kill trip planning overwhelm.
Get access to the best Goa trip plan with specially curated stay recommendations, restaurant suggestions, day-wise break-up of things to do, a fully interactive Goa map and much more in a single downloadable pdf.
---
TOP TRAVEL RESOURCES
Here is a list of our favorite travel resources- the ones that I absolutely swear by when planning almost every trip. Go through this list to plan a hassle-free trip and save a lot of money!
Flight Booking: Check the availability of tickets, the best time to fly, and the cheapest fares on Skyscanner. You may also find a cheap flight via CheapOair
Accommodation: I absolutely love booking through Agoda. In most countries and particularly in Asia, I often find the best fares on Agoda. But I also love the no prepayment and no cancellation fee policy of Booking.com. For cheap accommodations and hostels, nothing beats Hostelworld.
Car Rentals: You may find and rent an appropriate car via RentalCars. It's hassle-free and reliable.
Guided Tours: I absolutely love GetYourGuide for local sightseeing tours, walking tours, history tours, and food tours. The booking process is seamless, and the tours are super affordable. But in Asian countries, I prefer Viator or Klook for their affordably priced tours.
Lounge Access: Get Priority Pass – my personal favorite card that gives me unlimited access to premium airport lounges all over the world
Hey, if you found this post helpful, share it with more people or buy me a coffee!