Wondering where to stay on your Goa trip and want the exact difference between North Goa and South Goa? Well, in this post on North Goa vs South Goa, I am going to provide you with a helpful analysis of which side of Goa to opt for. You will get
A quick overview of where to go as a couple, with family, as a first-timer, party-lover, foreigner etc
The difference between North Goa and South Goa
A quick overview of things to do in North Goa and South Goa
Goa is my most favourite destination and that's why I keep visiting it so often. I have been to Goa over twenty times and have stayed both in North Goa as well as South Goa. I do have a favourite between the two (I will tell you which one later) but for those of you who have never been to Goa and would like to decide, here's a quick answer on what to choose between North Goa and South Goa.
North Goa attracts far more tourists than South Goa owing to its proximity to tourist attractions, vibrant nightlife, abundance of touristy restaurants, cafes, clubs and flea markets. Whereas, South Goa's raw beauty is fairly intact. South Goa has fewer shacks, hardly any party places and fewer well-known tourist attractions.
So which one to choose depends entirely on the purpose of your visit and your taste. I will dive deeper into the differences between North Goa and South Goa in this post. Read on to learn more about it.
This post may contain affiliate links. If you make a purchase through one of these links, we may receive a small commission at no extra cost to you. Please read the disclaimer for more information.
North Goa vs South Goa: Where should you go?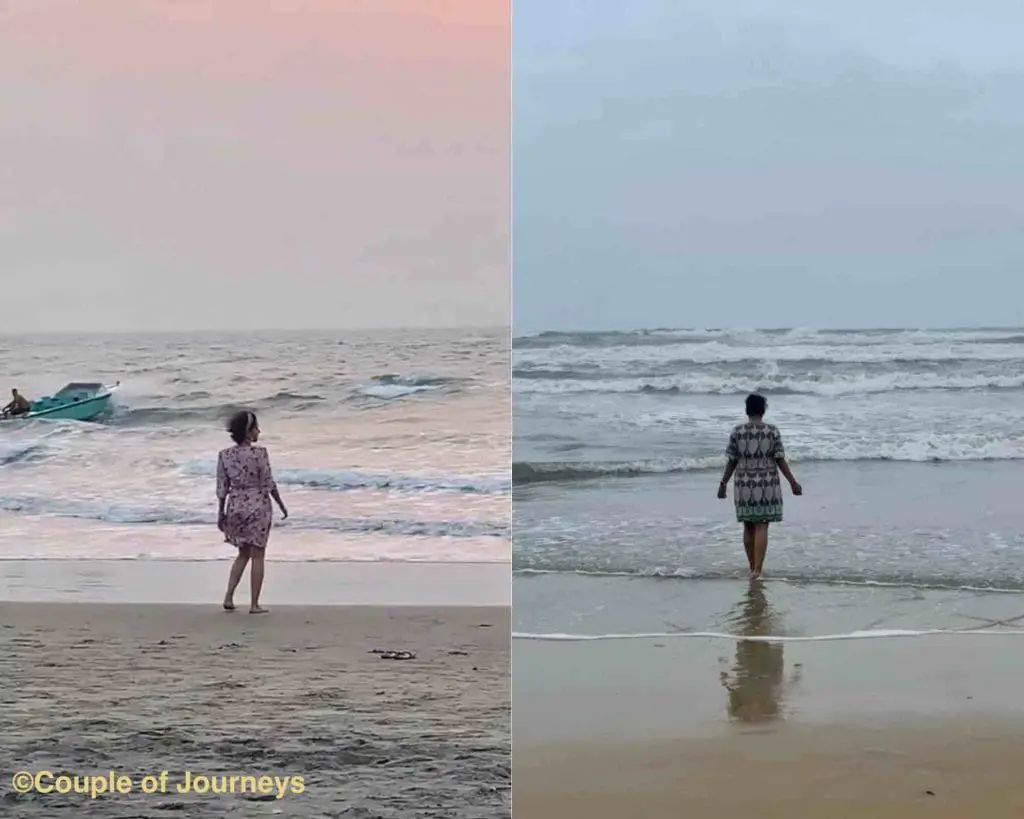 My recommendation to all tourists visiting Goa is to try and divide their time between North Goa and South Goa. But to do that properly without feeling rushed, you will need to visit Goa for at least 4-6 full days. If that's not possible, and you have to decide between the two, here are my quick recommendations.
For first-timers: Stay in North Goa for 2 nights 3 days and if you have extra days on hand, head to South Goa for the remaining days. If not, stick only to North Goa.
For couples: If you want a quiet time or are on a honeymoon, stay in South Goa. If you would like a mix of partying and quality time, divide your stay between touristy North Goa and non-touristy North Goa. (You can read more about the 17 best areas to stay in Goa here)
For families: For families with babies and younger kids who need to travel slower and have to skip parties, staying in North Goa is the most ideal. Families with older kids can stay in North Goa.
For party-lovers: North Goa is the obvious choice of stay for party-lovers as there are almost no party places in South Goa.
For foreigners: It's best to divide your stay between extreme Northern end of Goa and extreme Southern end of Goa. If that's not possible, stay in areas between Morjim and Arambol in North Goa for more natural beauty, yoga, boutiques, cafés, etc.
For nature-lovers: Nature lovers should primarily stay in South Goa to admire the natural beauty of the beaches and wildlife sanctuaries.
---
If you don't want to spend hours researching on your Goa trip, see my readymade Goa itinerary. It has Goa: Planned for You (just the way you like!)
---
North Goa vs South Goa – What's the difference?
Now that I have shared my quick tips on where to stay for your travel type, it's time to share the actual differences between North Goa and South Goa with you.
Crowds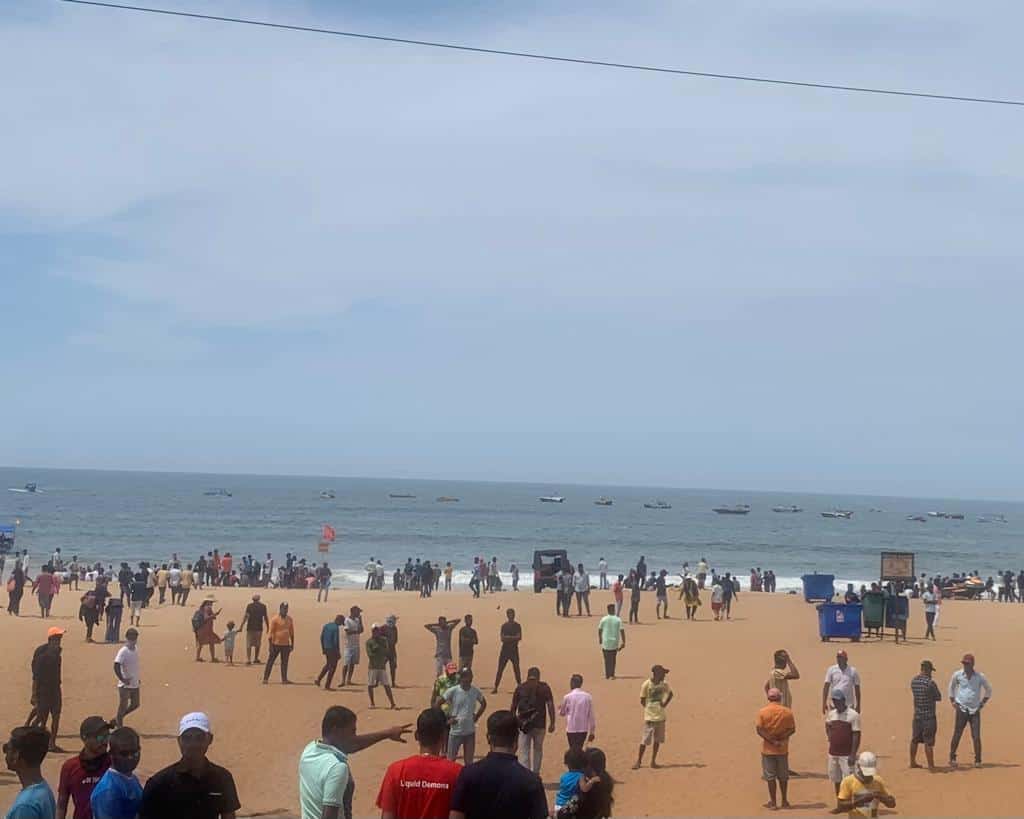 North Goa is always far more crowded than South Goa.
If I had to throw a random estimate I would say that North Goa attracts at least twice the number of tourists as South Goa. And many of these tourists are concentrated in the areas between Candolim and Vagator.
Calangute and Baga are the most crowded leaving hardly any place to walk on the beach on long weekends and during touristic high season time.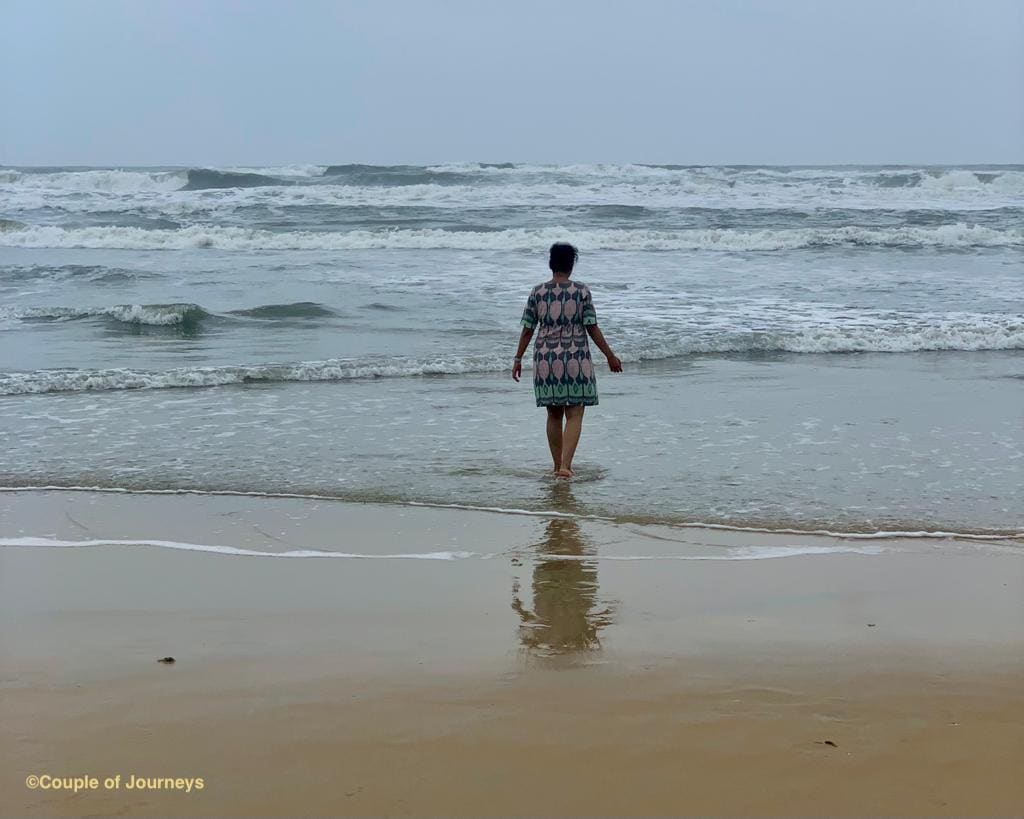 South Goa, on the other hand, never really feels crowded. Its two popular beaches are Colva and Benaulim. They attract the maximum number of tourists but even then, the beaches hardly feel crowded.
In fact, it's not just the beaches that bear the brunt of the crowds. Restaurants, cafes, clubs, parties, street shops are all full, and bustling with activity. This is in stark contrast to the chilled out laid back vibe in South Goa.
Attractions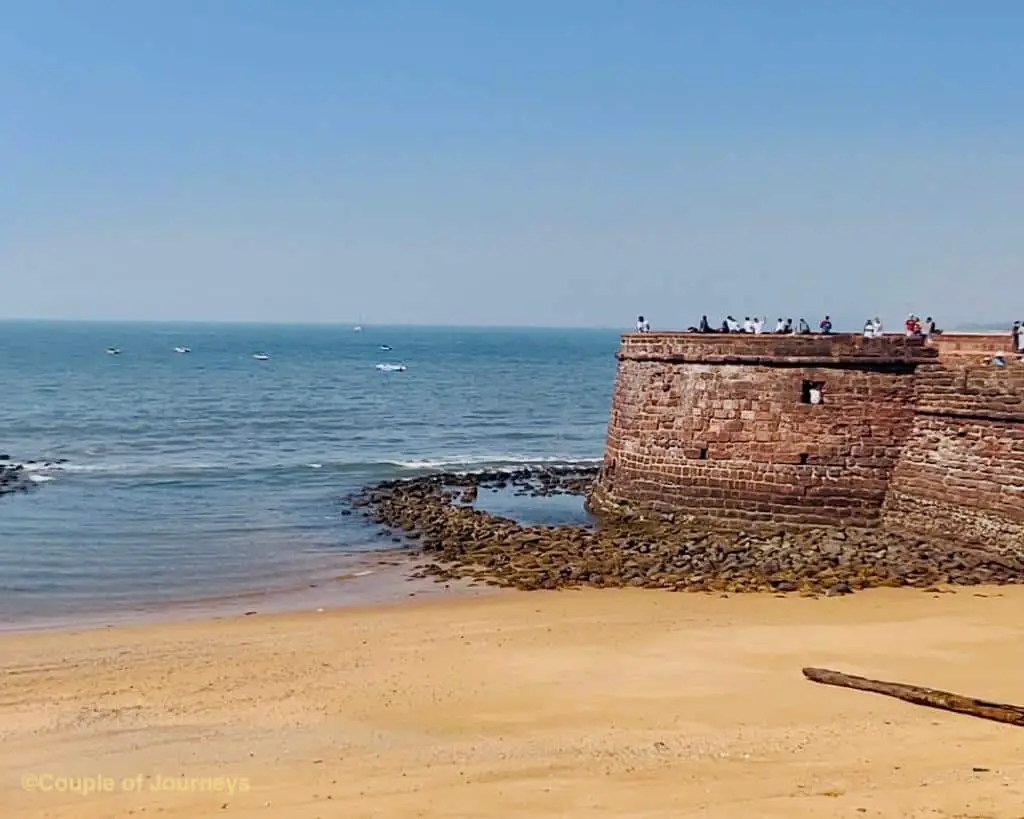 The reason why North Goa attracts more tourists than South Goa is because North Goa has an abundance of touristic offerings.
The key tourist attractions in North Goa are:
Old Goa/Panjim – the home to Goa's famous churches and cathedrals
Casinos
Fort Aguada and Fort Chapora
Nerul and Mandovi river
Famous beaches like Calangute and Baga
Many renowned nightclubs, flea markets, restaurants and cafés
Hippie areas and other beaches that foreigners love
Now this does not mean that South Goa doesn't have much to do. It has, but many of its offerings are not famous must-dos.
The key tourist attractions in South Goa are
Its many serene beaches
Cabo de Rama
backwaters
wildlife sanctuaries
Dudhsagar waterfalls
Beaches
How are the beaches different?
North Goa beaches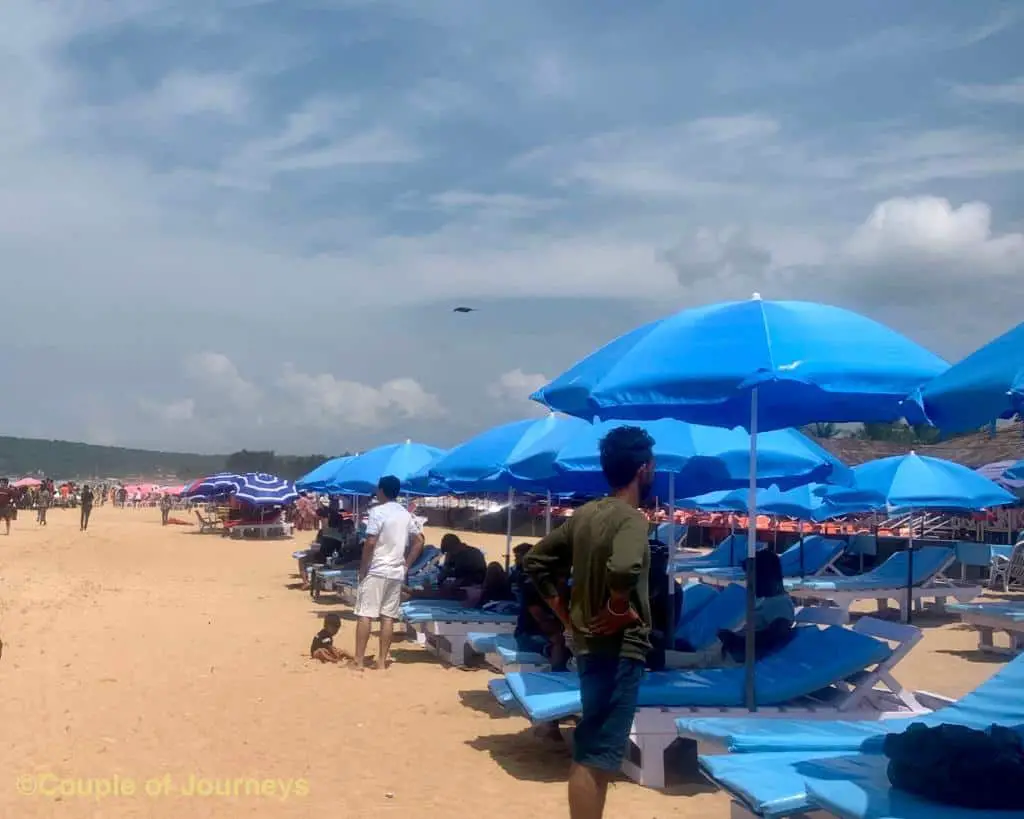 Most of the beaches in North Goa are full of beach shacks, sunbeds and watersport activities.
They attract huge number of crowds. It can be very difficult to find a quiet spot on the beach for yourself.
Most beaches have plenty of flea shops outside the beach. The main road leading to the beaches is also full of eating joints.
South Goa beaches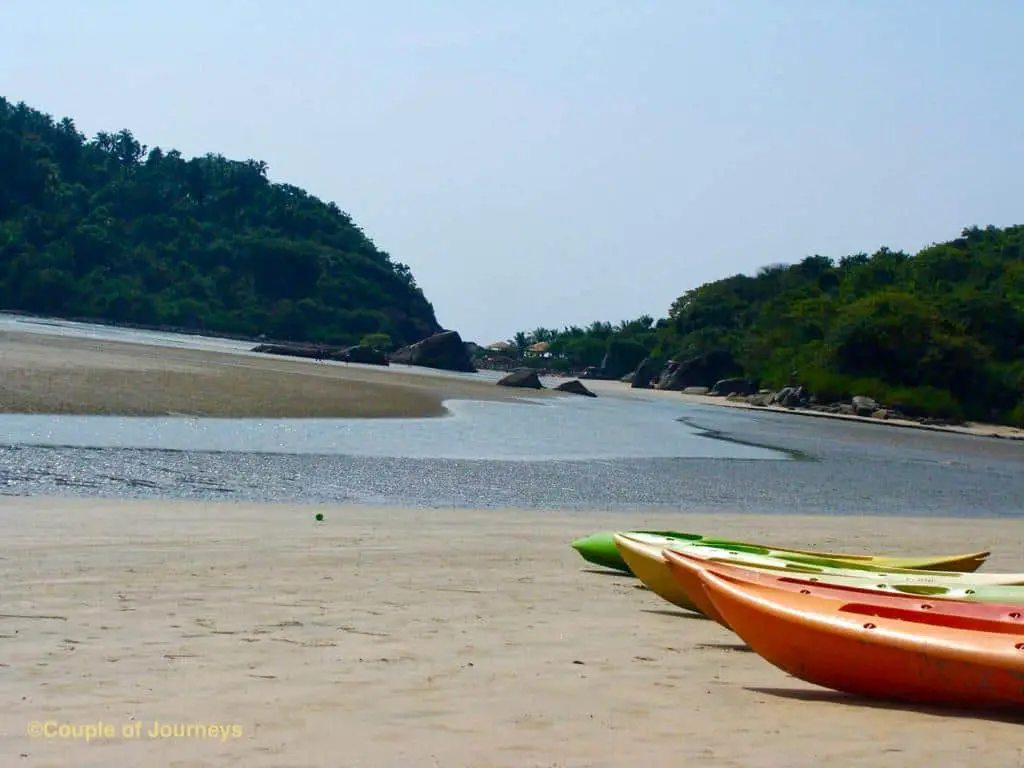 A few beaches have plenty of shacks, sunbeds and watersport activities.
Most beaches are fairly deserted and have plenty of empty areas to relax or spend some time alone.
The area outside many beaches has no tourist-friendly eateries or shops.
Most of the beaches are very clean and offer a visual treat to nature-lovers.
Parties/Nightlife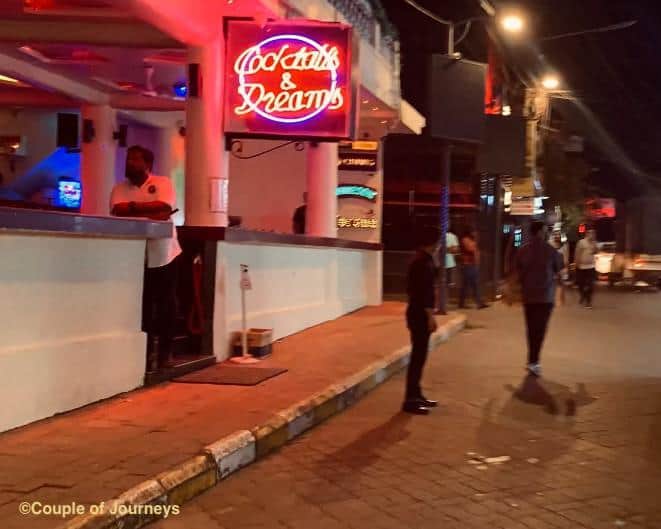 The biggest difference between North Goa and South Goa is that North Goa is a party hub while South Goa has almost no famous party places.
North Goa is home to many famous nightclubs. You'll also find many massive parties being organized for tourists here in the high season. Its beaches also come alive every night with loud music being played in almost all beach shacks.
South Goa has almost no famous nightclubs and the only parties held in South Goa are the ones catering to small groups in clubs near Palolem.
Shopping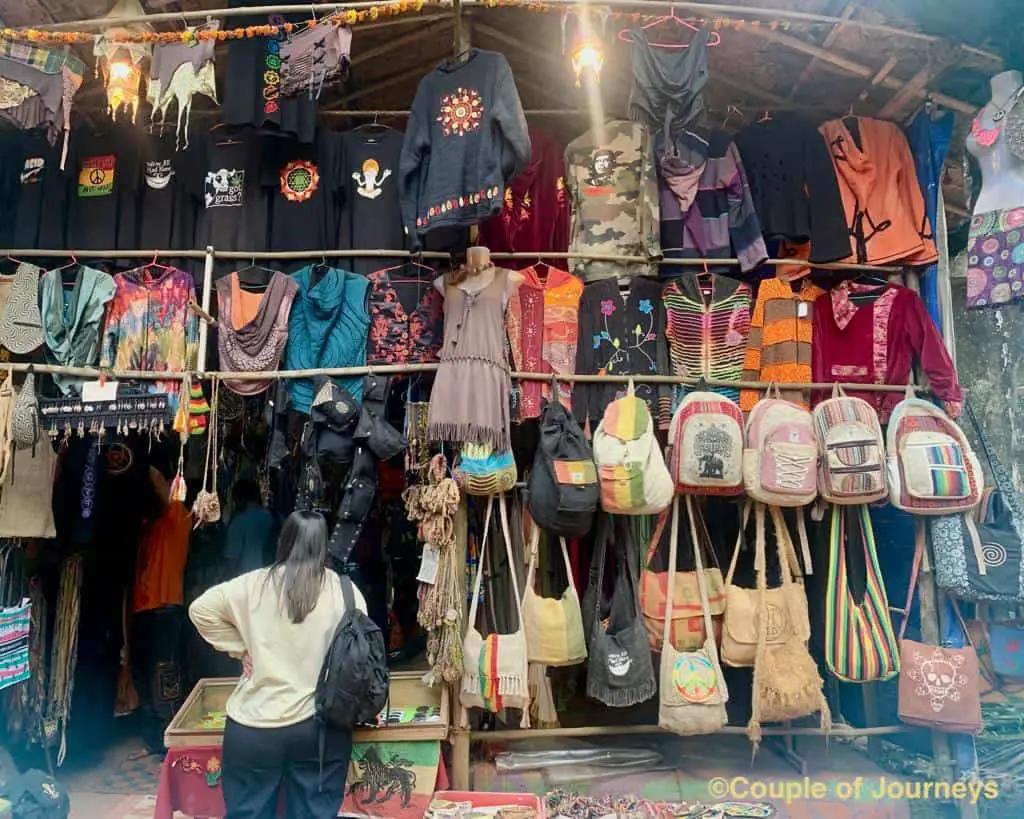 Like I said earlier, outside almost every beach in the touristy side of North Goa, you'll find shops.
In fact, the area between Calangute and Baga is fully lined with tourist shops selling clothes, junk jewellery, bags, hats, sunglasses and more.
In addition to these, North Goa hosts many famous flea markets like
Anjuna flea market
Friday Night market at Vagator
Saturday night market at Arpora (Check if it has reopened)
Tibetan markets near Calangute
There are many boutique stores in North Goa. The hippie's market is also held everyday at Arambol. Basically, there is no dearth of shopping avenues in North Goa.
South Goa has much fewer shopping areas for tourists. There are a few shops close to famous beaches like Benaulim, Colva, Agonda and Palolem. But other than that, you'll only not really come across tourist markets in South Goa.
Food and Drinks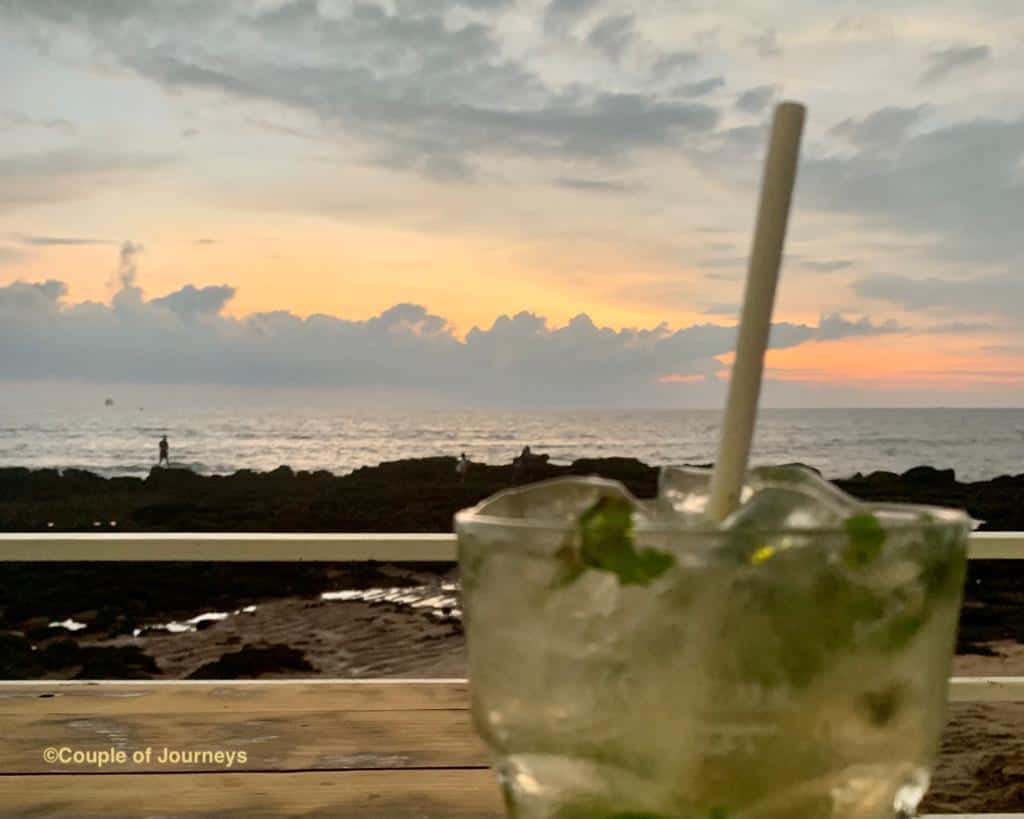 The massive rise of tourism in North Goa has led to an explosion in the number of places to eat and drink.
Local street stalls are present all over but the beach shacks and seafront cafes and restaurants that draw the most number of tourists. Even the smaller bylanes in the touristy side of North Goa pack good eateries.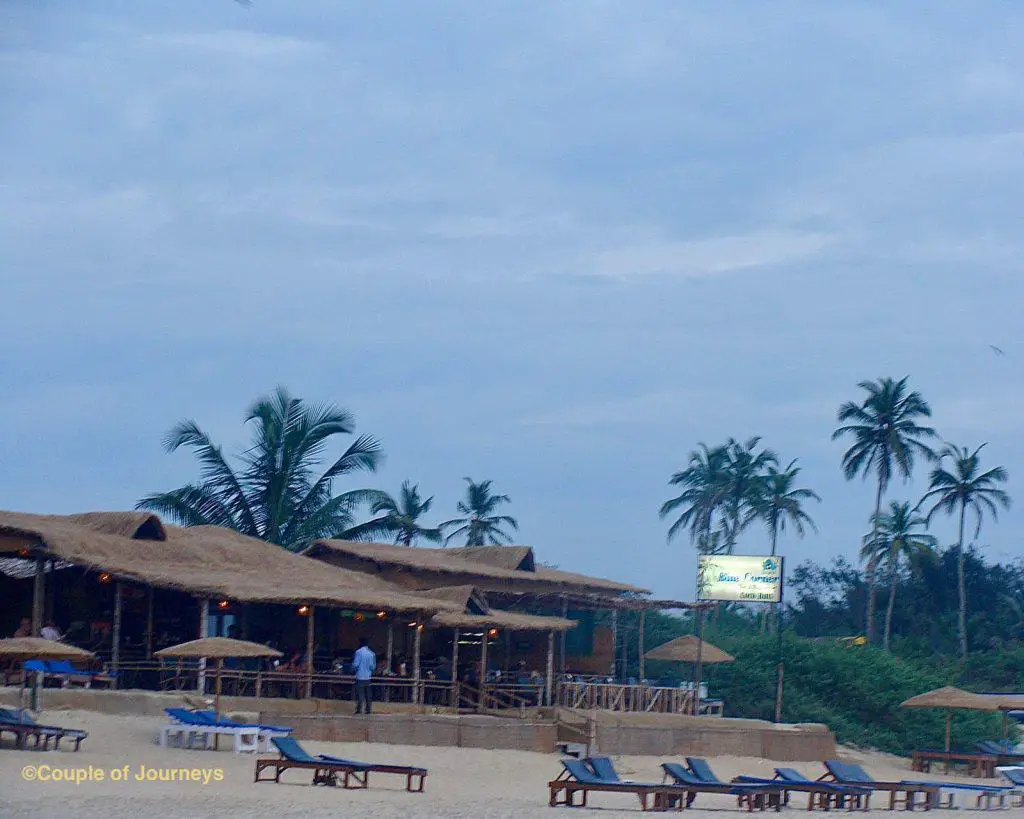 On the other hand, the number of eateries in South Goa that cater to touristic taste are fewer. In terms of the quality of the food serve, the ambience and the vibe, these eateries don't disappoint. It's just that they are fewer in number and many are not as popular as the ones in North Goa.
Commute/Distances
If you want to stay in Goa but don't want to hire a driver or rent a two-wheeler or four wheeler i.e. if you want all the main things to do around you, you should stay in the touristy part of North Goa. Here you will find beaches, shops, eateries, clubs and a few tourist attractions all within close proximity of each other.
But if you are willing to travel around a bit, you could stay in South Goa. The distance between two beaches is greater here. Likewise tourist points like spice plantations, wildlife sanctuaries, waterfalls and viewpoints are spread all across the area. No single area is self-sufficient from a touristic point of view.
---
Now that you know the difference, I am sure you would have gained clarity on which side of Goa you want to base yourself or spend more time in. So in the sections to follow, I wil give you a brief idea of the best things to do in North Goa and South Goa.
North Goa: Overview & Things to do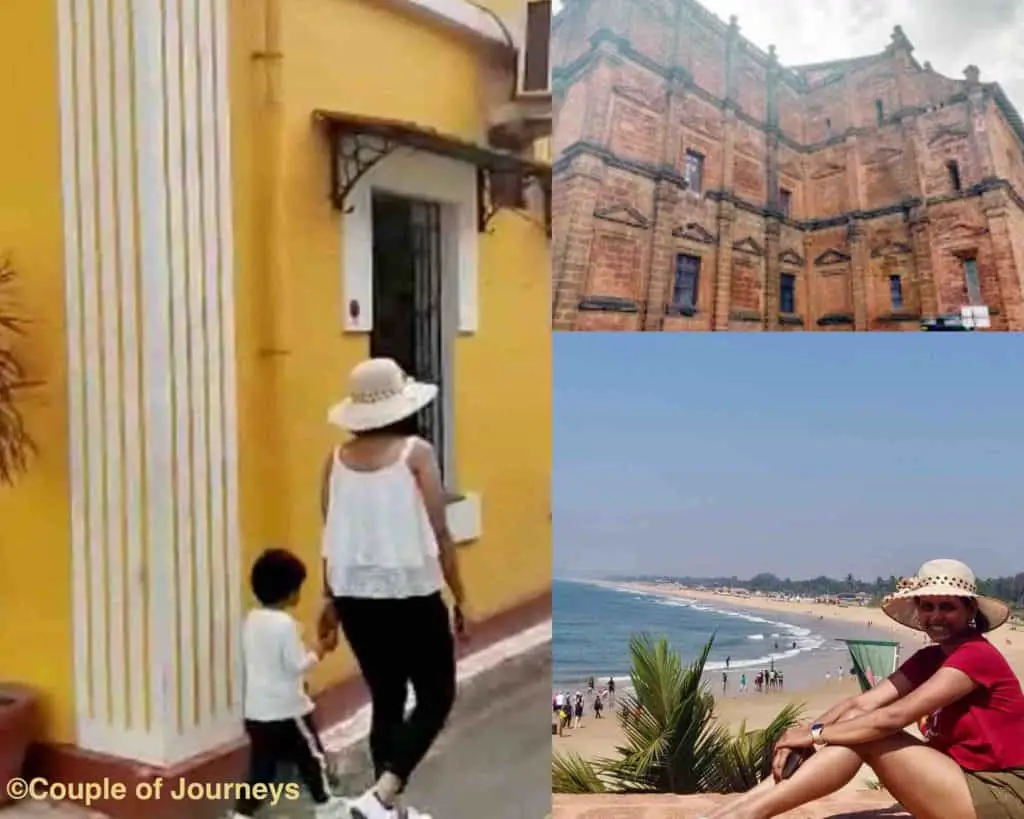 North Goa is full of touristy things to do. Here are a few of my top recommendations.
Visit Old Goa – Check out the famous Churches, Cathedrals and temples in Goa. (See tour details here) Also walk around Fountaihas – Goa's Portuguese quarter full of colourful houses (see details of this Fountainhas walking tour – it's insightful, fun and hardly takes up any time)
Go on a Mandovi sunset cruise – watch cultural performances, enjoy food and drinks and get to experience Goa from its waters. (see tour details and availability here)
Visit Fort Aguada, Reis Magos and Chapora – they are historically significant and offer stunning views of teh Arabian Sea.
Have a gala time at the beach – Choose from one or more the best beaches in Goa.
Indulge in watersports, go on a dolphin tour or plan an adventurous bungee jumping outing. (See details of Goa's only fixed board bungee facility jumping here)
Eat to your heart's content– try street food, eat a sumptuous fish thali, snack at local bakeries, or hog at beachfacing cafes and restaurants.
Party all night!
Where to stay in North Goa
The best areas to stay in North Goa for party-lovers or those that like to be in the middle of all things touristy, stay in an area between Candolim and Vagator.
If you prefer more natural beauty, some peace and a little bit of touristic buzz, stay in areas between Morjim and Arambol.
You can read my in-depth post with property recommendations and the 17 best areas to stay to stay in Goa here.
South Goa: Overview & Things to do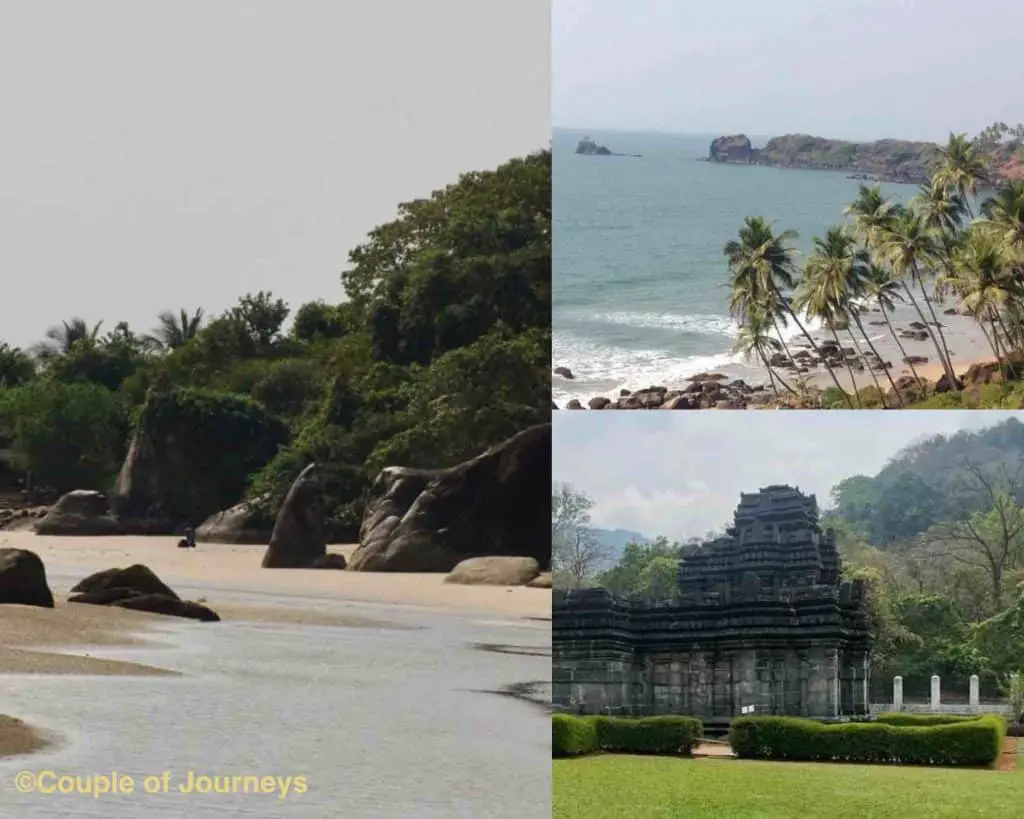 South Goa has natural beauty and charm. Here's my list of the best things to do in South Goa
Relax on a serene, beautiful beach. You can choose from the more popular ones like Palolem, Benaulim or Colva or from the ones which are fairly deserted like Talpona, Patnem, Mobor, etc. You can read my full guide on the best beaches in Goa here.
Visit the Dudhsagar waterfalls (See tour details and availability here)
Experience the wildlife at the Mahaveer Wildlife Sanctuary or the Bondla wildlife sanctuary.
Visit a spice plantation like the Tropical spice plantation or the Sahakari spice plantation. (The best way to visit these is by clubbing a visit with Dudhsagar waterfalls. See tour availability and price here)
Attend a yoga class or stay at a yoga retreat
Take a dip at natural springs or go hiking.
Enjoy the backwaters at Palolem or Agonda and go kayaking.
Visit Cabo de Rama view point and fort
Where to stay in South Goa
If you want access to touristy things like good eateries, vehicle rentals and touristy shops, stay in one of the popular areas like Benaulim, Colva or Palolem.
You can read my in-depth post with property recommendations and the 17 best areas to stay to stay in Goa here.
---
North Goa vs South Goa: Frequently Asked Questions
How is South Goa different from North Goa?
South Goa is more serene and exhibits more natural beauty. North Goa, on the other hand, is very touristy, more crowded, and full of touristy things to do and places to eat.
What is closer to the airport – North Goa or South Goa?
Popular areas in South Goa like Colva and Benaulim are closer to the airport than popular areasin North Goa like Calangute and Baga. But the difference in time is only about 25-30 minutes.
Is North Goa cheaper than South Goa?
Accommodation in North Goa can be a bit more expensive than that in South Goa during peak season. This is due to greater demand. But during off-season, most prices are comparable.
Which side of Goa is more beautiful – North Goa or South Goa?
South Goa is more beautiful than North Goa. South Goan beaches have fewer or no shacks and clean waters. There is lush greenery everywhere. The plantation and mangroves in the backeaters and river also add to its raw charm.
---
Travelling to Goa soon? Read more articles:
---
Save for later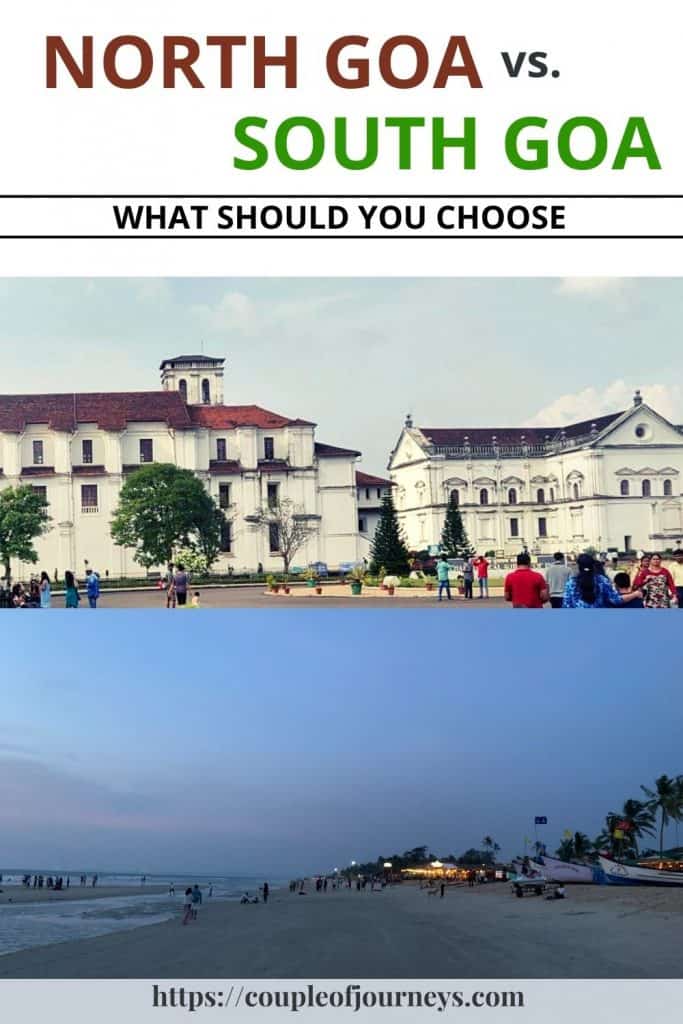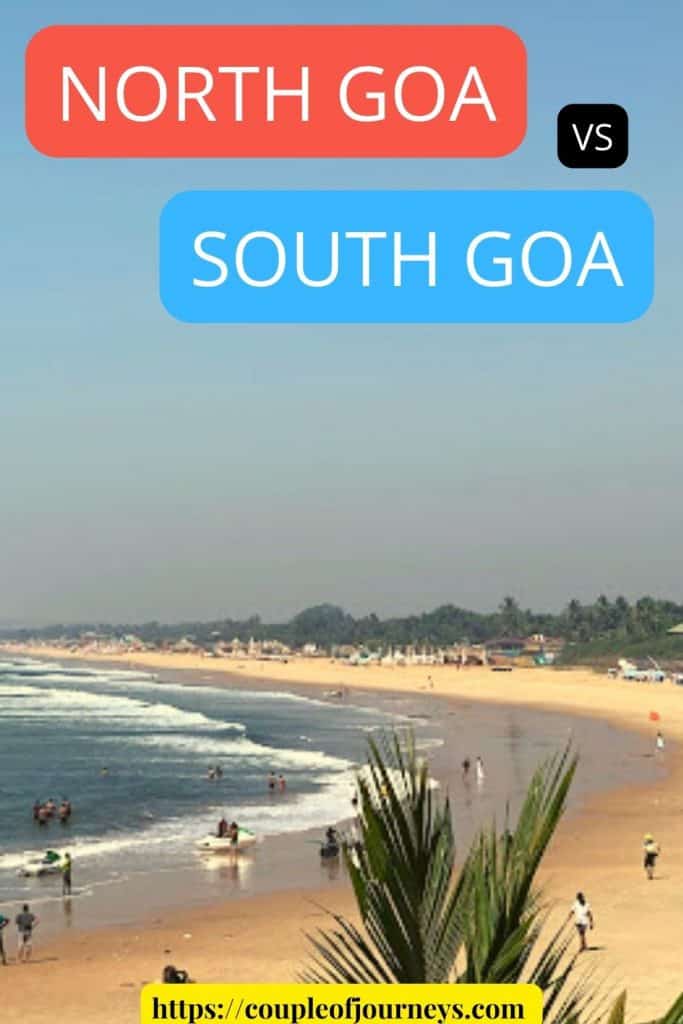 ---
GOA: PLANNED FOR YOU
Benefit from our expertise in Goa. Save hours of trip planning effort, save thousands of rupees on travel agents and kill trip planning overwhelm.
Get access to the best Goa trip plan with specially curated stay recommendations, restaurant suggestions, day-wise break-up of things to do, a fully interactive Goa map and much more in a single downloadable pdf.
OUR TOP TRAVEL RESOURCES
Here is a list of our favourite travel resources- the ones that we absolutely swear by when planning almost every trip. Go through this list to plan a hassle-free trip and save a lot of money!
Flight Booking: Check availability of tickets, the best time to fly, and the cheapest fares on Skyscanner. You may also find a cheap flight via CheapOair
Accommodation: We absolutely love booking through Agoda. In most countries and particularly in Asia, we often find the best fares on Agoda. But we also love the no prepayment and no cancellation fee policy of Booking.com. For cheap accommodations and hostels, we love using Hostelworld.
Car Rentals: You may find and rent an appropriate car via RentalCars. It's hassle-free and reliable.
Guided Tours: We absolutely love GetYourGuide for local sightseeing tours, walking tours, history tours, and food tours. The booking process is seamless, and the tours are super affordable.
Medical Requirements: Check CDC for latest travel advisories, country-specific vaccine requirements. In addition to this, if applicable, check advisories issued by the concerned department of your home country.
Masks: We love these adjustable, breathable face masks. They fit all face types and can be washed multiple times to keep them clean.
Hey, if you found this post helpful, share it with more people or buy me a coffee!