EGYPTAIR – A brutally honest review!
This website contains no sponsored content. The content is written entirely on my own and is based on my personal experience and extensive research. This post may contain affiliate links. If you make a purchase through one of these links, I may receive a small commission at no extra cost to you. As an Amazon Associate I earn from qualifying purchases. Please read the disclaimer for more information.
Is EgyptAir a good airline? Would flying this airline turn out to be a terrible mistake?
If you are here reading this post, I am assuming it's because you are considering booking an EgyptAir flight, have already booked one, and are now feeling nervous about the likely repercussions of your actions. 
That's exactly why I am here to help you out! I will tell you exactly what my feeling are towards the airline while also trying to review it as professionally and objectively as possible so that by the end of this post you know what to expect on your flight.
At the very outset, let me tell you that I took multiple flights with EgyptAir, some international and some domestic while on my trip to Egypt.
In addition to that, what really strengthens my credentials is the fact that I took these flights with my one-year-old baby girl, my senior-citizen dad, and my brother who joined us on the trip from the USA. We also made multiple changes to our bookings so I am even qualified to add my observations on the booking process.
Okay, now that my authority has been established, let's jump straight into the review of EgyptAir – 
Connectivity of flights
EgyptAir is the national air carrier of Egypt and yet does not seem to have many international connections. We had to add 2 nights in Cairo during our trip to Egypt simply because it doesn't have daily flights from Cairo to Mumbai.
My brother who flew in from the USA also had to fly on Aeroflot and Turkish Airways as he could not find a suitable connection between Los Angeles and any of the international airports in Egypt. 
That being said, the airline has superb internal connectivity. Multiple daily flights connect Cairo to Egypt's prime tourist destinations – Luxor, Aswan, Sharm-el Shaikh and Hurghada. 
If you are looking for a detailed guide on things to do in Cairo, click here.
Booking Process
If you are booking through the official website, the process will be smooth. Finding flights, including multi-destination flights, will not be a problem at all.
However, the airline definitely needs to provide more information on its website on its layover policies. We had an overnight layover of over 12 hours in Cairo and there was no information on whether our accommodation would be taken care of by the airline.
Additionally, I also did not find any way in which I could place a request for a bassinet for my baby during the booking process. The website also did not provide me with any information on who needs to be contacted for placing such a request.
The staff from the airline office in Mumbai told me that they cannot reserve a bassinet for my baby and that I would need to reach the airport well in advance in order to secure a bassinet.
Now, if you have read my review of Malaysia Airlines, you would know that my experience with Malaysia Airlines was far superior in this regard.
(You can read my full review of Malaysia Airlines here) 
However, modification to the booking was the part that turned out to be the most unsatisfactory. Since we had booked a multi-destination booking, the website instructed us to contact the airline office in Mumbai instead of allowing us to do it ourselves.
We, therefore, had to write emails to the office, transfer money via net banking in advance and then wait for our modified tickets to be confirmed. 
Check-in process
The airline sent us an email two days before our flight with our boarding passes even when we hadn't checked in. Therefore when we reached the airport, our request for a bassinet was flatly refused.
However, the airline staff issued us revised boarding passes for seats next to vacant ones so that I would be more comfortable travelling with a baby. However, getting the staff to agree with this took more than fifteen minutes. The staff also seemed absolutely clueless as to why we were issued boarding passes without our instructions or web check-in. 
But folks, that's not all! Here comes the real shocker! When we entered our aircraft, we were shocked to find other passengers comfortably seated in our seats.
The air hostesses demanded our boarding passes and realised that the same seats were allocated to multiple passengers resulting in tremendous chaos. Finally they just randomly allocated seats and that we were flying with a baby was absolutely overlooked.
That being said, the check-in process during our domestic flights was extremely smooth and did not give us any reason to complain. 
Comfort
I know that this review has almost turned itself into a rant but hold your breath for what's to follow. The aircraft are excellent. There is more than average legroom even in the economy class. The seats recline like magic and basically, the aircraft does not fall short in the comfort department.
I am not passing this favourable verdict only on the basis of my international flight experience. The domestic aircraft were also very roomy and the seats were always comfortable. 
Since i was travelling with a baby on lap, I did not miss the non-existing in-flight entertainment. However, if you are on a long-haul journey, chances are that your flight will come with in-flight entertainment. If it's that important to you, check before you book!
Food
The food on this airline was top-notch. The airline uses classic steel cutlery even in economy class. The food in terms of menu, preparation and overall quality is excellent. It is far better than the bland and boring preparations that most airlines serve to their economy passengers. The airline upholds its quality even on short domestic flights.
Now, I must point out here that I am a vegetarian and my dad is vegan. This means that we often pack a small meal like a vegan sandwich as in most cases, the on-flight vegetarian or vegan meals are terrible. However, EgyptAir served incredibly delicious vegan, vegetarian and Hindu meals on all our flights.
Hospitality
Of all the flights that we took, barring one, the hospitality that we received on the flight could safely be described using the words 'cold'. The on-flight crew does its basic job but falls short of being 'customer-friendly and polite.' 
Unless you're lucky, you shouldn't be surprised if you are not welcomed on board with a warm smile. Your air hostess may even look angrily at you for asking her to give you a blanket or may even ignore you completely.
Additional Observations
All of the Egypt Air flights (domestic and international) on which I travelled were delayed. 
The airline has an animated safety instruction video that's pretty amusing!
The airline does not provide a seatbelt for the baby on the lap. (I was shocked when they told me that their aircraft do not have seat-belts for babies) 
All the aircraft have a good stock of baby food. Ask for it and follow up till you get it.
All the aircraft were clean.
The luggage is handled properly. 
Is EgyptAir a good airline?
EgyptAir is an excellent airline if you want
Great food
Fantastic legroom
Excellent domestic connectivity (Also, the only airline that operates direct flights between Mumbai & Cairo)
But, if in addition to the above, you expect an airline to provide you with a quality booking and check-in process, warm & hospitable on-board treatment, you should definitely reconsider travelling on EgyptAir. 
For those of you who have already booked yourself on an EgyptAir flight, do not let this review give you anxiety to an extent that you feel like cancelling your flight. Barring the lack of in-flight entertainment (for a few sectors) and the warmth of the airline crew, the flights are clean, and comfortable with great legroom and delicious food! So get on that flight and enjoy your experience.
Also, comment below to let us know how your experience with EgyptAir was!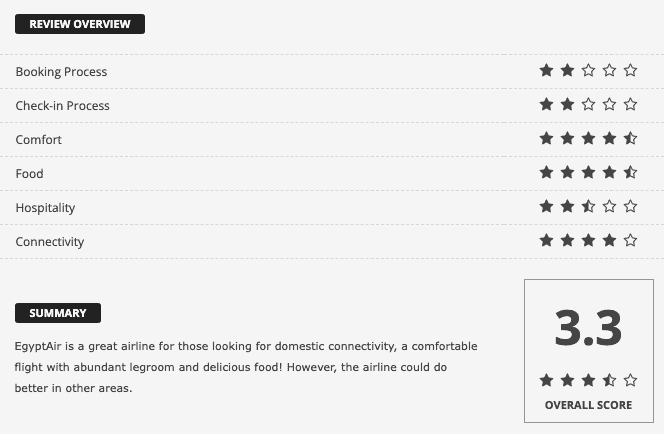 Image Credit – Flickr