How to spend 3 days in Cairo – An Epic Guide!
This website contains no sponsored content. The content is written entirely on my own and is based on my personal experience and extensive research. This post may contain affiliate links. If you make a purchase through one of these links, I may receive a small commission at no extra cost to you. As an Amazon Associate I earn from qualifying purchases. Please read the disclaimer for more information.
Through this article, I will provide you with an epic 3 days in Cairo itinerary with complete information on all the top things to do in Cairo, places to visit in Cairo and attractions in Cairo that you absolutely cannot miss. 
To be perfectly honest with you, I was totally nervous about visiting Cairo with a baby. The Egyptian revolution and the ensuing attacks and bombings and Cairo's infamous tourist scams made me really question my decision to visit the Egyptian capital.
However, once I got my Egyptian visa, I decided to stay positive and to look forward to the trip to Cairo. (You can read about how to apply for an Egyptian visa here.)
Thankfully, Cairo in most regards, turned out to be quite a pleasant city. We did get scammed once by our own tourist guide but besides that we didn't have to deal with any harsh episodes that scarred our impression of Cairo.
In fact, the wide range of notable things to do in Cairo kept us engaged throughout. Ultimately, we ended up only focusing on the best of Cairo and overall, were quite impressed with the city's beauty during our limited time of 3 days in Cairo.
How many days should you spend in Cairo?
If you are on strict tourist business, you should spend 2 days in Cairo. However, if you want to cover all the key touristic attractions at a slightly more leisurely pace, 3 days in Cairo should work really well for you.
But if you like to spend days exploring the non-touristy side you should spend at least 4 days in Cairo. That way, you could spend the extra time, exploring the city's public transport, stroll through the commercial and residential areas of Cairo and eat at food joints not frequented by tourists to get a more real-picture of how the city functions.
3 Days in Cairo – Best Things to do in Cairo, Egypt
In this section, i will share you an epic list of best places to visit in Cairo, Egypt and fun things to do in Cairo that you could all easily cover if you are spending three days in Cairo.
1. Cairo Citadel
The Cairo Citadel also known as the Citadel of Saladin was our first stop among the many attractions in Cairo. This picture-perfect Citadel is a relatively younger structure among the list of historic things to see in Cairo.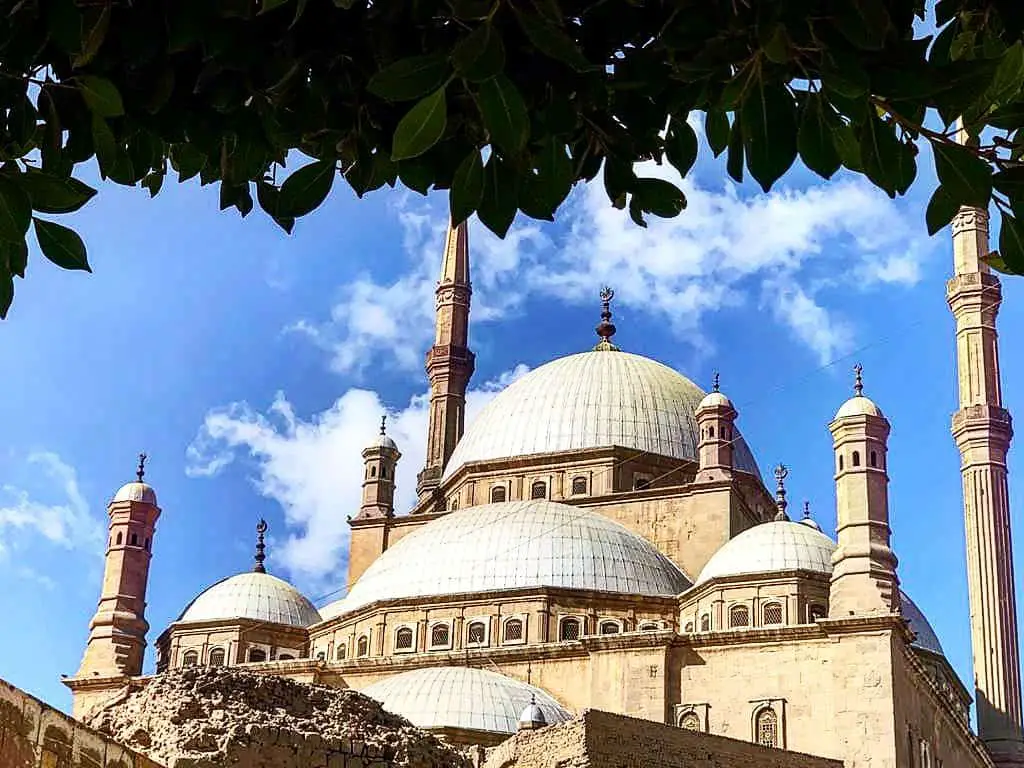 The two minarets of this photogenic structure will greet you from afar and as you approach it, you will only be left admiring it more and more. This Citadel was built in the 12th century as a fortress to protect Ancient Egypt from potential crusaders. Following which, it remained the main seat of the Government of Egypt from the 13th to the 19th Century.
Today, plenty of people consider visiting the Citadel as one of the top things to do in Cairo because it is home to a few important mosques and museums.
The primary mosque which is an absolute must-visit here is the Great Mosque of Mohammad Ali also known as the Alabaster Mosque. The courtyard outside the mosque makes for great visuals and the carpeted interiors are no less appealing.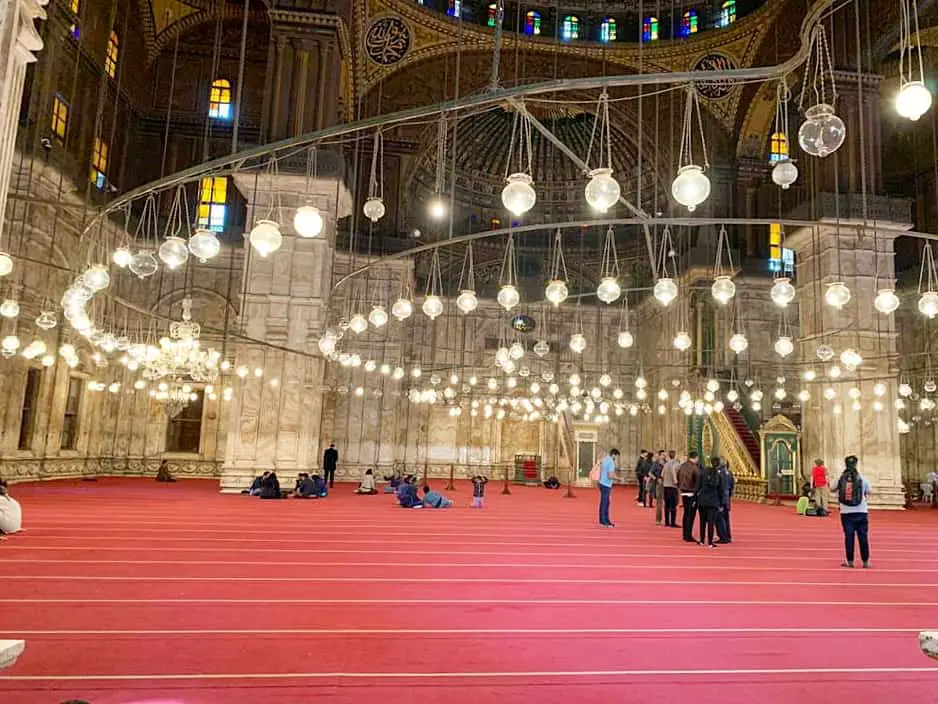 My baby M, too was in awe of the interiors majestically lit up  by the many small lights hanging from the ceiling. The giant dome, too, when viewed from down below leaves one speechless. The vibe of this place coupled with the intricate beauty of its pillars and dome explains why this mosque dominates the list of Cairo Top Attractions.
Remember though, that you will not be permitted to enter the premises of this mosque wearing shoes. You will either have to cover your shoes with the cloth shoe covers sold outside the entrance or remove your footwear. Non-Muslims are also allowed to enter the mosque. But in all cases, one is expected to be dressed conservatively. (i.e. No shorts and sleeveless tops)
Now, if you have enough time on hand, you should also visit the other mosques and museums situated here. Very few tourists tend to explore these areas of the Citadel and that is also one of the primary reasons why these areas seem more captivating.
The museums here did not hold my attention for too long (mainly because I was travelling with a baby) but the Sultan al-Nasir Muhammad ibn Qala'un Mosque proved to be totally worth a visit.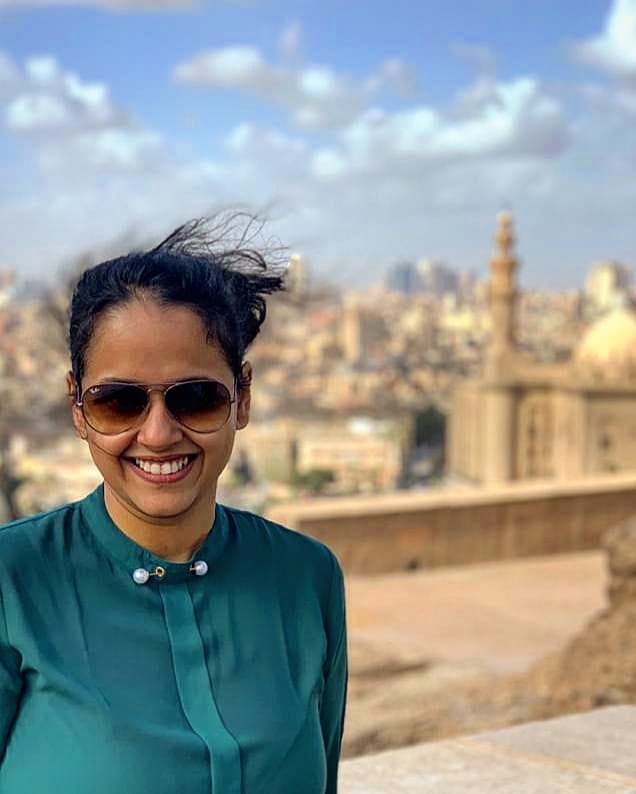 The final attraction on your stop at the Cairo Citadel is the terrace outside the Mohammad Ali Mosque overlooking the entire city. From here, you get to enjoy one of the best views in Cairo. The panoramic view from here offers glimpses of the many mosques in Cairo, the dusty buildings in Cairo, the river Nile and a hazy outline of the Pyramids of Giza too! You must click enough pictures from this terrace here as you will not find a better balcony to enjoy a top-view  of Cairo anywhere else.
2. Al-Azhar Mosque
Al Azhar mosque in Cairo is an attraction in Cairo that looks and feels real. Unlike other touristic places in Cairo, this mosque's main draw is that it still retains its purity.
Here, the courtyard inside the mosque with its many minarets will greet you upon entrance. You will notice very few tourists inside the mosque. On the contrary, plenty of locals and students of all age come here to pray and read Islamic texts.
In fact, Al-Azhar is one of the oldest and the most prominent universities in the world offering various degrees in Islamic learning.
The mosque, that houses this University, has itself been witness to thousands of years of Islamic history starting from 972 AD.
Although, the mosque needs upkeep and maintenance, and probably cannot be compared to the visually stunning mosques found in other middle-eastern countries, experiencing the calm and purity inside the mosque makes it one of the best places in Cairo to visit irrespective of your religion and religious views.
Please do note, however, that women will be required to cover their heads and wear fully-covered clothing to be allowed entry. If you are not appropriately dressed, (like me, when I visited this mosque) you will have to wear the clothing provided at the entrance. Men must also be appropriately dressed to be allowed entry. (Sleeveless and shorts will not be permitted). You will  also have to remove your footwear at the entrance.
3. Khan el-Khalili
Khan el-Khalili is the most popular bazaar in Cairo. The souk (shopping market) built in the 14th century still retains its age-old charm. Inside Khan el-Khaili, you will find a multitude of lanes with shops selling goods particularly meant to attract tourists. It is a wonderful place to buy some of the best Egyptian souvenirs.
The Khan el-Khalili is always flooded with shoppers, tourists and at times, even locals, making it one of the busiest and most crowded areas in Cairo.
The shops here sell stuff like spices, keychains, playing cards, statues, figurines, belly-dance attires, clothes, bed sheets, jewellery and other artefacts. However, given that, I am exposed to visiting similar markets in India, I felt that the stuff sold here was overpriced and not authentic or 'Egyptian' in any way. Unless you bargain heavily, expect to be overcharged.
Since I had only visited the market to experience the vibe, I just walked around the lanes soaking in the madness. I didn't really shop for anything here. Therefore, I would also recommend you to avoid shopping here unless you truly find a unique, reasonably-priced item in one of the shops here.
Now, even if you aren't shopping at Khan el-Khalili, make sure you visit the El-Fishawi which is the oldest cafe in Cairo. Although the cafe is always full with hardly any places to sit, it makes for a good spot to unwind with the locals and other tourists. You can groove to some sing-along music with the locals while sipping on your mint tea. The old world charm and the age-old history associated with this cafe make it a perfect place to people-watch (assuming of course that beggars and pedlars don't keep annoying you).
The Khan el-Khalili, is also, in my opinion one of the best places to visit in Cairo at night. The shops lighting the souk's lanes at night make for a much prettier picture at night than during the harsh heat of the day.
Plus, you could also immerse yourself in the trance of a Sufi Dance show in the nearby area.
4. Egyptian Mosque
The Egyptian Mosque is located at the Tahrir Square in the heart of Cairo.
If I had to enlist the places to visit in Cairo in the order of their impact on a tourist, this place will feature somewhere right at the top.
And why not, given that this Museum is home to the famous Egyptian mummies. Tourists, are however, required to purchase a separate ticket to visit the mummy-room which costs as much as the ticket to the rest of the museum.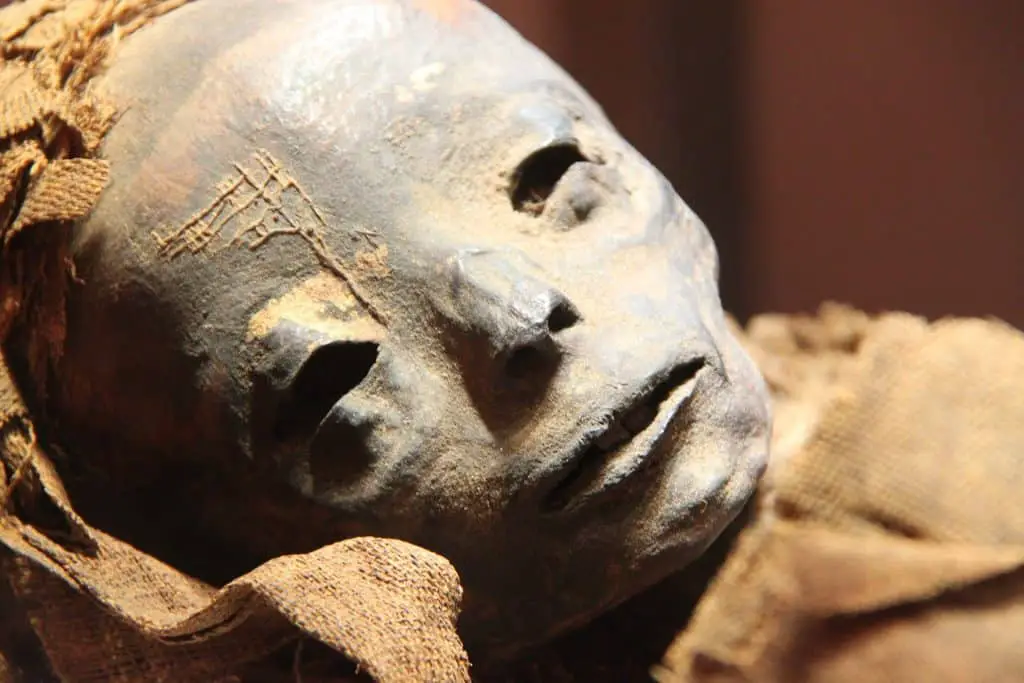 The museum (outside the Mummy room) houses two mummies. So if you don't wish to shell out the extra amount on tickets to the Royal Mummy room, you can make peace observing these two mummies.
But I strongly recommend that you spend those extra bucks and visit the Royal Mummy room. The experience of being surrounded by mummies dating back to a few thousand years with the hair and nails on some still intact leaves you feeling dumbfounded and queasy at the same time.
The vibe factor inside this room was so gripping that my baby-girl who was chirpy throughout her two hours at the museum was so overwhelmed by the vibes that she cried wanting to get out of the Royal mummy room!
That being said, the museum itself contains exhibits and original antiquities perfect for to take you through the ever-intriguing glimpse into the history of Egypt.
A visit to the museum will most likely be one of your highlights from the Cairo tourist attractions that you end up visiting and must not be skipped even you are only going to spend just two days in Cairo.
However, this place demands the guidance of an Egyptologist. Make sure you hire one before your visit. Also, you will end up spending at least three hours here. Plan accordingly.
5. Saqqara
The Saqqara necropolis is about 30 kms away from Cairo and yet it must be included among the must-visit Cairo tourist sites.
The reason why visiting Saqqara is among the most interesting things to do in Cairo is because approximately 30-40 pyramids of all sizes and types adorn this area.
In fact, the Pyramid of Djoser (also known as the Step Pyramid) is the first Pyramid ever built in Egypt and dates back to 2667 B.C. Seeing a structure constructed approximately 4,500 years ago, stand in front of you with all its beauty and glory intact absolutely blew my mind.
A visit to Saqqara is hard-hitting because of it reminds you of how powerful and impactful human existence on this planet has been and should definitely not be missed.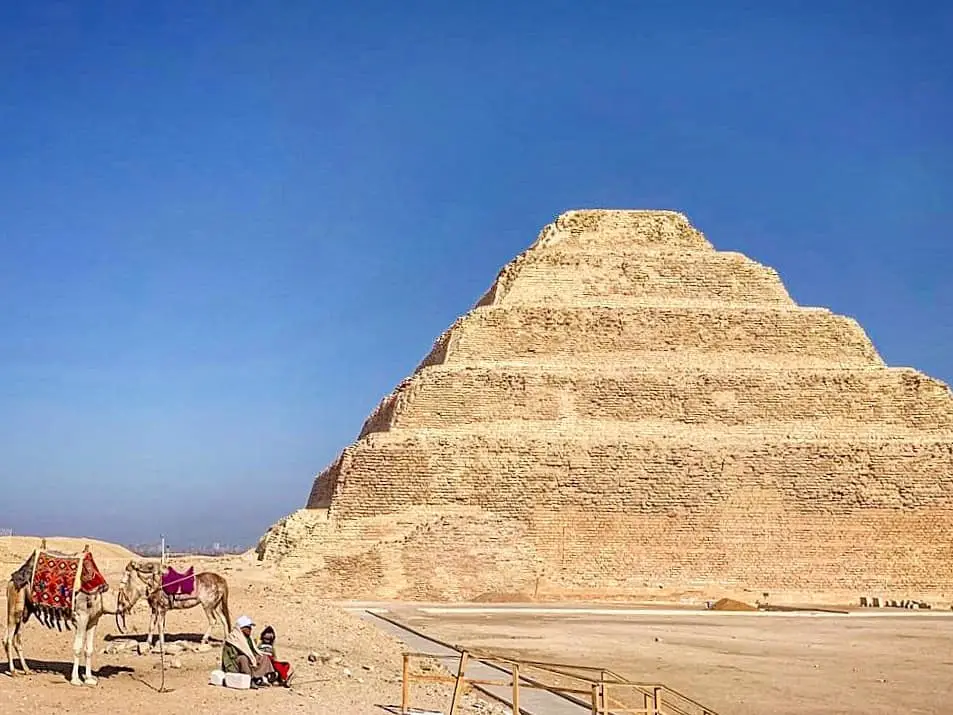 Moreover, inside this area, you will also find the Pyramid of Unas. Visitors of Saqqara are allowed free entry inside this Pyramid. The interiors of this Pyramid are roomier than the Pyramids of Giza and a closer look at the walls inside will reveal inscriptions of religious texts.
Beware of official-sounding guides inside the Pyramid who will hold a torch to light up a few walls and demand money  from you for their uncalled for 'services'.
In addition to these two main Pyramids, you will find plenty of tombs here that are also worth a look. You will also get to walk through a truly majestic colonnade corridor that is absolutely worthy of a few good photos.
Some tourists tour the Saqqara region on camels. However, I found the conditions of camels (and also of animals in Cairo) pretty appalling and sitting and riding on them seemed to be way of torturing the poor souls. Therefore, I would strongly advise you against riding on these helpless animals while in Egypt.
6. Memphis
Memphis is just a short drive away from Saqqara.
Memphis used to be an active burial ground of Egypt and prides itself as being the first capital of ancient Egypt. Today, tourists visit Memphis to see the 34 feet long statue of one of Egypt's most prominent rulers – Ramses II.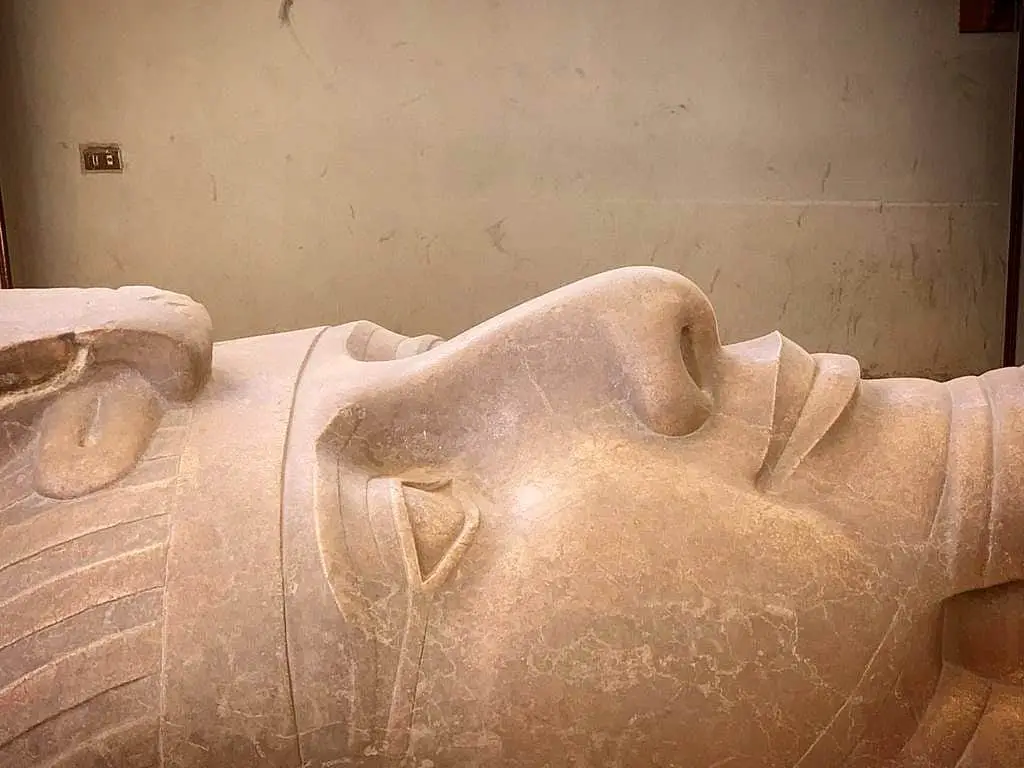 Getting a chance to observe the enormous statue  from the viewing gallery built around it makes Memphis one of the best places in Cairo. The statue is not only huge but is also equally artistic and detailed. It provides great insight into the lifestyle of ancient Egyptian rulers.
Outside this area, you will also find a mini-version of the famous Sphinx. Nobody is quite sure of who built it and why. Nevertheless, the statue itself is pretty remarkable.
There are plenty of shops selling typical touristy stuff such as keychains, magnets, etc. here but most of them sell overpriced items and is best to not waste your time or money buying from these shops.
7. Dahshur
Dahshur is also located only a few minutes away from Saqqara. This necropolis is mainly famous amongst tourists for the two pyramids that are found here – The Bent Pyramid and the Red Pyramid.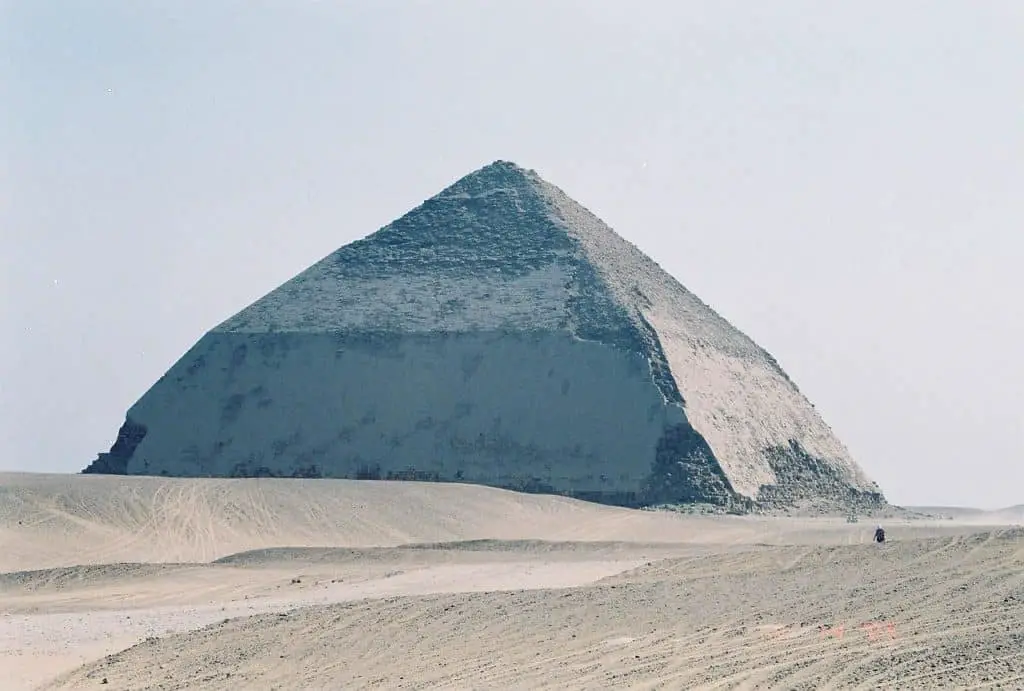 Both these pyramids are also predecessors of the three famous pyramids of Giza. The Bent Pyramid is unlike any of the pyramids in Egypt because of the bend in the middle of its slopes. Snofru who had commissioned this pyramid was not pleased with it and therefore commissioned another pyramid – The Red Pyramid.
The Red Pyramid is almost as tall as the largest and the most famous pyramid of Egypt – the Pyramid of Khufu. The Red Pyramid is also the first real pyramid ever built and therefore holds a significant place in Egyptian architectural history.
Unfortunately, despite the historic and architectural treasure found in Dahshur, most of the tourists give it a miss. However, I strongly recommend you to include it in your Cairo 3 days itinerary even if it means paying a rushed visit to it.
8. The Pyramids of Giza
The first answer you get when asked about what to see in Cairo is always the 'Pyramids of Giza'. No wonder then that the pyramids usually feature on the top of any list on the best things to see in Cairo.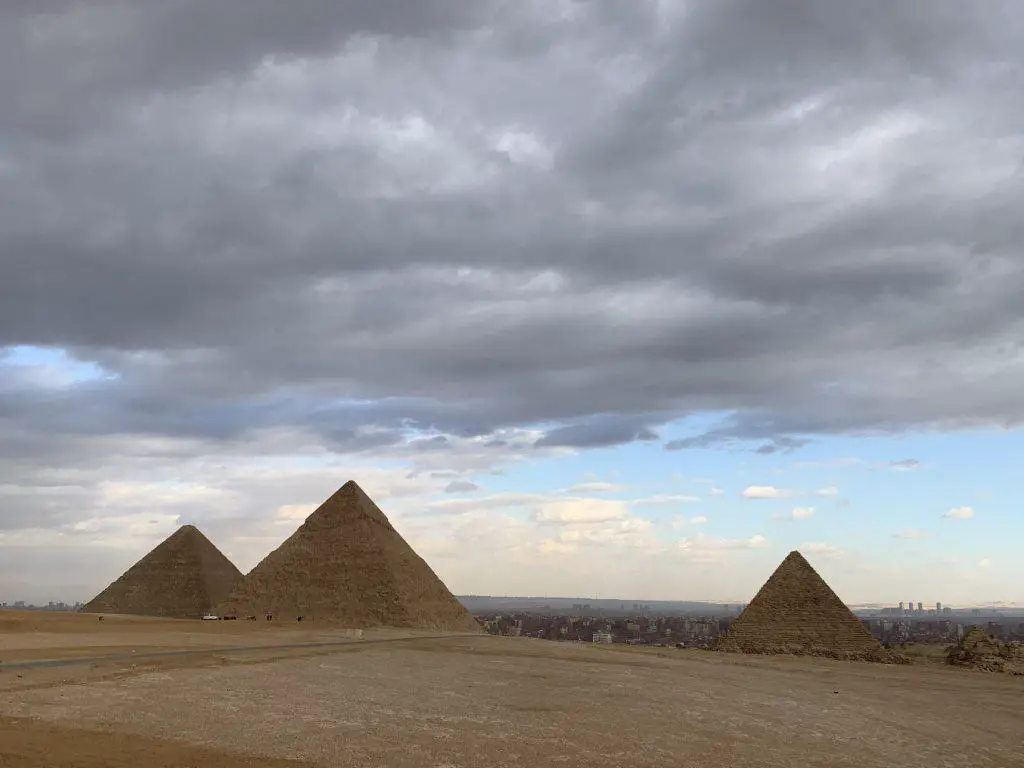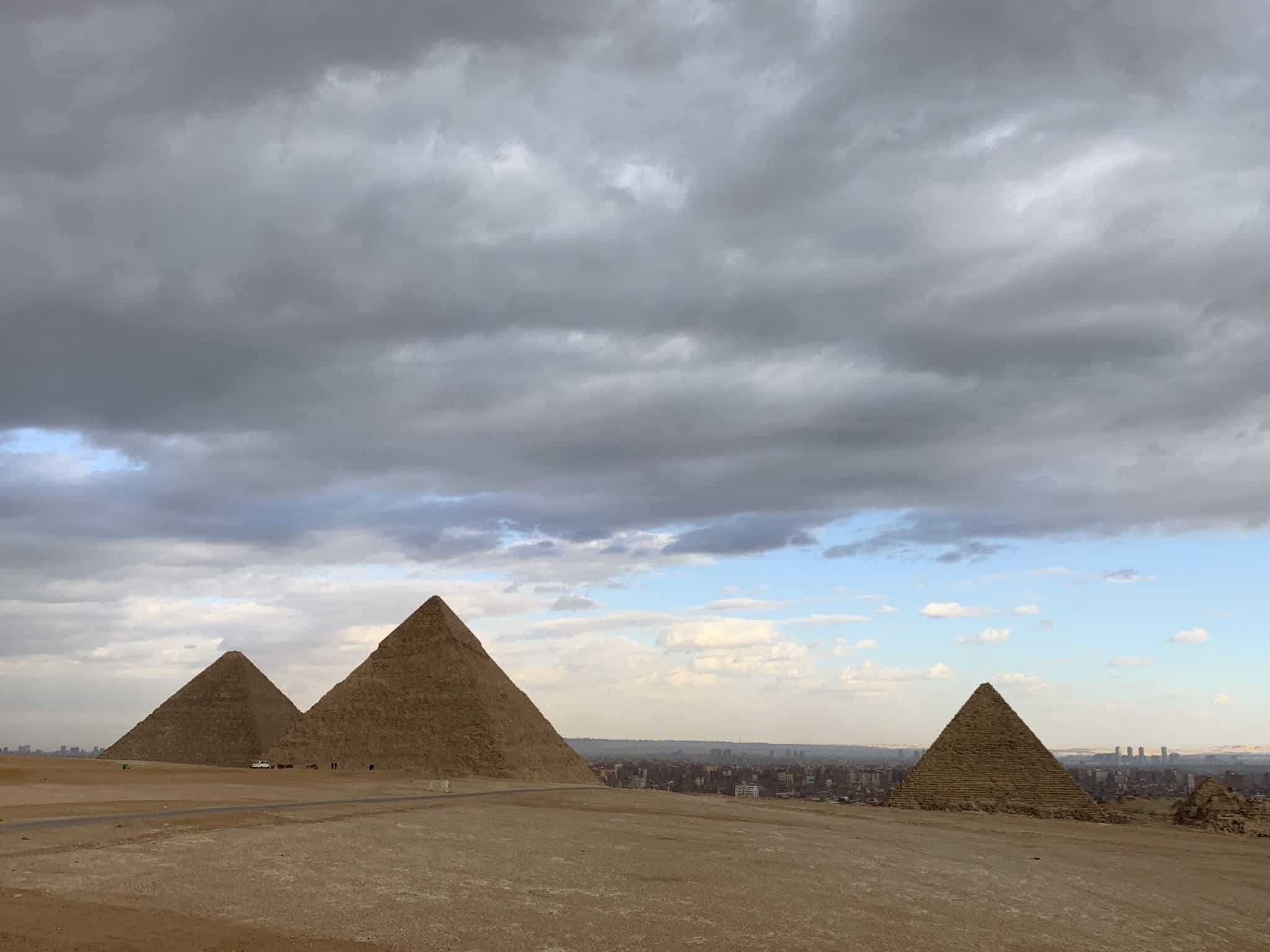 However, are the pyramids in Cairo? No, technically, the pyramids are not located in Cairo. They are located in Giza, a few kilometres away from Cairo.
But none of these technicalities matter because visiting  the pyramids is an absolute-must. They are completely worth all the hype, awe and admiration surrounding it and you should not at any cost miss out on the pyramids even if you are likely to spend only 24 hours in Cairo.
The Pyramids of Giza are located inside the Giza compound area. There are three pyramids inside – The pyramid of Cheops or Khufu, the pyramid of Khafre and the pyramid of Menkaure.
The pyramid of Khufu is the largest pyramid in the world and is also called as the Great pyramid of Giza. However, when these three pyramids are seen from a panoramic viewing point, the pyramid of Khafre appears taller on account of it being built on a higher piece of land.
A single ticket will allow you entry into the compound and you will be able to see all three pyramids. If you intend on entering the pyramids, you must make up your mind at the entrance ticket window itself and purchase additional tickets for that.
These additional tickets are quite pricey and in my opinion are not worth the price. If you see the interiors of the Pyramid of Unas at Saqqara, the interiors of the pyramids here will disappoint you. The interior area of both the pyramids is so dark and doesn't allow much scope to observe the various chambers. Avoid entering the pyramids at all costs if you are claustrophobic.
Some points that you must note when planning your visit to the Pyramids of Giza are –
i) The place is extremely crowded and the ticket counter has long queues. The best way to avoid crowds is to reach the area as early as possible in the morning.
ii) It shall be advisable to go with an Egyptologist or a travel guide or as part of a tour. This way, you will be able to drive inside to move quickly between places. Plus, a guide will be able to explain the history and significance associated with the pyramids to you.
iii) No matter how hard you try to stay focussed, you will end up spending at least a few hours more than what you planned for once at the pyramids. This is because the pyramids are truly spectacular and you will be tempted to click a few hundred pictures here.
iv) Make sure you drive to the panoramic view point to click a photo of you against the backdrop of all the three pyramids. It will be one the best pictures of your life. I promise!
v) There aren't many toilets inside the compound and most of them are not clean. Therefore, visit the one near the ticket counter before entering the pyramid area.
vi) There is a light and sound show that takes place every evening in a few different languages. The tickets to this show are quickly sold out. Therefore make sure you buy one in advance (click on the link here) Alternatively, plan for it in your Cairo tour to avoid getting disappointed due to the unavailability of tickets. (Since we were travelling with a baby who would've got extremely restless and unmanageable by night, we skipped this show!)
9. The Sphinx
The next most important place on the best places to visit in Cairo list has to be the Sphinx. The Sphinx is yet another structure that left me dumbfound. How could people build a structure as enormous as the Sphinx 4,500 years ago?
It totally made me question if we have moved terribly backwards in terms of  science, architecture and engineering.
However, it is important to remember that nobody exactly knows why the structure was built and what it signifies. Therefore, a guide is not a must when visiting the Sphinx.
Just standing in front of the Sphinx, taking in its beauty and marvelling at it and clicking dozens of photos with the Sphinx in the background is a must do in Cairo.
You are not allowed to park your car on the road leading to the Sphinx. The best way to get around it is to have your driver sit in the car, while you jump out for a quick stop for photos!
Once you find the police approach the car, get back in the car and leave. However, if you intend on spending plenty of time with the Sphinx, it is best to simply hire a cab or go as part of an organised tour.
Additional things to do in Cairo
Even though I have enlisted only nine places above, visiting them all will be enough to keep you busy on your 3-day trip to Cairo.
However, if you skip any of the above places (I strongly recommend you not to) or if you rush through any of the places, you could spend some of your extra time on hand visiting or doing any of the things listed below –
Coptic Cairo
Egypt, even though predominantly Islamic, is home to a huge Christian population. The Coptic Cairo is the area that will give you a small preview into the Christian side of Egypt.
This area which is a bit far away from the downtown Cairo area should definitely be on your list of great places to see in Cairo if you have some extra time.
Once here, you will forget you are in Cairo for how different this area is from the rest of Cairo. You will find both ancient and modern churches and museums here. The Coptic Museum, in particular, has some great exhibits. The Hanging Church is yet another key attraction.
You will also find an ancient mosque and synagogue here. Dress conservatively on your visit here.
Nile Cruise
Plenty of tourists, particularly those that do not head out on the famous 4-day Nile Cruise, prefer heading out for a buffet dinner on a cruise in the River Nile flowing through Cairo.
We did not go for dinner here. This was mainly because the Nile cruise in Cairo is usually crowded, over-priced and loud due to the belly-dance performances taking place on it.
However, if an evening like this interests you, you must experience it. We skipped it because we weren't sure if our baby would have a good time there after a long day out exploring Cairo tourist spots.
Tour to try out local Egyptian food
There is no point visiting Cairo if you do not intend on gorging on its local dishes on your 3 day Cairo tour.
Egyptian food is culturally rich and its taste will leave you with fantastic food memories. You will find great food even on the streets of Cairo. Ful, Koshary, Taameya are all found easily and abundantly on most streets in and around the downtown area in Cairo.
You must at all costs try the Koshary at Abu Tarek. It is worth all the hype surrounding it and since it is vegetarian, nobody needs to miss out on it.
In addition to all the places listed above, you could also visit the Al-Azhar Park in Cairo which is considered to be one of the best places to hangout in Cairo with family, check out more mosques such as the Sultan Hassan Mosque or the Ibn Tulun Mosque.
However, if you visit all the places listed above, you will not be left with time to visit these places especially if you are going to be in Cairo only for 3 days.
Frequently Asked Questions
Which is the best season to visit Cairo?
The best season to visit Cairo is between October and March. November to January is particularly crowded with most number of tourists visiting the country during those months.
The average temperatures in Cairo during these months range between 11 to 20 degrees Celsius.
It does not rain much in Cairo as the average rainfall in Cairo registered is usually less than 1 inch per year and therefore rain wouldn't impact your trip to Cairo.
The months from April to September are really hot with maximum temperatures at times even touching 35-37 degrees celsius. You will thus need to protect yourself with abundant sunblock, sunglasses and water.
What are some of the best day trips from Cairo that one could go on?
Technically, the best day trip from Cairo is a day trip to Giza. However, for touristic purposes Giza is included in Cairo as most of the Cairo sightseeing packages include trips to Giza.
The other city that you could travel too is Alexandria. An Alexandria day trip from Cairo will involve being out and about for close to 14-15 hours. Driving from Cairo to Alexandria takes about three hours from  and there are plenty of places to visit and things to do in Alexandria and would therefore cost you one entire day. I strongly recommend you to stay in Alexandria for at least 2-3 days to get a feel of the gorgeous Mediterranean town.
Some people also go on a one day trip to Luxor from Cairo. However, this day trip involves taking short domestic flights. Cairo to Luxor is a one-hour short flight.
However, in my opinion, instead of taking a day-trip to Luxor, it is best to go on the popular 3-4 day Nile cruise from Cairo – i.e. take a flight from Cairo to Luxor or from Cairo to Aswan and then enjoy a 3-4 day time on the Nile Cruise.
Also since there are no beaches in Cairo, you could drive to Ain Sukhna which is the closest beach destination from Cairo. It is just an hour and a half drive away from Cairo.
Can we take the public transport in Cairo?
Yes and No! Cairo has a wide network of public transport and is well-connected by Metro, trains and buses. However, you will find it difficult to navigate through the crowds without getting lost, confused or scammed on a short trip to Cairo.
Therefore I recommend using public transport only if you intend on staying in Cairo for a sufficiently long time.
Where is the airport in Cairo?
The Cairo Airport is located outside the city. It takes about half an hour to one hour depending on traffic conditions to reach downtown Cairo from the Airport.
However, if you are in Cairo for a short trip or if you intend on heading out of Cairo by flight on your onward journey, you must consider staying the Le Meridien Cairo Airport as it will save you a lot of time on your onward journey. You can read my full review of Le Meridien Cairo Airport here.
Final Word
Cairo has so much to offer in terms of tourism that I am sure that this super-lengthy guide on things to do in Cairo will help you plan your trip to Cairo. If you have any questions, please leave them in the comments below. Hope you have a fabulous trip to Egypt! Happy Travelling!