How many days are enough in Bali: Expert Views & Itineraries
This website contains no sponsored content. The content is written entirely on my own and is based on my personal experience and extensive research. This post may contain affiliate links. If you make a purchase through one of these links, I may receive a small commission at no extra cost to you. As an Amazon Associate I earn from qualifying purchases. Please read the disclaimer for more information.
As someone who has been to Bali a few times and has written a number of posts on Bali, the one question that people often ask me is – how many days are enough in Bali. In this post, I am going to answer this question not only based on my personal experience but also based on a poll that I conducted on Facebook of people who have been to Bali.
According to most travelers, approximately 8-10 days in Bali are enough to experience its essence, to visit its famous beaches, mountain areas, tourist places and to explore nearby islands.
Read further to know more out more about how many days to spend in Bali and which areas to visit on your trip to Bali. Additionally, I have also included some sample itineraries for both short and long stays in Bali that you can use as a guideline to plan your trip. Also, if you can't spend enough days in Bali, I also have a few tips for you that will help you make the most of your few days in Bali.
So, let's get started then!
How many days are enough in Bali?
Bali, even though a small island in Indonesia, has much to offer to every type of tourist. Its vast coastline is adorned with many beaches. What's incredible is that every beach is different in terms of the color of the water, sand, and overall vibe.
The interiors of Bali are equally stunning thanks to the mountains, volcanoes, lakes, lush-green rice terraces and waterfalls.
In addition to its natural beauty, Bali also has a number of tourist attractions in the form of temples, zoos, bird parks, animal parks, cultural parks, adventure sports avenues, etc. that are totally worth visiting.
Plus, there are a number of islands that are just a short-trip away from Bali that can also be visited on your trip to Bali.
That's exactly why, as a first-time visitor, you need approximately 8-10 days in Bali.
The first time we went to Bali, we only spent a week. Of course, we didn't end up visiting many wonderful tourist attractions, especially in the interior areas of Bali. We also had to skip going to the nearby islands. In fact, we felt so bad about having spent a very limited time in Bali, that we ended up visiting it more than once!
Therefore, what you need to know is that you can't cover Bali in a week even if you want to stick to tourist areas only.
In fact, I conducted a poll on Facebook to get the feedback of people who have been to Bali a few times to ask them exactly how many days are enough for a trip to Bali. The results for the poll were as follows: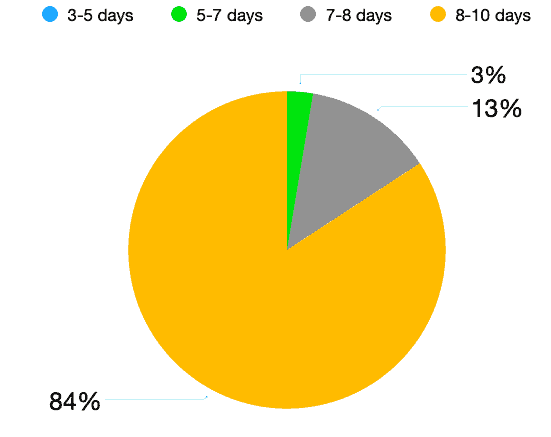 Thus, spending 8-10 days is ideal to get a satisfactory feel of everything the island has to offer.
Must-visit places in Bali
So now that you know, how many days to spend in Bali, the next question that will come up in your mind is how and where to spend your time in Bali.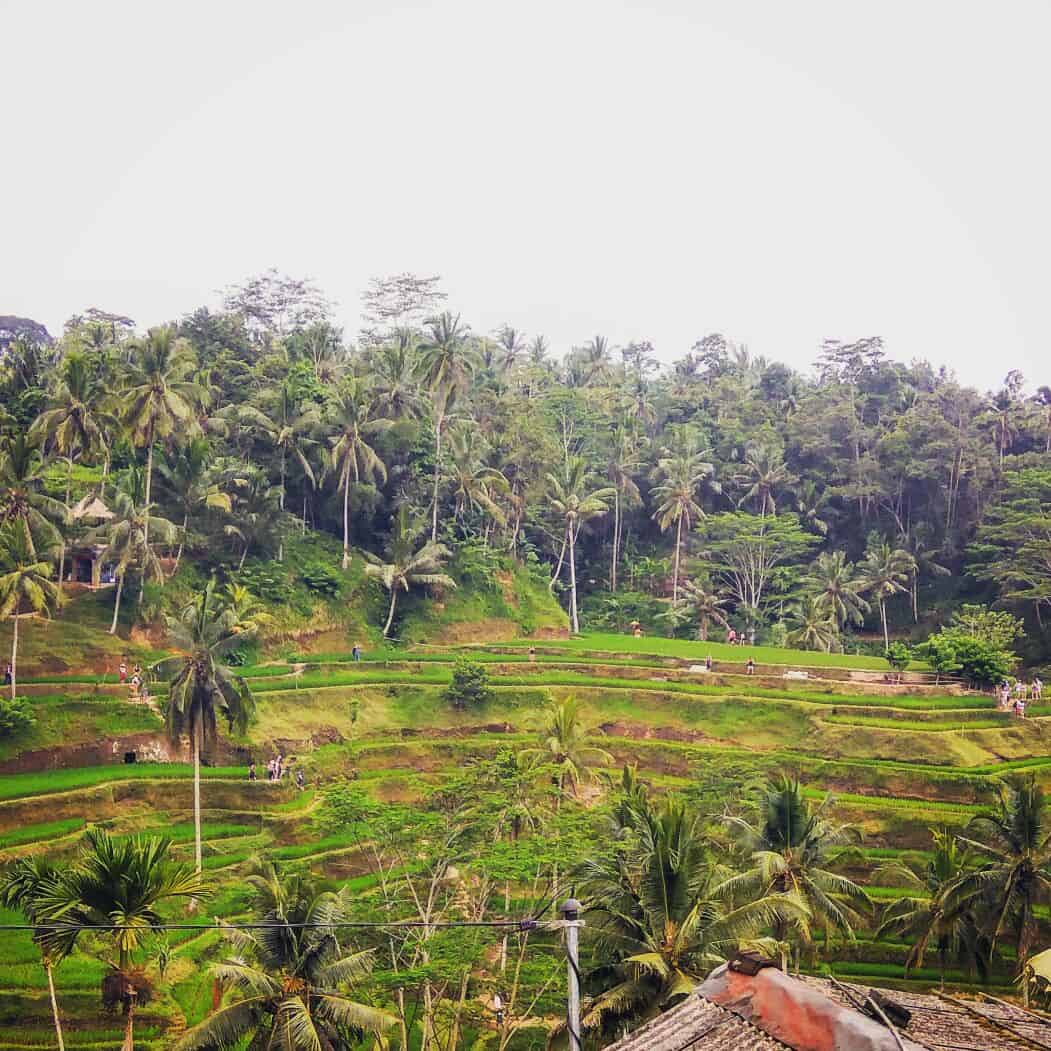 As a first-timer in Bali, you should ideally divide your time staying in at least 2-3 different areas of Bali. You can read my detailed post on experiencing the essence of Bali here or go through the list of key areas with their key characteristics below:
Kuta: Most popular tourist area in Bali that's cheap, crowded but centrally located and lively!
Seminyak: Upmarket area with great resorts, shacks, bars, and luxury boutiques.
Canggu: A favorite area among digital nomads for its cafes, laid-back vibe, and surfing
Jimbaran: Family-friendly resorts with high-end spas and beach shacks serving delicious seafood.
Uluwatu: The southern-most area in Bali with Bali's iconic temple in Bali and many stunning beaches.
Nusa Dua: High-end resorts suitable for families, great restaurants, water-sport facilities.
Ubud/Central Mountains: The cultural capital of Bali, has great cafes, waterfalls, temples, museums, rice terraces, etc.
In addition to the places mentioned above, there are many other areas in Bali that are extremely popular among tourists such as Sanur, Amed, etc. The Nusa Penida, Nusa Lembongan, Nusa Ceningan as well as the Gili islands are incredibly beautiful and definitely worth visiting.
Bali itinerary for 7-10 days
Okay, now that I have introduced you to the key areas in Bali, let me also share some sample itineraries for your stay in Bali that you can use as a guideline to plan your trip to Bali.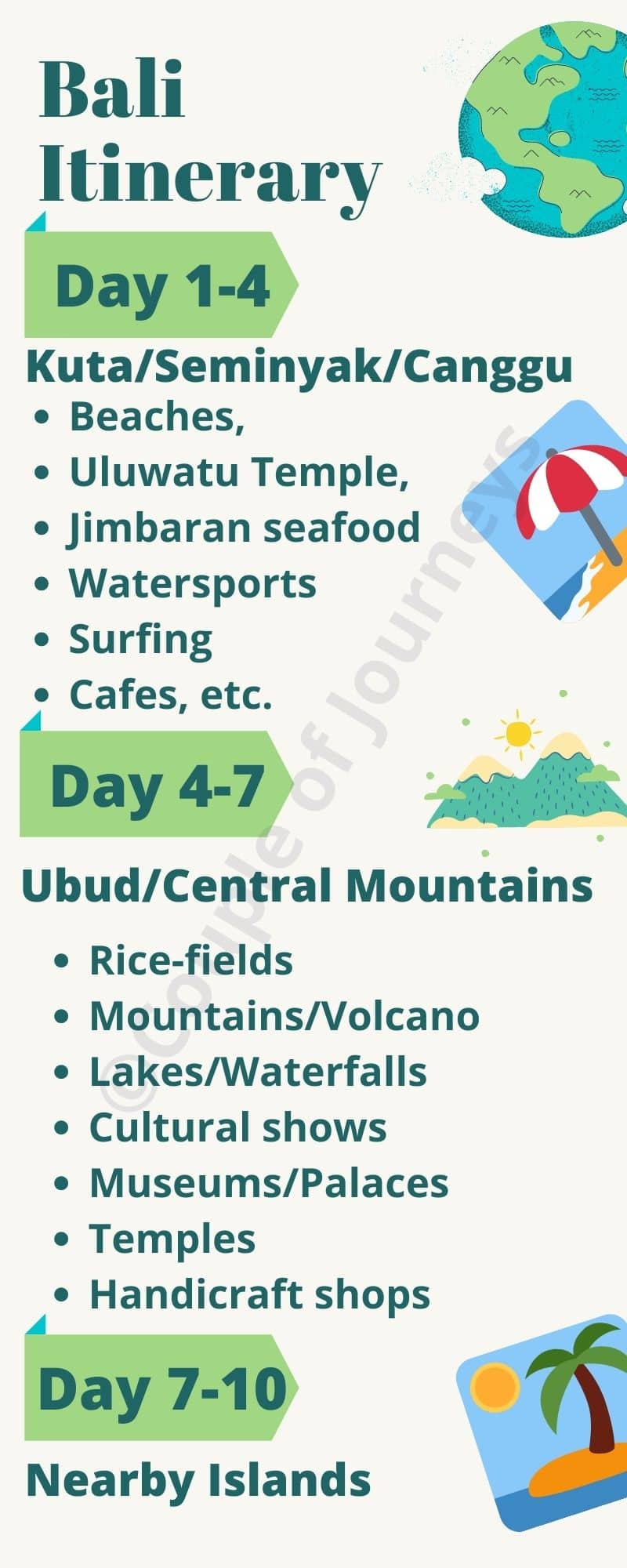 7 days Bali itinerary
Day 1-4: Stay in Kuta/Seminyak/Canggu
During your stay in the southern part of Bali, visit the following places:
Temples: Uluwatu temple, Tanah Lot temple, Taman Ayun temple
Beaches: Kuta, Seminyak, Canggu, Jimbaran Beach, Nusa Dua, Pandawa, Padang Padang and many more hidden gems.
Experiences: Kecak Dance Performance at Uluwatu, Garuda Wisnu Kencana, Jimbaran seafood dinner, Turtle Island, try local food and hang out at amazing cafes!
Day 4-7: Stay in Ubud
During your stay in Ubud and the Central Mountains, you can experience the following-
visit the Ubud Palace
visit dozens of ancient temples
walk around in lush-green rice fields
get drenched under stunning waterfalls
take a lesson in cooking
buy local handicrafts
hang out in cafes organizing cultural celebrations
Visit museums, zoo and bird park
In addition to this, you can also visit the Mount Batur Volcano for a sunrise trek or check out the gorgeous Kintamani range and the nearby lake.
10 days Bali itinerary
You can expand on the above 7-day itinerary by adding a visit to nearby islands such as Nusa Penida, Nusa Lembongan, Nusa Ceningan or visit other areas in Bali such as Sanur, Candidasa, Amen, etc.
In fact, I urge you to check out my super detailed post on 10 days in Bali here.
Tips to get the most from your Bali vacation
No matter the duration of your stay, I do have some tips for you that will help you get the best out of your time in Bali.
Divide your stay into beach areas as well as interior areas. Stay with a local, if possible.
Rent a scooter and explore the island on your own (yes, even if it sounds scary!)
Eat local food and ditch the pizzas and burgers
Visit cultural places and temples.
Don't try to cover all tourist spots.
Final Thoughts
I hope that this article has given you clarity on how many days you need for a trip to Bali. Ideally, I recommend planning a Bali trip of at least 10 days. However, if you can't spare 10 days for a trip to Bali, use the 7-day Bali itinerary above and plan a trip accordingly.
---
More Resources
4 reasons why you should visit Bali
12 Essential tips you should read before your trip to Bali
11 yummilicious food items to try in Bali
Bali travel tale: A mistake that taught us a huge travel lesson
Where to go after Bali? Curated list of the 10 best places near Bali
---
TOP TRAVEL RESOURCES
Here is a list of our favorite travel resources- the ones that I absolutely swear by when planning almost every trip. Go through this list to plan a hassle-free trip and save a lot of money!
Flight Booking: Check the availability of tickets, the best time to fly, and the cheapest fares on Skyscanner. You may also find a cheap flight via CheapOair
Accommodation: I absolutely love booking through Agoda. In most countries and particularly in Asia, I often find the best fares on Agoda. But I also love the no prepayment and no cancellation fee policy of Booking.com. For cheap accommodations and hostels, nothing beats Hostelworld.
Car Rentals: You may find and rent an appropriate car via RentalCars. It's hassle-free and reliable.
Guided Tours: I absolutely love GetYourGuide for local sightseeing tours, walking tours, history tours, and food tours. The booking process is seamless, and the tours are super affordable. But in Asian countries, I prefer Viator or Klook for their affordably priced tours.
Lounge Access: Get Priority Pass – my personal favorite card that gives me unlimited access to premium airport lounges all over the world
Hey, if you found this post helpful, share it with more people or buy me a coffee!