Bali Hotel with Flower Pool and Flower Baths: Top 12 Picks
This website contains no sponsored content. The content is written entirely on my own and is based on my personal experience and extensive research. This post may contain affiliate links. If you make a purchase through one of these links, I may receive a small commission at no extra cost to you. As an Amazon Associate I earn from qualifying purchases. Please read the disclaimer for more information.
Have you been considering Booking a Bali hotel with flower pool? do you want to experience a Bali flower bath? I've got you covered!
As someone who has been to Bali multiple times, I can attest to the fact that Bali is the best place in the world for relaxation, scenery, and luxury accommodation. While there are plenty of accommodations to choose from, there is something truly special about staying in a Bali hotel with a flower pool or a hotel that arranges a Bali flower bath for you.
The Bali Flower Bath or a Bali flower pool is a unique Balinese hotel experience – one that's worth indulging in on your Bali trip or Balinese honeymoon.
In this post, I will be sharing with you the Top Bali Hotels with flower pools and bali flower baths.
My Top 3 Picks: Bali hotel with flower pool
Bali Flower Bath vs Bali Flower Pool
What is a Bali Flower Pool?
A Bali Flower Pool is a pool filled with colorful petals derived from the flowers of Bali that create a serene and romantic ambiance – perfect for couples visiting Bali on a honeymoon or for that matter anyone who wishes to relax and unwind in Bali.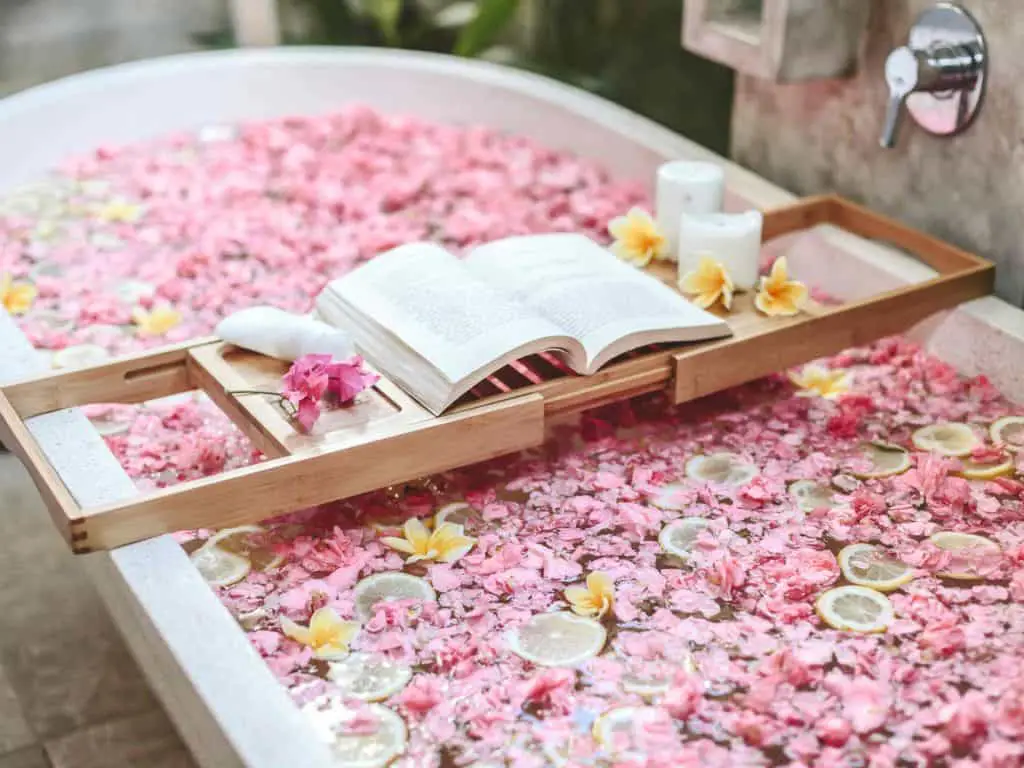 What is a Bali Flower Bath?
A Bali Flower Bath is a bath arranged inside a spa or in the private bathtub of your Bali villa. It is a special bathtub filled with petals of many different flowers and other oils and natural therapeutic ingredients.
What is the difference between a Bali Flower Bath and Bali Flower Pool? Which is better?
A Bali flower bath is usually offered as a rejuvenating experience at spas or recreated for the purpose of relaxation and rejuvenation inside your hotel room. A flower pool in Bali is essentially a decoration of a regular swimming pool. It is done to celebrate special occasions and to create lasting memories.
If you are seeking relaxation, a flower bath would help a lot more. But if you want more fun, the joy of jumping into a pool decorated with thousands of petals and long-lasting memories in the form of amazing photos, a flower pool would be ideal.
Best Bali Hotel with Flower Pool and flower bath
Udaya is a luxury resort in Ubud that is popular across the world as being the best place to stay in Bali for couples. So if you are visiting Bali for a flower bath or a Bali flower pool experience, you should stay here.
The property has rooms with a private pool as well as villas.
If you are looking for a Bali flower pool experience, you should book a villa or a suite with a pool.
The staff takes about 2 hours to prepare the flower pool. You would be allowed to enjoy the flower pool for up to 4 hours. You can place the flower pool between 10 am and 4 pm on any day except the day of your checkout.
Why Udaya Resort is the best flower bath and flower pool choice?
The quality of flowers used and the maintenance of the private pool is excellent. Having your own private pool, away from prying eyes, truly feels exotic and rejuvenating at the same time.
The staff is friendly and accommodating and is willing to click photos for Instagram.
The property has both an in-house pool as well as a spa. The Kaveri Spa is one of the first spas in Bali to offer a Bali flower bath. It is offered as a 45-minute bath or as a 2.5-hour spa service with the best flower bath in Bali. The spa is not busy and feels genuinely calming and rejuvenating.
The villa and the pool suite are also moderately priced for the outstanding quality that Udaya delivers.
Tip: Staying here and opting for the private flower pool experience provides more value for money instead of booking the expensive 45-minute flower bath at the spa as the spa treatment costs between 45 USD to 50 USD depending on whether you take it for yourself or avail it as a couple. Whereas a stay at Udaya Resorts costs only about 250 USD per night in a lavish villa.
In addition to the excellent flower pool at Ubud offered here, the property itself is stunning. There is an in-house restaurant that serves delicious local and global preparations. The property is surrounded by magnificent views of Ubud's soothing greenery.
The rooms are tastefully done and perfect for a relaxing getaway. Plus, the location is fantastic – just 10 minutes away from the center of Ubud.
So if you are wondering where to get a flower bath in Bali or looking for the most Instagrammable Bali flower pool, don't look beyond Udaya. Udaya with its top-notch Bali flower spa is a luxurious abode perfect for a relaxing Bali vacation.
💰 Price: $$$ | 📍 LOCATION: Ubud | ✅ See Availability
The Wana Bucu Villas in Ubud is one of the top-rated Bali honeymoon Villas with private pool. The one-bedroom villas are beautifully designed capturing the artistic essence of Bali.
But what makes the stay at these villas memorable is that the villas work as the best Bali hotel with flower pool. The staff elegantly decorates the villa's dip pool with flowers and even customize the decoration if you are celebrating a special day.
The Villa also gladly arranges a floating breakfast so if you want a private flower pool and a floating breakfast for the perfect Bali Instagram pics, this villa is ideal for you.
The villas are clean and in excellent condition. Despite being surrounded by lush greenery, you would not find mosquitoes in the villa. The staff is very accommodating and their in-villa services are prompt.
The only downside is that there are only 12 villas available for booking and so it is best to book one at the earliest if you are really keen on indulging in a flower pool experience in Bali.
The villa's location is just a few minutes away from the famous attractions in Ubud like the Monkey Forest, central market, restaurants, etc.
For a reasonable price of about USD 250 per night, the Wana Bucu villa is easily the top Bali villa resort with private pool.
💰 Price: $$$ | 📍 LOCATION: Ubud | ✅ See Availability
If you want to transport yourself to the best Bali pool villa – one that ticks every box of your dream villa, one that's 100% photogenic and made to make your Instagram feed an absolute hit, stay at Villa Cella Bella in Ubud.
The flower pool in this Bali Villa is designed to perfection. A photogenic Villa Cella Bella flower pool cost is around USD 130. In addition to this, the villa also delivers a delicious floating breakfast. To round it off, there is a swing in the villa for the best in-house Bali swing photos.
The Villa's location perched atop a small hill in the heart of Ubud countryside overlooking a river makes it the best honeymoon villa in Ubud with a private pool.
In addition to the private pool, the villa is decked up with a lavish spa bath that you can get turn into your very own Ubud flower bath. There is a private shower area and a fancy patio at your disposal too.
Except for the steep climb to the top, every aspect of this flower pool villa in Ubud deserves a lot appreciation.
If you have any special requests, the staff is always on its toes willing to cater to those.
They also provide you with a bicycle if you want to save costs going about the Ubud area. The location is not too far from central Ubud but away enough to cut off all the touristy noise.
💰 Price: $$$ | 📍 LOCATION: Ubud | ✅ See Availability
Sandat Glamping are highly-rated glamping tents in Bali that come with a private pool. You can either book one with a Garden view or a Pool view. But regardless of the view, if you book a tent with a private pool, the staff can gladly arrange a Bali flower pool and Bali flower bath experience for you.
In addition to being the perfect Bali hotel with a flower pool, these luxurious tents come fully equipped to create incredible memories. First of all, all the tents are equipped with mosquito nets and insect repellents.
There is a pretty seating area outside and to help you stay connected with the rest of the world, they have an iPad docking station. There is an on-site restaurant serving delectable food.
If pure luxury and relaxation is on your mind, you can even request an in-house massage service.
To compensate for its location away from Ubud, the glamping tent offers a free shuttle to Ubud. This means that you can enjoy a calming flower pool, pamper yourself with a massage, rejoice the serenity of the location and yet reach Ubud's heart in a hassle-free way.
💰 Price: $$ | 📍 LOCATION: Ubud | ✅ See Availability
You would not find many mentions of Kastara Resort Ubud when looking for a Bali flower pool. That's because the property is brand new. It was built in 2020 and boasts of 40 luxurious rooms.
To get a custom-made flower pool, make sure you book the royal suite. It is one of the only Bali hotels with private infinity pool surrounded with Ubud's serene greenery. The staff happily decorates the pool with colorful vibrant flowers to offer the best flower pool Bali experience to you.
If you don't want to splurge on the royal suite room with infinity pool, you could even opt for their regular deluxe room. The affordably priced deluxe suite is equipped with a lavish-looking bath tub. A luxe Bali flower bath massage can be set-up here upon request.
Since the flower bath would be in-room, you can relax in it for as long as you like and won't have time cap on it like other Bali flower baths offered in resort spas.
But if you prefer being pampered in a spa, you can also book their Citrus bath or an exquisite 45-minute Jungle Flower Bath which is highly popular among its guests.
In addition to the indulgent flower bath and flower pool experiences, the property also delights its customers with relaxing yoga sessions, a splendid restaurant, and a classic pool bar.
The Kastara Resort is located in the famous Campuhan Ridge Walk area which means that other famous Ubud attractions are also just a short distance away.
💰 Price: $$$$ | 📍 LOCATION: Ubud | ✅ See Availability
Kamandulu Ubud is the best resort in Bali with private pool facilities. The resort is tucked away in the Ubud hillside area and overlooks the Petanu river.
If you want a romantic Bali bath with flowers and soft candlelight for unwinding inside the comfort of your own villa, the staff would be glad to make that dream come true. You would even be given a bottle of wine or champagne to make the experience more special.
The property also has two spas offering citrus baths and flower baths in addition to their many relaxing offerings. Other rejuvenating offerings include a lovely yoga room, a picnic lunch on a boat and a pool with a lounge and a swim-up bar.
The place is tucked away in a lovely location away from the Balinese touristy hustle-bustle. It is a perfect honeymoon villa in Bali but can also be used by families seeking on-site relaxation.
💰 Price: $$ | 📍 LOCATION: Ubud | ✅ See Availability
Nyuh Bali is located both in Seminyak and Ubud. But the one I highly recommend for those looking for a Bali Ubud resort with a private pool or a honeymoon resort in Bali.
You can request a flower pool decoration in your private villa pool. In fact, if you book their Honeymoon villa you also get an open-air spa-style bathtub right next to the pool. This tub can be turned into a flower bath for your very own unique couple's flower bath experience.
If you want a treatment at the spa that goes deeper than a flower bath for the sake of Instagram, they even offer a unique 'new beginning package' where a certified psychologist has a session to detach you from your old patterns. The session ends with a spa treatment and a flower bath.
In addition to the fantastic flower pool and flower bath experience, the resort delivers on its tagline promise of 'romance, retreat and reborn'. It is located 7 kilometres away from the Ubud center.
So even if you choose to step out, the center is just a short drive away. Plus you get a free shuttle drop for convenience.
But if you prefer to stay inside the resort itself, you could indulge in yoga sessions, Balinese cooking classes, morning walks in the company of chirping birds, or eat at the in-house restaurant.
Overall, Nyuh Bali is truly a world-class property aimed at holistic relaxation and the best flower bath and pool experience in Bali.
💰 Price: $$ | 📍 LOCATION: Ubud | ✅ See Availability
Puri Gangga Resort is located 30 minutes away from Ubud in an area called Sebatu. Being away from the touristic center, it promises its visitors a relaxing, healing holiday. You can visit the rice fields and see the life of the locals from this peaceful location.
The resort offers a villa with private secluded pools as well as suites with pool views. The rooms are spacious and the bed is particularly comfortable.
But if a floral bath is what you are after, the spa at Puri Gangga has one of the most exotic-looking bath tub surrounded by lush greenery, tall trees and a truly refreshing setting. It is perfect to unwind with your partner.
But note that there is no private bathtub for you to enjoy an intimate floral bath. If you book the villa with a private pool, the staff can deliver a flower pool for an additional charge.
Its property pool is a large and spacious pool with a gorgeous water garden. You can even get your own floating breakfast served here upon request.
This resort like many other resorts listed above which are away from central Ubud provides a free shuttle for guests.
Also, you would be happy to know that Puri Gangga is also one of the cheap Bali resorts with private pool villas costing only about USD 200, and the rooms without a private pool are priced around USD 140. Thus, a stay in this villa proves to be a few hundred dollars cheaper than many other wellness resorts in Bali.
💰 Price: $ | 📍 LOCATION: Kuta | ✅ See Availability
Risata Bali Resort and Spa is not a typical resort in Bali with private pool. But it is the best hotel in Kuta Bali i.e. just 5 minutes away from the airport, close to the hustle bustle yet away from it thanks to the resort's vast expanse and private area.
The resort has over 100 rooms and suites scattered in clusters across its property. But it is the Sukha Spa at this resort that pampers you with a Balinese floral bath.
The Sukha Spa has two very affordable packages ranging between IDR 350,000 to IDR 450,000 i.e. a mere USD 25-35 that pamper you with a massage, scrub and a flower bath. Even though the experience doesn't feel as luxurious as some of the options above, for its price it overdelivers.
Staying at Risata Resort allows you to be in the heart of the touristic buzz of Bali. There are restaurants, beaches, clubs, exchange centers and shops in the area right outside the resort.
There is also an excellent swimming pool on campus and the resort's own restaurant is also fairly impressive for the price.
If you want a cheap hotel in Bali but want a taste of flower spa treatments, booking a stay at Risata makes the most sense.
💰 Price: $$ | 📍 LOCATION: Seminyak | ✅ See Availability
The Sanyas Suite, Seminyak is the best resort with a private pool in Seminyak close to Petitenget Beach. All the rooms in the villa come with a private bathtub, a jacuzzi, an indoor shower as well as an outdoor shower surrounded with greenery.
For special occasions, the hosts at the villa gladly decorate the bathtub or the resort's spa bath with flowers. You can even get a floating breakfast served at your private pool for a nominal fee of less than 20 USD. Their honeymoon packages indulge you even more with floral decoration across the room and the bed.
For the fact that the villas are spacious, beautifully designed in classic Balinese style art, the price of less than USD 200 per villa seems like an absolute steal. But if you prefer to splurge on luxurious accommodation or want to stay with your family, you can book the royal suite villa which is more expensive than the couple's villas but still very reasonable.
Overall, this is the best private pool villa resort in Bali with a lovely vibrant location, beaches and beach clubs around.
💰 Price: $$$$ | 📍 LOCATION: Kuta | ✅ See Availability
Impiana Private Villas is one of the best maintained private villa in Bali. It is located in Seminyak and is spread out over a vast complex area that's well connected by a buggy. You get to choose from a one-bedroom private pool villa to an eight bedroom private pool villa which means you can visit this place as a couple or even with family or a large group of friends.
If you really fancy a flower pool, you can elevate your pool experience with a one-time in-villa flower pool decoration. The pool being much larger than typical private pools offered by Bali private pool villas, the experience feels very rich and indulgent.
Apart from its boutique-styled design, what this property is famous for is its spa. Prana Spa located here is one of the best spas in Bali. The spa's architecture is inspired by Indian Moguls and Moroccan architecture. The staff is extremely well-trained.
At the spa you can pamper yourself with a simple 30-minute Bali-style flower bath that costs around 25 USD or a deeper 2-3 hour treatment culminating in a rejuvenating flower bath ranging between 60-90 USD.
There is also a hot and cold plunge pool in the spa to take your wellness vacation to the next level.
The property is centrally located and with easy access to famous restaurants, beach clubs, boutique shops, and beaches.
💰 Price: $$$$ | 📍 LOCATION: Canggu | ✅ See Availability
Mayana Villas in Canggu is a Bali resort with private pool villas. With just 5 exquisitely decorated villas on the property, the property sells out fast.
The villas are located in Canggu which is known to be the hub of digital nomads, surfers and those that like to experience both Bali's greenery and beaches.
Each villa comes with a fairly large private swimming pool surrounded with greenery. If you make a special request, the staff gladly turns the private pool into a Balinese flower pool.
In addition to its large private pool, each villa comes with a well-maintained garden with ample privacy. Since there are only 5 villas in this campus, the staff looks after each villa very promptly.
The nearby area also has many spas where you can indulge in a flower bath, if required. The breakfast served on-site can be customized to your liking.
Overall, this villa is large, well-maintained and has everything you would need to make your stay pleasant and memorable.
FAQs About Best Bali Hotels for Flower Pool and Flower Bath
How much does it cost for flower pool in bali?
On average, Bali flower pool cost is around IDR 1,500,000-2,000,000 or USD 100-150. But the prices could differ depending on where you stay and what your specific requirements are. In most cases, a flower pool package in Bali includes a floating breakfast and decoration on the bed as well.
How much does it cost for flower Bath in bali?
A Flower Bath in Bali at a mid-range spa costs only about IDR 300,000 or about USD 20-25. But if the flower bath is included as part of a wellness treatment that includes a massage, scrub, facial etc. the cost would be around IDR 1,000,000 or about USD 70. A couple's flower bath would cost a bit more.
🤩🌺 See availability at Udaya Resort for the most value for money Bali flower pool and flower bath experience.
Final Thoughts: Best Bali Flower Bath in Bali and Bali Flower pool
A flower bath in Bali or pool flower decorations in Bali may seem extravagant when you compare the price of getting one with other Bali offerings. But even then, Bali is easily the cheapest place in the entire world and also the prettiest to experience the magic of a flower baths and pools.
Don't hesitate to spend on it. It's a one-time unique experience that's totally worth the money and one that you'll remember forever.
Going to Bali? Read More Bali Posts:
Best areas in Bali for older couples: A handy guide
How many days do you need in Bali for a perfect trip?
The perfect 10 day itinerary for your trip to Bali
---
Pin for later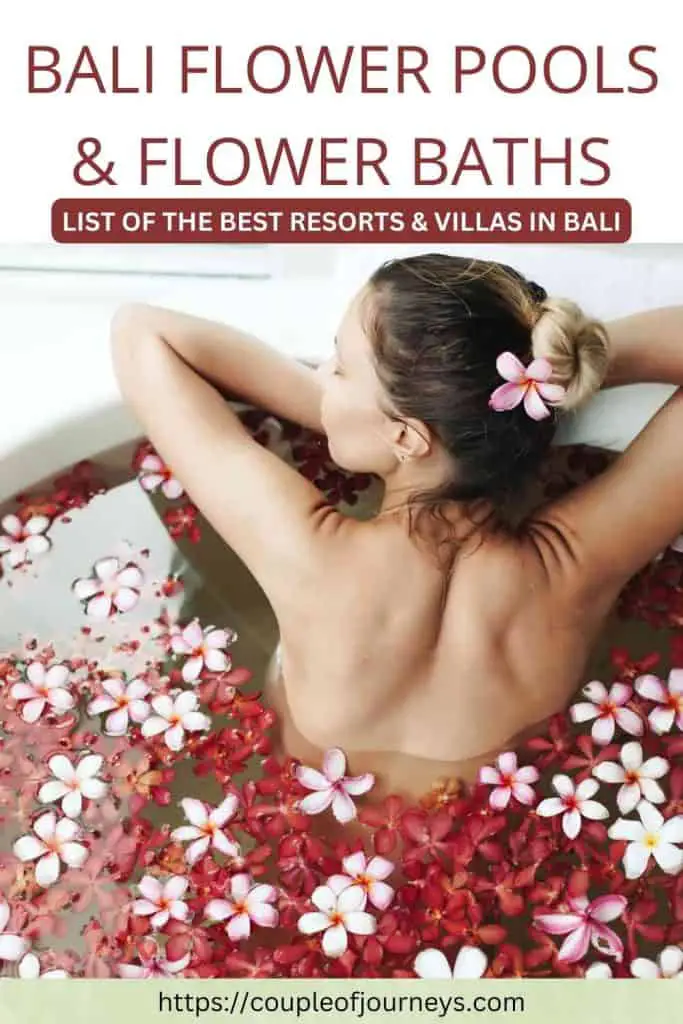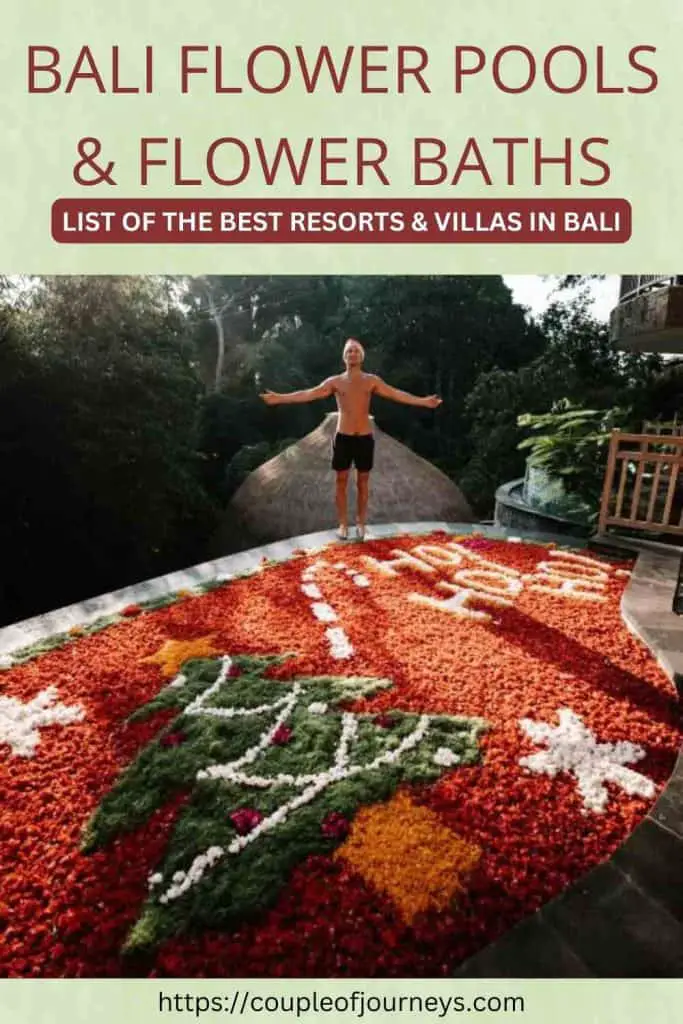 ---
TOP TRAVEL RESOURCES
Here is a list of our favorite travel resources- the ones that I absolutely swear by when planning almost every trip. Go through this list to plan a hassle-free trip and save a lot of money!
Flight Booking: Check the availability of tickets, the best time to fly, and the cheapest fares on Skyscanner. You may also find a cheap flight via CheapOair
Accommodation: I absolutely love booking through Agoda. In most countries and particularly in Asia, I often find the best fares on Agoda. But I also love the no prepayment and no cancellation fee policy of Booking.com. For cheap accommodations and hostels, nothing beats Hostelworld.
Car Rentals: You may find and rent an appropriate car via RentalCars. It's hassle-free and reliable.
Guided Tours: I absolutely love GetYourGuide for local sightseeing tours, walking tours, history tours, and food tours. The booking process is seamless, and the tours are super affordable. But in Asian countries, I prefer Viator or Klook for their affordably priced tours.
Lounge Access: Get Priority Pass – my personal favorite card that gives me unlimited access to premium airport lounges all over the world
Hey, if you found this post helpful, share it with more people or buy me a coffee!