Where to Stay in Bali for Couples: 7 Best Areas & 12 Stays
This website contains no sponsored content. The content is written entirely on my own and is based on my personal experience and extensive research. This post may contain affiliate links. If you make a purchase through one of these links, I may receive a small commission at no extra cost to you. As an Amazon Associate I earn from qualifying purchases. Please read the disclaimer for more information.
Have you been wondering About Where to Stay in Bali for Couples? Are you looking for the most romantic places to stay in Bali? or do you want to know where to stay in Bali for honeymoon? don't worry, I've got you covered!
Bali is a paradise. It is one of the most beautiful places on earth – one that combines natural beauty with culture. The magic of this place is why I think Bali is one of the best couples destinations in the world.
That's also why, I have been to Bali multiple times. I have done it all – been on a couple's trip to Bali on a budget, then on a later trip stayed at luxury resorts in Bali, explored all the different areas in Bali, and figured out the most romantic places to stay in Bali.
In this guide, I am going to put it all together for you so that you no longer feel confused about the best area to stay in Bali for couples. This one article has it all – the best place to stay in Bali for couples as well as the best accommodation in Bali for couples. Make sure you read the article till the very end to plan the most memorable romantic trip to Bali.
My Top 3 Picks: Where to Stay in Bali for Couples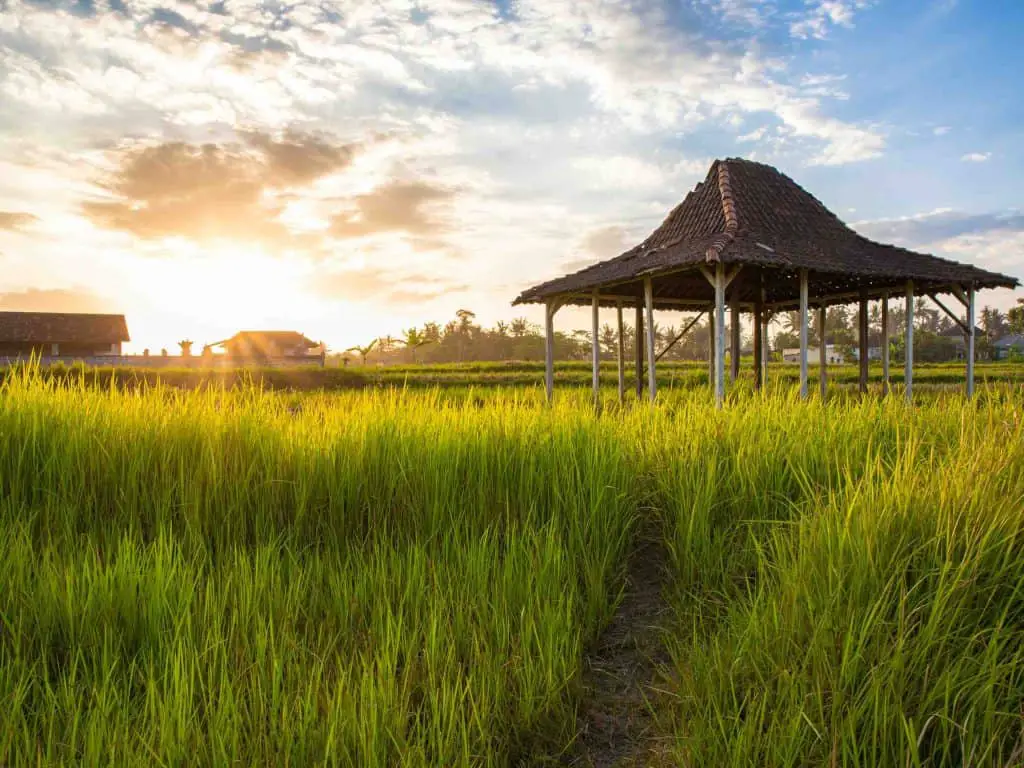 Cultural hub, greenery with rice paddies, temples, romantic villas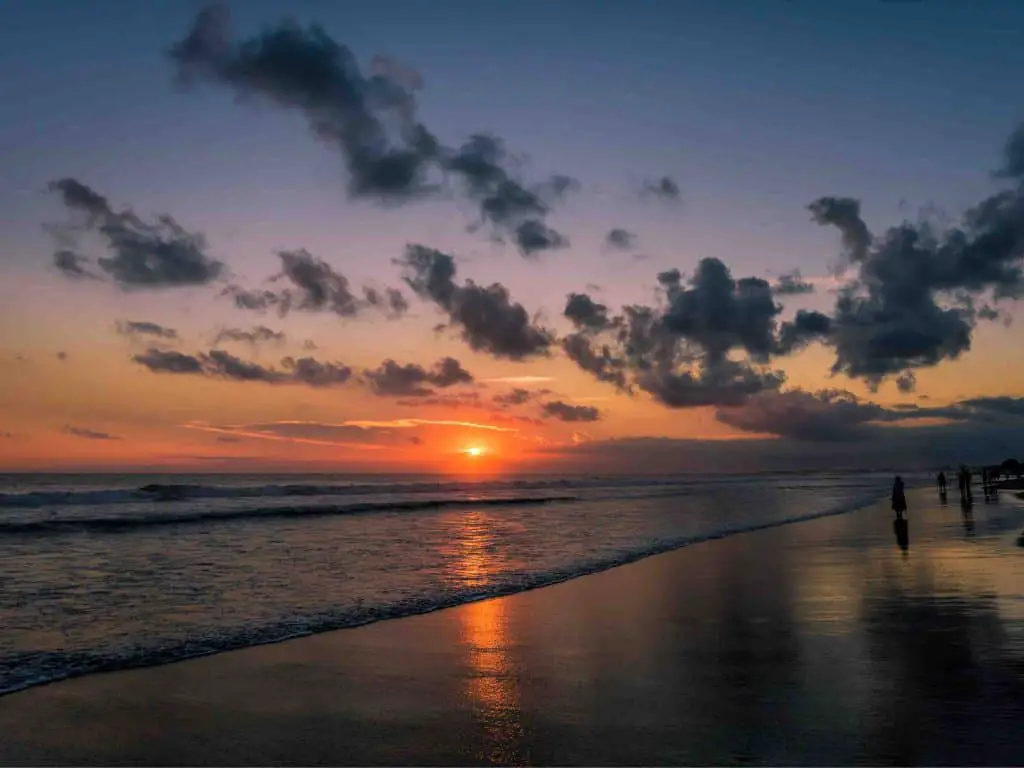 Cozy beach properties, a mix of quiet and vibey beaches, upscale area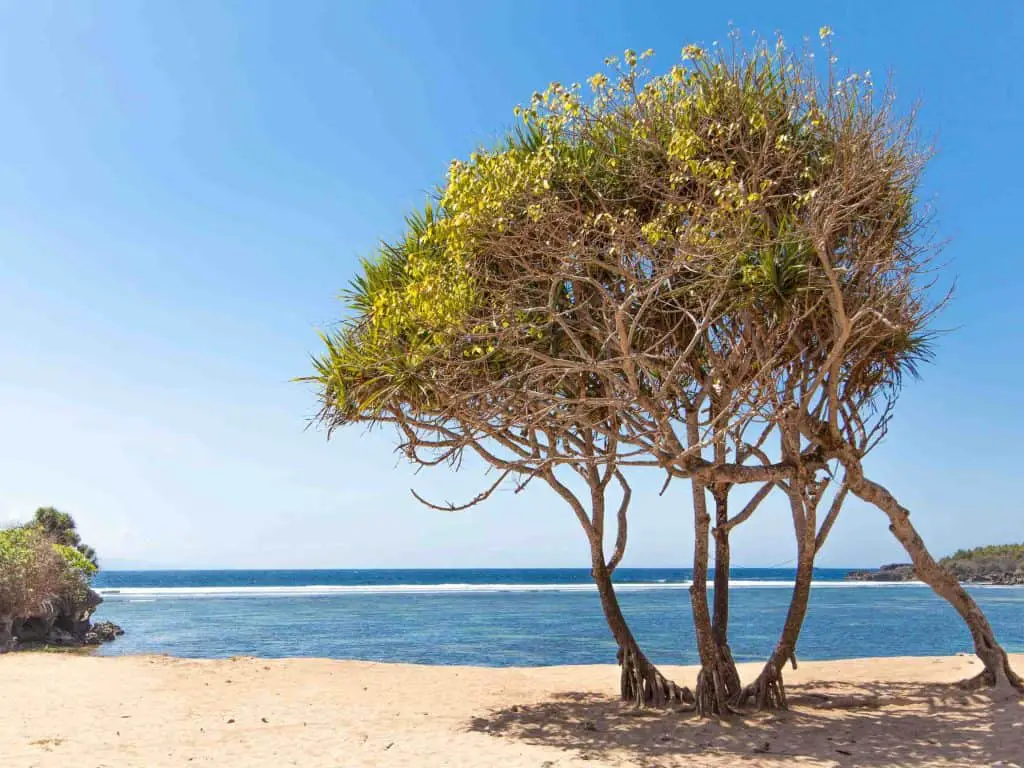 Plush gated area with beaches, watersports, and resorts with private beaches
Bali Map – Where to stay in Bali for Couples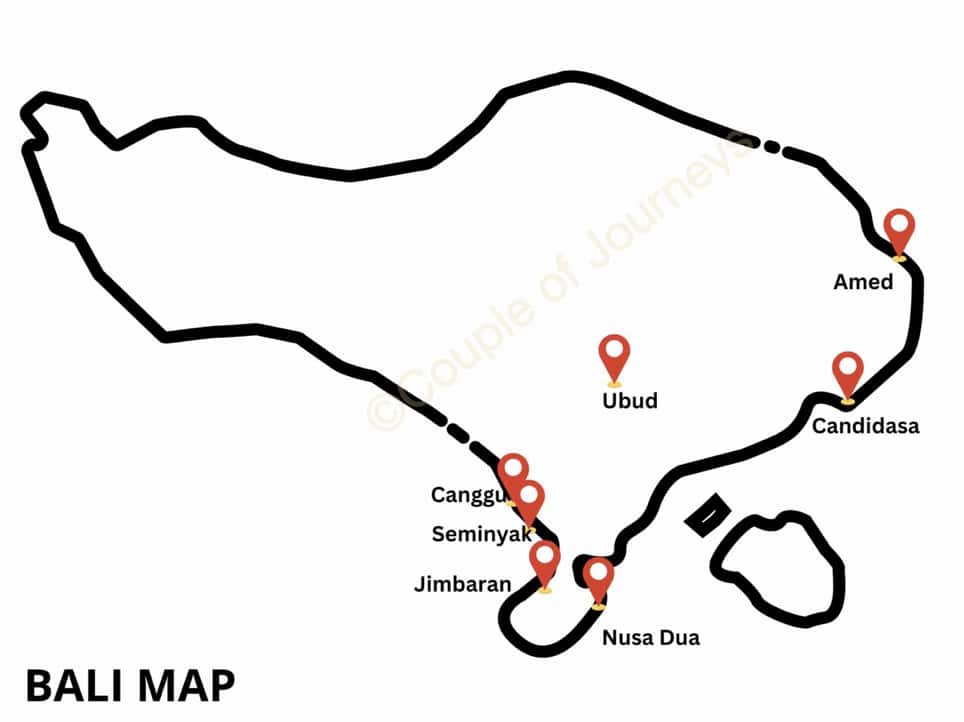 The best areas to stay in Bali for couples are Ubud, Seminyak, Nusa Dua, Jimbaran, and Canggu. If you want to stay in remote locations, far away from touristy areas, Candidasa and Amed are also excellent areas for couples to stay in Bali.
But staying in Amed or Candidasa is not recommended if it's your first time in Bali or if you are in Bali for a short vacation.
Here're a few quick insights about the best places for couples in Bali mentioned above
Ubud
(North Central)
Hilly, green
Cultural capital
Full of romantic accommodations
1 hr away from airport
Seminyak
(Western)
Excellent beaches
Youthful and vibey
Upscale
Many beachfront villas
30 mins away from airport
Nusa Dua
(Southern)
Gated area with top hotel chains
Clean, well-maintained
Close to South Bali attractions
30 mins away from airport
Jimbaran
(South Western)
Best honeymoon accommodation
Close to south Bali and other beaches
20 mins away from airport
Canggu
(North western)
Surfing and digital nomad hub
Excellent for long term stay
Best for young couples in Bali
Close to hills and beaches
50 mins away from airport
Candidasa
(Eastern)
Pristine white sand beach
Secluded, not touristy
Great for snorkeling and diving
Cheaper than rest of Bali
2 hrs away from airport
Amed
(Far Eastern)
Extremely scenic, remote
Excellent for escaping the crowds
Best for snorkeling and diving
3 hrs away from airport
Related 📖
I have a special article on the best places to stay in Bali for senior couples. Read it if you are visiting Bali as a 'young-at-heart' couple for suggestions that are more curated for your age and style of travel.
Best Areas to Stay in Bali for Couples + Best Couples Resorts in Bali
As stated above, the best places to stay in Bali for couples are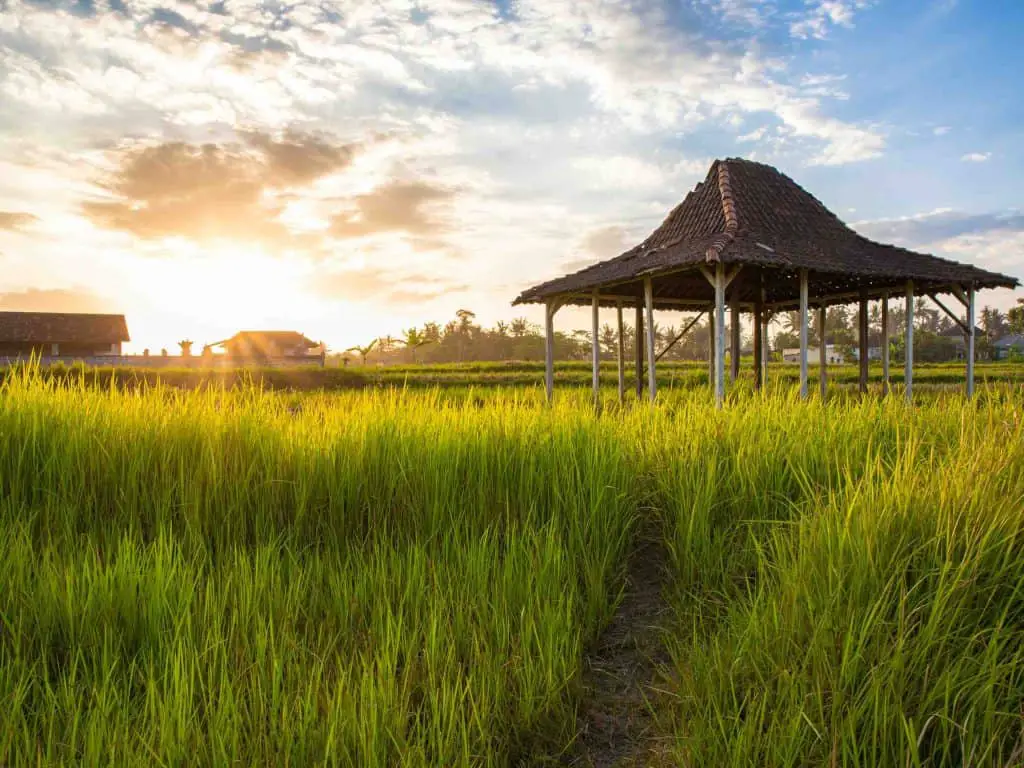 1. Ubud
Ubud is the best location to stay in Bali for couples. Here's why:
Ubud is one of the most scenic regions in Bali.
Ubud accommodation options are very couple-friendly. You'll find plenty of villas in Ubud with a private pool. The best flower pool and spas in Bali are in Ubud. And overall, the accommodation in Ubud exudes romantic, calming, serene couple vibes – perfect for a honeymoon in Bali.
Fair disclosure: Ubud is not a beach destination but it is still the most romantic area in Bali. The closest beach is about 30-40 minutes away from Ubud. For a beach vacation in Bali, stay at Seminyak or any of the other Bali couple areas mentioned below.
💡Pro tip: I found Ubud to be the perfect place to stay right after the monsoons in Bali. The rice fields are extra green and the landscape around looks a lot fresher. So even if you're a beach person, if you're traveling to Bali between April and June, I urge you to spend a couple of nights in Ubud at any of the best romantic hotels in Bali.
Where to Stay in Ubud for Couples
💰 Price: $$$$ | ❤️ Private flower pool + spa | ✅ See availability
(Awarded World's Best Hotel with Spa. It's also TripAdvisor's most saved hotel)
Udaya is a luxury resort in Bali and is often rated as the best place to stay in Bali for honeymoon. You can choose between a private room or a private villa with a pool. For couples, the staff goes above and beyond. You can get a romantic flower pool, relax at a couples spa session, or bond over a lavish floating breakfast.
Each room, decorated in warm hues and adorned with wooden furnishings, provides cozy comforts. The private balcony or terrace offer views of the captivating pool or the lush garden.
An array of on-site activities such as yoga, biking, and trekking tours offers a vibrant mix of relaxation and adventure.
Win-win all the way!
😍 Check Prices and Availability
💰 Price: $$ | ❤️ Serene location, budget-friendly private villa| ✅ See availability
I highly recommend this villa for those of you that are looking for a couple-friendly villa in Bali.
Batu Agung Villa Ubud, located in the serene heart of Ubud, is an ideal retreat for a romantic vacation to Bali. With private terraces and modern amenities in every unit, the villa promises both intimacy and comfort. For more privacy, book the 2-BHK villa that comes with its own private pool.
The on-site restaurant serves daily breakfast with local specialties, perfect for starting an adventure-filled day. Being close to notable attractions and offering bicycle rentals, it presents ample opportunities for sightseeing.
Things to do in Ubud for couples
Click couples pictures at the Ubud Swing
Stroll through the picturesque and serene Tegallang Rice terraces
Bond over a Balinese cooking class or a yoga class
Watch the sunrise together. Trek to the top of Mount Batur – I recommend this guided midnight trek tour. (Only head on this trek if you're comfortable waking up at 2 am and spending the night trekking to the top. You'll end up losing most of the day after as you'd want to rest or even get a foot massage. So plan accordingly)
Shop for handicrafts at the Ubud Art Market
Go for a hot air balloon ride at sunrise
Seek blessings at one of the many temples like Saraswati Temple, Ubud Water Temple, Goa Gajah Temple, Pura Pentarah Sasih, Tirta Empul Temple or Taman Ayun Temple. (My favourites are the Taman Ayun Temple and the Saraswati Temple. If you're not really into temples, you can skip the others!)
---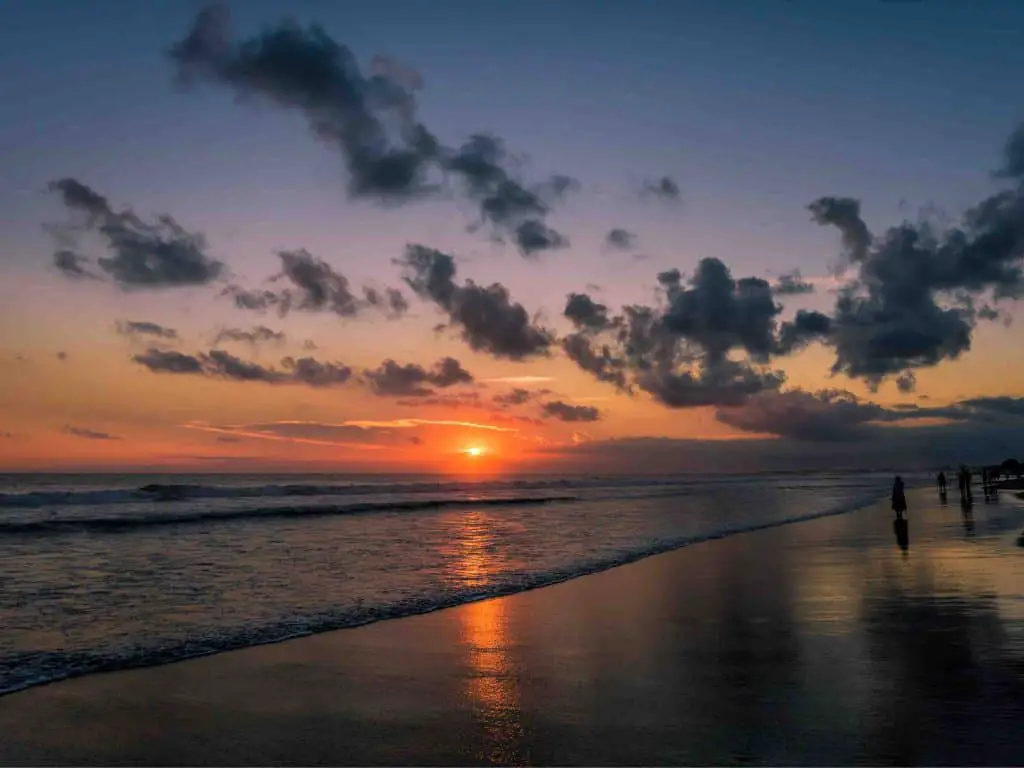 2. Seminyak
Seminyak is the best beach area in Bali for couples. Here's why:
Seminyak is an upscale area with some of the best beaches in Bali that are serene and tranquil unlike its noisy, backpacker neighbor Kuta.
Seminyak's high-end dining scene offers romantic experiences. The area, just like Ubud, also has some of the best spas. Seminyak also has plush boutiques, vibrant nightlife and cultural experiences – overall, it's the best place to stay in Bali for young couples.
Seminyak is pretty centrally located and most touristy areas like Uluwatu, Kuta, and Ubud are about 1-1.5 hours away.
Where to Stay in Seminyak for Couples
💰 Price: $$$$ | ❤️ Flower pool + Best Spa in Bali | ✅ See availability
Situated in the lively heart of Seminyak, Impiana Private Villas is a romantic haven for couples seeking a blend of Balinese tradition and modern luxury. The villas, with their charming thatched roofs and private pools, offer intimate settings for relaxation and connection.
The surrounding boutiques and restaurants provide opportunities for delightful exploration, while the villa's close proximity to stunning beaches promises romantic beachside strolls.
The villas are enhanced with amenities such as a kitchen, dining area, and entertainment system, ensuring comfort and convenience.
The property also features one of the best spas in Bali – the Prana Spa. Its tastefully done decor is the perfect spot to unwind with your partner. The villa also offers a serene retreat with unique treatments and yoga sessions, while the Prana Restaurant caters to gastronomic desires with a range of healthy cuisine. Given its fusion of privacy, comfort, and location, it's no wonder couples rate this property highly for a two-person trip.
😍 Check Prices and Availability
💰 Price: $$$ | ❤️ Serene location, budget-friendly private villa| ✅ See availability
Located in the vibrant Seminyak area, Moson Villa Legian offers a fusion of sustainability and luxury, making it a perfect haven for couples seeking a responsible yet lavish retreat. The 4-star villa, set within a lush garden and featuring views of the pool, ensures complete security and dedicated concierge service for a hassle-free experience.
The villa offers delightful daily continental and American breakfast options. Moson Villa Legian also offers wellness packages for in-house rejuvenation.
With bicycle and car rental services available, exploring the nearby Double Six Beach, Legian Beach, and Kuta Beach is easy and convenient.
Things to do in Seminyak for couples
Stroll along the calm and refreshing Petitinget beach
Chill and lounge on the colorful beanbags of the Double Six beach. I found the experience of lounging on colorful bean bags so unique that I didn't mind the crowds around sunset.
Visit the centuries-old Pura Petitenget Temple
Laze around and enjoy a pool day at the Potato Beach Club
Shop for souvenirs and branded lifestyle products
Go on a fine dining date at Chez Gado Gado or Sarong.
---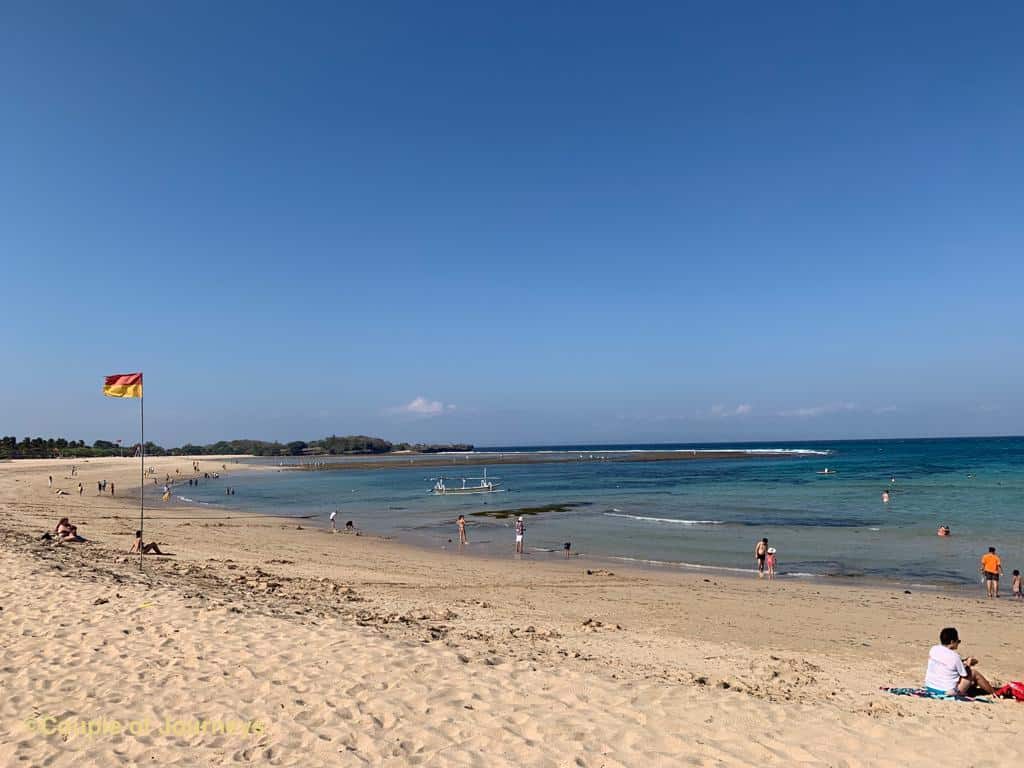 3. Nusa Dua
Nusa Dua in South Bali is one of the top areas for couples to stay in Bali because
Its BTDC area is a gated complex hosting a number of luxury resorts and upscale hotels of globally reputed hospitality chains – many with their own private beaches.
It is close to spectacular beaches, watersport activities, and top attractions in South Bali.
Fair disclosure: While Nusa Dua makes visiting Uluwatu temple and other attractions in South Bali convenient, it is over 2 hours away from Ubud. To make the most of your romantic holiday to Bali, split your holiday between Nusa Dua and a stay at Ubud.
Where to Stay in Nusa Dua for Couples
💰 Price: $$$$$ | ❤️ Top-rated couples villa in Bali | ✅ See availability
Amarterra Villas Bali Nusa Dua presents an idyllic setting for a romantic escape in Bali. Each spacious villa offers private seclusion, equipped with its own pool, creating an intimate oasis for couples to unwind and reconnect.
You can choose to stay inside the beautiful villa complex, which is clean and well-maintained. The whole place feels like a world in itself.
But if you choose to head out, you can reach your section of the beach in a minute or even walk to the Bali Collection invites leisurely exploration of local shops and eateries.
To make the experience more memorable, meals are delivered straight to your villa. The staff is always looking at ways to make your stay more special making this villa the best villa in Bali for couples.
The hospitality, comfort, and quality of maintenance of this villa are absolutely worth the money you spend on this villa. Once you live here, you will understand why this villa is one of the highest-rated couples villas in Bali.
😍 Check Prices and Availability
💰 Price: $$ | ❤️ Serene location, budget-friendly private villa| ✅ See availability
Getting a villa in Nusa Dua that doesn't cost an arm and a leg is difficult. But this villa is an exception to that as it is one of the best villas to stay in Bali for couples with budget constraints.
Nunamkhalu Private Villa and Spa provides villas for couples, each boasting a private pool and a rooftop deck, that offer not just privacy, but an elevated sense of tranquillity and luxury.
The presence of modern amenities such as a home theatre surround sound system and a well-equipped kitchenette elevate the comfort and convenience during the stay.
Even though not as high-end and exquisitely designed as the Amarterra Villas, the hospitality of the staff at the villa, the spacious rooms and the privacy and the comfort these villas offer, still deliver excellent value for money.
Things to do in Nusa Dua for couples
Walk along the beach walking trail starting from Mengiat beach and moving northwards. (For a truly undisturbed time on the beach, avoid the Pandawa Beach or the main Nusa Dua beach)
Be mesmerized by the Kecak dance show at Uluwatu
Book a couples spa package
Spend an afternoon playing golf
Take your partner out for watersport adventures
Get drenched at the Water Blow (waves crashing against rocks)
Shop at the Bali collection – a chic shopping area featuring top brands and local handicrafts.
---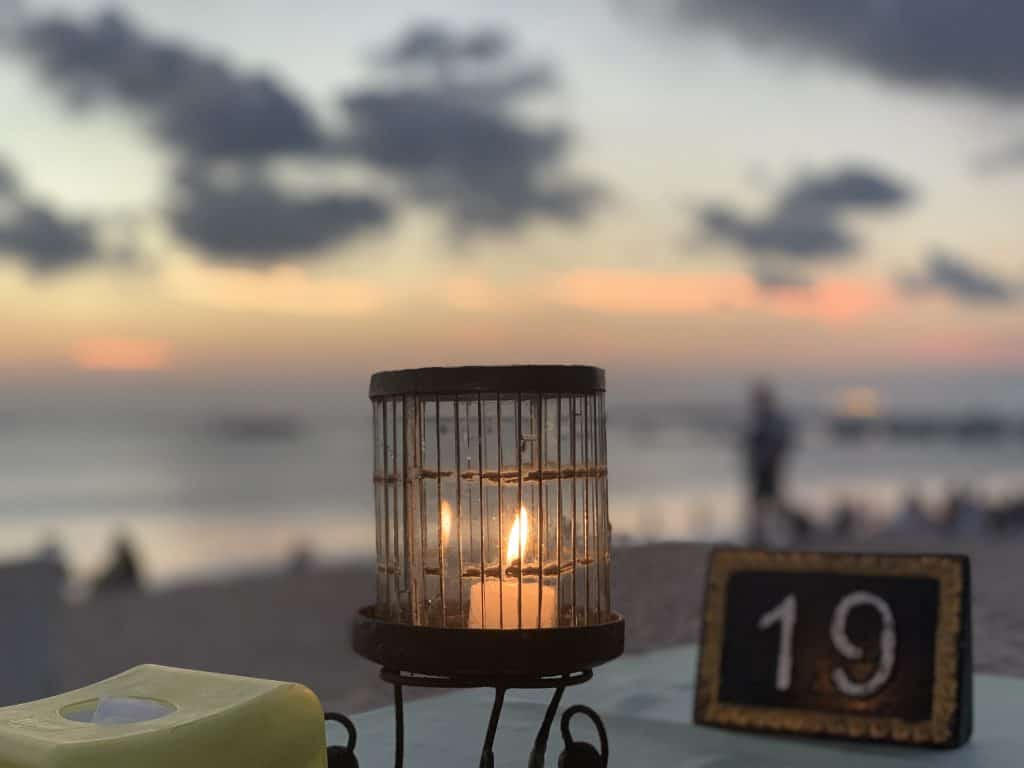 4. Jimbaran
Many Bali for couples packages recommend staying at Jimbaran because
it has plenty of stunning couple villas with private pools overlooking the sea.
it is fairly close to the airport and other tourist attractions in South Bali as well as to prime touristy regions to the north of the airport like Kuta, Seminyak, Sanur, etc.
Thus, for couples, Jimbaran offers luxury villas for a romantic stay and its location provides easy access to explore the rest of Bali.
💡Pro tip: During my time in Jimbaran with my husband, we found that the Jimbaran beach was too crowded at sunset thanks to its famous sunset seafood dinner. So we instead chose the Balangan beach next to it. It's pristine and offers an equally beautiful sunset view. For the candlelight seafood dinner, we went to Serangan Beach (Jimbaran's northern neighbor).
Where to Stay in Jimbaran for Couples
💰 Price: $$$ | ❤️ Comfy beds, Instagrammable property | ✅ See availability
La Cabane, set within the tropical greenery and a short stroll away from the white sand of Balangan Beach (a beach close to Jimbaran), creates a romantic haven for couples. The wooden bungalows come with a private terrace and overlook photogenic lush gardens.
Regardless of whether you choose to opt for the 3-bhk villa with a private pool, the property's chic decor and beautifully designed rooms make it the best honeymoon resort in Bali. You would be surprised by how comfortable and large the beds are. The swings and the lounge area by the pool are straight out of a Pinterest board.
Its shared infinity pool are the best place to unwind and the private beach is only a 2-minute walk away. The impressive rooms, gardens, pools and complex of the property coupled with its excellent location, make these moderately priced villas the best accommodation in Bali for couples.
😍 Check Prices and Availability
💰 Price: $$$$ | ❤️ 14 pools, cliff views| ✅ See availability
The Ayana Resort is a cliff-top resort in Bali offering one of the most unique stays in Jimbaran. Even though the resort doesn't provide private pool villas, it makes up for it with its 14 pools – all with outstanding views that you just can't get enough of and truly top-notch stay quality.
The rooms are dressed up with elegant wooden furnishings and the well-maintained gardens are a delight. The place is one of the best resorts in Bali for couples with its endless delights.
You can enjoy special massage therapies or enjoy a game of golf at its own golf course. You could even eat a quiet meal overlooking a stunning lotus pond or simply walk around the vast complex.
Things to do in Jimbaran for couples
Spend time at the beach – a lazy afternoon is perfect as that's when the beach is not too crowded
Enjoy a candle light sunset seafood dinner – Jimbaran's speciality
Bond over a Balinese cooking class or a yoga class at your villa
Visit the Garuda Wisnu Kencana Park – one of the best cultural tourist attractions in Bali
Shop for handicrafts at the Ubud Art Market
Go for a date at the Balique restaurant in Jimbaran
I also think Jimbaran is one of the best place to stay in Bali for first-timers. The neighbourhood is not too touristy but not secluded either. There are enough tour operators and bike rentals around to make visiting major tourist attractions like Uluwatu Temple or the Tanah Lot Temple, or the many beaches in South Bali like Pandawa, Padang Padang, Nusa Dua or ones in western Bali like Kuta, Seminyak, Legian easily manageable.
---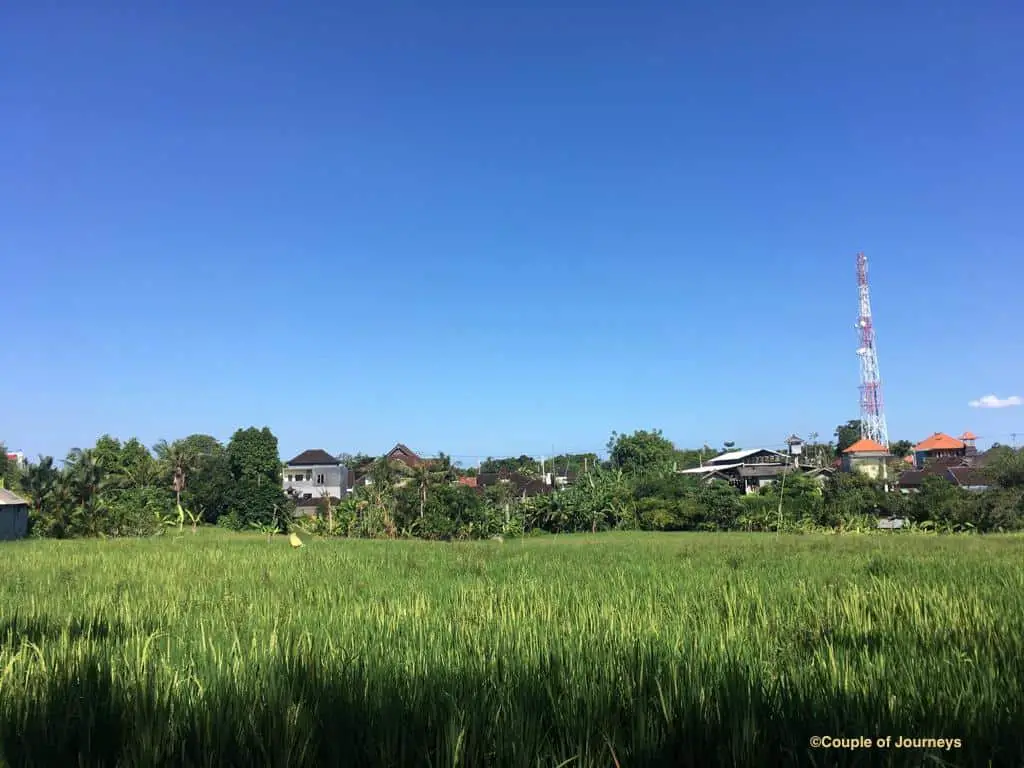 5. Canggu
Canggu (pronounced Chahng-goo) is the best location to stay in Bali for young couples as it is an ideal spot for couples seeking a blend of relaxation and social activities in Bali.
Canggu is known for its surf-friendly beaches and scenic rice fields, Canggu offers plenty of outdoor adventures.
Canggu is also popular for its vibrant café and restaurant scene, offering a diverse array of dining experiences.
💰 Price: $$$$ | ❤️ Private pool + excellent staff | ✅ See availability
Mayana Villas, located in Canggu is a short walk away from the beach. They provide an ideal setting for a romantic holiday. Each villa offers a mix of privacy and comfort, with a semi-open living area, a well-equipped kitchen, and a private pool.
The staff is particularly helpful and is glad to make your stay at the villas special by arranging for a special flower pool or floating breakfast. The gardens outside the villa are refreshing. The shower area and the rooms are tastefully done and the whole villa creates a magical, private world in itself – perfect for a couples vacation to Bali.
😍 Check Prices and Availability
💰 Price: $$$$ | ❤️ Private pool, greenery and location| ✅ See availability
This villa is a gem – a rare one where the pictures don't do justice to the property. The villas are designed in classic Balinese style and are soothing on the eyes. Despite being located so close to the beach, you will enjoy absolute privacy at these villas making this the perfect romantic haven for your trip to Bali.
The bathtub at the villa can easily accommodate two people making it an excellent place to unwind with your partner. The staff is also very accommodating and is willing to add special touches to your stay in the form of floral decor, cake for special occasions etc.
The restaurant specializes in vegetarian and vegan dishes for couples making the stay even more pleasurable for couples with dietary limitations. Couples can avail special treatment at the in-house wellness center.
Overall, if you want to stay in Canggu for its youthful vibe but want a place that offers tranquility and privacy, these eco-conscious villas are perfect for you.
Things to do in Canggu for couples
Walk through the picturesque rice terraces
Watch an epic sunset at Tanah Lot – the best sunset in Bali
Go surfing at the echo beach – best for couples to ride the waves together
Socialize and hang out with other couples at one of Canggu's lively clubs like La Brisa Bali
Shop at the Love Anchor Market
Practice yoga together at one of the many yoga centers in Canggu. I love the yoga classes held at Serenity Yoga Retreat.
---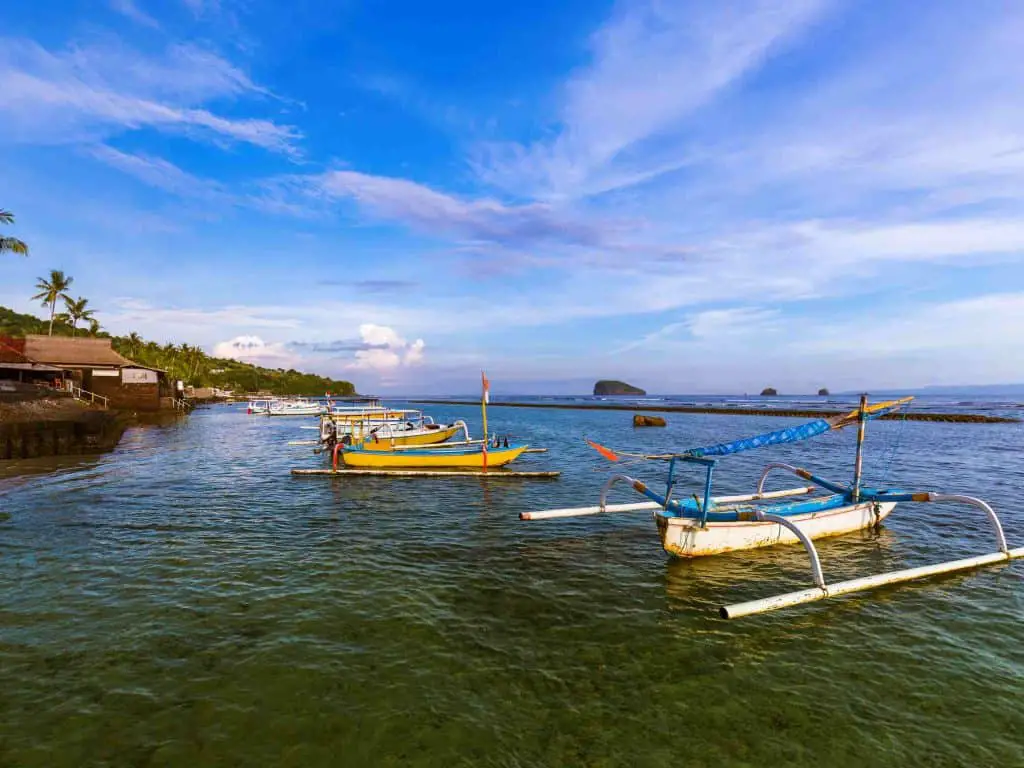 6. Candidasa
Candidasa is located on the eastern side of Bali and is away from most tourist attractions. It is a great area for couples visiting Bali as
It has world-class resorts and villas with outstanding ocean views and indulgence
It is away from touristy areas of Bali and perfect couples looking for romantic escapades
It is great for snorkeling, hiking, and exploring offbeat attractions
It is a lot cheaper than tourist hubs and yet far more scenic
Heads up: Candidasa is a scenic, unfiltered gem of Bali. But it is away from the touristy side of Bali. Taking day trips from Candidasa to the touristy areas in Bali like Ubud and Uluwatu is not suggested as the one-way travel time would be over 2-3 hours. If it's your first time in Bali, I recommend dividing your time in Bali between a more central area and Candidasa.
💰 Price: $$ | ❤️ Greenery, cozy cottages | ✅ See availability
The Forty Eight Resort Candidasa, nestled in the peaceful greenery of Eastern Bali, presents an idyllic escape for you if you want a tranquil retreat. It is just 50 meters from the ocean. The cottages are elegantly designed and each cottage boasts a stylish bathroom with unique features like a glass-bowl sink and both indoor and outdoor showers.
The resort also has a lovely solarium, a swimming pool, and an outstanding international cuisine restaurant with the best views of the Candidasa Lagoon. The beauty and the tranquility offered by this resort coupled with its pure indulgent service will give you no reason to miss touristy Bali. The staff is also willing to pamper you with a floating breakfast or special room decor for your honeymoon or special occasions.
What's best is that the place, being in Candidasa, is also a lot cheaper than accommodation in the areas mentioned above.
😍 Check Prices and Availability
Things to do in Candidasa for couples
Stroll around Lotus Lagoon – A serene spot with blooming lotuses.
Spend quiet evenings at the Sengkidu beach or sunbathe at the idyllic Pasir Putih beach
Snorkeling in Blue Lagoon: Explore diverse marine life.
Visit Taman Ujung Water Palace or the Tirta Gangga Water Palace for the beautiful gardens and sculptures.
Go on tranquil hikes through the rice plantation
Simply disconnect and take in the gorgeous views of the ocean from your resort.
---
7. Amed
Amed, located on the northeastern coast of Bali, is a captivating destination for couples and honeymooners, offering a distinct charm from the rest of the island as
it is a world-renowned snorkeling and diving spots perfect for adventure-seeking couples.
it has the picturesque backdrop of Mount Agung and black sand beaches for romantic strolls.
accommodations in Amed range from cozy beachfront villas to luxury resorts, all catering to a quiet, intimate experience.
Note: Amed is a world in itself. It is one of the least touristy areas in Bali. It is also far away (around 3 hours) from most tourist attractions. If you choose to stay here, be prepared to completely absorb yourself in the magic of Amed and disconnect from the rest of Bali's touristy offerings.
As with Candidasa, if it's your first time in Bali, I recommend dividing your time in Bali between a more central area and Amed.
💰 Price: $$$$ | ❤️ Sunrise views + private infinity pool | ✅ See availability
If you have the time and the budget to extend your stay in Bali and to transport yourself to a romantic haven like none other, stay at the Griya Villas and Spa.
Each villa comes with with a private infinity pool, and opens to panoramic views of the sea, mountains, sunrise, and star-filled night skies.
This resort's strategic location allows easy access to beautiful beaches like Jemeluk beach and the Japanese shipwreck. You can also visit iconic local attractions like Heaven's Gate at Pura Luhur Lempuyang in a few minutes. It also offers additional services such as car rentals, yoga classes, and cultural performances.
It has received high praise from couples for its delectable cuisine and commendable staff and is an idyllic couple's retreat in Bali for relaxation, exploration, and cultural immersion.
😍 Check Prices and Availability
Things to do in Amed for couples
Watch the sunrise from Amed – the best sunrise in Bali thanks to the scenic addition of Mount Agung to the backdrop
Bond over snorkeling sessions as you explore the vibrant coral reefs and see the Japanese shipwreck
Hike to the top of Mount Agung
Visit the Pura Luhur Lempuyang known for its heaven's gate for perfect couple pics
Go on a gorgeous Jukung boat (local fishing boat) ride
Disconnect and take in the spectacular beauty of the landscape around you
---
FAQs – Best Area in Bali for Couples
In this section, I will answer some of the commonly asked questions about a Bali romantic getaway.
Which Part Of Bali Is Best For Couples?
Ubud is the best area in Bali for couples who want to stay in a romantic private villa close to rice fields, waterfalls and cultural attractions. For beach lovers, Seminyak is the best area for couples visiting Bali.
How Much Does It Cost For A Couple To Stay In Bali?
High-end honeymoon accommodation in private villas with pools ranges between USD 250-500 while a fancy room in the best couples resorts in Bali costs around USD 150-200. In addition to that, couples visiting Bali should factor an expense of about USD 200 per day for food and sightseeing.
But couples can also visit Bali on a budget where the total daily expenses per couple can be as low as USD 200.
Can Couples Stay Together In Bali?
Couples can stay together in Bali. The new law prohibiting cohabitation before marriage is yet to come into effect and its applicability to foreign tourists visiting Bali is still unclear.
For the best romantic stay Bali, I recommend staying in Ubud at Udaya Resort and Spa
Final Thoughts: Best Places to Stay in Bali for Couples
To round up this article and to make decision-making easier for you, here are the best places to stay in Bali.
Ubud: Most romantic place to stay in Bali
Seminyak: Best place to stay in Bali for couples that love beaches
Nusa Dua: Best area to stay in Bali for luxury villas and resorts
Jimbaran: Best hotels in Bali for honeymoon with private pool are found here
Canggu: Best part of Bali for couples that prefer surfing, socializing or longer-stays
Candidasa: Best part of Bali to stay for those that like to be away from the crowds + most budget-friendly romantic accommodation in Bali is found here.
Amed: Most romantic villa in Bali with infinity pool is found here + the most offbeat and remote area to stay in Bali
Read More:
How many days do you need in Bali
How to spend 10 days in Bali – A perfect guide
Vietnam vs Bali: Which is better?
Where should you go after Bali? A curated-list
TOP TRAVEL RESOURCES
Here is a list of our favorite travel resources- the ones that I absolutely swear by when planning almost every trip. Go through this list to plan a hassle-free trip and save a lot of money!
Flight Booking: Check the availability of tickets, the best time to fly, and the cheapest fares on Skyscanner. You may also find a cheap flight via CheapOair
Accommodation: I absolutely love booking through Agoda. In most countries and particularly in Asia, I often find the best fares on Agoda. But I also love the no prepayment and no cancellation fee policy of Booking.com. For cheap accommodations and hostels, nothing beats Hostelworld.
Car Rentals: You may find and rent an appropriate car via RentalCars. It's hassle-free and reliable.
Guided Tours: I absolutely love GetYourGuide for local sightseeing tours, walking tours, history tours, and food tours. The booking process is seamless, and the tours are super affordable. But in Asian countries, I prefer Viator or Klook for their affordably priced tours.
Lounge Access: Get Priority Pass – my personal favorite card that gives me unlimited access to premium airport lounges all over the world
Hey, if you found this post helpful, share it with more people or buy me a coffee!