What to do at Uluwatu Temple? Expert Guide [2023 Update]
This website contains no sponsored content. The content is written entirely on my own and is based on my personal experience and extensive research. This post may contain affiliate links. If you make a purchase through one of these links, I may receive a small commission at no extra cost to you. As an Amazon Associate I earn from qualifying purchases. Please read the disclaimer for more information.
Wondering what to do at Uluwatu Temple? In this guide, I will go over things to do at Uluwatu Temple in detail. You will know exactly how to plan your trip to Uluwatu Temple when to reach, how much to pay at Uluwatu Temple, what to wear at Uluwatu Temple, and how long to spend at the Uluwatu Temple.
I have been to Bali multiple times and every time I have gone, I have made it a point to go to the Uluwatu Temple. Uluwatu Temple locally known as Pura Luhur Uluwatu, not only exudes calm, serene temple vibes but also offers the best clifftop views of the Indian Ocean. Watching the Kecak dance performance from its exquisite amphitheater against the backdrop of the most magical sunset is also one of the highlights of a trip to Bali.
So read on for an in-depth guide on Uluwatu Temple.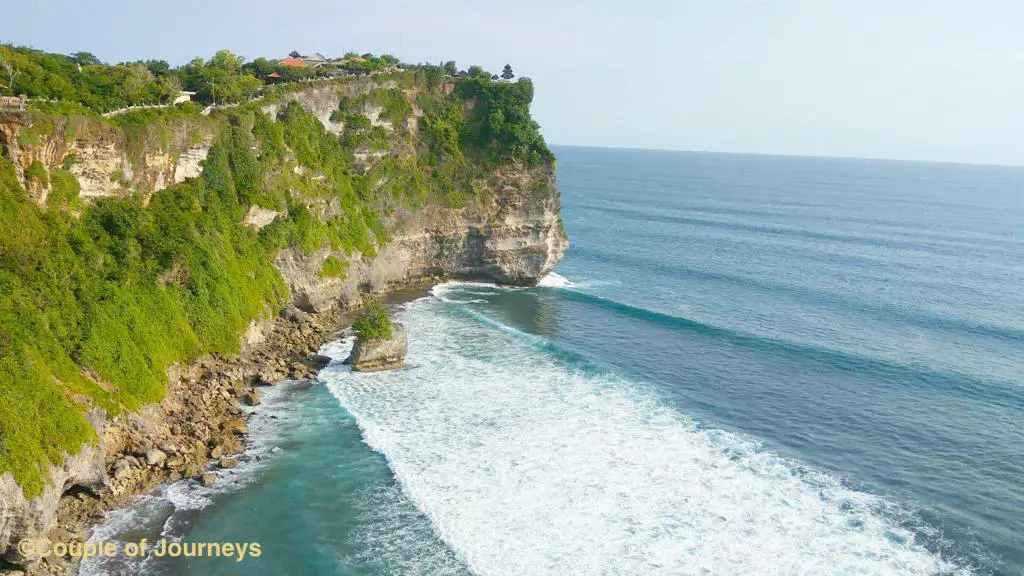 Top Things to Do at Uluwatu Temple – Key Takeaways 2023
Here are the key takeaways on what to do at Uluwatu temple (updated 2023)
Reach Uluwatu Temple at around 4 pm to see the entire campus and make it in time for the Kecak dance show at 6. There are 2 shows of the Kecak dance show at 6 pm and 7:15 pm. But the 6 pm show takes place against the backdrop of the sunset and you should aim to attend that.
Book your Uluwatu + Kecak tour online. You get a free pick-up and a drop-off + you don't have to scramble around a large crowd waiting for the Kecak ticket counter to open (it opens anytime around 4:45-5 pm). At the very least, I recommend booking the skip-the-line Kecak dance ticket online in advance.
Wear the sarong and waistband provided. Wear good, comfortable shoes and apply enough sunblock.
Take in the views from the many different viewpoints all across the walls of the temple. Take a peek into the inside of the temple, the Meru (towers) from the compound walls.
If you miss the Kecak dance show at 6 pm, sit facing west on the steps near the Kecak dance ticket counter to watch the sunset.
Where is Uluwatu Temple located? [Map]
Uluwatu Temple is located in the southern part of Bali in Uluwatu.
Uluwatu temple address is Pecatu, South Kuta, Badung Regency, Bali, Indonesia.
Uluwatu Temple on Bali Map
But for better understanding, here is how long it will take to reach Uluwatu Temple from different parts of Bali
Uluwatu Temple to Jimbaran: 35-40 mins
Uluwatu Temple to Kuta: 1 hr
Uluwatu to Denpasar Airport: 45 minutes
Uluwatu Temple to Tanah Lot: 1 hr 45 mins
Uluwatu Temple to Ubud: 2-2.5 hrs
Where to stay near Uluwatu Temple?
Should you stay near Uluwatu Temple? Well, that's a decision you need to make based on the rest of your Bali itinerary. But if you are in Bali for 10 days or shorter, I recommend splitting your stay in South Bali and Ubud. In South Bali, some of the best areas to stay in are Uluwatu, Nusa Dua, or Jimbaran based on your liking. In fact, Nusa Dua is also one of the best areas in Bali for seniors and older couples.
So if you choose to stay in Uluwatu itself, here are my top stay recommendations.
– Surfers House hostel (Budget recommendation) – See availability and prices
– Bingin Lodge (Mid-range) See prices and availability here
– Bulgari Resort Bali (Luxury) See prices and availability here
Best time to visit Uluwatu Temple
Best season to visit the Uluwatu Temple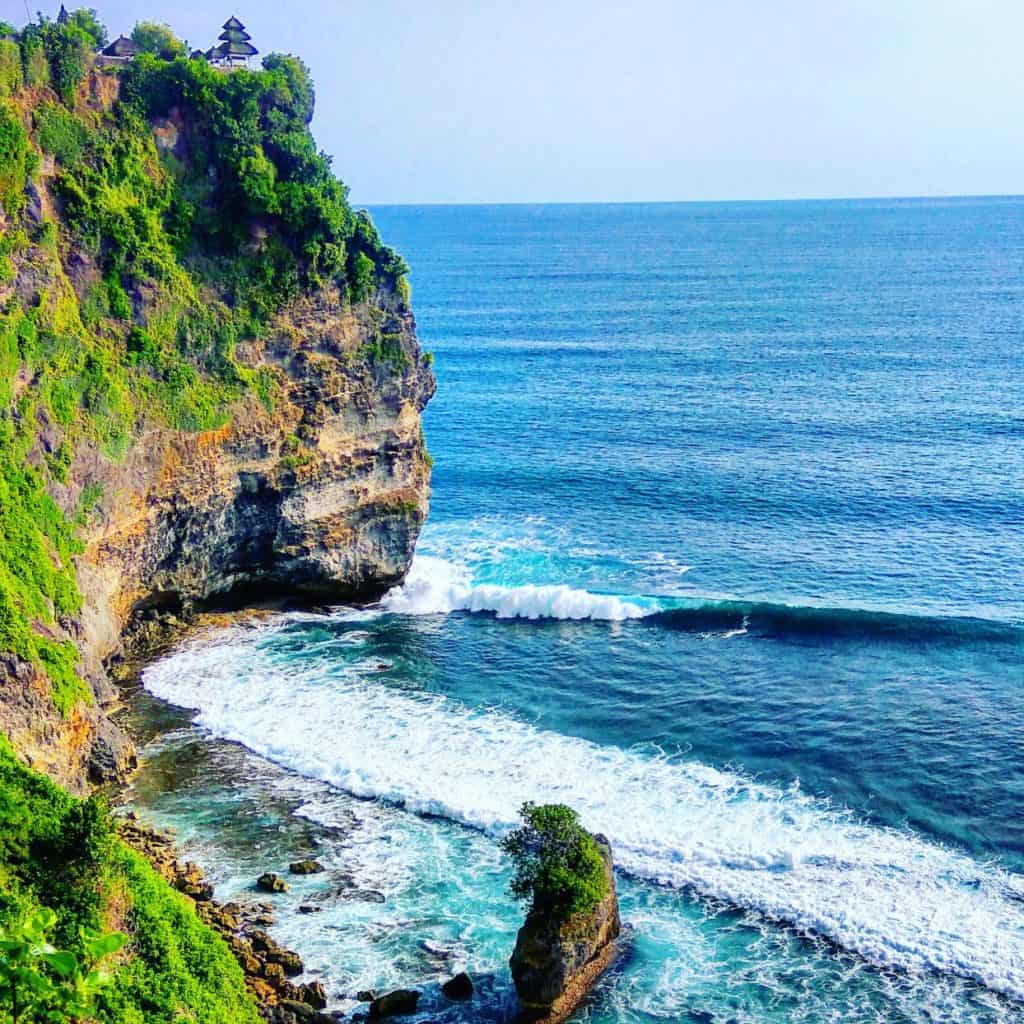 The best time to visit Uluwatu Temple is during the dry season in all months except December to March. Rainy weather impacts visibility and you don't get to enjoy clear views of Bali's coastline. Even though the Kecak dance performance takes place in the rain, you won't enjoy sitting in a wet amphitheater while it's pouring.
Best hour of the day to visit Uluwatu Temple
For the best experience, it is recommended that you visit Uluwatu Temple at around 3:30-4:00 pm. The sun is relatively less harsh, you reach in time for the Kecak dance show and also get to witness a majestic sunset which is different but equally as good as the sunset at Tanah Lot.
But if you are running short on time and can't visit Uluwatu in the late afternoon or evening, go at around 7:30-8:00 am. The sun is not scorching hot and there are almost no tourists at that hour.
How to reach Uluwatu Temple?
Uluwatu Temple may be one of the top things to do in Bali but it is still not connected as well as it should be to public transport or local buses.
After the Kecak dance show ends, it is almost impossible to find a Grab or a local taxi to go back. For this reason, you must book your commute in advance.
I recommend booking the Uluwatu Temple tour online. You get a private car with a driver and you don't even need to lose precious time waiting in a line of desperate tourists for the Kecak dance ticket counter to open.
Depending on how you want to plan the rest of the day, you can book
– full-day tour to Uluwatu and nearby beaches (8 hours) (See availability here)
– half-day tour to Uluwatu ( 6 hours) (See availability here)
– a walking tour to Uluwatu (2 hours) (See availability here)
– a skip-the-line Kecak dance show ticket (See availability here)
– a private car with a driver (to have the flexibility of planning your own route and itinerary)
Alternatively, if you are comfortable riding a scooter or a bike in Bali, you could ride to the Uluwatu temple on your rented two-wheeler. It saves time as you can wade through the traffic. But you will have to buy the Kecak dance tickets separately.
Uluwatu Temple – What to wear?
You need to wear a sarong that covers your knees when entering the temple and pair it up with a sash or a waistband.
But you can borrow a sarong and a sash at the entrance for free. In most cases, the staff would require you to wear their sarong even if you carry one of your own or wear long skirts. So don't bother carrying your own sarong.
Even though the temple offers free sarongs, make sure you wear clothes that are respectful of the Balinese culture. Avoid wearing bikini tops, hot shorts, or clothes that are too revealing.
Besides the cultural aspect of clothing, remember to
– wear a high SPF sunblock to protect you from harsh sun rays
– wear footwear that you are comfortable climbing in as there is a bit of climbing up and down involved when visiting Uluwatu.
– wear sunglasses to be able to admire the views through the harsh afternoon sunlight.
Other than this, avoid carrying any loose accessories in your hand. Be careful with your AirPods, camera, and selfie sticks as well as there are plenty of monkeys in this area. Most are harmless if you are mindful of your belongings.
Uluwatu Temple – Timings, Entrance Tickets, Opening Hours
Now that we have a broad idea of where Uluwatu temple is located, how to reach Uluwatu Temple, and what to wear, let me break down the touristy information for you.
Uluwatu Temple timings
Uluwatu temple is open from 7 am to 7 pm every day
Kecak dance show timings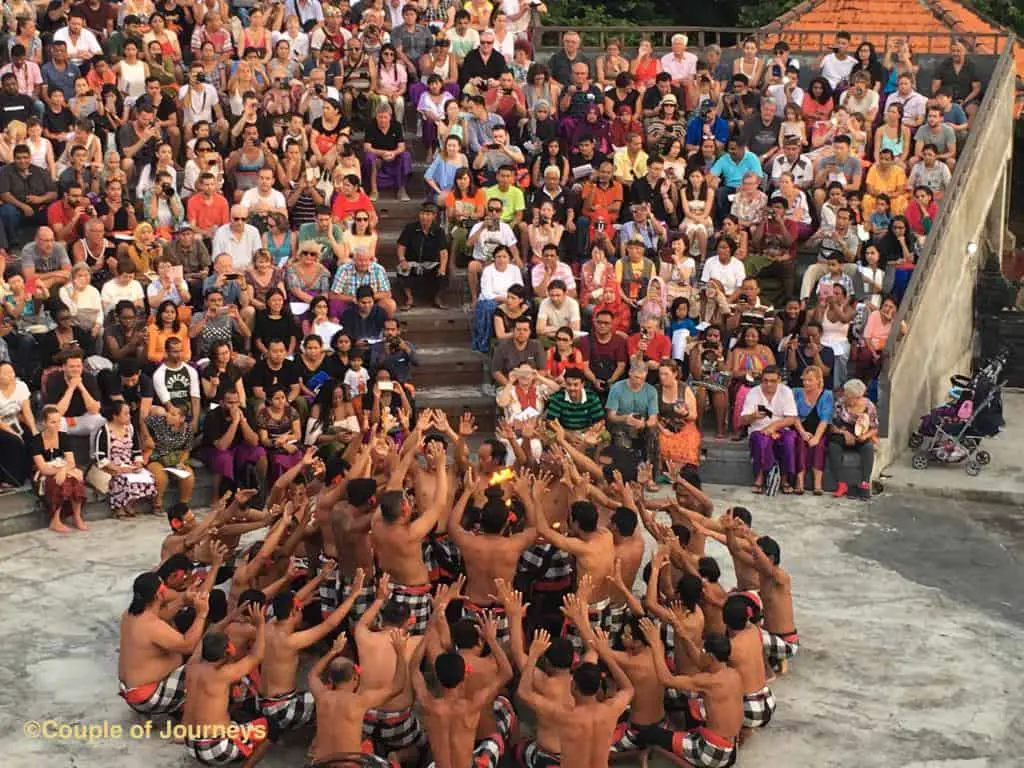 – Kecak dance show takes place at the amphitheater inside the Uluwatu temple every day at 6 pm and 7.15 pm.
– The ticket counter to get tickets for the show opens at 4:45-5:00 pm and the 6 pm show gets sold out very quickly. So if you need to buy the tickets yourself, make sure you wait near the ticket counter from 4.30 pm. Else, book these skip-the-line Kecak dance tickets online in advance. If nothing works, you should be able to get the tickets for the 7:15 show if you reach the ticket counter by 5.30 pm.
– Even though the show starts at 6 pm, people start filling up the theatres pretty early. So get seated by 5.30 pm.
The first time I went to Uluwatu temple, we went out to grab a quick snack and ended up missing out on the west-facing seats in the amphitheater – the best ones to watch the performance or to catch the sunset. We had to sit on the north side on one of the upper seats.
Entrance ticket for Uluwatu Temple
The ticket to Uluwatu temple costs IDR 50,000 for adults and 30,000 for children.
Ticket for Kecak dance show
The ticket for the Kecak dance show is IDR 150,000 per person
The total cost of a visit to the Uluwatu temple with the Kecak dance show and parking costs around IDR 2,70,000 for a foreign tourist.
To save the hassle of buying the Kecak dance tickets yourself and to also save some money, book your tickets in advance online or book a Uluwatu temple tour which includes all the tickets.
What to do at Uluwatu Temple?
Uluwatu temple is essentially a Balinese Hindu temple and like all the other temples in Bali, tourists are not allowed to enter the sanctum area. But they can tour the entire temple area.
So here's a quick list of things you should do when at the Uluwatu Temple.
#1 Check out the Cliff views from the Steps behind the amphitheater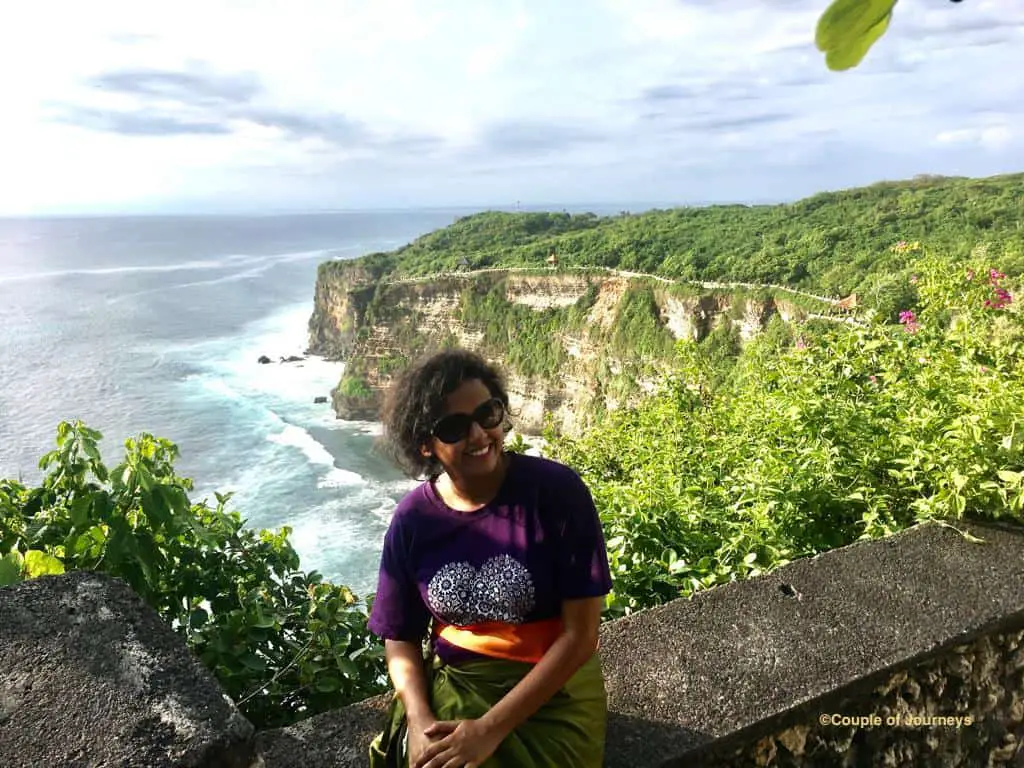 Once you enter, cross the Kecak dance booking counter and then head left – i.e. go further south. There is a narrow pathway and steps that take you behind the amphitheater.
This part of the temple is usually ignored by tourists. But this area offers some of the best views from all of Uluwatu. All the famous iconic pictures of the Uluwatu cliff standing tall in the Indian ocean are taken from this end of the temple. Not only are the pictures extraordinarily scenic, there are fewer people photobombing your Instagrammable Bali pictures. Be mindful of monkeys though as the walls are usually visited by numerous monkeys.
#2 Climb to the top around the temple
After you finish exploring this side of the temple, go right to the top of the temple area. For this, take the steps right opposite the Kecak dance booking ticket. You will be climbing through a series of stairs and every corner makes for excellent photo spots.
Be prepared for large crowds of people climbing to the top along with you.
#3 Click pictures from the walls Behind the Temples
As you start climbing to the top, you will notice that some of the walls are lined with bougainvillea. Pictures of the vast Indian Ocean with a base of a bougainvillea-lined wall look stunning and make for fantastic takeaways from your trip to Uluwatu.
#4 Peek into the temple as you climb
So many tourists are busy getting their pictures clicked that they forget to admire the beauty of the temple. You will see many temple towers from the walls of Uluwatu. The Meru standing tall against the views of the Indian Ocean are beautiful to look at. A look inside the temple courtyard will also tell you a bit about the local Balinese culture.
#5 Attend the Kecak Dance show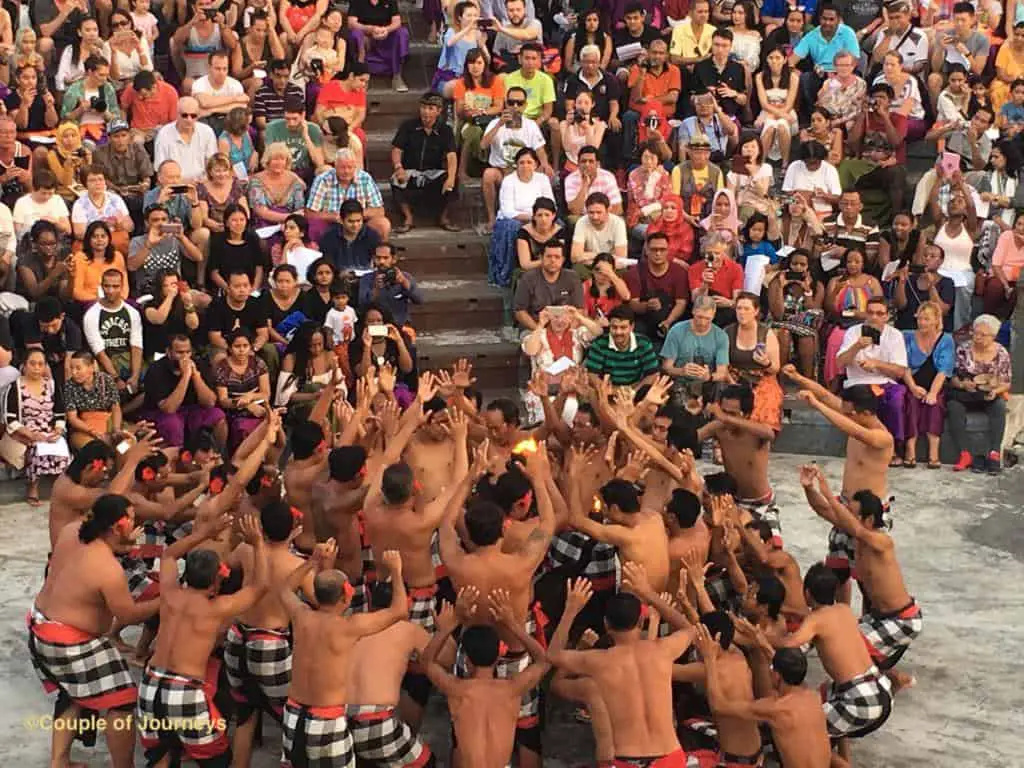 Finally, after you are done touring the temple, it's time for you to attend the Kecak dance show. Plan to reach the amphitheater, at least, 30 minutes before the show so for the 6 pm show, be seated at 5.30 pm. For the 7.15 pm show though, you would have to start getting in the queue as soon as people start gathering near the entrance.
Some tips to get the most out of your Kecak dance show experience
– Sit on the left-hand side after you enter. This faces the ocean and offers the most spectacular sunset views.
– Sit on the second step for the best experience. Many people recommend sitting on the ground for maximum engagement. But it doesn't give you an overview of all the performers and you don't get to experience the magical vibe of the place.
– Make sure your phones and cameras are charged to capture the energy of the Uluwatu temple fire dance. Use a camera that works well in darkness.
– The Kecak dance show depicts a story from Ramayana. Read about it in advance to better understand the performance.
Additional Things to Know about Your Visit to Uluwatu Temple
Expect a massive crowd when visiting the temple late afternoon.
If a monkey picks one of your belongings, reach out to the temple staff who will charge you a small fee (unofficial) and help you get your stuff back from the monkey
The toilets inside the complex are not too well-maintained. Plan accordingly.
There are small gardens which are covered in tree shade and are good for relaxing or taking a break after you are exhausted from all the climbing.
In case you're wondering where to eat near Uluwatu Temple, understand that there are plenty of shacks lining the parking area that serve good local food, juices, and coconut water. Beware of monkeys snatching away your food though. Sit indoors if you visit these restaurants.
Menstruating women are not allowed to enter the temple area as it is against Balinese culture. Be respectful of the same. But this doesn't mean you can't see the Kecak dance show on your period. Just don't go inside the temple gate.
Don't carry food inside the temple area as the monkeys would snatch it away from you.
Best Places to Visit Near Uluwatu Temple
Uluwatu temple's location is close to many beautiful tourist places and attractions. You could choose to visit one or more from the list below along with your trip to Uluwatu temple.
But remember that, except for Jimbaran beach, you will have to visit all the places before you Uluwatu temple. So ideally, if you are going on a full-day South Bali tour, you must leave right after breakfast in the morning to be able to reach Uluwatu temple by 3:30 pm.
Padang Padang Beach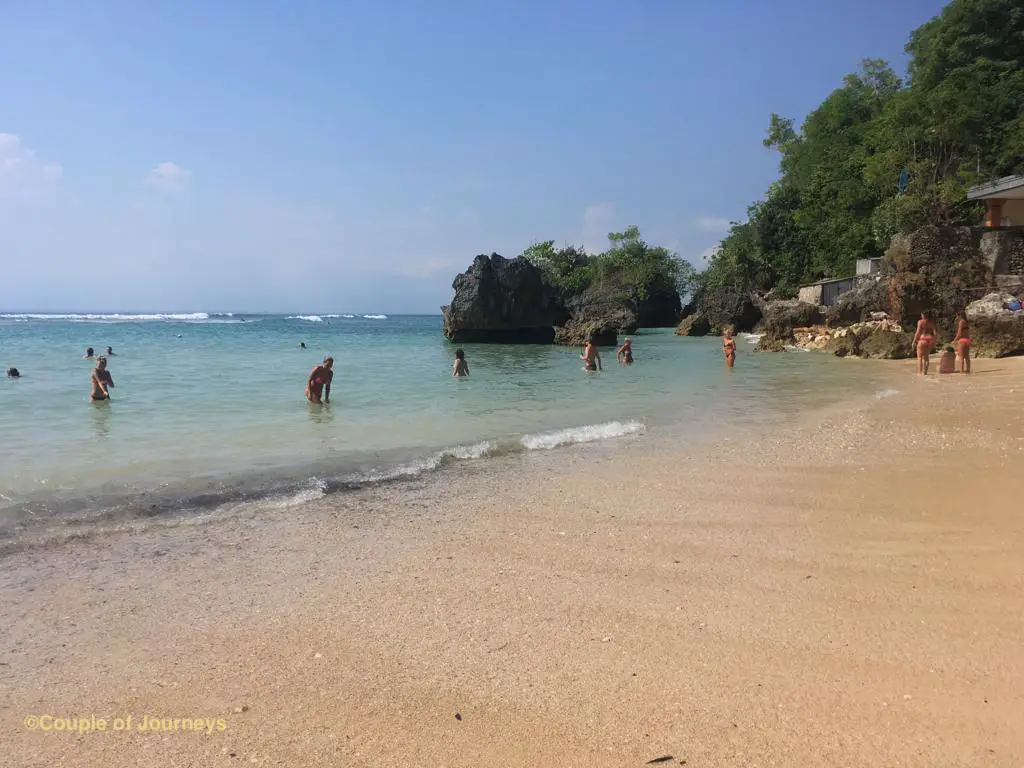 Padang Padang Beach is my personal favorite beach near Uluwatu temple. You need to climb down a few stairs to reach this small beach. But it's one of the most unique beaches in Bali.
It doesn't have a vast coastline like many other beaches like Kuta, Jimbaran, etc. But the beach is perfect for surfing. It is also famous for being featured in Julia Robert's movie 'Eat Pray Love'.
Dreamland beach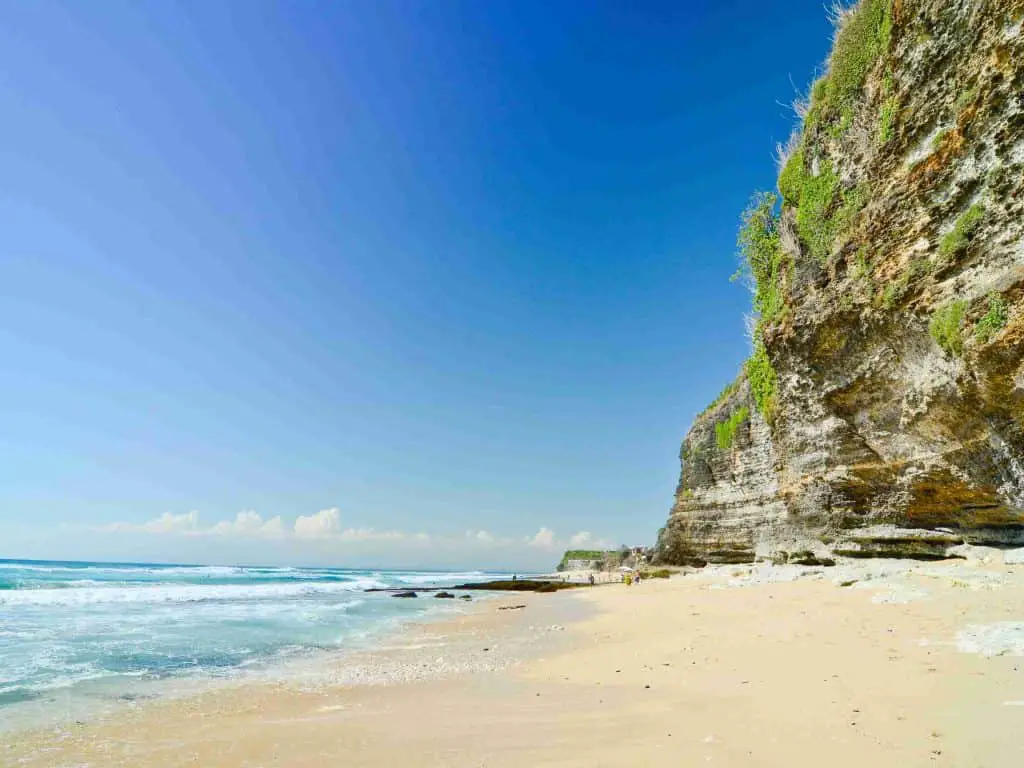 Dreamland Beach is one of Bali's hidden paradises. But has now gradually developed into a popular destination for both locals and tourists.
Despite the development, Dreamland Beach has managed to maintain a more relaxed atmosphere compared to some of the island's more commercialized beaches. The beach is framed by high limestone cliffs, which provide breathtaking views of the Indian Ocean.
Bingin Beach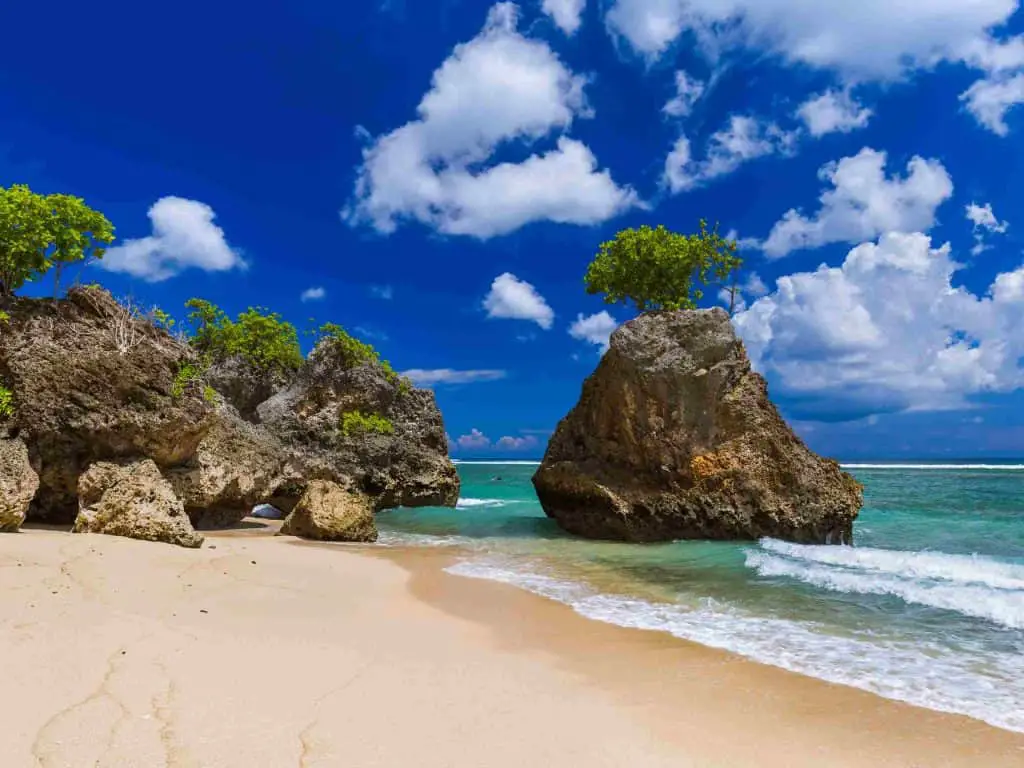 Bingin Beach, on Bali's Bukit Peninsula, is a haven for surfers due to its powerful barrel waves. But even if you're not a surfer, Bingin Beach is worth a visit for its stunning natural beauty and laid-back vibe.
Access to the beach involves climbing down narrow, winding stairs, which lends to its secluded, off-the-beaten-path atmosphere. It's one of the bests places to escape from the hustle and bustle and enjoy some quiet time.
Balangan Beach
One of the most beautiful beaches on the Bukit Peninsula, Balangan Beach is known for its scenic beauty and a long stretch of white sandy beach. Even this beach, like other beaches near Uluwatu temple, is a surfer's paradise.
The beach is lined with local food shacks known as warungs, and beach umbrellas are available for rent.
Jimbaran Bay
As stated earlier, visit this beach after your visit to Uluwatu temple for a nice seafood dinner. This beach is famous for its seafood sunset dinner. But the place is horribly crowded at sunset and it is best if you miss the sunset chaos and instead visit the beach for a quiet dinner after sunset.
You will be regaled by singers and musicians and the restaurant would even be happy to set up a custom candlelight dinner for you if you are celebrating a special occasion.
The beach itself is much wider and is great for walks with your loved ones. It is also an excellent place to watch planes landing from afar.
Garuda Wisnu Kencana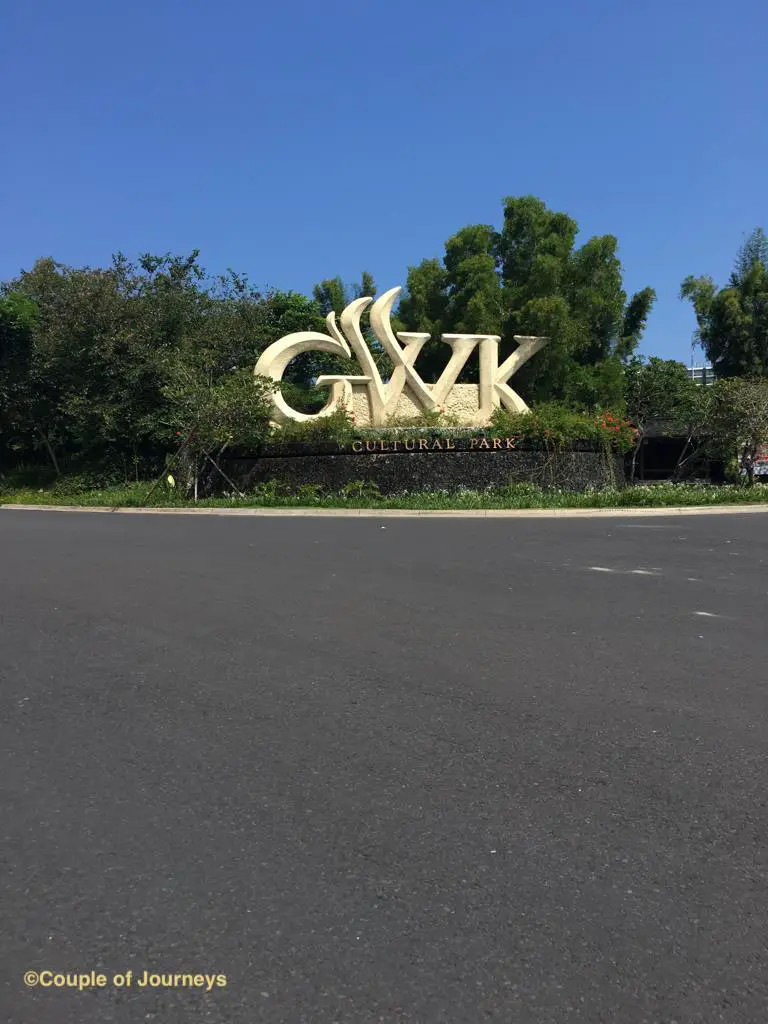 This park is an iconic and culturally rich destination located en route to Uluwatu Temple when you visit it from Jimbaran Beach end. It is named after the bird-like creature Garuda and the god Wisnu.
The highlight of the park is its colossal statue of Vishnu riding on the back of Garuda. It's one of the tallest statues in the world and in fact, can even be seen distinctly from the plane when landing into Bali or leaving Bali.
The Garuda Wisnu Kencana Park offers a range of educational and entertainment activities. You can witness traditional Balinese dance performances here as well and should ideally be on your Uluwatu tour itinerary.
Uluwatu Temple – Frequently Asked Questions
Is Uluwatu temple worth visiting?
Uluwatu temple is absolutely worth visiting for its spectacular clifftop views. The views are some of the best views you will get in all of South Bali and offer plenty of photo opportunities. Moreover, watching the Kecak dance from the amphitheater at Uluwatu against the backdrop of a setting sun would be one of the highlights of your Bali trip.
How long to visit Uluwatu Temple?
If you walk all across the walls of the Uluwatu temple and also wait to see the Kecak dance performance, you would need to spend at least 2.5 hours at the Uluwatu temple.
---
Read more Bali articles:
---
TOP TRAVEL RESOURCES
Here is a list of our favorite travel resources- the ones that I absolutely swear by when planning almost every trip. Go through this list to plan a hassle-free trip and save a lot of money!
Flight Booking: Check the availability of tickets, the best time to fly, and the cheapest fares on Skyscanner. You may also find a cheap flight via CheapOair
Accommodation: I absolutely love booking through Agoda. In most countries and particularly in Asia, I often find the best fares on Agoda. But I also love the no prepayment and no cancellation fee policy of Booking.com. For cheap accommodations and hostels, nothing beats Hostelworld.
Car Rentals: You may find and rent an appropriate car via RentalCars. It's hassle-free and reliable.
Guided Tours: I absolutely love GetYourGuide for local sightseeing tours, walking tours, history tours, and food tours. The booking process is seamless, and the tours are super affordable. But in Asian countries, I prefer Viator or Klook for their affordably priced tours.
Lounge Access: Get Priority Pass – my personal favorite card that gives me unlimited access to premium airport lounges all over the world
Hey, if you found this post helpful, share it with more people or buy me a coffee!