Sunset at Tanah Lot: Full Guide 2023
This website contains no sponsored content. The content is written entirely on my own and is based on my personal experience and extensive research. This post may contain affiliate links. If you make a purchase through one of these links, I may receive a small commission at no extra cost to you. As an Amazon Associate I earn from qualifying purchases. Please read the disclaimer for more information.
Want to see a sunset at Tanah Lot?
Tanah Lot offers a jaw-dropping sunset experience – the best in Bali. In fact, the Tanah Lot sunset experience was so mesmerizing that I have been to Tanah Lot on each of my trips to Bali. It's serene, calming, and one of the most stunning natural spectacles that you must experience on your trip to Bali.
This Tanah Lot sunset guide will comprehensively cover everything you need to know to witness the majestic sunset including
– which season to visit, when to avoid visiting Tanah Lot
– Tanah lot entrance tickets, parking, nearby attractions
– best ways to visit Tanah Lot
– what to wear to the Tanah Lot temple
– and literally, everything else you need to know about Tanah Lot sunsets so that you don't make any mistakes when you visit Tanah Lot Bali.
So whether you are in Bali for 10 days or even lesser, Tanah Lot is a must-visit place.
Where is Tanah Lot?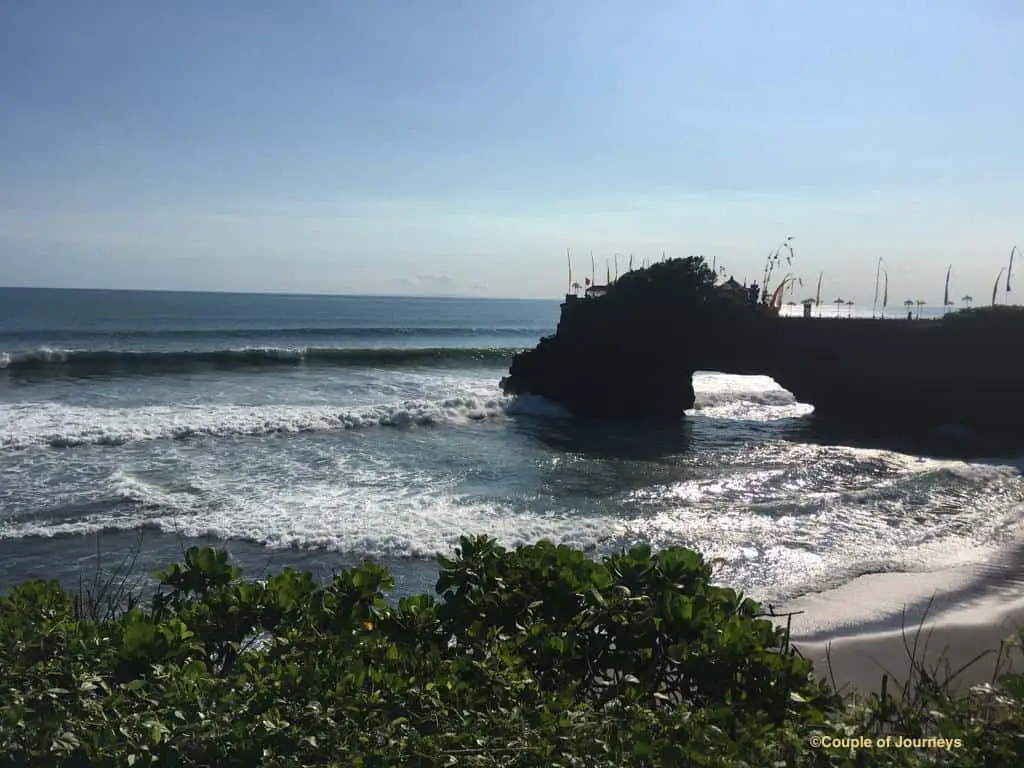 Tanah Lot is located on the southwest coast. This area of Bali is known as Tabanan Regency. 
Distance of Tanah Lot from some of the popular towns in Bali
Canggu: The nearest town to Tanah Lot, the time it takes to travel from Canggu to Tanah Lot Temple is around 20 minutes.
Kuta/Seminyak: The Tanah Lot to Kuta or Seminyak drive is around an hour long.
Uluwatu: Uluwatu is the farthest from Tanah Lot and it will take you around two hours to reach here from Ulu.
Ubud: The distance between Ubud to Tanah Lot will take you an hour and a half to cover. 
Many of the above areas are also perfect areas to stay in Bali for couples and families.
Why is Tanah Lot famous? Tanah Lot – Facts and History 
Tanah Lot is a famous Hindu temple in Bali standing on a rocky outcrop amidst the Indian Ocean. Its unique location and stunning sunset views attract visitors worldwide. This culturally significant site is also one of Bali's seven sea temples, symbolizing protection and prosperity.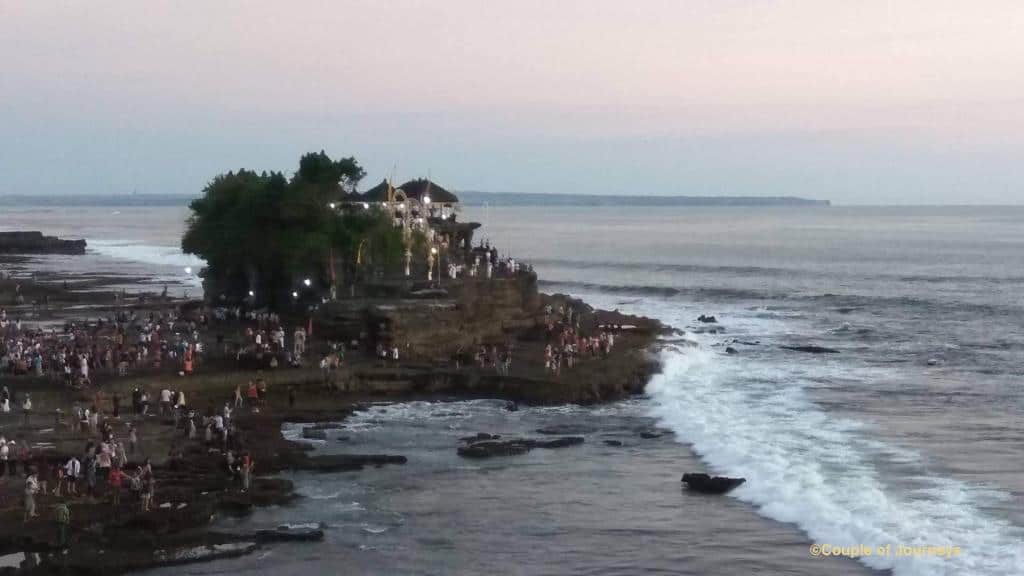 History of Tanah Lot
Tanah Lot roughly translates to 'Land in the Sea' which means that it is a rock structure in the middle of the sea. 
The place is now considered of religious significance in Hinduism because of the temple built on it named Pura Tanah Lot. 
The history of Tanah Lot goes back to as far as the 15th century. 
According to popular stories of the time, it is believed that a priest named Nirartha visited the place. It is said that Dang Hyang Nirartha was drawn to the location by divine spirits and encountered sea snakes protecting the rock formation. With the help of a few local citizens, he built a shrine that is now known as the Tanah Lot Temple. The snakes are believed to be guardians of the temple and are still revered today.
The temple is dedicated to the sea deity, Dewa Baruna, and is associated with blessings of prosperity and good fortune.
Today, both believers and non-believers visit the place in equal numbers because of the sheer scenic beauty of this place, its extraordinary sunset view, and the serenity of this seaside temple.
Best time to visit Tanah Lot
The best time to visit Tanah Lot for sunset is on a day when the sky is clear. The best views of Tanah Lot are thus seen between May to October i.e. during the dry season in Bali.
You cannot see the Tanah lot sunset if the conditions are overcast or if its raining.
You can visit the temple during monsoons to appreciate its unique rocky structure and seaside location. But if you are specifically visiting Tanah Lot for its sunset, visit when the sky is clear.
Also, understand that occasional showers do take place during the dry season as well. Make sure you check the weather app (Which is fairly accurate in Bali) before you book your Tanah Lot sunset tour or before you allocate a specific day for the Tanah Lot trip.
Tanah Lot Timings, Entrance Ticket, Parking
Timings
The Tanah Lot opening hours start from 7 AM to 7 PM except on the Indonesian holiday of Nyepi i.e. Silent Day. ( which will fall on 11th March 2024)
Entrance Ticket
The entrance fee of Tanah Lot as of 2023 is IDR 60,000 for adults and IDR 30,000 for kids.
You can even buy a ticket with the Kecak dance performance (held at a restaurant outside the exit)
Tanah Lot Parking 
Irrespective of what you have rented to travel to Tanah Lot, both scooters and cars need to be parked a bit far from the main point. 
From the parking area, you would need to walk for about ten minutes to reach the temple. 
The parking fee varies depending on what vehicle you get and is usually in the range of IDR 5,000 to IDR 15,000.
Best way to visit Tanah Lot
A sunset tour to Tanah Lot takes up about half a day depending on where you stay.
Here are the different ways of visiting Tanah Lot:
This is by far the best way of visiting Tanah Lot. Renting a car with a driver is hassle-free. You don't have to drive through the traffic yourself or worry about the long walk from the parking area. The driver would pick you up at the hotel, drop you at the entrance of Tanah Lot and drop you back at your hotel. I always recommend booking a private car through Viator to avoid the trouble of bargaining with local vendors or being overcharged by hotel travel desks.
If you prefer booking a private half-day Tanah Lot tour with a visit to Taman Ayun as well, you could book this Tanah Lot tour. Its itinerary is perfect for catching the Tanah Lot sunset and also checking out the marvelous Taman Ayun temple nearby.
I recommend this Tanah Lot Sunset Tour for its 5-star rating.
You can easily visit Tanah Lot by scooter as well (if you're confident about riding a scooter in Bali). You can avoid the massive traffic jam on the way back too if you visit Tanah Lot on a scooter. The parking fee for scooters is also nominal.
You can book a scooter for 2+ days here. The pick-up and drop is hassle-free and the quality of scooters is top-notch.
Sunset at Tanah Lot: Tips for the best experience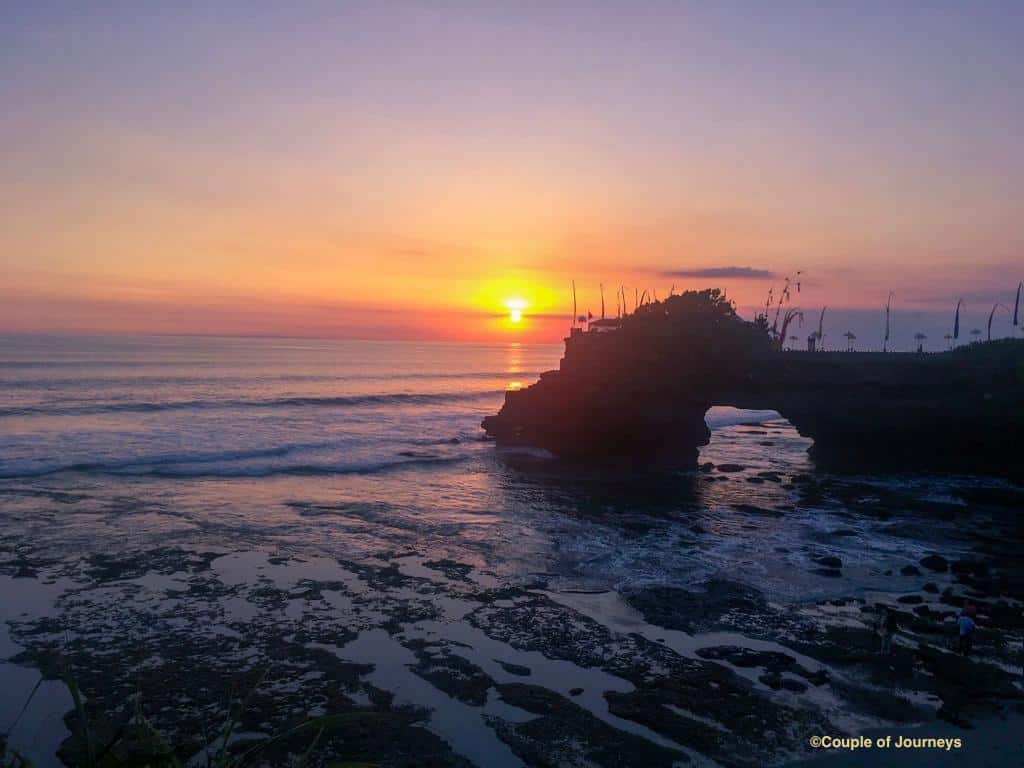 Check the sunset time
Before you plan your Tanah Lot sunset trip, check the sunset timing.
Typically, sunset in Tanah Lot is at 6 pm but in summer it could be a bit later.
Check the weather Conditions
Make sure that the sky is clear so that you can clearly see the sunset. 
As stated earlier, there could be light showers even during the dry season which would ruin your sunset experience of Tanah Lot. So plan a Tanah Lot sunset trip only if you the forecast is clear.
Reach well in advance
To get the best spots to witness the best Tanah Lot sunset, reach Tanah Lot at least 1.5 hours in advance.
After you park your car or scooter, you will need to walk for about 10 minutes to reach the entrance. After you enter, spend about 20-30 minutes exploring the temple area.
After which settle down to watch the sunset.
Sit at the right spot
The beach near Tanah Lot is not the best place for watching the sunset. 
The beaches are lower in height and will not give you the best view as the rocky formation in front blocks the sunset views.
The best spot to watch the sunset is from a bench on the eastern end of the Tanah Lot temple facing the Batu Bolong temple. Ask anyone to point you towards the sunset watching area and you would be properly guided. The area has a few benches or you could even stand and watch it.
Grab a seat right at the edge of the sunset terrace, set your tripod here and then don't leave the place to avoid losing your spot.
Keep your camera charged and carry a tripod if possible
The sunset at Tanah Lot is magical. To see the sun go down from behind the rocky Batu Bolong temple amidst the changing hues of the sky is exquisite.
Capture the beauty of this sunset on a good-quality camera. Keep it charged to avoid the disappointment of missing out on photo memories of this sunset. Timelapses at Tanah Lot turn out to be particularly impressive.
For the best results, carry a tripod. Even if you don't want to carry a tripod around for the rest of your trip, carry a tripod for Tanah Lot sunsets.
Other things to do at Tanah Lot
As beautiful as the sight of a sunset is, there are other things to do in Tanah Lot too. 
So here is a list of a few places to visit near Tanah Lot – and by that I mean literally around Tanah Lot.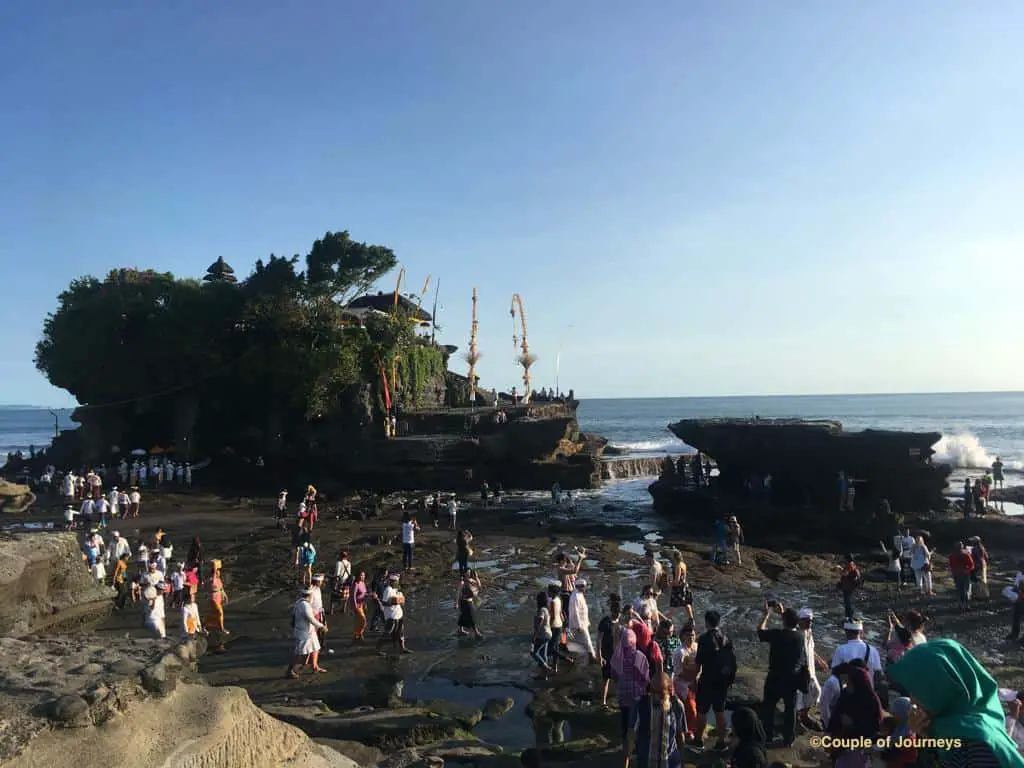 Climb down to the Tanah Lot beach
The beach below the rock of Tanah Lot is a beautiful spot. You can walk to the beach only during low tide. Be very careful as the climb down to the beach is a slippery road.
You may see adventurous tourists at the Tanah Lot beach during high tide and may get tempted. But for your safety, avoid visiting the beach during high tides at all costs.
See the Holy snake 
A holy snake believed to be the protector of the temple and the locals from evil resides in a cave at the bottom of the temple.
You can visit the cave to see the snake. For a picture with the snake, you may be charged a fee of about IDR 100,000 as the place is beginning to get more and more touristy.
Visiting the giant snake could cost you about 25-30 minutes especially on a crowded day. Try to reach the temple by 2-3 pm if you want to go down to the Holy snake cave at Tanah Lot.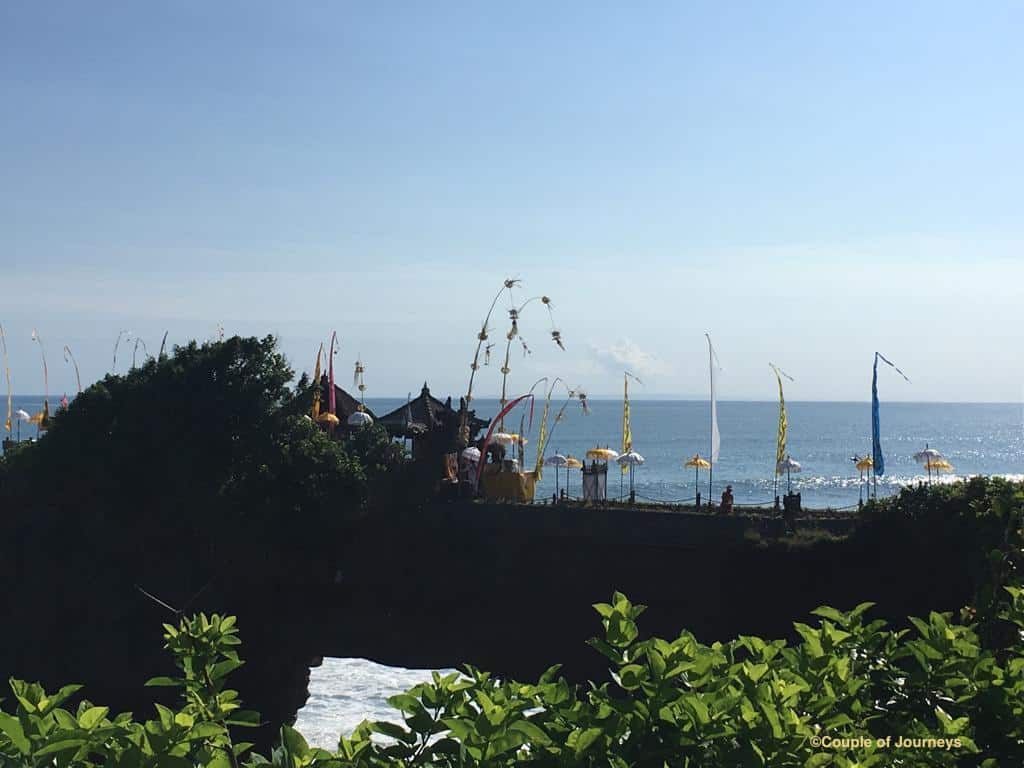 Visit the Batu Bolong temple
Many people who visit Tanah Lot miss out on the Batu Balong temple. You don't even need to pay extra money to visit this temple because its entrance fee is included in the Pura Tanah Lot ticket price.
This temple is located across Tanah Lot over the hollow rock – the same rock that you look at when admiring the sunset from Tanah Lot.
This temple is located right on top of that rock. The access road to the temple is neatly laid out and unlike the Pura Tanah Lot, you don't need to climb down rocky waters to reach the temple.
Entry inside the shrine is prohibited for tourists. But visit the temple to simply take in the outstanding view from the square outside the Batu Bolong temple.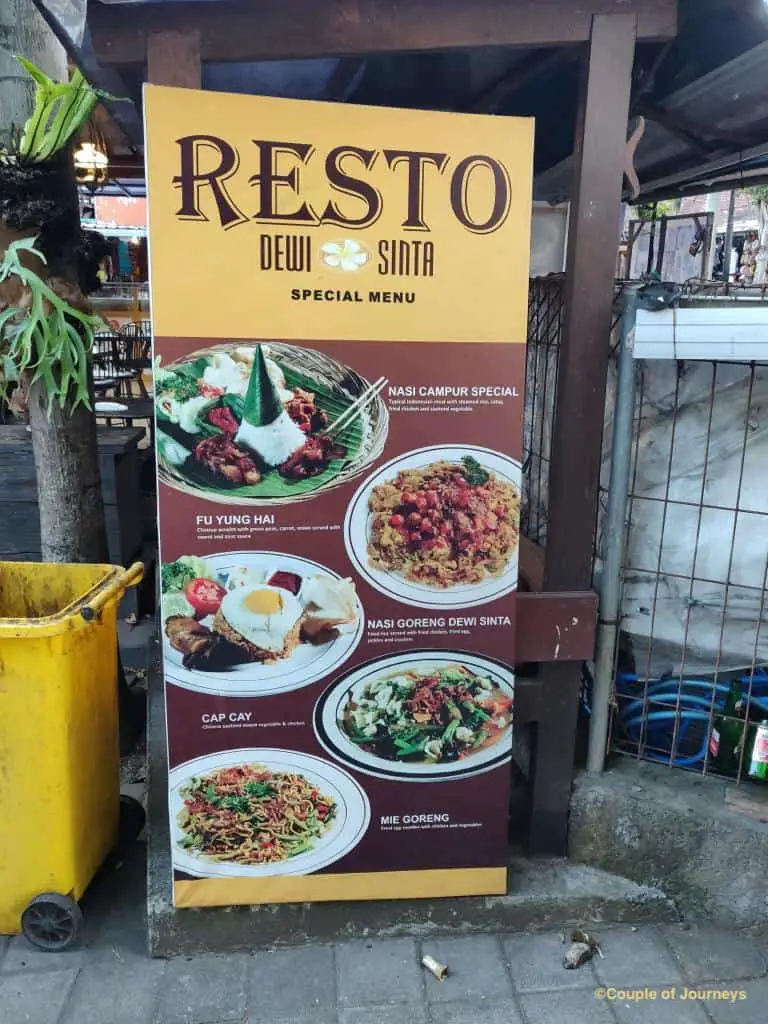 Attend a Kecak dance show at a restaurant outside 
I personally prefer the Kecak dance show at the Uluwatu temple as it takes place at sunset and the amphitheater and the backdrop of the sunset make it a lot more appealing.
But if you are short on time or have never seen a Kecak dance show, you have the option of attending a Kecak dance show at the 📍Dewi Sinta Hotel and Restaurant outside the Tanah Lot temple area.
The show takes place after sunset and is mostly held only on weekends. Check the timetable with the hotel before you enter Tanah Lot.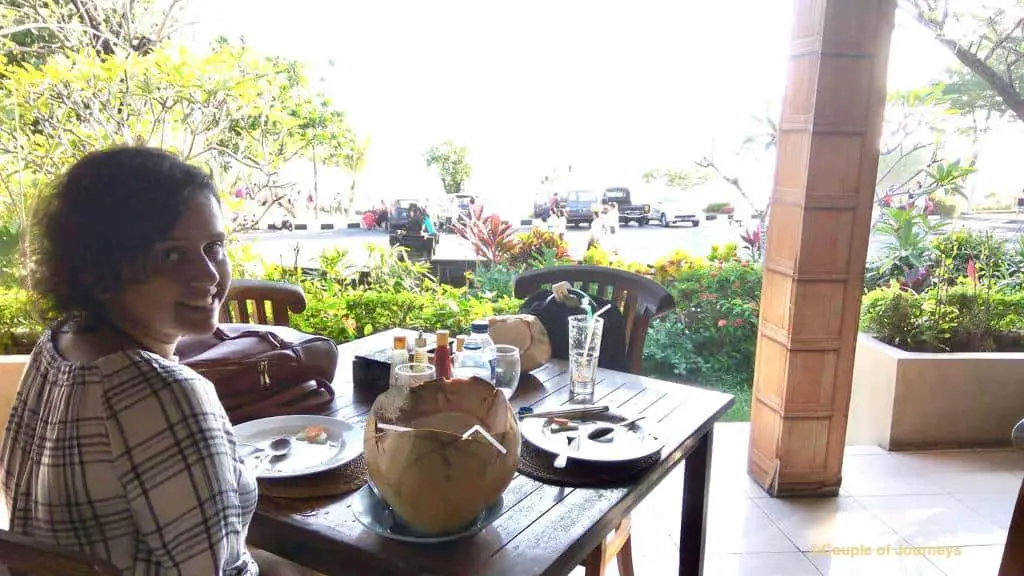 Eat food at the many restaurants or cafes in the lane outside
There are various restaurants and cafes you can eat at during your stay. Even the street food is delicious. 
I love a restaurant called 📍Ocean located right outside the Tanah Lot exit near Tanah Lot's sunset point. The Nasi Goreng there is delicious. They also serve coconuts so large in size that two people can easily share one.
You can eat little snacks served by the many vendors inside the Tanah Lot complex too (although I don't remember the names of any as they were all Balinese!)
Shop for local handicrafts in the lane outside Tanah Lot 
The lane outside Tanah Lot is my favorite shopping area in touristy Bali. It sells almost everything you will find in the crowded streets leading to Kuta temple or in Ubud's central market.
The prices may be higher but many are willing to bring them down if you bargain hard, especially if you stop here after sunset right before the shops close down.
You will find everything from bags, sarongs, clothes, woodenware, kitchenware, dream catchers, coasters, etc.
Best Places to Visit near Tanah Lot
There are various places you can visit near Tanah Lot. 
There are various temples, towns, and villages nearby where you can extend your vacation.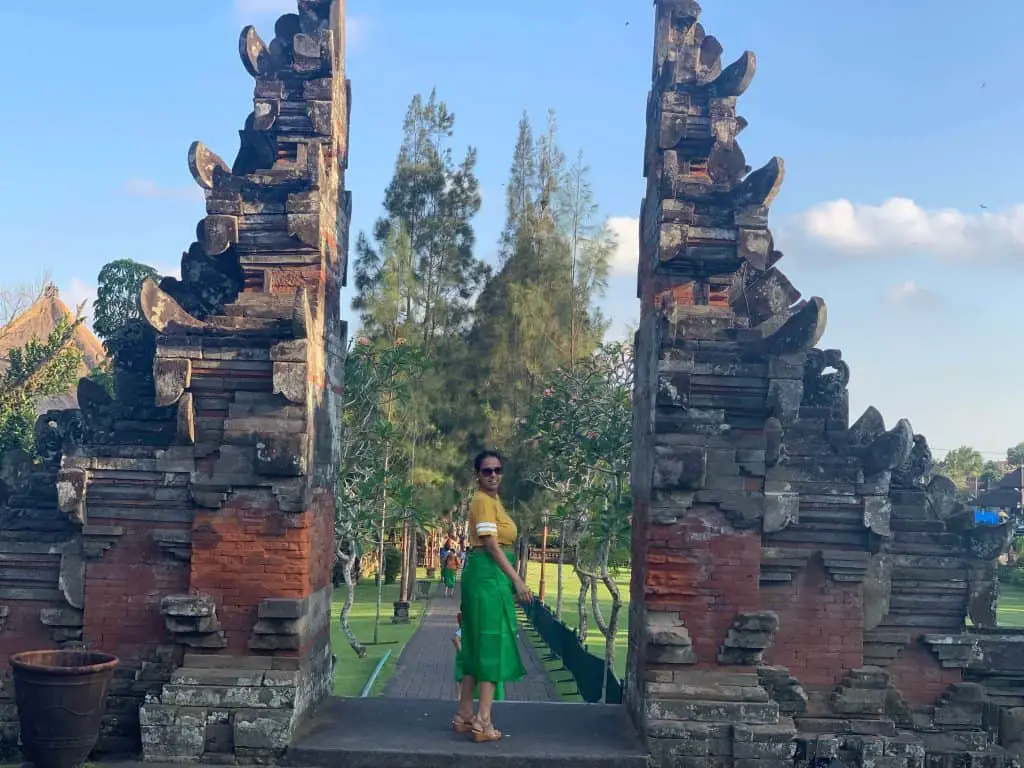 Taman Ayun Temple 
Taman Ayun Temple is 35 minutes away from Tanah Lot and is ideally the best place to visit right before Tanah Lot for sunset.
The temple dates back to the 17th century and was built by the Mengwi Kingdom. The temple is recognized as a UNESCO World Heritage site.
The temple is a must-visit for its outstanding Balinese architecture, its lush gardens and its lotus ponds.
There are many Instagrammable spots in the temple. The temple also features a classic meru tower shrine.
Entrance ticket: IDR 30,000
Timings: 8 am to 6:15 pm
The best way to visit the Taman Ayun temple and reach Tanah Lot by sunset is by booking this Half day Tanah Lot sunset tour.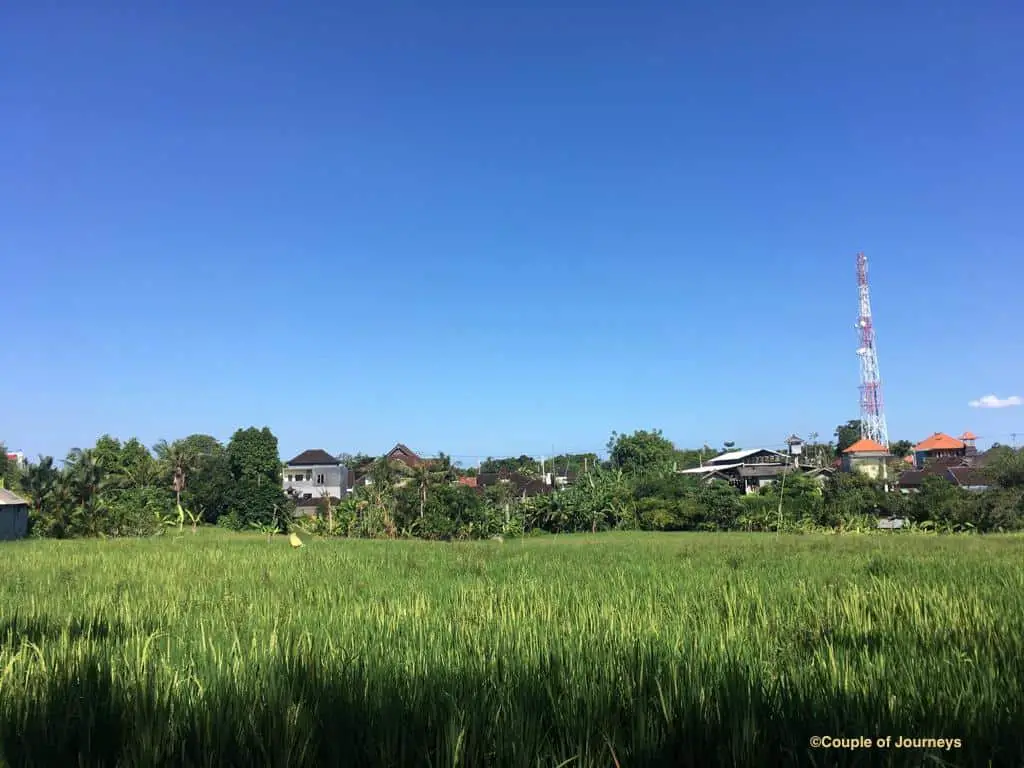 Canggu 
Ideally, I would recommend you to spend a couple of days in Canggu (pronounced 'Changoo') for its unique vibe. The place is a surfer's paradise. It is also growing in popularity as a digital nomad hub – which means there are plenty of excellent cafés and yoga centers here.
But if you have just a few hours at hand, you can visit Canggu before or after your visit to Tanah Lot. Canggu is only a 20-minute drive away from Tanah Lot.
Some of the things to do in Canggu are
Go surfing at Echo Beach or Batu Bolong beach
Relax at the Potato Head Beach Club
Check out the scenic rice fields
Hang out at one of the many cafés in Canggu – I love the 📍Avocado Factory for its delicious smoothies.
Tanah Lot Temple – Frequently Asked Questions
Is Tanah Lot worth visiting? 
Tanah Lot is worth visiting for its unique located, the temple's religious significance, and for being the place that offers the best sunset views in all of Bali. The area near the temple also has many touristic offerings like the Batu Bolong temple, the Tanah Lot beach, handicraft market, etc.
What to wear to Tanah Lot? 
Even though tourists are not allowed to enter the sanctum at Tanah Lot, cover your shoulders and knees as a mark of respect for the local cultural and religious sentiments. If you want to climb down to the temple area, see the Holy Snake or the beach, wear waterproof, non-slip comfortable shoes.
---
Save for later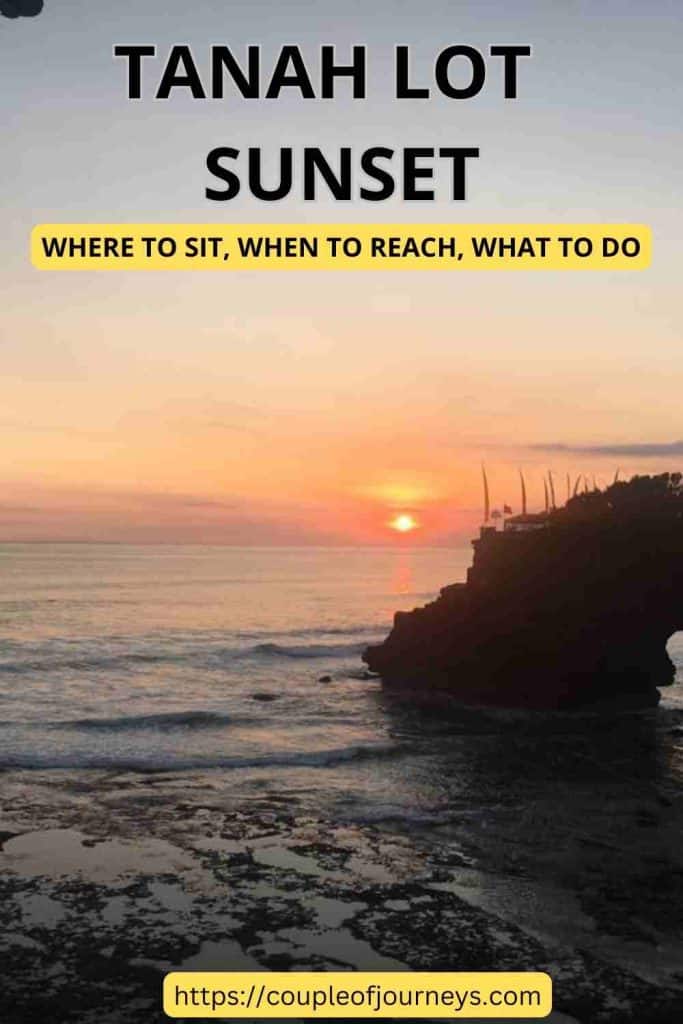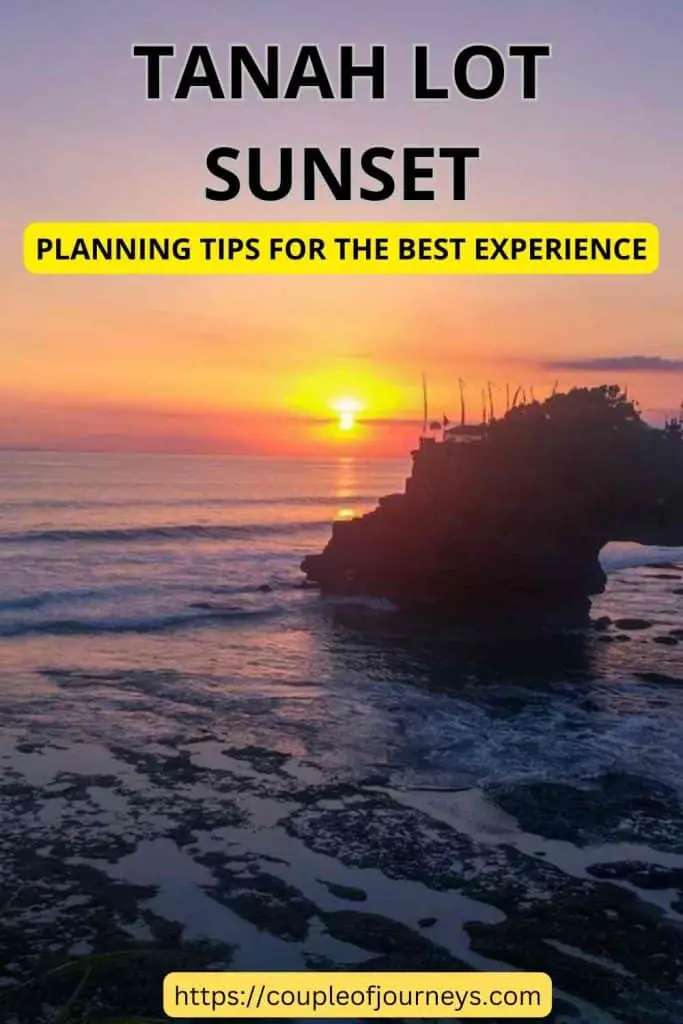 ---
TOP TRAVEL RESOURCES
Here is a list of our favorite travel resources- the ones that I absolutely swear by when planning almost every trip. Go through this list to plan a hassle-free trip and save a lot of money!
Flight Booking: Check the availability of tickets, the best time to fly, and the cheapest fares on Skyscanner. You may also find a cheap flight via CheapOair
Accommodation: I absolutely love booking through Agoda. In most countries and particularly in Asia, I often find the best fares on Agoda. But I also love the no prepayment and no cancellation fee policy of Booking.com. For cheap accommodations and hostels, nothing beats Hostelworld.
Car Rentals: You may find and rent an appropriate car via RentalCars. It's hassle-free and reliable.
Guided Tours: I absolutely love GetYourGuide for local sightseeing tours, walking tours, history tours, and food tours. The booking process is seamless, and the tours are super affordable. But in Asian countries, I prefer Viator or Klook for their affordably priced tours.
Lounge Access: Get Priority Pass – my personal favorite card that gives me unlimited access to premium airport lounges all over the world
Hey, if you found this post helpful, share it with more people or buy me a coffee!