10 Days in Bali – Practical & Easy-to-Follow Along Itinerary
This website contains no sponsored content. The content is written entirely on my own and is based on my personal experience and extensive research. This post may contain affiliate links. If you make a purchase through one of these links, I may receive a small commission at no extra cost to you. As an Amazon Associate I earn from qualifying purchases. Please read the disclaimer for more information.
Want to spend 10 days in Bali? I've got you covered!
In this detailed blog post on things to do in Bali for 10 days, I will
– fully lay down a properly structured 10 day Bali plan for you
– give you recommendations on how to spend the 10 days, where to go, what to do, where to stay, etc.
– provide tips on the best time to visit Bali, best area to stay in Bali, etc
– suggest ways in which you could modify the plan if you are staying for lesser than or more than 10 days in Bali.
Every person who has read about Bali or has heard stories about the island knows that there are a number of reasons why this place is considered to be a touristic haven.
Its beaches, waterfalls, and volcanoes have attracted travelers from all over the world. In fact, even the temples of Bali, the many cultural centers in Bali, and the huge amusement parks feature in people's lists of the best things to do in Bali.
How then do you determine what to see in Bali without feeling a sense of complete overwhelm?
That's exactly why I am putting out this easy-to-follow 10 day Bali itinerary for you.
Before we dive into the details of what you should do on your 10 day trip to Bali, let's have some of your basics cleared –
When is the best time to visit Bali?
The touristic high season in Bali is July and August. This is mainly due to summer vacations in Europe.
In addition to these two months, you should expect a large number of tourists in the month of April around Easter and in December, around the New Year's. Therefore, if possible, it's best to avoid Bali during these periods.
However, if crowds don't bother you, then looking strictly at the climate, the best months to visit Bali are between April and November. Bali, being located close to the equator, is always warm and humid.
The Balinese rainy season starts in December and ends in March. Therefore, in order to enjoy outdoor activities, it is best to avoid these months too.
I would also advise you to specifically check the Bali weather forecast ahead of your trip as sometimes Bali does receive untimely showers even in its non-rainy months.
How many days are sufficient to see Bali?
If you read my article on how many days are enough in Bali, you will know that based on a poll, we found out that most people think that you must at least visit Bali for 8-10 days.
But that said, how many days to spend in Bali, depends on whether you want to only cover the island in  a 'touch and go' manner or whether you want to soak its beauty.
But since on average, most tourist spend about eight to ten days in Bali, I have chalked out a 10 days in Bali itinerary.
I believe that in ten days, you will get a good idea of what the beaches and the interior area of Bali have to offer without feeling rushed.
If you just have one week in Bali, you could cut down on the last three days of this itinerary.
How much does '10 days in Bali' cost?
The tentative costs per day, per person inclusive of accommodation (on twin-sharing), meals, and sightseeing could be estimated as follows –
Budget – Approximately 30 – 60 USD (INR 2,100 to 4,200)
Mid-Range – Approximately 80 – 120 USD (INR 5,600 to 9,600)
Luxury – Approximately 150 – 300 USD (INR 10,500 to 21,000)
You can compute your total expenses for a ten-day trip to Bali based on these estimates.
Overview – 10 days in Bali itinerary
In this Bali itinerary, you will be staying in three regions –
Day 1 – Day 4: Seminyak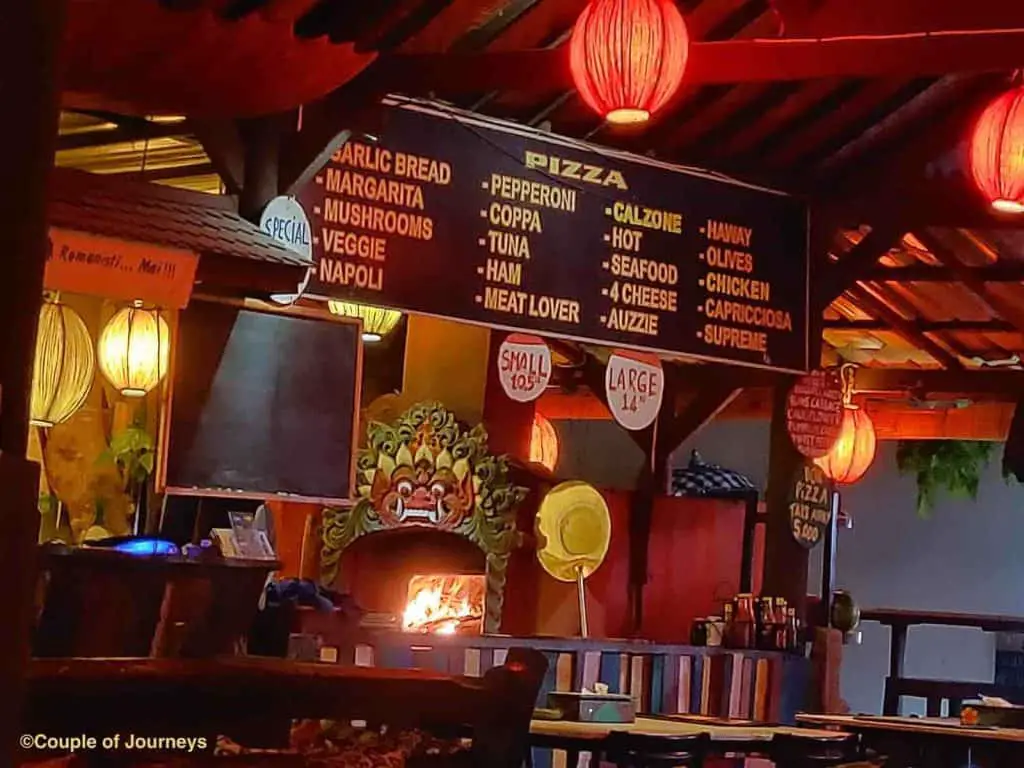 Both Seminyak and Kuta belong to the touristic hotspot of Bali. Kuta is more popular among surfers, budget travellers, party-goers and young travel enthusiasts. Solo travellers also prefer to make Kuta their base.
However, if budget is not a concern for you, I strongly recommend picking a stay at one of the hotels in Seminyak. This uptown area is just a few minutes away from Kuta. Starting off your Bali sejour from this area makes a lot of sense as this area has money exchangers, ATMs, supermarkets, plenty of restaurants as well as a great variety of local and international retail shops.
Day 5 – Day 7: Ubud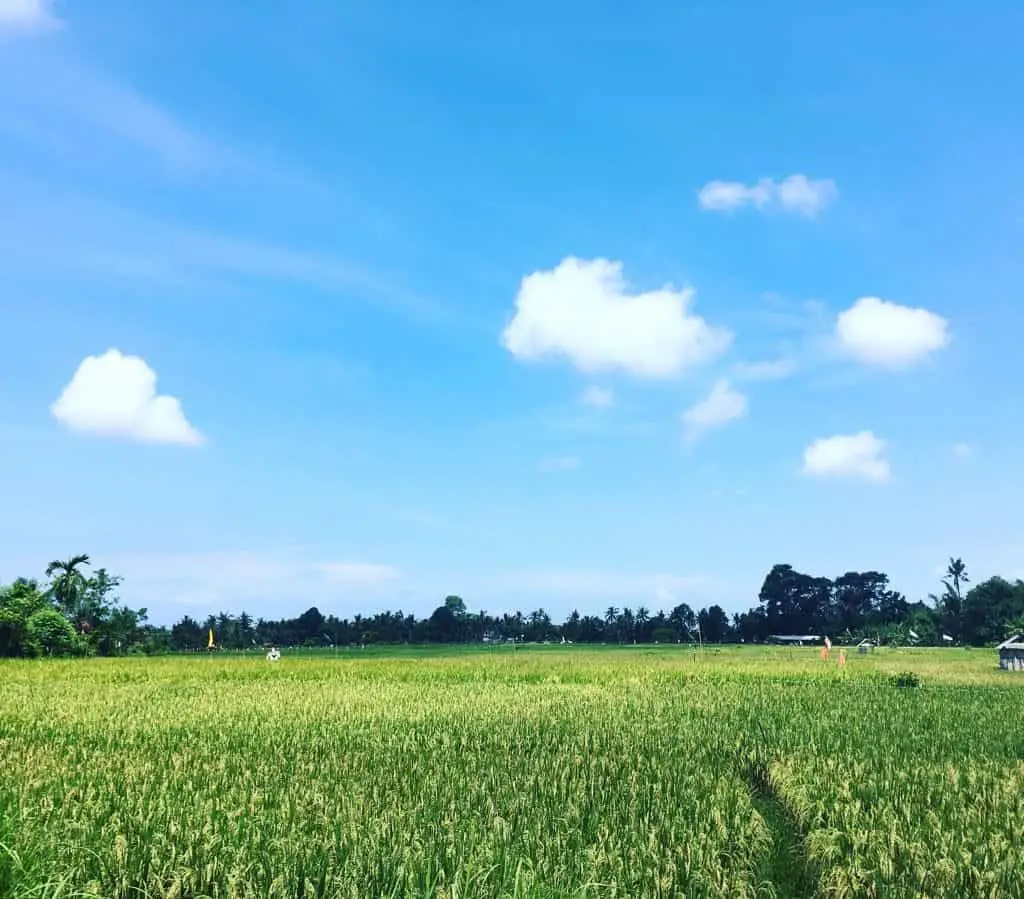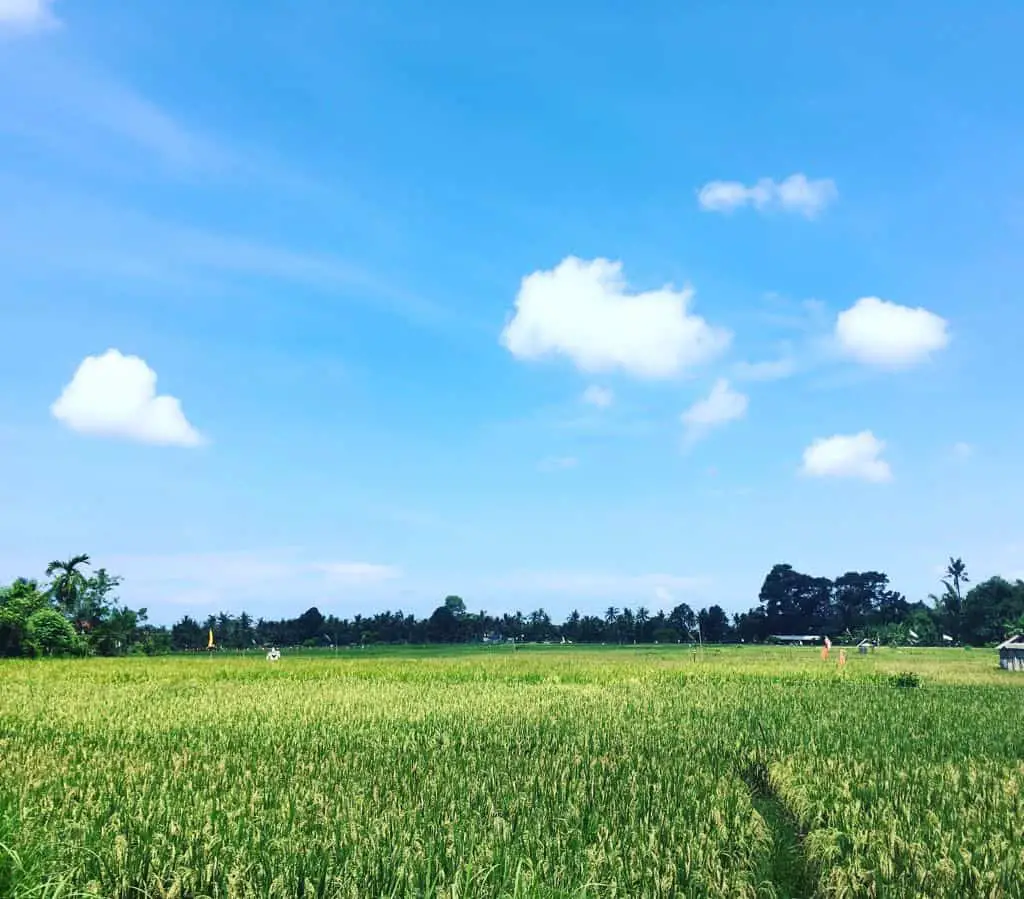 Ubud is in the heart of Bali. It is an interior hilly region known for its many rice fields, waterfalls, temples and handicraft shops. Most Western travelers love this side of Bali way more than its beach areas for its raw, rural appeal.
Spending a good 3 days in Ubud is rejuvenating in its own way. Of course, tourists throng this area like most other places in Bali. But it still somehow retains its countryside charm. In fact, its calm and vibey nature makes Ubud one of the best areas to stay in Bali for older couples.
My tip for you is to avoid staying in a hotel. Stay in a villa or a local's house in Bali. Not only is it cheap, but it will give you an insight into the rich cultural heritage of Bali.
Day 8 – Day 10: Sanur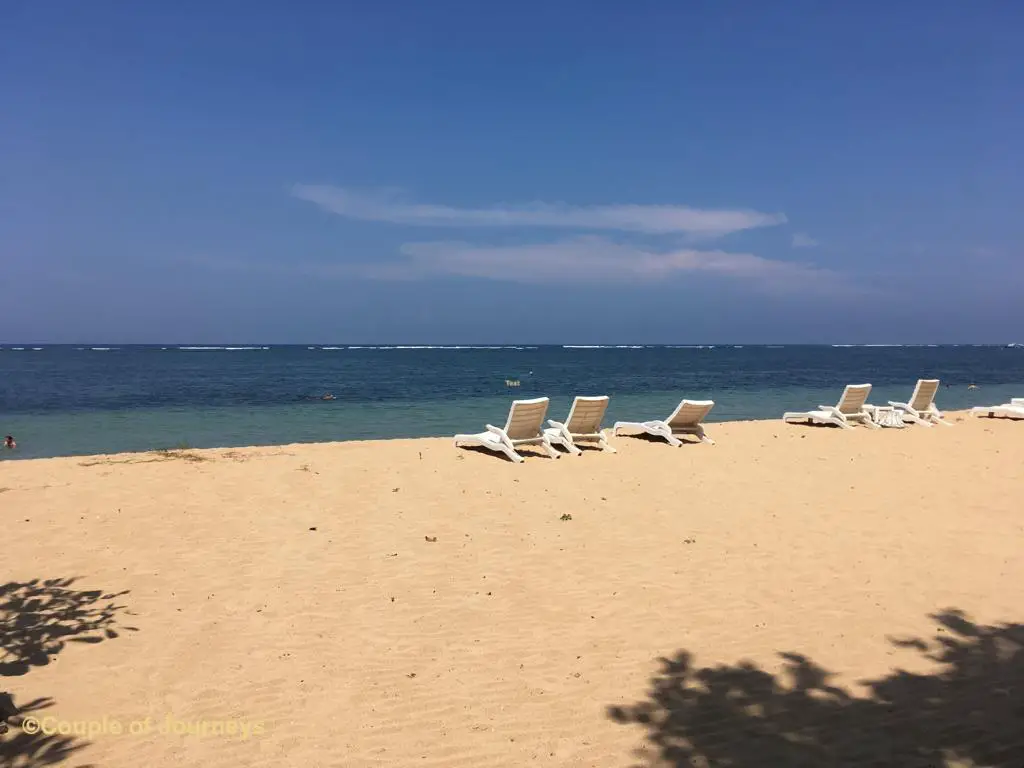 The Sanur area in Bali is a laid-back area with plush resorts, great cafes and above all, a stunning beach. Unlike Kuta and Seminyak, this region is not flooded with tourists and retains its traditional charm. It is a great place to enjoy watersports or to hop on a boat to one of the nearby islands.
However, as specified earlier, if you just have a week in Bali, you could ignore the itinerary from Day 8 onwards.
10 Day Bali Itinerary
Day 1 – Seminyak / Kuta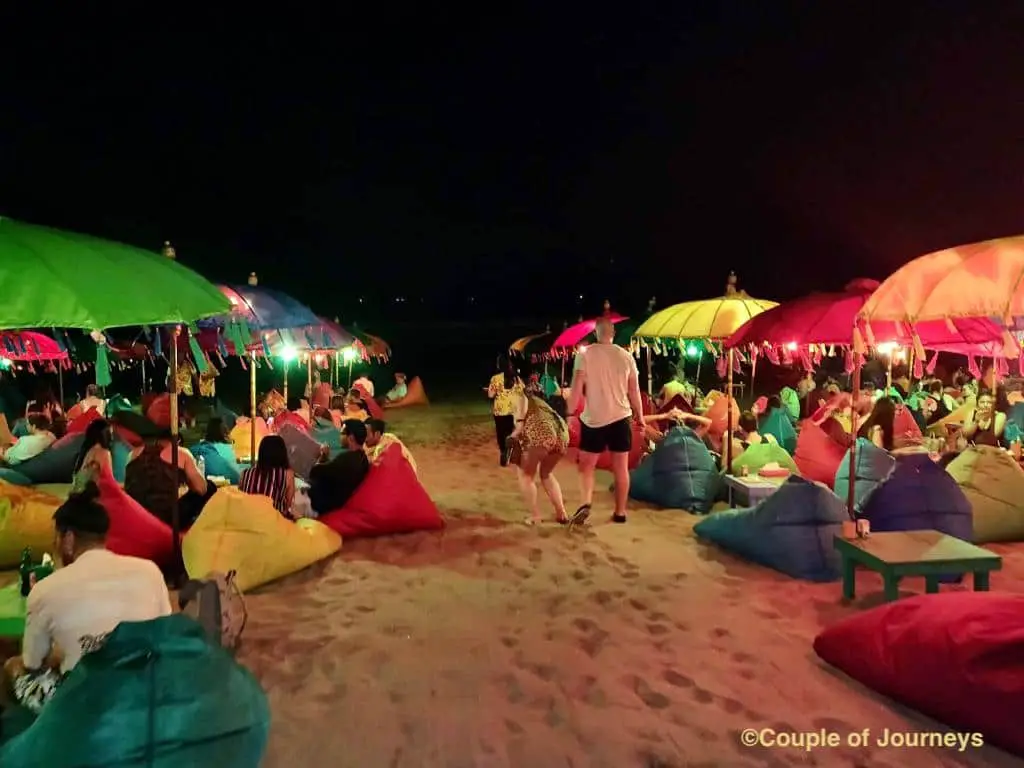 It's your first day in Bali and it's ideally a great day for you to just soak the vibe of the place. Whether you are staying in Kuta or Seminyak, make sure you head to a beach, hang out at one of the upbeat beach clubs and eat some yummilicious Nasi Goreng.
Also, hire a scooter for your four days in this area. If you are travelling with family, book a local driver to take you around.
(We hired a scooter on our first trip to Bali and made a terrible mistake. Avoid it at all costs. Read more about it here.)
Here are my top recommendations for your Day 1 in Seminyak
Beach – Double Six
Beach Club – Potato Head. Try out their restaurant Kaum.
Shopping – Jalan Laksmana
Here are my top recommendations for your Day 1 in Kuta
Beach – Kuta Beach
Party – Hard Rock Cafe
Do – Take a surfing lesson
Day 2 – Jimbaran Bay
While you could spend the first half in Kuta or Seminyak, post lunch, you must get moving! Visit the Jimbaran area which is about half an hour away from Seminyak and about twenty minutes away from Kuta.
Go a little further south of Jimbaran and check out the enormous statue at the Garuda Wisnu Kencana (GWK) which you would have already seen from your flight to Bali. (Yes, it's that huge!)
You can also wait back here until a little before sunset and catch up on one of the many cultural performances arranged at GWK.
However, about half an hour before sunset, make sure you are comfortably seated at one of the many seafood restaurants lining the shores of Jimbaran beach. For a less crowded and a more authentic experience, try one at the Kedonganan beach. (Northern end of Jimbaran beach)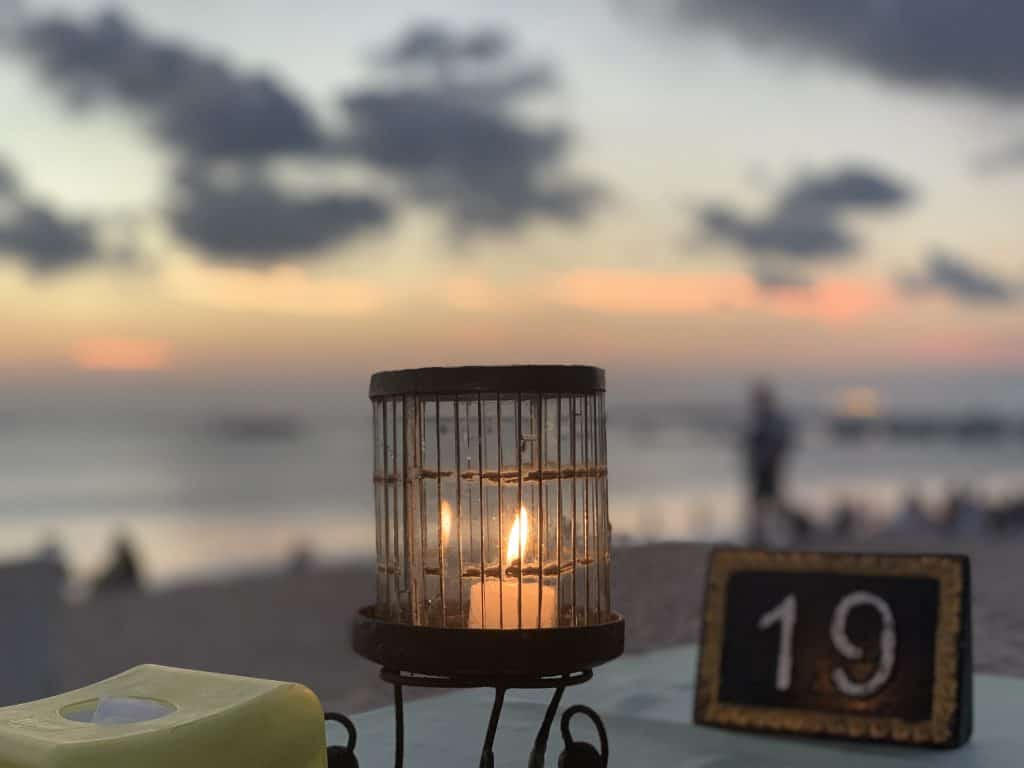 (Tip for honeymooners – A candle-light dinner is also arranged by most restaurants here as part of your Bali honeymoon itinerary. With the view of the sun-setting and the planes landing across the sea, it is an experience you will remember for a lifetime!)
Day 3 – Uluwatu
Today, you should again venture down south towards Uluwatu. But before you reach the world-famous Uluwatu temple, spend time at one of the many stunning beaches in Uluwatu.
Here are my recommendations based on your preferred activity –
Padang Padang Beach – Padang Padang is considered to be a surfer's paradise. Go ride some waves here if you are in Bali to surf!
Nusa Dua (Mengiat Beach) – Enjoy paragliding, sea-walking, banana boat or even some thrilling ones like a ride on underwater scooters at Nusa Dua. Alternatiely, just spend time relaxing at the pristine beach situated amidst the most high-end hotels in Bali.
Pandawa Beach – The approach road to this beach has the statues of the five key characters of Mahabharata (the Pandawas). The beach itself is hidden behind a cliff of limestone and offers great views. The ambience here if perfect for spending a relaxing afternoon with family.
Nyang Nyang Beach – Climb down  a steep cliff until you find this mesmerising beauty tucked behind a cliff. Once here, you will find an abandoned vessel that calls for fun Instagrammable clicks.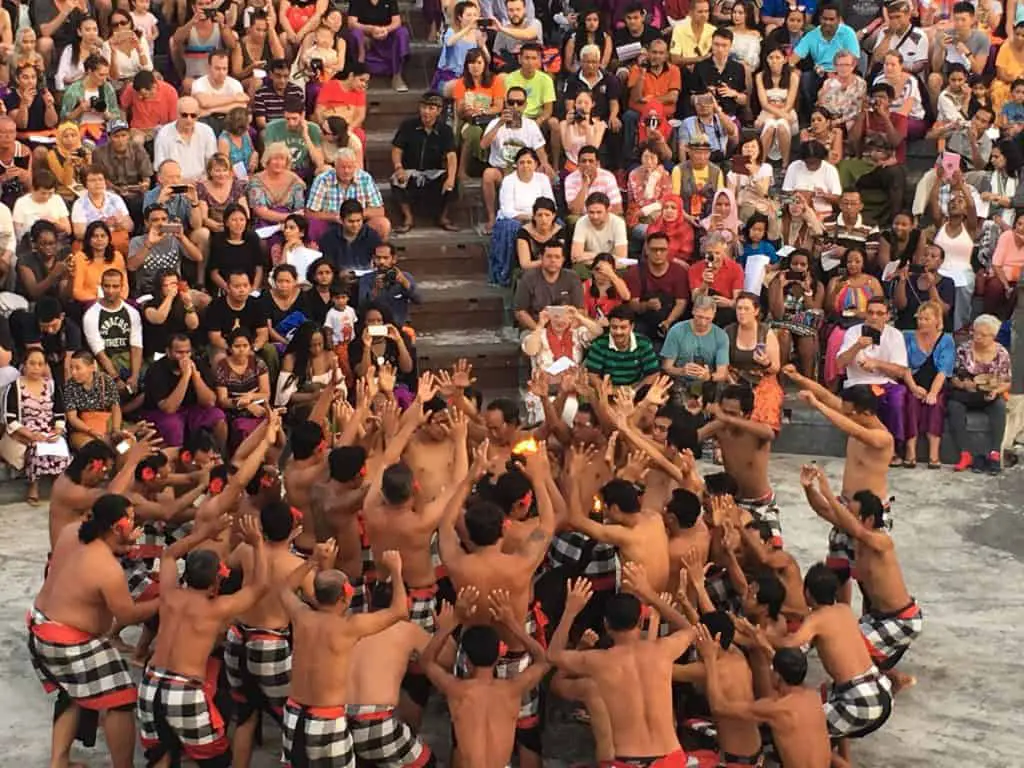 From whichever beach you choose, make sure you head towards Uluwatu temple at around 4 pm. Tie a scarf around your waist and tour the temple with monkeys waiting to surprise you. Grab tickets for the Kecak dance and be ready to be blown away by the performance taking place in the amphitheatre inside Uluwatu.
Day 4 – Canggu / Tanah Lot
This is your last day in Seminyak or Kuta and its time to make the most of it. Spend your morning exploring the popular Canggu area. Canggu is known to make an impression among tourists with its chilled out vibe.
This locality is great for Warung Hopping. Try the famous Warung Dandelion or buy day passes for the Finn's Recreation Club. You could also hang out at one of the many awesome cafés in Canggu.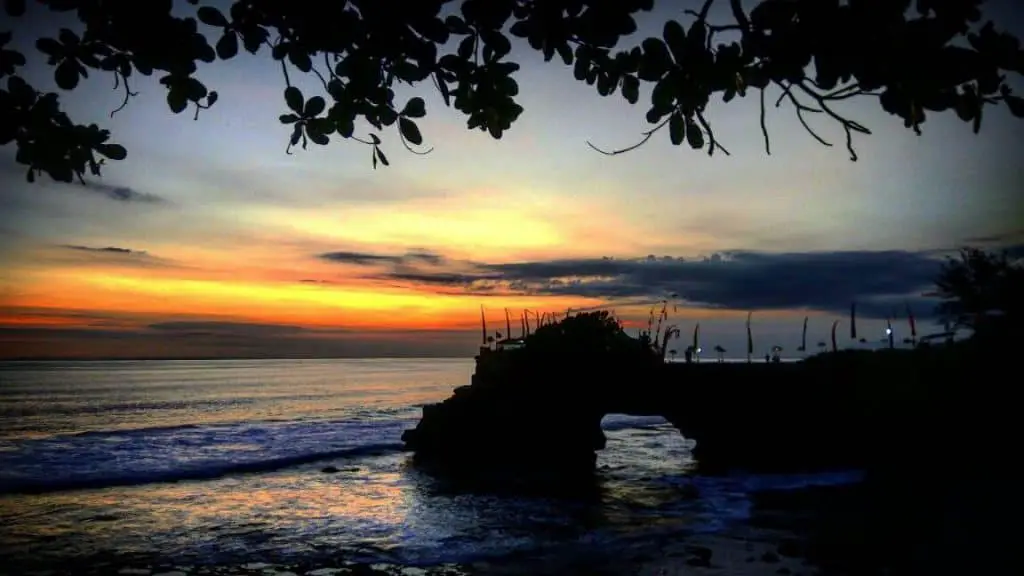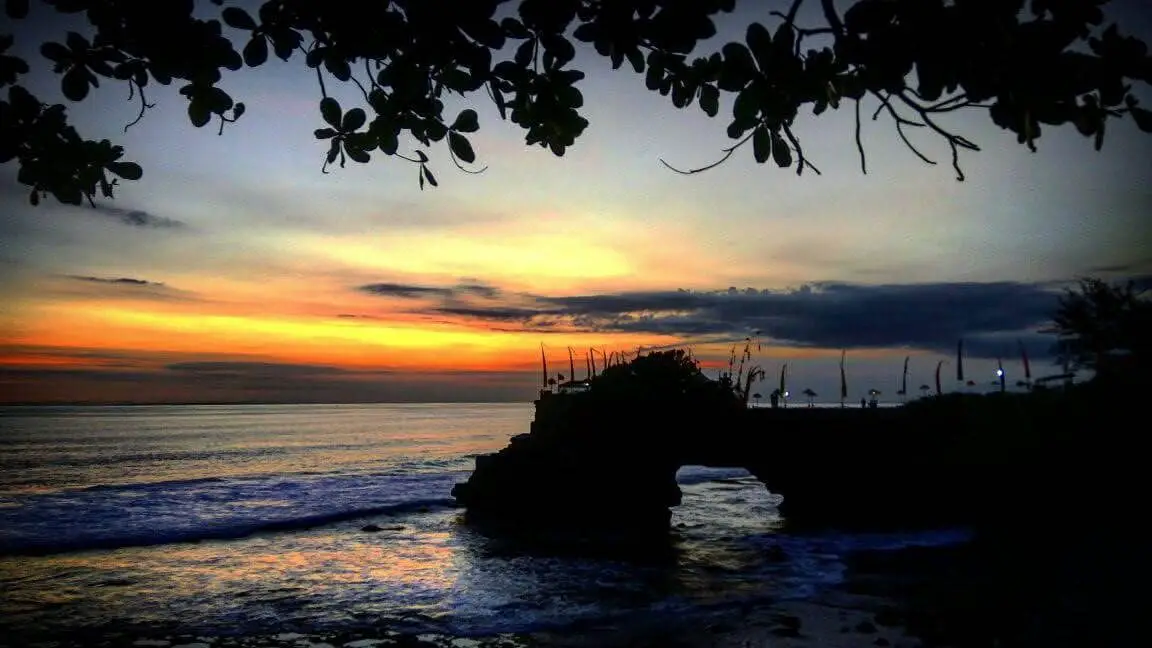 For sunset, be seated at one of the viewpoints at the Tanah Lot Temple. The scenic, unique view of the sun setting behind a temple perched atop a rocky cliff will prove to be a photographic highlight of your trip.
Day 5 – Ubud
After you make yourself comfortable in your choice of accommodation in Ubud, you could simply step out on foot or rent a bike for your outing here. Wandering aimlessly has always been rewarding in this region with the number of pretty cafes, massage parlours, yoga classes and eateries filling up the streets of Ubud.
But if you want a specific itinerary, take a walk in the Monkey Forest. (Mind you, the monkeys will come after your belongings. Stay safe!) Visit the Ubud Palace.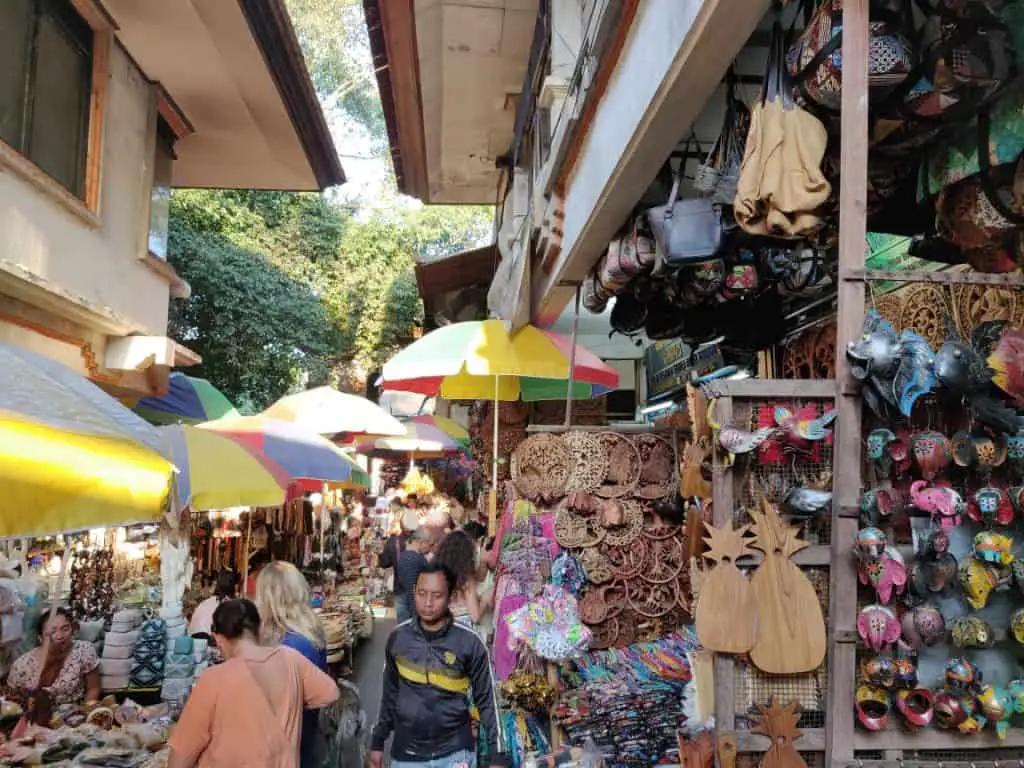 Before the day ends, explore the Ubud Art Market right opposite the Ubud Palace. End your day with dinner at a laid-back Balinese restaurant.
Day 6 – Kintamani / Mount Batur
Bali's famous volcano, Mount Batur, is quite close to Ubud. Hiking-lovers love to climb atop the volcano for viewing the glorious sunrise. But for that, one needs to wake up (or not sleep at all) at 1.30 am and start climbing at 3 to reach the top in time for the sunrise.
However, if you hate rising early or hiking, you could simply check out the other sunrise spots in Bali and pick one that's close to where you are staying. 
If you avoid the midnight hike to Mount Batur and choose to check out the sunrise from a place close to you, you should then head to Kintamani during the day.
Kintamani ranges are situated right opposite Mount Batur. You can click many pictures with the backdrop of Mount Batur from the viewing points located right at the top of the Kintamani ranges.
From the top, you can also witness terrific views of the interiors of Bali. Have lunch here at one of the restaurants providing a good view of the Lake Batur below. Post lunch, continue onwards towards the Besakih Temple.
If you can manage to leave early, do stop to watch a performance of the Barong Dance at the Batubulan village before heading towards Kintamani.
Day 7 – Tegalalang Rice Terrace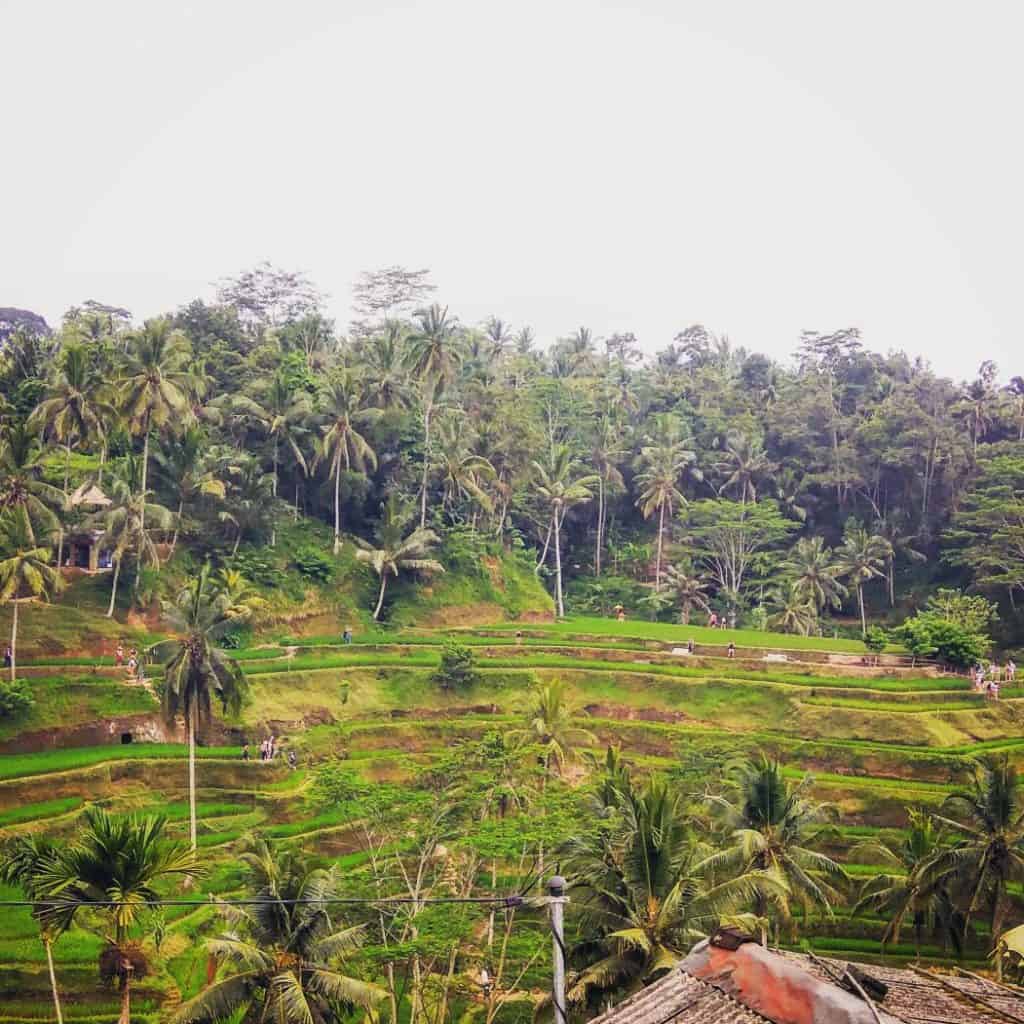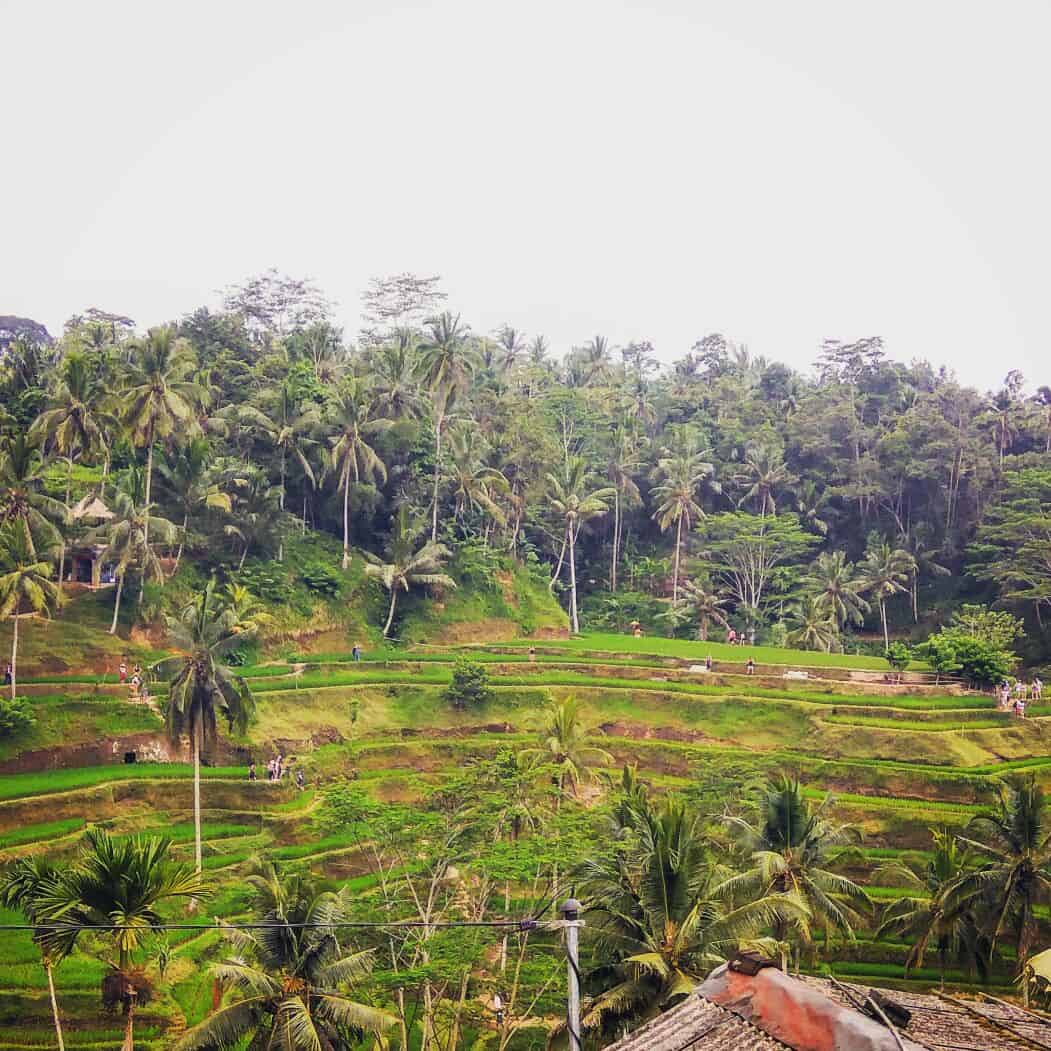 Today, take a tour in the Tegalalang Rice Terrace. The step-like rice farms provide great insight into the ecologically responsible way of rice farming in Bali. Additionally it offers a great backdrop for your photos!
From here, make way towards the many waterfalls in this region such as the Tegenungan, Sekumpul, the famous Git Git waterfall or even the not so famous Nungnung waterfall.
You could also spend your last day in Ubud at the Bali Treetop Adventure part which is perfect for an outing with older kids!
If you want to heat up your Instagram, stop at the Bali swing to get a picture which will surely be a hit on Instagram.
Day 8 – Sanur
It's time to leave the mountains behind and come back to the coastal area in Bali. I chose Sanur for the last part of your stay because of its refreshing laid-back vibe, contrary to the bustling Kuta. Spend a relaxed day at the Sanur beach.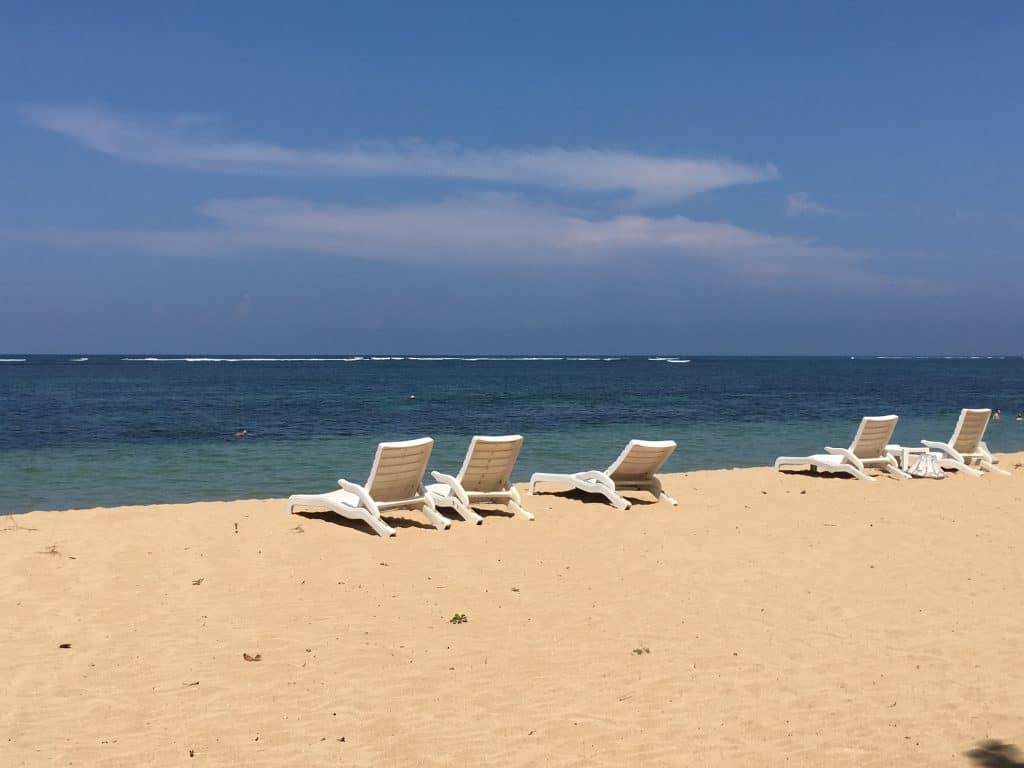 Take a walk along the Sanur Beach Boardwalk. Go diving into the clear blue waters of Sanur.
My favourite place is the Dream Island at the Mertasari Beach in Sanur where you can literally swing to your heart's content right over the the ocean waters.
In the evening, check out the Sindhu Night Market. Plenty of food-stalls offering truly authentic local food make this place a must-visit.
Day 9 – Nusa Lembongan
It's time to leave Bali to explore the picturesque Nusa Lembongan – an tiny island just a short boat ride away from Sanur. To explore this island, catch a speed-boat from the Sanur Beach or the Serangan at around 9.30 am. (Book your tickets in advance). You will arrive at the Nusa Lembongan in half an hour.
Once there, you can start off by going diving and relaxing on the beach. Alternatively, you could first travel to the Devil's tear and the Dream Beach and then relax on the beach post lunch.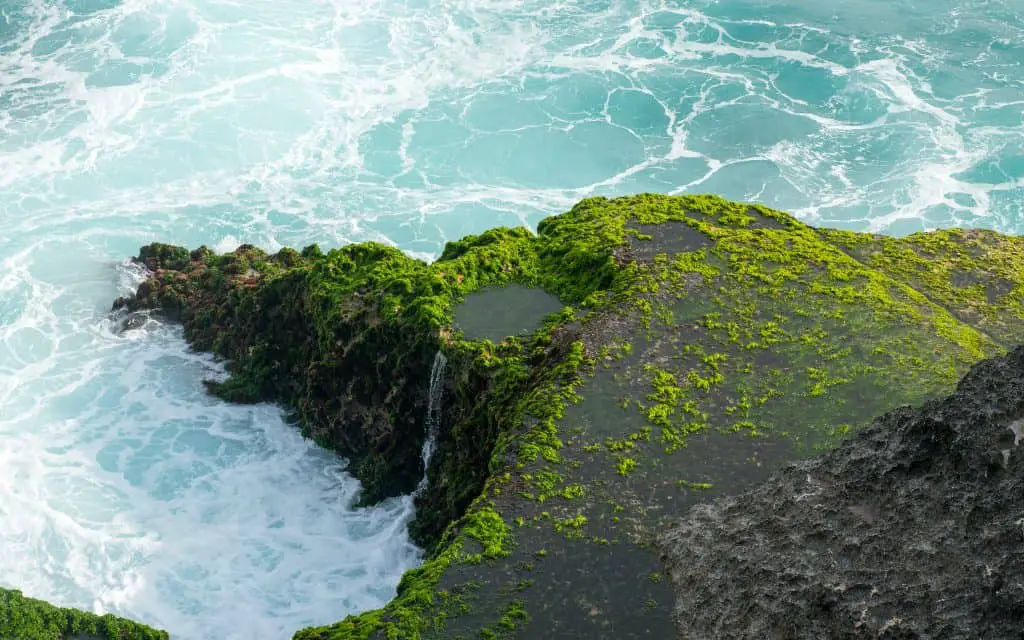 If you are interested, you could also cross the Yellow Bridge and enter the Nusa Ceningan. The Blue Lagoon at Nusa Ceningan. The Blue Lagoon is not only a visual delight but is a great place for cliff jumping. Even if you haven't tried cliff jumping before, try it out here. It will be worth every minute you spend travelling to Blue Lagoon.
Day 10 – Sanur / Taman Ayun / Denpasar
The last day in Bali should best be spent absorbing the vibe of this peaceful island.
Explore the Denpasar area which is the capital of Bali. Although it is a crowded place, very few tourists visit it, and hence is a great place to observe local Balinese people.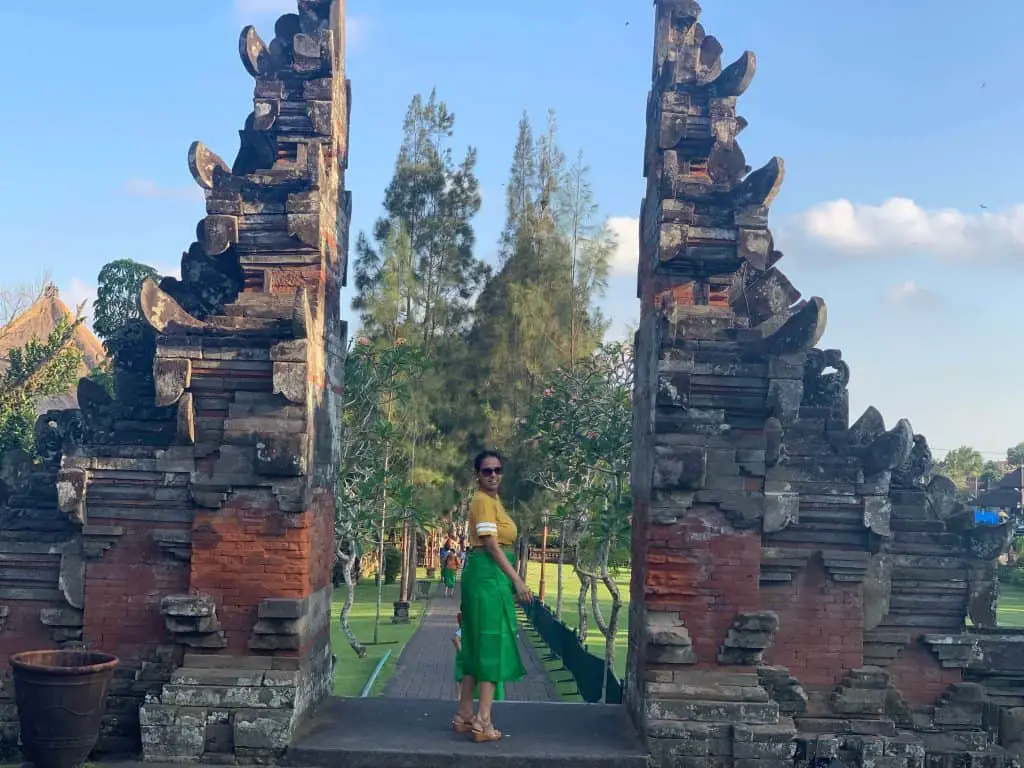 You could also pay a visit to the iconic Taman Ayun Temple to experience a sense of calm.
End your day with a relaxing Balinese foot massage at any of the many spas in and around Bali.
10 days in Bali – FAQs
What to pack for 10 days in Bali?
Bali packing essentials for your 10 day trip to Bali include the following must-haves
lightweight clothing (cotton or hemp works the best)
comfortable swim-wear
The above are a must when packing for Bali. In addition to that, obviously carry shoes, accessories, medicines, toiletries, bags, documents, and everything else that you pack for your other trips.
Is 2 weeks in Bali too much?
Two weeks in Bali is honestly not much given how vast the island is and how much there is to explore and do. In fact, two weeks in Bali would let you explore nearby islands, visit the remote areas in the eastern and extreme north of Bali or just take in the beauty of Bali's landscape and culture in a slower more rewarding manner.
But if you are a busy traveler who doesn't have the time to spend two weeks in Bali, you can spend a week or just 10 days in Bali.
Other places to visit in Bali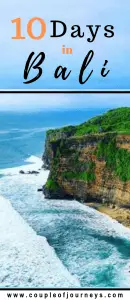 You could always tweak this Bali itinerary based on your preferences.
If you are traveling with kids, you could choose to visit the Bali Waterbom or the Bali Zoo or the Bali Bird Park instead of spending time on the beaches in Bali.
You could also choose to stay at Nusa Lembongan instead of an extra night in Sanur.
You could also visit the remote waterfalls in Bali or the hotsprings near Ubud or the Dolphins at Lovina.
To be perfectly honest, the options are limitless, but to avoid a sense of overwhelm, it is best to treat this article as a guide and make minor modifications to it.
After you are done visiting Bali, read my post on places to visit after Bali for more ideas. If you are considering visiting Vietnam next, you can also read my detailed comparison between Bali and Vietnam.