Bali Travel Tale: A mistake that taught us a big travel lesson!
This post may contain affiliate links. If you make a purchase through one of these links, I may receive a small commission at no extra cost to you. Please read the disclaimer for more information.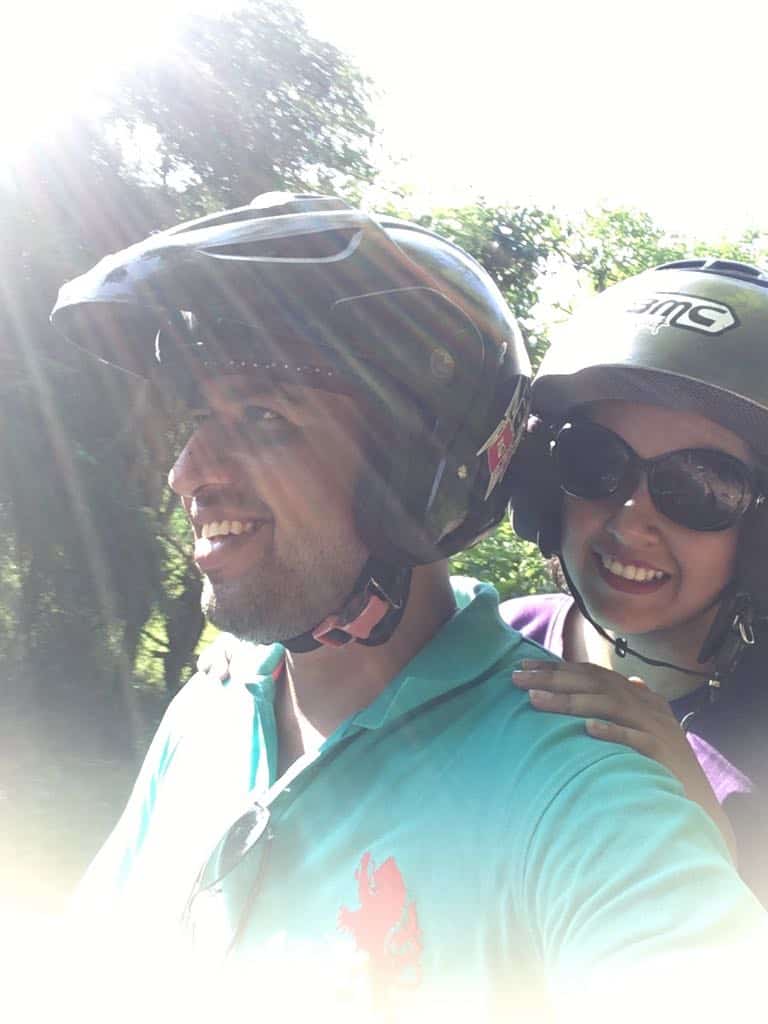 "Travel is not about itineraries and tourist places, it's all about travel tales!"
Even before we left for Bali, we had decided to travel in Bali on a scooter. We applied for an international driving license about two weeks before we left. The R.T.O, Mumbai took just two days to give us the license and we were ready for our first overseas scooter adventure!
We reached Bali at around 4 p.m. and headed straight to our hotel. We unpacked our stuff in our room, freshened up and headed out for a walk. The first walk in a new country is always exciting. As a first-timer in Bali, we were very mindful of the stores, money exchange centers, scooter rentals, laundries and travel operators around. We checked with a few scooter rental places around our hotel, tried out their scooters and mentally selected our favourite scooter rental place.
The next morning, we went to that scooter rental place, selected the scooter of our choice for a super cheap rental and zoomed out of the shop.
(The scooter rental only cost us 50,000 Rupiah or roughly about 250 rupees or 4 dollars for a full 24 hours)
We were really excited! Why wouldn't we be, it was our first time driving on foreign streets! On the very first day, we travelled from one end of Bali to the other. We were really proud of ourselves. We hadn't got lost, hadn't broken any rules, and had taken good care of the scooter and the helmets given to us.
(In Bali, it is mandatory even for a pillion rider to wear a helmet)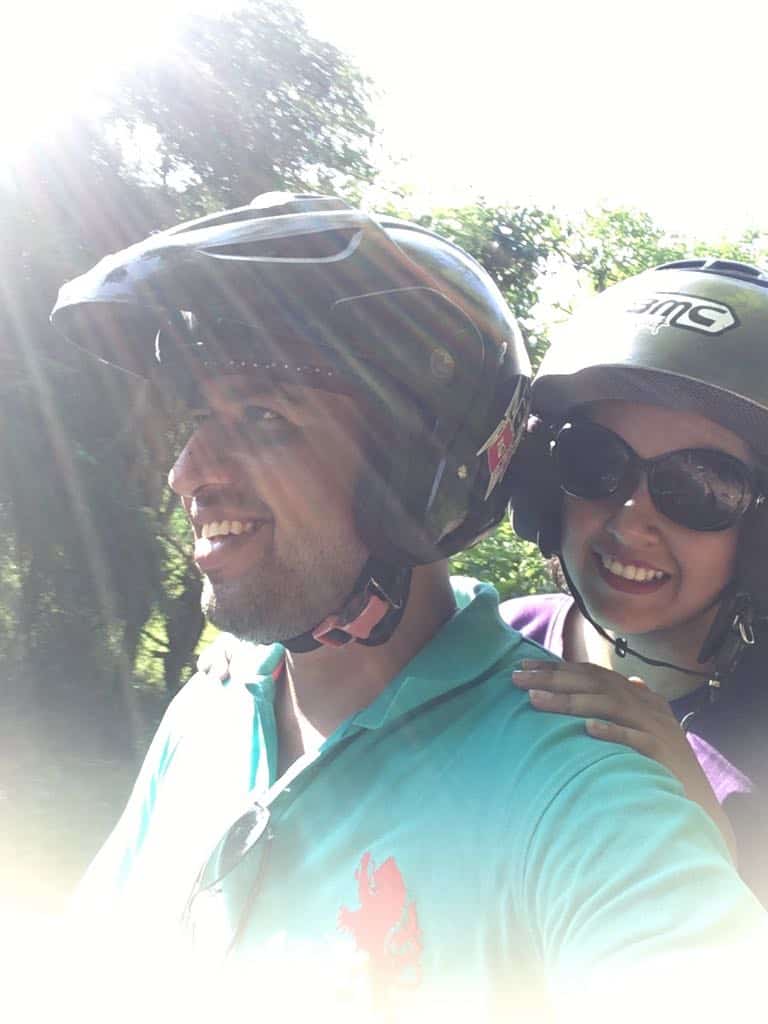 Pleased with ourselves, we decided to rent the scooter even on the following day. That was the day when we headed towards the famous Uluwatu temple. On our way, we stopped at the Garuda Wisnu Kencana Cultural Park as well as the Padang Padang Beach. At around 3 p.m., we reached the Uluwatu Temple. We parked our scooter in the parking space right outside the temple and walked in. The Uluwatu temple is perched atop a hill oversees the Indian ocean and offers stunning views. It took us an hour to cover the entire temple area on foot. We climbed numerous stairs and walked along the fence of the cliff.
At 5 p.m, we rushed back to the ticket counter near the entrance as we wanted to be the first in queue to buy tickets for the renowned Kecak dance performance. We bought the tickets and decided we had enough time to grab a small bite before the show started at 6 p.m. So we exited the temple and walked across to the small restaurants near the parking area. We gorged on our food and rushed back to the amphitheatre to secure good seats for the Kecak dance performance.
So far so good, right? Read on to know about the mistake that shook us!
The Kecak dance performance was breathtaking and finally it was time to leave. By then the sun had set and the theatre was completely dark. Akshay reached out to his pocket to pull out the scooter key and that's when he got a terrible shock. The key wasn't there!
Super worried, we checked all around the place where we were seated using the torch on our mobile phones! But no, we couldn't spot the key anywhere. We poured out the contents of our bag and scanned through every item carefully to see if the key was hiding underneath. But no it wasn't.
We had lost the scooter key!
By this time, we were really tensed! We didn't know what to do. We would have to call the rental place and have someone from their shop come all the way to Uluwatu Temple (assuming of course that the place was still open and hadn't shut for the day!) Not to forget, we would also have to shell out a hefty fine for losing the scooter key.
Akshay was obviously feeling really guilty for being irresponsible and I was trying to appear cool about it to make him feel better. In a state of panic, we walked out to the parking lot wondering what our next step should be.  I was about to call the scooter rental place, when suddenly Akshay jumped with joy. He had found the scooter key.
We had forgotten to pull it out of the ignition and for all this while the key had been on the scooter itself. Undoubtedly, we were ecstatic that we had found the keys. We couldn't believe our luck. I mean,let's get real here – we had left a rented scooter with its key in the ignition unattended for over four hours in one of the most popular tourist spots in Bali! What were we thinking! The damages we would have had to pay to make good the loss of a stolen scooter in a foreign land on account of our negligence may possibly have exhausted all our savings! Ha! And there we were worrying about paying a fine for losing the key.
Thankfully, we had to pay up for neither! We had found the key and the scooter was safe in the parking lot. We thanked our stars for that lucky escape from what could have been a disastrous incident! Although we didn't suffer that night, we were grateful to have learned a lesson.
Very often, our excitement of visiting new places makes us hasty. But, such sloppiness while travelling can not only cost us a fortune, but also tarnish our travel memories forever.
After that mighty scare, we had learned to not be careless with our stuff. The rest of the trip went by smoothly and we came back with loads of fun memories!
P.S. We thought we must share this travel tale with you so that you don't make the mistake we made! Have you goofed up while travellling and learnt a lesson? Do let us know your travel tale by commenting below so that we could all learn from it!
Happy Travelling!