Where to go after Bali: Curated List of the 10 Best Nearby Places
This website contains no sponsored content. The content is written entirely on my own and is based on my personal experience and extensive research. This post may contain affiliate links. If you make a purchase through one of these links, I may receive a small commission at no extra cost to you. As an Amazon Associate I earn from qualifying purchases. Please read the disclaimer for more information.
Wondering where to go after Bali? I've got you covered!
Indonesia is a land of over 17,000 islands and yet the only place most people in the world put on their bucketlist is Bali. There is absolutely no doubt that Bali is mesmerizing and that there are plenty of things to do in Bali. However, Bali's location in Indonesia and in Asia too is such that visiting nearby islands, cities, and countries should hardly be a challenge.
So which are the places that you should visit after Bali? Or in other words, if you have extra time on your hand to extend your vacation, where should you go after Bali? The best places to go to after your trip to Bali are nearby islands like Gili Air, Lombok, Kawah Ijen, or other Indonesian places like Ancol, Flores Island or Borneo. Alternatively, you could even combine your Bali trip with a holiday in Kyoto, Japan, Hoi An, Vietnam or Penang, Malaysia.
Remember that I am not just randomly recommending places from Asia here. But to provide you with a diverse range of options from Indonesia and other Asian countries, this list has been put together by curated inputs from some of the best travel bloggers in the world.
So what are to go after Bali? Read all about the best islands near Bali, the best Indonesian cities to visit after Bali, and the most diverse overseas places to visit close to Bali in the detailed guide below.
Where to go after Bali?
Gili Air
Contributed by: Leah, Officer Travels
How to reach Gili Air from Bali: By boat from Padang Bai, Central Bali or by boat from Nusa Penida or Nusa Lembongan.
How many days should you spend in Gili Air: 2-3 days
---
If you have an extended holiday planned in Bali, you'll probably want to take a trip to some of the surrounding Islands too. The Gili Islands are a popular side trip from Bali because of their diverse nature.
'The Gili Three' is made up of three vastly different islands that offer different scenes depending on what you're looking for.
– Gili Trawangan (or Gili T) is the party island, popular with the younger crowd, and has a much livelier atmosphere.
– Gili Meno is where the couples go, it's quiet, romantic and a great option if you're looking for peace & tranquility
– Gili Air has a hippie vibe
Then there's Gili Air. Quiet, but sociable enough that solo travelers won't feel isolated. Its reputation for yoga retreats is growing year on year.
With no cars here, locals and tourists get about by foot, bike, or horse. It has a great mix of quiet cafes, beautiful restaurants, and beach-side bars but unlike Gili T, clubbing isn't the top priority here.
The top activities for Gili Air include walking and exploring the island, diving lessons, and snorkeling tours. There are plenty of operators to choose from but I recommend looking for one that takes you to all three Islands and includes a lunch stop at Gili Meno.
With its peace and tranquility, it won't come as a surprise to hear that you can't fly to the Gili Three from Bali, so be prepared for somewhat of an adventure by boat. Depending on your Bali itinerary, there are several starting points for a fast boat from Bali to Gili Air including Padang Bai if you're in Ubud or Central Bali. Or, if you're planning to visit Nusa Penida as well, you can also get a smaller boat from Nusa Lembongan which takes a couple of hours.
Allow for at least a couple of days at Gili Air to really experience the beach life and unwind.
Komodo National Park
Contributed by: Jackie, Life of Doing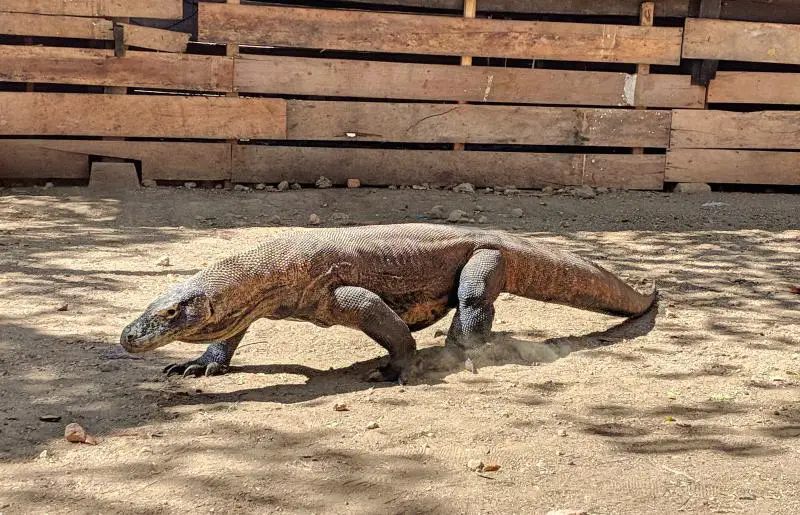 How to reach Komodo National Park from Bali: Fly to Labuan Bajo (1h 20 mins) and then take a tour via boat.
How many days should you spend at Komodo National Park: 1-2 days
---
Visiting Komodo National Park after Bali is doable and easy to do. Komodo National Park is one of Indonesia's UNESCO recognized sites and is well-known for the Komodo dragons living on Komodo and Rinca Island. 
This place is located along an archipelago close to Labuan Bajo, a small town on Flores Island. It comprises 3 main islands – Komodo, Rinca, and Padar, and 26 smaller islands.  
To reach Komodo National Park, you'll need to fly from Bali to Labuan Bajo, and then take a tour (via boat) from Labuan Bajo. A flight from Bali to Labuan Bajo is only 1 hour and 20 mins.  
There are one-day and multi-day tours available. You don't need to pre-book a tour as you can find agencies in the main downtown area or your guesthouse may offer tours. 
A one-day tour consists of a visit to Komodo or Rinca Islands to see the Komodo dragons up close and in their natural habitats, a hike up Padar Island for gorgeous views of the blue lakes, and/or a visit to a pink beach or snorkeling off an island. 
While one day is sufficient, consider extending the tour a few extra days. You can stay overnight on a boat and visit both Komodo and Rinca Islands. The Komodo dragons look slightly different between the two islands. Plus, you'll get more time to snorkel and scuba dive.
Labuan Bajo has plenty of guesthouses and hostels available. They're reasonable at $20 USD per night. It's best to stay close to the downtown area. If you stay closer to the airport, you'll need to hire a taxi to take you to the main downtown area as it's about an 8-minute drive (2.5 kilometers/1.5 miles) away.
Lombok
Contributed by: Kenny, KNYCX Journeying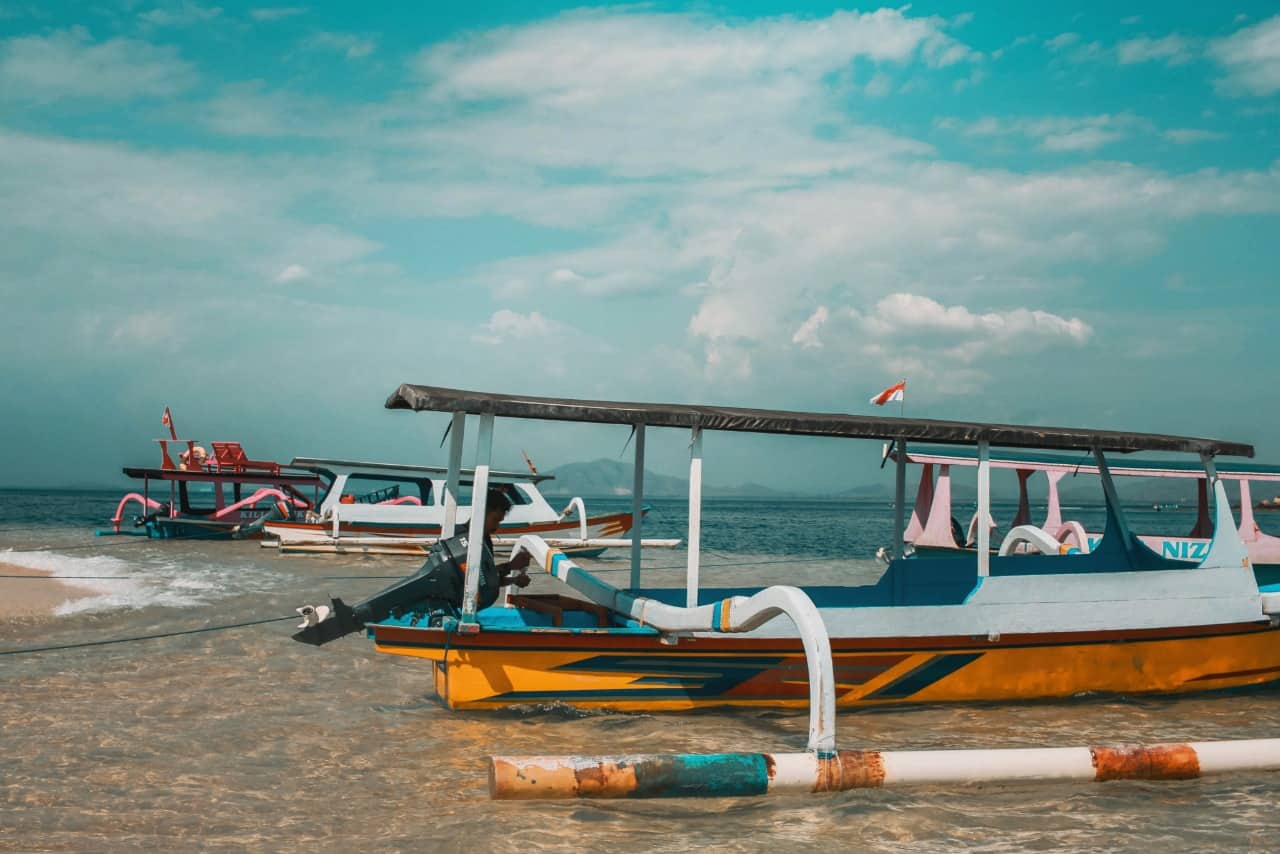 How to reach Lombok: By ferry (2 hours) or by flight (25 mins)
How many days should you spend at Lombok: 5-7 days
---
There are so many amazing things to see and do in Bali, making the island one of the most popular and well-known holiday destinations in Southeast Asia. After enjoying the wonderful things and sights that Bali has to offer, it is recommended to continue on your journey in Lombok and have a little peace and quiet in nature.  
Lombok Island is situated right next to Bali and it's conveniently connected by ferry shuttling between the two islands in about 2 hours. It is also possible to reach Lombok by plane. Compared with its neighbor, Lombok is blessed by fewer visiting crowds and commercial developments, keeping a more laid-back vibe that draws those who crave some quiet moments in the tropics.
However, it doesn't mean that you cannot get active – the island features a majestic active volcano that hikers can go for a hike; the island is also surrounded by pristine beaches and resorts that scuba divers can take a dive.  
It generally takes about five to seven days to fully experience Lombok. Rent a bike or hire a car and explore the island and delicious local cuisines. Some highlights of the island include Senggigi beach, Gili Island, Pink Beach, and Tanjung Aan Beach.  
Ancol
Contributed by: Bec, Wyld Family Travel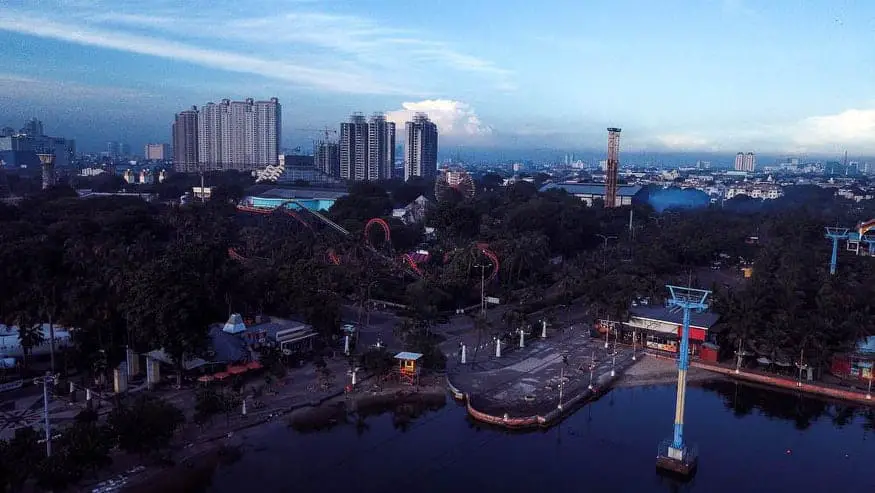 How to reach Ancol from Bali: Fly to Jakarta (approximately 2 hours) or ferry from Bali to Java and train from Java to Ancol (24+ hours)
How many days should you spend at Ancol: 1-2 days
---
If you are looking for a place to continue the magic spell Bali has put you under look no further than a stay in Ancol, Jakarta.
Ancol Jakarta is one of the very best places to visit after Bali for singles, couples and families travelling Asia. This amazing gated community area has it all.
So why is Ancol so great?
Brilliant hotels with a waterfront view all the way to an old aeroplane on the shore you can find something wonderful to do here. If you are travelling with kids to Ancol you will find it easy to navigate your way around. There are wide streets safe for walking and small playgrounds where the kids can run free.
A cable car will give you the best views of the beach and if you are travelling with a child at heart you can pick one of the many theme parks or one of the other attractions like Sealife to fill your day. 
Hotels along the beachfront have amazing views and being the home of Indonesian jetski champs you can see them zipping along the water at breakneck speeds if they are practising.
Many of the hotels like the Mercure Ancol feature rooms with this stunning view as well as onsite restaurants and extra special pools with waterslides for anyone who wants to have a go.
But if getting out and seeing some of Jakarta while you are there is on your plans, it is easy to get to the main attractions from Ancol. You can hire a driver from one of the hotels or you can order yourself an Uber that will get you to the city centre for your Jakarta adventure.
Getting to Ancol is also a journey in Indonesia itself. If you want to stay in Indonesia a little longer you can catch a ferry to Java from Bali and take the train all the way through the beautiful Indonesian countryside to Ancol Jakarta. You can stop and get off or you can try to go straight through but be warned it can be a hairy 24 hours+ on trains!
Most people take the easier option of flying to Jakarta from Bali to maximise their time in the magnificent Ancol.
Flores Island
Contributed by: Carryn, Torn Tackies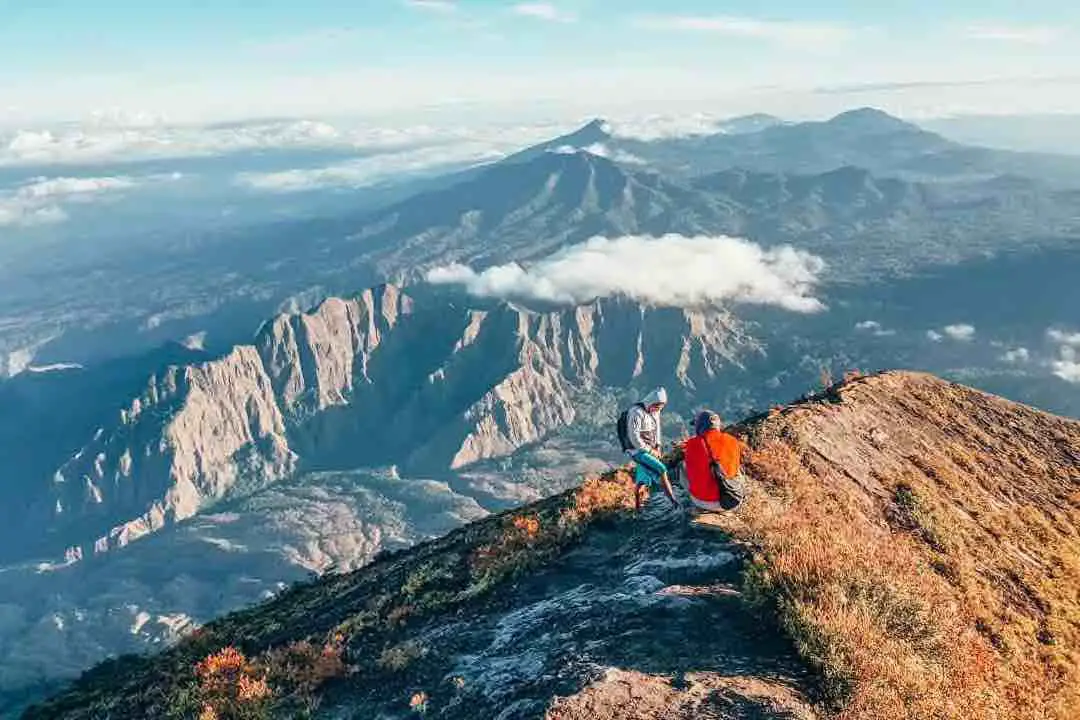 How to reach Flores Island from Bali: Flight to Labuan Bajo (Approx 2 hours)
How many days should you spend at Flores: Minimum 5 days
---
Remote volcano hiking trails, hidden hot springs, untouched islands and more, makes Flores Island one of the most incredible places to visit in Indonesia.
It's a quick, 2-hour flight south of Bali and can be easily paired with a trip to the Island of the Gods. The best way to explore Flores Island is by doing an overland trip, where you arrive in Labuan Bajo on the west and depart from Ende on the east.
The most popular attraction is Kelimutu National Park, home to the tri coloured Kelimutu Lakes. But this natural phenomenon is just one of many spectacular sights on the island. The village of Bajawa offers a rich cultural experience which can be paired with a challenging hike to the peak of a dormant volcano, Mount Inerie. This, followed by a relaxing afternoon at the Bajawa Hot Springs, makes for an awesome day of exploring.
Head northeast and you'll find the small fishing village of Riung. This is a great base for visiting the 17 Islands National Park which is a mecca for ocean lovers.
There is so much to do and see in Flores and you will need at least 10 days to tick everything off your bucket list. This will allow you to travel slow and use public transport between the villages. If time is not on your side, I'd recommend no less than 5 days on the island.
Kawah Ijen
Contributed by: Martina, Places of Juma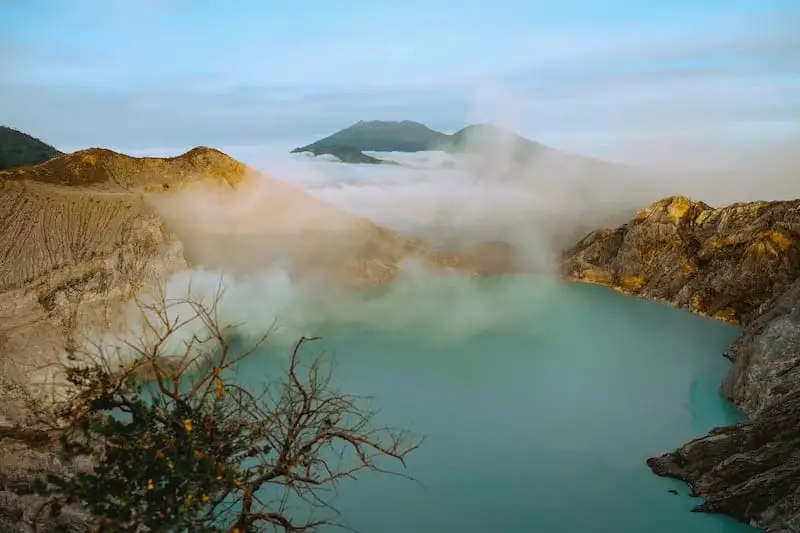 How to reach Kawah Ijen from Bali: By boat from Gilimanuk ferry port (1 hr 15 mins)
How many days should you spend at Kawah Ijen: 1 day
---
A really cool place to visit after your Bali trip is definitely Kawah Ijen. This mighty volcano is located on the island of Java, and is about 60 kilometers from the Gilimanuk ferry in Bali and can be visited either on your own or with a guided tour from Bali. One day is enough to visit the volcano and do a hike to the crater lake.
There is not much in the surrounding area, most visitors continue their journey afterward, returning to Bali or exploring Java.
Ijen is a volcano with a total diameter of 75 km. The absolute highlight is the tour to the turquoise crater lake Kawah Ijen, which is considered to be the largest acid barrel on earth. Even today, sulfur is mined by hand under the most difficult conditions.
A few years ago, a visit was considered a real insider tip, today you can book a trip at the travel agencies of Bali. But still, a visit is a spectacular experience and if you are fit, you should definitely visit this place. 
The hiking trail leads 3 km up to the crater. During your walk, you will meet the sulfur workers and if you are lucky, you can also have a conversation with them. The climb takes about 90 minutes until you reach the top of the crater. There, a fascinating view of the turquoise crater lake awaits you.
Down at the lake, the sulfur is broken off by the miners with iron rods on the ground and stowed in the bamboo baskets. These weigh up to 70 kg and would first have to be hauled back up to the crater and then back down to the valley. It is unbelievable what conditions the workers are exposed to every day!
Extra tip: A night hike is also interesting because then you can also see the famous Blue Flames. In addition, you then also have the opportunity to experience the sunrise.
Tanjung Punting, Borneo
Contributed by: Nicole, Go Far Grow Close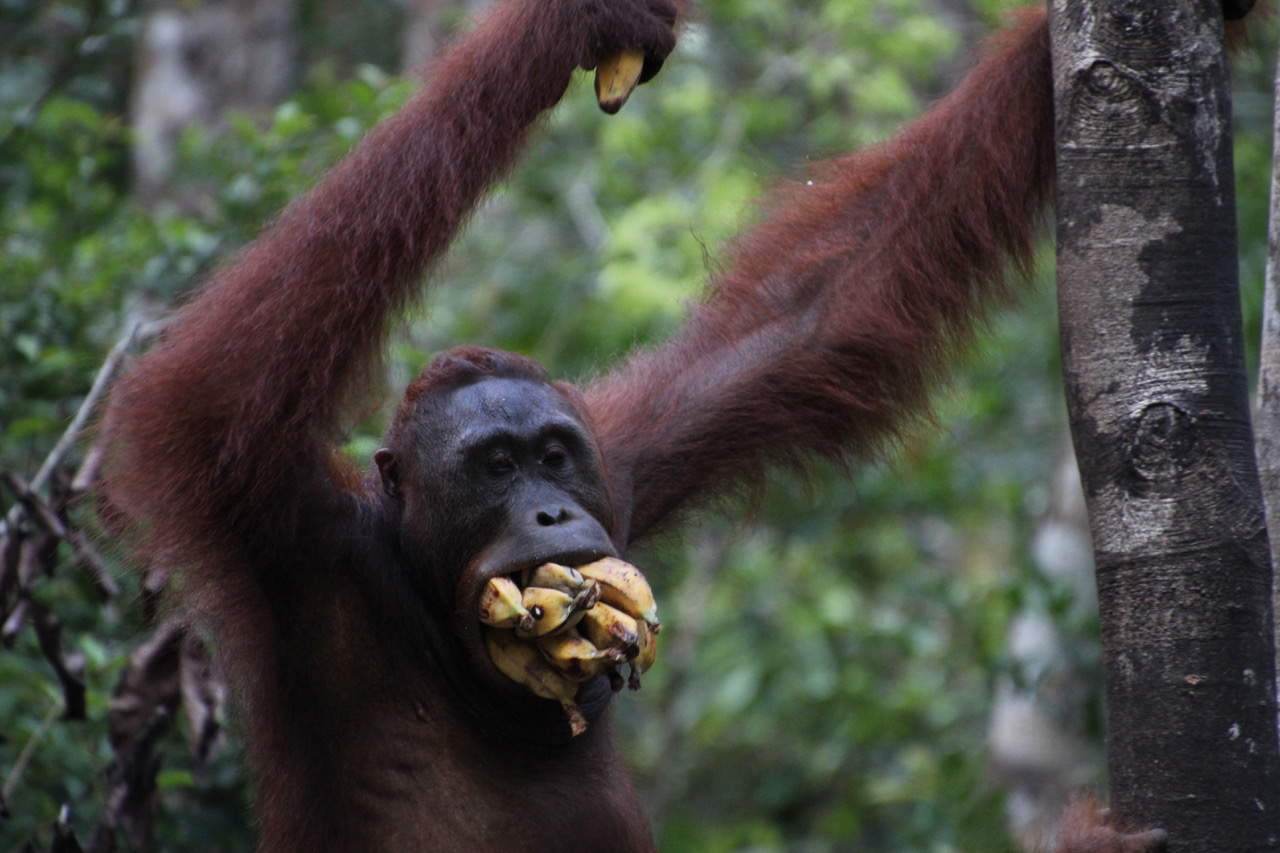 How to reach Tanjung Punting from Bali: There are no direct flights. You will need to take two flights to reach Pangkalan Bun (the airport closest to Tanjung Punting)
How many days should you spend at Tanjung Puting National Park: 4-5 days
---
A trip to Indonesia would not be complete without exploring Tanjung Punting National Park.
Tanjung Punting National Park is located on Borneo, the third largest island in the world and the largest in Asia. Borneo is divided into three countries – Indonesia, Malaysia and Brunei. Tanjung Punting National Park is found in Indonesia.
Tanjung Punting National Park is the biggest and most diverse coastal tropical heath and peat swamp forest in the world. It contains 3,040 km² (or 1,174 square miles) of low lying swamp lands and rivers which connect to the Java Sea.
It has remarkable wildlife including hundreds of bird species, crocodiles, snakes and most significantly, 9 different primates, including the Proboscis monkey and the endangered orangutan. One of the most extraordinary things that you can do in the National Park is to trek orangutans in the wild. 
Reaching the National Park is not easy. It isn't far from Bali, but there aren't any direct flights to Pangkalan Bun.
Instead, you will have to take two flights for a total of 2 ½ hours.
From the airport, Tanjung Punting is a 20 minutes drive to the Port of Kumai, then a two hour boat ride on the Java Sea followed by the Sekonyer River, a very narrow waterway just feet from the shores and the jungle.
You have two options for accommodation: First, stay on a Klotok, a traditional Indonesian river boat, the whole time while you explore the river and jungles for orangutans. Second, stay in a traditional hotel and then, take the Klotok during the day on your ecotour. One fantastic hotel is Rimba Orangutan Ecolodge. 
Stay between 4-5 days. There is so much to see, discover, uncover, and savor in Tanjung Punting. Every day you wake up and you have no idea which animals you will stumble across or what other natural wonders you will see.
Hoi An
Contributed by: Vanessa, The Travelling Colognian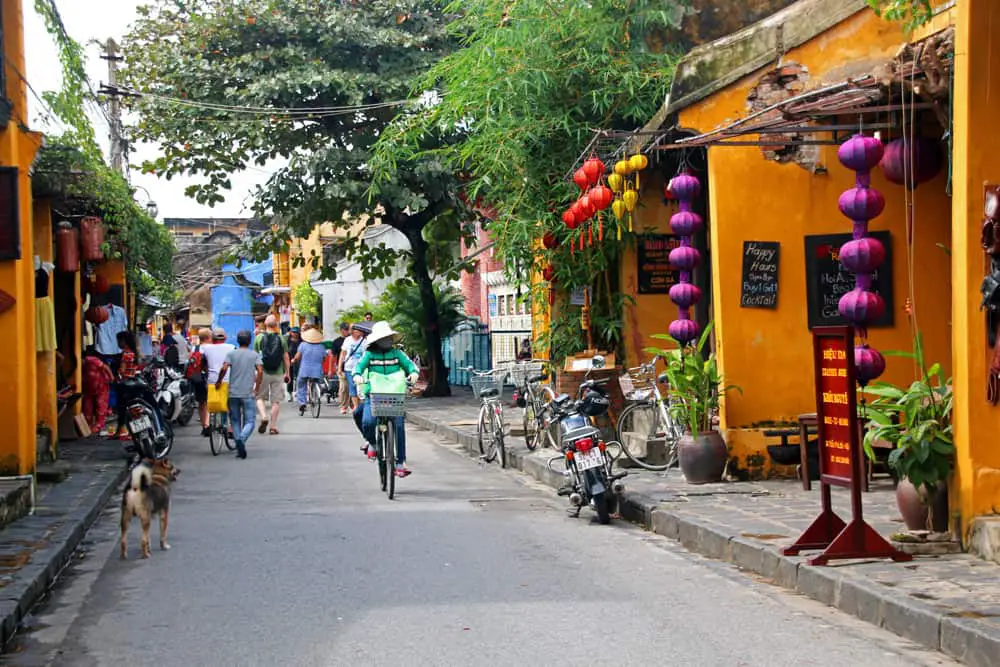 How to reach Hoi An from Bali: By flight to Da Nang and a bus from Da Nang to Hoi An
How many days should you spend at Hoi An: 3-4 days
---
Hoi An in Central Vietnam is one of the best places to visit after Bali. The lovely laid-back coastal town is about 2.900 kilometers away from Bali.
You can get there by taking a plane to Da Nang and continuing from Da Nang to Hoi An by bus. There are also train connections to Da Nang from different cities in Vietnam.
However, the most beautiful way to get to Hoi An is by overland bus from Huế over the Hai Van Pass which offers stunning views in all directions.
I suggest spending three or four days in Hoi An since there is a lot to do and see. The best time to visit is April but February, March, and June are also good since these are the months with the least rain.
Hoi An awaits you with its picturesque old town where you can easily spend hours walking around and taking photos of the beautiful buildings.
The typical Vietnamese lanterns that are enlightened at night hang everywhere and Hoi An is the best place in Vietnam to buy them. The wooden Japanese Chùa Cầu bridge over the Thu Bon river is another must-see sight. It is completely covered, also enlightened at night, and connects the Chinese and the Japanese quarter of Hoi An.
Other worthwhile sights are the Fujian Assembly Hall, the Quan Cong Temple, the Sa Huỳnh Culture Museum, the night market, and the central market as well as the nearby An Bang Beach and the Cham Islands. 
Hoi An is also the best place in Vietnam to have clothes tailored.
If you have enough time I highly recommend taking a day trip to the Mỹ Sơn Hindu Temple. It is located in a rainforest about 40 kilometers southwest of Hoi An. The 70 temples that were built by the Kings of Champa are ruined but the atmosphere of Mỹ Sơn is still magical.
Penang
Contributed by: Marco, Penang Insider
How to reach Penang from Bali: By direct flight to Penang (3.5 hours) (flight availability post-pandemic will depend on country-specific regulations)
How many days should you spend at Penang: 3+ days
---
The UNESCO World Heritage island of Penang in northwestern Malaysia is an ideal place to visit after Bali.
Before the pandemic, direct flights would take about 3 and a half hours. Otherwise, a stopover in Kuala Lumpur or Jakarta still made reaching Bali from Penang a breeze.
In sharp contrast to Bali, which is famous for its beaches and nightlife, Penang is more of a cultural island. You should spend a minimum of three days here, during which you'll be barely able to scratch the surface. With at least a week and some desire to get out in nature, you'll have a much better experience.
Start in UNESCO-protected George Town, which packs colonial history with the multi-ethnic living heritage of the Malay, Straits Chinese and Tamil Indians who inhabit this multicultural island.
Penang is a place for food and was listed by Lonely Planet as the best destination for foodies in 2014. Besides that, the former British colonial hill station of Penang Hill, which became a UNESCO Biosphere Reserve in September 2021, is the island's green lung and boasts a series of hiking trails and ancient colonial bungalows perched around its Upper Station. The Funicular Railway, one of the steepest in the world, was upholstered in 2016 and grants quick access to this 833-metre-high peak.    
Penang's beaches are not nearly as pristine as Bali's for the island has been more heavily developed, but you'll still find some quiet and unspoilt coastlines in the southern and southwestern sides of the island. Pantai Esen, not far away from Penang Airport, is a beautiful beach backed by rainforest and three connecting hills where one can hike up to the remnants of War World II bomb shelters.
Kyoto
Contributed by: Kerry, VeggTravel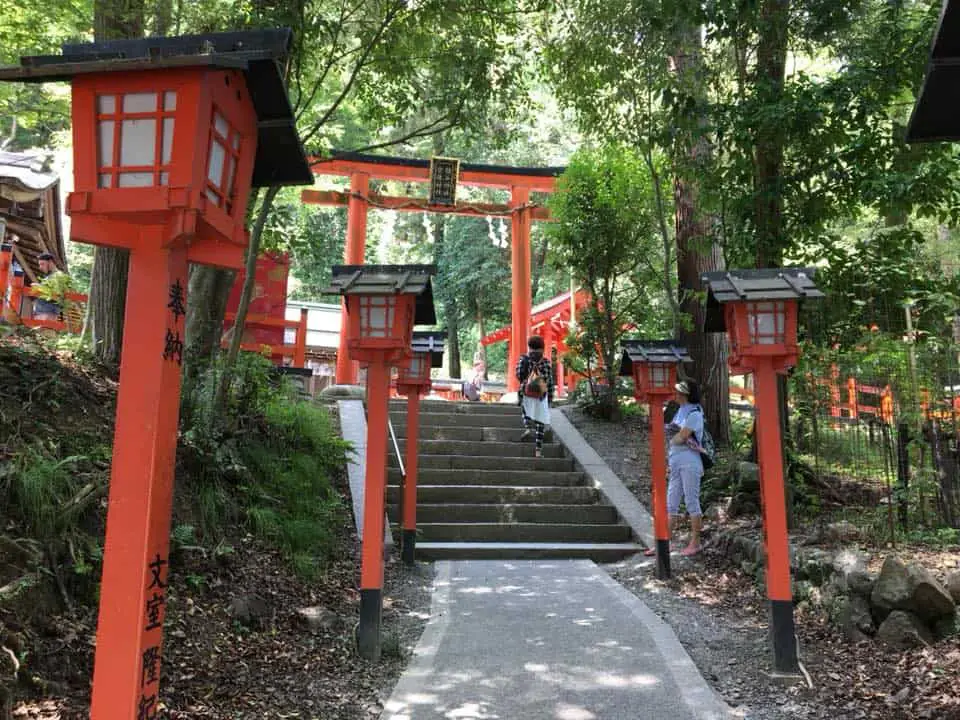 How to reach Kyoto from Bali: By flight to Tokyo or Osaka (flight availability post-pandemic will depend on country-specific regulations)
How many days should you spend at Kyoto: 2-3 days in Kyoto or 10 days in Japan
---
After you've explored the lush, green rice fields and beaches of Bali you're sure to want to see another city that is rich in culture and history, Japan.
Japan is on many people's bucket list for good reason; the bright lights, colourful anime and manga and many weird and wonderful things to do truly entice you in. However, outside of the bustling Tokyo, one city stands out above all others and that is the ancient capital of Kyoto.
The easiest way to get here is to fly into Osaka Itami (approximately 12 hours) and then a short bus or train to Kyoto. 2-3 days is more than enough in Kyoto, but you should spend at least 10 days in Japan overall.
Kyoto is a popular and well visited city, but it also has a well-preserved balance between modern developments and traditional architecture.
Many of the things to do in Kyoto are centred around places of special significance for the Japanese people. One of the most notable areas is the Fushimi Inari Shrine which is located atop a mountain trail decorated with 1000 red Torii gates and Shinto Shrines. Another must see is the impressive bamboo grove in Arashiyama.
When you're not discovering the varied and intricate temple complexes you will be exploring the infamous Gion district. Beautiful traditional houses, ornate Japanese decorations and rice paper screens await.
Book a Japanese tea ceremony and be entertained by an authentic Geisha or Mieko to get the ultimate cultural experience.
Most people will stay near the river and the central Kyoto station as this is close to the riverside restaurants and bars and easy to get to other locations.
Final Thoughts
So which of the above places will you put on your bucketlist? There are so many amazing places to choose from no matter your travel style. If you are an animal lover, head to Borneo. If you want a slice of culture and heritage, Hoi An or Kyoto would be great choices. For beach lovers, you could simply add an island like Gili Air or Lombok to your itinerary. For breathtaking landscape, Flores Island or Ancol would be terrific choices. Or if you just have one extra day, Kawah Ijen would be a unique addition to your Bali itinerary.
Pin this post for later!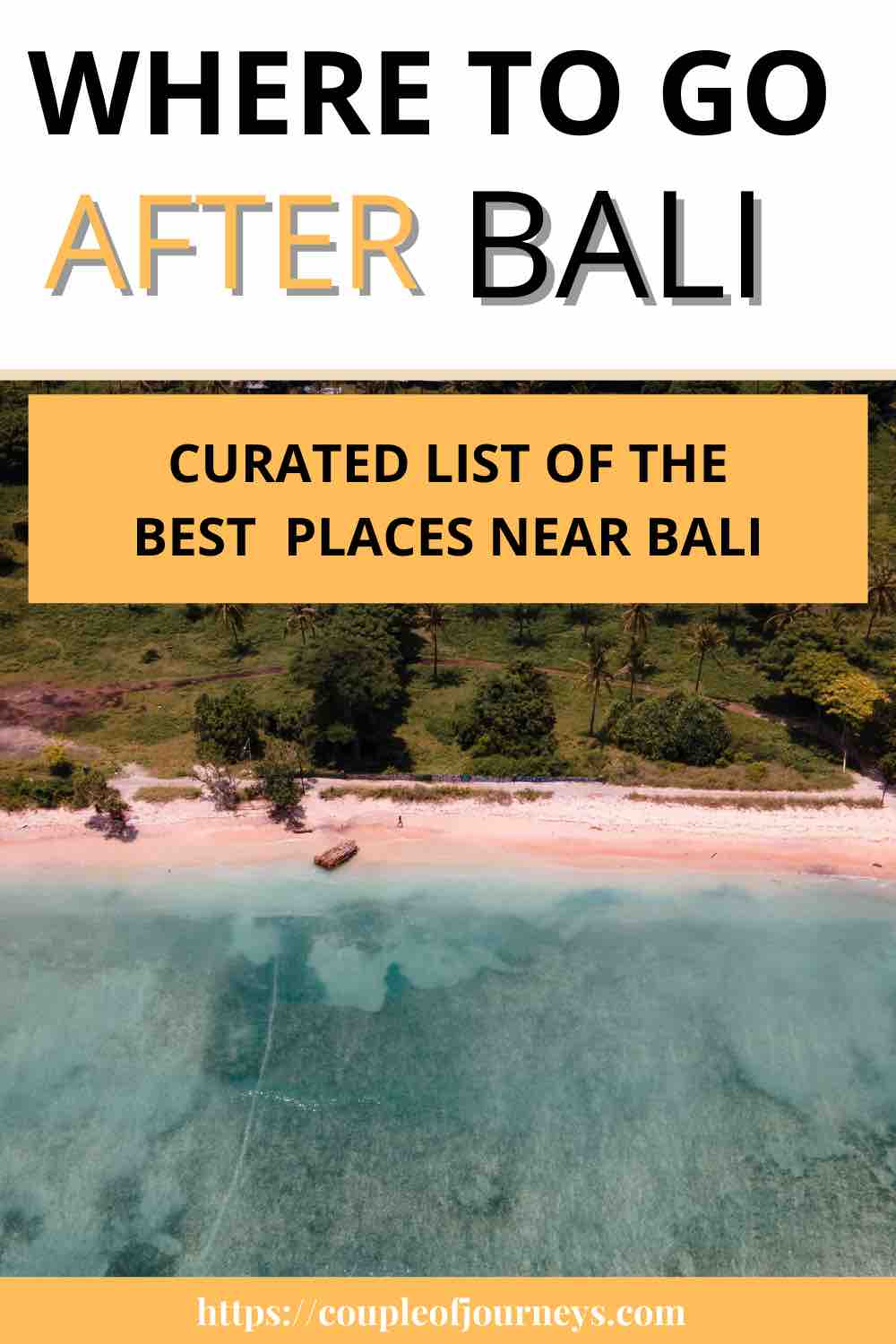 More Resources
How many days are enough in Bali
Best things to do in Bali: A complete guide
The perfect 10 day Bali itinerary
4 reasons why you should visit Bali
12 Essential tips you should read before your trip to Bali
11 yummilicious food items to try in Bali
Bali travel tale: A mistake that taught us a huge travel lesson
TOP TRAVEL RESOURCES
Here is a list of our favorite travel resources- the ones that I absolutely swear by when planning almost every trip. Go through this list to plan a hassle-free trip and save a lot of money!
Flight Booking: Check the availability of tickets, the best time to fly, and the cheapest fares on Skyscanner. You may also find a cheap flight via CheapOair
Accommodation: I absolutely love booking through Agoda. In most countries and particularly in Asia, I often find the best fares on Agoda. But I also love the no prepayment and no cancellation fee policy of Booking.com. For cheap accommodations and hostels, nothing beats Hostelworld.
Car Rentals: You may find and rent an appropriate car via RentalCars. It's hassle-free and reliable.
Guided Tours: I absolutely love GetYourGuide for local sightseeing tours, walking tours, history tours, and food tours. The booking process is seamless, and the tours are super affordable. But in Asian countries, I prefer Viator or Klook for their affordably priced tours.
Lounge Access: Get Priority Pass – my personal favorite card that gives me unlimited access to premium airport lounges all over the world
Hey, if you found this post helpful, share it with more people or buy me a coffee!