Essential Tips: 12 things to know before you go to Bali!
This post may contain affiliate links. If you make a purchase through one of these links, I may receive a small commission at no extra cost to you. Please read the disclaimer for more information.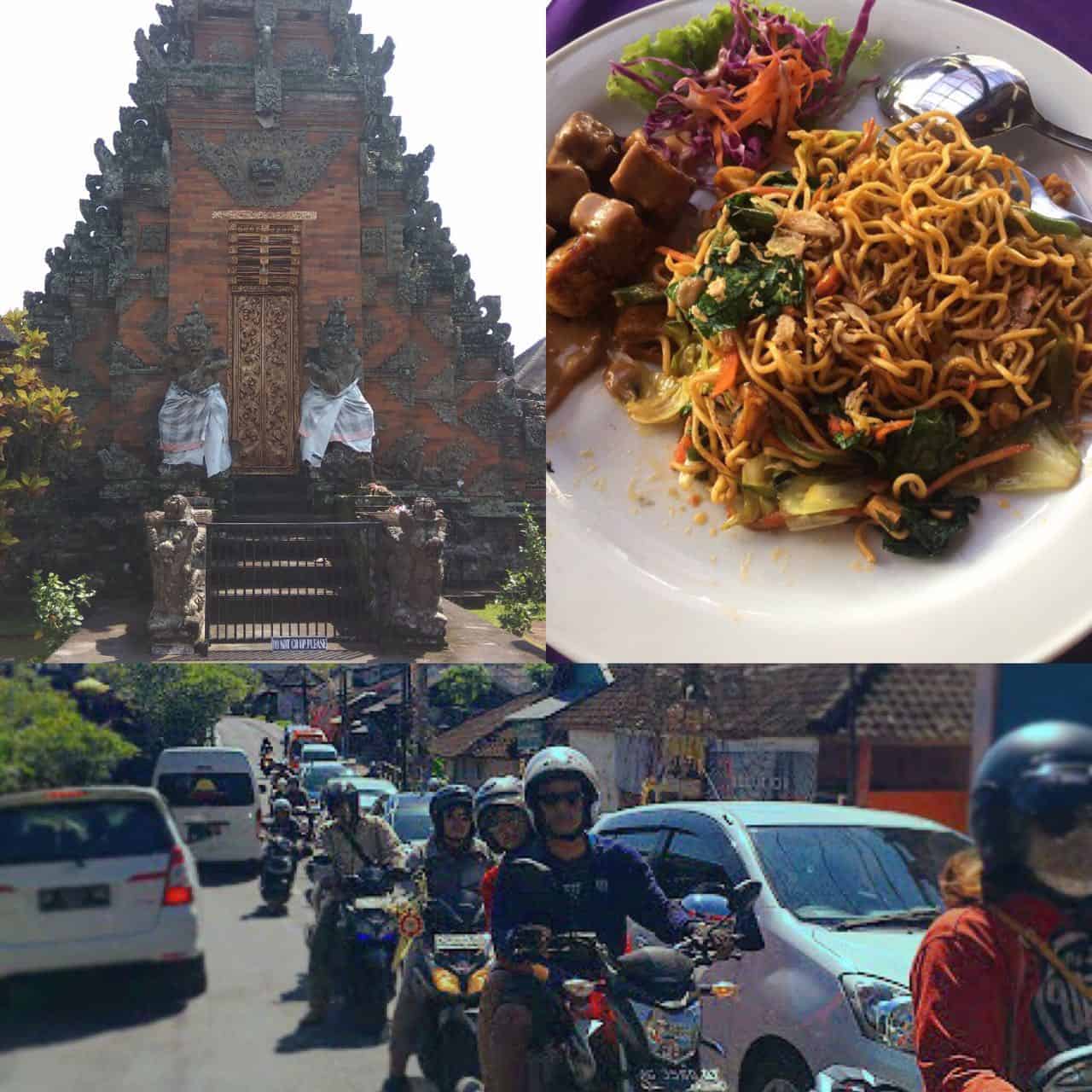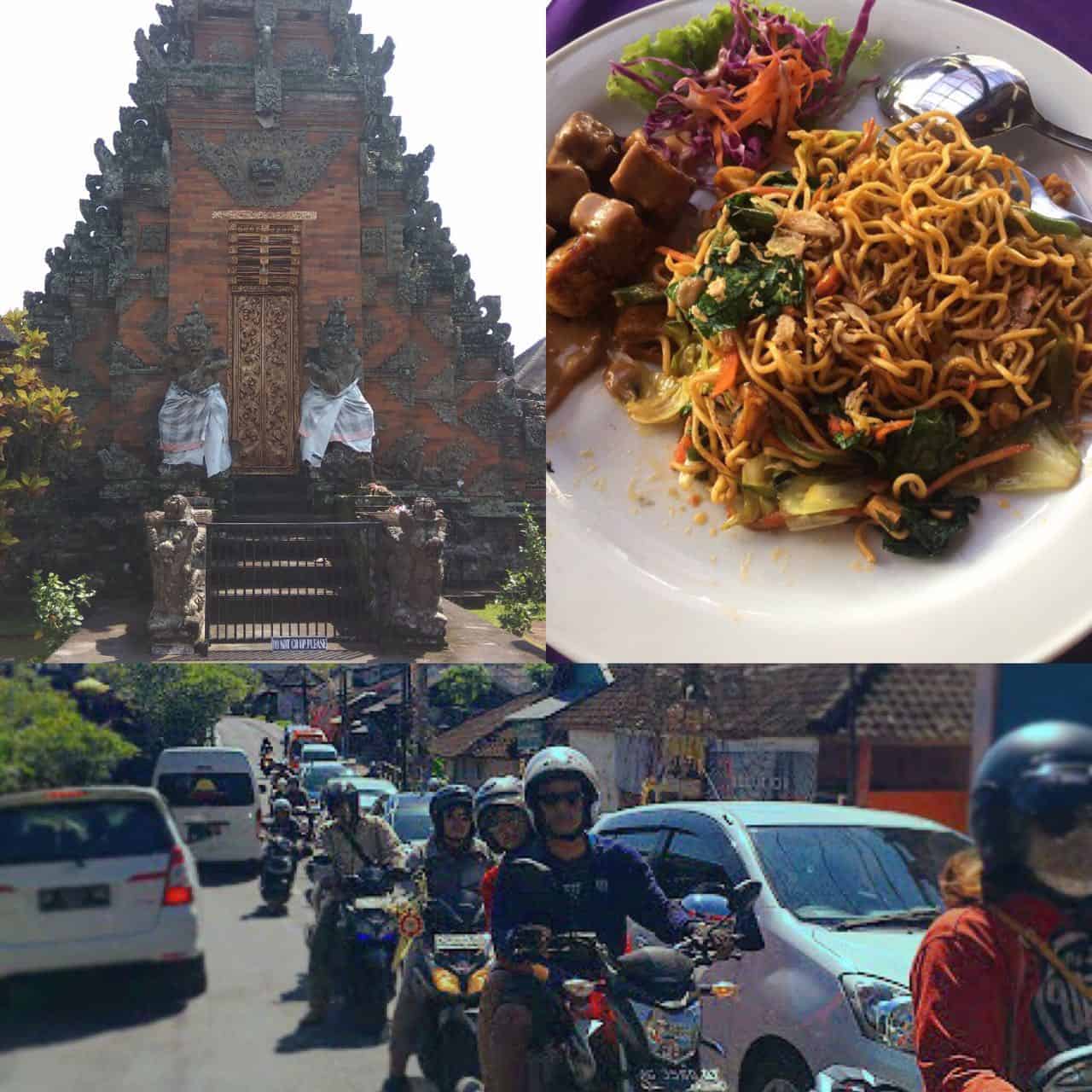 Okay, first things first, you are going to thank me for writing this article. So, well, you are welcome. Reading this article will make sure you don't make silly mistakes as a first timer in Bali. (In short, it is a perfect Bali travel guide for first-timers!)  Moreover, it will answer some questions that will occur to you when you go to Bali.
Literally, this article together with my last article on Bali (which covered all the touristy aspects) is enough to have your trip sorted!
THINGS TO KNOW BEFORE GOING TO BALI
1. Visa-free entry is subject to terms and conditions!
Citizens of most countries (check list here) don't need a visa to stay in Bali for a period of 30 days. (Includes the day of arrival and departure). But, if you plan to stay longer than 30 days on a whim, you can't extend your visa-free stay. So plan the length of your trip in advance or be prepared to leave Bali on or before the 30th day. Ensure that your passport is valid for another six months from the day on which you land in Bali.
The immigration queue for getting your passport stamped for visa-free entry is always enormous. Expect to spend a good 45 minutes to an hour.
(Some people offered to get the work done for us in five minutes for a bribe of around 45-50 USD per person. I would say, it is not worth it and definitely not the best way to start your vacation!)
2. Be smart with SIM Card purchases!
Do not buy SIM cards at the airport. They are at least 4 times more expensive than the ones you would get in a shop close to your hotel. Also, remember that the SIM cards in Bali are prepaid. You do not need to provide any identification documents to purchase a SIM card. We used SIM Cards of network companies – XL Axiata and Telkomsel and were pleased with the network and internet of both of these companies. If you run out of balance, you can top up from any of the supermarket chains in Bali.
In fact, you must check out this detailed guide on getting a SIM card in Bali.
3. Don't let taxis take you for a ride!
Bali is like India in many ways. As you exit from the arrivals gate, you will find plenty of taxi drivers screaming at you. Do not waste your time negotiating with these taxi drivers for a drop to your hotel. They are most likely to heavily overcharge you. The smarter thing to do is to head straight to the official taxi counter. Tell the attendant at the counter where you want to go and pay for your taxi as per the official taxi rates.  (Click here to know the existing official rates).
Also note that most app-based taxi services like Bluebird or Uber do not have permission to pick up customers from the airport. You can only use these services once you are inside the city.
4. Vegetarians and Vegans won't die of hunger! 
Food by default in Bali is non-vegetarian. If you only eat vegetarian or vegan food, make sure you are eating at the ever so popular shacks on the beach or at a tourist-friendly restaurant or simply at the restaurant in your hotel. Here, you can have all the famous Indonesian dishes customised as per your liking. Infact, most of these places are habituated to cooking a vegetarian or vegan version of all their dishes and will gladly serve these to you without any hassle. However, local vendors, warungs (road-side eateries) or farmers at local markets do not understand English. So asking these people to customise their food for your vegetarian/vegan requirements will be absolutely futile.
We have a terrific post with incredible Bali food photos to give you a perfect idea of the amazing stuff you could eat while in Bali. Click here to read it now! 
5. Temples in Bali may seem strange!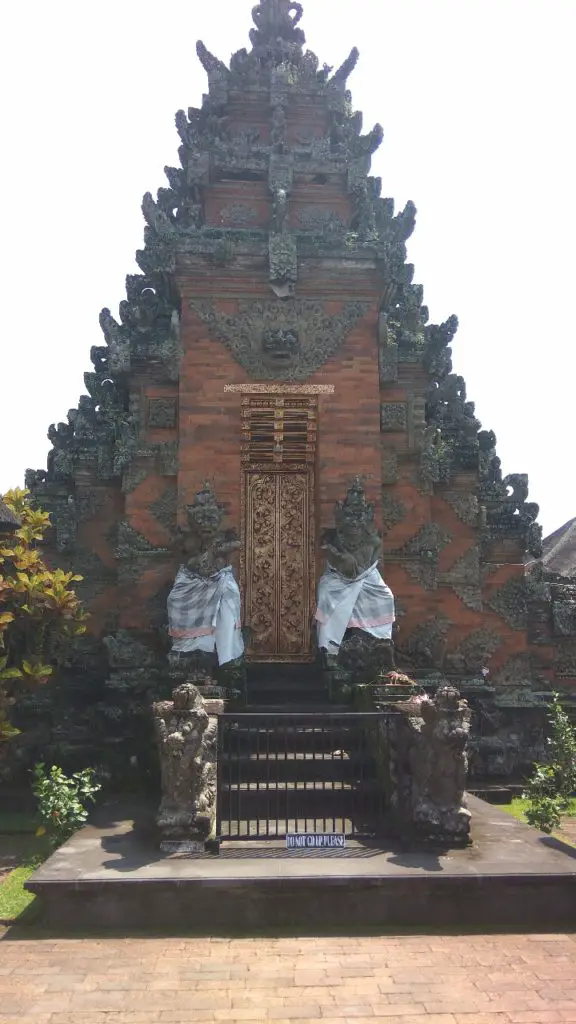 Being a Hindu myself, I was baffled by the temples in Bali. The temples had no idol or deity. I later learned that the Balinese believe in the Hindu principle of 'Nirguna, Nirakar Ishwar' (God not contained in a specific form or characteristic). Also, even if you are Hindu, the chances are that you won't be allowed in the inner sanctum of the temple. So don't feel offended.
By the way, the Balinese do install beautiful idols of Hindu Gods. However, you will find these at places such as your hotel entrance or in courtyards. You will also appreciate the many majestic idols of Lord Shiva, Lord Rama and Lord Ganesh standing tall at major road junctions. Also, mind your footstep when you walk as offerings for God kept in small square cane trays are kept everywhere.
By the way, did you read about a big mistake that taught us a big travel lesson on our visit to Uluwatu? Click here to read all about it!
6. Expect irritating touts, EVERYWHERE!
The weirdest experience we had in Bali was when we were riding on our scooter on a relatively busy road and a man riding another scooter swooped really close to our scooter and vehemently gestured us to stop on the side of the road. Wondering what the fuss was about, we stopped by the side of the road. To our absolute shock, this man on the scooter approached us and asked us if we were interested in water sports at the Pandawa beach through his agency! What makes this experience all the crazier is that when we had this unexpected roadside interaction with that man, we were at least 12 kilometres away from the Pandawa beach.
Moral of the story, expect touts selling you stuff everywhere! (However, that being said, is Bali safe to travel? It is as safe as any other tourist destination of the world!)
7. White tourists may enjoy some favours!
Now racism is a tricky subject and often left out of blog posts. But I am going to address it here. So, we did notice a slight amount of racism in Bali. Although Balinese, themselves are brown Asians, they seem to favour the white-skinned tourists. For example, when we tried to enter a particular high-end resort, we observed that white tourists were let in without any questions while Indians or other Asians had to answer unwarranted questions from the security personnel. Additional baggage screening at certain places was often mandated depending on the colour of a person's skin. But before you begin to judge the Balinese, do note that we came across instances of racism hardly 3-4 times during our stay in Bali. On most other occasions, the friendly and warm approach of the Balinese people filled our hearts with joy.
8. The Balinese adore Hindus from India!
Now, while the colour of our skin did not always shower us with benefits, our religion very often did. Drivers, tourist guides, waiters and hotel staff were often eager to serve us and interact with us as that provided them with an opportunity to learn more about Hinduism as practised in far-off lands. This show of sweetness and courtesy was not just limited to the hospitality industry. We actually had an endearing conversation on the law of karma with a traffic police officer who had stopped us for a routine licence check! How often have you associated the word 'endearing' with a traffic police officer! Never right? There you go!
9. You run the risk of being stranded at a popular tourist spot!
We noticed that public transportation was unfortunately not available at many tourist places. Ex: You won't find any cabs at the Uluwatu Temple at night after the Kecak Dance performance ends. So in order to avoid being stranded, it is always advisable to have your transportation to and from tourist places pre-arranged.
10. Traffic in Bali may petrify most but will probably delight a few!
Indians are often sceptical about driving in Europe out of the fear of accidentally violating traffic rules and having to shell out huge fines.
But in Bali, traffic rules are highly disregarded and that gave us such a homely driving experience! What enriched our experience further was the quality of roads in Bali. Unlike the roads in India, Balinese roads are smooth and pot-hole free! So go ahead, beat those blues and rent a vehicle or a scooter!
That being said, if you are a westerner, or just someone not used to chaotic traffic conditions, get yourself acquainted with the art of motorbiking in Bali before you rent a two-wheeler in Bali!
11. Coffee tasting is taken to another level here!
On your tour to Ubud, take a tour at the Satria coffee plantations. You may feel the urge to dismiss it as a place drivers take you to for earning their commission from your coffee purchases. But trust me; you do not want to miss this incredible opportunity. Although I agree that the actual walk through the fields might not be the most enlightening, what follows thereafter is what makes it all worth it. After the walk, you will be seated at a table where the staff will bring a tray with 12 varieties of coffee and tea, all just for you, for a free tasting! (No, you read it right, I did use the word 'free'!)
You will only have to pay if you choose to taste a cup of the one-of-its-kind Luwak Coffee or if you choose to buy coffee or tea packets from this place.
(Pro tip: The packets here are overpriced. Buy those from the local supermarkets for less than half the price!)
12. Bali's real charm lies in the warmth of its local people!
Bali has developed itself as a tourist haven and very often we forget that it is a regular place with real people leading real lives! I strongly advise you to go astray from the regular touristy trips and visit the locals in Bali. On our way back from Kintamani, we requested our driver to give us an insight into a typical Balinese home. He took us to his friend's house where his friend gladly prepared lunch for us.
This friend was a farmer. His house was a small hut surrounded with orange and sunflower plantation. As we were eating food, his daughter came home and welcomed us (although absolute strangers to her) with the warmest 'hello' ever. She even got her mother's mobile phone (not a smartphone) and clicked selfies with us. She sat next to me the whole time and shooed away flies so that I could eat in peace. This incident filled our hearts with a lot of love for the locals. We realised that despite their modest backgrounds, the Balinese treat their guests with utmost warmth and care!
There you go, I have just dropped an information bomb on you for your trip to Bali! I would love to hear about your experience in Bali once you are back. Also, if you feel you could add to this list, comment
P. S. In case you are planning to visit Bali, don't forget to check out this amazing guide on where to stay in Bali! It's super handy!
Also for more practical tips on how much to tip, what to shop in Bali etc. , read this guide for first timers in Bali.
You could also read all our posts on Bali here or head to our homepage for many more interesting travel articles.