Bayern Ticket – The best and cheapest way to explore Bavaria
This website contains no sponsored content. The content is written entirely on my own and is based on my personal experience and extensive research. This post may contain affiliate links. If you make a purchase through one of these links, I may receive a small commission at no extra cost to you. As an Amazon Associate I earn from qualifying purchases. Please read the disclaimer for more information.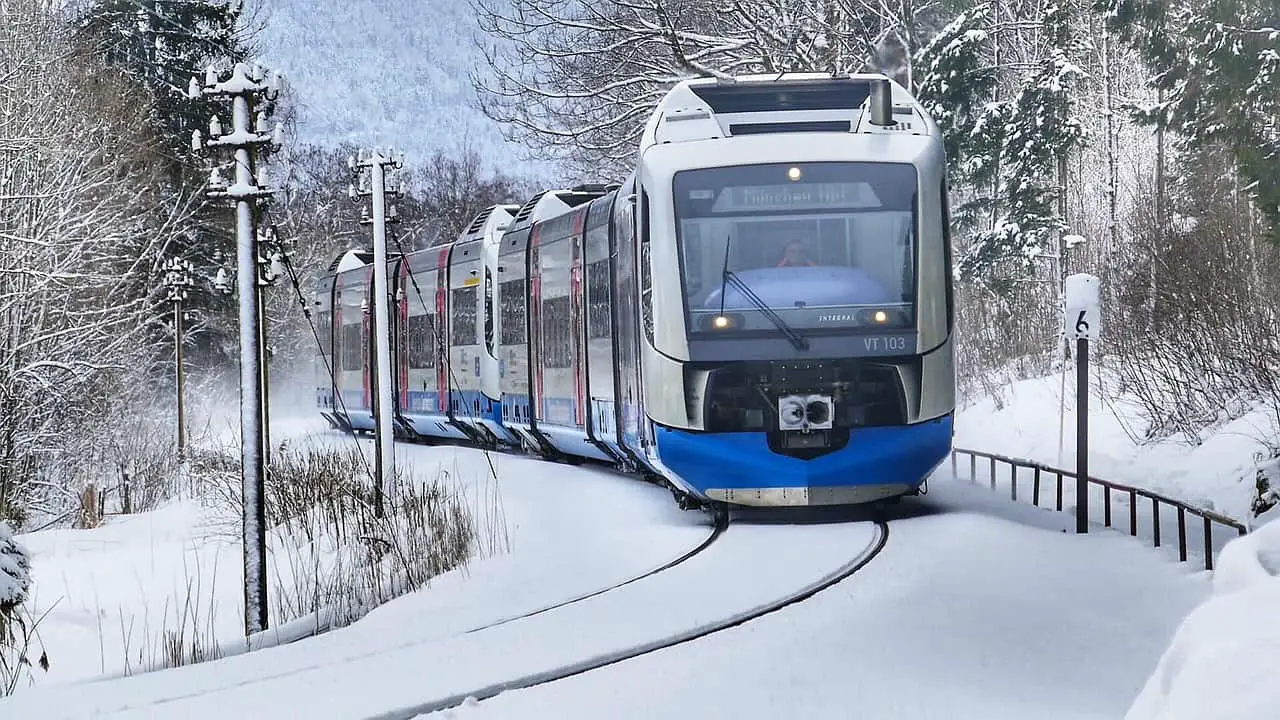 My love for Germany just multiplied when I learned about the Bayern Ticket or the Bavaria Ticket. It is a ticket that cuts down the cost of travel to less than half and allows you to thoroughly and effortlessly explore the gorgeous state of Bavaria. We used the Bayern Ticket on 5 out of our 7 days in Bavaria and saved enormous amounts of money. We used it to travel from Munich to Schliersee and the neighbouring German small towns, explore all of Munich, visit Austria, travel to the many Bavarian castles including the famous Neuschwanstein Castle and head back to the airport!
Here is all the information you need about it:
What is a Bayern Ticket?
A Bayern Ticket is a magical piece of paper that allows you to use regional transport within Bavaria unlimited number of times on any given day.
How long is a Bayern Ticket valid for?
A Bayern Ticket is valid for one day subject to the timings given below:
Weekdays: 9 am to 3 am on the following day
Weekends: Midnight to 3 am on the following day
How many people can travel on a Bayern Ticket?
5 people can travel on a Bayern ticket, subject to the condition that all the travellers must be together. The ticket is printed on one single piece of paper and cannot be split. I was travelling alongwith my family and since we all travelled together, this ticket worked perfectly.
What is the price of a Bayern ticket?
The reason why I called the Bayern Ticket a magical piece of paper is because of the incredible amount of money you save thanks to it.
Here is the price for a regular Bayern Ticket valid for second class travel for:
1 person EUR 25 
2 persons EUR 32
3 persons EUR 39
4 persons EUR 46
5 persons EUR 53
So, we as four people in normal circumstances would have had to pay 100 Euros had we bought a ticket each individually. However, if you see the prices above, we only paid 46 Euros! Even if you are a first class traveller, the Bayern Ticket cost will prove to be very economic.
(Bayern ticket prices are increased at regular intervals. While every effort is made to update this post frequently, it is recommended that you check the latest Bayern ticket price here)
Where can one buy a Bayern ticket?
This ticket can be easily bought online or on the DB app or on a ticket vending machine installed on any station in Bavaria.
(Note – If you buy this ticket from the ticket vending staff, an additional fee of 2 Euros will be levied.)
How to buy a Bayern ticket?
As I have stated above, the Bayern ticket can be purchased directly from the ticket vending staff at an additional fee of 2 Euros. But, if you want to save those 2 Euros, it is best to buy it from the machine or from the app.
How to buy a Bayern ticket from the machine?
MVV Machines are quite easy to operate. They are simple touch screen machines. Their default language is German but you can always change it to the language of your choice (English, Spanish, Chinese and many other language options are available) From the home screen, select offers and choose the type of Bayern Ticket that you would like. You can pay for the ticket by cash or card.
Here is a video explaining it. (It's not in English but the most relevant video that I found on the internet)
How to buy a Bayern ticket from the DB Navigator App?
The DB Navigator app is extremely user-friendly. However, instead of directly entering your source station and destination station in the app, go to the options section (represented by three horizontal lines on the right hand corner) and select local offers. Under local offers, you should select regional offers and from the many types of ticket options available, select the bayern ticket. Enter traveller details and book.
You could either register yourself on the app or book as a guest without logging in.
How to buy a Bayern ticket online?
Visit the official DB site and use the following path:
Offers > Regional Offers > Regional day ticket for Bavaria.
You could either register yourself on the website or book as a guest without logging in.
What modes of transport are included?
You have unlimited access during the period of validity to any regional and local transport of Bavaria. Most bus lines are also included. Thus it includes the following trains:
Trains with the letters RB, RE, IRE, ALX, S-Bahn, U-Bahn, BOB (Bayerische Oberlandbahn) and M (Meridian) written on them.
(Trust me, you don't need to use anything apart from the trains listed above in order to thoroughly explore Bavaria)
Exclusions 
You cannot use this ticket for travelling by the superfast German trains called the ICE.
What makes this ticket awesome?
Now that you have all the information, let me share with you the real perks of using the Bayern Ticket:
1. Travelling on a Bayern ticket from Munich to Salzburg is totally permissible. In fact, you can use it to visit Salzburg (or any station in Austria accessible by regional trains) from anywhere in Bavaria. (We saved over 200 Euros thanks to this ticket)
2. The Bayern Ticket is not just meant for travel outside Munich. It covers all modes of transport required to explore Munich. What that means is that just this ticket is enough for you to visit all attractions within and outside Munich.
3. Large families with lots of kids below 15 can celebrate. Parents or grandparents can take any number of their own children or their own grandchildren on this ticket. (The limit of maximum 5 persons is waived off in such situations)
4. The Bayern Ticket will not only let you use road transport in Munich, but you won't have to pay for it even when you travel to major cities within Bavaria like Augsberg, Nuremberg, etc.
5. If you are only going to travel at night, you can save some more money by buying the Bayern Ticket Nacht instead of the regular Bayern Ticket.
If you want more information, please visit the official website of Deutsche Bahn and make sure you use this magical money-saving ticket to explore Bavaria.