Stay in Taksim or Sultanahmet: Pros & Cons to Choose Well
This website contains no sponsored content. The content is written entirely on my own and is based on my personal experience and extensive research. This post may contain affiliate links. If you make a purchase through one of these links, I may receive a small commission at no extra cost to you. As an Amazon Associate I earn from qualifying purchases. Please read the disclaimer for more information.
Taksim or Sultanahmet – where should you stay? Which is better and which is not? Is Sultanahmet too quiet? Is Taksim too loud? Which is more central? What's the vibe like in these areas? Which is safer?
Are all these questions bothering you as you are in the final stages of your Istanbul trip planning? I was faced with these questions too before my solo trip to Istanbul. But after booking multiple accommodations in Istanbul, and exploring both of these top areas of Istanbul – I can tell you exactly which one to choose for your trip to Istanbul.
Comparing Taksim or Sultanahmet – Key Differences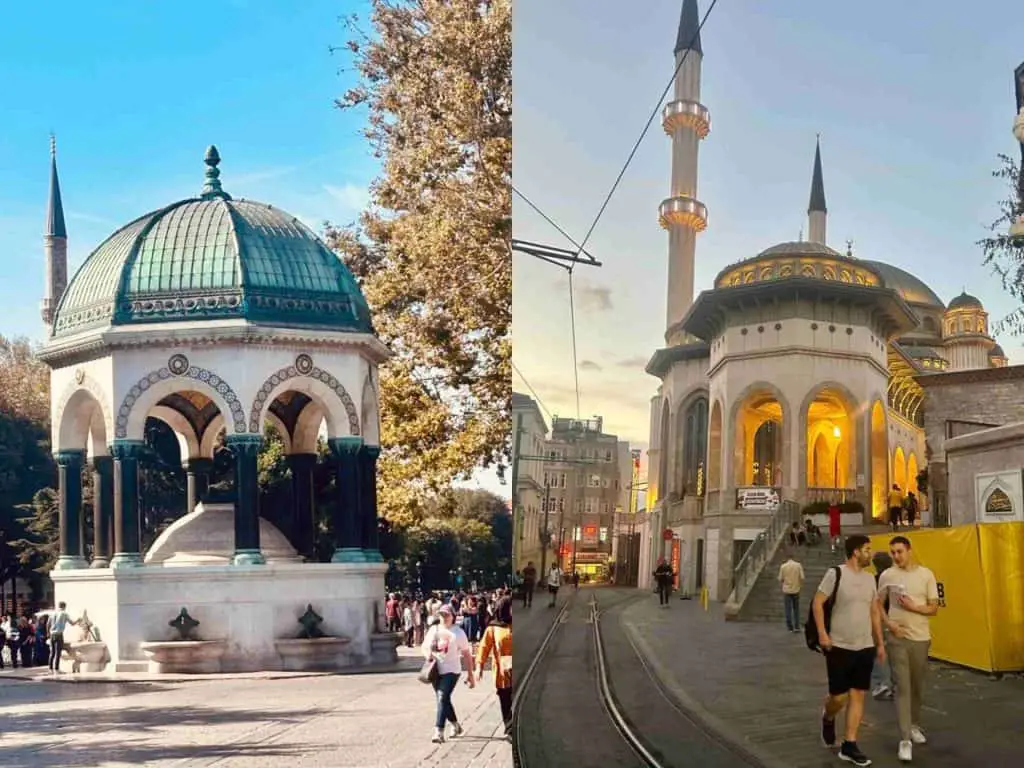 | Sultanahmet | Taksim or Beyoglu |
| --- | --- |
| Close to most major tourist attractions | Only a few tourist attractions are close by (Details below) |
| Excellent connectivity by tram to ports | Excellent connectivity by tram to ports (provided you stay close to Taksim square – details below) |
| Historic feel | Modern, European feel |
| Many old bazaars and hammams around | Many global retail stores around |
| Not too busy at after 9 pm | Not too busy after 9 pm |
| Fairly safe | Internal lanes around Taksim can feel a bit shady |
| Excellent connectivity by tram to ports (provided you stay close to Taksim Square – details below) | Excellent connectivity by tram to ports (provided you stay close to Taksim Square – details below) |
| Ideal for first-time travelers to Istanbul, family travelers, couples and those who want central access with less buzz | Ideal for budget travelers, solo travelers who love partying, outgoing travelers |
But this is just a top-level comparison. To understand what exactly to actually expect in Sultanahmet or Taksim – read the in-depth sections below.
Where are Sultanahmet and Taksim?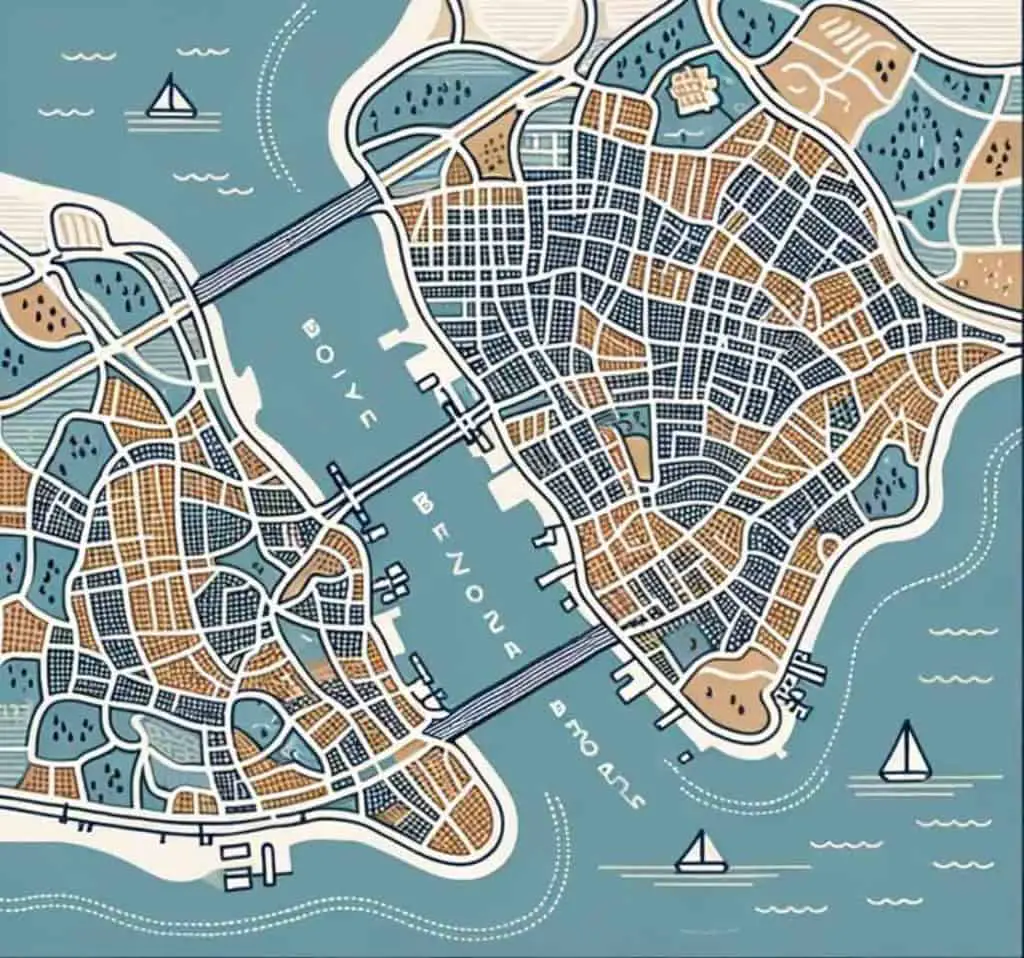 Before we compare the two areas, it is important to understand where they are located in Istanbul.
Both Sultanahmet and Taksim are located on the European side of Istanbul.
Sultanahmet is located in the Fatih area while Taksim is located in the Beyoglu area
The two areas are not too far away from each other and can be accessed by a Tram connecting the two in about 15-20 minutes.
You can even walk across from Fatih to Sultanahmet on foot – by crossing the Galata bridge spanning the Golden Horn
The reason why I am addressing the location aspect at the very beginning is so that you understand that regardless of whether you choose Sultanahmet or Taksim – you can travel to the other area in a matter of a few minutes.
What to expect in Sultanahmet?
Tourist attractions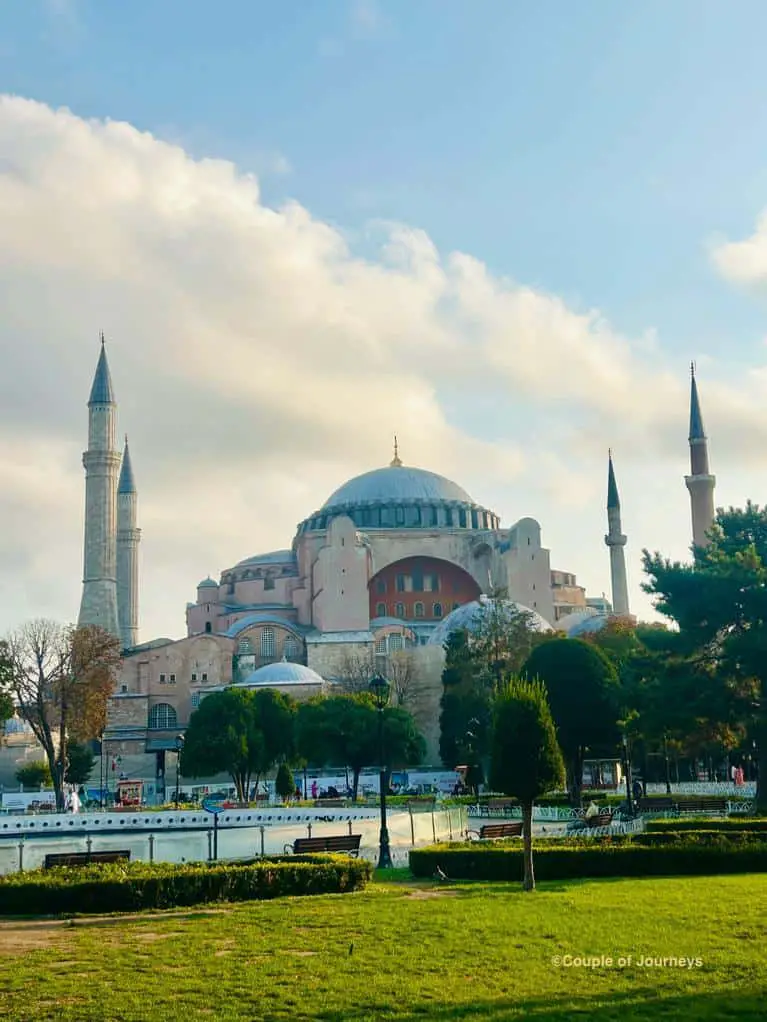 Sultanahmet is Istanbul's historical heart, with its main tram station on the T1 line bearing the same name.
Just a stone's throw away, you'll find iconic attractions like the Hagia Sophia Mosque, the Blue Mosque, the Basilica Cistern, and the Arasta Bazaar.
A short stroll further will take you to the Grand Bazaar, Spice Bazaar, Topkapi Palace, Gulhane Park, and the Istanbul Archaeological Museum.
I found Sultanahmet to be a strategic base for sightseeing. Why? Because you can easily dodge the long queues that form outside major attractions.
Most tourists try to squeeze visits to both mosques, the Topkapi Palace, and the Cistern into a single day, resulting in wasted time in lines.
By staying in Sultanahmet, you can get a head start. Hit 1-2 key attractions right as they open, then spend your day meandering through bazaars or venturing into other parts of the city. In short, staying in Sultanahmet is a time-saver, offering you quick access to must-see spots like the Hagia Sophia and the Blue Mosque.
So, if you value convenience and want to make the most out of your trip, Sultanahmet is a smart choice for your stay.
Food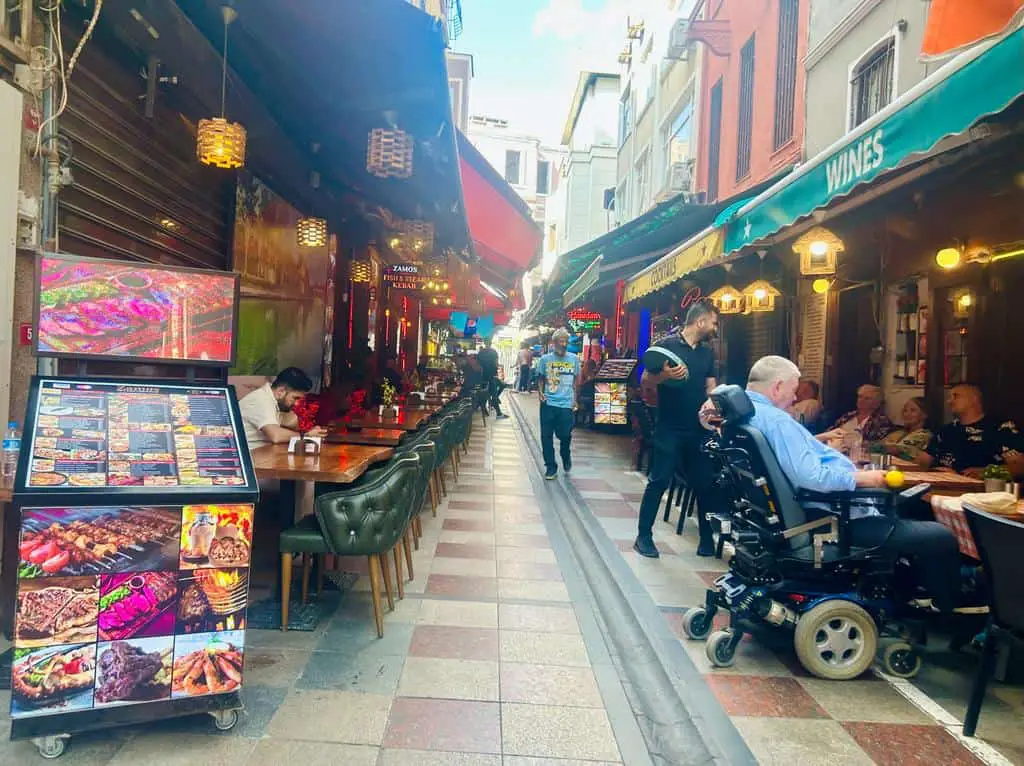 Being the touristic heart of Istanbul, the place is full of
restaurants serving delicious Turkish food like – kebaps, gozlemes, pide, menemen Turkish tea, and coffee
small street-side vendors selling Simit (Turkish donuts), chestnuts, and corn
famous sweet shops like Hafiz Mustafa, Mado, Faruk Güllüoğlu, etc.
plenty of hookah places
cafes and restaurants with the most spectacular views
Now mind you – Sultanahmet is a prime touristy area and restaurants here are quite expensive. To give you an estimate – Menemen (a classic scrambled egg Turkish breakfast) in this area costs around TRY 150 (September 2023 prices) while the same costs around TRY 85 in Taksim.
If you want to eat budget food in this area – try out eateries in the small by-lanes of this area. Walk deeper inside to find these gems. The vibe of the place would not match the ones off the main street but the food served is equally delicious.
Shopping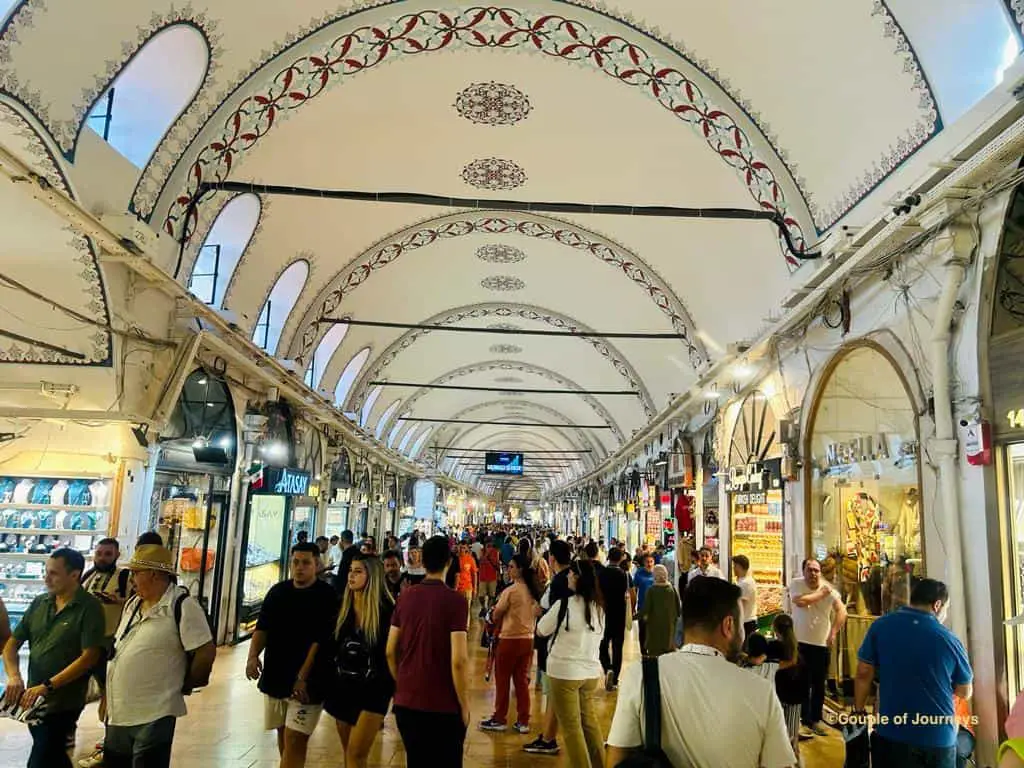 Sultanahmet is the place to be if you want to experience the magic of Old bazaars. The Grand Bazaar, Arasta Bazaar, and Spice Bazaar are a shopper's delight – especially if you are looking for silver jewelry, antiques, spices, carpets, and Turkish delights.
The main street on which the trams run is also full of shops selling souvenirs like magnets, soap bars, trays, keychains, scarves, etc.
Just like the food in Sultanahmet, shopping in Grand Bazaar, Spice Bazaar, or even for souvenirs in the shops around Sultanahmet is a costly affair. Shopkeepers are sweet but would generally not bring down their costs much as they are only interested in earning from wealthy Western tourists.
If you don't want exquisite items, it's best to shop for these from more local areas in Istanbul like Kadikoy on the Asian side, a small street in Karakoy from where locals shop, or the Eminonu local market.
Connectivity
The T1 Tram connects Sultanahmet to the rest of the city. Taking this tram you can easily reach
Eminonu (port for going to the Asian side or taking buses to Fener, Balat, etc.) – 5 mins by tram
Karakoy (to go to Galata Tower, Istiklal Street, try fish sandwiches, or take ferries to the Asian side) 6-7 mins by tram
Kabatas (to go to Taksim Square or port for Bosphorus tours) 10 mins by tram
So basically, regardless of which part of Istanbul you want to travel to – connectivity from Sultanahmet would not be a challenge.
In addition to this, there are plenty of buses plying locally within the area to connect various tourist places. The hop-on hop-off bus operating in this area is also helpful for tourists who don't want to walk or take the tram.
Reaching Sultanahmet from the Istanbul Airport or the new Sabiha Gokcen airport is also fairly easy with plenty of airport transfer options available.
Read my guide on how to use the economic Havaist bus to reach Sultanahmet from Istanbul Airport
While there are plenty of Bitaksis and Ubers available in this area – many will overcharge you or take longer routes partly with the intention to scam you and partly because of roadblocks on account of construction work in this area.
Unless you need to commute between 12-6 a.m. when the trams are closed – taking a cab from Sultanahmet is not advisable.
Safety
Throughout my time in Sultanahmet, I felt completely safe.
I interacted with plenty of shopkeepers at the various bazaars – some even invited me to try out their many teas and Turkish delights – but I never felt threatened. If I wasn't interested, I would decline with a polite 'no' and the shopkeepers would stop being pushy.
I walked around the area until midnight on most days and while the area wasn't as bustling as Taksim – shops, pharmacies, restaurants, and cafes were open and the place felt safe.
I have heard of pickpocketing incidents taking place frequently in the square around Blue Mosque and in the area near Grand Bazaar. But personally, I never felt threatened despite roaming around solo with a backpack, a vlogging camera, and the latest iPhone. So exercising basic caution should be enough to safeguard you against pickpocketing.
I even walked around the internal lanes of Sultanahmet when they were completely deserted and never felt unsafe – be it in the wee hours of the morning around sunrise or around midnight.
Plus, there are Tourist Police all around this area to address tourist woes. (I have heard from travelers that they hardly help with pickpocketing though).
➡️ For detailed insights, read my guide on Sultanahmet safety.
Why Stay in Sultanahmet?
If you want to save time on sightseeing as a first-timer in Istanbul, if you are in Istanbul only for a few days, and if you hate loud neighborhoods full of partying crowds – Sultanahmet is the best area for you.
The downside is that it is very touristy and expensive – but with just a few days to spend here, there are smart ways in which you could avoid the added costs.
Sultanahmet Area – Quick Summary
| | |
| --- | --- |
| Pros | Cons |
| Centrally located – close to all major tourist attractions | Expensive food and shopping |
| Fairly safe | No nightlife |
| Plenty of accommodation options for all types of travelers | |
| Excellent connectivity with the rest of Istanbul | |
| Lots of restaurants, cafes, shops, supermarkets, etc. | |
Top places to stay in Sultanahmet
What to expect in Taksim?
Tourist attractions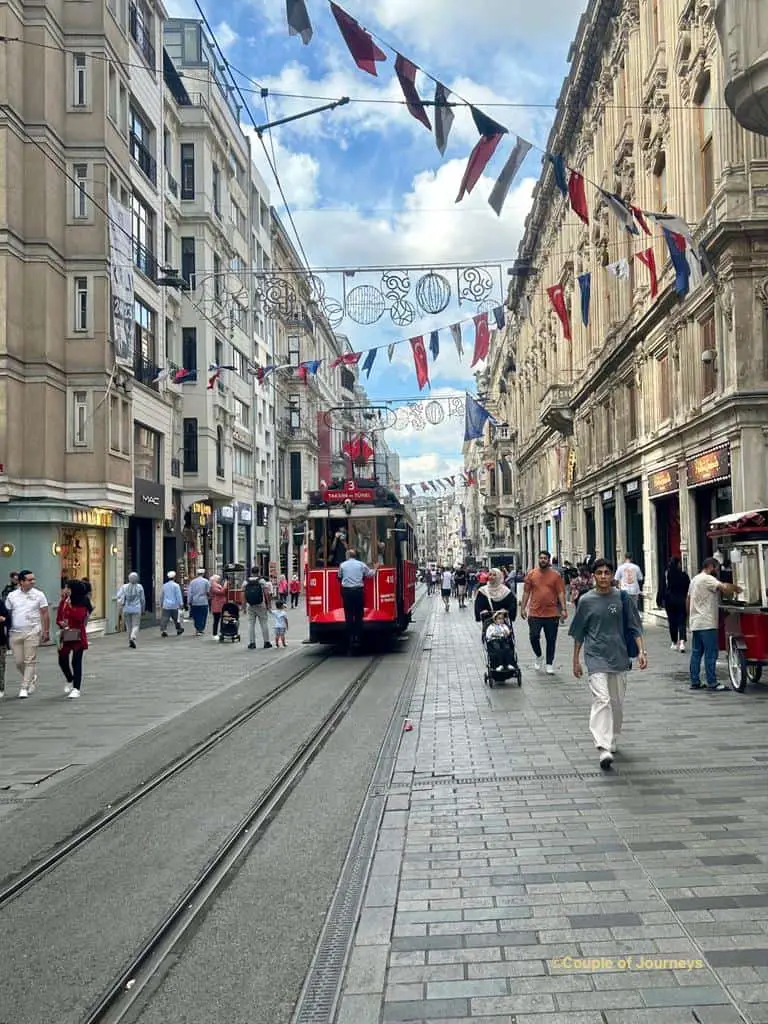 Taksim is often considered the modern counterpart to Sultanahmet's historical essence.
Even though the top tourist attractions are all located in the Sultanahmet area, Taksim offers closer access to top Istanbul sightseeing places like
Taksim Square
Taksim Mosque
Church of Saint Anthony of Padua
Istiklal Street
Galata Tower
Dolmabahce Palace
Taksim square
Many lesser-visited art galleries, museums, and antique cafes are also located all around this area.
But the real pull of this area lies in its multi-cultural crowds, large retail shopping areas, local restaurants, and nightclubs.
Food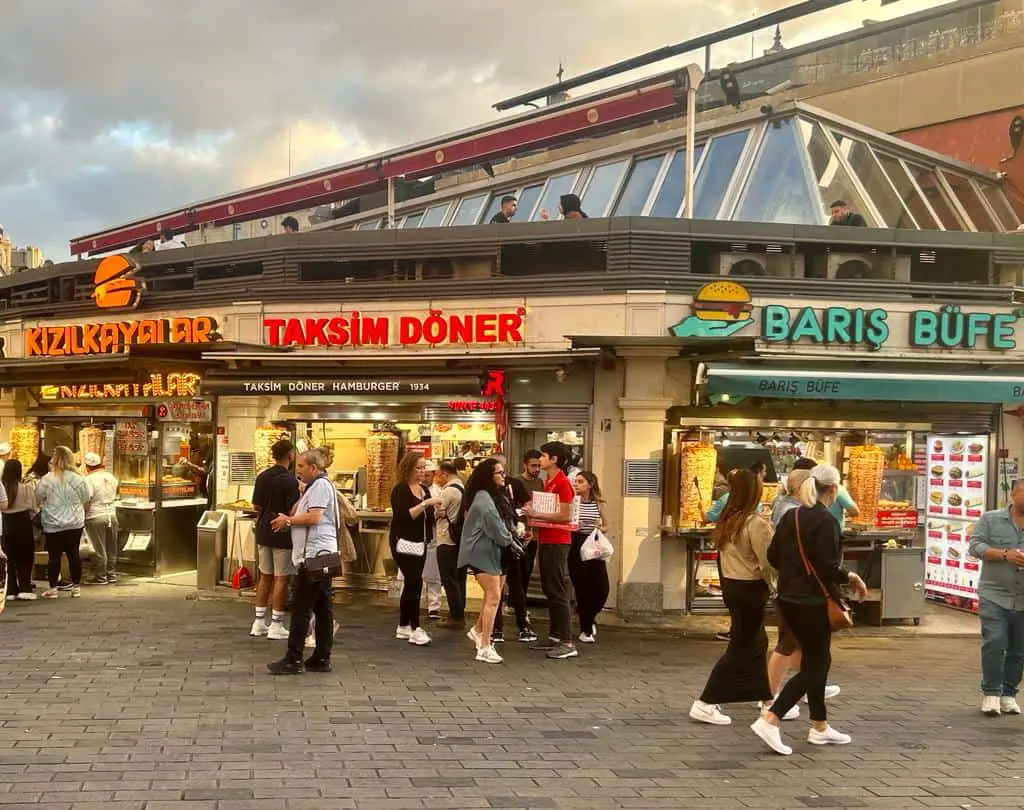 There is no dearth of eateries and cafes in this area. Not only is Istiklal Street packed with delicious eateries, but the many lanes dissecting the street are also full of some foodie gems.
You'll find
Hafiz Mustafa, Mado, and other famous Baklawa places
plenty of dondurma (Turkish Icecream) shops
local street food options like Simit, chestnuts, corn
quirky cafes and authentic Turkish coffee places like Mandabatmaz
delicious, local eateries serving authentic menemen, lahmacun, kumpir, and doner kebaps
fine dining restaurants
Meyhanes (traditional restaurants and bars) serving authentic mezes (starters) and Rakı (local alcoholic drink)
and plenty of clubs serving alcohol and hookahs.
You'll get everything you can find in Sultanahmet here and more! The Turkish local food joints here are far more reasonably priced than the touristy outlets in Sultanahmet. The feel is also less touristy. You can mingle with locals here and try out local favorites.
Almost all places stay open until well after midnight.
You'll also find plenty of cafes in the by-lanes that serve local tea and coffee for a fraction of the price you would pay at Taksim.
But on the main Istiklal street and in the Galata Tower area – you would have to pay a premium touristy price for your food and beverage.
I paid TRY 150 for Turkish icecream at Istiklal Street (costs less than TRY 40 in other areas) and TRY 40 for a cup of chai at a cafe near Galata Tower (costs TRY 10 in other areas)
Shopping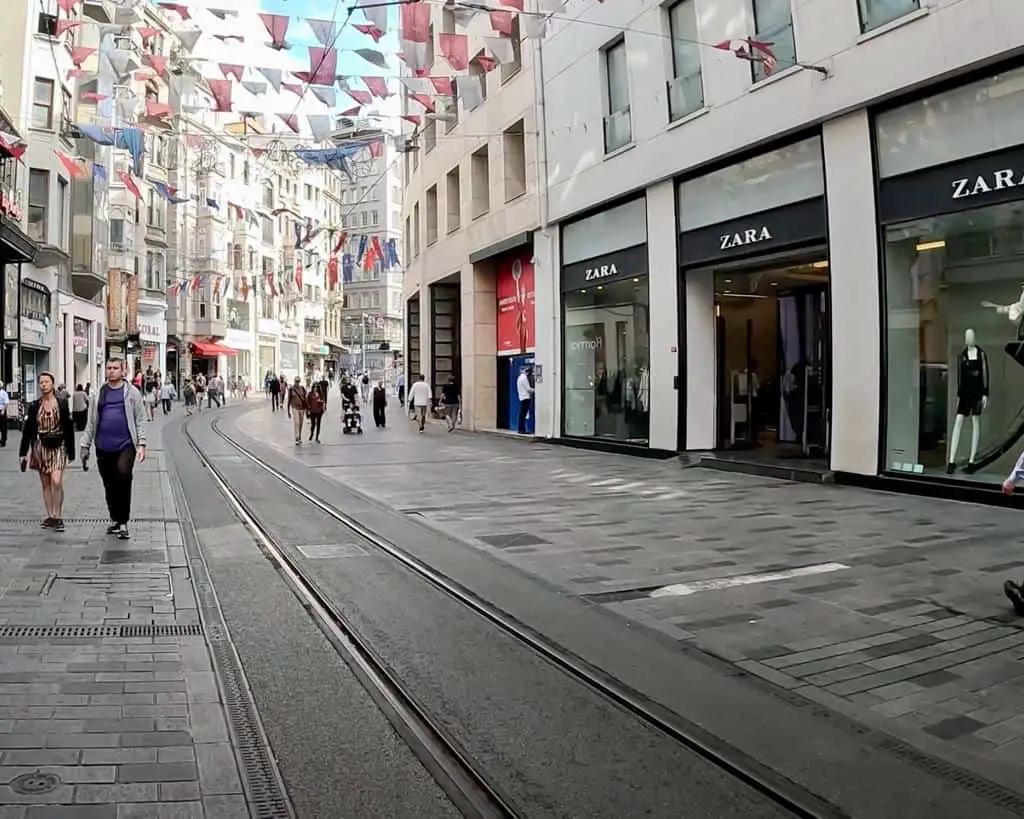 Shopping near Taksim is more upscale and global than local and exquisite. You will find showrooms of almost all the major lifestyle brands on Istiklal Street.
The prices would be standard as these are global brands. You will also find a few souvenir, scarf, and jewelry shops here but the variety available would be a fraction of what you would see in Sultanahmet.
Connectivity
Istiklal Street is the street that connects Taksim Square to Galata Tower. On both ends of the street – you'll find stations that connect this area to the primary tourist tram line T1.
From Taksim – you can take the F1 funicular to go to Kabatas station (port to go on Bosphorus tours) – 5 mins
From Tunel (near Galata Tower) – you can take the F2 funicular to go to Karakoy station (port to go to the Asian side, eat fish sandwiches, take bus to Fener and Balat) – 5 mins
Eminonu: funicular + tram : 7 mins
Sultanahmet: Funicular + Tram: 20 mins
Galata Tower from Taksim: 20 mins by foot, 10 mins by T2 tram + walking
Additionally, the area is a pedestrian's delight. Istiklal Street which is a vehicle-free zone is full of many hidden gems, churches, museums, and attractions that you can explore on foot. From Taksim, you can even walk up to Dolmabahce Palace in about 15 minutes.
In addition to this, Taksim Square is a major stop on plenty of bus routes. The M2 Metro line also adds connectivity with less touristy parts of Istanbul.
You can even get a Havaist bus shuttle from Taksim Square to go to both Istanbul Airport as well as Sabiha Gokcen Airport.
Safety
Istiklal Street is one of the busiest streets in the world. It attracts millions of visitors on weekends.
While the street is generally safe, the large crowds make it easier for pickpockets to operate. You will hear of many pickpocketing incidents especially after sunset being reported in and around Istiklal Street and Galata Tower areas.
The lanes adjoining Istiklal Street, and the by-lanes around Taksim Square can get pretty deserted after sunset. While I didn't face any major issues, I did experience a few incidents of being followed when I walked in these lanes after sunset. As soon as I entered a nearby restaurant or a hotel, the follower immediately left.
But as a solo traveler – you may have to stay vigilant especially if your accommodation requires you to take deserted routes.
Who should choose Taksim?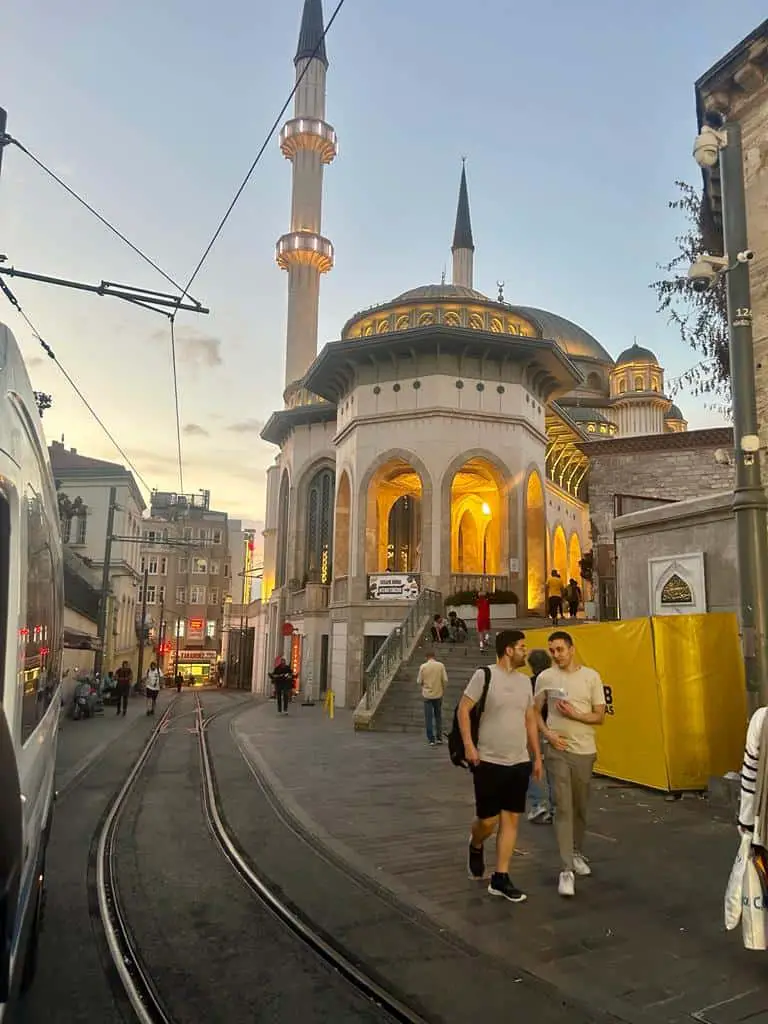 If you love vibey places, if you like people-watching, if you love shopping from branded outlets, if you love local and international food, and if you are a party animal – you must choose to stay in Taksim.
Being in the middle of lively street performers, music, cafes, and pubs after the end of a long day out sightseeing can feel refreshing. Plus, accessibility to the Asian side of Istanbul, going on Bosphorus tours, or visiting places like Dolmabahce Palace would be pretty straightforward.
The only minor disadvantage you would face is when visiting the tourist attractions in Sultanahmet. If you don't leave early, you will have to wait in long queues and waste a few extra hours.
Taksim Area – Quick Summary
| | |
| --- | --- |
| Pros | Cons |
| Vibrant, lively and more modern | Can get too loud at night |
| Plenty of accommodation options for all types of travelers | By-lanes can feel deserted and shady |
| Good connectivity with the rest of Istanbul | Vibrant, lively, and more modern |
| Packed with restaurants, cafes, meyhanes, bars, clubs | |
| Good for shopping from global brands | |
| Plenty of budget-friendly food and accommodation options available | |
Top places to stay in Taksim area
Which is better to Stay – Taksim or Sultanahmet?
If you are a regular tourist visiting Istanbul for the first time, I recommend you stay in Sultanahmet. Exploring the touristy side of Istanbul becomes very convenient with a base in Istanbul.
But if you are a budget traveler, a young traveler, a party animal, or someone who loves socializing and doesn't mind the slightly longer commute to the historic center – stay in Taksim.
Sultanahmet vs Taksim – Frequently Asked Questions
Should you split your stay between Sultanahmet and Taksim?
Splitting your stay in Sultanahmet and Taksim is not advisable as both areas are only about 15 minutes away from each other. So stay in Sultanahmet if you are a regular tourist and stay in Taksim if you want better nightlife and vibrancy and travel to the other area whenever you need to.
If you are in Istanbul for a longer vacation (more than a week), you can split your stay between the Asian side and the European side instead to see both the touristy and the local side of Istanbul.
Which are some of the best areas to stay in Istanbul?
The best areas to stay in Istanbul are
Sultanahmet – historic, central location
Taksim, Beyoglu, Galata Tower – modern area with great nightlife, close to historic center
Karakoy – excellent Airbnbs and luxury hotels
Kadikoy – best area on the Asian side, budget-friendly, less touristy
Besiktas – a great sea-side area with lovely homestays, restaurants, less touristy
Uskudar – local area on the Asian side with budget-friendly accommodation
Read more