Havaist Bus Istanbul Airport to Sultanahmet: No-Stress Guide
This website contains no sponsored content. The content is written entirely on my own and is based on my personal experience and extensive research. This post may contain affiliate links. If you make a purchase through one of these links, I may receive a small commission at no extra cost to you. As an Amazon Associate I earn from qualifying purchases. Please read the disclaimer for more information.
So, you've just landed at Istanbul Airport, and you're wondering how to make your way to the historic neighborhood of Sultanahmet without breaking the bank or your back. Look no further!
In this comprehensive guide, I'll walk you through the entire process of taking the Havaist shuttle from Istanbul Airport to Sultanahmet. I'll cover everything you need to know about the Havaist shuttle's ticket pricing and booking and evaluate whether hopping on this bus is indeed the best way to reach Sultanahmet from Istanbul Airport.
I personally took the Havaist bus on my recent trip to Istanbul. Although it involved a bit of navigating through currency exchanges, catching a tram, and some walking, I found the experience completely worth it. Trust me, you'll want to stick around to learn why!
Key Takeaways
Take Havaist Bus 12 to Aksaray/Beyazit
To get to the Havaist bus, get to the Arrival terminal – Minus 2 level
From here – head straight to Platform Number 12
The price of Havaist Shuttle as of September 2023 is TRY 136
(read the full article for details on how to pay for the bus ticket)
Get down at the last stop (Aksaray Metro). Walk for 5-7 minutes to reach the Aksaray Tram station
Buy an Istanbulkart (if you don't have one already) and top it up with Turkish Lira (read the full article for insights on buying an Istanbulkart)
Take tram T1 going towards Eminonu / Kabatas and get down at Sultanahmet.
Walk to your hotel/accommodation from here
How to use the Havaist Bus Istanbul Airport to Sultanahmet
In this section, I will tell you everything you need to know about using the Havaist Shuttle so that you can reach Sultanahmet in a hassle-free way from Istanbul Airport. Some often overlooked factors have also been covered to make sure your commute takes place without any hiccups. Make sure you go through each section thoroughly.
Where will you find the Havaist Bus Shuttles at the Istanbul Airport?
The Havaist Bus Shuttle leaves from the Minus 2 level at Istanbul Airport – Arrivals area.
To get to this area, you should exit from the main terminal,
walk out to the right (with your back to the exit gate)
take an escalator or an elevator
Once you get down to level -2. Exit from the elevator area.
Walk out and find platform No. 12.
The Havaist bus from Istanbul airport to Sultanahmet leaves from here. Now technically, Havaist buses don't go to Sultanahmet. But instead, go to Aksaray or Beyazit which is just a few tram stations away from Sultanahmet. So if you have to go to Sultanahmet, you must take Havaist Shuttle 12 going to Aksaray/Beyazit.
Why is it the destination called Aksaray/Beyazit?
The Havaist shuttle originally went to Beyazit
which is just 2 tram stations away from Sultanahmet or
just a few 10-minute walk away from Sultanahmet.
In fact, Beyazit is the tram station right outside the Grand Bazaar.
But because of construction work going on in this area, Havaist shuttles have to terminate close to the Aksaray Metro station instead of Beyazit. Once the construction work at Beyazit is done, Havaist shuttles would terminate at Beyazit – which is much closer to Sultanahmet.
What is the price of the Havaist shuttle and how to pay for the Havaist bus journey?
The Havaist shuttle from Istanbul Airport to Aksaray costs TRY 136 (As of September 2023).
You can book the ticket online or directly buy the ticket while boarding the bus (preferable)
Online ticket of Havaist Bus shuttles to Aksaray Metro
To book the online ticket, visit the official website and select 'Istanbul Havalimani' as the departure and 'Aksaray Metro' as the destination.
Fill in your personal details (Passport Number, phone number, email ID, name, surname, and date of birth)
Make the payment and you'll receive your ticket
The online ticket for Havaist buses is only valid for 72 hours from the time of making the booking. Plus, the requirement to fill in all your personal details (including your passport number, etc) seems unnecessary.
You can get a ticket directly on reaching the airport and even if you find the bus full, the next one would leave in 25 minutes so it won't cost you too much time.
Offline ticket booking of Havaist Bus shuttles to Aksaray Metro
To book the ticket offline or directly on arrival, make sure you have an international debit or credit card that works in Istanbul or cash.
To buy the ticket, head straight to platform 12 and stand in the queue for the bus.
Deposit your luggage, get a luggage tag
Buy your ticket from the officer standing at the bus entrance while entering the bus. You can pay for the ticket with a card or Turkish Lira. USD/EUR or other currencies are usually not accepted.
Contrary to what many articles and forums state online, Istanbulkart is not accepted for Havaist.
How long does the Havaist bus take to reach Aksaray? How comfortable is the journey?
Duration
The journey from Istanbul Airport to Aksaray Metro by Havaist bus takes about 1 hour 30 minutes. But the time may increase if you travel during peak work hours or on Friday during prayer hours.
Comfort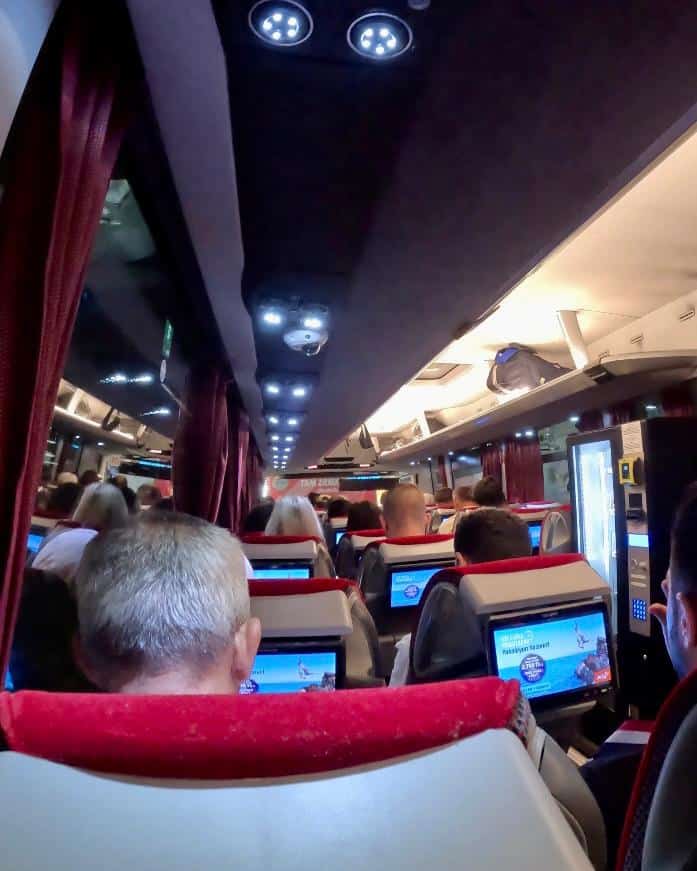 The seats are adequately wide and have decent leg space.
There are seat belts to keep you secure.
There is a charging point as well as a seat pocket to hold a water bottle, books, or other knick-knacks.
There is also a vending machine inside the bus that dispenses water bottles, snack packets, and drinks. But the machine online accepts Turkish Lira cash.
The Havaist buses are equipped with perforated window films that do an excellent job of shielding you from harsh sunlight, ensuring a comfortable ride. The flip side? These films slightly obscure the view, a bummer if you're an eager traveler like me who wants to soak in the new city vibes right from the get-go.
The steps to get inside are not friendly for those with physical limitations. For children, there are no child seats but the seats are still comfortable for traveling with young kids. There were plenty of babies and toddlers on my Havaist bus trips.
There is a screen in front of your seat which only plays advertisements. So don't expect entertainment on your journey.
Luggage
You can store your large trolley bags in the luggage storage bay under the bus. You will be given a token number. Keep this safely to get your luggage back once you get down.
Luggage storage is free of cost and there is enough space to store the luggage of all the passengers traveling on the bus.
In addition to this space, there is overhead luggage storage inside the bus to hold shoulder bags, small backpacks, diaper bags, etc.
How to go to Aksaray Tram Station from the Drop-Off Point
Upon disembarking, you'll find yourself next to a large sidewalk near the Aksaray Metro station. You're essentially midway between the Yusufpasa and Aksaray Metro stations for tram line T1, which takes you to Sultanahmet.
Why Choose Aksaray Over Yusufpasa:
Ignore advice to head to Yusufpasa; it requires navigating stairs or an escalator with your luggage. Instead, opt for the simpler route to Aksaray tram station—a hassle-free, cobblestone walk.
Directions to Aksaray Tram Station:
Facing away from the bus, walk straight to your right. You'll see the Aksaray Tram station at the first intersection.
Prepping for the Journey:
The road leading to Aksaray Metro station has many ATMs. Withdraw some Turkish Lira to buy your Istanbulkart.
Buying Istanbulkart

At the Aksaray Tram station, find the yellow ticket machines and select your preferred language. Follow the on-screen prompts to purchase and load your Istanbulkart.
Even though the machines state that they accept debit and credit cards, many don't. That's why I recommend having some local currency on hand before you set out to buy your first Istanbulkart.
When I reached the Aksaray Metro station, there was a short queue at the yellow ticket machines and unfortunately, the machine I used, had its display stuck in Turkish.
Exhausted and in no mood to try out another machine, I bought my card for 100 lira from one of the vendors standing next to the machine, even though the Istanbulkart costs 70 lira. I later topped it up myself.
Topping Up:
To add funds to your card, place it on the card reader and insert a currency note. The updated balance will be displayed.
Entering the Station:
Head to the platform for trams going to Eminonu or Kabatas. Tap your Istanbulkart to enter, and you can ask security to allow your luggage through the gated access.
How to reach Sultanahmet from Aksaray Metro Station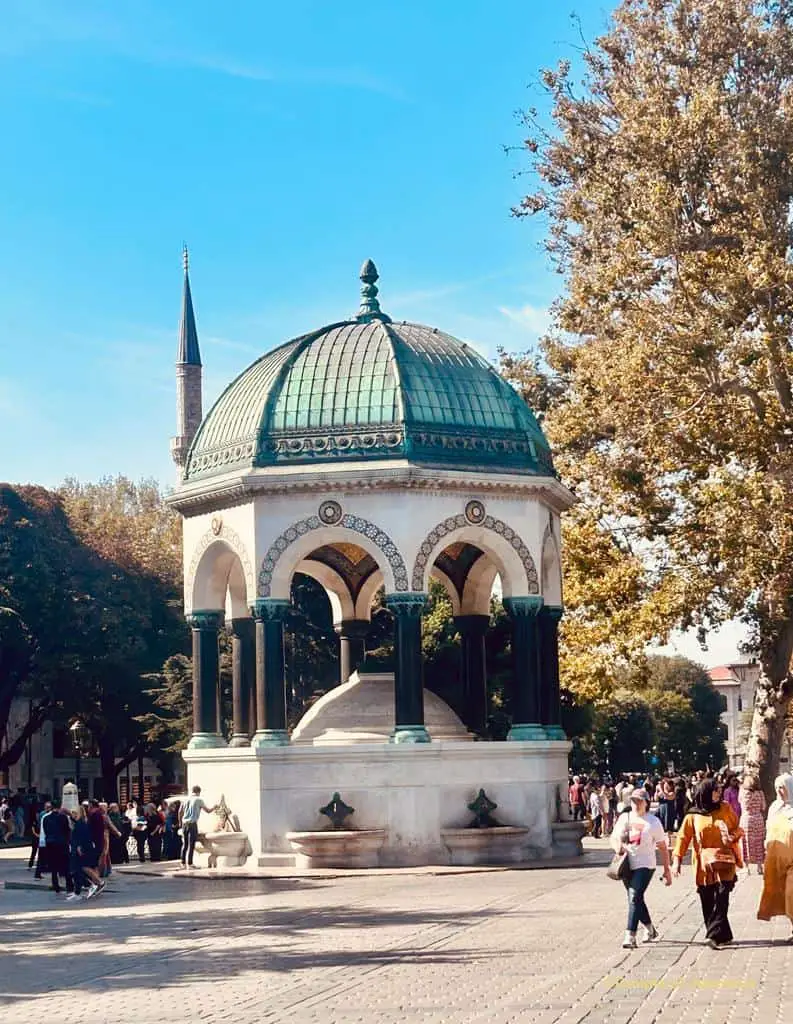 Once at the tram station, board any tram headed towards Eminonu or Kabatas, luggage in tow.
Sultanahmet is just four stops away, and each stop is roughly a minute apart. Don't get too comfortable; you'll reach your destination quickly.
The Sultanahmet and Aksaray platforms are on the same side. In a crowded tram, stay near the door for a hassle-free exit.
When you get down, you don't need to tap your card for exiting. So just walk out of the station and then follow Google Maps to reach your accommodation.
Who should use the Havaist Shuttle Bus from Istanbul Airport to Sultanahmet?
I think the Havaist Bus is the best way to go to Sultanahmet from Istanbul Airport without breaking the bank or getting scammed by taxi drivers. It is particularly useful for solo travelers, and budget travelers.
But even couples and family travelers can use the bus, if they don't mind walking with their luggage from the drop-off point to the tram station and then from Sultanahmet to their accommodation.
The cobblestone pavements may be a bit of a challenge when you need to walk your trolley luggage over it – but it is only a minor inconvenience for the massive amount of money it saves you. To give you an idea –
prebooked private transfers usually cost around 50 Euros
booking an Uber usually costs around 900 TRY (assuming you don't get scammed by the driver taking the longer routes, etc)
It is also time-saving and a much more straightforward way to reach Sultanahmet and Fatih from Istanbul Airport. Taking the metro or public transport requires multiple changes and can take up to 2 hours to reach Sultanahmet. It would also require you to carry your luggage around through all the transfers, get your Istanbulkart at the airport, get local currency changed, etc.
Who should not use the Havaist shuttle bus?
Even though the Havaist shuttle bus is one of the most economical and practical ways of reaching Sultanahmet from Istanbul airport, it is not the most ideal solution for everyone who wants to commute between Istanbul airport and the city center.
So who should avoid using the Havaist shuttle?
Those who need to commute between midnight and 6 a.m.
The tram T1 which runs between Aksaray metro station and Sultanahmet is shut between midnight and 6 am. In fact, most trams in Istanbul are shut between 12 a.m. and 6 a.m. Some even close down earlier.
So if you take the Havaist shuttle bus from the airport, you will not be able to quickly jump on a tram to reach the central Sultanahmet area. To reach the historic peninsula, you will have to book yourself a Bitaksi or an Uber, and finding one in the middle of the night at Aksaray is more difficult than booking one at the airport itself.
2. Those traveling with young kids or massive luggage
If you are traveling with young kids, you can definitely travel using the Havaist if you don't mind the lack of car seats and the change in modes of transportation from the bus to the tram, etc.
But usually, when I travel with a baby or a toddler, I prefer to book an end-to-end transport involving minimal transfers and walking with luggage. Of course, the price of a private transfer would prove to be much more expensive than the Havaist+tram method but it would provide you with convenience and peace of mind.
I recommend this private car transfer from Istanbul Airport to Sultanahmet.
Likewise, if you are traveling with a lot of luggage – especially large-sized trolley bags or duffle bags, it is best to avoid taking this option as carrying the luggage in crowded trams might be challenging.
3. Those whose accommodation is not close to Sultanahmet tram station
While most hotels and Airbnbs are about 7-8 minutes away from the Sultanahmet tram station, some may be farther away. Check the distance from the Sultanahmet tram station to your accommodation.
If it is farther away, walking with luggage along the slightly uphill cobbled stone roads may be physically tiring and not how you may want to start your trip to Istanbul.
Where do buses to go back to the Airport from Sultanahmet leave from?
The Havaist bus stop near Aksaray Metro to go to the Istanbul Airport is the exact same as the one where the Havaist bus terminates. Thus, the place where you'll get off on your way to Sultanahmet from Istanbul airport is the place from where the bus going to the airport leaves. The exact location is pinned below.
Read more