Istanbul 4 days: Easy-To-Follow First-Timer's Itinerary
This website contains no sponsored content. The content is written entirely on my own and is based on my personal experience and extensive research. This post may contain affiliate links. If you make a purchase through one of these links, I may receive a small commission at no extra cost to you. As an Amazon Associate I earn from qualifying purchases. Please read the disclaimer for more information.
Visiting Istanbul for the first time? Looking for the perfect Istanbul 4 days itinerary? Want an Istanbul itinerary that's easy to follow? Want a 4-day Istanbul plan that's customizable as per your liking?
On my recent trip to Istanbul, I realized that Istanbul is rapidly changing. The prices of tourist attractions, public transport, food and drinks are increasing. The place is flooded with tourists even in non-summer months and planning a trip to Istanbul has become even more challenging for a first-timer.
So if you are going to be in Istanbul for 4 days, you should read this fully up-to-date Istanbul travel guide to effortlessly plan your trip.
In this 4-day Istanbul guide, I will
give you a day-wise breakdown of places you must visit,
suggest options for you to modify the itinerary as per your liking and
suggest tours and give tips to make your Istanbul trip hassle-free.
In just 4 days in Istanbul, you can delve into ancient history at the Hagia Sophia, bargain in bustling bazaars like the Grand Bazaar, cruise down the scenic Bosphorus Strait, savor tantalizing Turkish cuisine, and experience vibrant nightlife in Taksim Square.
Istanbul 4 days itinerary – overview
Istanbul 4 days Map
You can use the map below to follow along the 4 day Istanbul itinerary recommended in this article.
Planning your Istanbul 4 days Itinerary last minute?
Booking your Istanbul 4 days itinerary last minute? Don't worry! I have got you covered.
Here are some of the best tours and hotels in Istanbul.
Top Experiences and Tours in Istanbul
---
Top hotels in Istanbul
Best Place to Stay in Istanbul for 4 days
Istanbul has many areas that are suitable for first-time tourists. But since you are going to be in Istanbul only for 4 days, it is important that you stay in areas with the most tourist attractions and best connectivity.
The top two areas that I recommend for staying in Istanbul are Sultanahmet or Taksim.
Sultanahmet
This area is home to all the prime tourist attractions in Istanbul. So if you stay in Sultanahmet, the following places would be a short walk away
Hagia Sophia
Blue Mosque
Basilica Cistern
Topkapi Palace
Gulhane Park
Grand Bazaar
Spice Bazaar
Arasta Bazaar
Eminonu Ferry Port
plenty of museums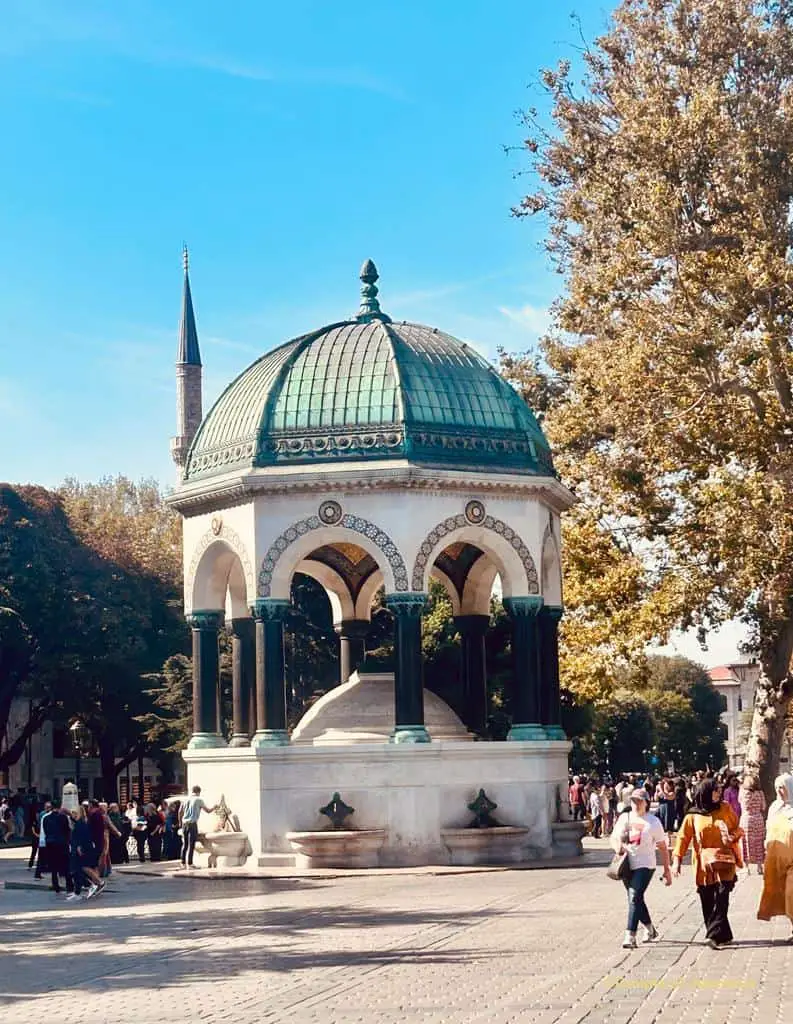 Being the prime tourist area in Istanbul, you'll also find plenty of restaurants, cafes, hammams, coiffeurs (hair salons), and souvenir shops all around.
The prices of accommodation in this area are higher than other parts of Istanbul but for the time it saves you, it may well be worth it to spend a few bucks extra. It is also convenient to reach Sultanahmet from the airport by Havaist or by a private transfer.
The top places to stay in Sultanahmet are:
Taksim
Unlike Sultanahmet, which is more traditional and historic, Taksim in Beyoglu district offers a contemporary vibe with plenty of shopping avenues, bars, nightclubs, art galleries, and modern cafes.
You can enjoy street music, live performances, and a wide variety of international cuisines. This area represents the contemporary side of Istanbul.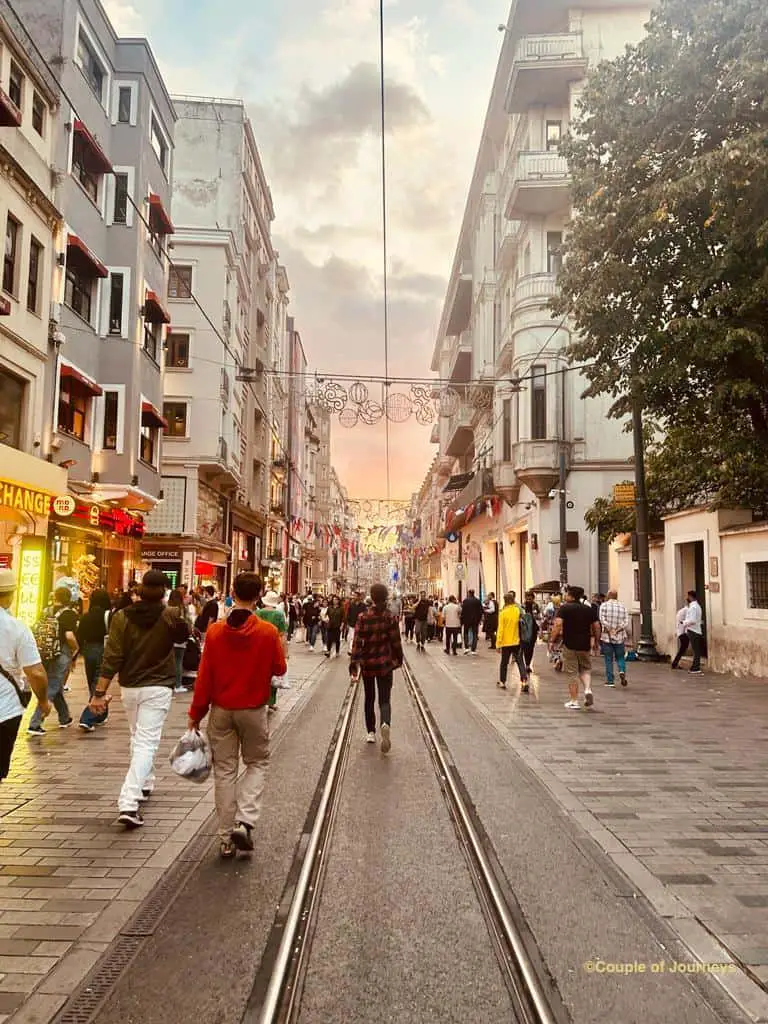 Here are some key spots you'll have easy access to if you stay in Taksim:
Istiklal Street
Taksim Square
Galata Tower
Kabatas Port (for ferries to Princes Islands)
Dolmabahce Palace
Ortakoy Mosque
The top places to stay in Taksim are:
Windrose Hostel Taksim
Top-rated, excellent location, budget-friendly
See prices and availability
The Pera Hotel
Budget-friendly, top location for nightlife
Check on Booking | Check on Agoda
CVK Park Bosphorus
Luxury accommodation, impeccable service, central location
Check on Booking | Check on Agoda
---
Visiting Istanbul For 4 Days – Useful Insights
Before I give you a day-wise break up of the 4 day Istanbul itinerary, let me tell you what to expect:
Visit all the top attractions, preferably on guided tours to get the most out of your visit. Many guided tours come with skip-the-line tickets that not only save time but also give you much more insights than visiting the places on your own.
Use public transport wherever possible and for that get the Istanbulkart. It is a prepaid public transport card available at all stations. I traveled exclusively using public transport. But if you want to use taxis, only use them when traveling between major areas. Do not use taxis for short distances and in the touristy heart of the city. There is no parking in the historical peninsula.
Expect a lot of walking as you try to cover all the top Istanbul sightseeing places in a limited amount of time. I walked an average of 15,000 steps per day when I tried to cover the top tourist attractions of Istanbul in 4 days. So wear comfortable walking shoes.
Start your day early to avoid crowds and cover a lot more during your limited time.
Feel free to skip attractions that don't align with your interests to save time and avoid exhaustion.
Wear clothing that covers your shoulders and legs on days when you have to visit mosques. Women must also cover their heads with a scarf while entering a mosque.
Some attractions are closed on Tuesdays while the Bazaars are closed on Sundays. Interchange the days of the itinerary accordingly.
Istanbul 4 days itinerary – Day 1
Day 1 of your 4 Istanbul days would be spent covering the Historical peninsula of Istanbul also known as the Old City or the Old Town.
The Old Town of Istanbul is on the European side of Istanbul and all of its major attractions are located within walking distance of one another.
But the area gets insanely crowded during the summer months and on weekends. I even had to endure long queues on my trip to Istanbul in September despite it being a shoulder season month.
So start early. Ideally, make sure you reach Sultanahmet by 7.30 am. Staying in Sultanahmet or the nearby areas helps for this specific reason.
1. Hagia Sophia / Aya Sofya Camii
Kick off our Old Town exploration with Hagia Sophia. This place is a massive crowd-puller, even more so than the neighboring Blue Mosque.
To beat the crowds, join the queue around 8:10 a.m. even though doors open at 9:00 a.m.
You'll be able to explore the place with relatively fewer people, click better pictures, and feel far less overwhelmed.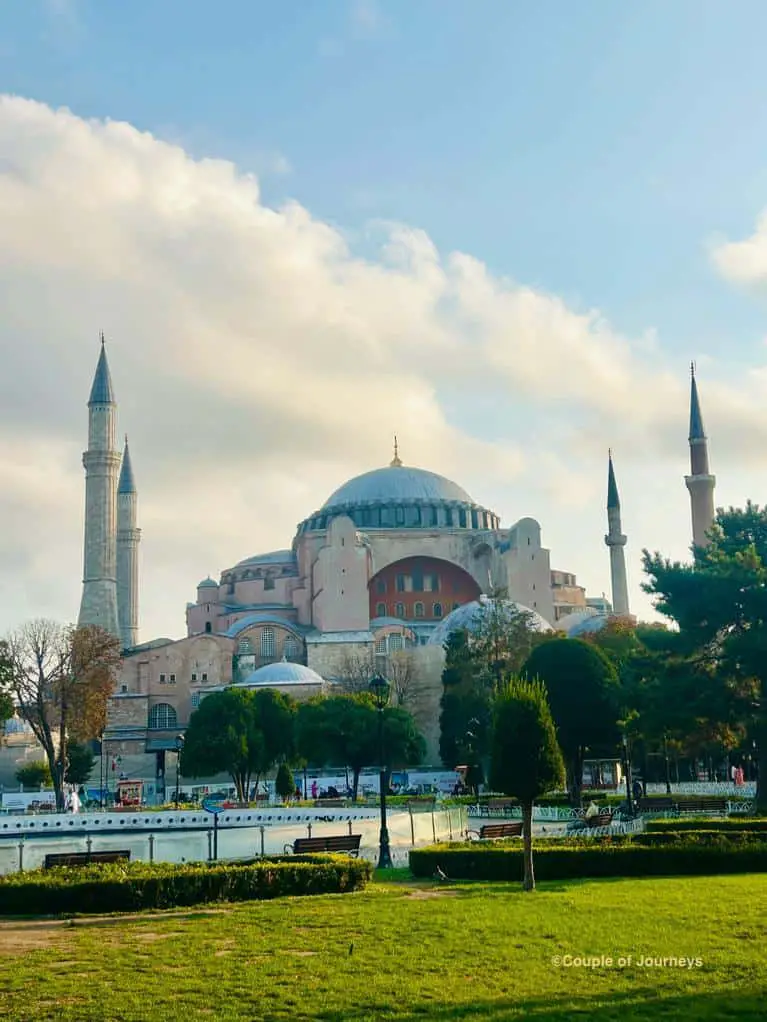 Why is Hagia Sophia worth visiting?
Well, Hagia Sophia, locally known as Aya Sofya Camii is a marvel both in history and architecture.
– Built in 537 AD as an Eastern Orthodox church, it turned into a mosque when the Ottomans conquered Constantinople in 1453.
– On Turkey becoming a secular republic, it switched to a museum in 1935.
– But recently, in 2020, it has reverted back to a mosque!
Quite the cultural shape-shifter!
But what I found absolutely impressive was its dome – that has been praised by millions across the world.
– The dome is 102 feet wide. It's not just large; it's an engineering wonder that seems almost weightless thanks to clever design techniques like pendentives.
– This dome has set architectural trends for ages, inspiring everything from mosques to cathedrals worldwide.
Hagia Sophia Tourist Info:
Timings: 9:00-22:00 hrs (closed 5 times during the day for prayers.)
Fee: Free
Time required: Approximately 1.5 hours (including about 40 minutes of waiting in a queue)
Dress code: Shoulders and legs must be covered. Women must also cover their heads with a scarf. Scarves are available at the entrance if required.
Pro Tip: Bring a bag for your shoes; the open shoe rack can be a bit risky in terms of theft.
2. Basilica Cistern / Yerebatan Sarnıcı
You should be out of Hagia Sophia by 9.30-9.40. Once you're out, cross the street and stand in queue for a visit to the Basilica Cistern locally known as Yerebatan Sarnıcı.
At the Basilica Cistern, expect a 20-30 minute long queue, if you are visiting it during summer or on a weekend.
To avoid the queue,
– book a skip-the-line ticket or
– join the guided sightseeing tour of the Old City.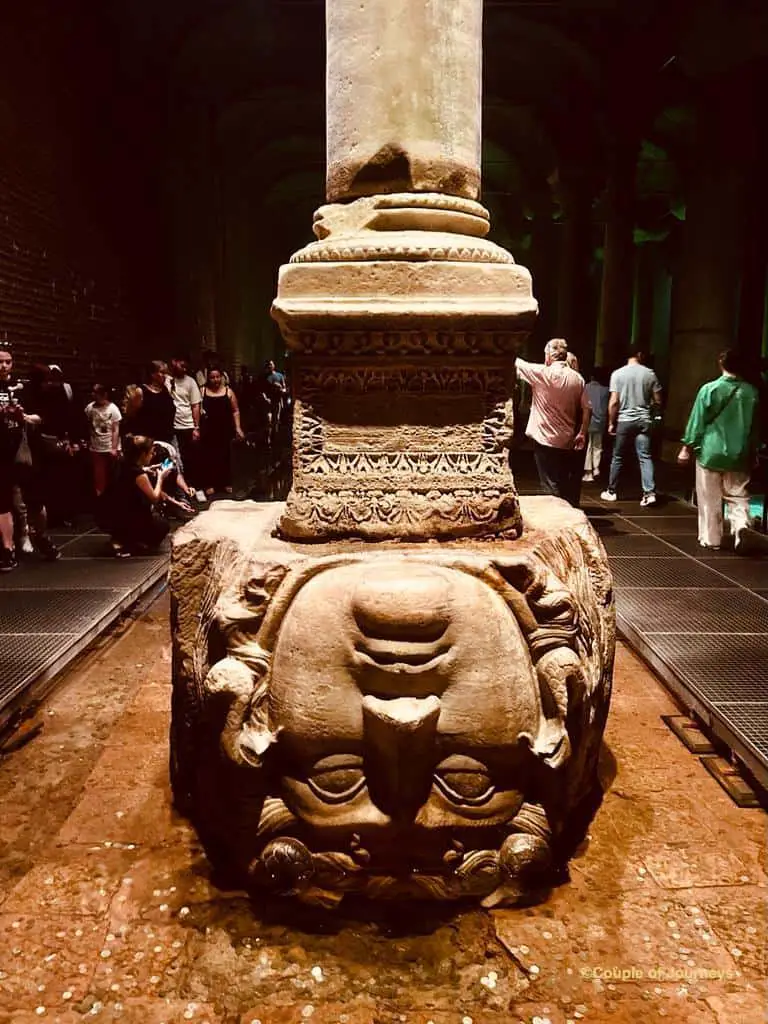 Why is Basilica Cistern worth visiting?
– Basilica cistern is one of the oldest standing structures in Istanbul and the largest of the many underground water reservoirs in the city.
– The Basilica Cistern was built in the 6th century AD by Justinian 1 of the Byzantine empire.
– To see such an advanced structure situated right below the heart of Istanbul feel mind-boggling.
– The cistern is built with the support of 28 columns each spread over 12 rows. The Medusa Heads columns are a special highlight.
Basilica Cistern Tourist Info:
Timings: 9:00-22:00 hrs
Entrance Fee (As on September 2023):
– Between 09.00-19.00
Domestic Visitors: 80 TL
Foreign visitors: 450 TL
– Between 19.30-22.00
Domestic Visitor: 120 TL
Foreign visitor: 650 TL
Time required: Approximately 1 hour hours (including about 30 minutes of waiting in a queue)
Dress code: Nil. Wear comfortable shoes.
Pro tips:
– Visiting the place without a guide is not recommended if you want to dive into the historic significance of the place. There aren't many infographics placed inside. Check out these best-rated guided tours of the Basilica here.
– The place is quite dark. So carry phones or cameras with excellent night photography.
3. Topkapi Palace / Topkapi Sarayı
If you start your day in the morning, you should aim to wrap up Hagia Sophia and Basilica Cistern by 10.30-11.00 am.
Topkapi Palace should be the next tourist attraction you visit.
You can reach Topkapi Palace on foot from the Basilica or take a tram (Line T1) for covering a distance of 1 station from Sultanahmet to Gulhane.
To dodge the crowds, it's best to visit mid-morning. Large tour groups start pouring in post-lunch.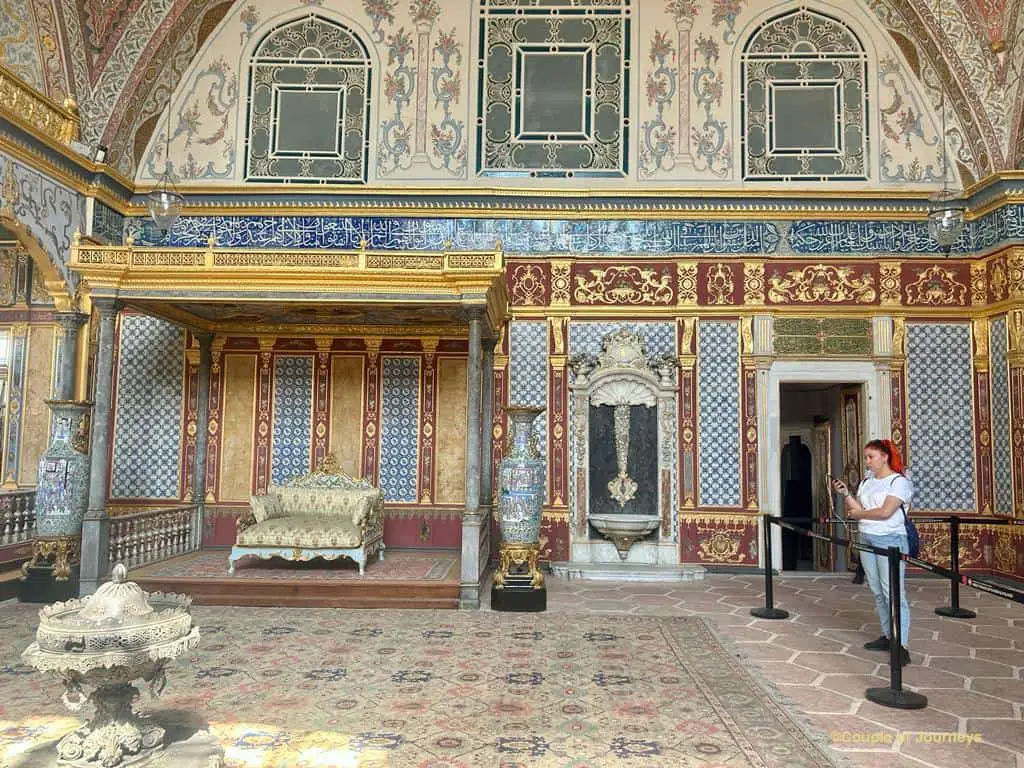 Why is Topkapi Palace a must-see?
Topkapi Palace is a sumptuous feast for the eyes and the history buff in you:
– Built-in the 15th century, it was the royal residence for Ottoman sultans for nearly 400 years.
– The palace complex is vast, hosting 4 courtyards, lush gardens, and stunning rooms filled with artifacts like the Prophet Muhammad's cloak and sword.
– Don't miss the Harem section, an intricately space designed with beautiful blue Iznik tiles that reveals insights into royal life during the Ottoman era. It is also one of the most Instagrammable places in Istanbul.
Buy a combo ticket at the very outset. It proves to be cheaper than buying a separate Harem ticket.
But the standout for me? The jaw-dropping views over the Golden Horn and the Bosphorus from the palace terraces. A panorama very few talk about but one that's offers a unique vantage point of the city!
Topkapi Palace Tourist Info:
Timings: 9:00 am – 6:00 pm (closed on Tuesdays)
Fee:
– 750 Turkish Lira for the Palace
– 950 Turkish Lira with Harem
Time Required: Around 2-3 hours
Dress Code: No specific requirements, but modest dressing is advisable as there are mosques inside that require you to cover your head.
Pro Tips:
– If you're hungry, grab a quick bite at one of the eateries inside the Topkapi Palace. Even though the eateries are quite expensive, you'll end up saving time and will also avoid post-lunch group tour crowds.
– If you're short on time, prioritize the Imperial Treasury and the views from the terraces.
– Carry a driving license or any other national identity proof. You can only get the free audio guide on depositing your identity proof. Remember to collect your identity proof on your way out.
– The ticket includes entry to the Topkapi Palace Museum as well as the Hagia Irene Museum located inside the same complex. Visit both. A separate ticket to Hagia Irene is not available.
Options post-Topkapi Palace
Visiting the Topkapi Palace, the Hagia Irene Museum and the Harem can easily take up 3 hours. This would mean that by the time you are out of the palace, it would be around 2-3 pm.
So if you feel you feel exhausted from all the walking since 7.30 am in the morning, you can plan a few hours of break. During these hours you can plan a slow lunch or relax at Gulhane Park right next to Topkapi Palace.
If you don't feel tired, you can see The Istanbul Archaeological Museum located right outside the Topkapi Palace is actually a complex of three museums: the Archaeological Museum (Arkeoloji Müzesi), the Ancient Orient Museum (Eski Şark Eserleri Müzesi), and the Tiled Kiosk Museum (Çinili Köşk Müzesi). A quick visit that covers just the highlights takes up 1.5 to 2 hours
4. Blue Mosque / Sultanahmet Mosque
The final must-visit attraction in your day 1 Istanbul itinerary is the Blue Mosque. The Blue Mosque was closed for restoration between 2018 and 2023 and has only opened in its full glory for tourists since April 2023.
The reason why I recommend visiting it in the second half of the day is that the crowd inside the mosque is usually lower between the afternoon and evening prayer i.e. between the Asr and Maghrib.
So at around 4.30, head to the Blue Mosque area again. Check the prayer times for the day of your travel beforehand using this website.
Why is the Blue Mosque a Must-Visit?
Ah, the Blue Mosque, or as locals call it, Sultanahmet Camii is nothing short of an architectural marvel and a spiritual oasis.
Built between 1609 and 1616 during the rule of Sultan Ahmet I, it's still an active mosque and one of Istanbul's most celebrated landmarks.
What sets it apart? The mosque gets its "Blue" nickname from the over 20,000 handcrafted blue Iznik tiles that adorn its interior walls.
The mosque features a unique layout with six minarets, which was a rather daring statement back in the day because traditionally, only the Prophet's mosque in Mecca had six minarets.
Even though I spent over 15 minutes sitting in the courtyard admiring its unique elevation and stunning facade and clicking plenty of pictures, the show-stopper for me was the mosque's interior— bathed in natural light filtering through more than 200 stained glass windows. It creates a sublime and peaceful atmosphere that truly elevates your experience.
Blue Mosque Tourist Info:
Timings: Opens daily, but closed to tourists during the five daily prayer times for about 30 minutes each.
Fee: Free
Time Required: Around 30-45 minutes (can be longer if there's a queue)
Dress Code: Modest attire is a must—shoulders and knees should be covered, and women need to cover their heads. Scarves and long skirts are available at the entrance if needed.
Pro Tip: Carry a bag for your shoes. The shoe storage racks at the Blue Mosque are much less secure than the open ones at Hagia Sophia – creating a big chance of theft. Carry your own scarf too as the ones provided at the entrance don't look clean and fresh.
Options after Blue Mosque
By the time you leave the Blue mosque, it should be around 5.30-6.00 p.m. If you visit in the summer months, that would leave you with a couple of hours before the sun sets. Even if you visit in the winter months, when the sun usually sets at around 5.30, you'd be able to visit the Blue Mosque during the daytime and get a few hours to explore the charming neighborhood.
A few things to do and places to visit after the Blue Mosque are
Hippodrome
The Hippodrome is right outside the entrance of the Blue Mosque. You can check out the area either before or after your visit to the Blue mosque depending on the prayer timings and how much time you have on hand.
It's an open area and needs no ticket.
Originally built in AD 203 by the Roman Emperor Septimius Severus, it was later expanded by Constantine the Great and became the sporting and social center of Byzantine life for over 1,000 years. The Hippodrome was where chariot races, gladiator fights, and other public spectacles were held. Even after the Ottoman conquest in 1453, it remained an important venue, taking on new roles and meanings in the social life of what was then known as Constantinople.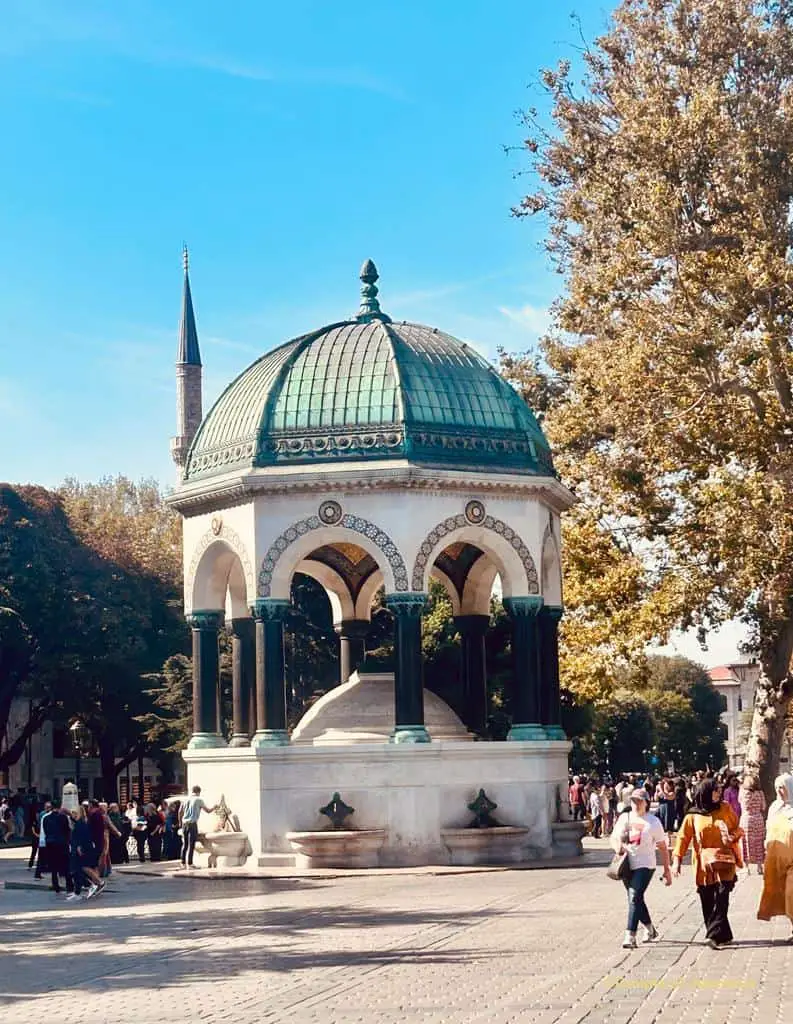 When walking around the Hippodrome, there are several key things to observe:
Obelisk of Theodosius: An ancient Egyptian obelisk, brought to Constantinople by Emperor Theodosius in the 4th century.
Serpent Column: A bronze column featuring a serpent twisting its way up the pole. It's an ancient Greek artifact that was brought from the Temple of Apollo at Delphi.
Walled Obelisk: Unlike the Obelisk of Theodosius, this one is made of stone blocks and was originally covered in bronze plaques.
German Fountain: A neo-Byzantine structure built to commemorate the second anniversary of the German Emperor Wilhelm II's visit to Istanbul in 1898.
Arasta Bazaar
Arasta Bazaar is one of the hidden places in Istanbul even though it's right in the heart of the historic peninsula. The exit to Blue Mosque will take you straight to Arasta Bazaar.
The Arasta Bazaar is a small pedestrian lane lined with shops on both sides. The shops here sell everything you'll find at Grand Bazaar and Spice Bazaar but cut out the overwhelm for you as the number of shops on this street is far lesser.
If you want to finish off your shopping without having to walk around a lot, buying souvenirs, spices, tea, jewelry, and sweets at the Arasta Bazaar is a good idea. Bargain well.
The Arasta Bazaar shuts at 7 p.m.
---
Day 2 – Northern Peninsula + Bazaars
Day 2 is when you'll still be on the European side of Istanbul but will get to experience its contemporary side, its hustle-bustle, its unique bazaars, and its multi-culturalism. The day would be packed but would feel a lot less hectic as you'll not have to struggle with tickets or timings.
Except for the Galata Tower, you can spend as much or as little time as you want at each of the places listed below.
Quick tip: Grand Bazaar and Spice Bazaar are shut on Sunday. So if Day 2 of your itinerary falls on a Sunday, exchange with some other day of this itinerary.
1. Galata Tower
Galat Tower is a crowd magnet, so timing is everything to get the most out of your experience.
To avoid the crowd, aim to visit as soon as the doors open, which is at 8:30 a.m. Just like I recommended with Hagia Sophia, ensure that you get into the queue by 8:10 a.m. Trust me, you'll appreciate the extra room to breathe, and your photos will thank you too.
I entered the tower at 8:30 sharp and I could spend a good 30-45 minutes at the top with almost nobody around before crowds started pouring in.
If you miss this early window, brace yourself for a tourist-packed experience for the rest of the day. The viewing platform becomes so crowded that it's nearly impossible to find a spot to simply stand and soak in the views, let alone snap some great photos.
Why is Galata Tower a must-see?
Well, Galata Tower offers a panoramic view of Istanbul that's incomparable.
Originally constructed in 1348, the tower served as an observation point for fires in its early years.
Over the centuries, it has served as an astronomical observatory as well as a prison.
It's an architectural gem, with its medieval stonework and cylindrical shape.
Galata Tower Tourist Info:
Timings: 8.20 am – 10.00 pm
Fee: Varies, has been increasing lately (TRY 650 in September 2023)
Time required: Approximately 1 hour (not including waiting time in line)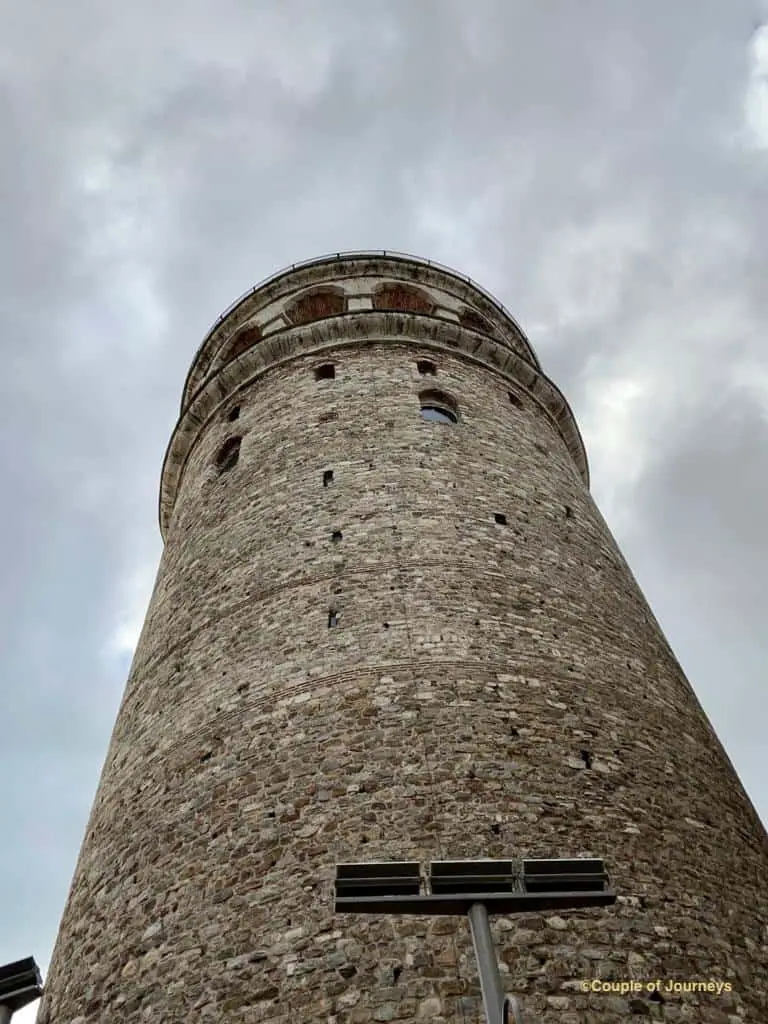 Pro Tips:
Clicking photos using a tripod is prohibited at the top. Plan accordingly.
The views at night are equally spectacular. So don't skip the place simply because your itinerary doesn't allow a morning visit.
The cafes and restaurants around the tower are insanely expensive. Many scams like overcharging tourists for food (simply because they didn't ask for the price before) are common.
Pick-pocketing and theft are also common in this area. Watch out.
How to reach the Galata Tower
Reaching the Galata Tower is a bit daunting for tourists as Google Maps often doesn't tell you the best routes.
Option 1: Get down at Karakoy (if you're coming from the Old City) and walk for about 7-8 minutes across a hidden narrow, steep lane to reach the ticket booking area.
Option 2: Get down at Karakoy. Take funicular F2 from Karakoy to Tunel. Walk for about 3-4 minutes from Tunel to the Galata Tower (slightly lesser elevation as compared to option 1 but more time-consuming)
2. Istiklal Street
Istiklal Street is the heartbeat of modern Istanbul. It stretches from the Tunel Station and goes right up to Taksim Square. The stretch is just under 2 km but it can take you 2-3 hours to cover the distance if you love shopping, eating, or people-watching.
The road is a vehicle-free pedestrian street like no other in the world. On weekends, it is believed to attract about 3 million people per day. You won't find another street in the world that attracts as much of a multicultural crowd as this street.
Istiklal Street is where history meets hipster
This bustling boulevard is flanked by 19th-century buildings that house everything from branded retail stores, eateries, ice cream shops, art galleries to museums
The nostalgic tram (Line T2 from Tunel to Taksim and vice versa) that rattles along the street adds a touch of old-world charm.
The lanes meeting Istiklal Street are full of charming cafes, bars, restaurants and eateries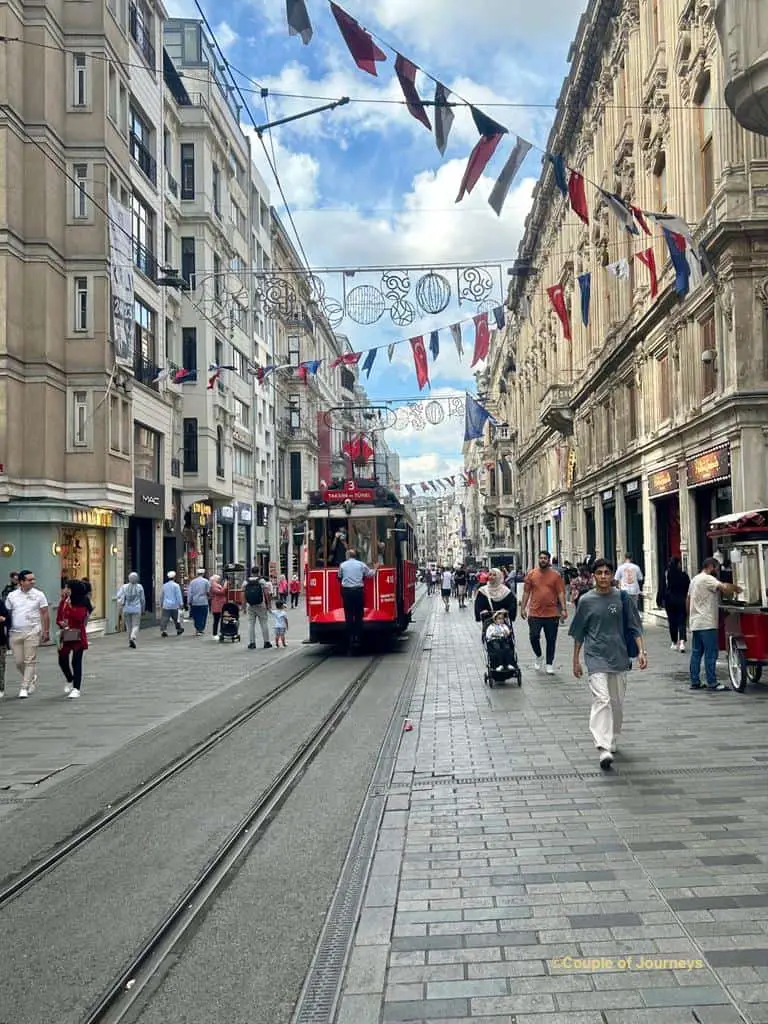 Some must-see or must-visit places as you explore Istiklal Street are
Church of Saint Anthony of Padua – the largest Catholic Church in Istanbul
The Flower Passage (Çiçek Pasajı) for a glimpse of the city's historic architecture and a chance to dine in a charming setting
Mandabatmaz Cafe – the best Turkish coffee in Istanbul
Lades Menemen – one of the best Menemen (Turkish scrambled eggs) place in Istanbul
Demiroren Istiklal or Istiklal Mall
Taksim Square's Republic Monument
The above are just some of my favorite places on Istiklal Street. You can spend your time at Istiklal Street doing what you love. There's no right or wrong way to see the most buzzing street in Istanbul.
3. Spice Bazaar
How to reach Spice Bazaar from Taksim/Istiklal Street
Spend the second half of your day, back in the Old City area.
– Start by reaching Eminonu. From Taksim Square, take the F1 funicular to Kabatas, and from there take the T1 tram to Eminonu.
Once you get down at Eminonu, cross the street and walk towards the new Eminonu mosque. Right across the street, you'll find the Spice Bazaar entrance.
About Spice Bazaar
Spice Bazaar was built in 1664 and is also known as Egyptian Bazaar as it was funded by taxes collected from Ottoman-controlled Egypt
It is the second largest covered bazaar in Istanbul after the Grand Bazaar but is much smaller in size than the Grand Bazaar.
Its L-shaped area is the most aromatic place in Istanbul. It sells everything from spices, Turkish delights, and jewelry to towels and linens.
Shopping at Spice Bazaar
I had read plenty of posts about how the Spice Bazaar is overpriced very touristy and not the best place to shop for tourists.
But after exploring the touristy as well as non-touristy areas in Istanbul, I have come to realize that
the variety of Turkish delights, dry fruits, and tea that you get in Spice Bazaars is not seen in any other bazaar in Istanbul. The prices are slightly higher than local markets in Istanbul but the quality is also very often much superior.
But different shops quote different prices and sell different quality goods. Explore the market thoroughly before making a purchase.
Spice Bazaar is not the place to buy souvenirs, cezves (copper coffee pots), garments, jewelry, or Turkish linen.
Tourist info:
Timings: 8:00 a.m. to 7:30 p.m. (Sunday closed)
4. Mahmutpasa Street
Mahmutpasa Street is the internal road that connects Spice Bazaar to Grand Bazaar. Walking up the street can take about 10 minutes if you don't stop along the way.
But if you want to shop like a local, you should spend more time here.
Mehmutpasa is lined with shops selling
garments
linen and towels
children's clothes
jewelry
souvenirs
scarfs, etc
The prices of items sold here are far cheaper (at times less than half) of the stuff you'll find at Grand Bazaar. The quality is not exquisite and most items sold here are mass-produced. But unless you're looking for a rare, unique find, if you want to buy stuff for every day use, Mehmutpasa is the most affordable place to shop in Istanbul.
5. Grand Bazaar
Next up is Grand Bazaar – easily the most sensorially overwhelming place in Istanbul. Grand Bazaar is one of the world's oldest and largest covered markets, this is the place where you can literally shop 'til you drop.
For starters, the Grand Bazaar is not just a market; it's a historical marvel.
Founded in 1455, it's one of the world's oldest covered markets.
Spanning 61 streets and housing over 4,000 shops, it's a labyrinth of endless possibilities.
From Turkish lamps and ceramics to spices and textiles, the variety of goods on offer is staggering. You could seriously find almost anything that comes to your mind.
But beware—the bustling atmosphere means it's also a hotspot for pickpocketing. So be careful with your belongings.
How should you make the most of your visit?
Decide what you want to buy. The Grand Bazaar isn't the go-to for generic souvenirs. Instead, it shines with unique statement pieces, handcrafted ceramics, meticulously woven carpets, eye-catching lamps, and exquisite jewelry.
Make sure you visit multiple shops before you actually buy what you need to ensure you're getting the best deal and quality.
There is a separate section of antiques inside the Grand Bazaar. It is one of the best places to get your hands on some fine collectibles from ancient times. But make sure the stuff you're buying is not illegally procured or prohibited from sale.
Before you sample tea, almonds, spices, or any other eatable sold here, ask the vendor if it's free and if there is no compulsion to buy.
Finally, go with the flow and have fun! Even if you're just window-shopping, soak in the details. The items are a testament to rich artistry and deserve admiration. And, as you wander, enjoy the amusing sales pitches by shopkeepers; they're all part of the bazaar's lively ambiance.
Grand Bazaar Tourist Info:
Timings: 9:00-19:00 hrs (closed on Sundays)
Fee: Free entry, but bring plenty of cash or a credit card for shopping!
Time required: At least 2-3 hours (depending on your shopping stamina)
6. Whirling Dervishes ceremony
Once you're done with shopping, you can close the evening by witnessing a Whirling Dervishes ceremony at the Hodja Pasha at Sirkeci. The show starts at 7 pm and gets full pretty quickly. Book your tickets in advance here.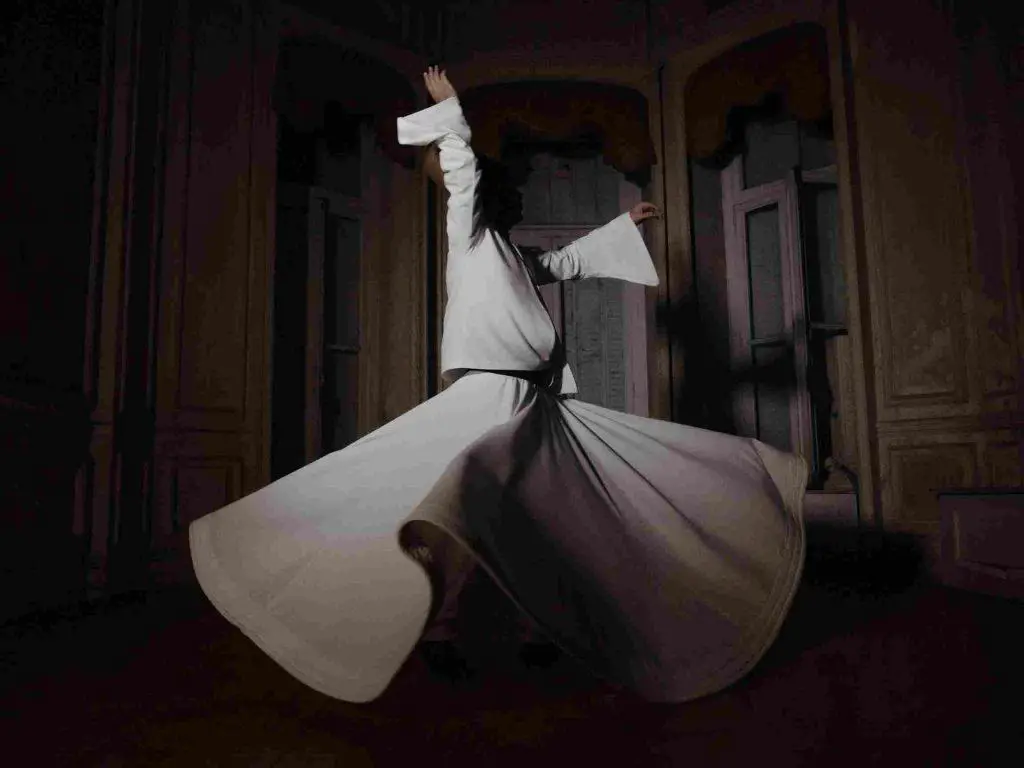 Is Whirling Dervishes worth attending?
Whirling Dervishing is also called as a Sema ceremony. It is not a 'show' as many people refer to it as but is a Mevlevi dance ceremony that's over 800-years old.
As part of the ceremony, you'll see dervishes dressed in white gowns, spin rhythmically to soulful music with eyes unfocused until they completely lose their sense of self and dissolve and become one with God.
The ceremony that lasts for 1 hour is held at Hodjapasha (near Sirkeci station on T1 tram line) which is a 550-year old renovated Turkish – offering the perfect setting for this ancient ceremony.
Pro tips:
While enough informational text is provided to help you understand the ceremony, the ceremony in itself is not supposed to be entertaining. If you want cultural insights into Turkey without having to sit through a long religious ceremony, book the 8.30 pm tickets for the Rhythm of the Dance Show – A Turkish traditional dance show.
Reach the venue at least 30 minutes before time to get the best seats. Seating is not allocated at the time of booking.
Children under 7 are not allowed to attend the shows.
If you are not interested in attending the show at Hodjapasha, you can attend the less spiritual and the more touristy variants at one of the many open-air restaurants near Hagia Sophia and Arasta Bazaar. The show is free provided you eat at the restaurant.
---
Day 3 – Asian Side + Bosphorus Tour/Other Experiences
It's Day 3 and it's time to now step into the Asian side of Istanbul. Istanbul, as you know, straddles over Europe and Asia with the Bosphorus straight in the middle.
The Asian side is remarkably less touristy than the European Historical Peninsula and the Beyoglu district and in its authenticity lies its charm.
You can reach the Asian side by taking a ferry from Eminonu or Karakoy or by traveling on the Marmaray – the underwater train connecting the two sides of Istanbul. The Istanbulkart works on both. Sirkeci is the closest Marmaray station to the Old Town.
But for touristy purposes, I recommend taking a ferry from Eminonu and heading to Kadikoy. The views are excellent and the journey is short.
Kadikoy
The first stop of your day would be Kadikoy. Kadikoy is a bustling neighborhood on the Asian side that's usually full of students chilling at the many cafes or locals shopping at the many interesting markets.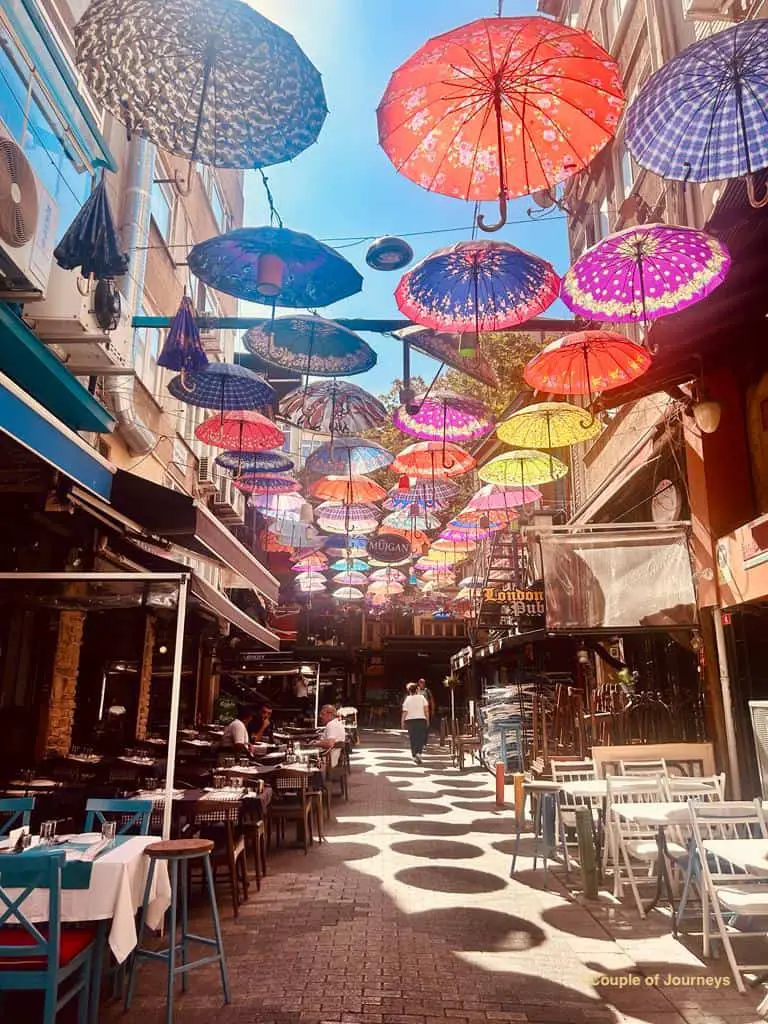 Since it is a neighborhood and not a sightseeing attraction, it is easy to feel disoriented and lost when you visit Kadikoy on your own. That's why I highly recommend this guided tour of Kadikoy.
You'll learn all about Istanbul's culture plus excellent restaurant and cafe recommendations, shopping tips, and more. You'll also see the local markets that many tourists tend to skip.
But if you want to do it on your own,
Start by visiting Fezil Bey – one of the best coffee shops in Kadikoy serving freshly ground aromatic authentic Turkish coffee.
Have a Turkish breakfast at one of the many eateries in the central market area. You'll get the authentic one for a price much cheaper than the touristy European side.
Walk through the fish market and the local fruit and vegetable markets.
See the Bull Statue also known as the 'meeting point'
Check out the Instagrammable Umbrella Street called Ziya Bey Sokak
Walk on the famous Bagdat street – watch the historic tram, and the colorful cafes, and then buy accessories, clothes, and souvenirs at the many local and retail shops.
If you have time, take the historic tram and head to Moda. A small neighborhood next to Kadikoy is known for its youthful vibe and charming beachside promenade.
2. Bosphorus Cruise
Heading out on a Bosphorus cruise is one of the best things to do in Istanbul. The cruise allows you to appreciate Istanbul from a unique vantage point.
You also get to marvel at the various Istanbul attractions like the Dolmabahce Palace, Maiden's Tower, Ortakoy Mosque, Camilica Mosque, Bosphorus Bridge, and more along the way.
There are various ways in which you could enjoy a Bosphorus cruise
Seher Hatlari – Most budget-friendly, leaves twice a day but not at sunset. No guide on board to tell you about the places you see as your cruise.
You can choose from a
A full-day cruise that leaves at 10.30 am and returns at 16.40 pm with a 2.5-hour break at Anadolu Kavağı Pier.
A short 2-hour cruise that leaves at 14.40 from Eminonu.
Check the latest timings here.
Experience the Bosphorus in the most luxurious way by embarking on a sunset cruise aboard a yacht. As the sun casts its golden hue over Istanbul, one of the world's most geographically unique cities, the skyline comes alive with shimmering lights.
Sip on a glass of wine, feel the breeze through your hair, and have an expert guide share the city's secrets as you bask in the mesmerizing views.
Book the most popular Bosphorus sunset cruise or check out more top-rated options here
Bosphorus Dinner Cruise with Turkish Night Show
A dinner cruise on the Bosphorus lets you admire Istanbul by night. Even though not the most ideal for seeing top palaces and mosques, the dinner cruise makes up for it in the form of onboard entertainment.
You'll be enthralled with dance and pampered with a lavish dinner.
See Bosphorus dinner cruise prices here.
Day 4 – Fener/Balat/Dolmabahce/Ortokoy/Besiktas or Princes Islands + Shopping
For your final day in Istanbul, I am not going to handhold you. Instead, I am going to recommend options. Go through each of the recommendations below and engage in one that seems most feasible and interesting to you.
Fener + Balat
Nestled side by side, Fener and Balat exude a charisma that's hard to define. These two neighbourhoods are an Instagrammers dream thanks to the many pastel colored buildings. These two neighbourhoods are also unique because historically, the districts were home to Greeks, Jews, and Orthodox Christians.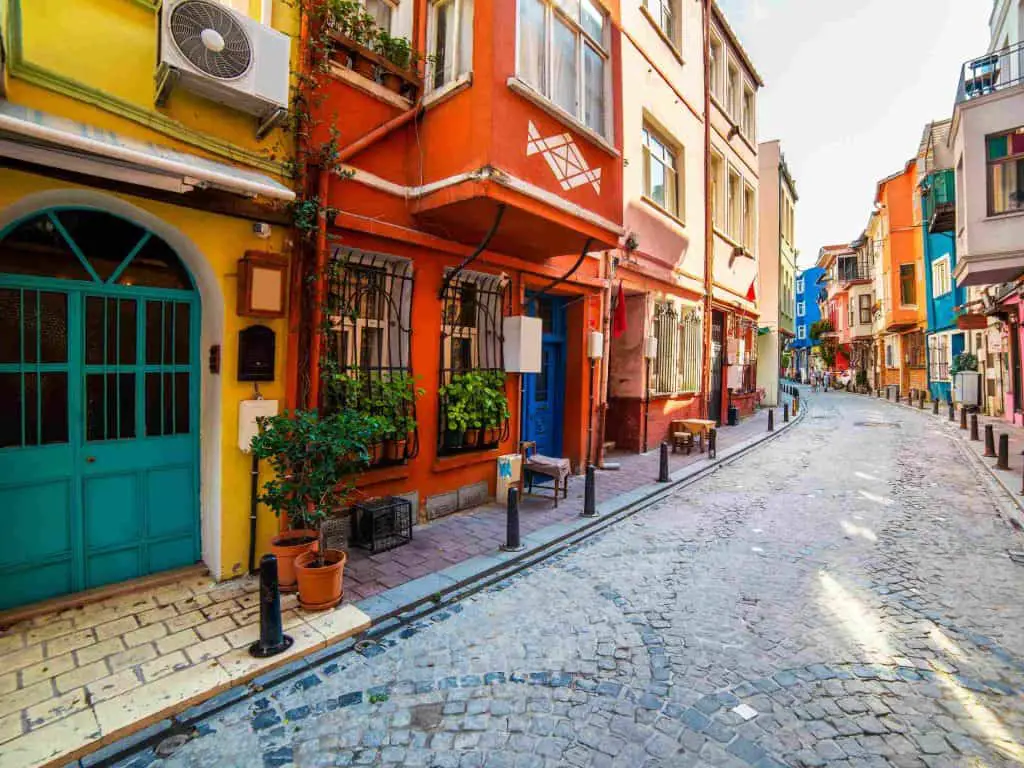 How to Reach
To reach Fener and Balat, get off at Eminonu and then board a bus bound for Fener or Balat. I used Bus No. 55T and got off at Balat in a few minutes.
Things to Do
Stroll around the Phanar Greek Orthodox College, capture memories in its vibrant lanes, and sip on coffee at a charming local cafe. A few lanes in these neighbourhoods can get very deserted and you may feel lost.
I highly recommend this walking tour for the best experience.
Pro Tip: Evening visits aren't recommended since the streets can get a bit deserted and the frequency of the buses drops.
Dolmabahçe Palace, Ortakoy Mosque, Besiktas
You can either visit all the places listed below or pick a few based on your liking.
Dolmabahce Palace
This majestic palace is where European architectural grandeur meets Ottoman opulence. It is located in the Besiktas neighborhood on the European side of Istanbul. It is the largest palace in Turkey. The majestic palace cost the Ottoman Empire a fortune and was the primary reason for the financial decline of the Ottoman Empire.
How to reach
To reach Dolmabahce, walk downhill for about 5-7 minutes from Kabatas tram station (last stop on line T1) or walk for about 15 minutes from Taksim.
Things to Do
The palace is far more exuberant than the Topkapi Palace. It is full of intricate details that will leave you spellbound. Taking a guided tour is advisable if you want to learn all about the palace's layout, the use of gold, and the installation of various expensive works of art.
Tourist info:
Timings: 9 am to 4 pm (Monday closed)
Fee: 650 Turkish Lira (as of September 2023)
Photography is strictly prohibited inside the palace
Ortaköy Mosque + Beşiktaş
Ortaköy Mosque paints a picture-perfect scene with the Bosphorus Bridge as its backdrop. You can combine a visit to this mosque on the same day when you visit the Dolmabahce palace. Take a bus to reach the palace.
The mosque is far less crowded than other touristy mosques in Istanbul but its architectural design is impressive. The mosque is definitely worth a visit if you are religious or if you admire architectural beauty.
After your visit to the mosque, you can stroll around the Besiktas area which is full of breakfast places, cafes and lazy markets.
Pro Tip: Ortakoy Mosque offers one of the best sunrise views in Istanbul. Start your day at the mosque, then go to Breakfast Street for authentic Turkish breakfast, stroll along the Besiktas seafront, and then finally head to Dolmabahce post lunch.
Princes' Islands / Adalar
Istanbul's residents flee to the Princes Islands locally known as 'Adalar' when they seek tranquility. All the islands are free of vehicle-free zones. Only electric vehicles and bikes (bicycles) are allowed here.
Out of the 9 islands, only 4 are open to tourists. All 4 can be reached via ferry from Kabatas. Buyukada which is the last stop of the 4 island journey, is the biggest and the most touristy. You can board the public ferry by Sehir Hatlari, a ferry by a private company, or pre-book touristy day tours to the Princes' Islands.
Things to do
Regardless of which island you choose, Grab a bike, soak in the serenity of the monasteries, bask on the sandy stretches, and feast on seafood while enjoying excellent views.
Pro tips:
– Summer weekends see a surge in visitors hopping on the ferries. If peace is what you seek, visit the islands on a weekday.
– If you want to cover all 4 islands in 1 day and cut down your ferry time, book a full-day Princes Islands tour. (See availability and price here)
Basic information for 4-days in Istanbul trip
Best time to visit
The best time to visit Istanbul if you want to make the most out of a short trip is during the shoulder seasons i.e. during May or September. The weather's pleasant and the crowds are a lot fewer than the summer months.
Airports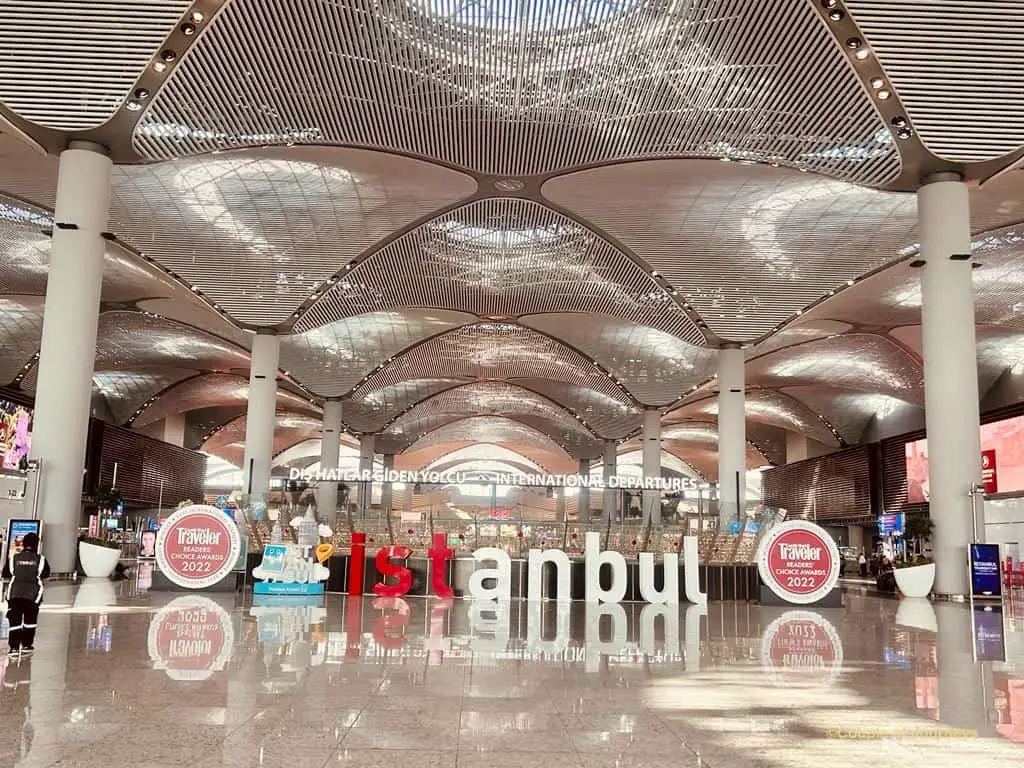 There are two main airports in Istanbul –
Istanbul Airport (IST): Located on the European side of the city, this is the primary international airport.
Sabiha Gökçen International Airport (SAW): Situated on the Asian side of Istanbul, this airport serves as another important point of entry, especially for low-cost carriers and domestic flights.
Both airports are well-connected to the city center through various means of transportation, including buses, taxis, and private car services.
currency
Istanbul's currency is the Turkish Lira. But some shopping areas also accept Euros and Dollars.
You can withdraw Turkish Lira from one of the many ATMs situated all over Istanbul.
There are money exchangers all over the town. Rates vary widely. Make sure you check multiple exchange centers before you actually change money.
Credit cards are widely accepted almost everywhere except for small street vendors
2023 Update ➡️
Turkish Lira has rapidly declined since the start of 2023 and the local prices have increased multifold. Check latest rates before you visit.
Sim Cards
For a short trip, I highly recommend getting Airalo eSim. It gives you data for affordable rates without the hassle of getting a physical SIM card after comparing costs at various vendors. But if your mobile handset doesn't support an e-sim, get a Vodafone or a Turkcell sim card from any local shop. Avoid airport vendors if you want better rates.
Check out rates of Airalo E-sim here
Travel within Istanbul
Traveling within Istanbul is a breeze thanks to its extensive public transport network.
– Download a public transport map to orient yourself.
– Get an Istanbulkart for quick access to all types of public transport. It is sold at yellow machines outside trams, metros, bus stops, and many shops all across Istanbul. Recharging cards is also fairly straightforward.
Istanbul 4 Day Trip – FAQs
Are 4 days enough in Istanbul
4 days in Istanbul are enough to cover all the top sightseeing attractions in Istanbul, go on a Bosphorus cruise, visit the Asian side, try out delicious local food, as well as check out 1-2 less touristy places of your liking.
Should you get a city card/museum card?
I do not recommend getting a city card or a museum card as you will not end up visiting many places that the card offers complimentary access to during your 4-day period. Buying individual tickets to each of the tourist attractions you plan to visit during your 4 days in Istanbul would prove to be cheaper than getting a city card or a museum card.
Which are some offbeat places in Istanbul that are less touristy?
Istanbul is a massive city with only a handful of touristy areas. If you want to step outside the touristy trail, visit the
– Camilica Mosque on the Asian side – the biggest mosque in Turkey
– Sulemaniye Mosque and Rustem Pasa mosque
– Explore the Uskudar and Kuzguncuk neighborhood
– See the Rumeli Fortress (currently under renovation)
– Check out the Miniaturk – a place with miniatures of famous Turkish landmarks all in one place
– Visit a few of the many less frequented museums like the Istanbul Cinema Museum, Istanbul Toy Museum, Rahmi M. Koç Museum (Industrial Museum)
Is Istanbul Safe?
Istanbul is largely safe to visit; I experienced no safety concerns while exploring the city alone as a woman of color. Even when staying out until midnight in popular tourist areas, I felt completely secure. Many restaurants, bars, and shops are open until midnight, adding to the sense of safety.
However, it's always wise to exercise common sense and take basic precautions to guard against pickpocketing and common scams.
Can you travel to Istanbul with kids?
Public transportation is stroller-friendly, and most major tourist attractions welcome both children and strollers. Essentials like baby food and products are easily accessible in tourist areas. The city also offers numerous open spaces and gardens where your kids can play. Just make sure to dress your children appropriately for the weather.Istanbul is a kid-friendly city.
What should women wear in Istanbul?
There is no restriction on dressing for women. Women are free to dress as per their liking and wearing short, revealing clothes is not uncommon. However, when visiting a mosque, women must cover their heads with a scarf and wear clothes that do not expose their shoulders and legs.
TOP TRAVEL RESOURCES
Here is a list of our favorite travel resources- the ones that I absolutely swear by when planning almost every trip. Go through this list to plan a hassle-free trip and save a lot of money!
Flight Booking: Check the availability of tickets, the best time to fly, and the cheapest fares on Skyscanner. You may also find a cheap flight via CheapOair
Accommodation: I absolutely love booking through Agoda. In most countries and particularly in Asia, I often find the best fares on Agoda. But I also love the no prepayment and no cancellation fee policy of Booking.com. For cheap accommodations and hostels, nothing beats Hostelworld.
Car Rentals: You may find and rent an appropriate car via RentalCars. It's hassle-free and reliable.
Guided Tours: I absolutely love GetYourGuide for local sightseeing tours, walking tours, history tours, and food tours. The booking process is seamless, and the tours are super affordable. But in Asian countries, I prefer Viator or Klook for their affordably priced tours.
Lounge Access: Get Priority Pass – my personal favorite card that gives me unlimited access to premium airport lounges all over the world
Hey, if you found this post helpful, share it with more people or buy me a coffee!