Dubrovnik Trip: How I manifested a trip to my dream destination and you can too!
This website contains no sponsored content. The content is written entirely on my own and is based on my personal experience and extensive research. This post may contain affiliate links. If you make a purchase through one of these links, I may receive a small commission at no extra cost to you. As an Amazon Associate I earn from qualifying purchases. Please read the disclaimer for more information.
This story is one of my most favourite travel stories ever. Why?
It is personal and 

It is almost magical!
So let me get started on this interesting story of how I manifested a trip to my dream destination – Dubrovnik! 
Way back in 2014, I was tired of my corporate job life and was desperately craving a travel escape. At that time I was young, didn't have the habit of saving money and had no choice but to visit Europe on a shoe-string budget. So one afternoon, sitting at my office desk utterly bored and fed up of my corporate life, I typed 'Cheap Travel destinations in Europe' in the google search bar. Google threw an article at me which enlisted all European countries that didn't use euro as their currency. As I read through the list (Czech Republic, Hungary, Bulgaria etc.), the country that instantly mesmerised me was Croatia!
It wasn't that I hadn't heard about the country before, but I had no knowledge of its touristic offerings. I almost went into a google deep-dive mode and started researching about all the beautiful cities, things-to do and incredible sailing opportunities in Croatia. Of all the exciting options and places, it was the Old Town of Dubrovnik that completely stole my heart. I came home from work super happy. I, gleefully, spoke about my findings to one of my aunt who met me that day and she, like most other Indians had never heard about  'Dubrovnik' or 'travel to Croatia.' She warned me that there must be a sane reason why no Indian travels to Croatia and that I too should drop the plan!
But I was adamant. The next day at work, I again searched for images of Dubrovnik and out of all the beautiful seascape images of the Adriatic, the one image that gave me  'real feels' of Dubrovnik was a photo of a tiny lane in the Old Town of Dubrovnik. That's it, I immediately put that image as the wallpaper of my office computer. Many of my colleagues even asked me about that place and wondered why I was so drawn to it.
Over the next few days, I researched about the Croatian visa. I found out that since not too many Indians travelled to Croatia, the visas were only processed in Delhi and that they needed in-depth information of the purpose of travel and needed large sums in the bank account as proof of funds (something I didn't have enough of!) Some travel forums even suggested that only group applicants got a travel visa to Croatia. Neither did I have enough funds the embassy expected me to have in my bank account, nor was I applying through a group (given that I aspired to take a solo trip to Dubrovnik)! Disappointed, I gave up on my Croatian travel dream.
A year passed and I got busy with work and other travel plans. Sometime in November 2015, I read an item in the news suggesting that Indians having a multiple-entry Schengen Visa could enter Croatia without a separate Croatian Visa. I was happy about this change but at that time I had no intention of travelling to a Schengen country given the expense involved. Once again, I let go.
In April 2016, my dad called up to tell me that he was planning to travel to Germany for a vacation and that since I had never travelled with my mom and him after I got married, they would like to take me along with them. They also told me that since the whole vacation was their idea, they would be paying for it! 
What! Really?
I was overjoyed by their invitation and the first question that I popped to them was whether I could go to Croatia from Germany! They were amused by the fact that I was more excited about being able to visit Croatia on the basis of the Schengen Visa than that of travelling with them to Germany! Knowing that Croatia had always been on top of my travel bucket-list, they finally agreed to let me travel to Croatia on my own (of course, after a stay in Germany with them!). My love for Croatia also rubbed on to my brother who decided to join me on that trip after our visit to Germany.
I was elated. I could see that my longstanding dream was about to come true. But, destiny had better plans.
I booked an AirBnB for my stay in Dubrovnik. The house where I was going to stay was a cute small place in the Old Town of Dubrovnik. After a beautiful stay in Germany, we reached Croatia on 10th September, 2016. We reached at around 8.30 p.m. The sun had set and it was raining pretty heavily. We took a cab from the airport and directly entered the Old Town from the topmost end. We couldn't see much of the Old Town that night as it was dark and pouring hard. So we directly headed to our AirBnB and exhausted from our flight journey instantly fell off to sleep.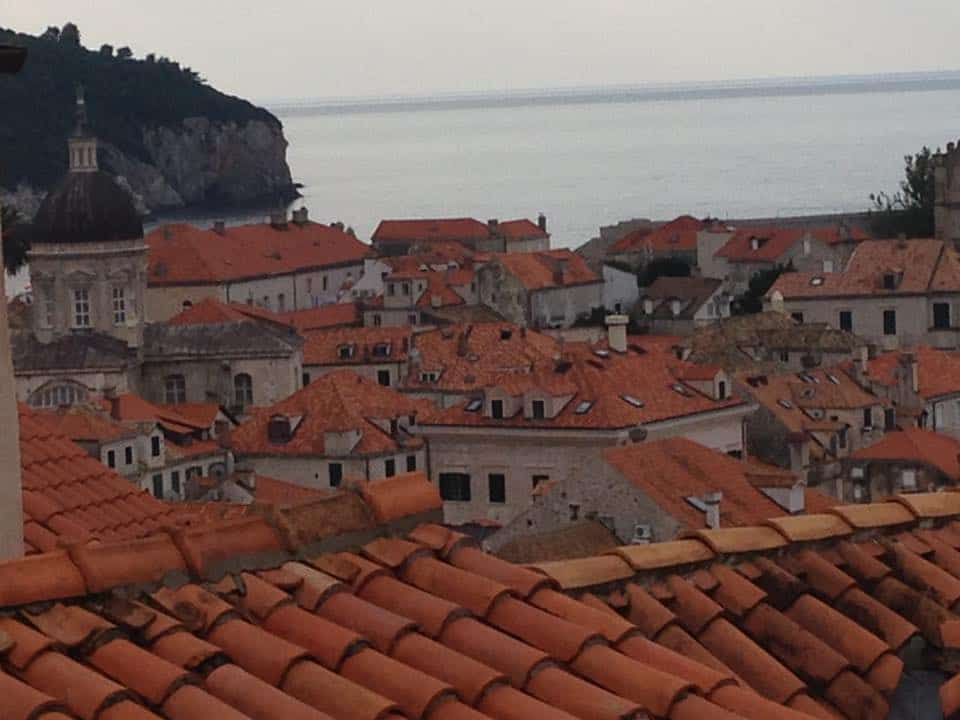 The next morning I woke up to a gorgeous view of the Old Town. I couldn't believe I was living my dream. I quickly got ready and rushed out of my room to explore the surreal Old Town. It was a beautiful sunny morning. I stepped into the lane immediately adjacent to my AirBnB and I just couldn't believe my eyes.
I was standing in the exact same lane that had been my computer wallpaper for so many months. It was the very same lane that had, in fact, ignited within me a strong urge of travelling to Croatia. Somehow, I had unknowingly booked an AirBnB right at the top end of the exact same lane.
I pinched myself. It was all a reality. Tears of joy were involuntarily rolling over my cheeks. The vacation that followed after that turned out to be the best vacation of my life.
Now the reason why I write about this is that I didn't know what I had done until recently when I read about the 'law of attraction.' The law of attraction states that if you desperately want something, you should put up pictures in front of you which give you the feeling of already having got the thing you desire. Doing this ultimately leads you to get exactly what you want! 
As I read about the law of attraction, the story of my trip to Dubrovnik played in my head. I realised that by looking at the wallpaper of that lane of the Old Town every day, I had unknowingly let out signals to the Universe of what I wanted.  And thanks to the law of attraction, the Universe had delivered exactly that to me.
Today, Croatia is a popular destination and Indians know about it thanks to the widely popular television show, 'Game of Thrones.' But back in 2014, it was a totally unknown tourist destination for Indians. For that matter, I had never even heard of the place 'Dubrovnik'. At that time, I didn't have enough savings to get a Croatian visa or to go to Europe for a multiple entry Schengen Visa. But the Universe set aside all these hurdles and a trip to my dream destination materialised!
I am sharing this story with you only to tell you that no matter where you want to travel to, no matter what the difficulties involved are, you will be able to visit that place. Just have faith and practise the law of attraction!
What is your dream destination? Have you ever manifested a trip? 
Let us know in the comments below!
---
If you are travelling to Dubrovnik, do not forget to check out my perfect itinerary for 3 days in Dubrovnik here.