Plan a trip to the Pench National Park: A Complete Guide 2023
This website contains no sponsored content. The content is written entirely on my own and is based on my personal experience and extensive research. This post may contain affiliate links. If you make a purchase through one of these links, I may receive a small commission at no extra cost to you. As an Amazon Associate I earn from qualifying purchases. Please read the disclaimer for more information.
A couple of weeks ago, I came back from the Pench National Park – one of the best trips of my life. Spending time at the Pench Tiger Reserve instilled a renewed sense of calm within me. To spend time away from mobile phones and the many screens that have taken up our personal space and to experience nature and the jungle life in its raw, unperturbed form was truly humbling.
But, after my safaris, whenever I would share my Pench National Park photos on various social media platforms, the one question that I used to get from a number of people was 'how did you plan the Pench National Trip?'
So in this post, I will give you a complete lowdown on planning a trip to the Pench National Park. A trip to the Pench National Park can be undertaken from Nagpur. You need to book your stay near one of the gates of the Pench Tiger Reserve. You should also book your safaris and apply for the required permits, well in advance, to be allowed entry inside the Tiger Reserve.
In this detailed guide, I will give you all the information you need to plan a trip to the Pench National Park. I will include details on where to stay, how to reach Pench National Park, Pench Safari booking and plenty of useful tips based on my recent first-hand experience of Pench.
So are you ready? Grab a large mug of coffee or a tub of popcorn or just a big bottle of water (if you suck at hydrating yourself), brace yourself for a long read because this one article is all you need to plan the perfect Pench Tiger Reserve trip.
Let's go!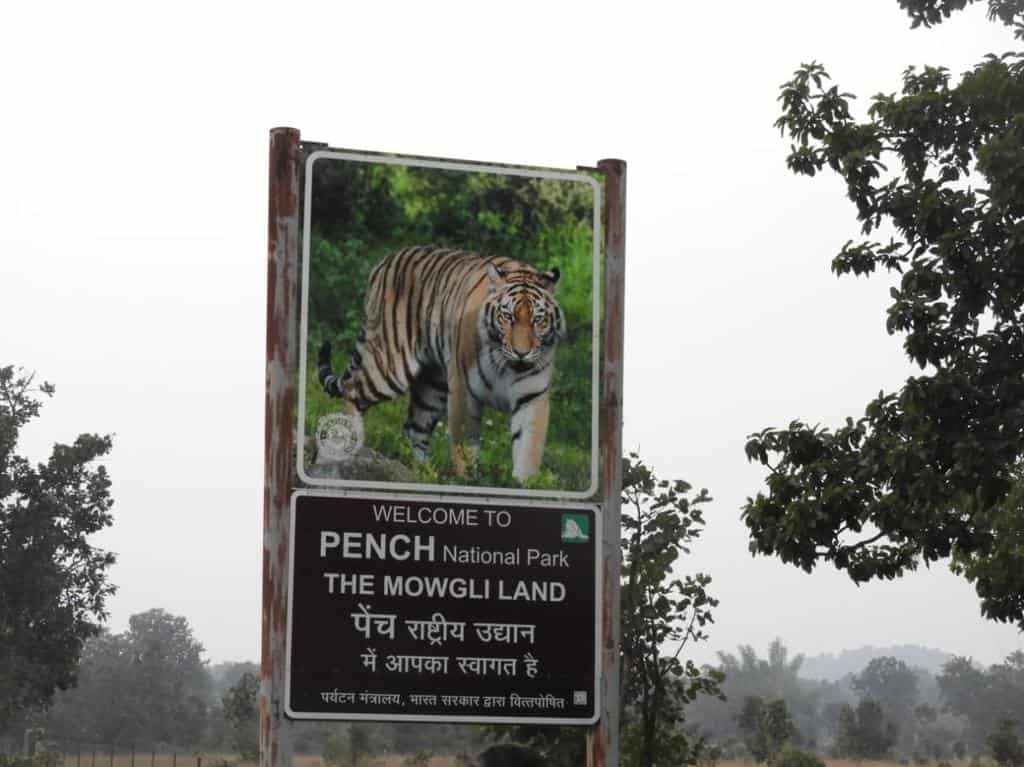 Basic Information about the Pench National Park
Where is Pench National Park? Pench National Park is located in which state?
Pench National Park is located in the state of Madhya Pradesh, close to the Maharashtra border. It is a part of the Seoni district and lies in the southern region of the Satpura hill range.
Honest confession: Until very recently, I used to think that Pench is in Maharashtra. But you could simply blame it on its proximity to Nagpur. And that brings me to my next piece of key information.
How to reach Pench National Park?
Nagpur is the closest major city to Pench National Park. Distance from Nagpur to Pench National Park is approximately 80 kilometres. Most major towns and cities in India are connected to Nagpur by air or train.
Travelling from Nagpur to Pench National Park is pretty straightforward. You can easily get a bus or a private car from Nagpur train station or Nagpur airport to go to Pench.
Most tour operators that offer Pench Safari package provide ex Nagpur services and arrange a pick-up and drop for you from Nagpur railway station or airport.
How many days do you need in Pench?
If you want to head out on the recommended minimum of 4 safaris while in Pench, you must stay in Pench for at least 3 nights and 4 days.
Who should visit Pench? What facilities are available at Pench?
Pench is a great travel destination for wildlife lovers as well as nature lovers. A trip to Pench provides a much-needed break to corporate employees, hardworking professionals, stressed students or overworked parents. It transports you right into the heart of a dense natural jungle where the selfish laws of the concrete jungle have no room.
Thus, essentially, Pench is a great tourist destination for all types of travellers. You can even take your babies and kids along with you if you are confident of preparing them well for the trip. Screaming and shouting can attract danger and disturb the wildlife.
The Pench National Park jeep safari takes you through rough forest roads and is usually not a comfortable journey. Hence pregnant women and those with a severe health condition should avoid visiting Pench. If you have back problems, you should carry enough back support to avoid aggravating your pain.
The facilities available inside the Pench National Park vary greatly based on which state you are in. The part of the Pench Tiger Reserve that lies in Madhya Pradesh is extremely well-maintained. There are plenty of clean toilets inside the designated waiting area of the jungle.
The forest staff takes abundant care to ensure strict compliance with the forest laws. This guarantees a blissful forest experience to the tourists that visit Pench Tiger Reserve.
However, the same can't be said about the Pench national park area that lies inside Maharashtra. There are fewer toilets on the Maharashtra side, and hardly any are properly maintained. The jungle, too, does not feel as properly looked after as the one in Madhya Pradesh.
What is the best time to visit Pench National Park?
If you plan to visit Pench to see animals, particularly tigers, then the best time to visit Pench is during summer, i.e. between March and May, as animals often visit water bodies to drink water. However, if you want to enjoy pleasant weather, a cool breeze while observing nature and animal life inside the jungle, visiting Pench during the winter, i.e. between November and February, would be ideal.
In case you are planning to visit Pench during summer, please note that the temperatures can soar beyond 40°C, and you must carry enough fluids with you to stay hydrated. Wearing a cap is also non-negotiable.
How much does it cost to visit Pench National Park?
A visit to the Pench National Park will cost around INR 10,000-12,000 per person for 3 nights 4 days, assuming you book four safaris in the core area and stay in a good resort. The Pench national park safari price is approximately INR 1500 per person (inclusive of guide and vehicle charges), and accommodation (inclusive of all meals) in a good resort should cost you around INR 4,000 per night.
How to book a safari at Pench National Park?
A safari at the tiger reserve can be booked on the official website of the Forest Department of Madhya Pradesh. The process of Pench tiger reserve booking on this website is as follows:
Register yourself. Validate mobile number and email by OTPs.
Log in
Add your bank account details
Head to the 'book safari' section. 
Select whether you want to book 'full vehicle' or 'single seat'. Select the desired date and hit the search button. 
Now you will see a screen with the number of available permits per gate and session displayed on the screen. 
Select the desired gate and session and submit. 
Now a tourist information page will open up where you will need to insert the details of all the tourists.
Important Tip: Make sure you do not make any errors in this form. The ID Type that you select here must be carried along with you at the time of safari. You will be denied entry if you do not carry the original ID proof or if there is any mismatch in the details entered at the time of booking and those specified on your ID proof. 
Save the permit confirmation copy and carry it along with you at all times. 
Repeat the Pench National Park online booking process for each safari that you intend to book. 
Similarly, if you wish to book safaris from a gate to the Pench Tiger Reserve in Maharashtra, you can visit the official Maharashtra Eco Tourism website and follow a process similar to the one specified above.
Now, if you find the interface confusing or need more guidance on Pench National Park safari bookings, you can book safaris through an agent and book a hotel on your own. Alternatively, you can book the hotel and ask the hotel to help you book safaris. Booking through an agent or hotel will involve paying additional charges.
It is best to book a Pench tiger safari yourself from the official MP forest government website. If you change your mind about the date, time or gate, you can also cancel the permit (i.e. safari booking) and rebook.
It is most important to note that only limited permits are issued per session, and hence booking the safaris about 30-40 days in advance is recommended. A facility to book Tatkal (last-minute) tickets is available on the website. But the chances of getting a permit are extremely low.
In addition to this, here are some more insightful tips on Pench National Park safari booking:
1. Safaris are undertaken in two sessions: morning and evening. Morning safaris tend to be for a longer period of time. Evening safari ride ends at sunset and hence is usually shorter, especially during winters.
2. Never book a permit that is not confirmed, i.e. one that is waitlisted. Waitlisted bookings rarely get confirmed.
3. Tatkal or last-minute booking is also available on the website. This booking is only available 1-2 sessions in advance, and the chances of getting a confirmed booking are slim. Do not rely on this booking method.
4. There is a limit on the number of permits issued per day. It is best to book your permits 30-40 days in advance to avoid disappointment.
5. The permit fee payable online does not include vehicle and guide charges. The rates (December 2021) for vehicles and guides are displayed below. They need to be paid at the time of entering the gates.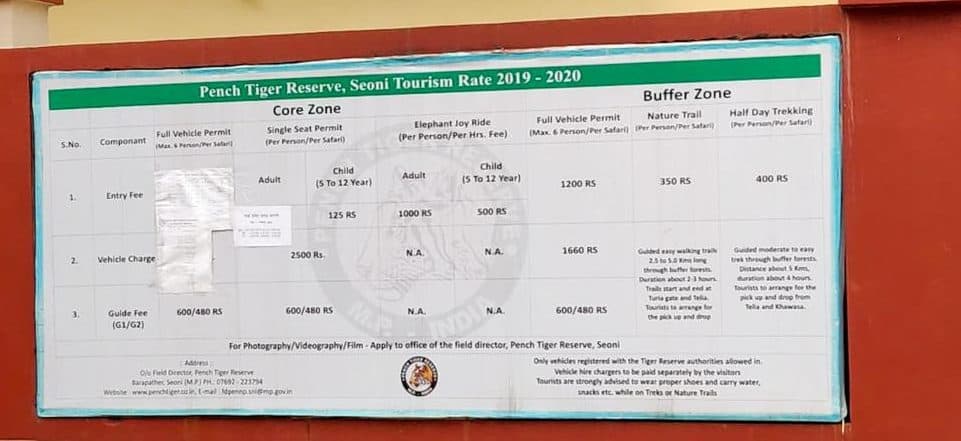 6. Safaris can get cancelled on account of climate conditions, conflicts in guide or driver unions, animals' health, etc. It is best to be prepared for such disappointments.
[optin-monster-inline slug="mga89iy6nbor2cufunm5″]
How many Pench National Park Safaris should you book?
To increase your chances of sighting tigers and other rare wild animals, it is ideal to book a minimum of 4 safaris in core areas. To diversify your experience, choose safaris from different gates and times.
In Madhya Pradesh, the popular core gates are:
Touria (the best gate for Pench National Park)
Jhamtara
Karmajhiri
In Maharashtra, the popular gates are:
Sillari
Khursapur
Where to stay in Pench?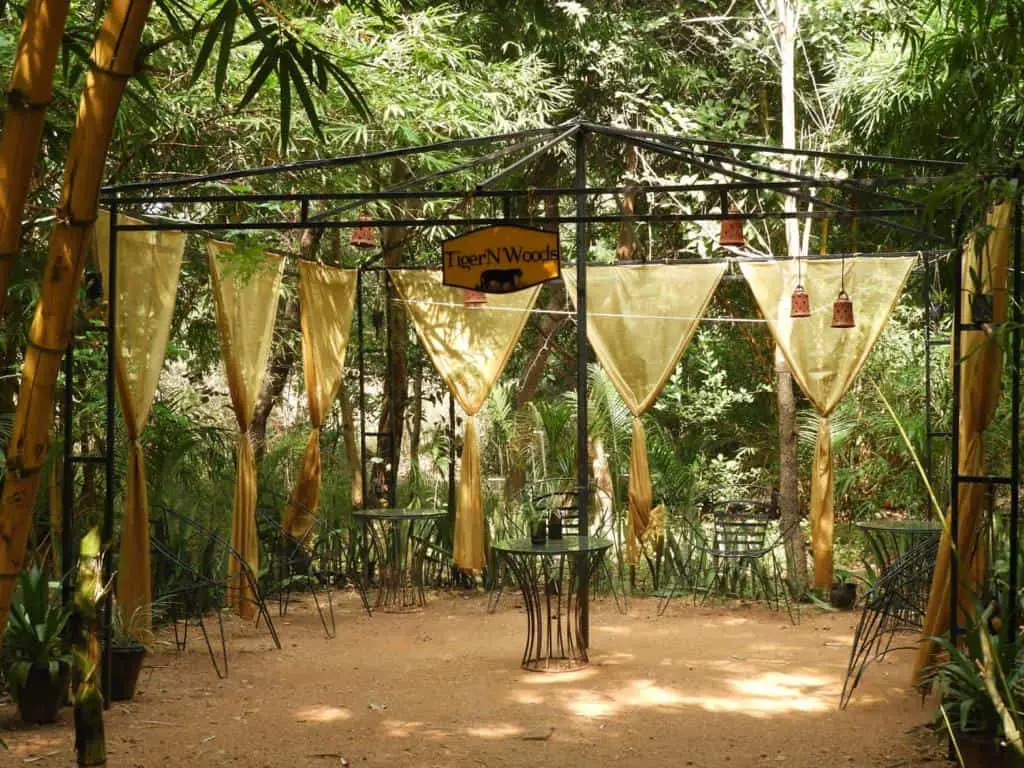 Tiger N Woods is one of the most popular resorts in Pench. What's really impressive about the resort is that it is affordable, well-maintained, right in the heart of Pench and showcases incredible hospitality. A booking at Tiger N Woods includes all meals. The resort also packs snacks for you to carry along with you on safaris.
Plus, it also hosts musical events and hosts nature trails. You can also see several rare birds during your stay here. Check out the latest prices and more details or read our full review here.
What is an ideal Pench itinerary?
An ideal Pench itinerary should be 3 nights and 4 days long.
Day 1: Reach the hotel and relax. Explore the nature around you. In the evening, head out on a safari.
Day 2: Head out on a morning safari and an evening safari.
Day 3: Head out on a nature trail. Relax at the hotel.
Day 4: Head out on a morning safari and check out.
To maximise your jungle experience, you can also book two safaris per day and skip nature trails or idle time inside the resort.
General guidelines for visiting the Pench National Park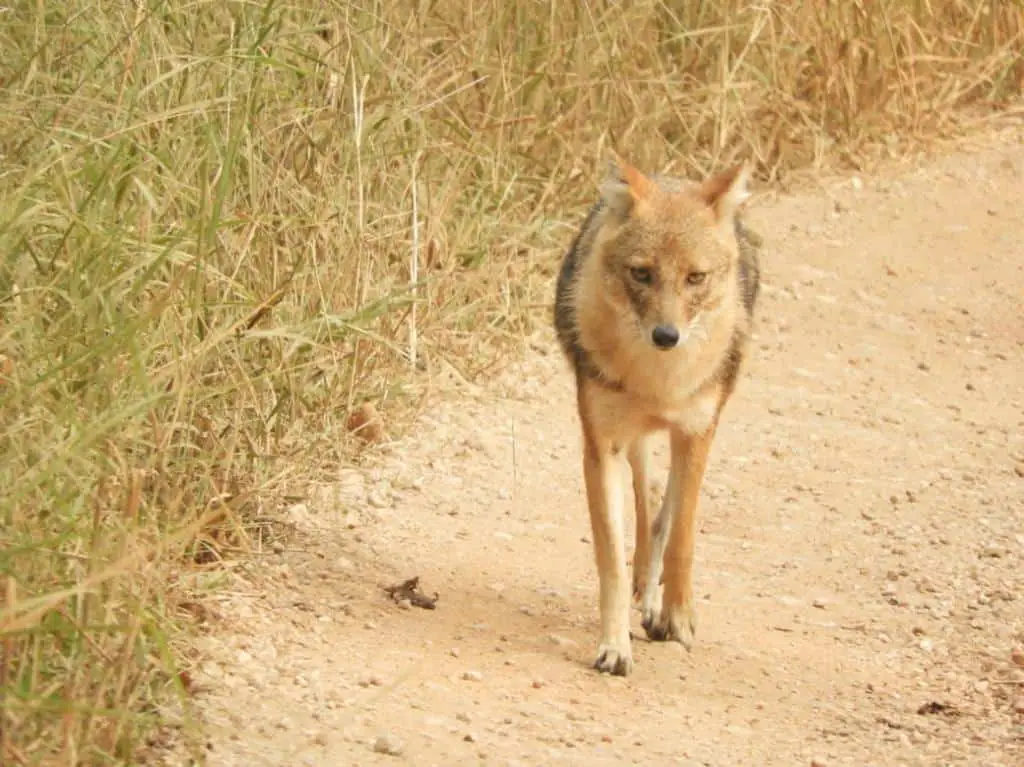 1. Have all your main meals at the resort.
2. For safaris, pack light snacks. If you stay at a resort such as Tiger N Woods, the resort will pack a lovely picnic bag for you with snacks and a thermos.
3. Toilets are only available at designated halt areas. In the core areas of the jungle, there are absolutely no toilets. Make sure you limit your intake of fluids right before your safari. Visit a loo whenever you stop near one.
4. Tourists are absolutely prohibited from stepping outside the car while on the safari (except in designated areas) as it can prove to be extremely dangerous.
5. Avoid wearing bright colours. Stick to natural forest shades like green and brown.
6. Do not wear perfumes as the fragrance can attract wild animals.
7. Don't forget to carry a cap or a hat and sunglasses.
8. In case you forget to carry water or other essentials, buy those at the entrance gate. Water bottles, jackets, binoculars and other safari essentials are sold at all the entrance gates of the tiger reserve.
9. Don't travel only to see tigers. A safari offers a rare opportunity to observe many animals and birds in their natural habitat. You get a chance to learn about animal calls. You get to study the rules of the jungle. And above and beyond everything, you get to be a part of a world that's completely raw and free of human intervention. Try to make the most of this experience instead of just focusing on tiger sightings!
---
I hope you found this article helpful for planning a trip to the Pench National Park.
Pin it for later!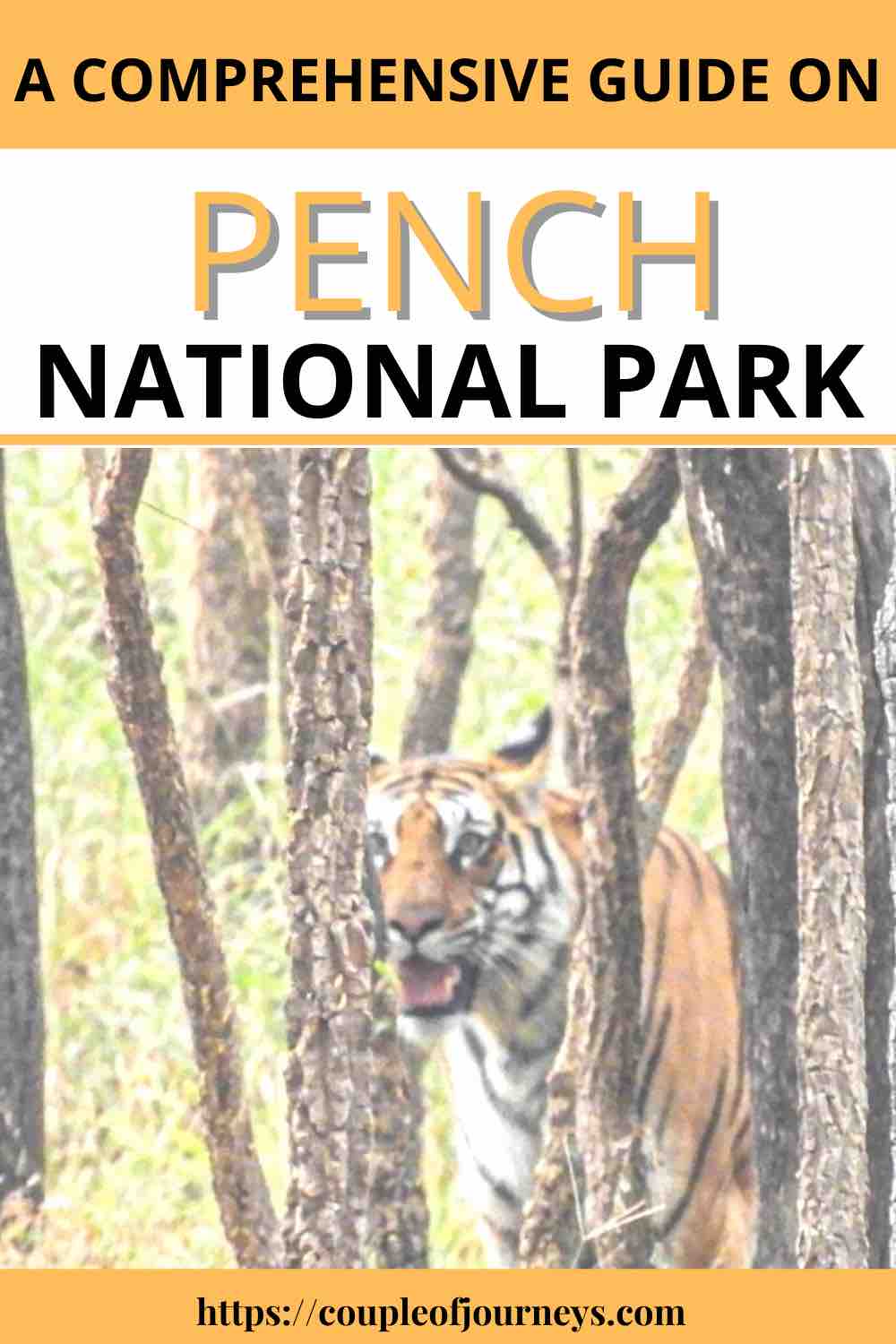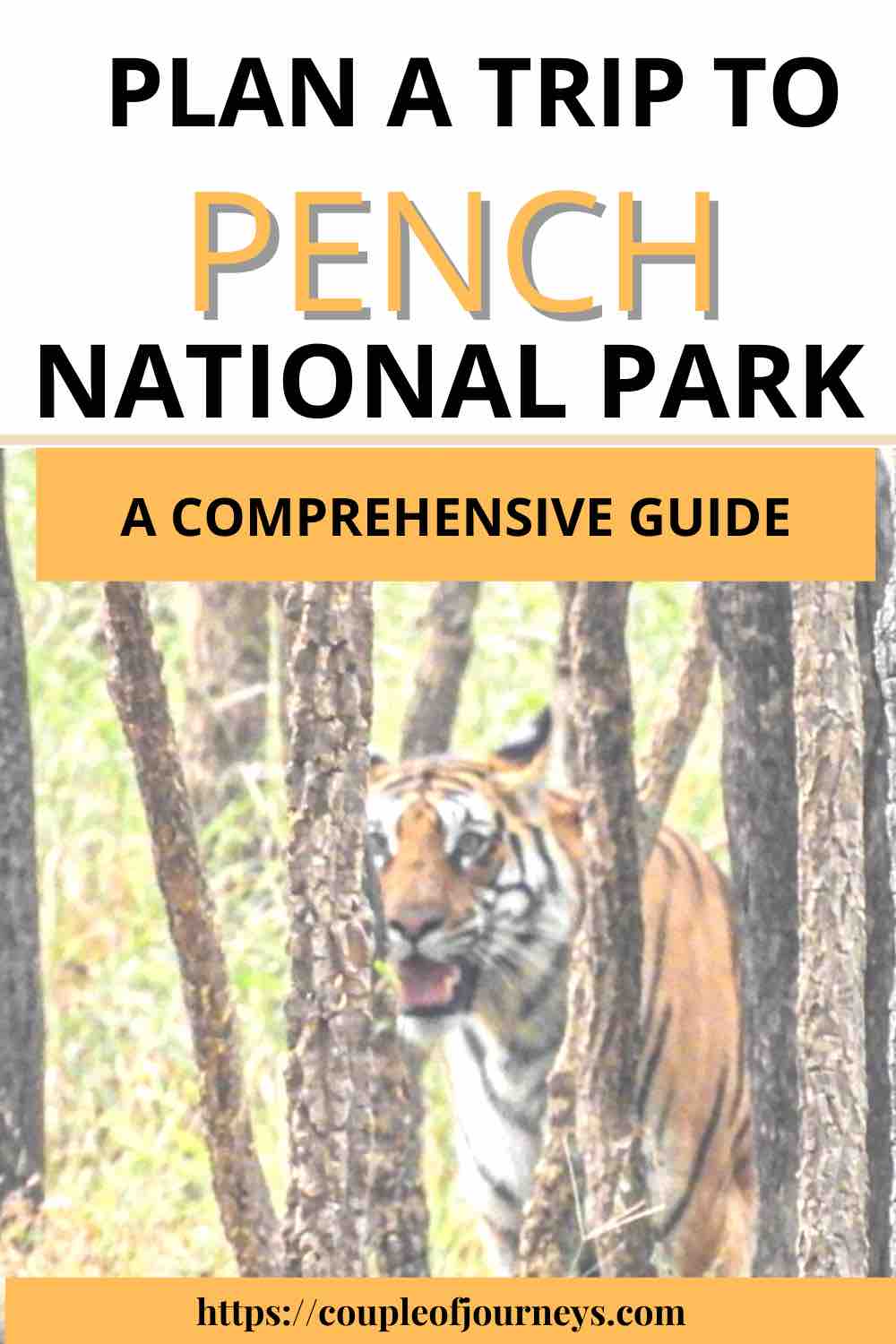 You can read more articles on various Indian destinations here.
TOP TRAVEL RESOURCES
Here is a list of our favorite travel resources- the ones that I absolutely swear by when planning almost every trip. Go through this list to plan a hassle-free trip and save a lot of money!
Flight Booking: Check the availability of tickets, the best time to fly, and the cheapest fares on Skyscanner. You may also find a cheap flight via CheapOair
Accommodation: I absolutely love booking through Agoda. In most countries and particularly in Asia, I often find the best fares on Agoda. But I also love the no prepayment and no cancellation fee policy of Booking.com. For cheap accommodations and hostels, nothing beats Hostelworld.
Car Rentals: You may find and rent an appropriate car via RentalCars. It's hassle-free and reliable.
Guided Tours: I absolutely love GetYourGuide for local sightseeing tours, walking tours, history tours, and food tours. The booking process is seamless, and the tours are super affordable. But in Asian countries, I prefer Viator or Klook for their affordably priced tours.
Lounge Access: Get Priority Pass – my personal favorite card that gives me unlimited access to premium airport lounges all over the world
Hey, if you found this post helpful, share it with more people or buy me a coffee!