Things to do in Gokarna – A Complete Guide!
This post may contain affiliate links. If you make a purchase through one of these links, I may receive a small commission at no extra cost to you. Please read the disclaimer for more information.
For years together, Gokarna has been known as the hometown of Mahabaleshwar temple. But those who have visited the place know that there are lots of places to see in Gokarna and things to do in Gokarna beyond just visiting the famous Mahabaleshwar temple. 
In fact, that is the reason why I am choosing to write this article. I would be really happy if more and more people start exploring these hidden gems of India just like they visit the many famous beaches in Goa or the backwaters of Kerala or the palaces in Rajasthan, etc.
(You can check our detailed articles on other places in India here)
Through this article, you will get complete information on the best beaches in Gokarna, the best places to visit in Gokarna, interesting places to visit near Gokarna. I will also give you plenty of insights into what a trip to Gokarna would actually look like.
Where is Gokarna?
Gokarna is a small town in the Kumta taluk of Uttar Kannada district in the state of Karnataka. It lies on the western coast of India along the Arabian Sea.
How to reach Gokarna?
By Road –
Gokarna is easily accessible by road from various towns and cities in Goa, Maharashtra and Karnataka.
Goa to Gokarna
(Approx. 150 kms, 3 hours)
You can cover this distance of 150 kms easily by car or by booking a tourist taxi. Alternatively, you could simply book yourself on a Goa to Gokarna bus run by one of the many bus operators in Goa. 
If you are looking for a taxi service to take you from Goa to Gokarna, you could contact Mr. Sailesh on +917676230939.
(We were really happy with his services and therefore putting out his details here. This is not paid or sponsored promotion in any way.)
Mangalore to Gokarna
(Approx. 230 kms, 4.5 hours)
Gokarna is also easily accessible by road from Mangaluru (Mangalore). The fastest way of travelling between these two places is by car. However, if you want to take a bus, a Mangalore to Gokarna bus can easily be booked here and the journey will take about 5 and a half hours.
Hubli to Gokarna
(Approx. 150 kms, 3 hours)
The cheapest way to travel between these to places is to take the state operated Hubli to Gokarna bus. But if you are looking for comfort and speed, you could book a cab or any bus operated by a private company.
Bangalore to Gokarna
(Approx. 500 kms, 10 hours)
The journey from these two towns situated on two ends of Karnataka takes upto 10 hours and would therefore be long and tiring. Nevertheless, there are plenty of daily buses connecting these two Kannada places.
Mumbai to Gokarna
(Approx. 700 kms, 13 hours)
The least favourite way of travelling from Mumbai to Gokarna would be by road. If you are a driving-enthusiasts, go for it. Alternatively, you could take a bus from Mumbai. But you should note that you won't find an end to end Mumbai to Gokarna bus. Most buses will drop you at Madangeri which is a small town located about 10 kms away from Gokarna.
Distance from other local towns in Karnataka 
Ankola to Gokarna
(Approx. 30 kms, 45 minutes)
Kumta to Gokarna
(Approx. 30 kms, 45 minutes)
Karwar to Gokarna
(Approx. 60 kms, 1.5 hr)
By Train
Gokarna Road is the main station from where trains run to and from Gokarna. Gokarna station is about 10 kms away from the central area in Gokarna.
Bangalore to Gokarna
There are a few trains going to Karwar from Bangalore that halt on the way at Gokarna. The time taken by these trains is approximately 15-17 hours.
Mumbai to Gokarna
Two trains run directly between Lokmanya Tilak Terminus (Kurla) in Mumbai to Gokarna. The time taken by these trains is approximately 11 hours.
Goa to Gokarna
There are a number of Goa to Gokarna trains. All trains going from Goa to Gokarna must be boarded at Madgao (Margao). Margao to Gokarna takes about one and a half hour.
Click here to find out all information on trains to Gokarna from various places in India.
Suggested Read: 12 money-saving tips to visit Goa on a budget
By Air
Unfortunately, Gokarna being a small town does not have an airport. You could, nevertheless, take a flight to the Dabolim Airport in Goa and then travel by road to Gokarna from there.
Best things to do in Gokarna
Go on a beach-hopping trail!
Belekan Beach
This tiny little beach is where  most tourists who wish to head out on the famous beach trail in Gokarna go first. It is surrounded by small rocks that make for a breathtaking view. The vibe and the view of this small little beach is so refreshing that it is bound to get you into a great mood for the rest of your trip.
You can reach this beach by road from any place in Gokarna. You will find very few tourists here and the beach itself is quite deserted.
Paradise Beach
The next beach that you must visit is the Paradise beach. This absolutely natural untouched beach is also called Nirvana beach because that's the state in which the beauty of this beach can transport you to. This is, without a doubt, the best beach in Gokarna.
You can only reach this beach by boat or by trekking through the forest from the neighbouring beaches.
There are plenty of tourists, both Indian and westerners who set up tents over here to experience the charm of staying at a place with no modern or commercialised amenities. Even if you choose to just pay a quick visit to this idyllic location, you will be moved by the purity of nature engulfing you.
Half-moon Beach
This beach is called the half moon beach because of its semi-circular coast line. This beach too is inaccessible by road and can only be reached by a boat or on foot through the forest. The beach is adorned by golden sand and the water is crystal clear. The delightful blue colour of this water gently brushing the isolate shoreline will instantly fill you with a sense of calm.
You can even set up your own tents here and stay here for a few days if you want to. Plenty of camping-lovers do that to experience a life close to nature.
Om Beach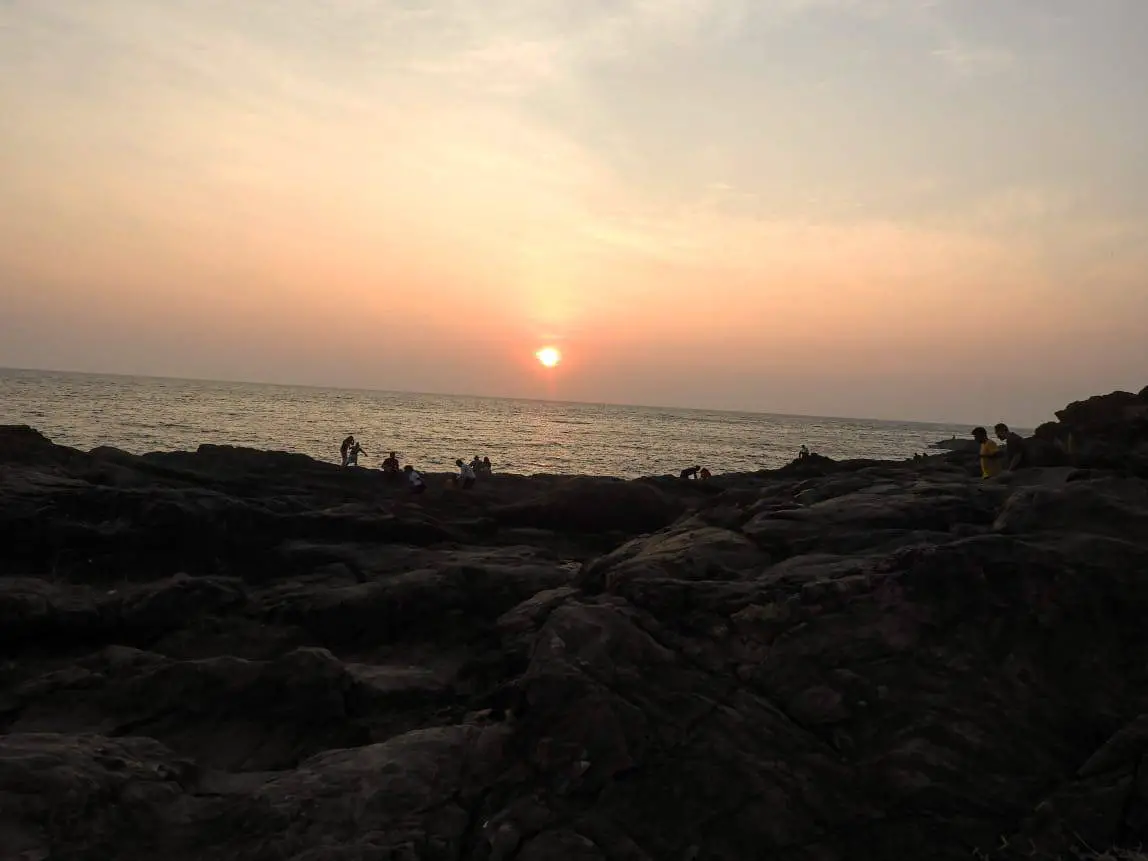 Om beach is one of the more popular beaches in Gokarna. Unlike the Paradise beach and half-moon beach, you can access this beach by a vehicle too. The beach is usually moderately crowded.
The coastline of this beach is shaped like an 'Om' and is particularly photogenic when seen from the view point on the cliff overlooking the beach.
You can engage into plenty of water-sports on this beach. Some of the best beach shacks in Gokarna are located on this beach.
Kudle Beach
This beach like all of the beaches mentioned above is a gem that does not fall short on visual appeal.
It is about 15 minutes away from main bus stand of Gokarna. You can even hail an auto to take you to the dropping point close to the beach. However, from here, you will have to climb down for a few minutes before the beach greets you.
Those on the beach trail can also walk up to this beach from the Om Beach.
Gokarna Beach
The Gokarna beach is the main beach in Gokarna. Unlike the above beaches, this beach is always crowded. It is next to the Mahabaleshwar Temple and plenty of devotees come to this beach for a  dip.
Unfortunately, this beach has completely lost its natural allure and left us disappointed.
Therefore, unless you are in Gokarna for religious purposes, it is best to avoid this beach altogether.
Pray at the many temples!
Mahabaleshwara Temple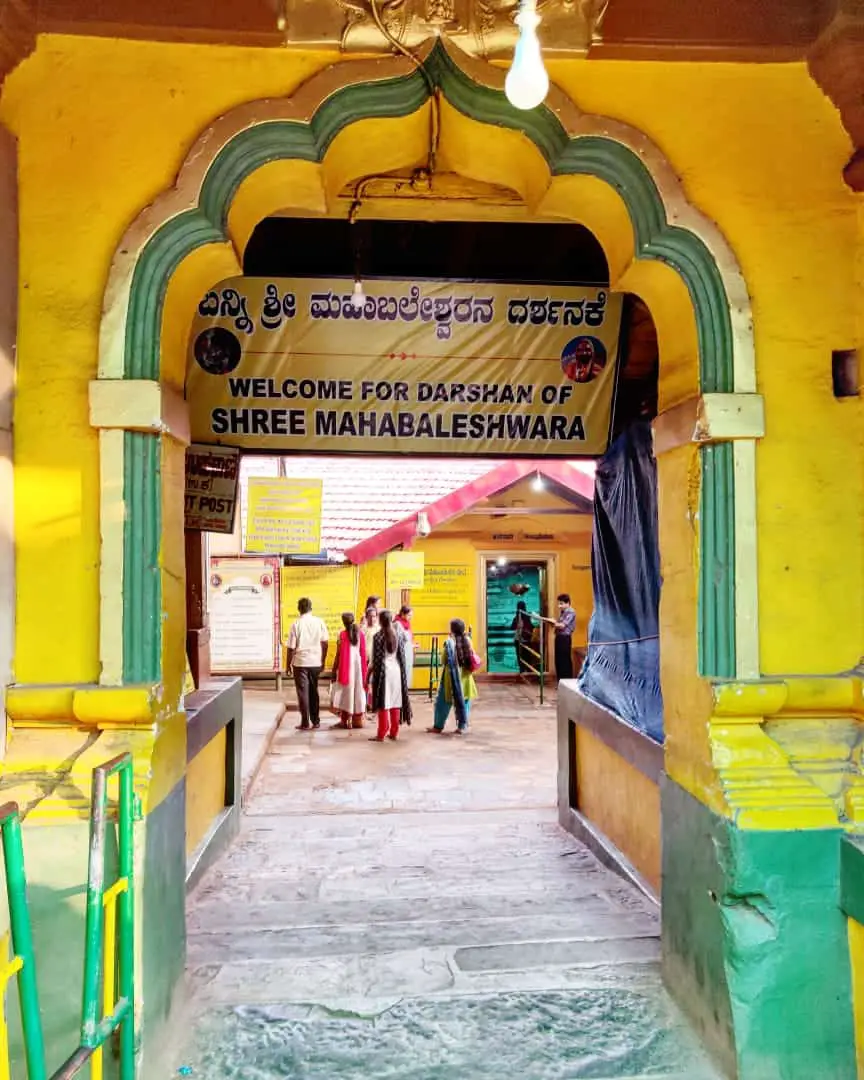 This temple the reason why most people visit Gokarna and therefore has to top the lists of things to see in Gokarna.
The atmalingam here holds an important place in Hindu religion and therefore plenty of devout religious Hindus make it a point to visit this temple.
The temple itself is not properly maintained. The lane leading to the temple is narrow and full of shops selling pooja items. On weekends and important religious festivals, the lines to enter the temple can be very long and could cost you hours. However, on other days, the line won't take up much of your time.
You must be appropriately dressed in order to be allowed entry inside the temple area.
Shree Mahaganpati Temple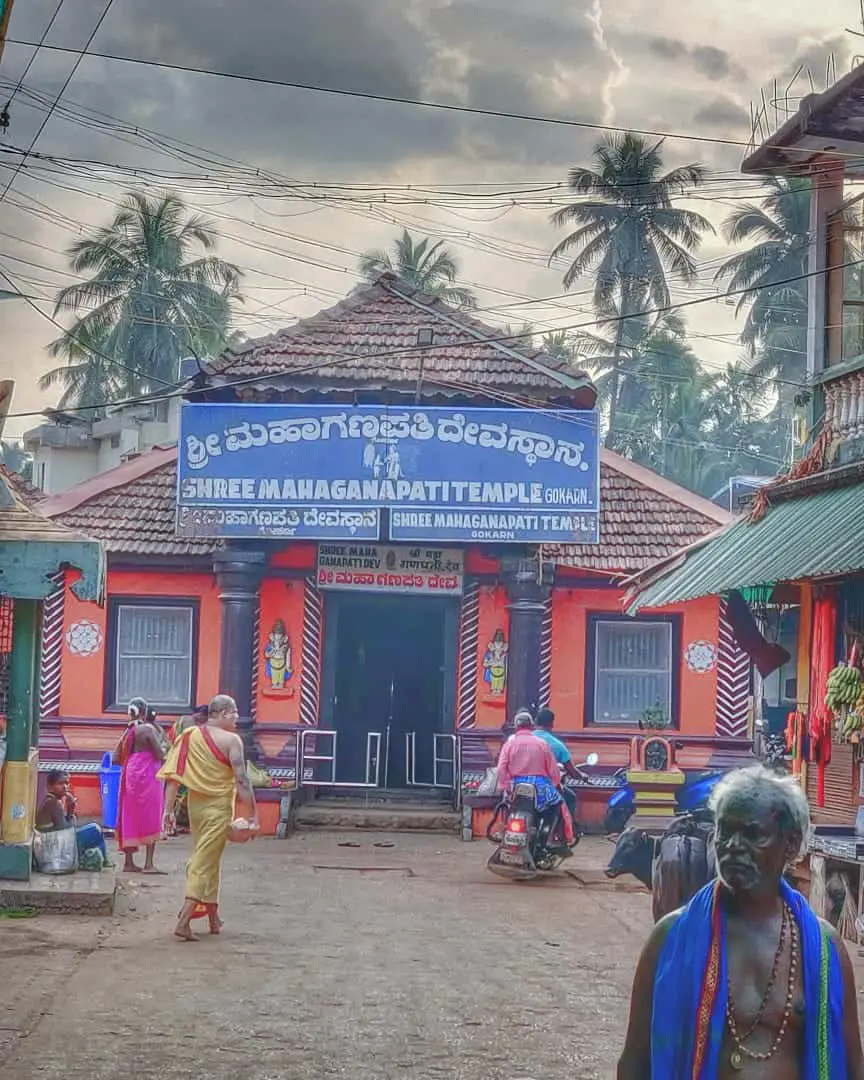 This temple, which is also located in the heart of Gokarna, is close to the Mahabaleshwar Temple and many devotees pray at this temple before visiting the Mahabaleshwar temple.
This temple has a tall standing idol of Lord Ganesha. The temple premises are well-maintained and the place is far less chaotic than the Mahabaleshwar Temple.
In addition to these two temples, there are a number of other small temples in Gokarna. If you are planning on visiting Gokarna for religious purposes, there will be plenty of local pujaris who will be able to guide on you on the other temples that you could visit and the practices to be observed at these temples.
Binge on local food!
There are two sides to Gokarna – one is the religious side that many locals seem to immerse themselves in and the other is the touristic side which travellers like me focus on. The same dichotomy is also observed in the food culture of Gokarna.
On one hand, you will find plenty of restaurants serving delicious Udipi food (both vegetarian and non-vegetarian) and on the other you will find beach-side shacks catering to the many western tourists that stay in Gokarna.
In my opinion, you should particularly try local varieties like Banana buns, Dosas, Aloo Bonda, Kesari bhaat, etc, on your trip to Gokarna instead of eating the continental food offered at tourist-oriented cafes.
Some of the best places in Gokarna that you must eat at are –
Shree Durgamba – This modest place is close to the Gokarna bus stand and serves tasty vegetarian dishes.
Pai Restaurant – This is an ideal place to have budget-friendly yet really yummy breakfast. Vegetarian tourists love this place for its authentic local dishes
Open House Fish land – We loved the seafood at this place. Even though this place is a bit more expensive compared to the other restaurants in Gokarna, the taste made it worth it.
Over and above these restaurants, there are plenty of cafes in Gokarna that tourists, particularly western tourists absolutely love. Some famous cafes that you must eat at are Namaste Cafe, Sunset Cafe, Jungle Cafe and Mantra Cafe
Engage in fun water-sport activities
If you are sick of the over-priced, commercial water-sport activities offered at the beaches in Goa, then you should head to Gokarna. The best beach for water-sport activities is the Om beach.
Here, you can enjoy a friendly banana boat ride or even dare yourself to parasailing and paragliding. The views of the clear blue Arabian Sea that you will witness while parasailing in Gokarna is totally worth the money you spend on it.
However, always bargain with the vendors offering water-sport activities to you.
In addition to the activities offered by companies on the beach, there is a great surfing school in Gokarna. Many enthusiasts undertake courses there on their trip to Gokarna. There are plenty of water-sport companies that will also arrange half-day for those interested in snorkeling in Gokarna.
Have fun shopping at local markets
To be perfectly honest with you, if you want to buy good quality items from Gokarna, then you should only buy cashews and local spices. Cashews and local spices will not be cheaper here, but the quality of the produce will be noticeably better than the one seen in the markets of Mumbai or other such big cities.
On account of the growing interest of western tourists in Gokarna, you will notice a number of flea markets set up around the beaches. But most of the shops in these markets will be selling clothes and junk jewellery that can be easily found in bigger cities.
Places near Gokarna that you must visit
In addition to all the touristic treasure adorning Gokarna, there are plenty of places near Gokarna that are sure to excite the tourist within you.
Here are some places close to Gokarna that you absolutely cannot afford to overlook when in Gokarna.
The route from Gokarna to Murudeshwar temple with places you must visit on the way has been marked on the map above)
Mirjan Fort
We have visited many forts and palaces in Udaipur and we can safely say that this historic fort matches up to the beauty of most of those. Mirjan fort is only 11 kilometres away from Gokarna. The majestic architectural beauty built during the Vijaynagar empire is a must-visit on your trip to Gokarna. If you plan to properly explore this fort, you would have to spend about forty-five minutes here. It will be difficult to find a guide here.
This fort looks particularly appealing after the monsoon season.
Local transport is easily available to take you to this fort. But if you take your own vehicle, you will also easily find parking.
Kumta beach
Kumta is located 31 kms away from Gokarna.
The Kumta town is famous for its cashew nuts. So if you like cashew nuts like me, make sure you stock yourself up with cashew nuts bought from the local market here.
The Kumta beach which is also known as Nirvana beach offers great views of the sunset. But even during the day, the blue waters brushing the shorelines of this beach will mesmerise you.
Eco beach
Eco beach is a five kilometre coastal stretch along the Arabian Sea. It is 54 kms away from Gokarna and is quite close to Murudeshwar.
Thanks to this being a private beach now, it has to be the cleanest beach in this area. The blue sea water coupled with the golden sand makes it perfect for a casual stroll with your loved ones.
You will also find a children's play area here.
In my personal opinion, no one should miss out on this beach for the sheer charm that it exudes thanks to it being impeccably clean.
Apsarakonda Falls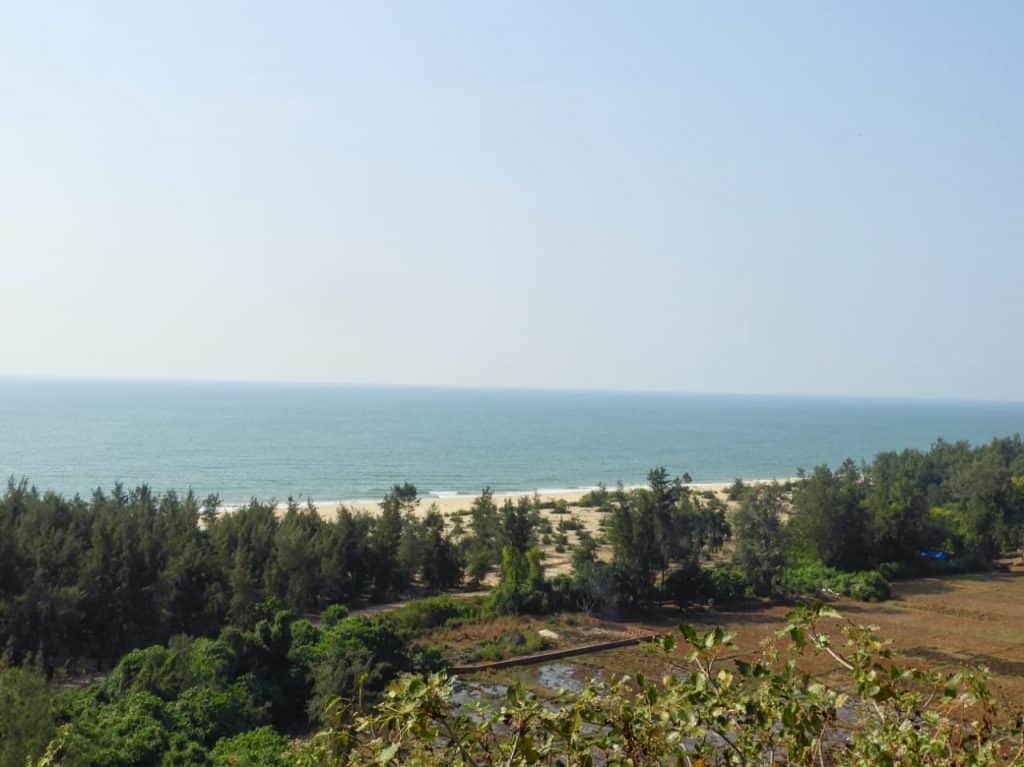 Just a short distance away from Eco beach, you will find the Apsarakonda Falls. It is a great picnic spot for family trips.
Although the waterfall itself is not the most attractive, the adjoining garden and the view point there attracts most visitors. From this point, you get a panoramic view of the sparkling Eco beach below.
(Toilet facility is available here.)
Murudeshwar
A must-visit place near Gokarna is Murudeshwar. You can go to Murudeshwar from Gokarna either by train or by road. There are approximately 5-6 trains that run between these two places. Murudeshwar is around two hours away from Gokarna.
Murudeshwar is home to the Murudeshwar temple which is considered to be one of the biggest Hindu shrines in South India. Additionally, there is an enormous statue of Lord Shiva installed within the temple premises. The Shri Murudeshwar beach is also nearby. The stunning aqua coloured water in teal hues combined with the large waves that hit the shoreline here will surely take your breath away.
You can also enjoy water-sports at this beach.
(P.S. There is baby room for nursing your baby at this temple!)
Karwar
Karwar is 60 kms away from Gokarna. It can be accessed by road. Also, most of the trains coming from towns in Karnataka towards Gokarna end at Karwar.
Karwar is one of the bigger towns of Uttar Kannada and therefore quite busy compared to the other places mentioned above.
The main beach at Karwar is usually crowded. Just like the other beaches at famous towns in Karnataka, Karwar beach also has shops offering water-sports activities.
You will find plenty of restaurants particularly known for their sea food in the area surrounding the beach. One such extremely famous restaurant is the Swetha Lunch Home located about 20 minutes away from Karwar beach.
Vibhuti Falls
These splendid waterfalls are 30 kilometres away from Gokarna in the Ankola district. Vibhuti means limestone. The water here flows over limestone rocks.
From the entrance area, you will have to trek through a forest area for about 15-20 minutes to reach these falls. In my honest opinion, this place deserves a lot of touristic footfall for its sheer beauty and voluminous waterfall.
(However, due to the trek involved, senior citizens and those with walking difficulties can skip this attraction)
Jog falls
These plunge falls look scenic when visited during the right season. They pride themselves in being the second highest plunge falls in India. However, the water volume here is extremely low before monsoons when the falls are nothing more than thin lonely streams of water.
However during monsoons and for a couple of months after that Jog falls look majestic and are a definite must-visit. You can either watch the mammoth falls from the view point on the top or climb down 1200 steps from the view point at the top to get drenched under the waterfalls. The climb down will be tiring but once you are under the waterfalls, you will be instantly rejuvenated.
In addition to the places listed above, tourists also visit other waterfalls like the Bennehole Fall, Muktihole fall, Asura Fall and towns like Ankola from Gokarna.
Frequently Asked Questions on Gokarna-
When is the best time to visit Gokarna?
Monsoon season in Gokarna is between June and September. Therefore certain places may become inaccessible due to the rains. Therefore, the best time to visit Gokarna is between November and March when the weather is relatively pleasant.
In all other months, the temperature in Gokarna is quite high resulting in hot and humid climate.
Can we get a scooter on rent in Gokarna?
Yes, it is easily possible to rent a scooter in Gokarna. You will find scooter rental shops near Pai restaurant (about 500 metres away from the main bus stand in Gokarna) 
We got our rental scooter from City Cycle Scooter Rent near Check Post Gokarna. You can contact Mr. Nayak from this rental shop at +918277424387. This is not a paid or sponsored promotion in any way.
How can one commute within Gokarna?
The best way to commute within Gokarna is by auto-rickshaw. However, taxis can also used. However, there is no Ola or Uber service within Gokarna.
It is also best to check beforehand if the place you intend to travel to is accessible by road or not. e.g. Some beaches such as the Half-moon beach or the Paradise beach cannot be accessed by road.
Are there any clubs or pubs in Gokarna?
No. Gokarna is known for its famous temple and therefore unlike Goa is much quieter. However, cafes on Om beach or those inside hostels are known to have a youthful, energetic vibe.
Is it possible to stay on the beaches in Gokarna?
There are plenty of modest huts available for stay near the popular beaches of Gokarna. In addition to that you can also set up your own campsite on the secluded beaches in Gokarna such as the Half-moon beach or the Paradise beach. While these beaches do not even have basic facilities, plenty of locals provide packed food, bottles and basic necessities to those camping here. 
What is the beach-trail route in Gokarna?
There are plenty of tourists who spend the entire day exploring the beaches in Gokarna on foot. The order in which the beaches must be visited is –
Kudle beach – Om beach – Half moon beach – Paradise beach – Belekan beach (or vice versa).
However, the trail routes are not properly denoted everywhere and there is a good possibility of getting lost.
I strongly advise you to only go trekking in Gokarna with a local guide or a local tourist company. Do not, at all costs, go on the beach trail alone or after sunset.
Final Word
Visit Gokarna to enjoy its raw natural appeal and to also get an insight into the local life of people in Karnataka. The real beauty of Gokarna lies in its simplicity and in the how well it blends its natural abundance with its religious beliefs. You will come back feeling moved and enriched! I promise!